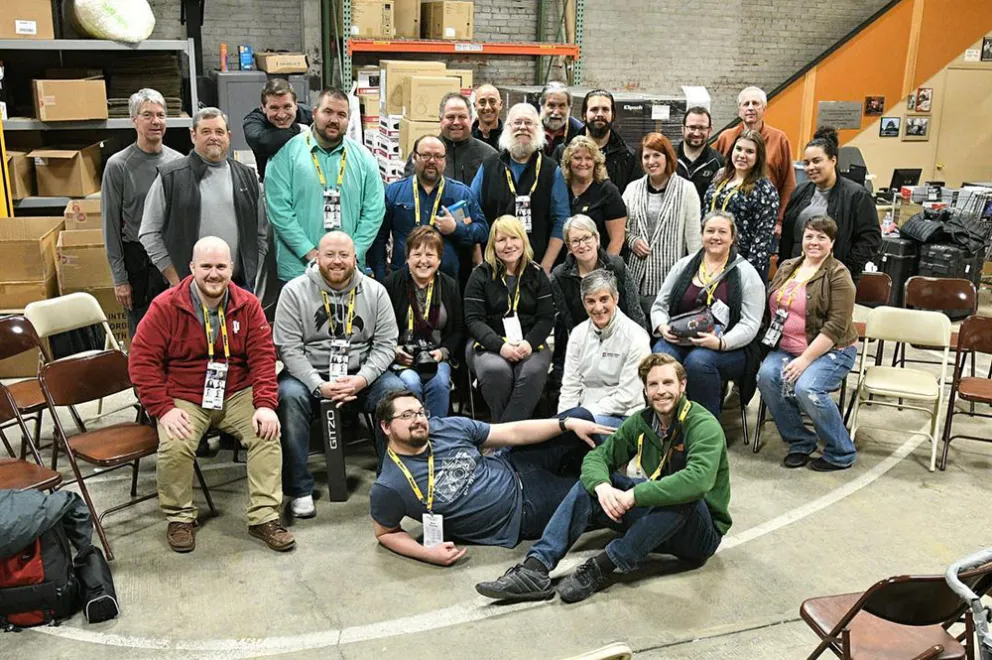 (Photo by John Scott) -- The 2018 Roberts EDU Workshop took place Jan. 26-28 in Indianapolis. Several of the participants recap and reflect on the weekend's events:
John Scott, Sales Manager, Professional and Commercial Sales, Roberts:
Each year Roberts hosts a workshop for university staff photographers and university level photo educators.  Our goal is to create a hand's-on event that promotes continuing education, exchange of ideas among working professionals and the progression of the photographic community.  

Matt Yeoman, State University of New York at Brockport:
This was my first time and Roberts' fifth year hosting this weekend specifically for UPAA members and educators. Personally, I was more excited to see and hang out with fellow UPAA members then I was to learn anything, but I know they usually go hand in hand. With a workshop fee of under $70 I knew it would be very easy to get my value out of a weekend.
My experience with Roberts over the years has been nothing but positive. I felt like I already knew the staff even though Jody was the only one I had met in person. I've spent almost 10 years talking to Nick Henry on the phone, recently getting to know more about him on Facebook. I was very excited to meet the face behind the voice I had grown to know so closely. As far as the speakers--Nikon Ambassadors Dave Black and Bob Davis--I knew with certainty that they would be wonderful presenters and I have been following their work very closely for years.
Friday started with a meet and greet with attendees, browsing Roberts' massive store, and hearing about the family behind Roberts Distributors, along with presentations from Bob and Dave. Both presenters showed some work and told the stories that go along with creating great images. One of my favorite parts of a great image is what went into creating it.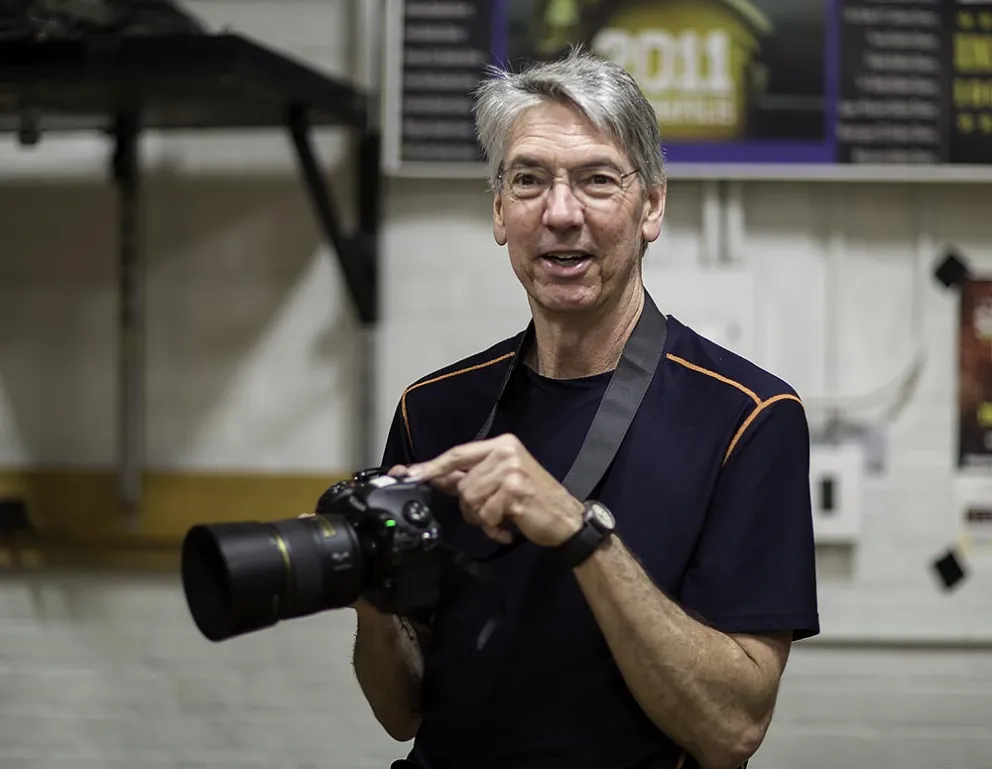 (Photo by Alisha Referda, Indiana University Kokomo) -- Dave Black shows which end of the camera to look through.
Saturday morning we had a light breakfast at Roberts and split into two groups, A and B. Group A went to the Christamore House boxing gym and group B to Central Christian Church to play with drones. I was able to fly a Mavic and see how that compares to my Phantom 4 pro. It was a lot of hands on and testing. After lunch we headed to the boxing gym where Profoto, Nikon and Dave Black had setup two great stations to photograph the ring for some sparring and a second to shoot portraits of the boxers. This was very fun! The gym was a perfect setting and the boxers were younger kids who were great to work with. Dave Black was very hands-on -- demonstrating posing, explaining lighting, and the execution of the shoot. Saturday was a full day but at a very reasonable pace with great interaction from the presenters and supporting sponsors.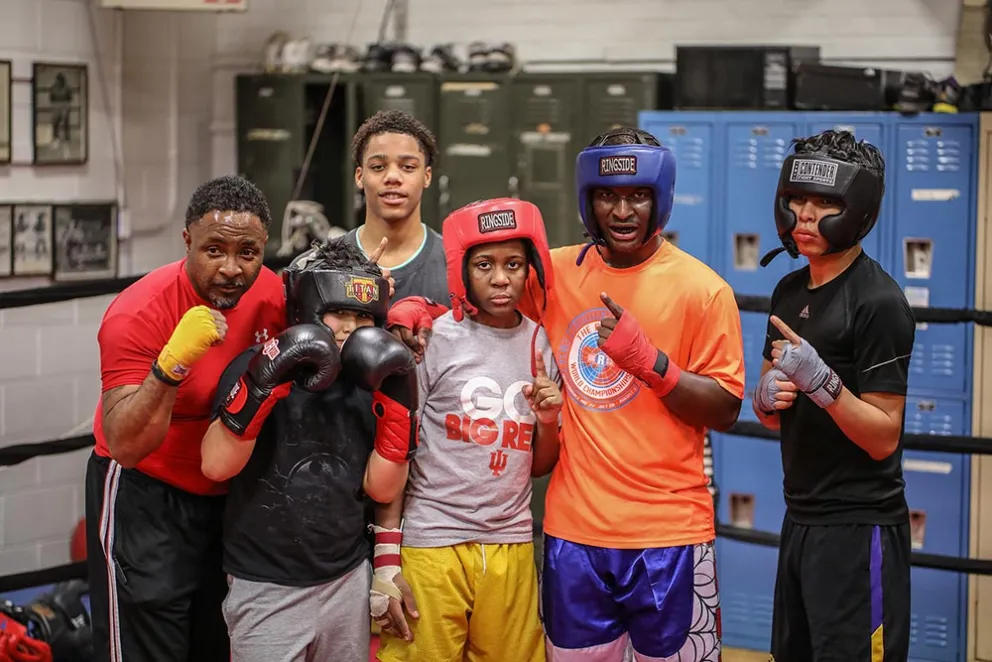 (Photo by Matt Yeoman, The College at Brockport)
Sunday was about digital workflow, storage and light painting. Dave Black is one of the best in the industry when it comes to light painting, and I was really excited to learn from the master. We had a live model from a local dance company who posed while attendees painted her with direct assistance from Dave. Also in the room were three additional stations set-up with a still life, cowboy boot, a small violin and fly-fishing gear. Each attendee could setup their tripod and work in small groups to light paint the sets with several Streamlight stylus LED pens. Some of the lights had gels or modifiers to modify the light for the look you wanted. I have worked with light painting before but I always walk away learning something new, and this was no exception. Digital workflow is something we have been hearing about for years and it is always important to be reminded to be as safe as possible when it come to backing up your images. Photoshelter or similar products are a key component as well as a local drive or server. I think this is also based on how big of an operation you are running and how many people need access. This was all great information to hear year to year as technology changes so fast.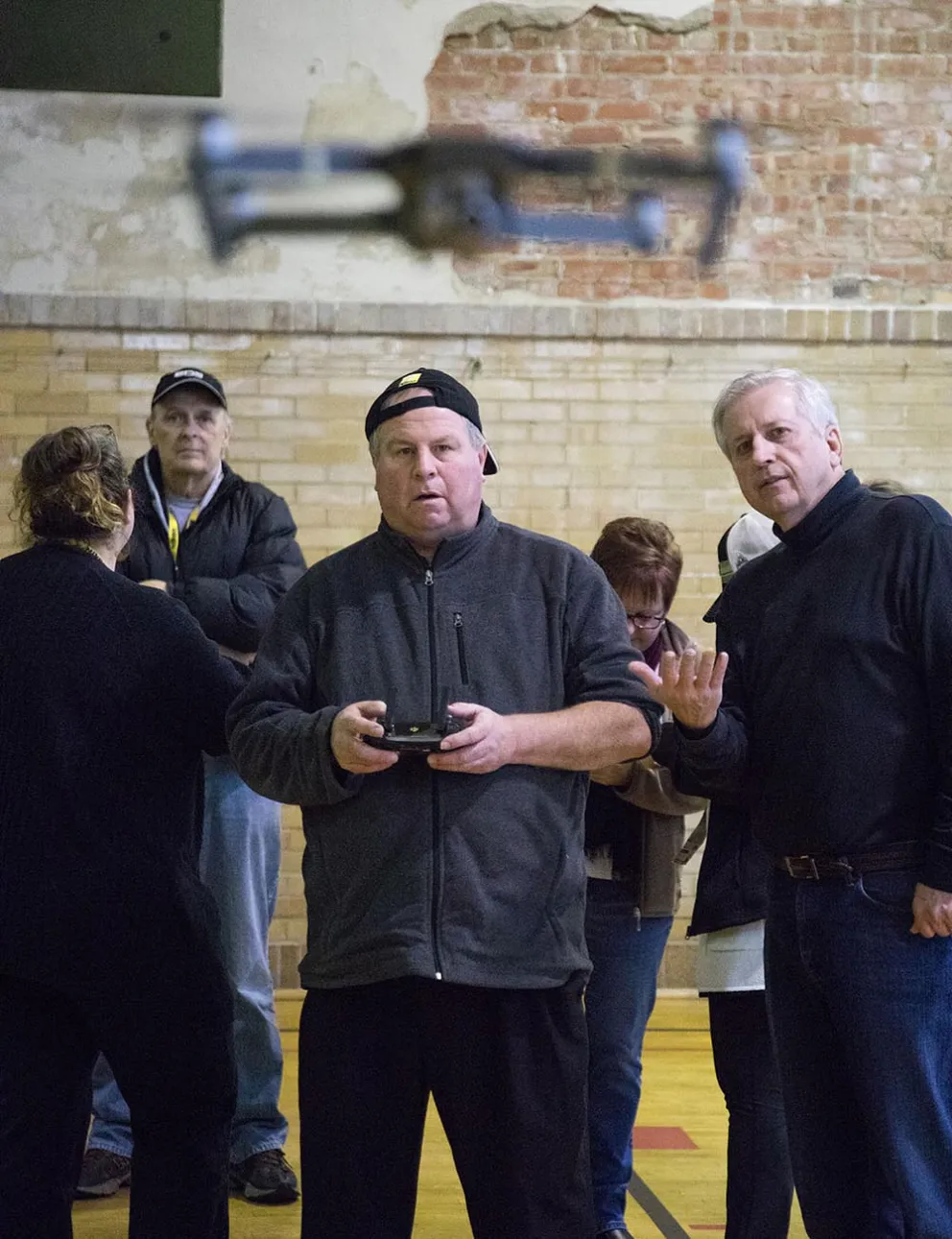 (Photo by Matt Yeoman, The College at Brockport) -- Scott Kissell tries out a DJI Mavic Pro drone.
In closing, Roberts had a panel discussion to get real feedback about how they can continue to make this event better year to year. Overall, the feeling was that this year they raised the bar and put on a wonderful weekend workshop. Sponsors also gave away some great door prizes including Sony awarding a camera to Mr. Scott Kissell. I personally came into the weekend not knowing what to expect and left very impressed with how educational the weekend was. I plan to attend next year, as it was a great way to break up the cold winter and spend time socializing and learning from some of the top photographers in the world. Check out some of these years' sponsors: Nikon, Profoto, Gnarbox, Tamron, Manfrotto, PhotoVideoEDU, Sony, Libris by Photoshelter, and G-Technology. A special thanks to Nikon for sponsoring Nikon Ambassador Dave Black and G-Technology along with Libris by Photoshelter for sponsoring Bob Smith. A huge thank you goes to Roberts for hosting this event. I had a wonderful time and I look forward to next year.
Elizabeth Lienau, Grand Valley State University:
I had a wonderful time connecting with fellow UPAA members and college educators at the Roberts EDU Workshop. Working with Dave Black on two different hands-on workshops (boxing and light painting) with such a small group of people allowed it to be a personalized experience. I not only learned a lot from him, I enjoyed having the opportunity to 'play' with some new concepts and subject matters. Learning from Bob Smith about drones as well as workflow and storage ideas was directly applicable to the work that I do for the university. As always, the folks at Roberts Camera are welcoming, hospitable and did a fantastic job of cramming a ton of hands on learning and networking opportunities into one short weekend. I would encourage anyone who has the chance to attend to do so!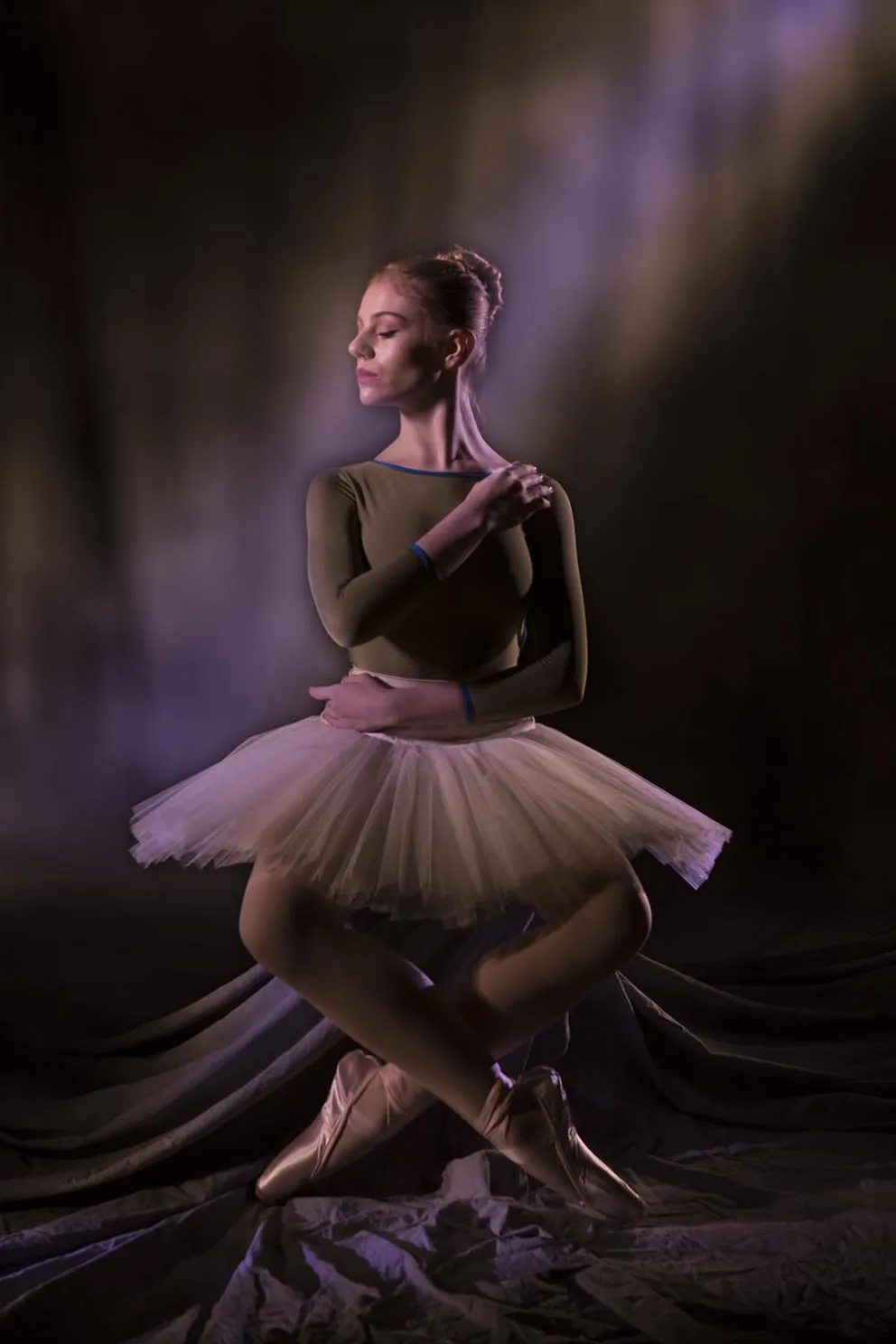 (Photo by Elizabeth Lienau, Grand Valley State University) -- A ballet dancer, lightpainting style.
Austin Thomason, University of Michigan:
The support we have from our vendors and sponsors is just incredible. Kris from Nikon helped me fix some wonky settings on my D750. Joe from Profoto gave me a B1X and trigger to play around with and didn't bat an eye when I walked out the door with them into the Indianapolis sunshine. Jody from Roberts helped me find a good 70-200 in their used department, then sold it to me for a fair price. The photography community is small and tightly knit, and I like that. What a great place to be!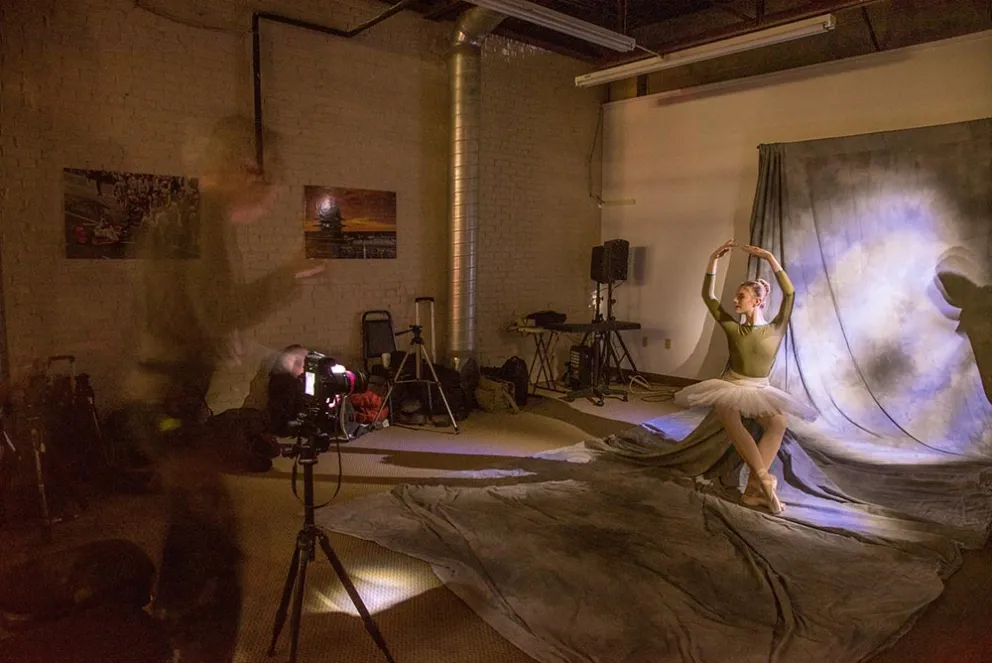 (Photo by Austin Thomason, University of Michigan) -- Behind the scenes of the lightpainting setup.
Bill Bitzinger, Ferris State University:
This weekend at Roberts was a much-needed shot in the arm. Due to a whole bunch of circumstances, I was feeling "deflated" and not really invested in my work. Here was an opportunity to try some new ideas and get a chance to make pictures in a brand new space in my head. It was great to meet up with old friends and make some new ones. I love how everyone worked with each other to teach and learn.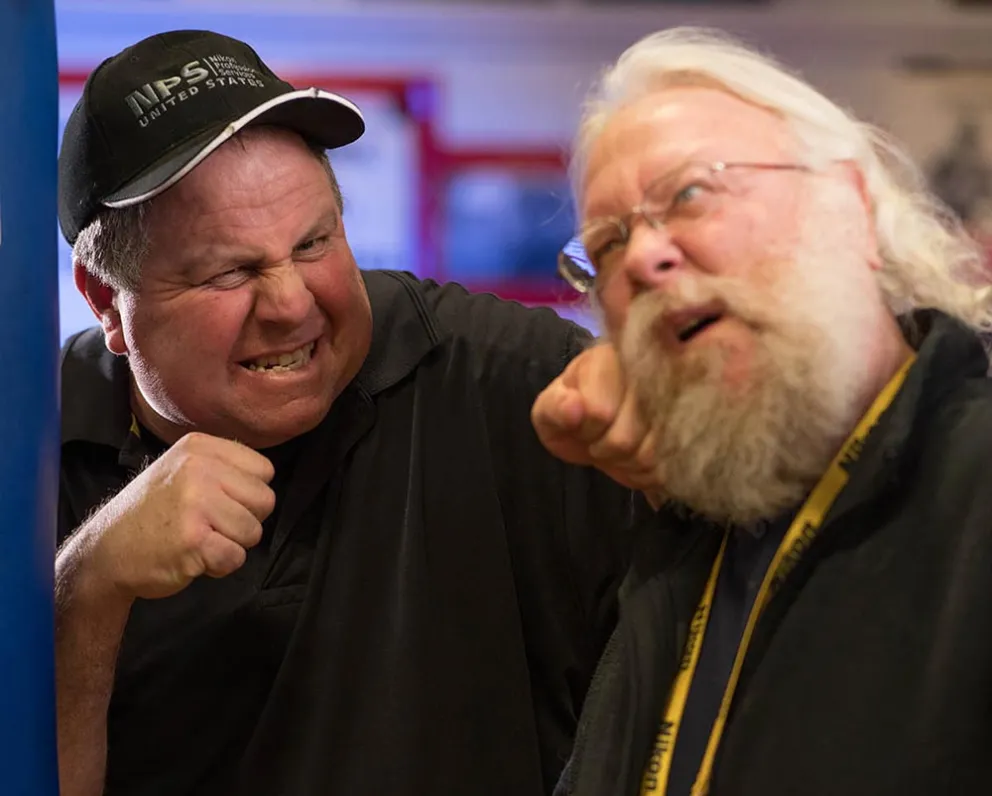 (Photo by Matt Yeoman, The College at Brockport) -- Scott Kissell and Bill Bitzinger
Alisha Referda, Indiana University Kokomo:
As a first-time attendee, I was very impressed with the quality of the workshop. Being able to learn from some of the best sports and wildlife photographers in the business was an amazing opportunity. The folks from Robert's Camera worked hard to make sure we were well taken care of and had small enough groups in our sessions to get practical, hands-on experiences. I'm ready to sign up for next year!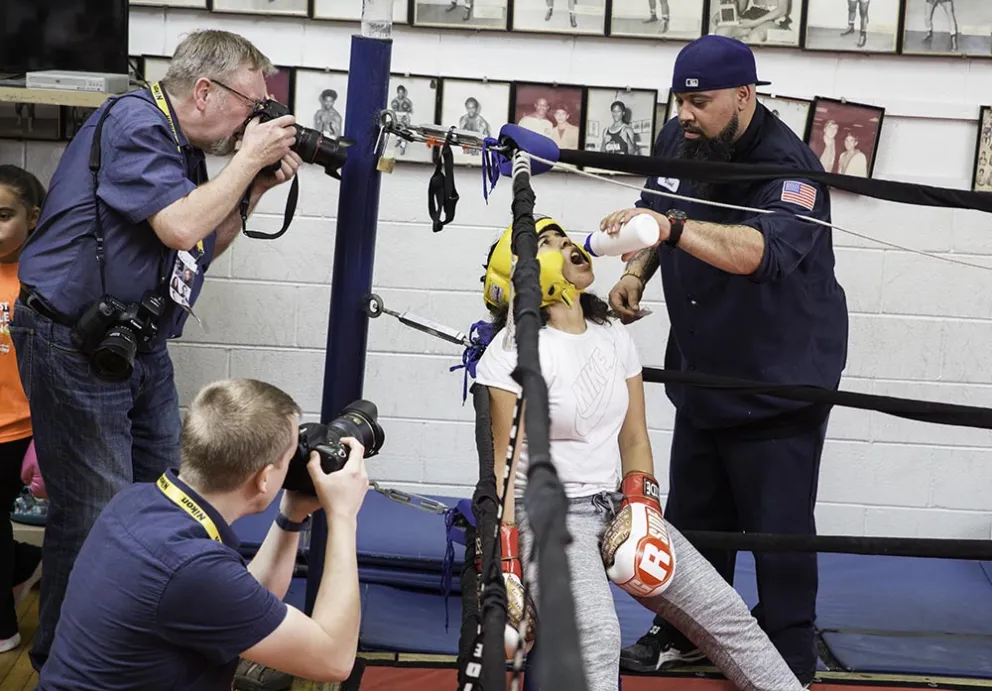 (Photo by Alisha Referda, Indiana University Kokomo)
Mark Carriveau, Elgin Community College:
This was my 4th Roberts EDU weekend. This was the best by far. The whole weekend was filled with interactive workshops and time with vendors to check out the their latest gear. My highlight of the weekend was to sit with Dave Black one on one to do a painting with light portrait.  Because the groups were so small everyone who attended had this opportunity. How many people have a chance to do this? Thank you Nikon for sponsoring Dave Black and thank you Roberts for putting together such a great weekend.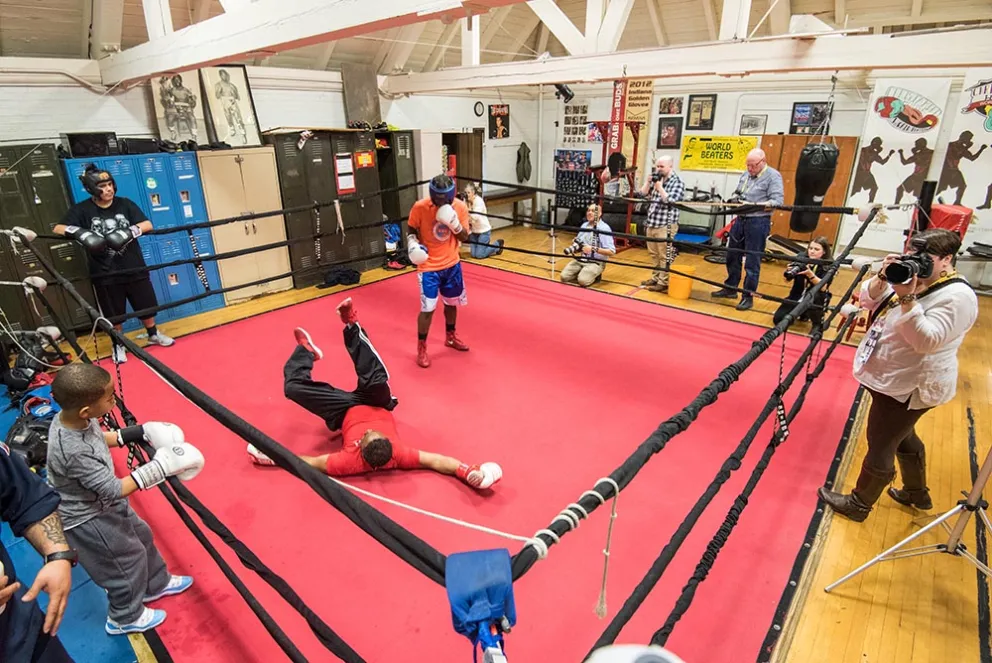 (Photo by Austin Thomason, University of Michigan)
Scott Kissell, Miami University (Ohio):
I have attended all four of the Roberts Camera EDU workshops and once again the Roberts staff put together a fantastic weekend that featured speakers Dave Black and Bob Smith, along with some fantastic photography vendors. I really enjoyed the hands-on part of the workshop from flying the drone to light painting and shooting boxing. The speakers kept us busy shooting and also filling my head with information and ideas.  It was certainly an inspirational workshop for me.
I equally enjoyed talking to vendors about the equipment out there to help us do our jobs better. I wanted to personally thank Barrett McGivney, Sony Photo Specialty Representative, for providing such a wonderful camera giveaway, the Sony a6500. I also want to give a special thanks to the Robert's staff for picking me to win this camera because I was the first to signup for this year's workshop.  I can't wait for next year's workshop.  Sign me up already.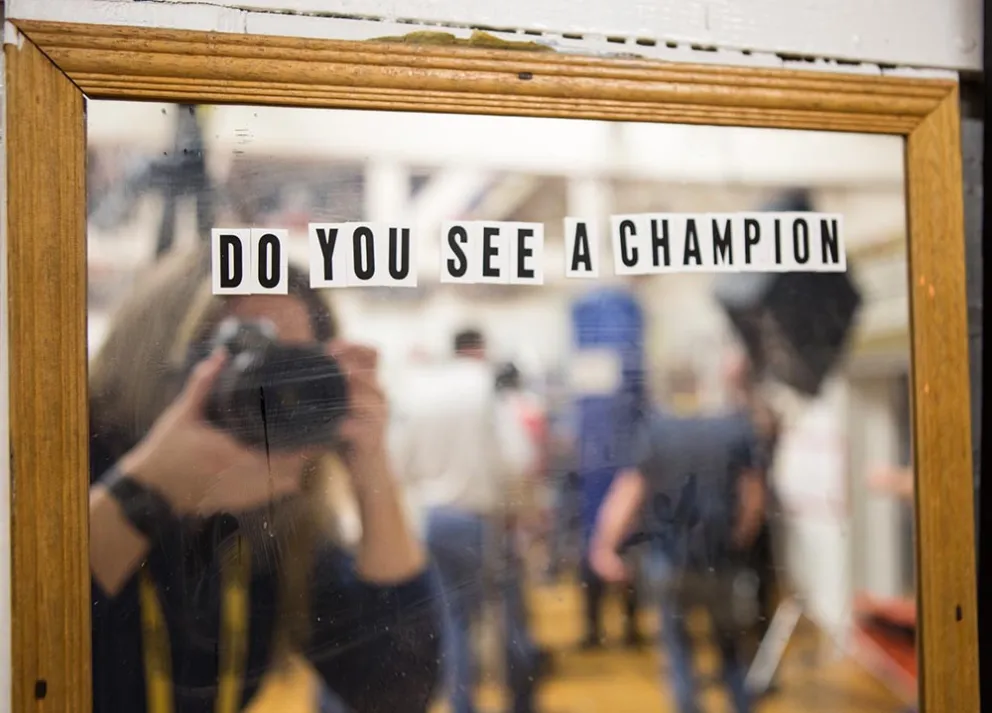 (Photo by Elizabeth Lienau, Grand Valley State University)
Have a story or suggestion for the blog? Email editor Matt Cashore at mcashore@nd.edu