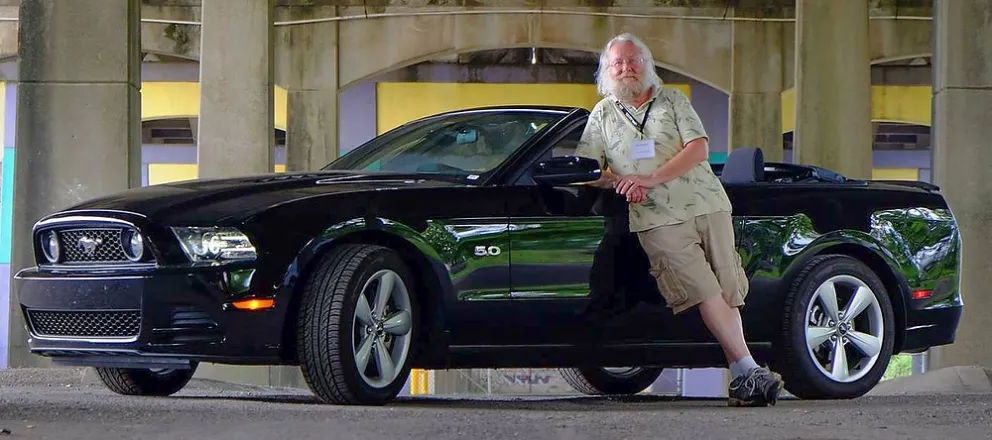 UPAA Blog 2020-21 #1 - 9/1/20 (photo by fellow retiree Robert Jordan) Bill Bitzinger at the 2014 UPAA Symposium at Sanford University in Birmingham, AL.
This is a companion to an article in the 2020 Contact Sheet, the annual journal of the University Photographers' Association of America .
There is a well-known concept in college and pro football called the coaching tree. A head coach hires assistant coaches who go on to be head coaches and hire assistants who go on to be...you get the idea. UPAA has its own version of that: Students become staffers, then mentors of students who perhaps become staffers elsewhere who hire students who become...you get the idea.
Retirements are often what make us stop and fully appreciate the mentorship that happens in UPAA. Bill Bitzinger's recent retirement from Ferris State highlighted the UPAA "Mentoring Tree." Bruce Fox, formerly of Michigan State and currently from Buffalo State College in New York, didn't start Bill's career in photography, but he did start Bill's career in higher ed photography. Bill started the higher ed photo career of Matt Yeoman, currently at Aquinas College in Grand Rapids, Michigan. Bruce and Matt share their thoughts and memories of Bill:
BRUCE FOX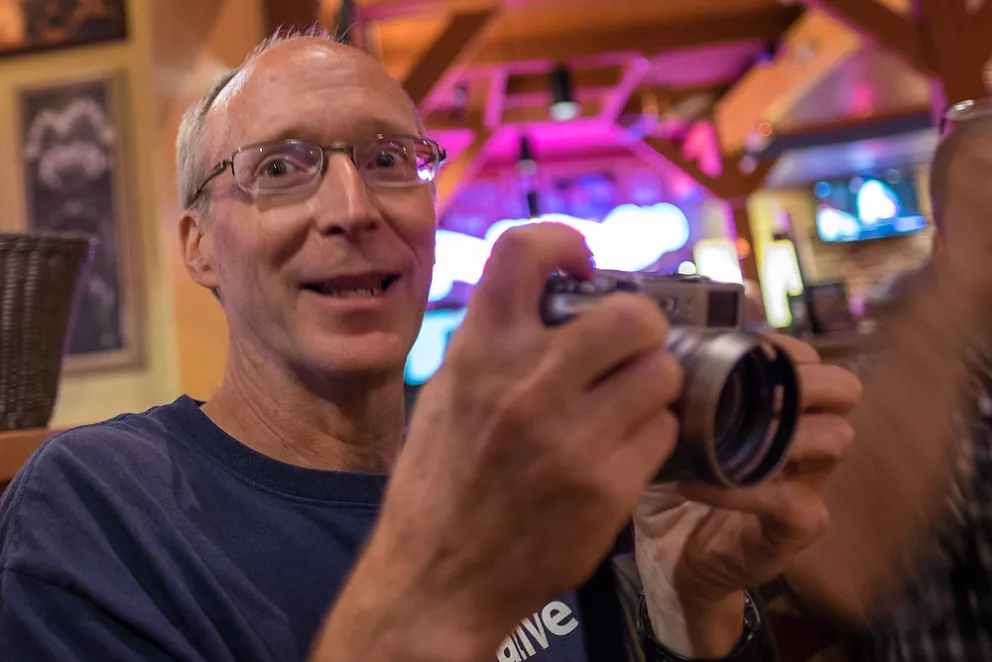 (photo by fellow retiree Kurt Stepnitz) Bruce Fox at the 2015 UPAA Symposium at the University of Michigan
I had the pleasure of working with Bill Bitzinger at Michigan State University beginning in summer of 1990, when I was able to hire Bill as a freelance photographer after my supervisor and mentor, UPAA emeritus Bill Mitcham, retired.
At that time, Bill had been working in a car photography studio in Detroit and wanted to work closer to home. Personally, I thought he was crazy to give up the glamour and big budgets to do university photography. The all-expenses paid trips to exotic locations to photograph cars seemed very exciting compared to my trips across campus from research lab to classroom shoots. Adding to the mystique of Bill's car studio lifestyle was the fact that he was the first person I knew who had a "car" phone! It was one of those large phones with a battery built-in and so large that Bill carried it around in a sling bag. This bag I might add, was recently featured on Bill's Facebook page where he mentioned that he uses it to this day! Fortunately, he's not still using the phone!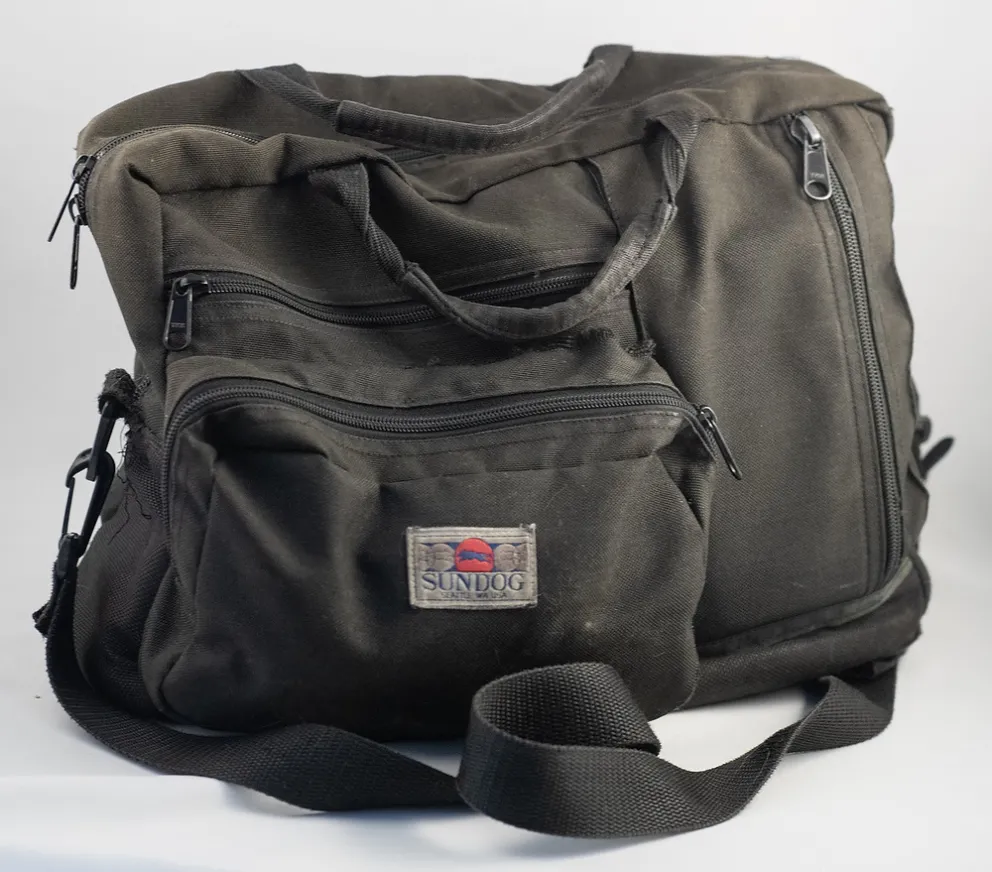 (photo by Bill Bitzinger) Bill's well-traveled bag.
I wasn't sure if Bill would be happy doing university photography assignments, but he jumped into the work with both feet, working in the darkroom, shooting faculty portraits, campus events, and dangling from catwalks to move strobes from one sports arena to another. He quickly adjusted from working with a large team of photographers lighting cars to being a one man show, carrying a bag of Norman 200Bs, stands, umbrellas and a 35mm Polaroid back to check the lighting. Shooting quickly and moving from location to location was our standard daily routine.
After almost a year of working with Bill, he was offered the position of university photographer at Ferris State University, where he has been working for nearly the past three decades. As most of you know, Bill has become very involved in the UPAA and has served on the Board of Directors of the UPAA for many years. Looking back, I take great satisfaction and feel very honored that Bill credits me with getting him started in university photography all those years ago.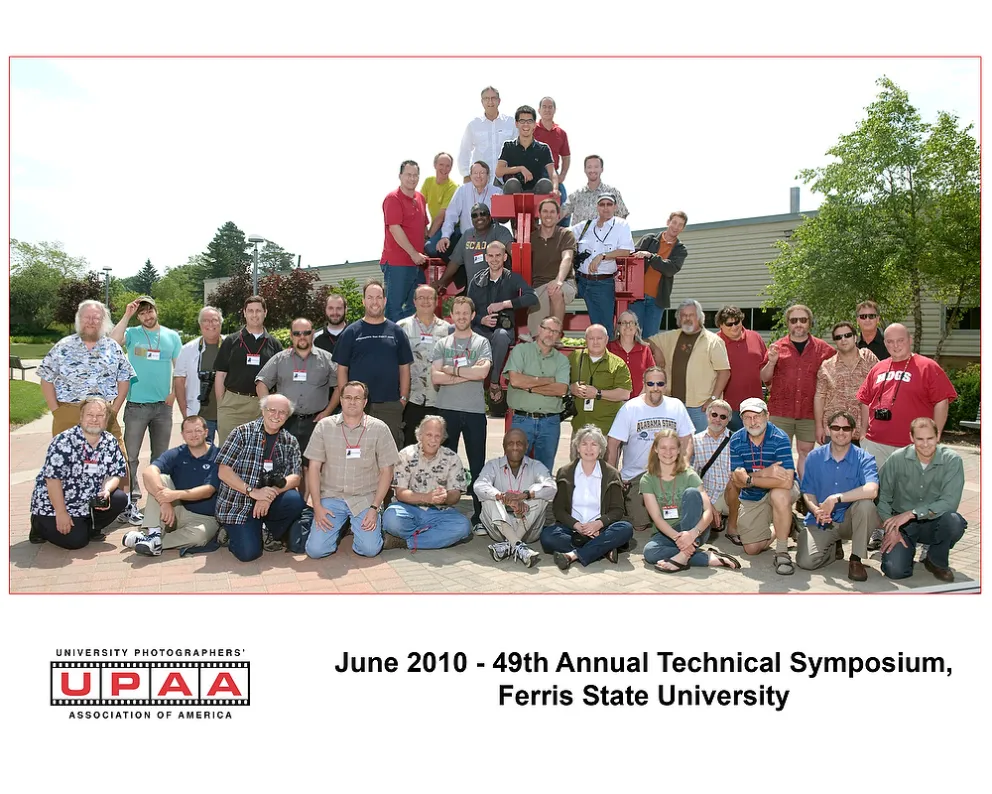 The 2010 UPAA Symposium hosted by Bill Bitzinger at Ferris State. Can you find Bill and Bruce?
MATT YEOMAN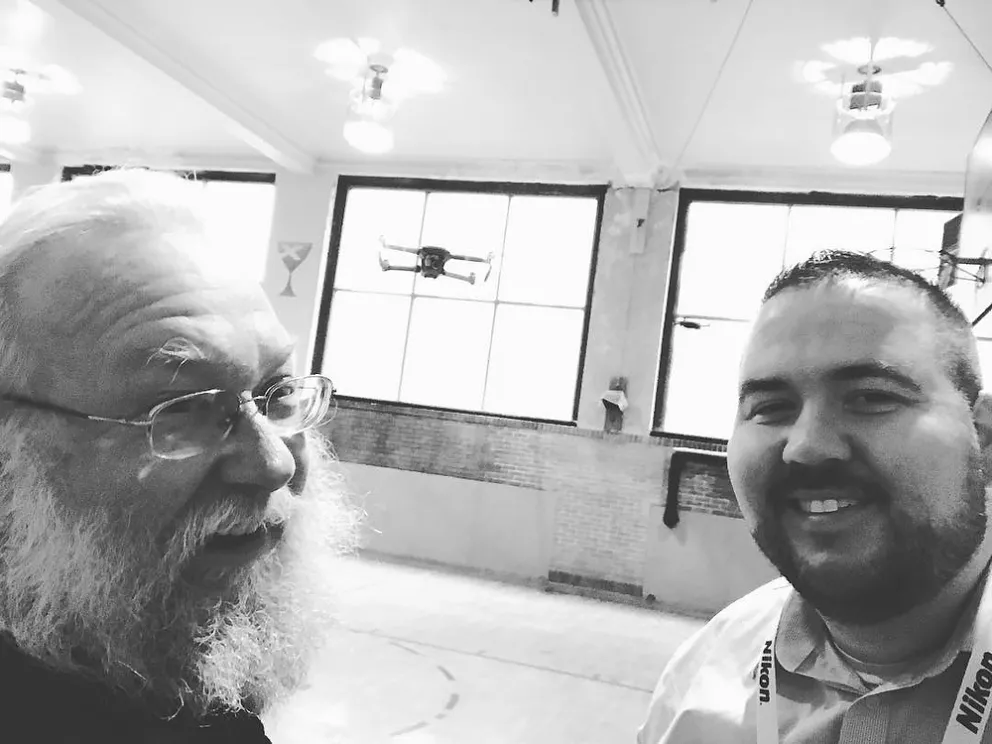 Bill Bitzinger and Matt Yeoman at the 2018 Roberts EDU Workshop
Bill:
What can you say about someone who has such a profound impact on your life and career? How could I ever thank you? How could I honor what you gave me? How can I sum up an entire career?  
In 2004, I met Bill Bitzinger as a student in a photography class at Ferris State University, a guy simply known as the campus photographer. A bearded, medium build man who was often seen around campus carrying a camera bag. A common joke is when you met Bill you didn't know if you should smile or give him your Christmas list - he is a true Kris Kringle doppelgänger. Instantly I could tell Bill was a relatable, genuine, outgoing, hippie dude so naturally I asked him for a job! After a summer of persistent phone calls, emails and possible AOL messages, he gave me one.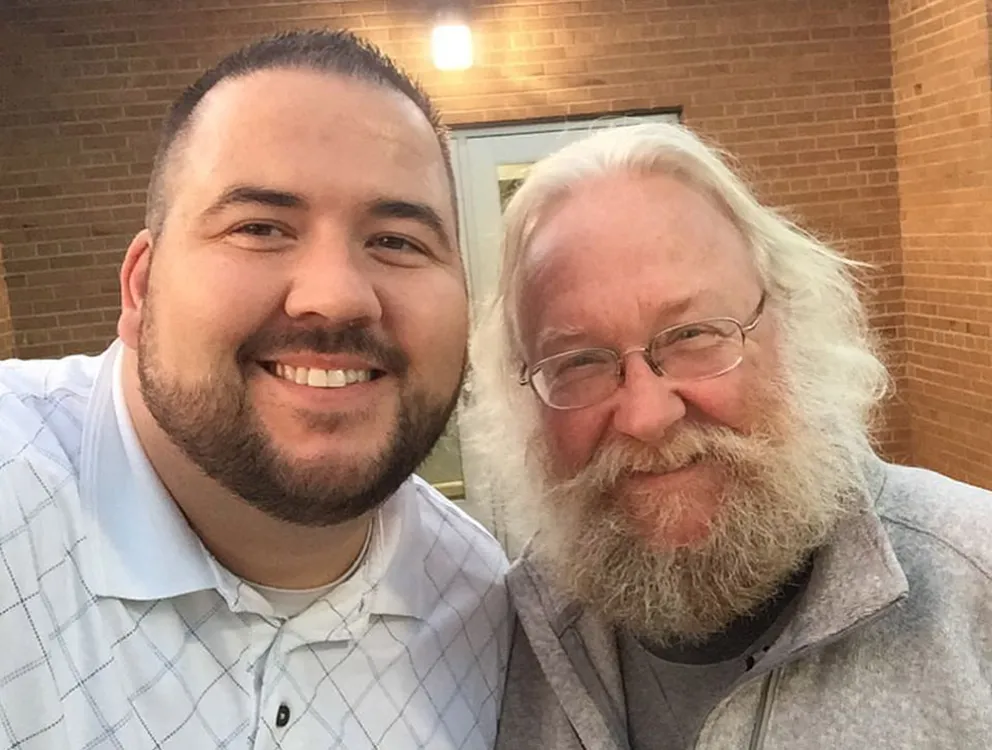 "Yeozinger Photography"
I started working as a student photographer, a position that would truly change my life. Bill's very first assignment for me was to take my Fuji point-and-shoot and go take some photos around campus, just walk and shoot to see what I could get. I came back very frustrated and disappointed about what I took. Bill and I sat down and filtered through all the images as he gave me feedback on all of them. I probably shot 150 images that day and we edited it down to about 6 solid images. 6 images out of 150, how could that be? I was never going to make it as a student photographer, let alone a professional. Those 6 images are still being used by the university and have been cover shots, on billboards and so much more. Bill taught me a very important lesson that day: Experiment, edit heavily, and try again. It was okay to take bad photos, it's all part of the process. Also, good photographs can be made with any camera.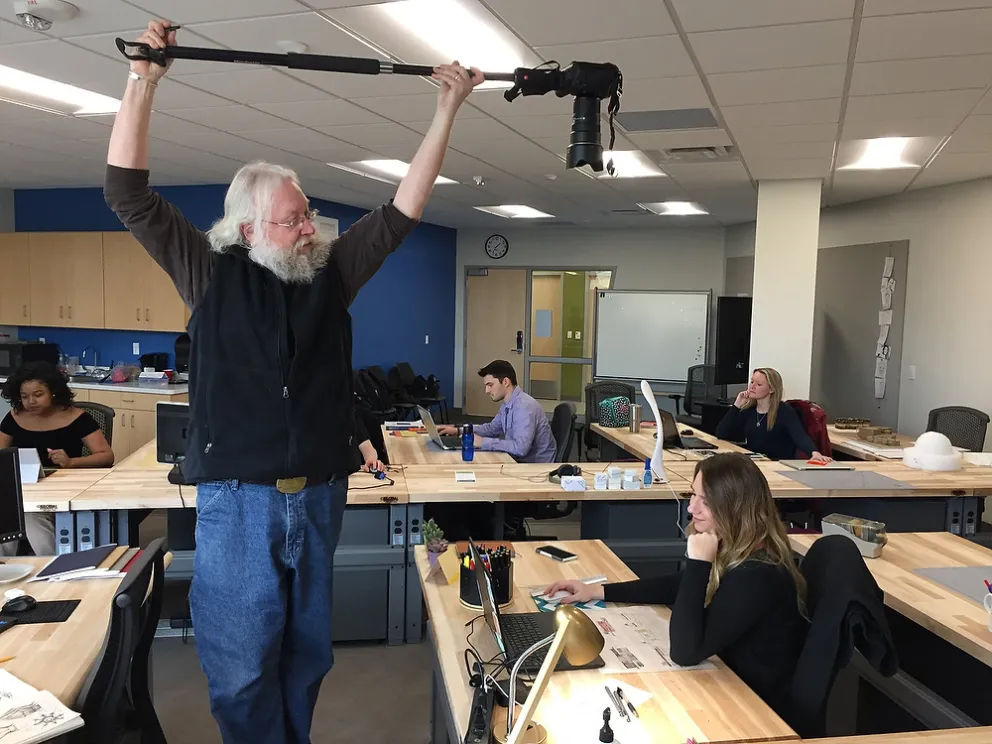 Bill at work at Ferris State.
I worked alongside Bill for just over 6 years at Ferris. We traveled the country together attending UPAA Symposiums, shared countless laughs, spent hours on the phone having deep conversations, bitching and moaning and laughing some more. We have explored remote Utah, launched an HHR over a parking lot, left rental cars with mild damage and bald tires, drank, laughed till we cried, laughed so we didn't cry, mostly over speeding tickets. Donated our time to charity even though one of his favorite saying is "Never volunteer!" Together we have photographed 6 years of Ferris history, including a Frozen Four, NCAA championships, countless sporting events and portraits. We were a team! We were sometimes so in sync that we would separately go for photo walks and come back with identical images taken moments apart, a team known as "Yeozinger." Bill and I made my first darkroom print together. One of my favorite things we did on slow rainy days is reverse-engineer images in magazines by famous photographers. I loved that! I still do that! 
Bill is a teacher, mentor, father, husband, friend, leader, comedian, icon, legend and so much more. The respect he has earned during his time at Ferris is well deserved.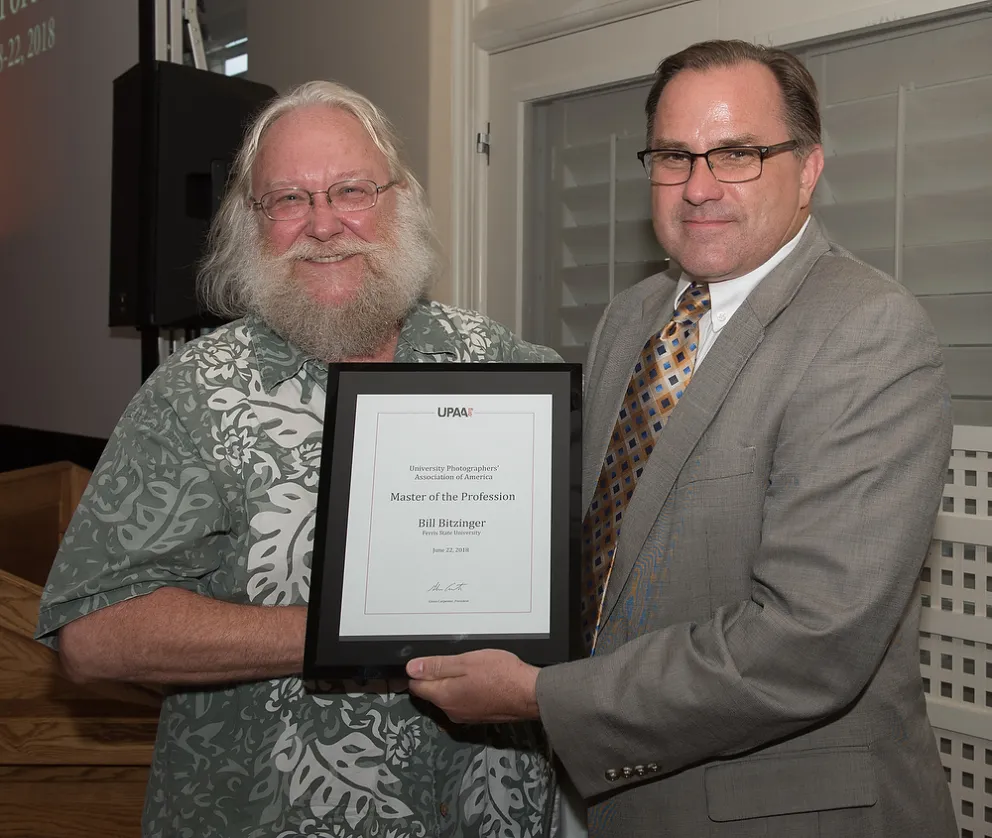 (photo by Jay Ferchaud) Bill receives the 'Master of the Profession' honor from UPAA President Glenn Carpenter at the 2018 UPAA Symposium at Wake Forest.
Bill, your work will forever live in the archive at Ferris and forever be cherished by the Ferris community. You have impacted so many lives, changing paths of your students and people around you for the better. You spread love and joy to pretty much everyone you meet, pulling expressions and emotions that transcending into photographs. You should be proud of the work you have done both with your camera and your heart. I look forward to what will come next for you and Amy. Enjoy the next journey. I love you and thank you for all the incredible ways you have impacted my life and career.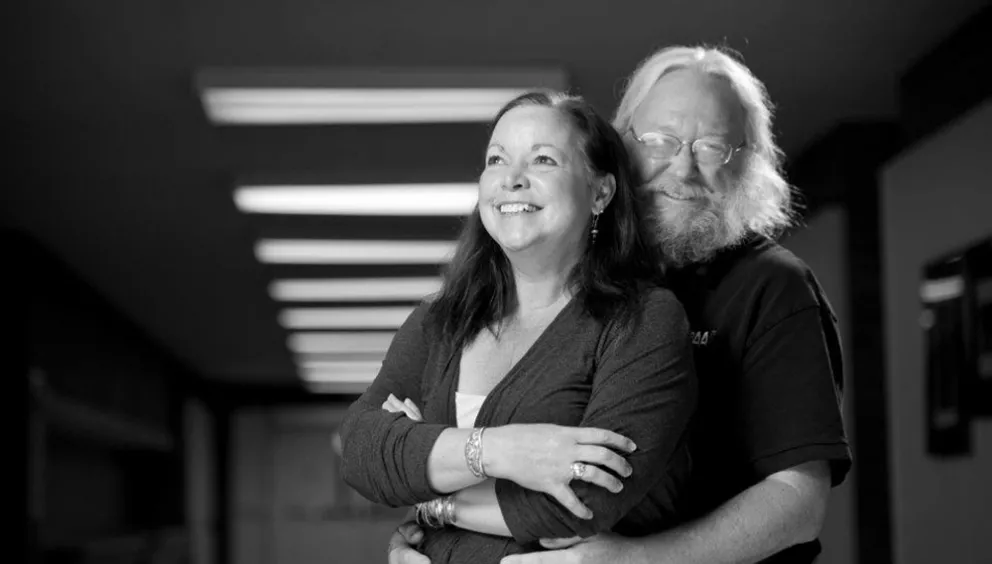 Amy & Bill
_________________________________________________
"I have reached an age when, if someone tells me to wear socks, I don't have to." -Albert Einstein...Thank you for reading the blog, send stories, suggestions and feedback to editor Matt Cashore, mcashore@nd.edu