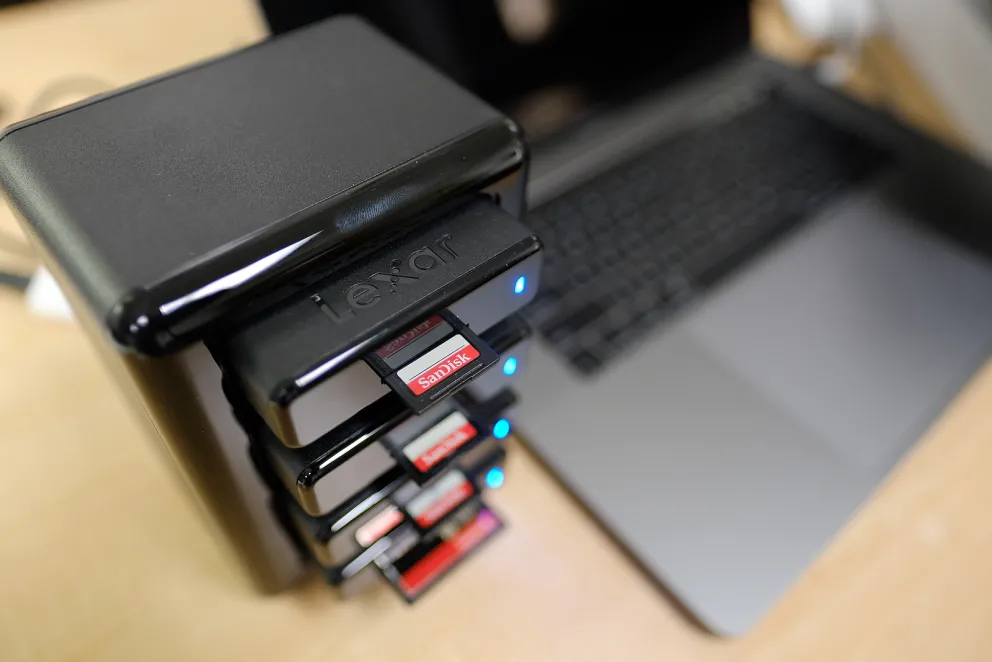 by Ken Bennett, Wake Forest University
One of the most frustrating aspects of shooting a big event has always been trying to download many gigabytes of photos to my laptop, especially on deadline. I had several USB-3 card readers, and individually they were pretty fast, but using more than one would slow down the entire system. For our last commencement ceremony, it took more than thirty minutes to get all the photos onto my computer before I could begin editing. 
When we placed the order for a new Macbook Pro, I decided to look into speeding up the download process with a faster card reader system as well as faster cards. 
The Reader: The Lexar Professional Workflow HR2 Hub holds four individual card readers and uses either a USB-3 or Thunderbolt 2 to connect to the computer. USB-3 is fine for an individual reader, at about 5 gigabits per second theoretical throughput. But the Thunderbolt 2 connection allows 20 gigabits per second through one port, so each individual card reader can operate at maximum speed without the whole system slowing. 
Lexar makes individual card readers for Compact Flash, SD, CFast, Micro SD, XQD, and small external SSD modules, all of which fit in the hub, four at a time, mix and match. I have four SD and one CF reader and use whichever I need at the time. In use, the four readers all chug along at their full speed, downloading all four cards simultaneously and very quickly. 
Attaching the HR2 Hub to the new Macbook Pro was no problem, a Thunderbolt 2 to Thunderbolt 3 dongle worked perfectly and provided the necessary speed. 
The Cards: I've been using the Sandisk Extreme Pro 95 mb/sec cards for several years. They are fast enough for use in my Fuji cameras for still photography and easily keep up with bursts. I don't shoot video, so I've not had any need for faster cards. 
Last fall I purchased a Sandisk Extreme Pro 300 mb/sec card. These are more expensive, and initial testing with my old laptop and an external USB-3 reader didn't show any speed advantage in downloading, so I stuck with the less expensive option. 
The new Lexar HR2 Hub with the SDXC card reader is a different story. For this test, I put two cards in one camera and shot about 22 gigabytes of photos, written to both cards so all the files are exactly the same. Then I downloaded both cards to the Macbook Pro using the HR2 Hub and the SDXC reader. The 95 mb/s card took 4:45 to download, while the 300 mb/s card took 2:10 — less than half the time. Combined with the 4-reader hub, this is a significant speed increase for photographers shooting sports, major events, or just coming back from a full day of assignments. 
I've already placed the order for more 64GB cards in the 300 mb/s speed.