Text by Roger Hart, University of Michigan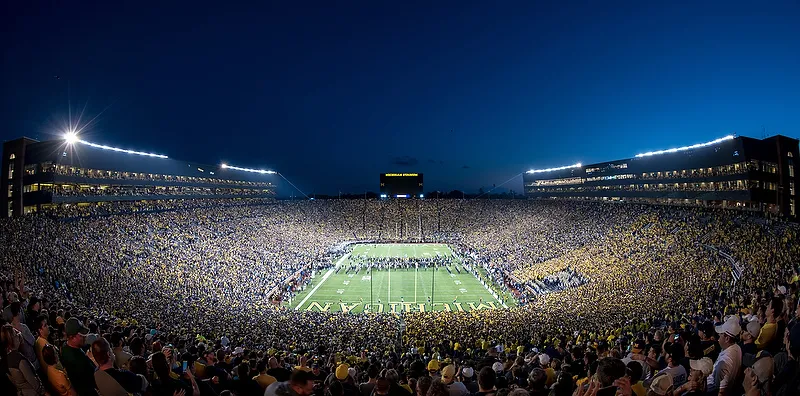 Michigan Stadium, AKA "The Big House" (Photo by Eric Bronson)
With 110,000 fans packing into Michigan Stadium on any given football Saturday it's easy to say that football is taken seriously in Ann Arbor. Michigan Photography (MP) takes the coverage of football games seriously too, as we work hard to make sure the University's Athletic Department--our largest client--is happy with our work.
With shot lists numbering three to four pages for per game, MP staffs each home game with a minimum of two photographers and an editor plus a card runner, with many games seeing three shooters and the occasional second runner. The photographers are responsible for getting not only game action, but also capturing all the atmosphere surrounding Big 10 football as well as the many ancillary festivities surrounding the game. Our crew arrives at the stadium around three hours before kickoff to begin the workday which lasts a couple of hours after the game ends.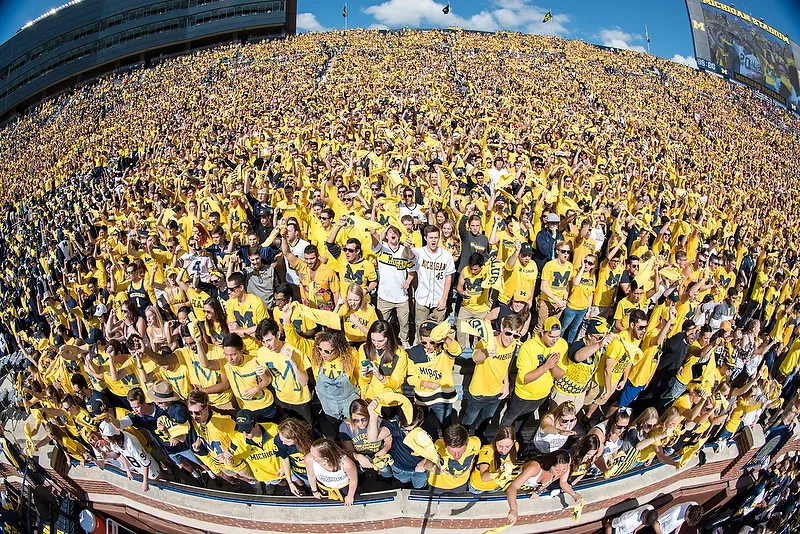 The student section (Photo by Eric Bronson)
All this boils down--on average--to upwards of 5,000 to 6,000 RAW images (160 gigabytes of data) captured on game day with around 300 images delivered to Athletics during and immediately after the game, plus a 70-picture gallery posted to the Athletic website, mgoblue.com.
During breaks in the action, photographers tag their selects so the editor knows which files to process. The runner gathers cards from the on-field photographers and heads up the tunnel to the editor. All images are ingested via PhotoMechanic, but because of the sheer volume of images coming in during the course of the game, only tagged images are worked on at the stadium. Those tagged, RAW images are then processed through Adobe Camera Raw to jpegs where they are uploaded to our Photoshelter site and our colleagues in Athletics are then alerted via email when a new batch is available. The images are sorted by capture time (photographers sync their cameras before the game to the government's atomic clock). The editor ships a batch of photos pre-game and then periodically throughout the game, depending upon the action, while also paying attention to the clock. We try to ship images mid-point and at the end of each quarter. For the most-recent game against Rutgers, we posted photos 12 different times throughout the game.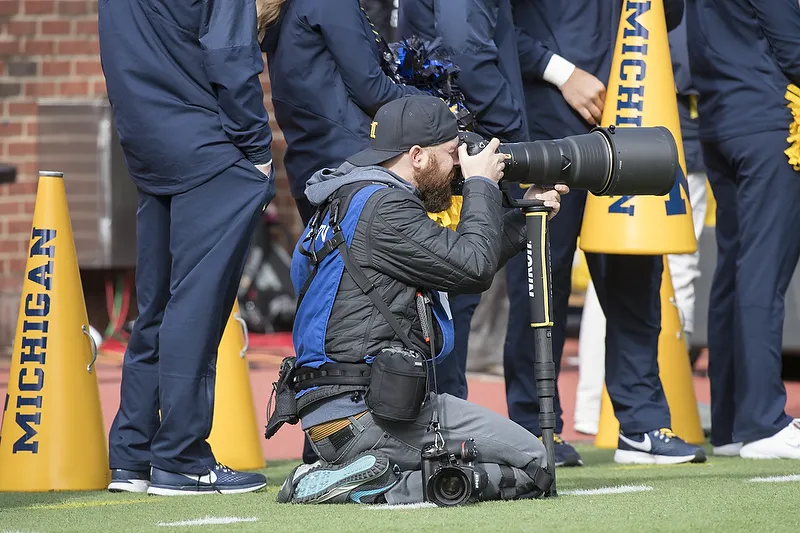 Eric Bronson shows his back button focus technique (Photo by Roger Hart)
The social media team from Athletics then selects images for posting throughout the game all the while another colleague is making selects for an Adobe Spark piece that is produced shortly after the final snap.
For the mgoblue.com site, the MP editor selects from the images posted to the Photoshelter site, downsizes to a more web-friendly size in Lightroom and sends off to an mgoblue.com editor. Typically we send five different batches to the site; one pre-game, and then after each quarter. We try to limit the gallery to 70 images.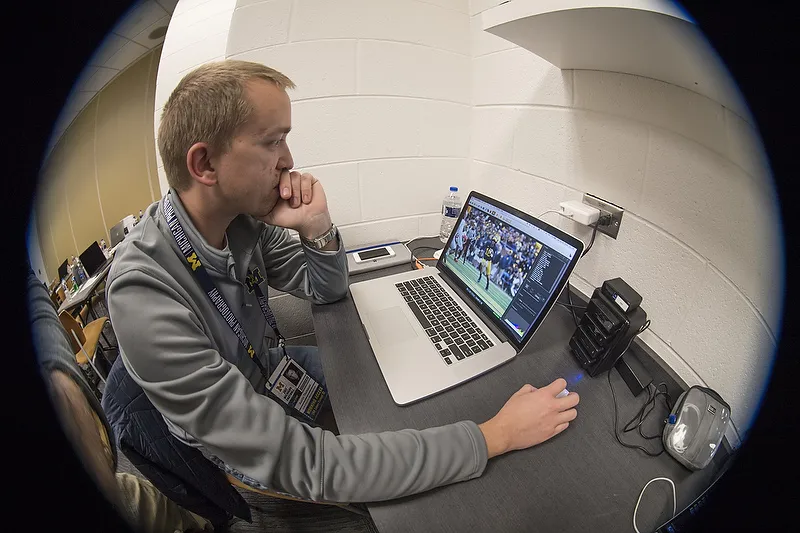 Austin Thomason hard at work editing (Photo by Roger Hart)
Once the game is over, the images posted to Photoshelter are renamed and the gallery is made available to the public. Those same images, usually around 300 or so, then get posted to a shared server for the athletic department's use.
But we're not done yet. After the game--usually within a couple of days--each photographer does a final edit of his take. Keeping mind of the shot list, each photographer goes through everything he shot and those final images are processed and put on the server shared with Athletics. The second-day edit will on occasion turn up an image that was not found during the hectic rush of the game, but more often than not, those edits are done to fulfill the requests for images of interior linemen or special team players. The goal is to make sure we have on-field images of everyone who gets in a game.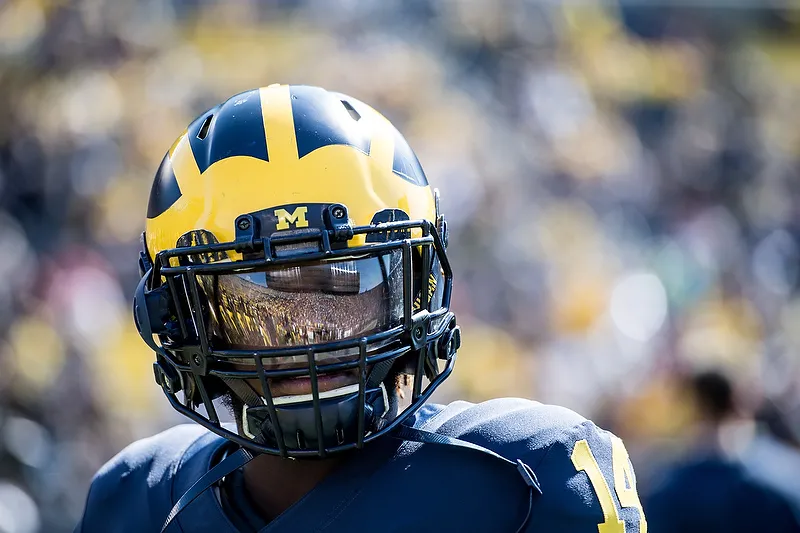 (Photo by Eric Bronson)
Each MP staff photographer is assigned two Nikon D5s and a D810 along with 14-24, 24-70 and 70-200mm lenses. Our pool equipment includes a D5 and D750 along with two 400 f/2.8 lenses, a 200-400 f/4.0 and a 300 f/2.8; and if one staffer is not working on game day, that equipment can also get pulled in for service. One game earlier this season we had two remotes set up in the stadium as well as the editor coming out and shooting the first few minutes of the game.
Typically, football photographers use a D5 (XQD  model) on a 400mm lens (or the 200-400), a D5 on a 70-200 and a 24-70 on a third body, either a pool D5 or D810. Eric, Daryl and myself have the BlackRapid doublestrap and have found it works great for football.
While each photographer's camera settings differ slightly, typically the camera is set to manual with a minimum shutter speed of 1/1600 of a second to be sure and stop all motion. With the D5 bodies we've found the ISO really doesn't matter too much so that is set to give us a desired f-stop – we like shooting wide open as much as possible to give separation to the background. Even at night games we can shoot with the D5 at 1/1600 at f2.8 pushing the ISO to 6400 (or higher) and the files are still crisp with amazing dynamic range and very little noise. And another comment about the D5 – the autofocus is the best of any camera we've used.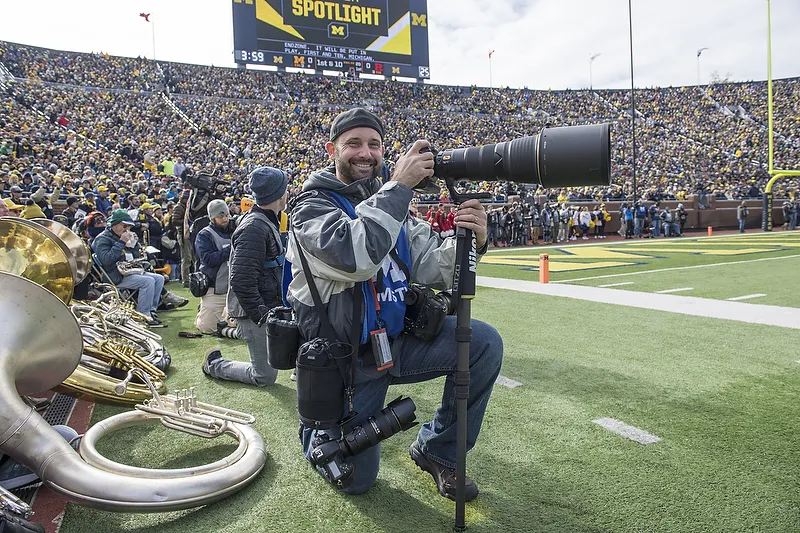 Daryl Marshke all geared up (Photo by Roger Hart)
The autofocus is set to 25-point AF on continuous and we are writing the RAW files to 32 gb Lexar or Sony XQD cards on card one, with jpegs being written to the second card as an emergency backup. Austin Thomason, who has been the editor for the home games this season, is using a Lexar Professional Workflow HR2 four-bay Thunderbolt 2 reader with four XQD readers and a compact flash reader nearby to swap in if a photographer uses the D810. The Thunderbolt interface to the Macbook Pro laptop allows for fast downloads of the high-speed XQD cards.
We've also been asked this year to shoot video for two of the marching band's halftime shows for the university's social media channels. This involves bringing in a third member to handle the video duties and uploading it for distribution. Video capture – even as short as a halftime show – takes a considerable amount of time to get pushed out for social media. But the response to those videos have been quite positive which means we will probably be asked to do more in the future. The D5 has been up to the task of shooting these videos and my favorite video lens is the 24-120 f/4.0 with VR.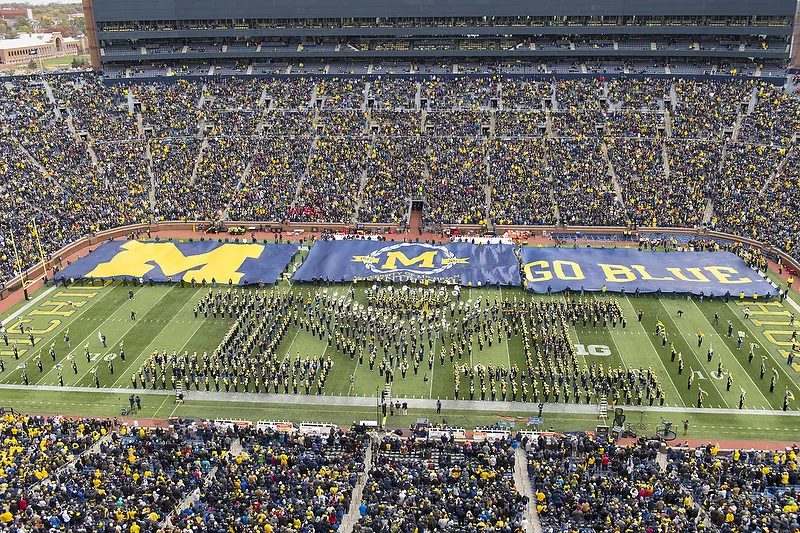 (Photo by Roger Hart)
We have looked at using the Nikon WT-6 wireless transmitters to transmit images from the camera directly to Photoshelter, but even using our own portable hotspot, we cannot get a consistent enough cell signal to reliably move images. With 100,000-plus people in such a compact area the cell networks in and around campus are heavily taxed. We considered installing Ethernet cables in the corners of the end zones and connecting the cameras directly to them – something we are doing for men's basketball games – but that would limit our ability to roam the sidelines and end zones. But it's still under consideration for the future as we are asked more and more to deliver our images ever faster.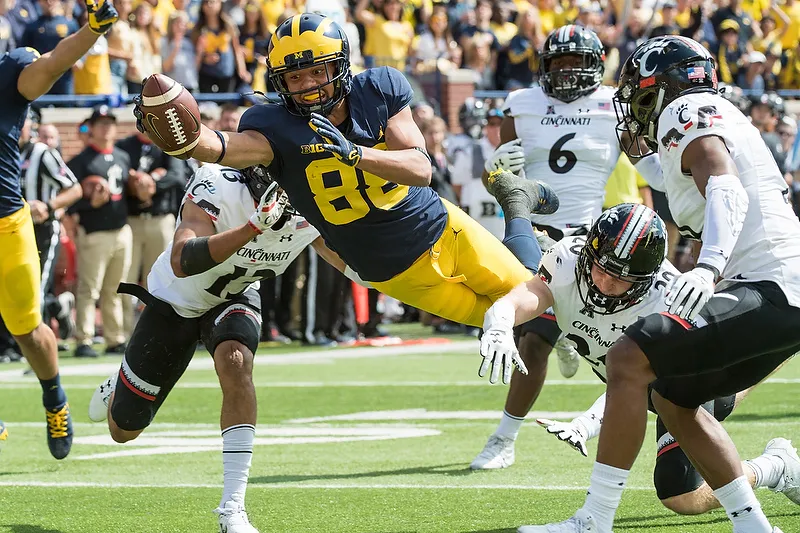 (Photo by Roger Hart)
This workflow has been fine-tuned over several years and it keeps evolving as we are asked to do more – and different—tasks. We feel it's a pretty basic system that we can use when covering large campus events, like the inauguration of our new president -- which happened a couple of years ago – or when a dignitary, like POTUS, visits campus. We get to practice this workflow at least six times each year for our homes football games  (for road games we send one shooter and one editor who splits time shooting and editing), and even if I say it myself, we're getting very good at shooting, editing and processing large volumes of images and getting them out on very short deadlines.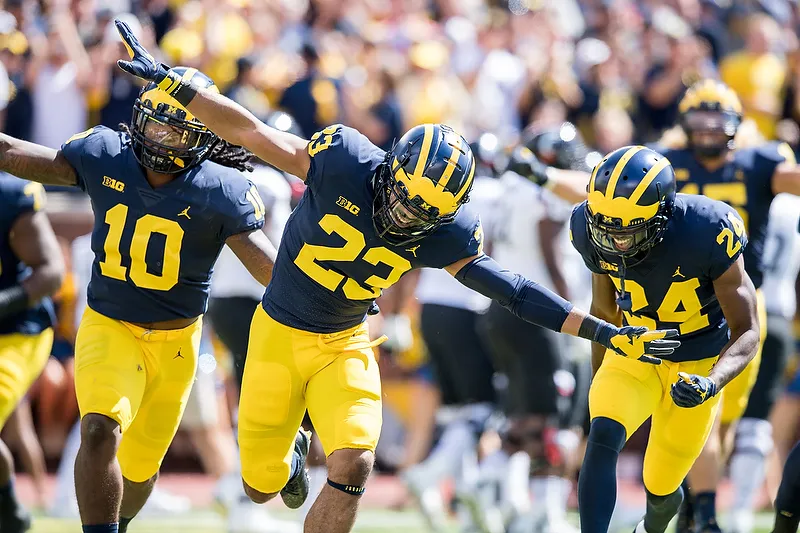 (Photo by Eric Bronson)