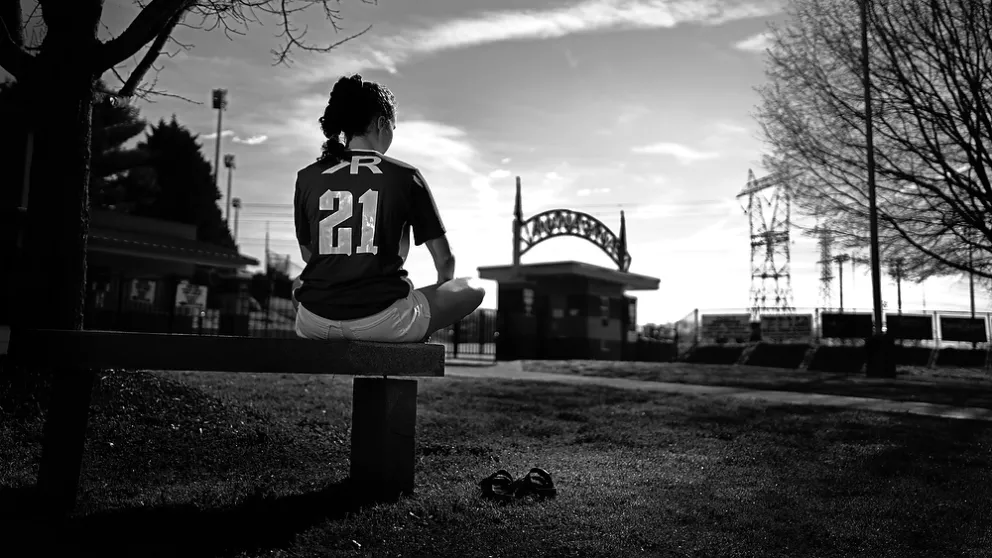 UPAA Blog 2020-21 #4 – 9/22/20 (text and photos by Patrick Murphy-Racey) This is a companion article to a series in the forthcoming 2020 Contact Sheet, the UPAA annual journal.
Patrick Murphy-Racey is a Sony Artisan of Imagery and is a recovering newspaper, Sports Illustrated and university photographer. He is also, technically speaking, a Baby Boomer. (That's relevant later…) Above: Part of a self-assigned Covid-19 high school graduate portrait series: Locked out of the soccer field, senior soccer player AnnaLise Weedman at Knoxville Catholic High School, March 26, 2020.  Weedman is now a freshman at Center College in Kentucky.    
On March 1, 2020 I was looking forward to a month with lower than average assignments but I had a few on the books. My April was looking really good, with a contract to provide photography and video for a major life insurance company's board of directors meeting. This was to be a five day shoot where I would hire two other shooters and an editor. Put simply, I was going to make bank, in the neighborhood of $25K. April's calendar showed promise as well, with a three day video shoot for the University of Tennessee's business school and a few other scheduled days for a couple different smaller colleges. Sony had booked me into speaking gigs at three different camera stores in April and May, and I had scheduled my own workshops in those cities, using Sony's airline tickets/travel and my own arranging.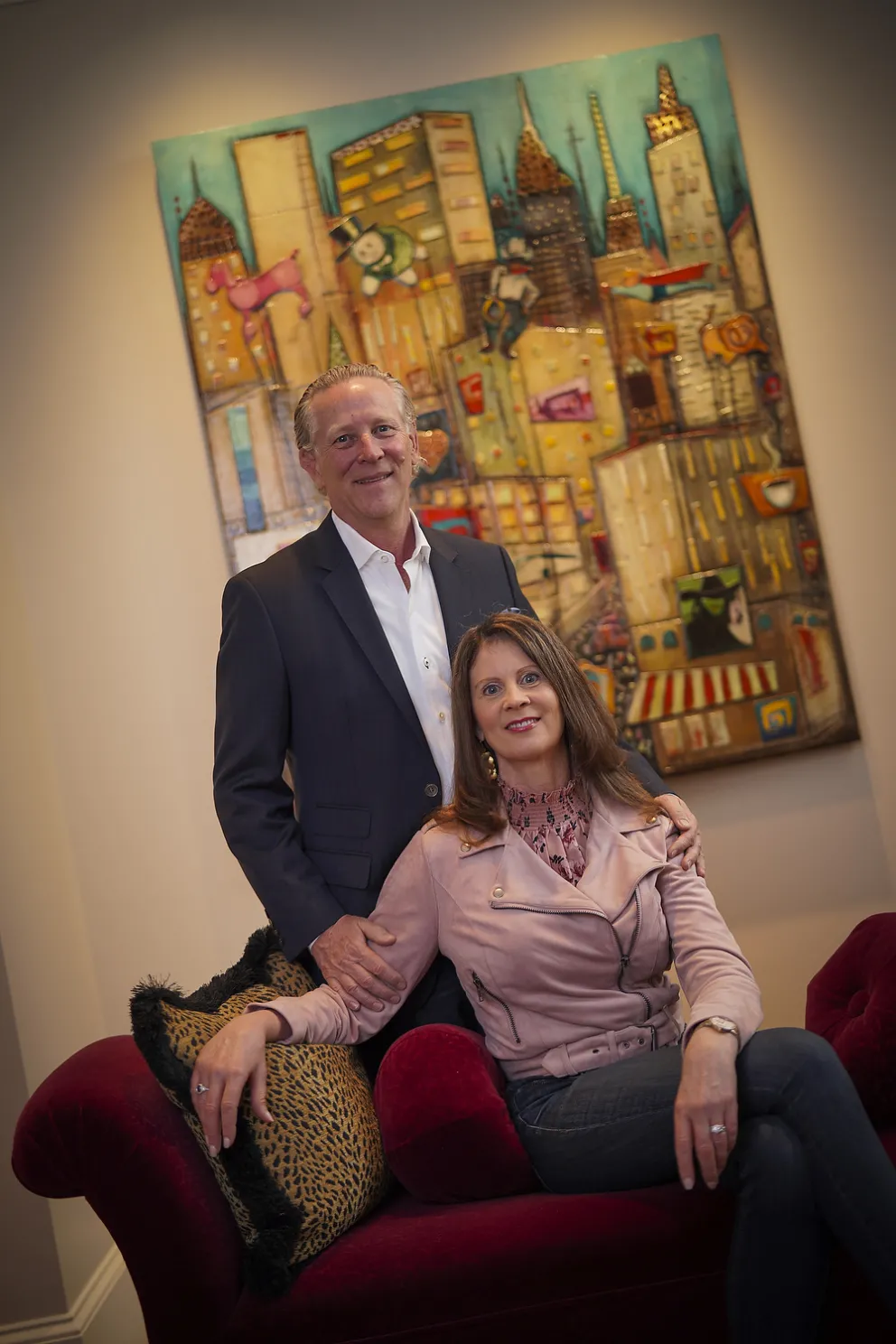 An Atlanta couple who have donated money to their alma mater, The University of Kentucky. Shot on February 18, 2020 for UK, thanks to a hookup from fellow UPAA member Mark Cornelison. Thanks buddy!
Each July or August for the last fifteen years, I roll my BMW motorcycle out of the garage and head to Canada, the west coast, or to places like Montana, Colorado, Idaho or Texas. My two wheeled retreats are something I look forward to all year, where I get to ride 800 miles every day without a schedule or even a destination, and enjoy every second of feeling free.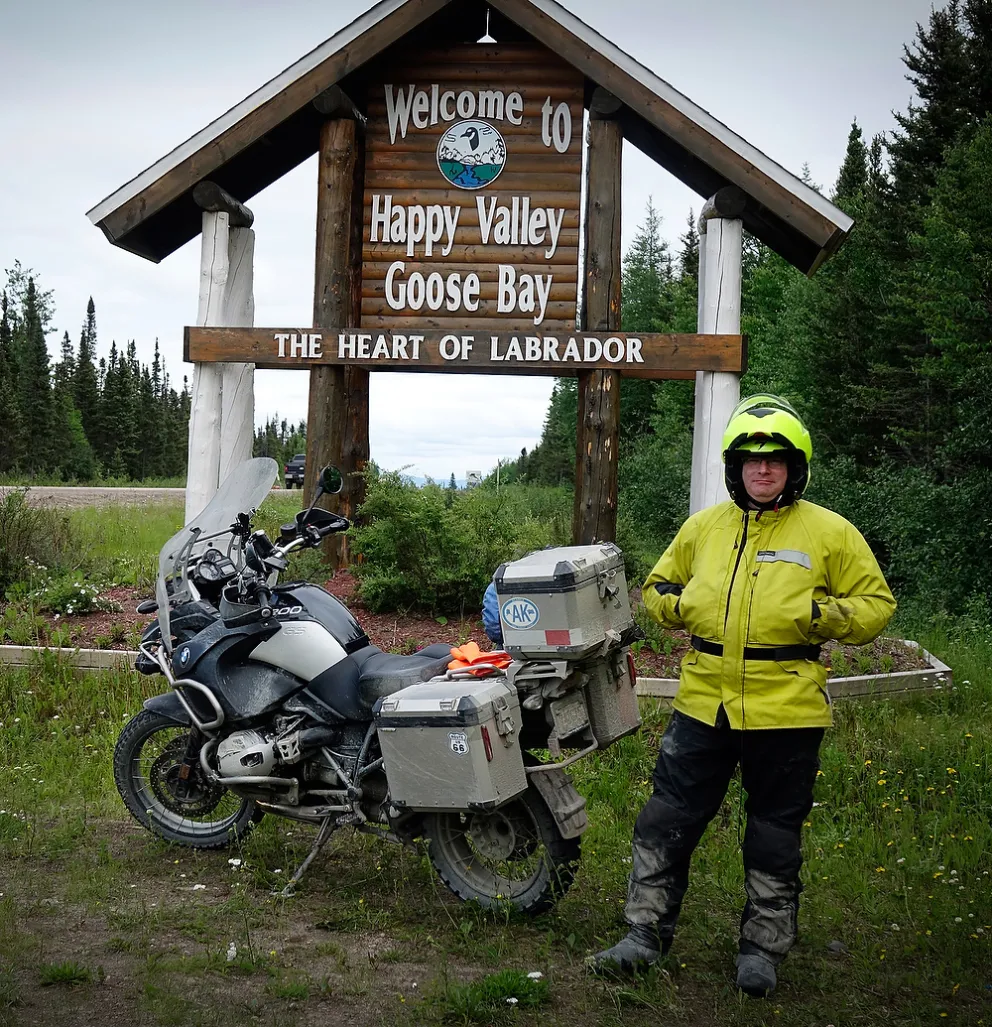 On the road, 2015.
This year is our 30th wedding anniversary, and I had been planning on taking my wife to Newfoundland in July to check out the whales in the Gulf of St. Lawrence and in the Labrador Sea.
When I look back, I was cooking along pretty well, all things considered.
Then March 20th happened, and everything seemed to stop.
There were horrific stories of COVID-19 deaths coming out of the hospitals in Italy, France, and eventually NYC. Restaurants closed, many businesses shuttered, and hotel parking lots were empty. Airline travel all but ceased.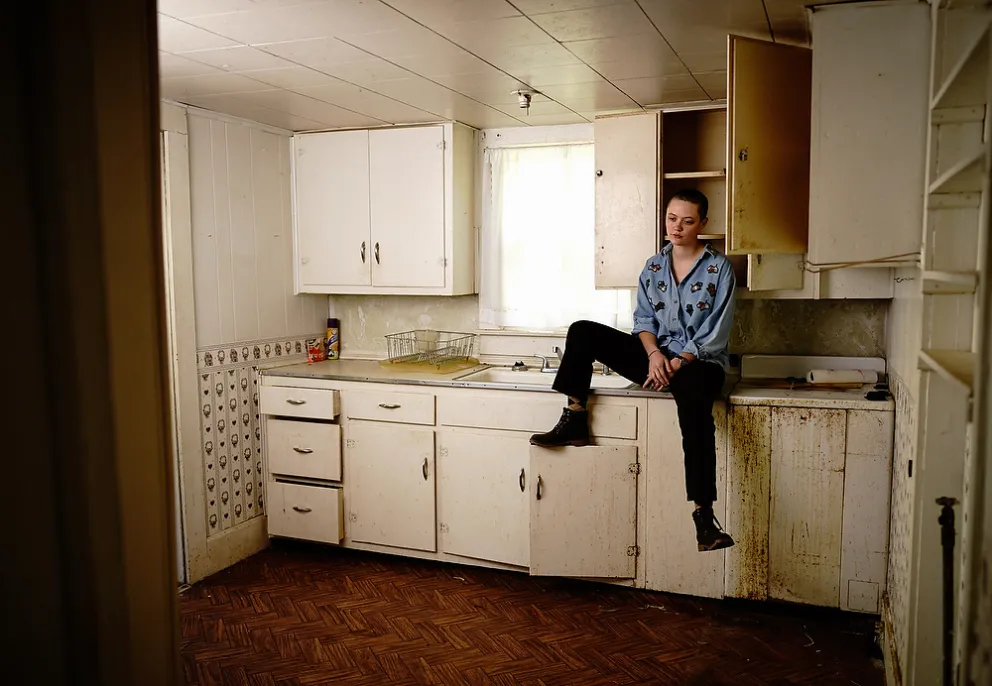 Homeless College Senior:  Jessi was due to graduate from college in May of 2020 but was suddenly evicted from her dormitory where she enjoyed an academic full-ride scholarship.  She is shown here in her condemned and abandoned deceased grandmother's home in Athens, TN.  She has been couch-surfing and mooching wifi from high school friends as she has no family.  Shot for the Chronicle of Higher Education, March 16, 2020.
Assignment cancellations came in from many of my best clients like Bechtel, TVA, Liberty Mutual Life, and the many universities and colleges I work for.
To top all that off, I wasn't feeling so hot. It had become harder for me to sit for too long in a chair and I was experiencing pain as well as blood in my urine periodically, and so I found myself mask to mask with a urologist for the first time in my life. "You need surgery, Patrick," she said, "but elective surgeries are all cancelled so I need you to go home and try to rest."
My April was spent mostly binging Netflix and rewatching "Band of Brothers," but I got the call from the doc on May 1st that she would reduce the size of my prostate two days later. I was eerie to have my wife kiss me goodbye in the car and then have to walk into the hospital alone and face my first ever major surgery by myself with no visitors possible. I put my mask on every time a nurse, doctor or CAN came into my room. There were four people on respirators in that hospital at the time. COVID-19 was never more real.
My surgery went fine and I recovered fast. This got me to June.
Now what??
My thoughts kept turning to the film "Shawshank Redemption" where Red says to Andy, "You gotta get busy living, or get busy dying." I chose to get busy living.
I wasn't cleared yet to ride my motorcycle or even mow grass. I had a lift limit of 10lbs., so I couldn't do much in the way of manual labor either. I was stuck at home with drive-thru often the highlight of my day. As I healed up from my surgery, I began to think about things with more of a 10,000-foot view and I began to ask myself some really tough questions.
How long will this last? Is it still relevant to make a living as a photographer with my skill set and experience? Should I stay with stills or move entirely into video? How much teaching and workshop emphasis should I have vs shooting? At 55 years old is it really all over? Am I just in denial? What does retirement really look like for me and is that possible?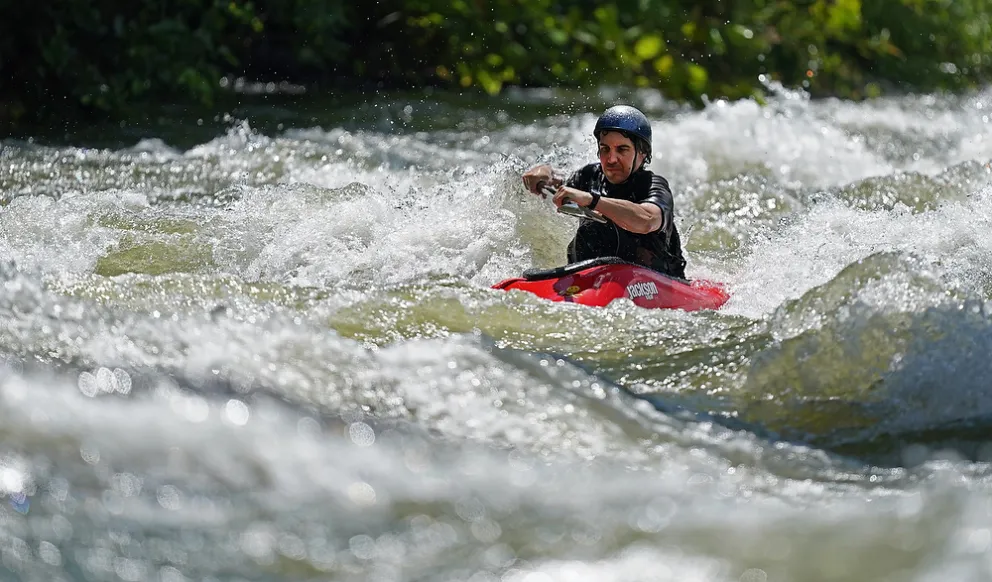 Bored out of my mind… drove down to shoot kayakers on the Ocoee River in Tennessee, July 25, 2020.
These are tough questions to ask myself and they are even tougher to answer as I have been averaging just two assignments a month since mid-March.
As I thought about all these things, I began to clean. I started with organizing all my tools on one side of the garage. I did a lot of car maintenance on all our vehicles. I went through and sold off every camera, lens, light and accessory that I couldn't justify keeping. I did a fair amount of praying. I began to emerge from a cloud of fear of the unknown, and decided to commit to a path that led away from depression and darkness. Here is the turning point of my pandemic experience.
I began to call friends of mine and check in with them with the intention to always listen and encourage and not talk so much. This made me feel better right away.
Knowing that in the past I have only learned software to the point that I needed, I began to dig deeper and spend a few hours a day really learning and growing my understanding of how to work smarter and faster in post-production.
I looked backwards at the last few years of my invoicing and saw how video seemed immune to the devaluing of my still assignments.
I committed myself to really showing "my stuff" on every assignment, and not just the ones that paid well. I reasoned that if I was pissed off about younger shooters and weekend warriors taking my work, then it was up to me to make certain that my work looked vastly different than theirs, and every time.
I committed to doing a much deeper dive into video production and to invest in constant lighting at a much higher level. This meant not just prepping, packing and shooting, but adding testing before each shoot.
I identified Adobe as evil for taking money out of my pocket every month and for resting on their past success rather than innovation. I began to teach myself Capture One, Affinity Photo and Davinci Resolve with a goal of shutting off my monthly billing with Adobe by New Year's Day 2021.
My new goal is to make video production and teaching/workshops the thrust of my work into the future but still accepting still assignments when they come in.
One of my biggest concerns moving forward from where we all find ourselves right now is "who will survive?" I'm of the opinion that "survival of the fittest" is who will emerge standing a few years from now. Photography has always been more about my passion and life's calling rather than work. Being self-employed has been a great joy for me, though often fraught with slow times and trying to make ends meet financially.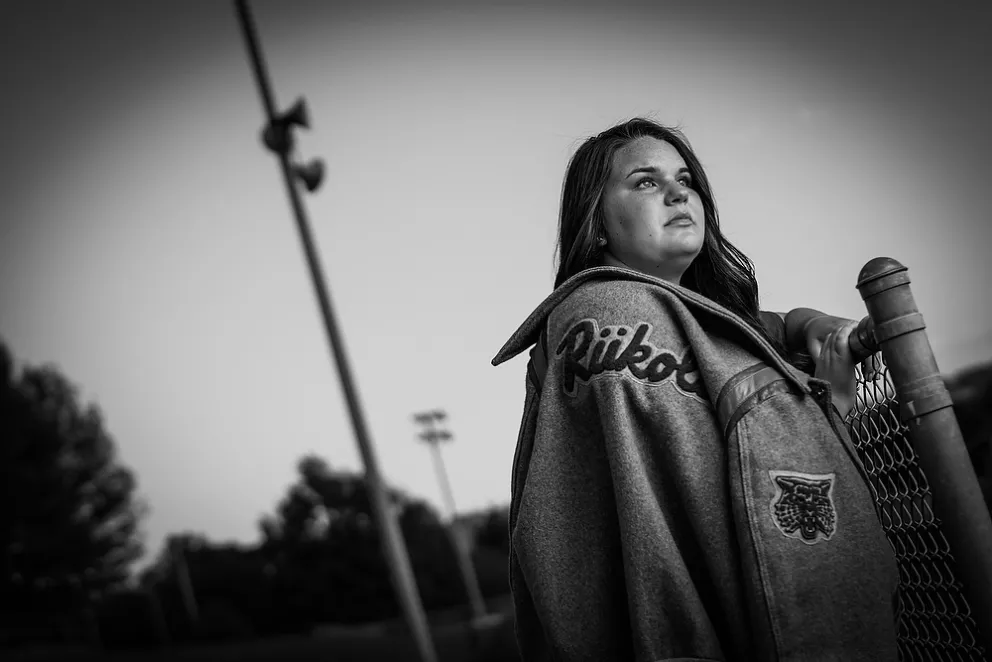 Covid19 high school graduate portrait series. A 2nd generation shot-put player at Oak Ridge High School wearing her Dad's letterman's jacket. She is now moved into the dorms at the University of Tennessee.
Seeing the recent changes to how sports are now covered and now few shooters are able to get into each game is terrifying to me as a sports photographer. I made the decision years ago to only shoot for clients that allowed me to retain the copyright of my images. This means I have no work right now. None.
Those of us who have paid our dues must do our best work every day to survive the great creative purge that is taking place right now and will continue into the future. I am committed to being a visual creative into my 60s which for me is just five years away. I have a desire to stretch, grow and prosper. I'm not finished yet and I want to be the one to walk away - on my terms – from that which has brought me constant joy since I graduated college in 1988. Looking forward, I want the same attitude I had when I was 21 years old and put up 20 mounted b&w prints on my dorm room wall so I could see my portfolio every day and improve. I want to make sure the best work of my life is ahead of me rather than behind me. I want to better than good.
I want to be Spartacus.
I want to say to all the Gen-X, Y and Z-ers: Bring it!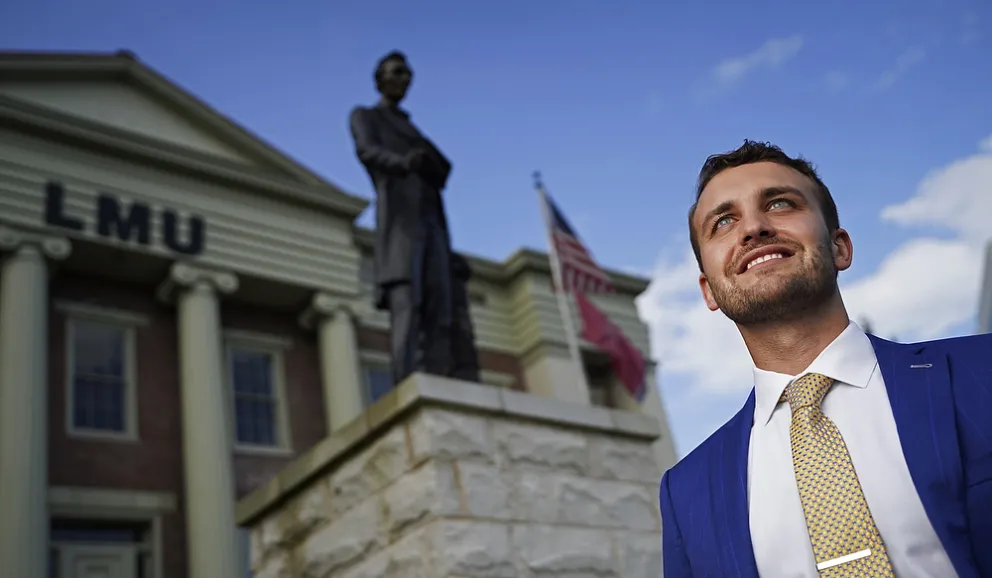 Portrait made Sept. 3, 2020; part of a portrait series for Lincoln Memorial University Law School
Zoom has forever changed education and how corporations communicate with themselves internally and with their customers. Don't kid yourself into thinking that we will emerge from all this and return to what was. IN the same way 9/11 forever changed airline security in the United States, so too as COVID-19 especially affected education. Visual storytelling will still take place but likely all online.
But there will be opportunities for those of us who can learn new tricks like livestreaming with multiple cameras and be able to do shooting and editing in 4K and 6K into the future. "Crisis" is another word for "opportunity." I plan to make those opportunities happen by preparing myself now for the future.
________________________________________
"From now on we live in a world where man has walked on the moon. It's not a miracle; we just decided to go." –Jim Lovell (Apollo 13 commander) 
Stories, story ideas and feedback always welcome, contact editor Matt Cashore, mcashore@nd.edu.