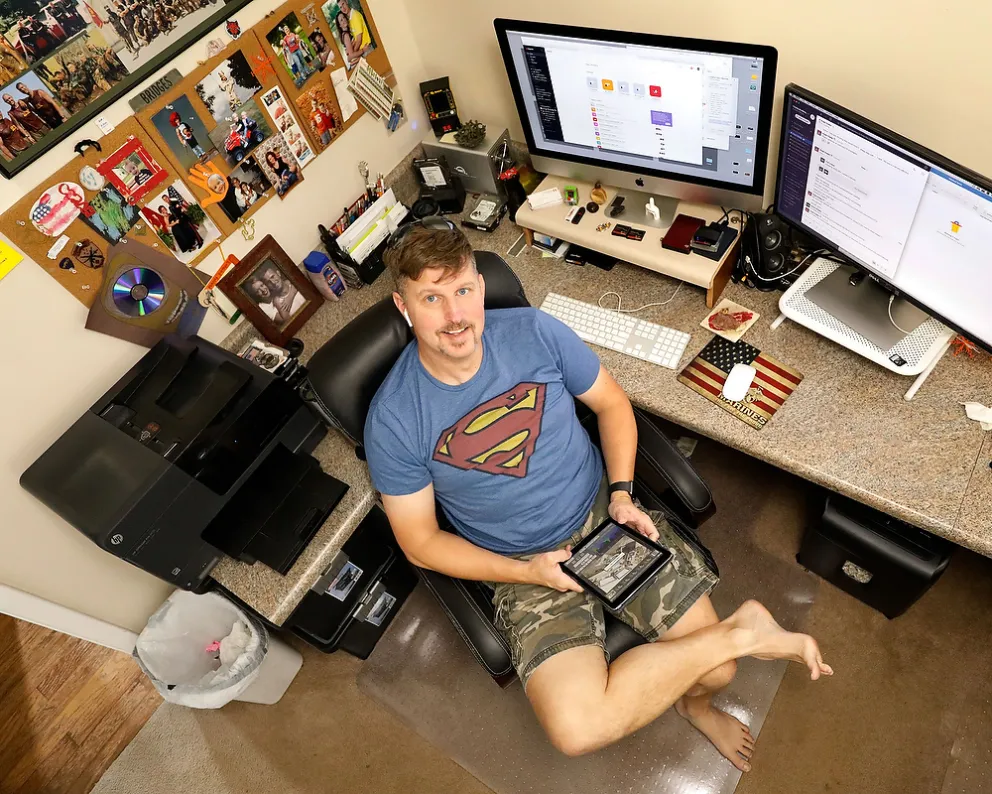 (photo by Steven Bridges) For the first time in 3 years UPAA has a new Photographer of the Year: Steven Bridges from The University of Tennessee.
Steven Bridges is the staff photographer in The University of Tennessee Office of Communications and Marketing. He became a full-time staff member in 2018 after a 17-year run as a full-time freelancer in the Knoxville, TN area. Before that he did newspaper work in his native Arkansas. Steven is a 1999 graduate of Arkansas State University and was a corporal in the United States Marine Corps.
Steven swept the awards ceremony, winning the overall MIC, the overall Annual Photo Competition (APC) and APC Best-in-show. It was far from a spoiler, then, when an accidental early reveal showed Steven's name as the winner of the 2020 Mark Philbrick Photographer of the Year.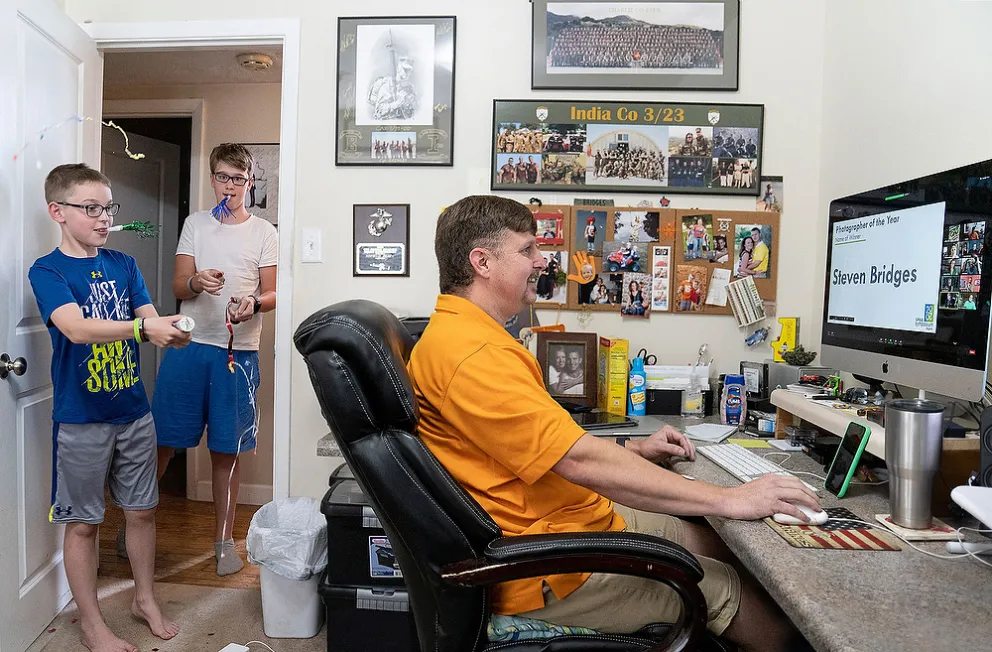 (Photo by Joe Howell) The POY win was celebrated online and in person with friends and family. Steven's kids popped confetti and former Vanderbilt photographer, now Nashville-based freelancer Joe Howell (who shot this photo) made the trip to Knoxville for the awards ceremony and made a surprise Zoom cameo after the POY announcement.
"The points going in to the APC were very close," said Steven. "I knew anyone in the top four could have a chance to win if they had a great finish...When the announcement came my family surprised me with confetti poppers. While it was disappointing not to be in Utah with my fellow UPAA members, it was a blessing to be able to share this win with my family."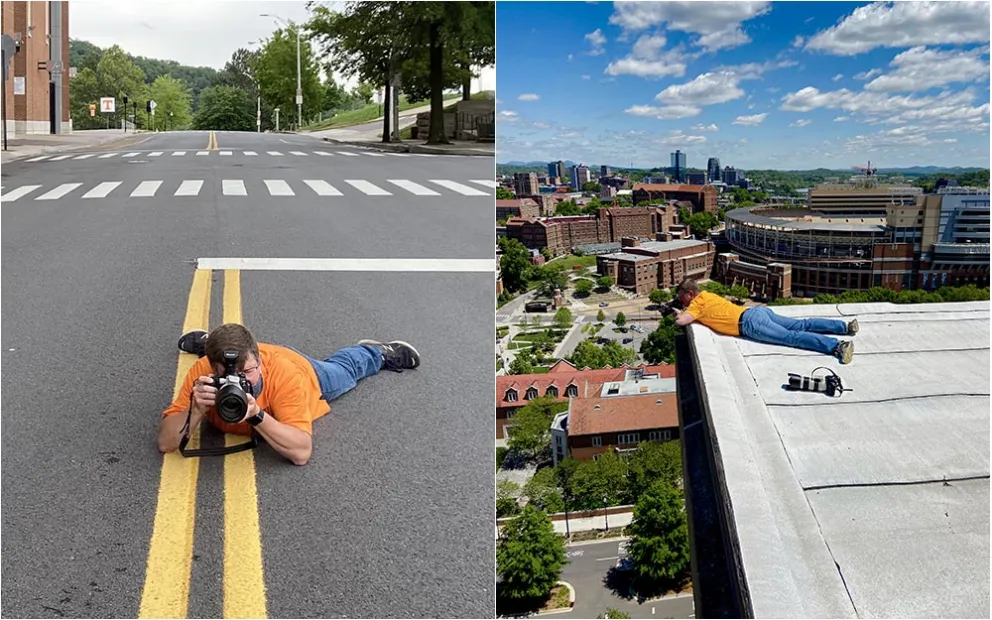 The highs and lows (literally!) of the job.
Steven did indeed have a strong finish in the APC, with all six of his entries earning honors. Going 6-for-6 in the APC is rare, but unlikelier still is that none of the six had previously been discussed in a MIC Q&A. The upcoming Contact Sheet magazine will have more of a bio on Steven. Here - in the spirit of the monthly Q&A - is a little more about each of the six photos that won in the APC:
APC Best in Show: "Reaching Out"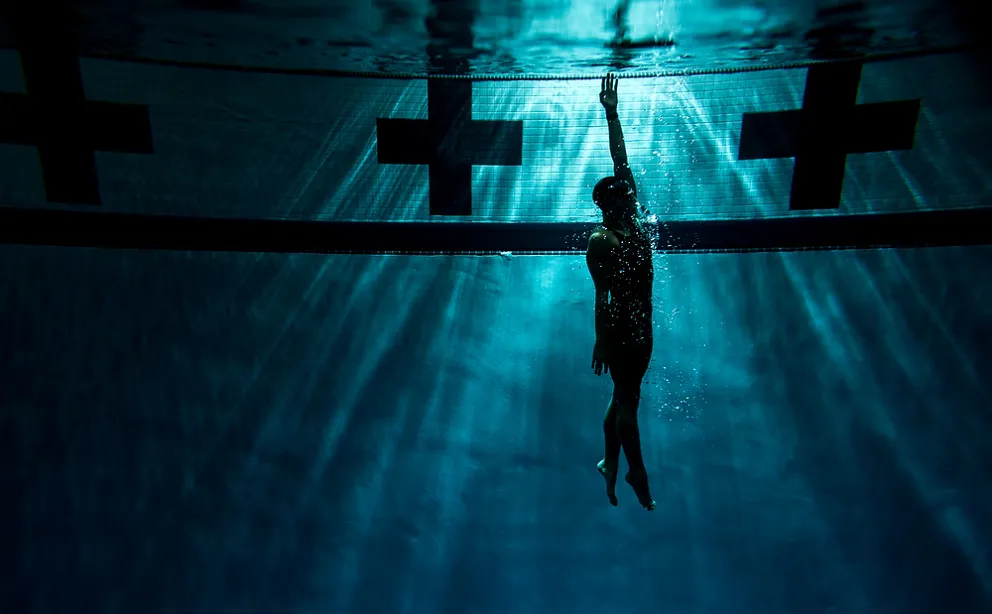 Canon EOS 5D Mk IV, 24mm, 1/200 f3.2, ISO100
This was a big shoot from the conceptual phase. My designer, who is always pushing the envelope, created a Pinterest board for us to brainstorm around. We were both adding items and discussing them. Going into this shoot, we both felt it would produce contest-worthy images. 
For this image I started with the available light, but it was too flat. So, I added a strobe above my subject. To accomplish this, the swimmer would step off the edge of the pool into the water and swim back up reaching for the surface. My assistant, who was behind her, would also step forward to the edge of the pool while holding a light with a reflector straight overhead. This gave the nice dramatic light and deep color to the water. 
I picked Joe Howell's brain for the equipment he used on all of his underwater shoots. My mistake was that I didn't do any in-water tests before the shoot. Once we started, I found out that my lights would not trigger whenever the transmitter was submerged under water. I quickly found that I could float on top of the water, submerge everything but the transmitter, and everything would work fine. This was shot last fall but just went to print this spring. (Read more behind the scenes of this image on Steven's blog.)
2nd Place Campus Environment: Snowy Hill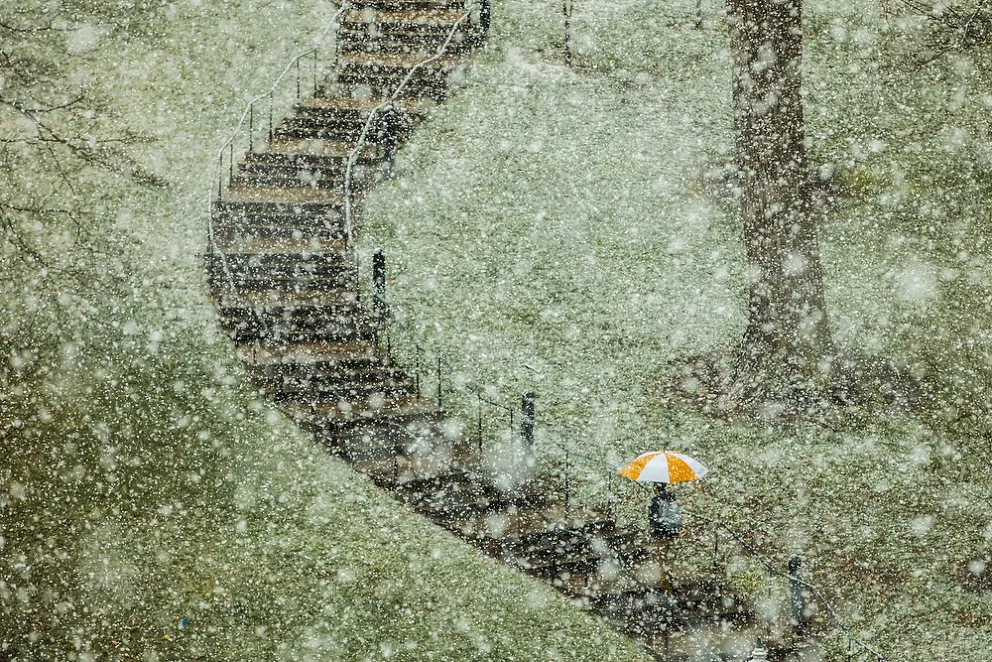 Canon EOS 5D Mk IV, 200mm, 1/1000 f4, ISO1250
Our area only gets a few snowfalls each year. So when it happens, it's a big deal. That day I was on an assignment that had me dragging gear all across campus. The last thing I had to photograph was a professor teaching class.  As I was shooting, I saw all of these huge flakes start falling outside. I quickly got what I needed and headed out the door. Luckily, the building I was in overlooked UT's famous Hill. There, I made this image of someone holding the umbrella climbing the stairs up the Hill. I knew it would be a winner.
3rd Place General Features and Illustrations: Mental Health - Single Exposure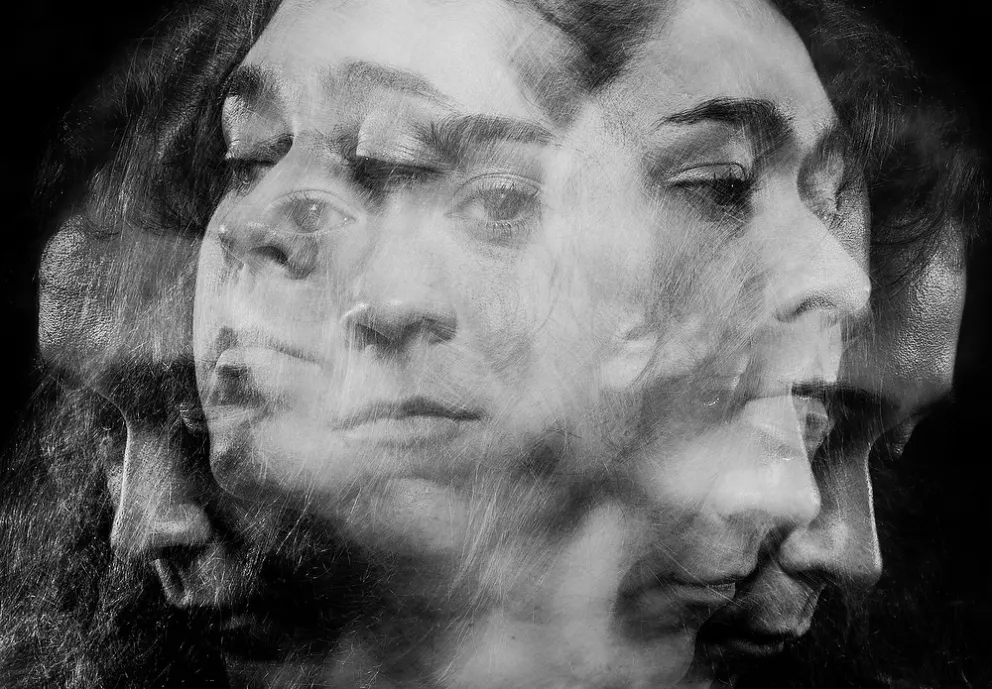 Canon EOS 5D Mk IV, 160mm, 8sec f11, ISO50
This image came from a test shoot with an office intern while working on setups for the shoot that produced my best of show. The story was about mental health issues. I wanted to represent multiple emotions or things that could be happening in someone's head.
It was pitch dark. I left the shutter open for a few seconds and popped a flash as I had her move her face to different areas. This was very hit or miss, because the marks were by feel. I liked this one a little better than the subject of our story, because her longer hair seemed to give the image a scratched surface effect.
1st Place News and College Life: Working Mom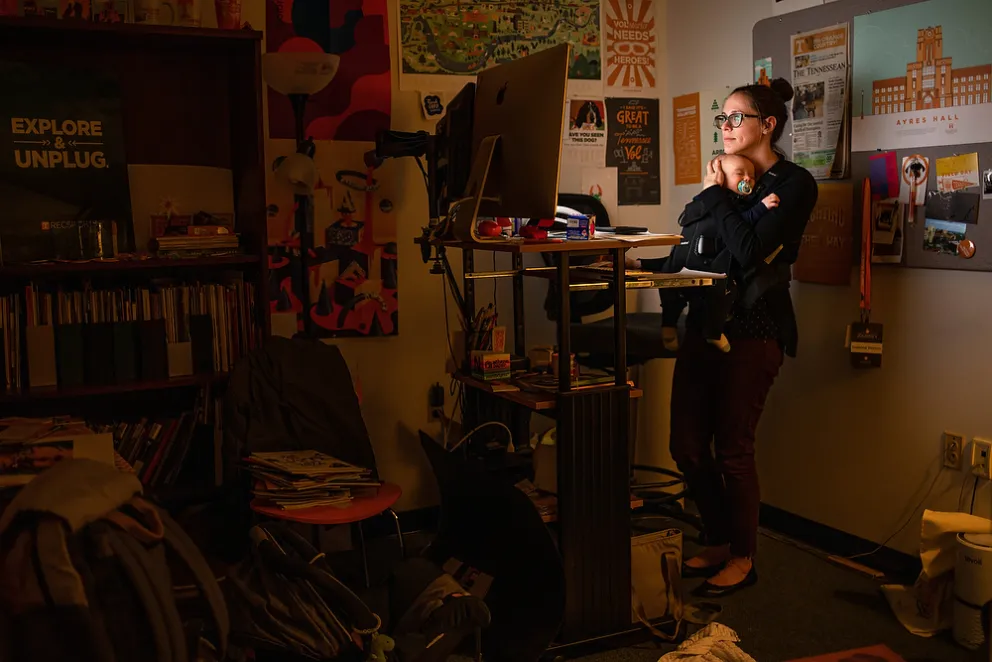 Canon EOS 5D Mk IV, 35mm, 1/80 f2, ISO500
On the day of this photo, Knoxville was predicted to get a second round of flash floods within a couple of weeks. Schools and daycares were closing early, and people were picking up their kids and bringing them back to work. I didn't think much about it until walking by my coworker's office as I was leaving. She was working at her desk with her baby son just chilling in her arms. I stopped, chatted, and made a few frames with my iPhone. It was the most telling image of the day and I knew I couldn't leave it to just my phone. I went back, grabbed my camera, and fired less than 10 frames and knew I had it.
1st Place People & Portraits: Trailblazer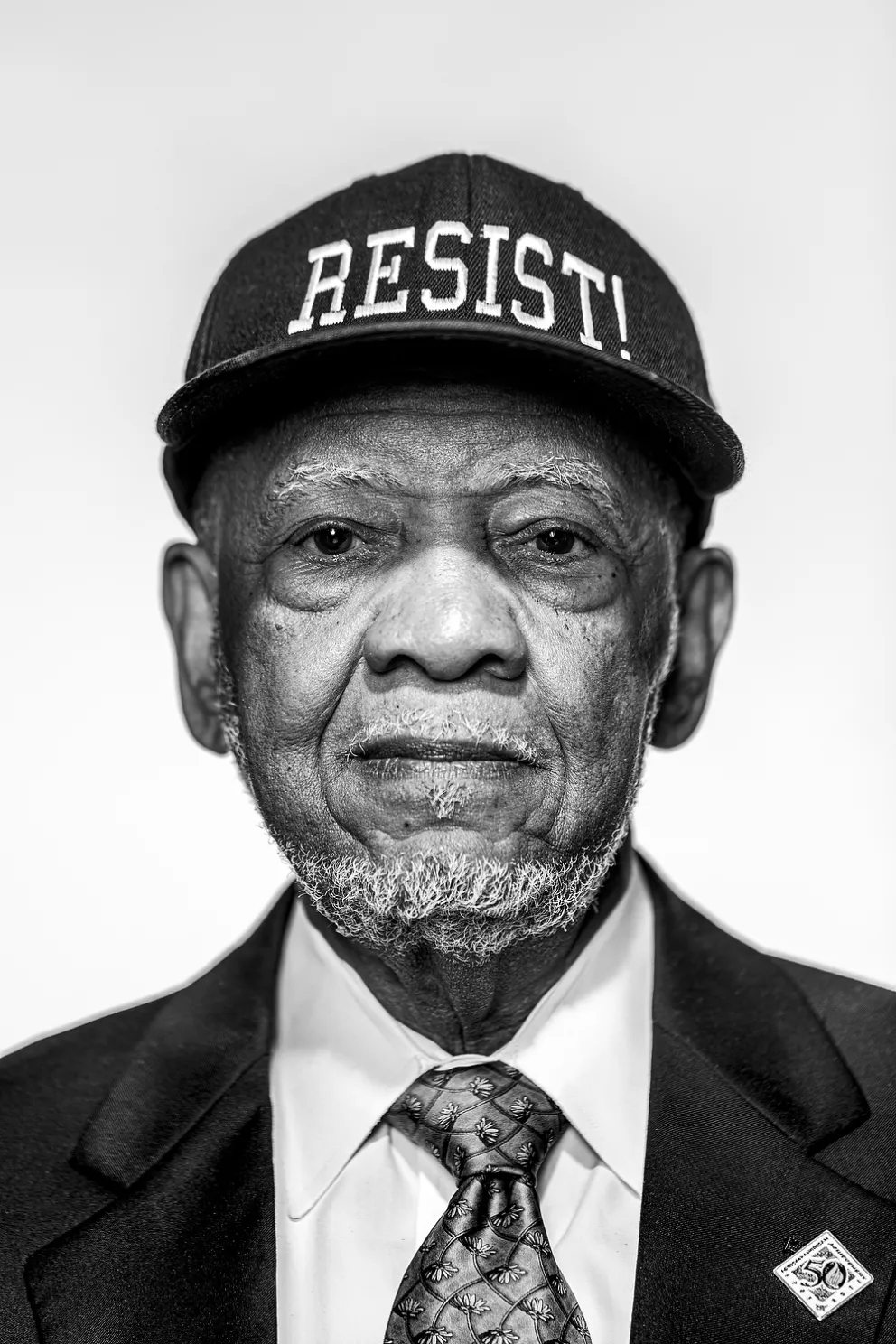 Canon EOS 5D Mk IV, 100mm 1/200 f2.8 ISO50
I watched Platon's documentary on Netflix and found it was very inspiring. During the initial discussion about this story with my magazine designer, we were both envisioning it to be in the same style as Platon. It's great when you are on the same wavelength as your co-workers from the beginning. My subject, Theotis, was the university's first Black undergraduate student who enrolled in 1962. He is an activist and known around town for wearing a handful of different political hats. I doubted a shot with one of his hats would ever be used, but I asked him to bring it anyway. I shot multiple looks on different backgrounds with and without a hat for options. This image was in the final two for consideration for our magazine. While they were both good images, the one without a hat won out—mostly because his wife preferred him with a big smile.
3rd Place Science and Research: Sinex Honey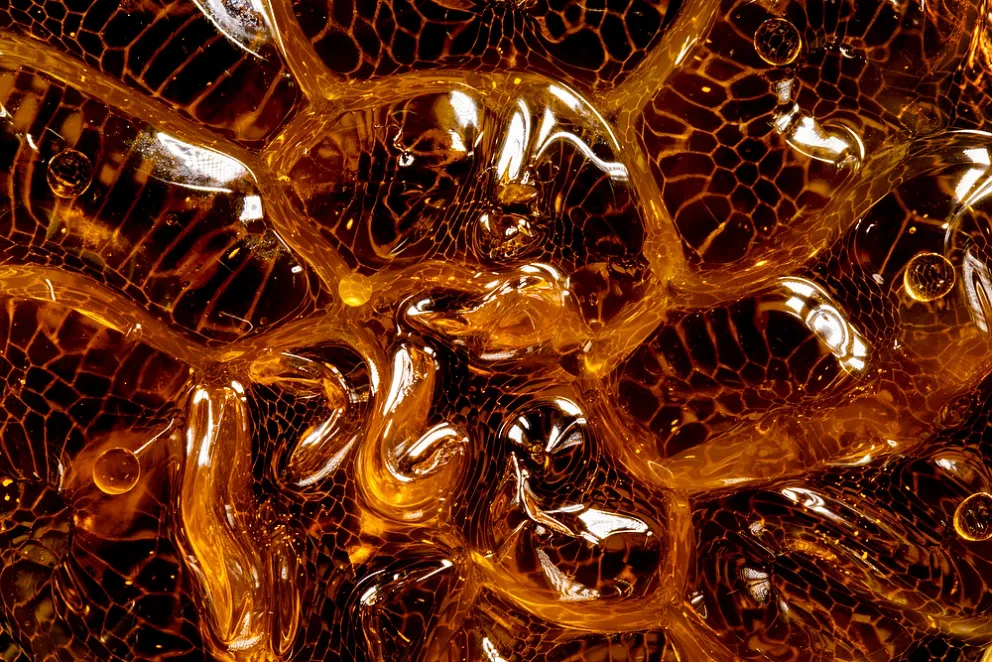 Canon EOS 5D MkIV, 100mm, 1/1.2 f29, ISO125
I learned very quickly that pills sitting in water, mouthwash, or hydrogen peroxide do not melt quickly. So I set up a time-lapse and let it run to capture this photo. Sometimes it takes 10,000 frames to make one good one. On this one specific set of images, I used a grid below the pills for more texture. I was not expecting it to look like honey. I wish I had planned that out, but it was a happy accident.
_____________________________________________
"I found a rock yesterday 1760 yards in length…must be some kind of milestone!" Got stories, suggestions, comments or critiques? (Jokes welcome, too!) Send 'em to editor Matt Cashore, mcashore@nd.edu. Follow UPAA on Instagram!