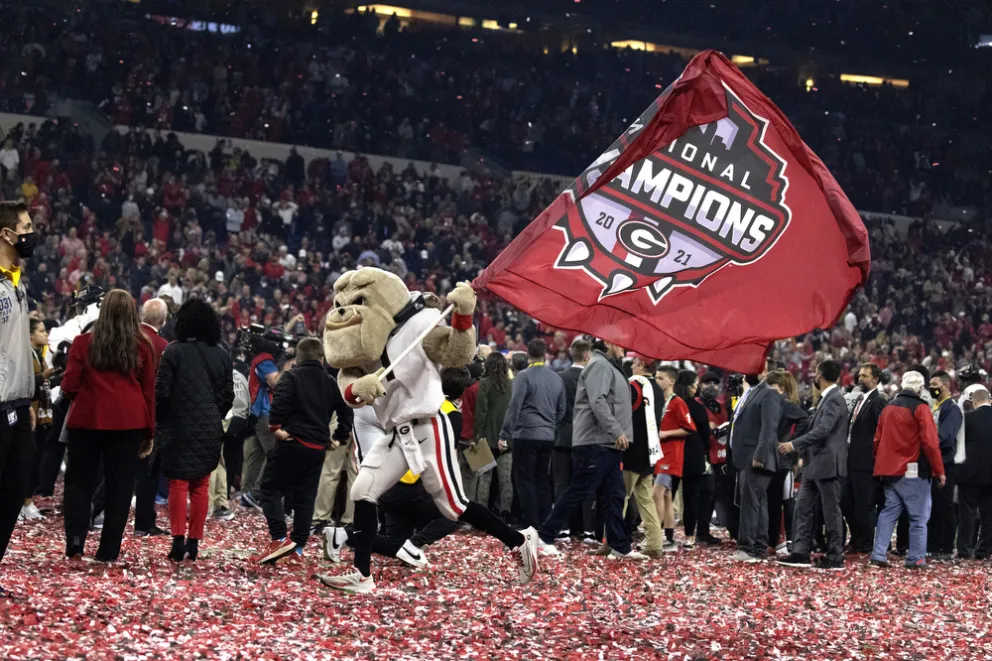 UPAA Blog 2021-22 #13 - 2/24/22 (text by Andy Tucker, photo above by Dorothy Kozlowski) 
Andy Tucker is assistant director of photography in the Division of Marketing & Communications at the University of Georgia. In January 2022 the Georgia photo team covered the Georgia Bulldogs' first football national championship in over 40 years. Five photographers in two states all coordinated to document this historic event. Andy gives a behind-the-scenes look at the planning, logistics and coordination that went into it:
I thought this might be a special year back when we started the season with a win over Clemson. I was excited about football season starting like I am every year. My hometown is Charlotte, NC, so I went home for the weekend, stayed with my parents and covered the game. It was a high-profile game versus a traditional power and it made for some good photos. Once we beat Florida I think we all started to feel that we had a chance at the playoff. Going into the SEC Championship game with an undefeated season, we were confident that win or lose we'd be in. So we were already thinking about logistics for the semifinal games in Dallas or Miami.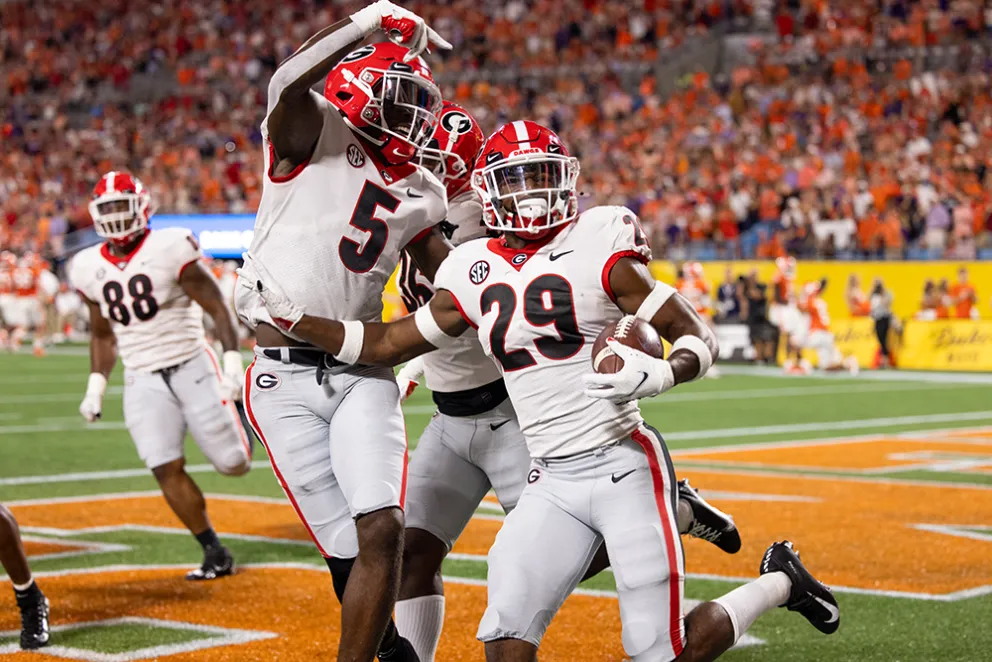 (photo by Andy Tucker) Defensive back Kelee Ringo (5) celebrates with defensive back Christopher Smith (29) after Smith scored a pick-six touchdown during the Clemson game, a 10-3 Georgia win Sept, 4, 2021.
Plan early
The most important things to take care of early are credentials and travel. When we planned for SEC Championship game coverage, our photo staff also planned out who would cover the rest of the CFP games. We had a little bit of previous knowledge to lean on from the 2017 season when Georgia went to the championship game. I gauged the interest of our shooters as to their preference on what games they wanted to cover and we worked out a schedule. We planned for two photographers for the SEC, two for the semifinal, and all three of us (Andrew Tucker, Dorothy Kozlowski and Peter Frey) to the championship. We ended up with a fourth still photographer on the field for the National Championship because that's what we got from our sports information staff when we requested three photographers and 2 videographers.  (Our school's sports information staff has a say in who gets credentials for the CFP because they know who has been covering the games all season). They gave us four field passes. Only videographer Nick Bragg would be able to shoot video on the field so it made sense to have Brett Szczepanski shoot stills and he could switch to video at the end of the game.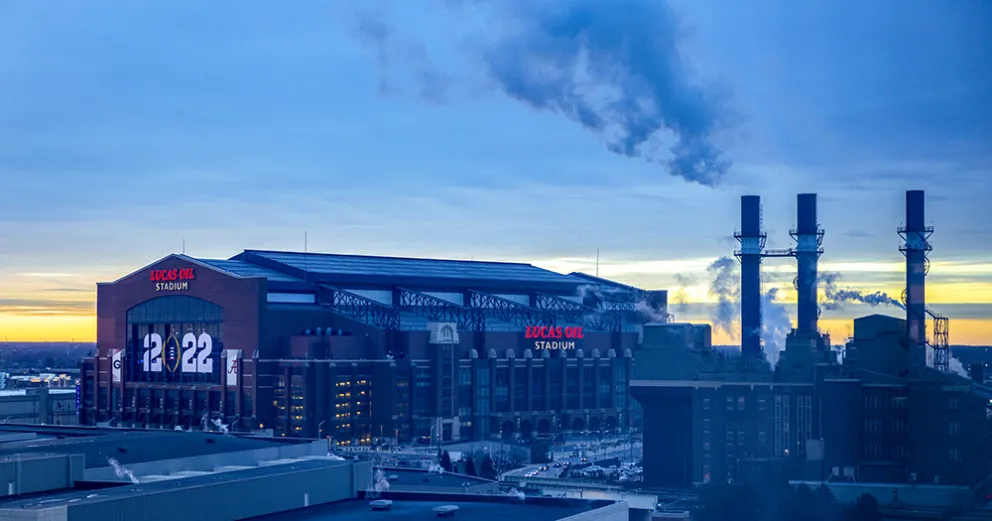 (Photo by Peter Frey) Lucas Oil Stadium, Indianapolis
We knew that when the playoff sites were announced, flights would get snatched up right away, so we worked with a local travel agent who had a 24-hour hold on flights to both playoff sites (Dallas and Miami). I watched the CFP selection show and sent an email to the travel agent as soon as we knew. Then headed to the driving range with my kiddos. I ended up having to be that annoying dad on the phone instead of playing with my kids to iron out the flight details with the agent before they all got bought up. But even that wasn't quick enough for flights to Indy. They were pretty much all taken immediately. So I knew we would be driving to Indy.
"A logistical rodeo."
When Dorothy Kozlowski and I got back from the Orange Bowl on Saturday January 1st, it was one week until we drove to Indy. During that week our photo staff had three assignments. Peter shot one regular assignment and two studio portraits. But unpacking, backing up images, repacking and double checking everything was a work week on its own. As Peter put it, "It is a logistical rodeo." 
It took a good day to drive our two mini-vans of staff up to Indy.  We had four photographers, one videographer, one social media coordinator, and one writer. 
As photographers for Marketing & Communications we mostly get to determine what we think will make good photos and we really don't get pulled in a bunch of different directions covering parties and events leading up to games. This game was even less stressful than other big games because there was not as much going on outside of the game due mainly to Covid-19.  Practices were closed and all the press conferences were virtual. The biggest challenge was the cold!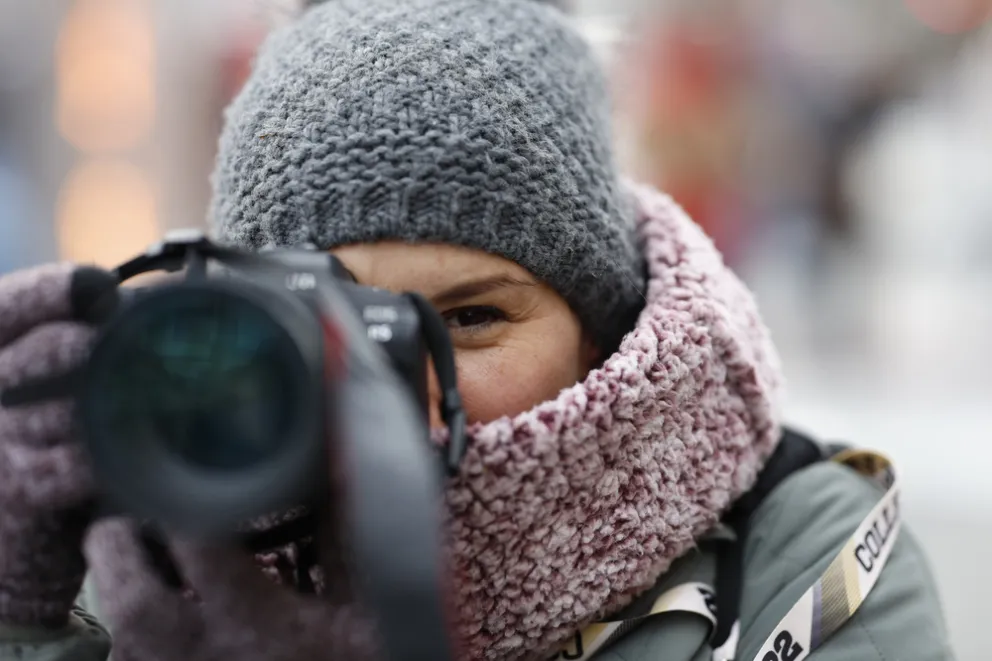 (photo by Andy Tucker) Dorothy Kozlowski keeps warm while out and about in Indy. "It was cold," Andy said. 
The day before the game we just got out on the town and tried to shoot some scene-setter photos and Georgia fans in town. We also put our drone up around the stadium. There was a restricted airspace warning for the area around the stadium for game day but not the day before. Still, the DJI app wouldn't let us take off near the stadium, so we had to walk a few blocks to get outside the restricted airspace to put the drone up.  Also being very cold, my phone battery died very quickly and even cut off while flying our drone. We were able to still fly the drone but we lost the visual from the camera. Needless to say we landed and didn't take back off.  We transmitted photos and then called it a day.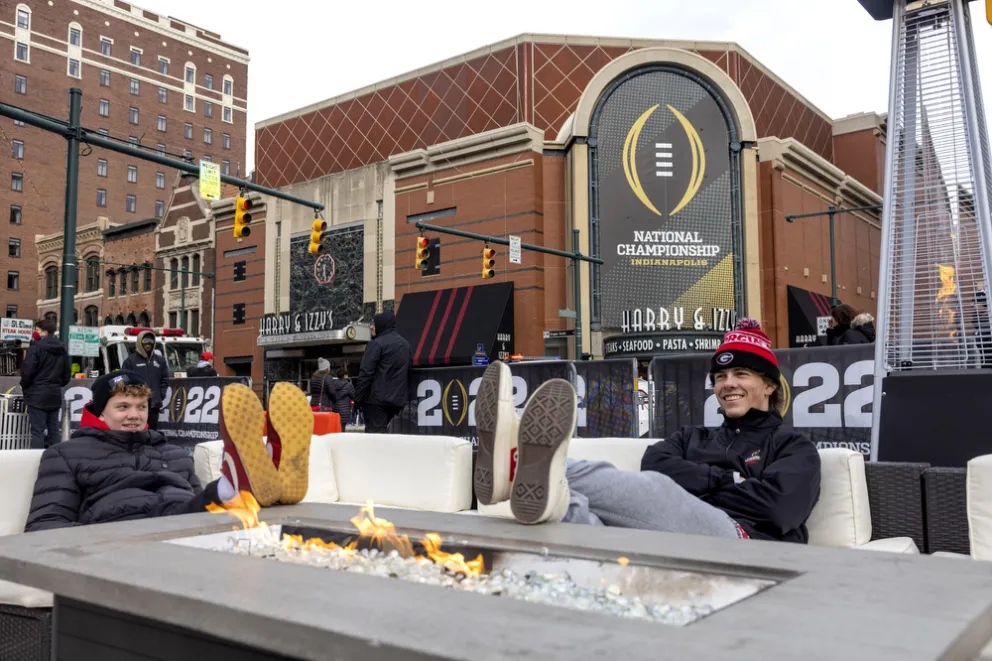 (photo by Dorothy Kozlowski) Georgia fans in Indianapolis
Gameday
It is a good thing we didn't have to cover that much before because as we have learned by covering a previous national championship game, the SEC and Orange Bowl, you have got to pace yourself. You don't want to peak too soon. It's hard though because you are all charged up because it the NATIONAL BLEEPING CHAMPIONSHIP!   
I think that we always put pressure on ourselves to do our best work. Everyone wants to have their best game when it means the most. Dorothy said she had an awesome Orange Bowl, but not her best game at the NC. Peter said it makes him move into a more focused mode of double-checking everything to make sure he was prepared--cameras, batteries, cards, having everything in place so that he is ready for the game. I get up and hit the gym and get a good workout in. I pray the morning of the game for our team of photographers, videographers, social coordinators, and writers when we are covering these big games. And I think that helps me find peace with the stress and the pressure.   
On-the-field teamwork
It is a luxury to have a team of folks so that we can take advantage of different looks at the field. 
We communicate before the game with each other to make sure we know who is going to head off of the field and go up above. Usually it is me. I like to work within the crowd. And in the first quarter everyone is pretty much happy.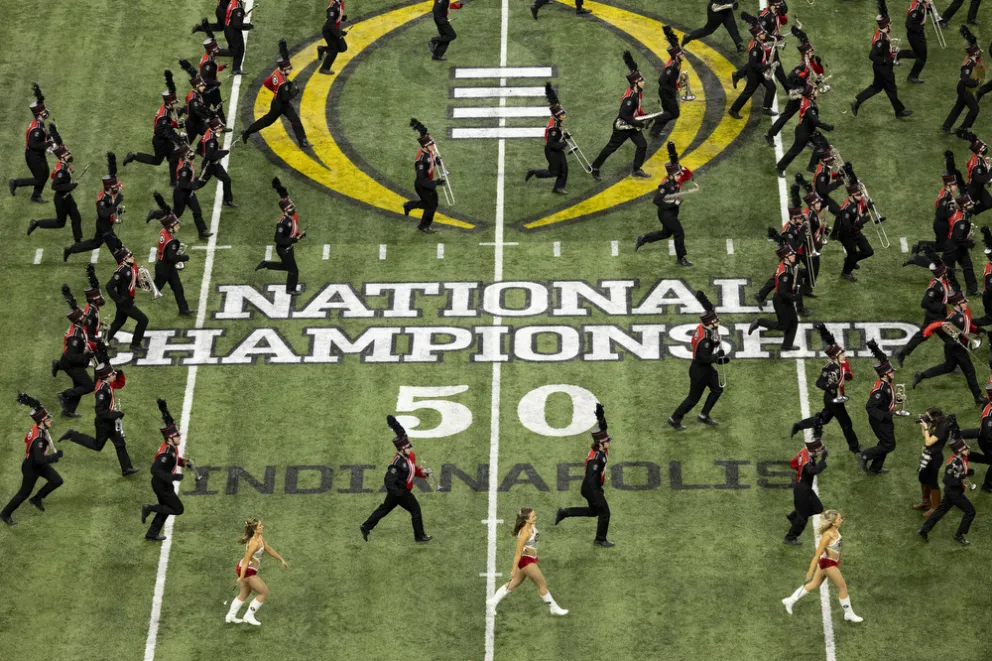 (photo by Andy Tucker) The Georgia band performs during pregame ceremonies.
We really just look to one another and stay spaced out when we are on the field. We will have one of us on each side of the end zone and maybe another up one sideline. For the national title we just tried to stay apart from one another as we had four folks. If you look over and someone is beside you, move apart. We all are always looking for the mascots and fans. Dorothy says  a lot of the time she works the corner with the cheerleaders. Sometimes I will go up into stands to shoot the band and fans. We all keep an eye out on our spike squad students on the front row. They typically don't get to these big games, but due to the generosity of the Georgia fans they were able to buy tickets and be there for both playoff games.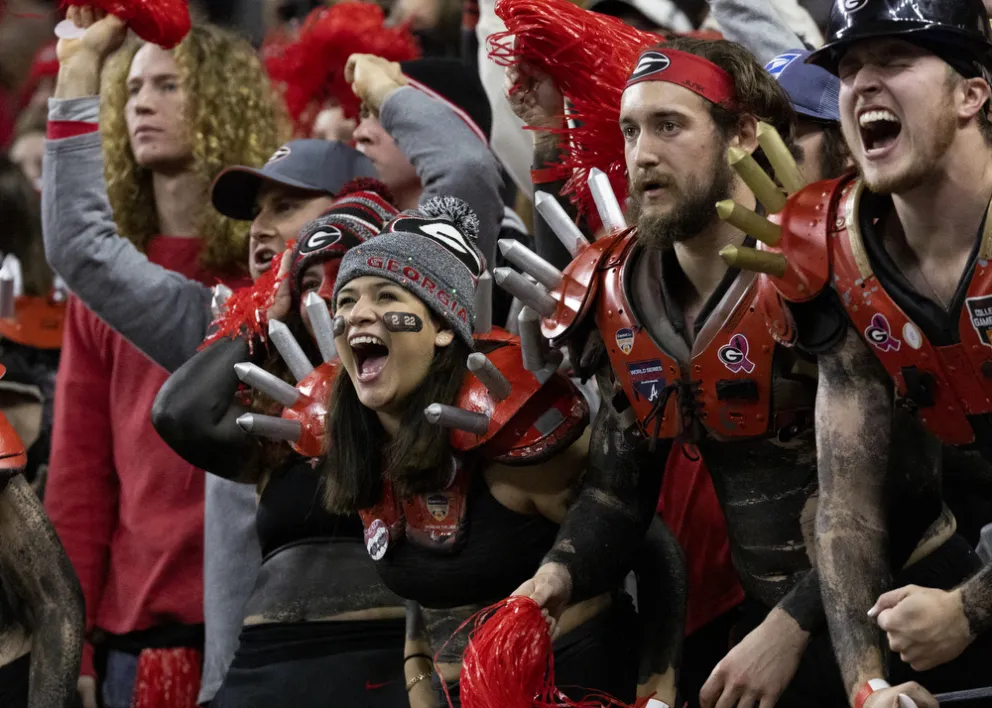 (photo by Andy Tucker) The Spike Squad students cheer on the Dawgs.
We don't have any overblown egos on our photo team. We are all experienced veterans and we trust each other. We are all rooting for each other to have a good game and work together to make the best photos we can. Sometimes the ball comes your way, sometimes it doesn't. But knowing that you have a good team that you trust, it doesn't matter which way the ball goes because you know we are going to have it.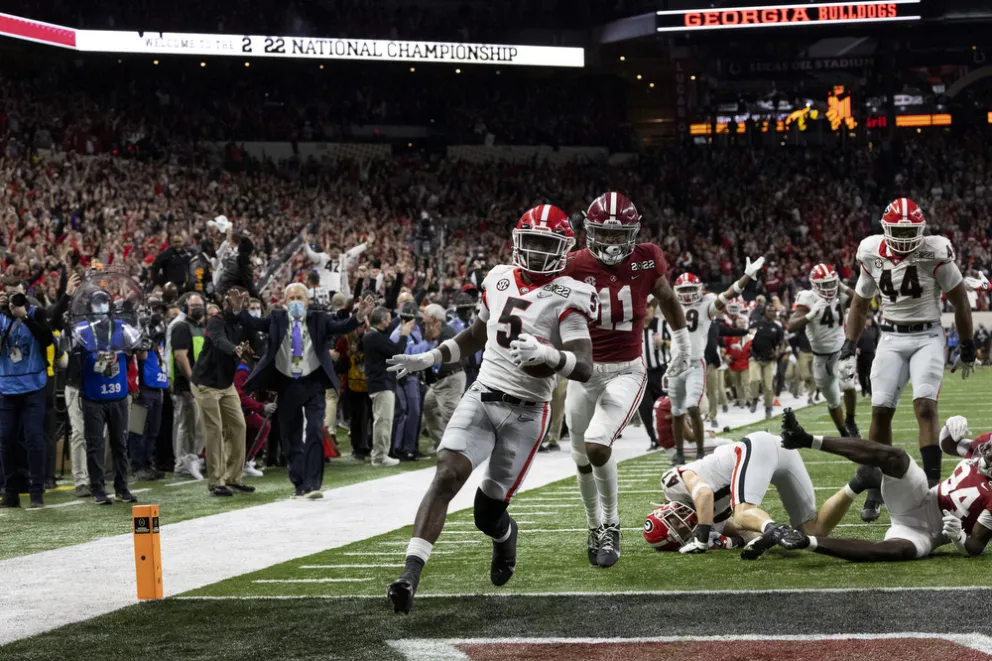 (top photo by Andy Tucker, bottom left by Dorothy Kozlowski, bottom right by Peter Frey) Three angles of defensive back Kelee Ringo (5) scoring on the game-sealing pick-six. With everyone backing each other up, you're likelier to get the key moments.
Dorothy, Peter, and I have data enabled iPads and we send back to an FTP that our IT manager has setup for us back in the office. When the photos hit that folder our social media coordinators are able to grab and post them. It's not always trouble-free but it has worked for most of the year. Even in other stadiums we were able to transmit out photos. Unfortunately Lucas Oil Stadium proved to be a big challenge to our transmitting process. Yes there were a lot of fans and they were all using their phones and clogging up the cell towers. But there was something different about that stadium. We had a hard time transmitting. We even had a hard time getting our cameras to talk to our iPads. I'm still not sure what it was, but it is making us re-evaluate how we are going to transmit and even cover larger events like this one in the future.   

(left photo by Dorothy Kozlowski) Brett Szczepanski, left and Andy Tucker on the field at Lucas Oil Stadium. The Georgia Athletics Department photographers got the limited yellow vests, giving them immediate access to the field for postgame reaction and celebration. The Marketing & Communications staff were issued the more common blue vests which restricted postgame field access for the first few minutes.
We did have a plan for the end of the game if we won. But it was a little more complicated due to the blue vests we were issued. Blue vest photographers had to wait 4 ½ minutes before going on the field for the celebration photos. The CFP doesn't want to have too many photographers and videographers rushing onto the field at the same time so it is understandable, but that doesn't make it any less frustrating. There is a lot of celebrating that goes on in that time that we just had to try and shoot from the sidelines. I like the way Peter described it as "soul crushing" as the celebration unfolded in front of you with nothing but the backs of photographers and TV cameras in your viewfinders. There is a ton of confusion on the field as the team is celebrating and the risers are being rushed onto the field. The risers starting filling up quickly we ended up where we ended up. I was really close to the middle on the left riser, Peter ended up on the right riser, and Dorothy was far right on the right riser. So we had three different looks at the trophy ceremony, but it was also a cluster.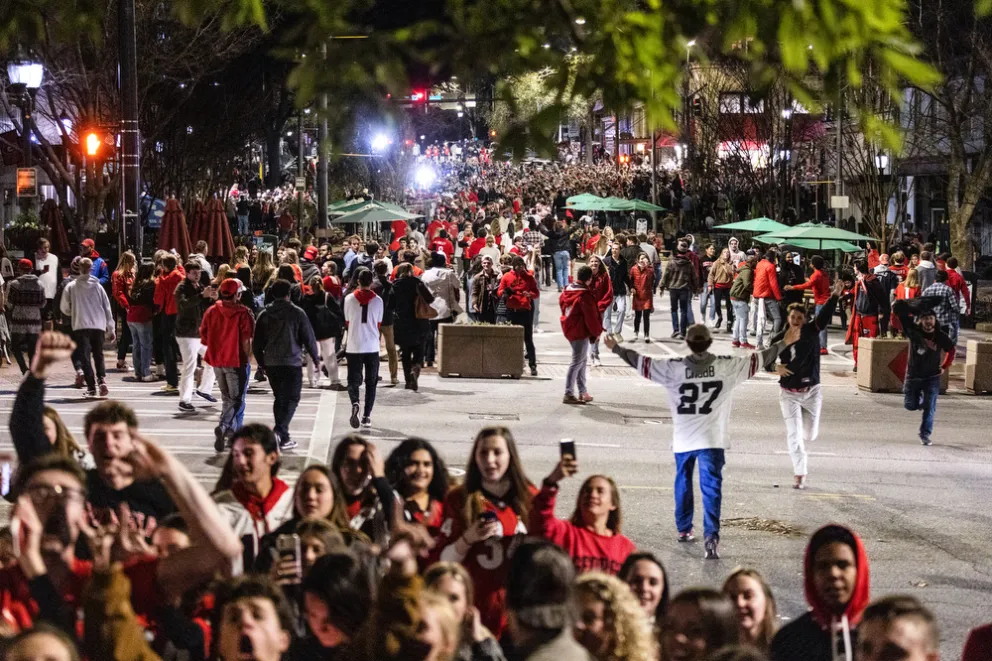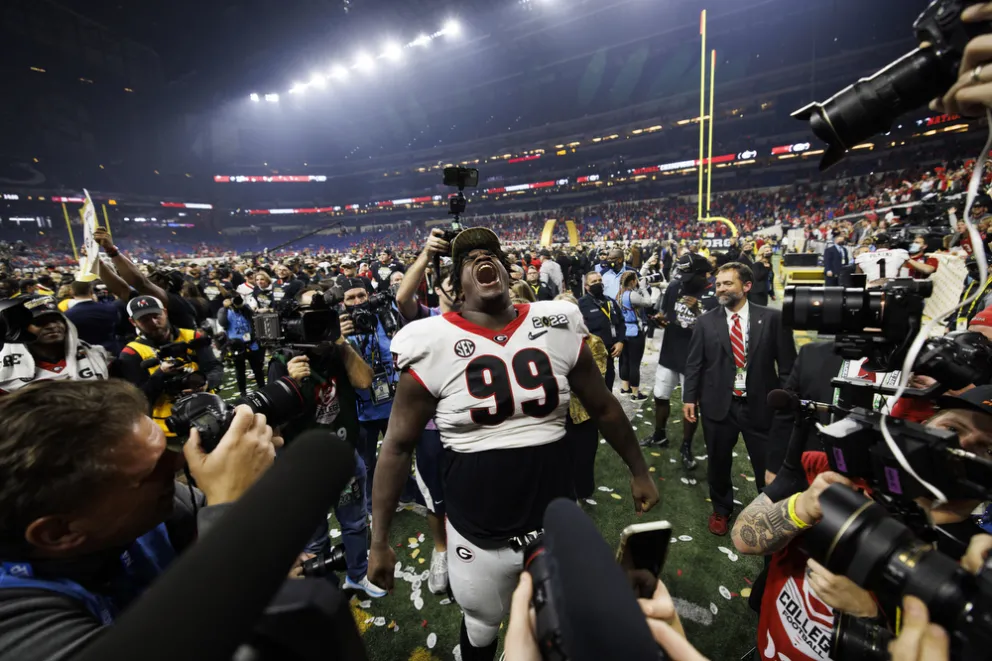 (top photo by Chamberlain Smith) The celebration at 1:18 AM in downtown Athens, Georgia. (bottom photo by Andy Tucker) The celebration at 1:23AM in Lucas Oil Stadium.
Simultaneously we were able to have our part time photographer, Chamberlain Smith, back in Athens to cover anything in case we won.  We had a campus watch party at our basketball arena and she covered that early in the game and moved some photos.  We anticipated that if we won, students would be celebrating, ringing the chapel bell (a tradition after games here) and generally going nuts in downtown Athens. Chamberlain watched the fourth quarter of the game on her phone in her car close to downtown and then headed out once the game ended and got some great photos of the excitement back home. She also was able to shoot the arrival of the football team back to Athens on the next day while we were all driving back from Indy.
Postgame
After the game and celebration was over and the team had left the field, we got to celebrate a little too. We made confetti angels and took some photos.  Even snagged some confetti as keepsakes for some of our staff back in Athens. We transmitted a few more photos from the photo workroom, returned our gear to Canon and headed back to the hotel. I think it was about 2:30am. I was exhausted but also excited. I did go down to the hospitality room for one drink with Peter, Brett, and our writer Eric Rangus.  We sat together talking about it all. I was in disbelief. It was starting to sink in but hard to believe that we actually won.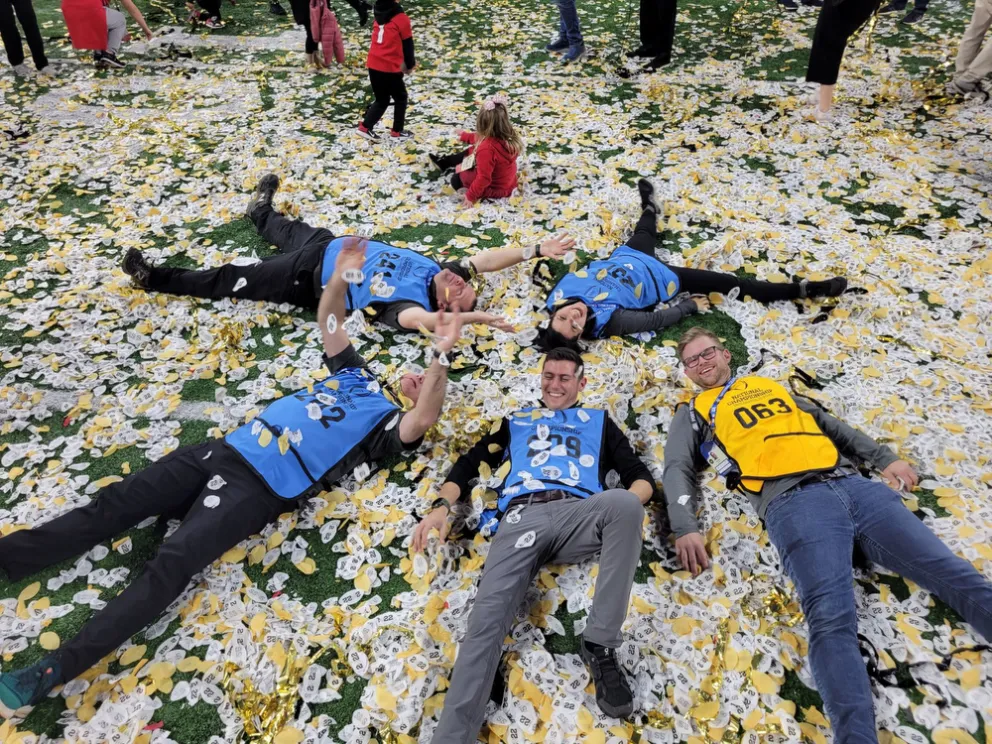 The Georgia photo/video team take a moment to enjoy the moment. Clockwise from bottom center: Brett Szczepanski, Peter Frey, Andy Tucker, Dorothy Kozlowski, Nick Bragg.
We are invested. We put in our time away from family, energy, creativity, and sweat into it. And it is draining. I always say I hope we win so the pictures mean something. If we lose, the university goes dark on social. It's like the game never even happened. But this year, the photos mean everything. They become historic. So I felt a sense of relief that chasing this team and documenting the story of our season really meant something. Our alumni magazine is blowing this out in the next issue. Our division is creating a book of the season. We started the season against Clemson with pick six touchdown. And we ended the season with our final score being a pick six. And we have photos of both.
Orange Bowl Team:
Eric Rangus, writer, Georgia Magazine Editor
Jamie Lewis, Social Media Coordinator
Corey O'Quinn, videographer
Dorothy Kozlowski, photographer
Andy Tucker, photographer
National Title Team
Eric Rangus, writer, Georgia Magazine Editor
Jamie Lewis, Social Media Coordinator
Nick Bragg, videographer
Brett Szczepanski, photographer/videographer
Peter Frey, photographer
Dorothy Kozlowski, photographer
Andy Tucker, photographer
Chamberlain Smith, photographer (In Athens, GA)
__________________________________________________
"Did you know I won the marionette championship? It was close...I had to pull a few strings!" Thanks for reading the blog, contact editor Matt Cashore, mcashore@nd.edu if you'd like to write or suggest a story. Follow UPAA on Instagram.