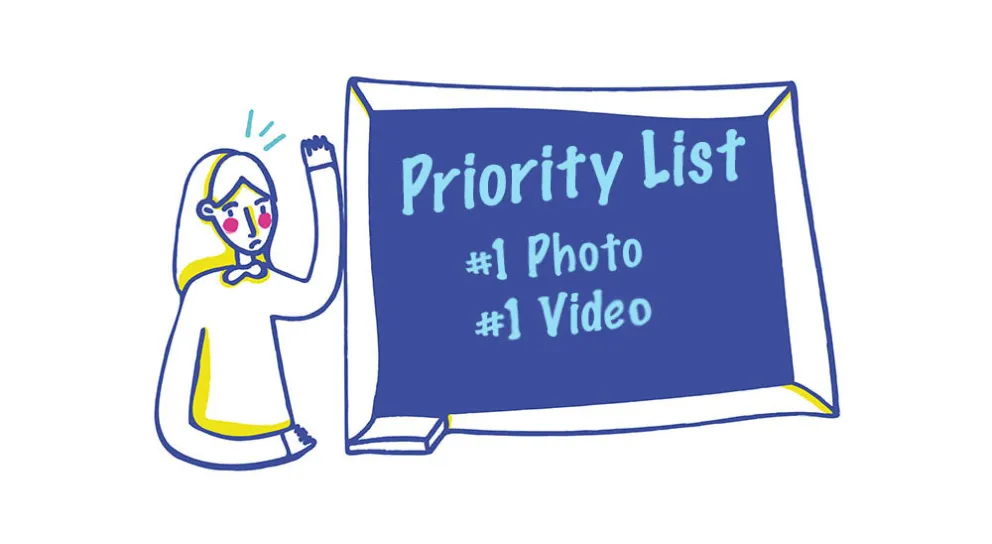 UPAA Blog 2022-23 #14 - 3/2/23 (text by Chelsea Purgahn)
Chelsea Purgahn is the photographer and videographer at St. Edward's University in Austin, TX. Like many with a dual title, Chelsea juggles the demands of being one person with two jobs. Which comes first? Well...it depends. Chelsea offers some insight on how she handles the competing priorities. -Ed.
************
It's finally here – a big event that's been on your calendar all semester. You're getting your gear ready to go photograph peak moments when you're asked (re: told) the dreaded question: "Can you also get some video while you're there?"
As St. Edward's lone photographer and videographer, this situation happens often, and I bet it does for many of you too, perhaps increasingly so as the internet and social media continue to shift the emphasis of content to video. That said, we all know the importance and value of photos, and how they are used widely across both digital platforms and print pieces for our universities.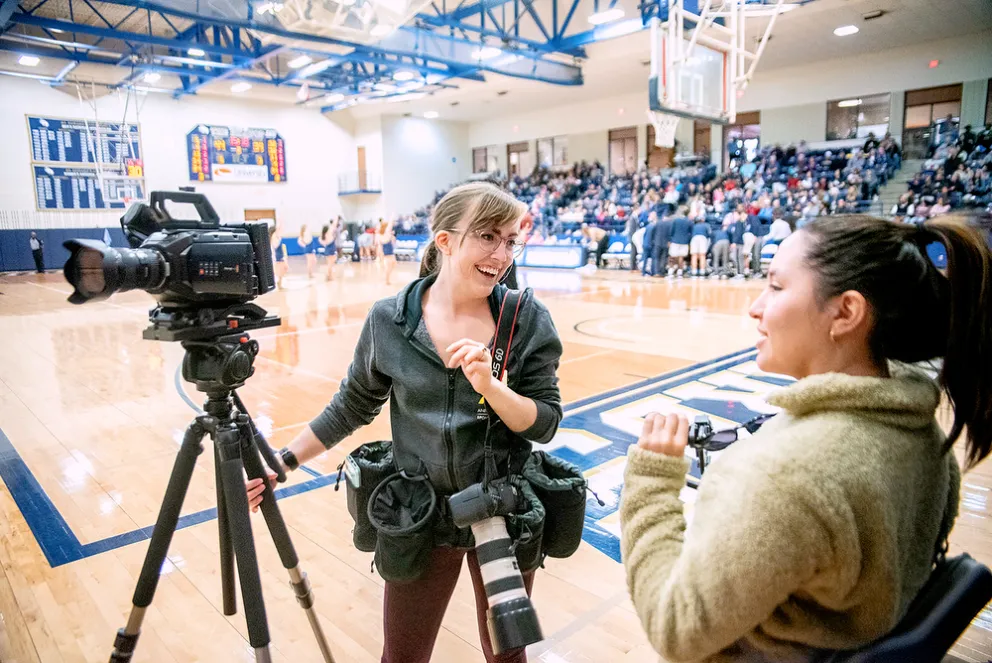 (photo by Tomas Segura) Chelsea at a homecoming event in February 2020. She no longer needs two different cameras to do both photo and video, but it's still two different jobs.
So how do we do both when we're only one person? I'll speak to this common conundrum through the lens of event coverage, but these points can be applied to other types of photo/video situations.
BEFORE THE EVENT 
Make sure you're a part of planning conversations.
The earlier you can be a part of discussions, the earlier you can get the conversation rolling about photo/video needs and set expectations around them. Oftentimes, photo and video are afterthoughts when it comes to planning, so it's up to you to advocate for and make space for those discussions.
Gather as much information as you can about the request.
Think through your who, what, where, when, why – Who are the people to focus your lens on and who is the audience for the content? What is happening during the event that would be good to capture, either visually interesting or footage you could add to your archive for future use? Where is this happening on or off campus? When is it happening so you can block off time on your calendar? Why is it important that we capture photos AND video of this event? A lot of this seems basic, but it's good to cover these bases to fully understand the request.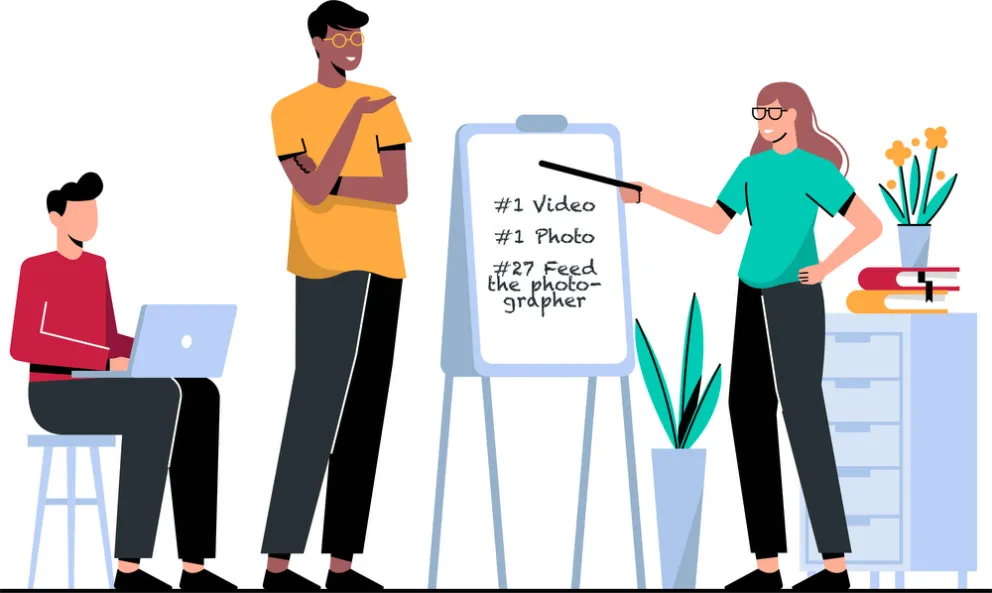 The why question is often the most important to ask: When you ask your team or campus partners WHY they need both photo and video, many times the answer is "just because" or "it would be nice to have." If there is not a specific purpose for your end product, then there needs to be critical thought given to if it's worth your time and resources to capture.
If you're unfamiliar with the event, talk to campus partners. 
Sometimes the event you're covering is new or new to you, or your office doesn't have all the answers. When that's the case, reach out to campus partners who are more involved with the ins and outs of the event. Oftentimes they can give you more insight in regards to the timeline and what's best to capture. They could have insider knowledge on any surprises that might be planned as well so you have a heads up and aren't thrown off guard when they happen.
As the expert, decide what is feasible ahead of time and communicate this to stakeholders.
After all this information gathering, it's time to give your recommendation to the requester of what you can do, what is feasible, and what is the best use of your time. (Sometimes these are all the same and sometimes these three things are very different.) We are often seen as service providers, but in times like these, it's important to stand up and be the voice of the expert. Sometimes our job is educating people on visuals and leveling expectations with reality.
Decide if social should handle some of the video requests.
As you're having conversations with the requester, you may want to talk about what video needs could be handled by your social team. For example, if the request is event clips strung together for a social recap, this would be more authentic for Gen Z audiences if filmed on a phone anyways and could be handled by the social team so you can focus on photos or gathering specific b-roll for a different video project you're working on.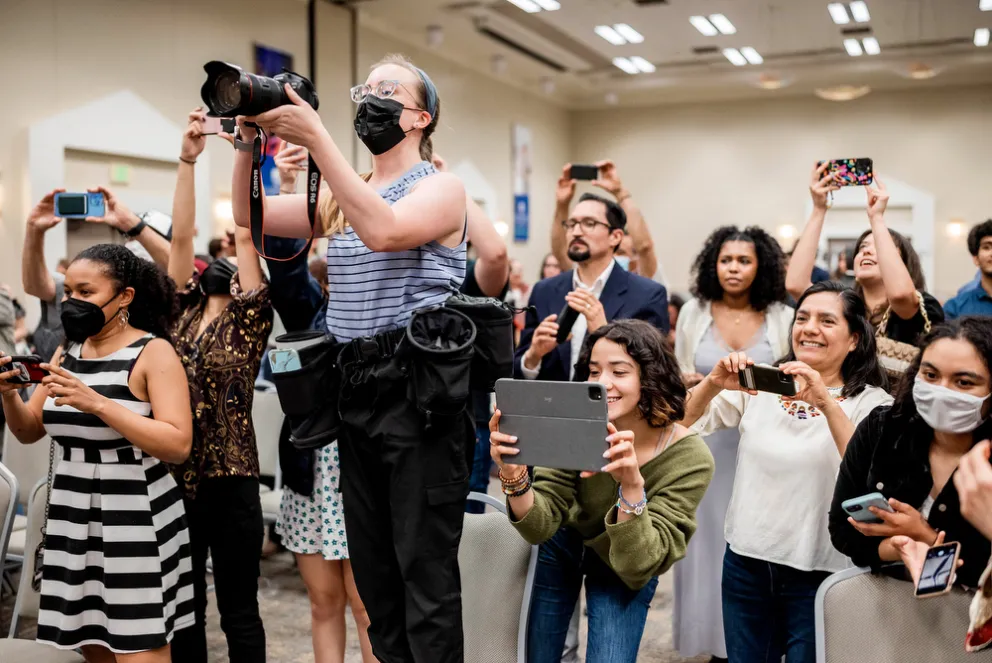 (photo by Tomas Segura) If the audience is knowably going to view it on a phone...consider shooting it on a phone in the first place.
Share your plan with your team so expectations are clear.
Explicitly lay out in a project management platform what you will be covering when, and if it will be photo, video or both. Having this in writing is helpful so you can reference this if people ask you to do something different than your previously agreed-upon plan. (Having this to reference will help keep you from getting overworked too!)
Hire a freelancer if need be.
Perhaps the event is just too big or it's incredibly important to capture everything in both photo and video formats. In those cases (and honestly any case) it's fair to ask for freelance help. I remind our team that I can technically do both, but can I do both at the same time exceptionally well? You can use a freelancer as support with a particular format or to completely cover another format.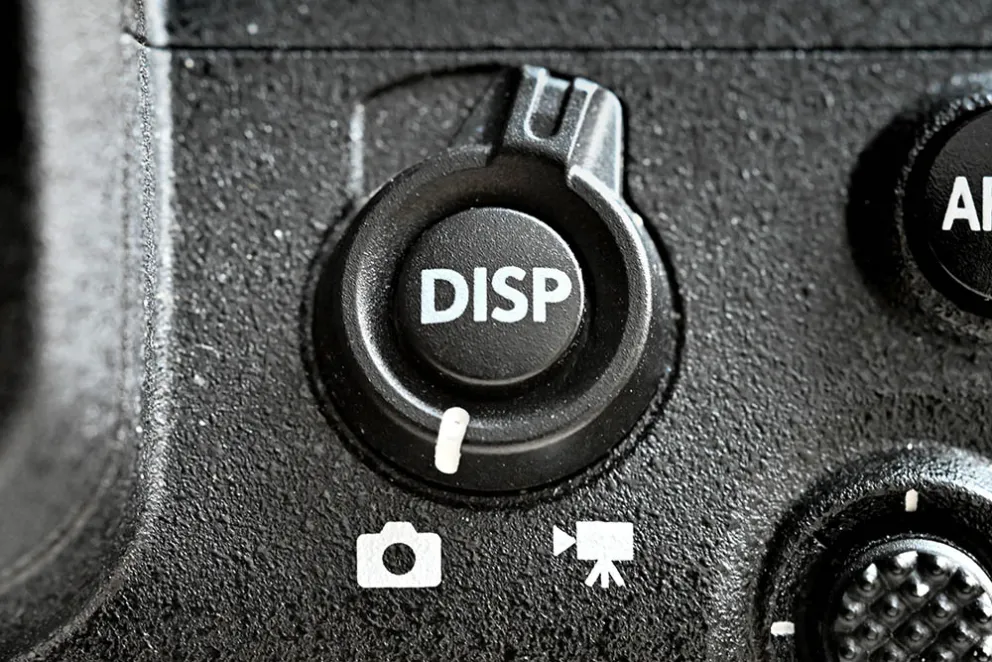 (photo by Matt Cashore) You can flip a switch on your camera, but flipping the mental switch is substantially more complicated.
For example, St. Ed's recently inaugurated its first president in 24 years and its first-ever Hispanic president and second-ever woman president. This made inauguration a big deal to be covered in both formats at nearly all events. I focused on photography for the weekend while we hired a videographer to focus on video and an additional photographer to cover some of the smaller events. Having the extra hands for the day helped keep my stress levels down and my post-event workload lighter.
DURING THE EVENT
Have a plan for how you will spend your time, spending more time on what will  be used most.
I tend to start working the event in the format that has a higher priority. That way, I have what I need for sure and then can move onto the second priority. Say I'm photographing and filming a homecoming event that I know will be used for a photo recap online and in our print and digital alumni communications – I will start with photography first and make sure I have solid frames before moving onto video coverage. Or perhaps I'm at a basketball game and need good footage of sports action for our homepage video – I'll start filming first until I know I've got something usable and then move onto capturing some frames of the game and crowd reactions.
Stick to the schedule you've made for yourself as best as possible, knowing you can always adapt.
As we all know, things don't always go according to our perfectly-planned plan. Say the schedule of events shifts due to weather or the energy of the event is lacking. ADAPT! If you wanted to kick off the event with photography but need more natural light for video before the sun goes down, start with video first before you move to photographing. If you wanted to take an establishing clip but the venue feels empty, take tighter clips of folks who are there or switch to photographing to get moments of a nice interaction.
Use your friends on campus to lend a helping hand…literally.
Having to switch between photo and video gear can be a hassle, and I usually don't have enough hands for it. When there are short events that require both photo and video, I look for a familiar face ahead of time and ask if I can pass off gear to them to hold or watch while I finish photographing or filming. If there is no one who can keep an eye on your gear for you, find a safe and secure space at the event if possible so you aren't weighing yourself down with so much gear the whole time.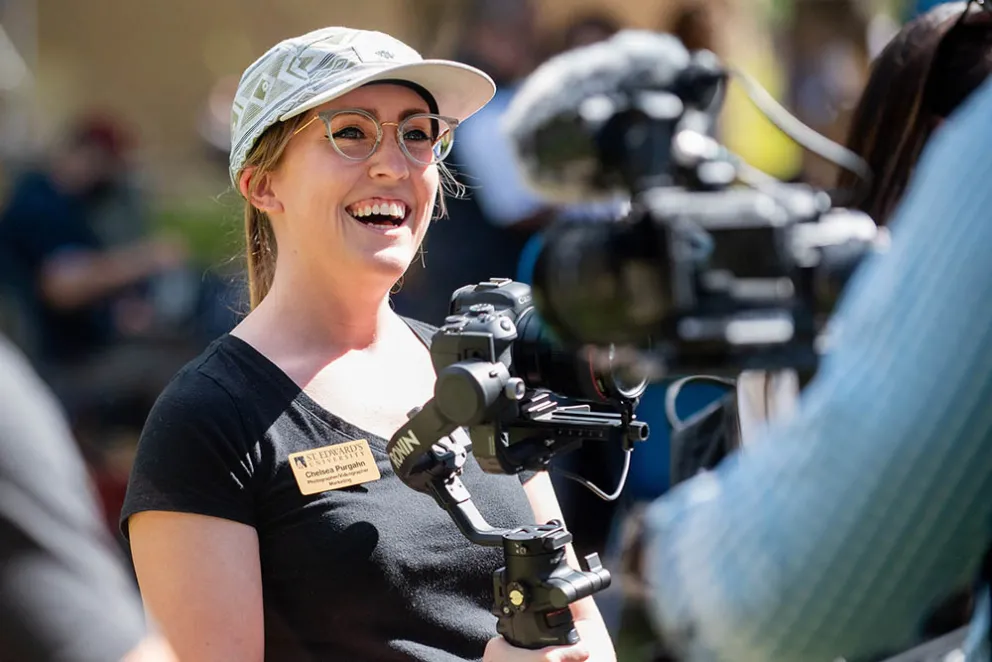 (photo by Tomas Segura)
AFTER THE EVENT
Block time on your calendar to edit.
Dedicate your time on your calendar to let others know what you're doing so that you can get through editing assets efficiently. This can also help with personal accountability to get edits done. Calendars can fill up quickly, so I tend to block off post-event editing time before the event has even happened. 
Edit in order of importance.
Do you need to edit X amount of photos and also make an event recap video? Which needs to be shared first? Focus on that and share out your completed assets as finished in order to keep things rolling for your team and campus partners. (The former photojournalist in me likes to get assets shared as quickly as possible so everyone else can share as quickly as possible, because the sooner after an event, the more likely people are to be interested in and engaged with the visual content.)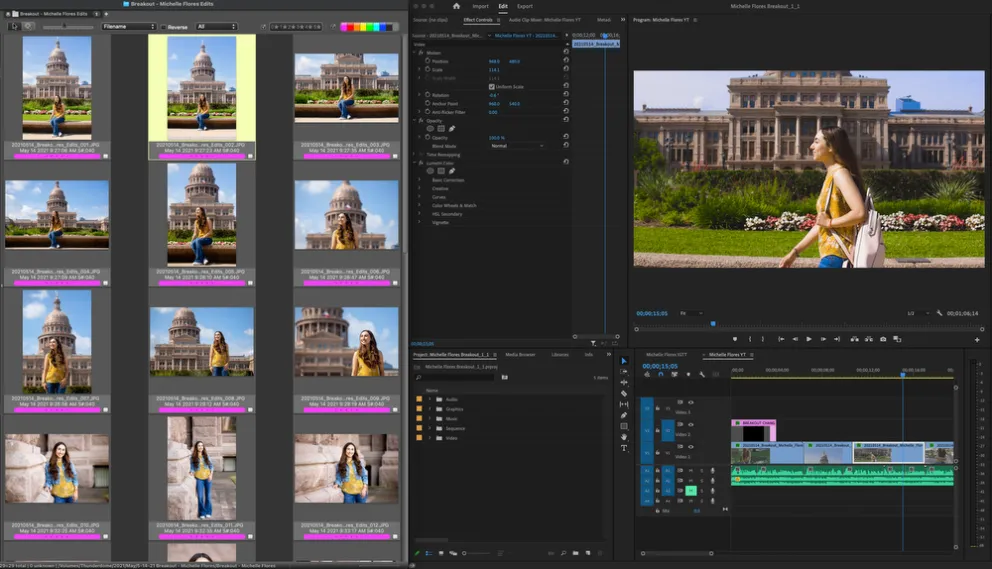 Photo and video editing on a student profile multimedia piece. "I only had an hour with each student and in that time I had to interview them for their video voiceover, take video b-roll, and make their portrait," says Chelsea. "It was A LOT to do in a short time!"
Communicate with your team about how the process went and what your needs are for future requests.
After big projects and some university-wide events, involved team members participate in what we call a post mortem. We use Trello for this, where people can write their thoughts on cards in organized columns. We talk through each card and take notes on them so that we can learn from each other about how the process went. If something went really bad or really well for you, now is a great time to let people know so you can make plans accordingly for upcoming work. Having these insights recorded gives you something to point to for future requests, be it a request that is unfeasible or a request where you would like to try something different.

While I don't have a magic solution to perfectly juggling photo and video, I hope this approach to thoughtful conversations, planning, prioritization and debriefs can make the process of capturing them both a little bit easier.
************
Two antennae got married. Their wedding ceremony wasn't fancy. The reception, however, was excellent. Thanks for reading the blog. Article submissions or suggestions are always welcome. Email editor Matt Cashore, mcashore@nd.edu. And, as always, if you don't already, follow UPAA on Instagram!