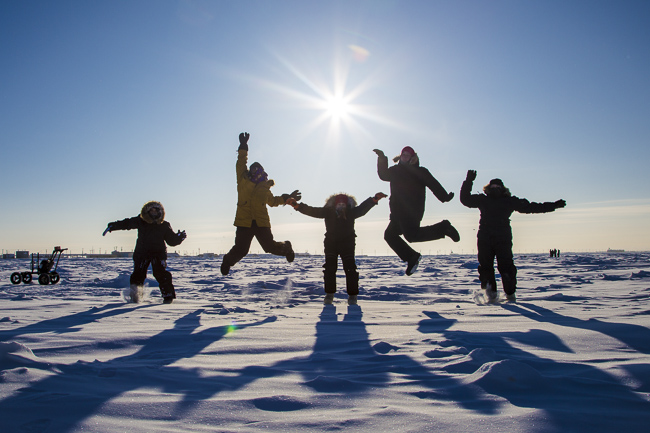 By Jaslyn Gilbert/Radford University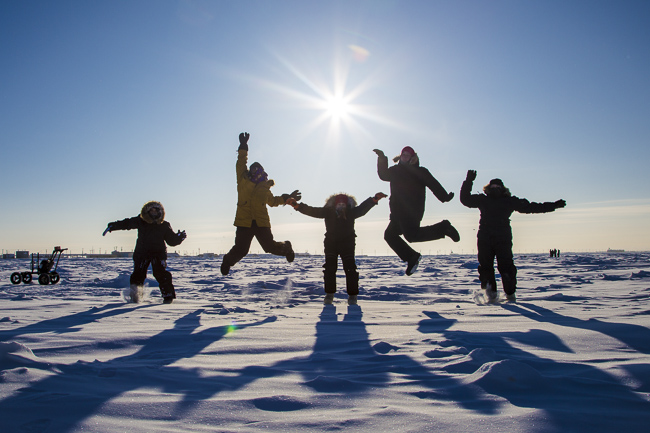 While many of our students at Radford University in Radford, Virginia were heading home or off to warm weather destinations for spring break, a group of 12 undergraduate students, two high school students, and three faculty braved bone-rattling temperatures and shivery Arctic winds in Barrow, Alaska—the northernmost city in the United States—to conduct scientific research. As multimedia producer for RU, I received funding to document the trip, less than two months before takeoff, with a mission to send videos and photos of this experiential research learning opportunity back to the university daily to post on a website (www.radford.edu/alaska) dedicated to the trip.
The approximately 5,000-mile journey from RU to Barrow took nearly 30 hours, with a number of airport layovers, lending the travel to a quick timelapse video.
Alaska: A 5,000 Mile Journey from Radford University on Vimeo.
The purpose of the trip was for students to explore the correlation between the surface temperature of the Arctic Sea ice and its thickness. This meant that a vast majority of the video footage and photos would be on the ice in some pretty extreme cold temperatures.
Time Lapse: Dressing for -47 from Radford University on Vimeo.
I really had no idea how well my equipment was going to hold up in this environment. Since this is a biannual research trip, the faculty had already been there before and experienced scientific equipment failures due to the temperature. I did some online research and corresponded with Todd Paris at University of Alaska Fairbanks in hopes of gaining a few tips.
The biggest challenge wasn't necessarily keeping the camera equipment functioning, but keeping my hands warm enough to continue operating the camera. My outer mittens were toasty with hand warmers, but impossible to use when trying to record video or take stills. There were instances when I would have to pause a video interview on the ice just so I could warm up my hands for a few seconds, but the students were very understanding because they were equally as cold!
Alaska: Whistler – A Thermal Infrared Sensor from Radford University on Vimeo.
The whole time I was there I only had two minor equipment failures. I learned rather quickly after being on the ice for any good length of time it was best to drop the camera body and lens into a large plastic sealed bag with silica gel desiccant packs before bringing it inside. The one time I did not go through this process (because of a situation when I needed to get inside fast), the lens frosted over as it started to warm. The other problem occurred when I stayed out on the ice longer than normal, attempting to grab a number of video interviews, allowing the camera to get much colder than it had on previous outings. The LCD started to really lag and finally the Canon 5D Mark III flashed Err 80, which gave us a great excuse to head inside to warm up and eat lunch! After lunch the camera was warm enough to remove from the plastic dry bag, so I removed the battery and all was good again.
The sun never really gets too high above the horizon that far north, making almost any time of the daylight hours ideal for photos and videos, well that is as long as there is a blue sky to provide definition between the ice landscape and the sky.
The students and faculty were great throughout the trip, willing to be interviewed at a moment's notice, and since I was up there as a one-woman photographer/videographer/interviewer/director/producer/editor, they stepped in to help haul and setup gear. I only had to ask and I had a student to help hold lighting or hit record on the camera while I conducted the interviews.
The excitement the students conveyed throughout the trip and the enthusiasm we were receiving from those back in Virginia watching the trip unfold through my photos and videos, kept me going through the long, cold days of capturing media in layers and layers of protective clothing and very late nights spent hunched over a little laptop screen editing. My uploading internet speed averaged 256kbps at most, which made sending videos back to RU quite tedious, but I also had support of colleagues back on campus helping with the posting of videos to the website and various social media channels.
The trip was a huge success in many ways. Our students had the opportunity to participate in a real research project, while receiving one-on-one attention from the faculty. The local media in Virginia have done a number of news articles and news broadcasts regarding the trip. And the media I produced has been well received and will be used in many ways to market the university. I had such a blast during the 10 days I was with this group. It refreshed my passion for telling the stories of the great people we have at RU and their unique educational experiences. I've already put forth an idea to document an upcoming research trip in 2015. It's never too early to start planning for the next adventure.
Here is the final cumulative video on the trip:
Alaska: Classroom at the Top of the World from Radford University on Vimeo.