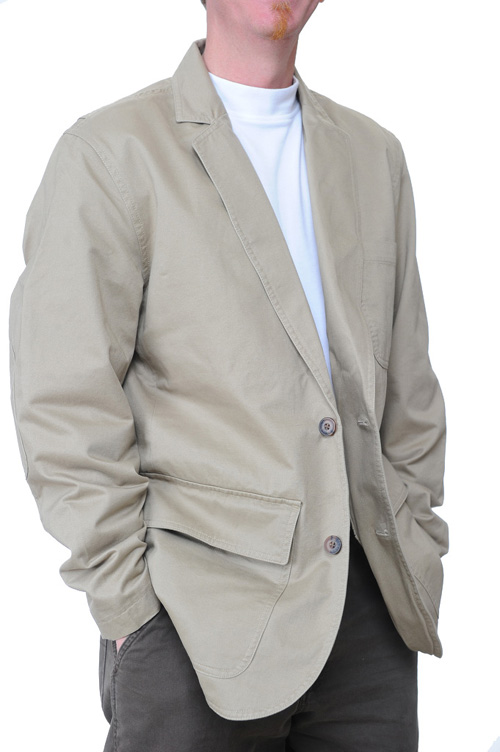 By Robert Jordan, University of Mississippi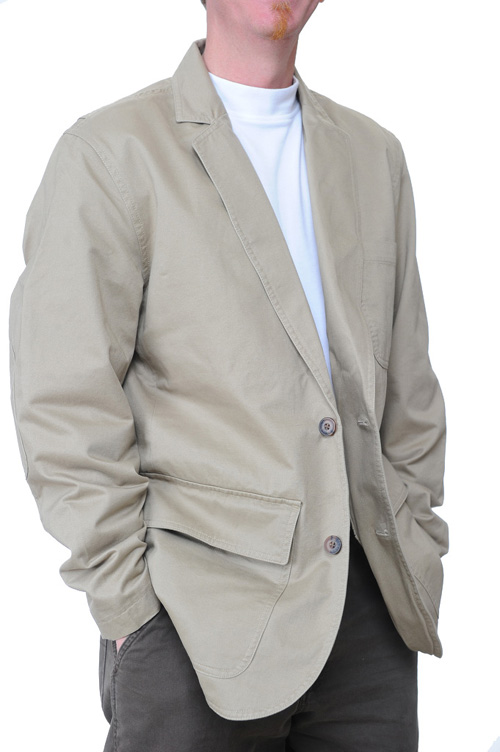 Duluth Trading Company "Fire Hose Presentation Jacket" - Photo by Nathan Latil/University of Mississippi
I've been receiving a Duluth Trading Company catalog in the mail for years, they sell a few tools but are best known for their clothing line designed for tradesmen like their virtually indestructible "fire hose canvas" pants, "no baloney, no pony" polo shirts and long-tail T-shorts to cure "plumbers butt" wardrobe malfunctions.
I was looking through a recent catalog and was intrigued by their "Fire Hose Presentation Jacket." It's designed to wear with jeans or khakis and looks like an ordinary casual sport coat, but is made of 7.6oz 100% cotton canvas. Like all of their jackets, it has a "bi-wing" action back for ease of movement, underarm vents, elbow patches, stain resistance and 13-pockets inside and out. Thirteen pockets! I sat bolt upright in my chair, Presentation Jacket my butt, this is the mother of all photo vest disguised as a sport coat! I grabbed the phone and ordered one in Brown and couldn't wait for it to come in.
You'd have to know me to know what a big deal this is. I hate dressing up. I own one suit and one sport coat and I wear them only when I have to. I never thought I'd get excited over a sport coat. I received the coat just in time to wear it to a Hall of Fame induction dinner with a mock turtleneck and a pair of slacks. It looked good and felt as comfortable as my old denim jacket. The best part was parking my camera bag in the corner of the ballroom and putting my 70-200mm f2.8 in one big outside pocket and my SB-900 strobe in the other and being able to blend in and move through the crowded room throughout the evening.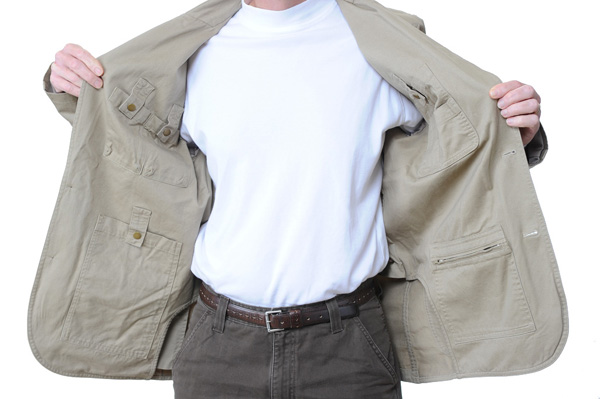 Photo by Nathan Latil/University of Mississippi
The 'bi-wing' back is fantastic; I can easily raise my camera up to my eye and not feel like I was going to split the shoulder seams. The next day I called Duluth Trading to order another Fire Hose Presentation Jacket in Navy, but was told the Navy was no longer available and once the stock of Brown as gone they would only continue to offer the Fire Hose jacket in 'desert khaki'. They did, however, have one Navy "13-pocket Twill Presentation Jacket" in my size left. It's exactly the same as the Fire Hose jacket, but made of slightly lighter cotton that looks a little dressier. I received it and I have to say I like it even more than the Fire Hose jacket.
I called and talked to their customer service folks, yes you actually get a real- live person on the phone when you call. I told them they were missing out on a huge market by not promoting their jackets as photographer-wear. I got a call back from one of their marketing folks a couple of days later and they were kind enough to send me one of their "12-pocket Twill Presentation Jackets" in Desert Khaki to review. It has 'only' 12 pockets, but retains all the great design features of the Fire Hose Jacket and the 13-pocket Twill jacket, but adds flaps on the outside pockets and an even softer cotton twill making it the most dressy of the three I have tried.
Take it from a guy who hates dressing up, you need at least one of these coats in your office for those 'get your butt over to the chancellor's office ASAP' photo opportunities that we all have to deal with.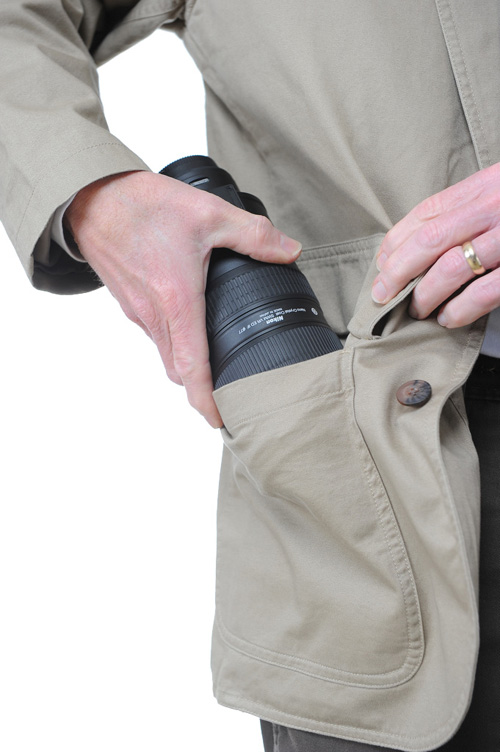 Photo by Nathan Latil/University of Mississippi