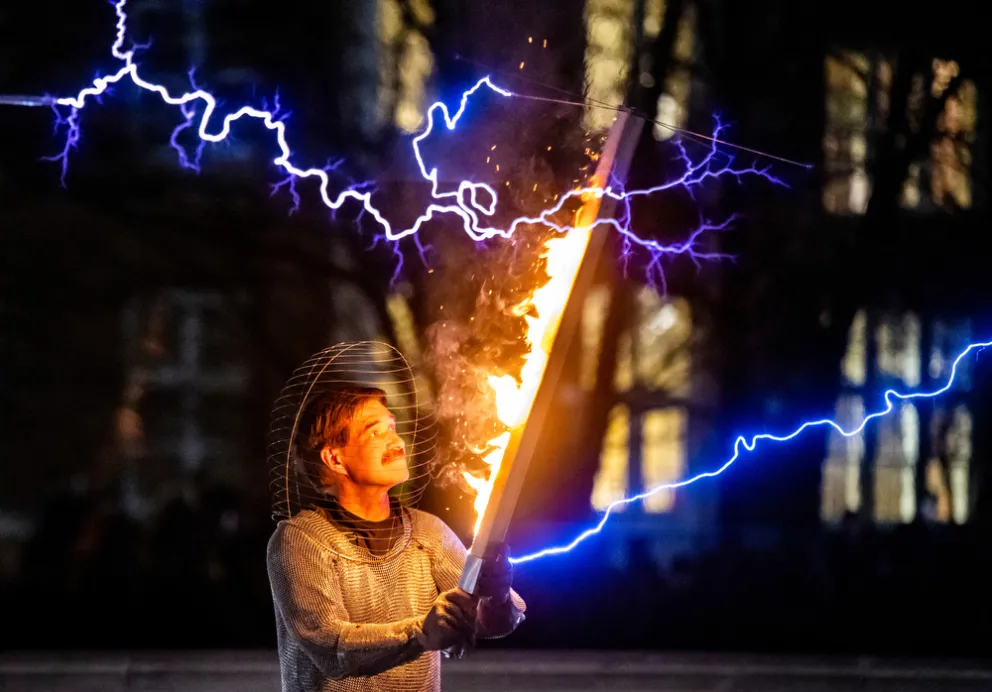 UPAA Blog 2021-22 #20 - 6/2/22 (photos and text by Fred Zwicky)
Fred Zwicky is Director of Photography at the University of Illinois Urbana-Champaign. He's been on staff at Illinois for just over three years now and joined UPAA on day one. Like many, he's a transplanted photojournalist, formerly serving as Visual News Editor at the Journal Star in Peoria, IL. He also taught photojournalism and video storytelling for nearly 20 years at Bradley University in Peoria. Fred's Science and Research category photo "Arc of the Tesla Coil" was voted Best in Show in the May 2022 Monthly Image Competition. The MIC Q&A is a monthly feature on the UPAA blog to learn more about the thought and craft behind the UPAA's contest-winning images. -Ed.
************
1. Quick tech stuff—camera model, focal length, exposure data, lighting used (if any):
•Nikon Z9
•Tamron for Canon 70-200 F2.8 lens w/Fringer EF to Z adapter
•1/160th at F2.8, ISO 8000
2. How did this shoot land on your calendar? Did you have a plan/vision prior to the shoot?
I plan out much of my campus coverage myself, applying my old news editor skills of mapping out a daily news budget that hopefully isn't filled with just the obvious. I figure if I can find moments of authenticity and stories that connect emotionally, it will create a connection for our larger campus community and our social media channels. However, on this one, come on – flying bolts of electrical plasma? That's a no brainer. The Tesla Coil concert is the culmination of our engineering open house. However, the pandemic cancelled it for the past two years and this was my first chance to cover it. Then, they cancelled because of rain (seems like a good call). Fortunately, they got it in the following night.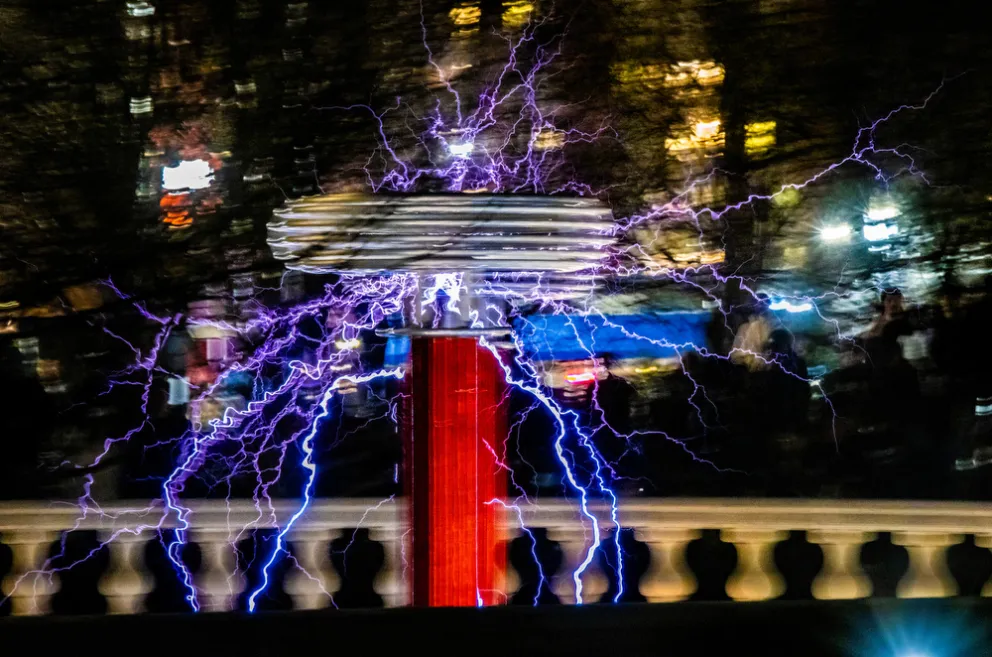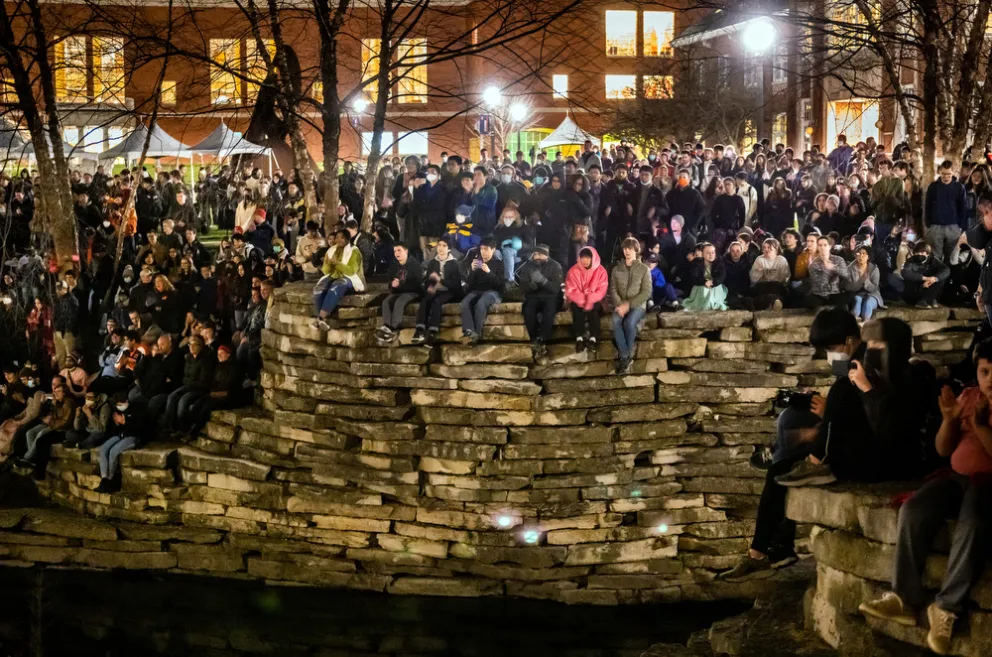 The centerpieces of the performance are two giant Tesla coils, which generate bolts of electricity that fly through the air while simultaneously creating musical pitches. The coils, a heavily modified version of the device Nikola Tesla invented to wirelessly transport electricity, generate white-hot plasma with each arc making a popping sound. The event is now an Engineering Open House tradition as thousands gather to watch the performance.
3. Any unique logistics in making the photo? What sort of post processing (or not)?
My usual logistics before an event is access and figuring out the right tools for the job. Access is both physical and emotional. Meaning, I try and open up as many potential vantage points physically as possible. I also aim to remove emotional barriers, getting key people comfortable with me and what I'm doing. When it all comes together, it makes picture making so much more enjoyable in the moment.
Obviously, physical access with flying bolts of electrical plasma was a challenge. For safety reasons, everyone is kept far away. Also, I big time did not want to fry out my camera. Fortunately, I was able to work out a relatively close viewing spot where I basically thought I was safe (?).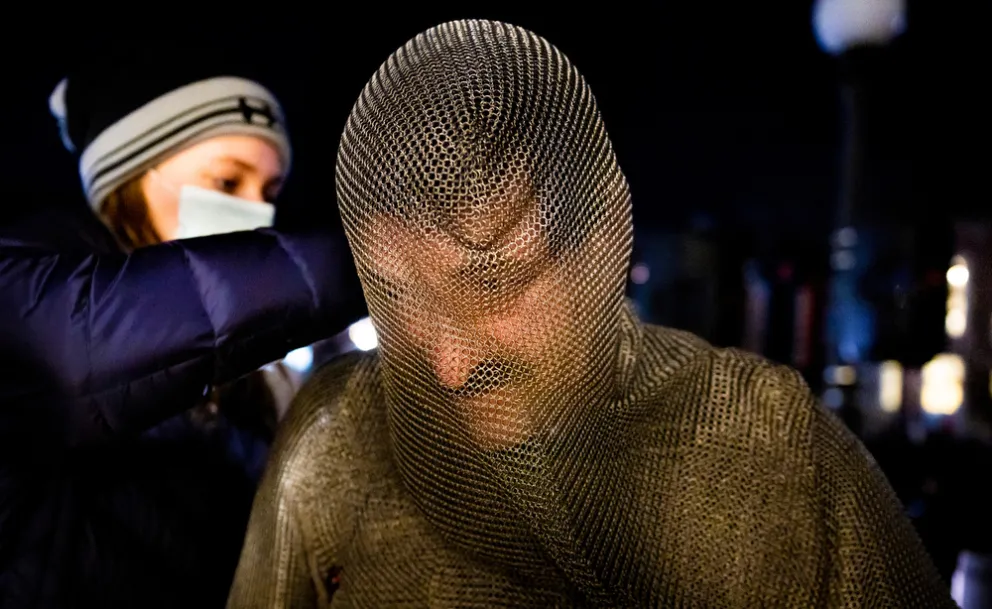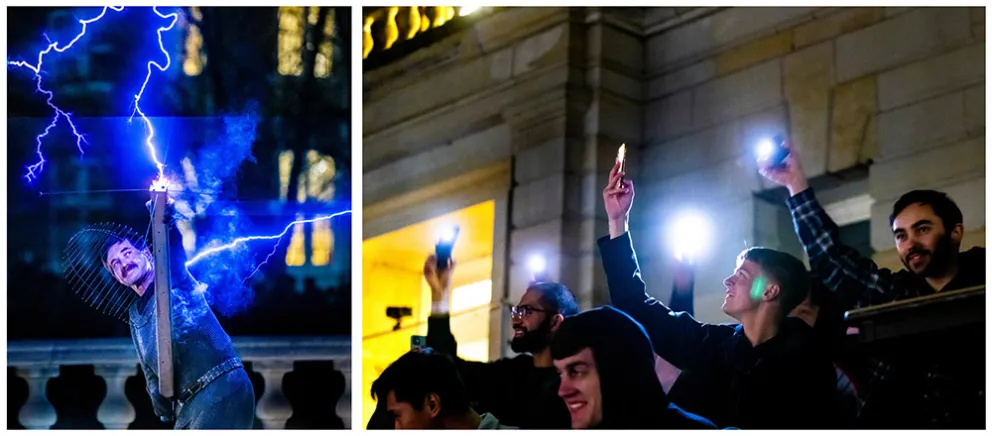 No that's not Fred in the chain mail! Terry Blake is the maestro of the concert. Bedazzled in a suit of layered chain mail, Blake directs the bolts of electricity using a variety of props, including neon tubes that glow like light sabers, flame throwers, and even a wooden 2x4, that quickly catches fire from the onslaught of electrical power. 
While it looks like the scene is bathed in light, if you ever seen a small tesla coil ball, the energy is very fleeting, moving incredibly rapidly. Meaning, you can't predict at all where it will be and then it's gone instantly. Also, those bursts of light really don't light up the scene much beyond the spark. So, in pitch dark with the quad lights turned off, high ISO was a must and I did a lot of slow shutter work.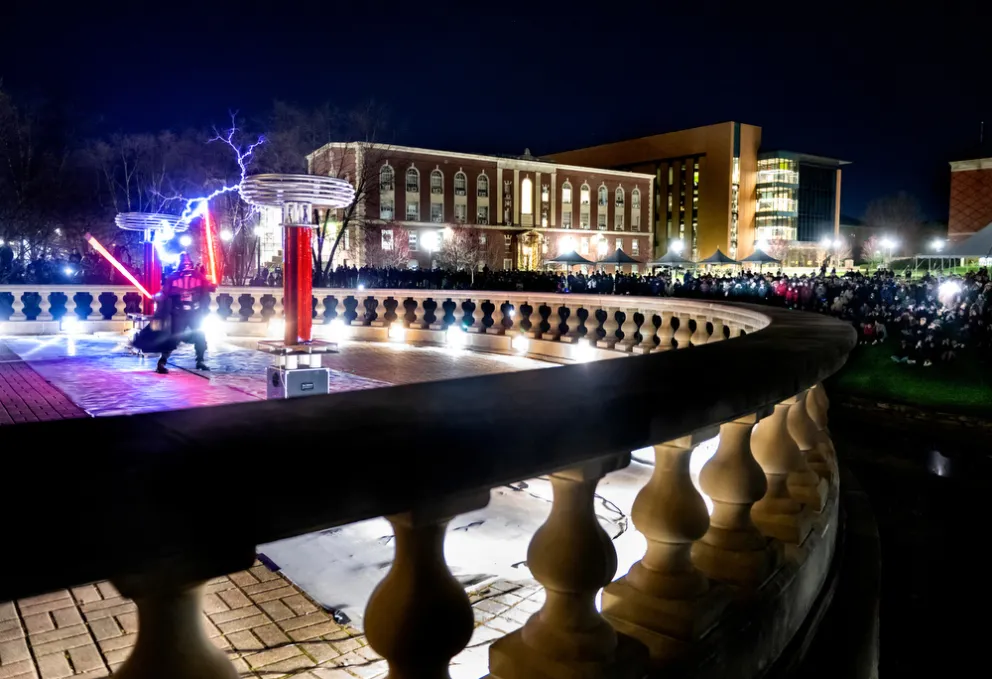 At various times, Blake changes his garb to pop-culture figures like Frankenstein's monster and Darth Vader. 
The right tools in this case was having that awesome frame-rate of the Z9 to get the best peak moments. It was also incredibly dark, so I boosted ISO up to 8000. Light wise, the saving grace on the Best in Show image is that he's holding a 2x4 piece of wood that instantly caught on fire from the bolts of electricity. So, the light of the fire is really what lit up his face.
Post processing was mostly just opening up the shadows a bit, keeping the blacks black and doing some noise reduction in ACR.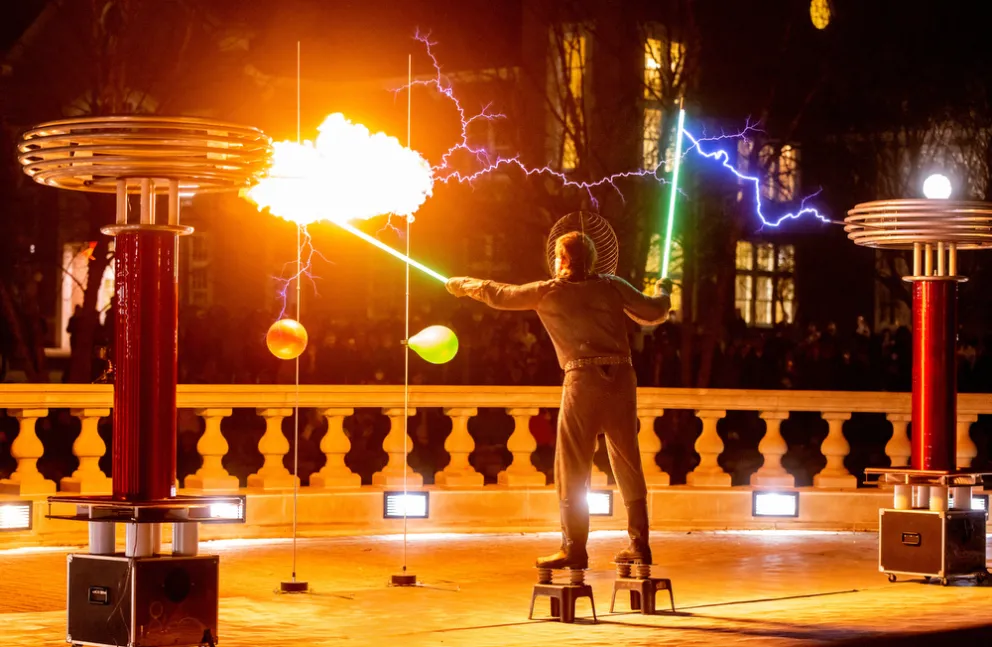 4. Did your vision before you made the photo come through in the final product? What (if anything) would you do differently if you could re-shoot this today?
This was the shot I was envisioned before the show, so I'm pleased. I also set up a 2nd camera as a wide shot in time-lapse mode with a slow shutter to stack up the light in the scene (it was pitch black out there).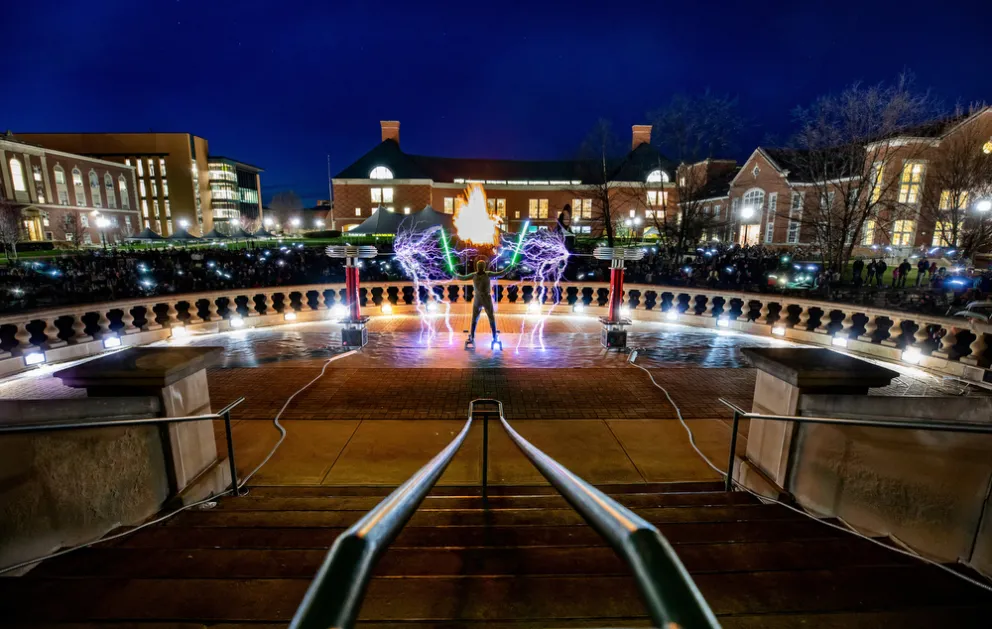 Fred's remote angle
I have mixed feelings about "performance" shots in contests. Most times, I feel like those images can fall into the trap of being more of reflection of the performer's vision than the photographer. However, I felt OK with this one because it took a lot of photo chops just to get this image and then capture what we all saw with our mind's eye. But, that image was  actually really hard to capture just right.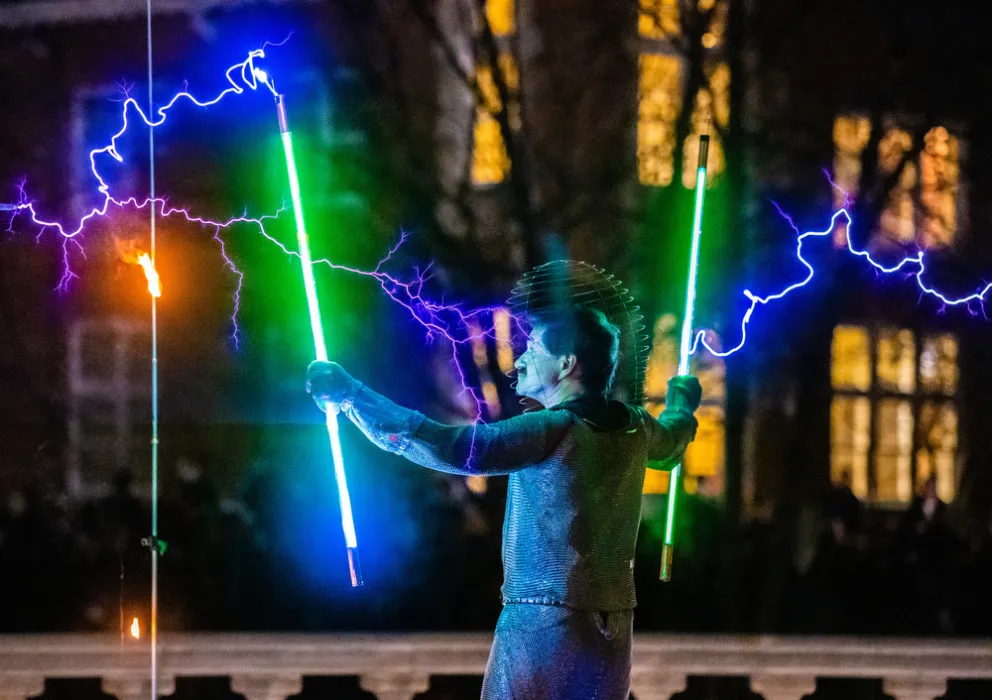 Honestly, a still photo kinda fails here because one of the coolest things is that they figured out how to sync up the plasma pop of the arc in the air with MIDI data to create musical tones. They play a backing track, but the Tesla Coil actually plays most of the melody. Check out the video link. Mind blown!!!
https://youtu.be/1dgLZ_gl4mo?t=2835
Next time? I actually jotted down lots of ideas that night; I'm thinking of shooting from the reverse angle and then lighting up the building behind with gelled strobes, Might also try mounting a remote camera closer at a lower angle and definitely play around with more shutter-drag images.
5. What do you do to keep yourself motivated and interested in your work?
Ya know, I'm like everyone else. I'm a "journey is the destination" kinda guy. I think there's power in photography and if I'm not coming up work that gets me excited, then I'm not happy. That motivates me to push myself to try new things or just stay true to my roots and create something that makes me happy. So, guess I'm a junkie of sorts.  Just call me a photo-endorphin junkie. I'm good with that.
************
"Did you know Nikola Tesla and Thomas Edison had a band? They called it 'AC/DC'." Got an article, idea or just a better joke to contribute to the blog? Email editor Matt Cashore, mcashore@nd.edu. Follow UPAA on Instagram, too!