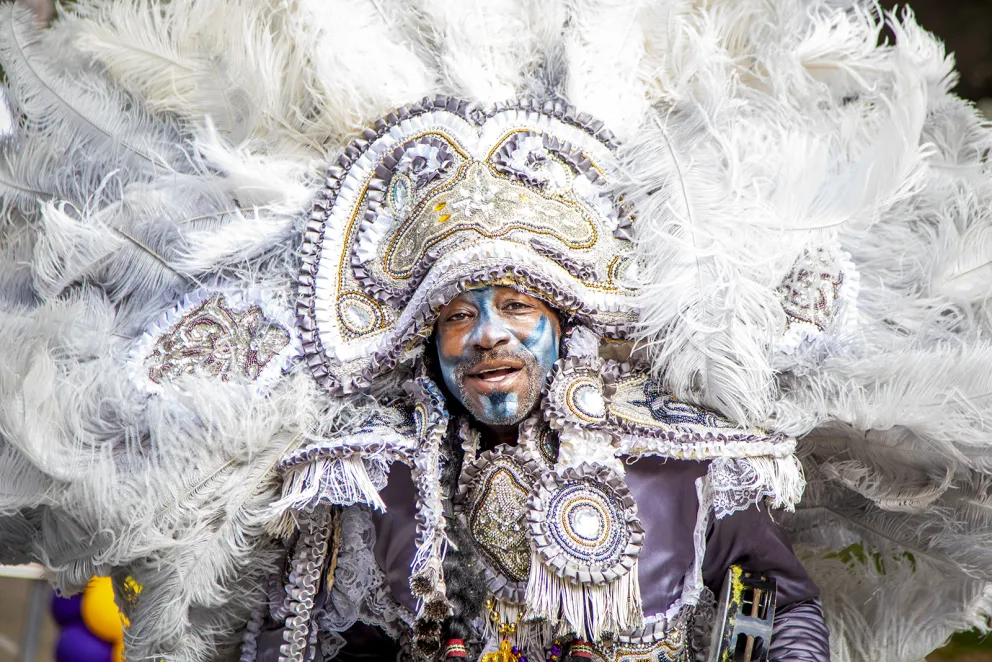 UPAA Blog 2022-23 #17 - 4/13/23 (text & photos by Katherine Seghers)
Katherine Seghers is a photographer at Louisiana State University. "LSU has been a part of my life for as far back as I can remember," Seghers said, "I have so many memories of early childhood going to campus to visit Mike V our live tiger mascot.  Now I've come full circle and take pictures of Mike VII as part of my job."  
************
Who are you?            
My name is Katherine Seghers,  I'm one of two university photographers in the office of Communications and University Relations at Louisiana State University.  This month marks my fourth year at LSU.  Before moving back to my hometown for what was always my dream job, I was the marketing photographer for Student Life at Ohio State University. Before joining the world of university photography, I was a theatrical stage manager and audio engineer before finishing my undergraduate degree in commercial photography at a tiny art school in Nashville, TN.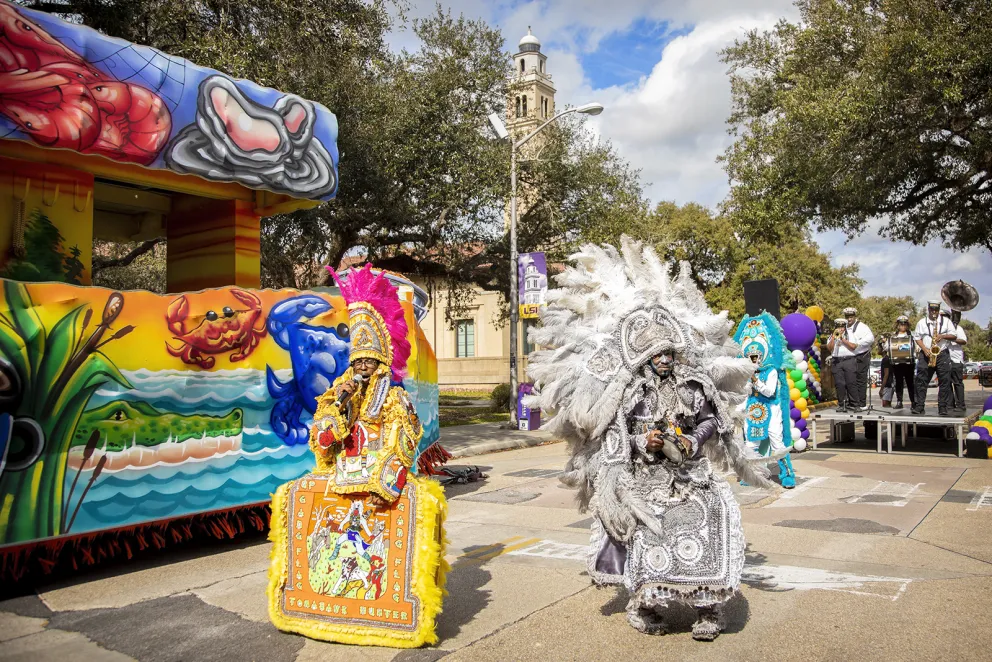 How did you do that?           
This picture wasn't a typical portrait session.  I took the portrait while the subject was performing as part of a second line at the annual Mardi Gras Mambo event on campus.  Because it was a performance and I didn't have any ability to direct the performer, I treated it like a slow-moving sport.  He wasn't sprinting around, but he rarely stood still.  Between his movement and the wind, I bumped up my shutter speed and was as patient as possible to get him looking at me with a good expression on his face.
 
What was this photo used for?        
It hasn't been used yet.  Our designers are eager to use it and some of the other pictures from the event when they update recruiting materials.  Students from out of state consistently mention the Louisiana culture that they experience while at LSU as one of the things they love most about their time in college.  Because of that our office is always looking to add to our collection of images showing unique cultural events or traditions.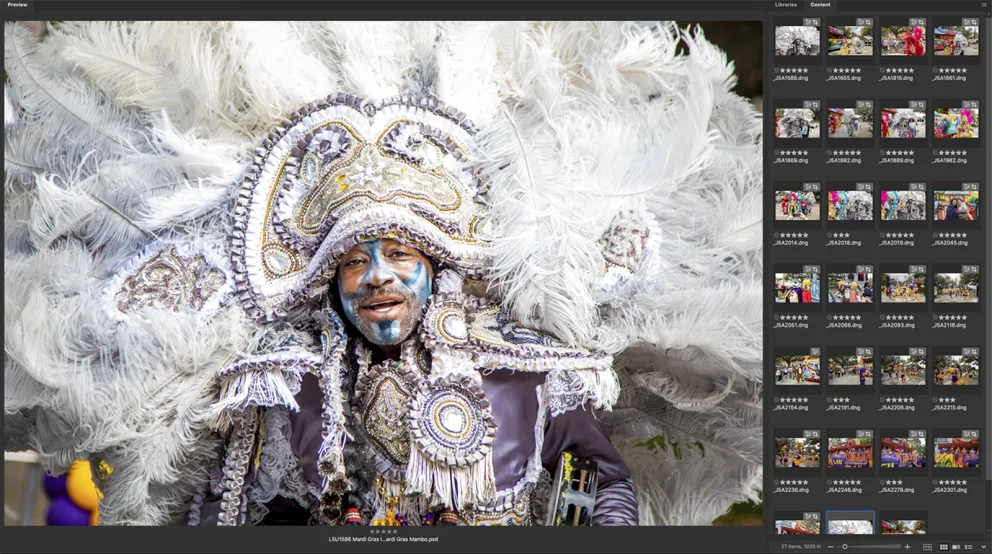 Was there an inspiration for this shoot?      
I was already familiar with the Mardi Gras Indian tradition, especially their elaborate costumes.  Each performer makes their own costume.  I previsualized this portrait as much as I could not knowing exactly what the costumes would look like or what the set up would be.  I lucked out because he was the only Indian who had the spread-out feathers on his costume.  The others had feathers, but they were not as dramatic as his.
 
What kind of help did you need? 
 It was just me and one of our video producers at the event.  We did the dance of staying out of each other's shots while also getting what we needed.     
 
What were the technical difficulties to overcome?    
There weren't a lot of technical difficulties to overcome, just a number of little ones that everyone can relate to.  There was the unpredictability of event coverage, an outdoor event at mid-day, inconsistent sunlight thanks to large fast-moving clouds, and a lot of wind.             
 
Would you approach it differently if you had to do it again? 
 I wouldn't approach it differently, but next time I want to get on the stage with the second line band and get some pictures of the crowd over their shoulders.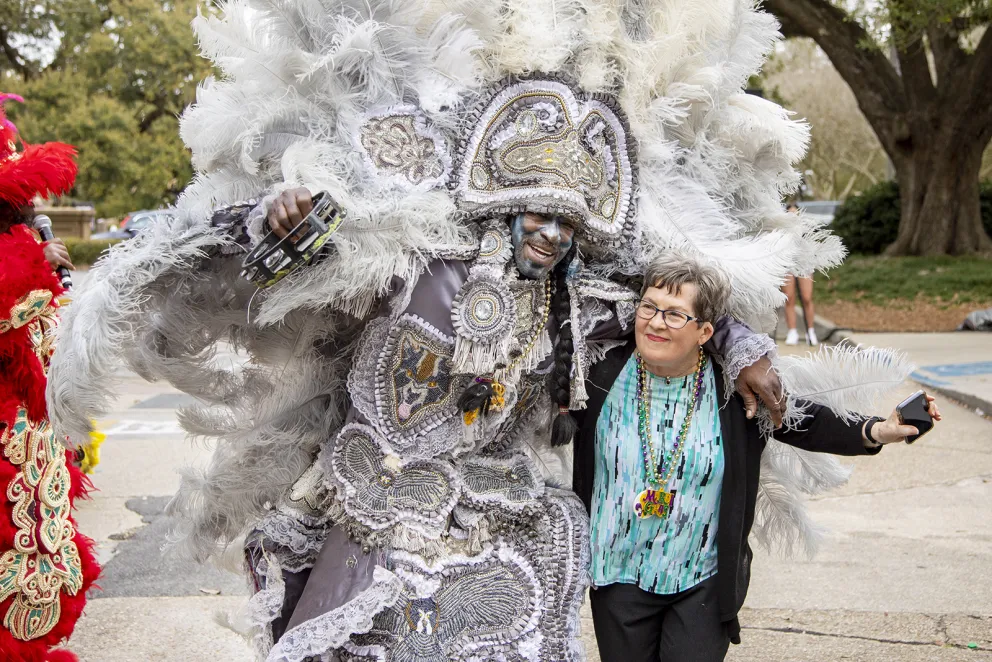 Did anything stand out to you during the shoot?  
My mom works for LSU as well and is always up for a party.  So, it was no surprise that she was the first person to join the performers dancing in the street.  Not long after she joined them, she was pulling students and friends out on the street as well.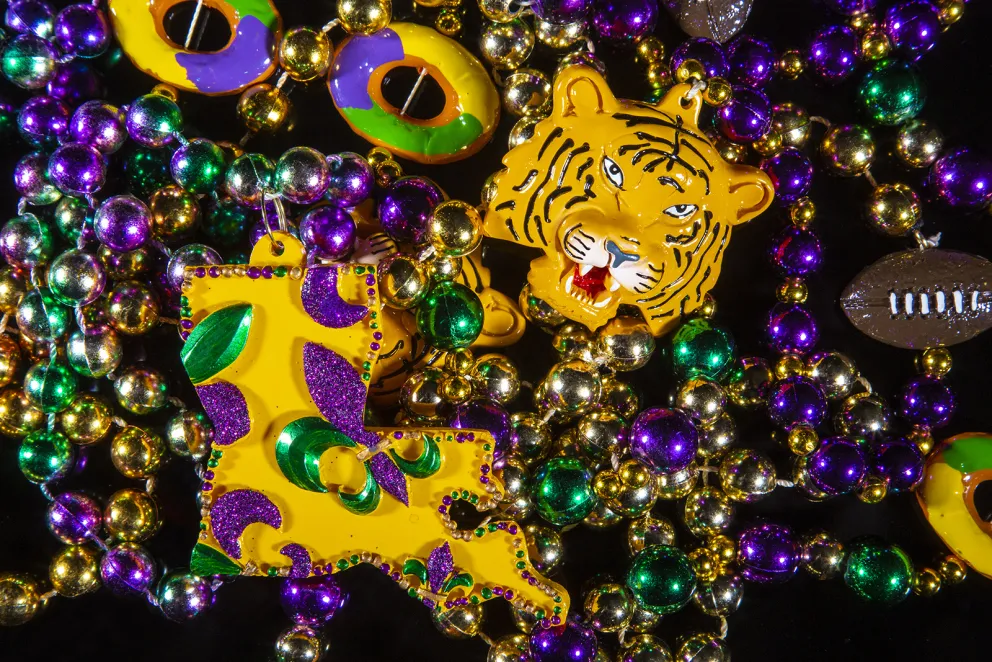 Is there anything you'd like to add about this project?  
Growing up where Mardi Gras is a normal part of life, I realized at the age of 13 that the day was just a normal Tuesday in the rest of the country.  It's a cultural tradition that makes life in South Louisiana unique.  The office of Student Life started hosting Mardi Gras Mambo a few years ago to expose the students who didn't grow up with the tradition to a taste of what we do.  LSU Dining serves Jambalaya, Red Beans and Rice, and King Cake while other various departments and student orgs have info tables and hand out Mardi Gras Beads.  Two full size LSU themed Mardi Gras Floats are parked on the street for photo opportunities.  Periodically during the event members of student government, student affairs, Mike the Tiger and the spirit squad get on the floats and throw beads to the gathered crowd.  The event happens about a week before the actual holiday (LSU is closed on Mardi Gras Day).  Students don't have classes on Lundi Gras, Mardi Gras and the morning of Ash Wednesday allowing them time to go to New Orleans to celebrate.    
************
Thank you for making it to the end! If you have any photos that you think should be featured from the April MIC please email david.dick@cwu.edu.