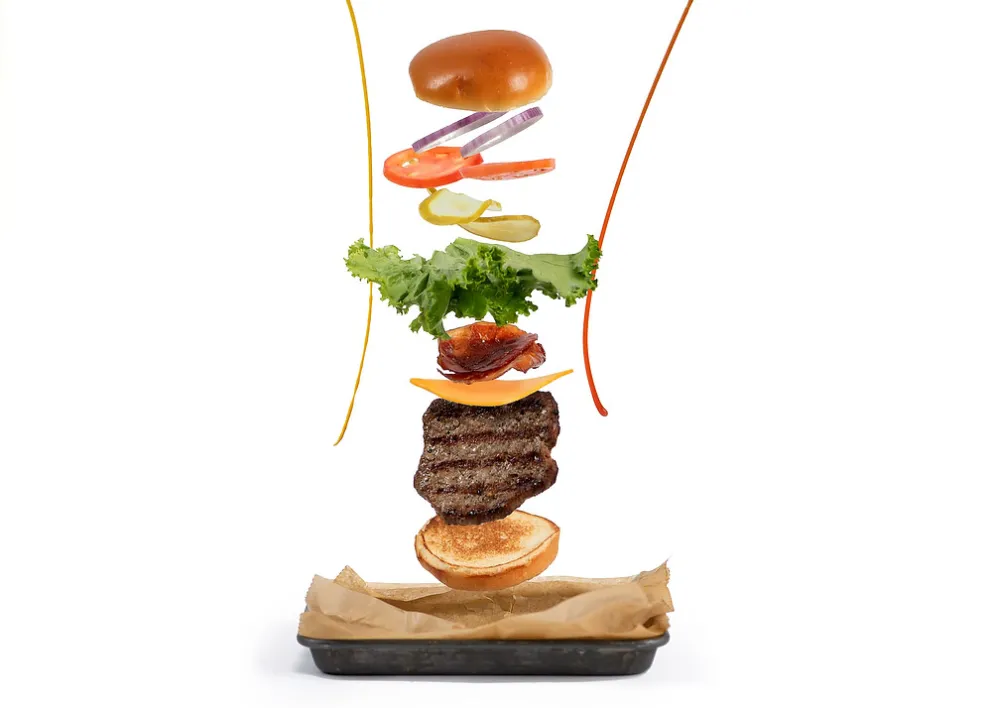 (text and photos by Justin Torner) Justin Torner is a staff photographer in the University of Iowa Office of Strategic Communication. He lists "food" first in the list of specialties on his own website bio, and adds at the end that he "always loves a challenge." His photo, "Burger Drop," was voted 1st place in the General Features and Illustrations category in the January 2020 Monthly Image Competition.
TECH STUFF:
•14-image composite
•NIKON D5, 105mm macro, 1/250 @f5.6, ISO 100
•Lighting: 2 Einstein 640ws; 10" x 36" Stripbox– left, 47" Octabox – right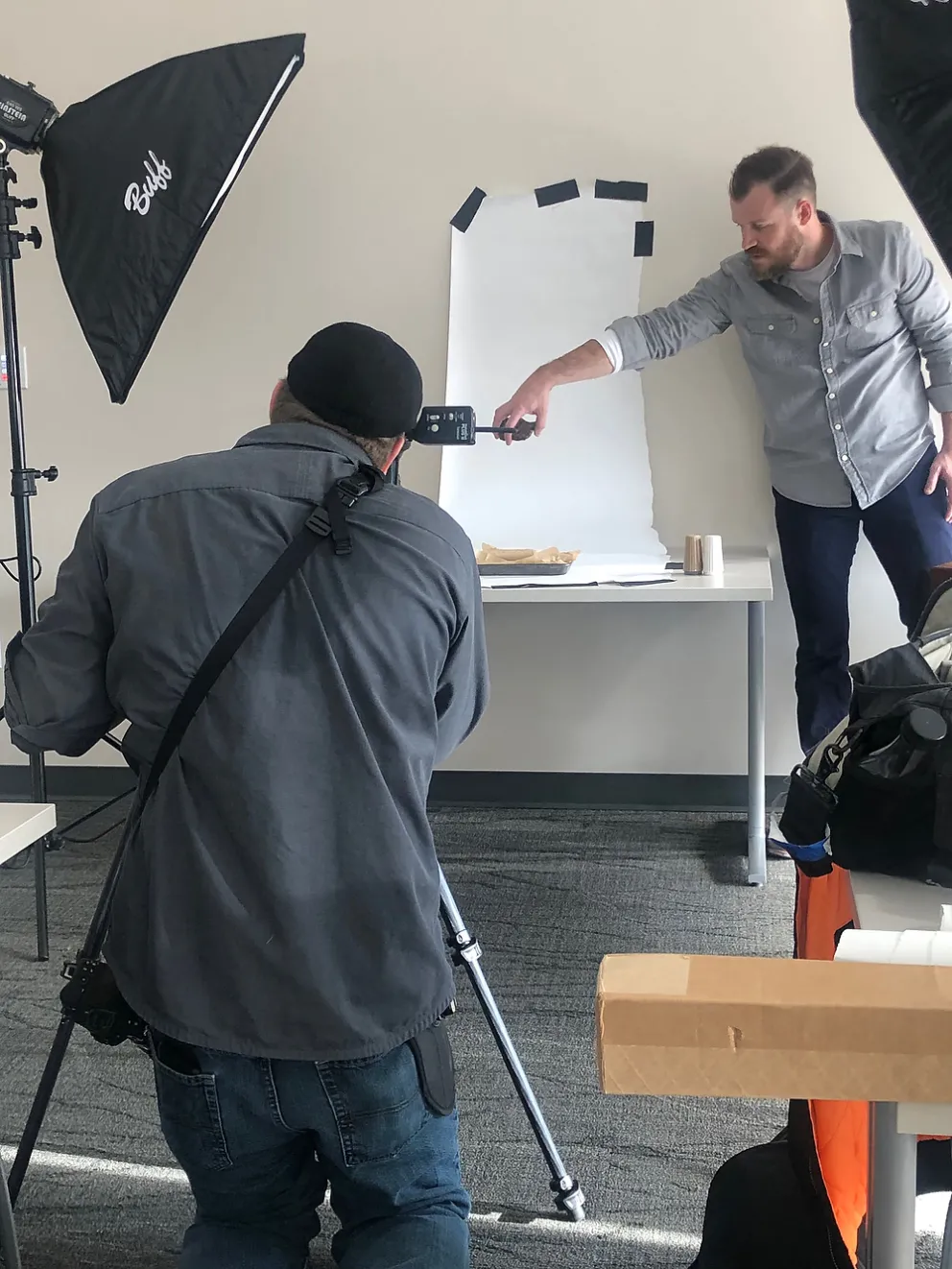 Huh. Turns out it's not that complicated. To make  a "Burger Drop" photo you start by...dropping a burger!
How did the idea come to be?
I work in close partnership with our Housing & Dining marketing unit creating images for their usage, as well as for our department (Office of Strategic Communication) at the institutional level. UH&D uses the images across multiple mediums including informational/recruitment brochures, interactive menu website, and digital signage throughout the residence halls. We use the images for institutional recruitment materials, as it has been revealed in marketing research that food options on campus is a major factor in the college-destination decision for prospective students.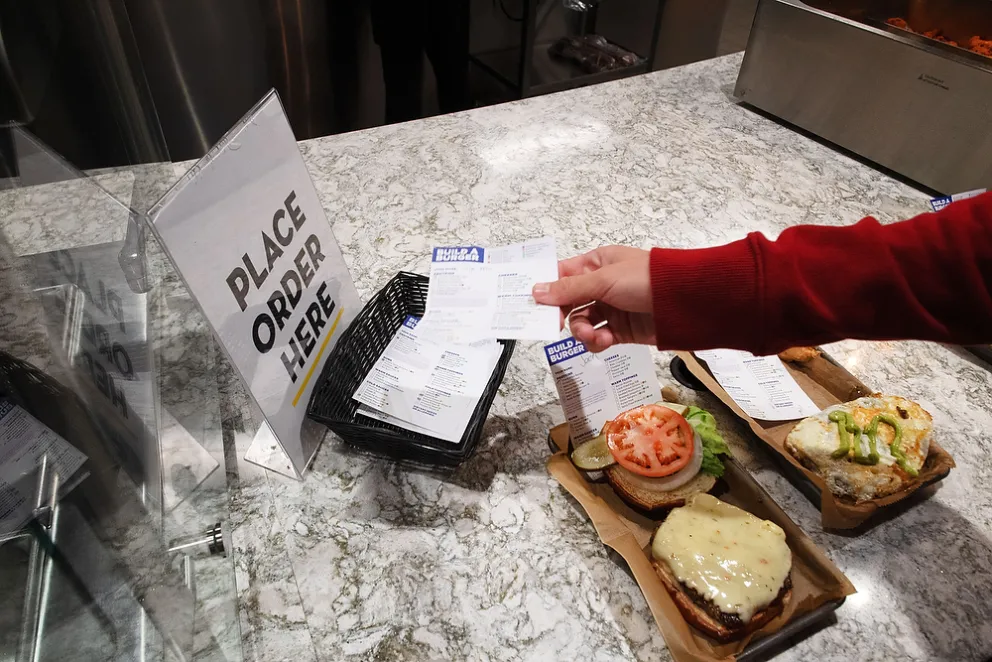 No surprise, quality of campus dining is a major factor in the college decision process.
One of our selling points in this is the multitude of options of meal choices at our market places, and the quality of the food produced by nine award-winning full-time chefs and their staff. We have done multiple full-menu commercial food shoots and have done several versions of burgers on a plate, so I decided it was time for something new; I wanted to show off the concept of the Build Your Own Burger Bar at our Catlett Market Place. I was inspired by artists I follow on Instagram, such as Steve Giralt and his amazing robotic cinema work of food flying through the air , MK Films, and pretty much anything under the #flyingfood hashtag.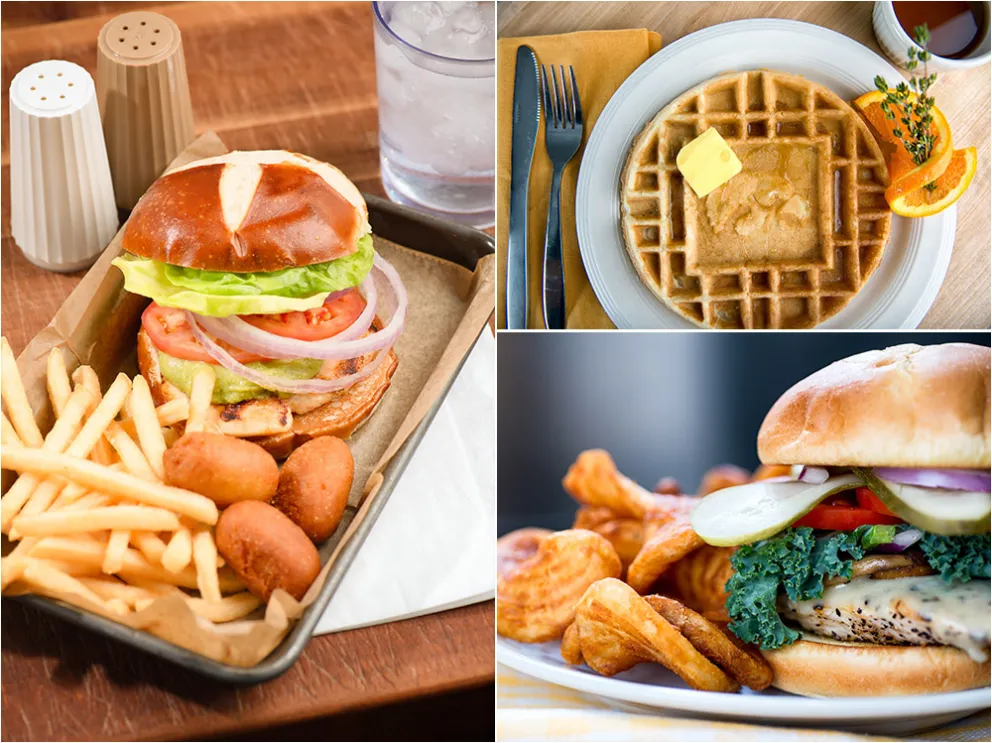 Examples of Justin's campus dining photos
Were you confident from the outset you could pull it off? (And yes, do tell how you did it!)
Anything is possible with plenty of time, money, and/or photoshop. As long as the background was clean and contrasting, the lighting was the same for each, and I got the individual pieces to fall in a way that seemed realistic, I was pretty confident I could get things to mesh. Since we planned on making a mess, and this was my last piece of seamless white paper backdrop, these shots would be the last of the entire menu shoot. The initial menu shoot ran long and the conference dining room was booked for a staff meeting right after the shoot, so I was left with about 10 minutes to pull off all the pieces of the composite. I was set up on a tripod, asked one of the art directors to drop food on the "count of 3" and fired. The final image was accomplished by compositing 14 separate images into one. The layers were easy to mask in using the "darken" blend mode and layer masks around some of the pieces that were overlapping.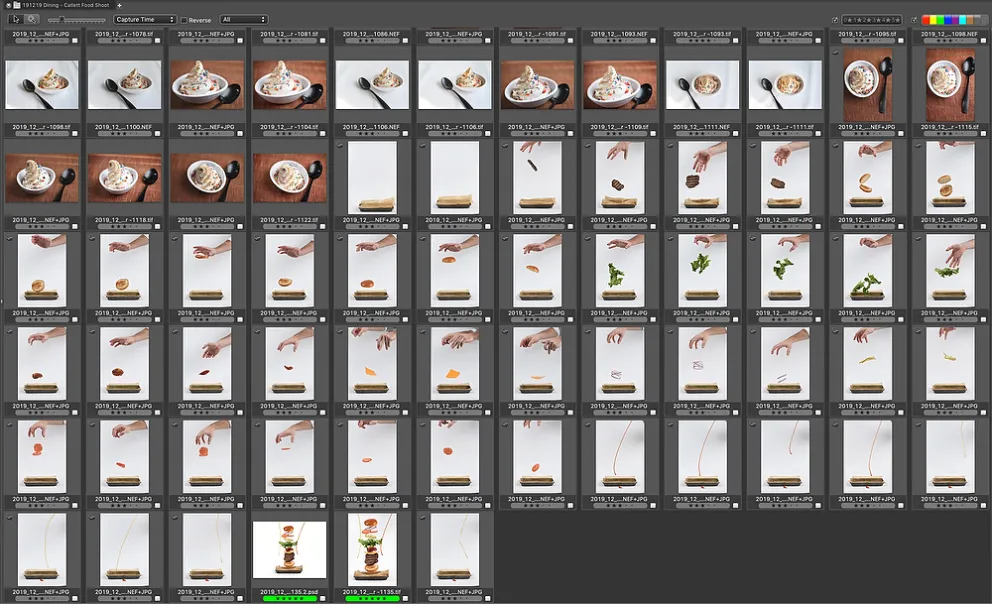 I believe this was a creative challenge both for myself, and the client. Our chefs take great pride in their creations and bring me beautiful plated food to shoot that needs almost no food stylist; I thought it might be a stretch for me to ask them to just bring me a plate of ingredients and I'm going to throw them in the air. Everybody was excited when I explained what my musing was and jumped right in. I have a decent aptitude at Photoshop, but I'm always looking to push myself into creating more polished commercial images that sell an idea, rather making it look like I'm selling to you. Making it look believable in Photoshop is the greatest challenge.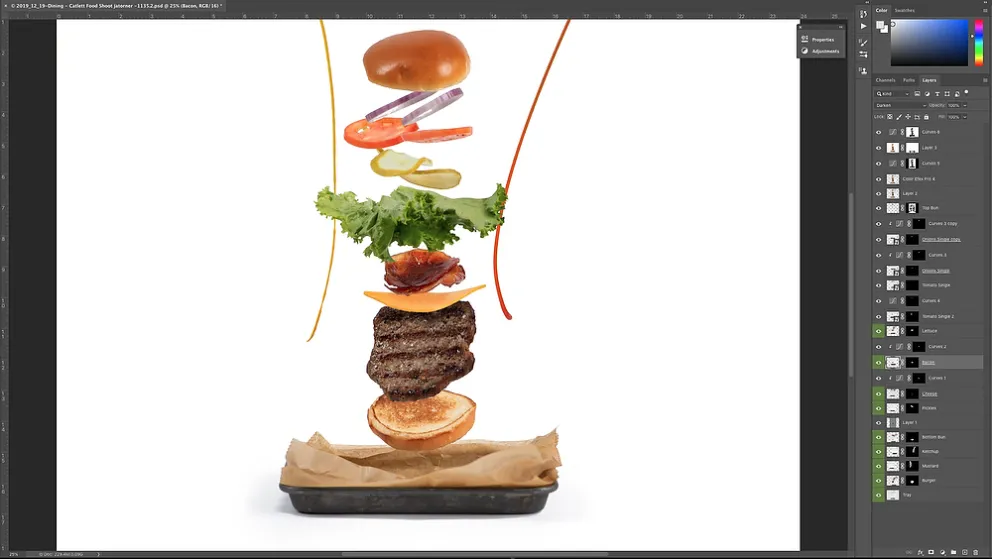 Layers...many layers.
Did you have a "Plan B"?
In a world where I had plenty of time, I could set up a rig of overhead bars and fishing line to suspend each piece of food and get it all in one shot. Photoshopping out fishing line seemed about as labor intensive as photoshopping the pieces together separately, so I went with the latter.
We had shot a menu of 20+ dishes at this point of our shot list, so this image was an add-on "icing on the cake" if I could pull it off.
Did it live up to your vision/expectation?
I'm really happy with the resulting image, and I hope my client is as well. And in our expertise, if it's the one thing that stuck in a prospective student's mind when making their college decision… mission accomplished.
Any takeaways/lessons learned?
Throwing food around and shooting it is an enormous amount of fun.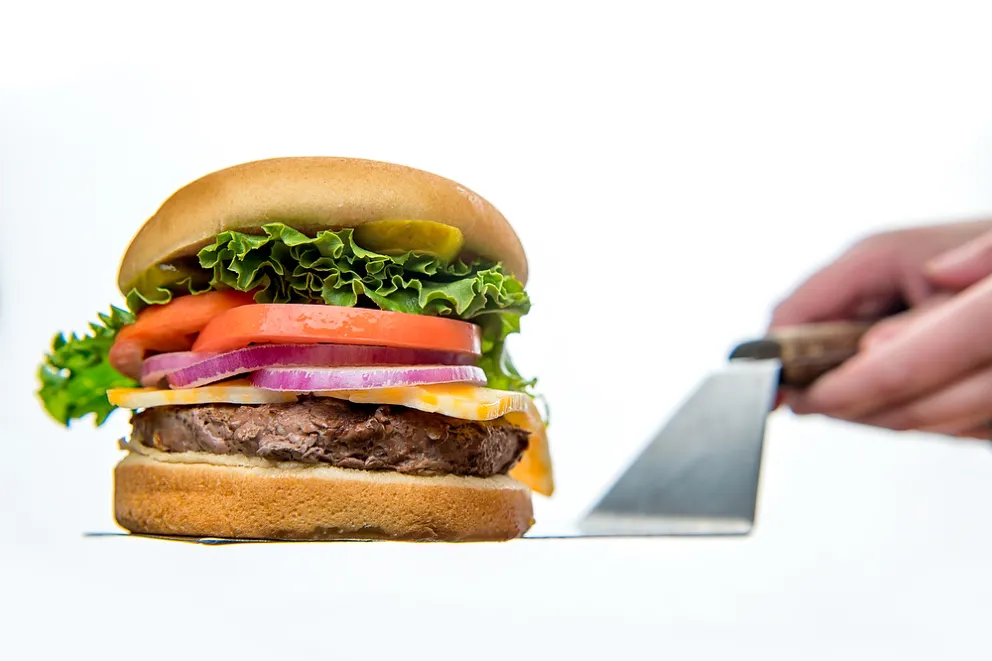 Hamburgers. The cornerstone of any nutritious breakfast.
______________________________________________________
"A man walks in to a library and says, "I'd like a hamburger, please." The librarian says, "This is a library." The man apologizes and whispers, "I'd like a hamburger, please."" Thanks for reading the blog, and a bigger thanks to all who participate in these stories and make the whole thing possible. Contact editor Matt Cashore at mcashore@nd.edu. Follow UPAA on Instagram, too!