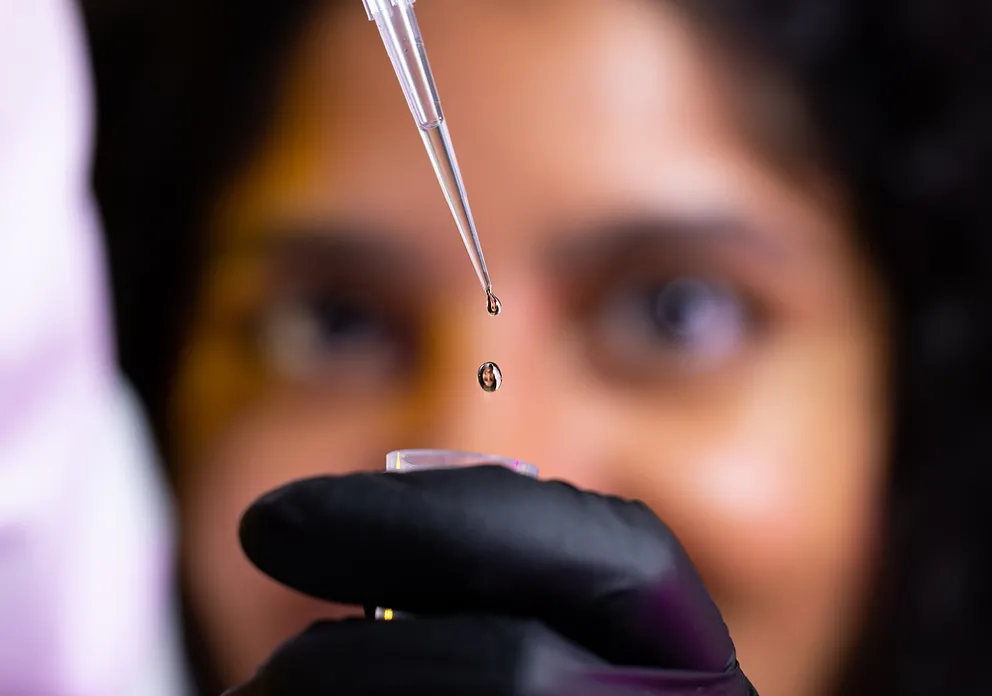 UPAA Blog 2021-22 #10- 1/13/22 (text and photos by David Caselli) 
David Caselli is a staff photographer at Kennesaw State University in Georgia. David has been a professional photographer for over 15 years and began his career at The Marietta (GA) Daily Journal. He's been at KSU for 11 years and has been a UPAA member for 3+ years. His Science and Research category image "Pipette Dreams" was voted Best in Show in the December 2021 Monthly Image Competition. The MIC Q&A is a monthly feature on the UPAA blog to learn more about the thought and craft behind the UPAA's contest-winning images.
1. Quick tech stuff—camera model, focal length, exposure data, lighting used (if any):
•Canon EOS R5
•100mm RF, 1/250th @f5  
•3 off-camera Canon Speedlite 600EXII-RT, one main with a square soft box, one on the subject's right at shoulder level with a deep yellow gel, and one on the subject's left at shoulder level with a deep purple gel. (Sorry I don't know the gel #'s.)
2. How did this shoot land on your calendar? Did you have a plan/vision prior to the shoot?
The shoot was part of the Communication Team's coverage of Outstanding Student Scholars. The coverage spotlights at least one outstanding student graduating from each college. When I heard that the student was a molecular biologist I knew I had to bring the macro. Here's the link to the article: https://news.kennesaw.edu/stories/2021/sisters-legacy-guides-inspires-senior-shania-kalladanthyil.php
3. Any unique logistics in making the photo? What sort of post processing (or not)?
It was a three light shoot. I had previous information provided that her favorite color was purple and knew I need a nice contrasting color to effectively use the gels. Gels are an important part of most of my photography involving people.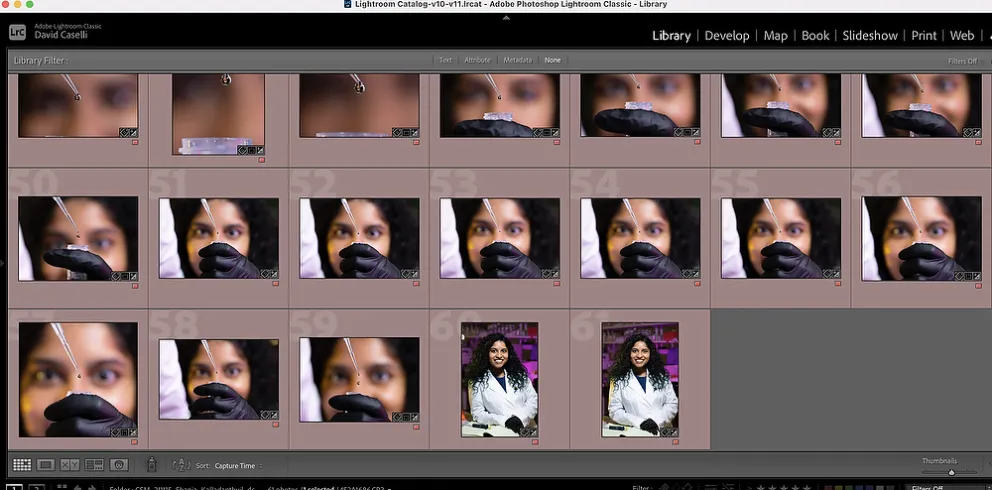 The attitude of the subject (Shania) was a big part in helping me get the shot. I gave her a clear understanding of what I wanted to accomplish. She was very patient, interested, and willing to help make the shoot successful. Not a whole lot of post processing was used. I boosted contrast, saturation and vibrance, and special cropping for web purposes. 
4. Did your vision before you made the photo come through in the final product? What (if anything) would you do differently if you could re-shoot this today?
The photo came through exactly how I envisioned it. It's a great feeling! If I were to re-shoot today I would have a little more purple color present.  
5. What do you do to keep yourself motivated and interested in your work?
I keep myself motivated by critiquing my images with the photo/ video team. When I become aware of ways to improve fine details in my photos I find myself practicing different ways to "view the scene." That keeps me shooting more.  
We currently have 3 on staff: Photography and Digital Asset Manager Judy Pishnery (10 months at KSU) and 2 shooters: Jason Getz (3 years) and me (11 years).  All of us are in UPAA. We first joined in 2018 and have since lost and gained a DAM manager. We did not often submit images in the beginning, but I have made an initiative for the team in 2022 to submit every month following a photo/ video department critique. I think it's going to motivate people to shoot good work. 
_____________________________________________
"What did the sign on Pavlov's lab door say? 'Please knock, DON'T ring the bell!'" Thanks for reading the blog, send stories, ideas, feedback and/or jokes to editor Matt Cashore, mcashore@nd.edu. Follow UPAA on Instagram.