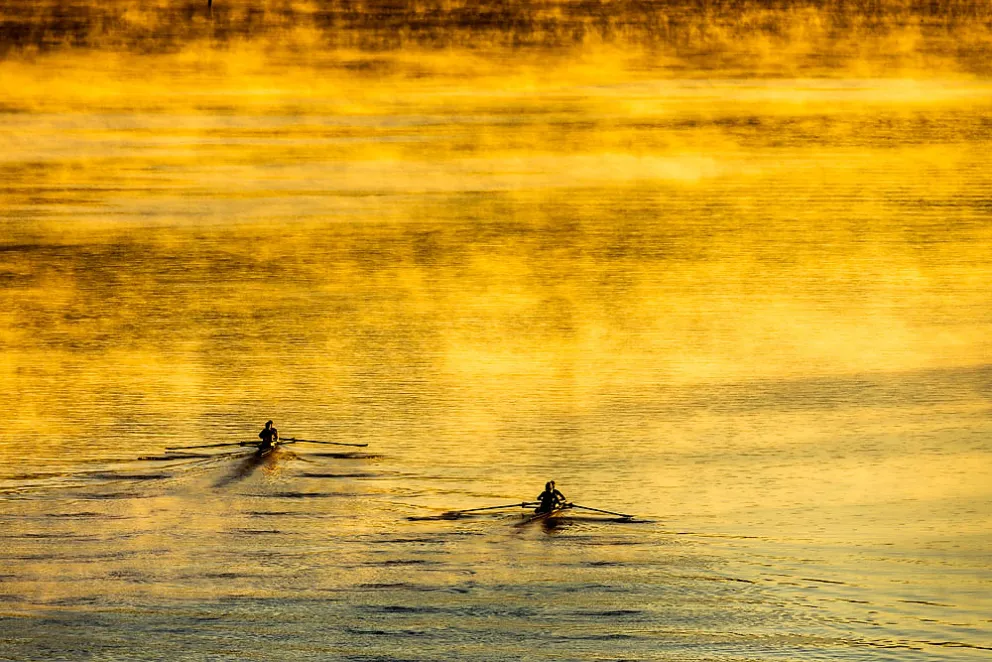 UPAA Blog 2020-21 #10 - 12/4/20 (photos and text by Steven Bridges)
Steven Bridges is senior photographer at the University of Tennessee, Knoxville Office of Communications and Marketing, as well as 2020 UPAA Photographer of the Year. His sports action category photo "Smoke on the Water" was voted Best in Show in the November 2020 Monthly Image Competition.
Tech stuff? What camera, lens, exposure, lighting, gadgets, gizmos, etc.?
•Canon EOS 5D Mark IV
•EF400mm f/2.8 IS II USM + 1.4x III
•1/2000, f/4, ISO 250
How did you have an opportunity to make this photo? Planned? Self-Assigned? Something else?  
This was a totally spontaneous photo. I've always wanted to photograph our rowing team but have never taken the time to make it happen.
During an early morning drive to the office, I watched patchy fog float along the river. I was debating if it was worth stopping to attempt a campus environment photo. Then I noticed our rowers were out on the water practicing. I quickly pulled over and fired off a few frames as they passed. It wasn't anything exciting, and I wanted more.
I jumped back in my car and drove like a mad man to a bridge upstream from the team's boathouse. Luckily I found an open downtown parking spot next to the bridge. Grabbing all my gear, I ran as fast and far as my out of shape body could take me across that LONG bridge. I set up to photograph the rowers during their home stretch back to their boathouse. However, they continued past the boathouse and underneath me.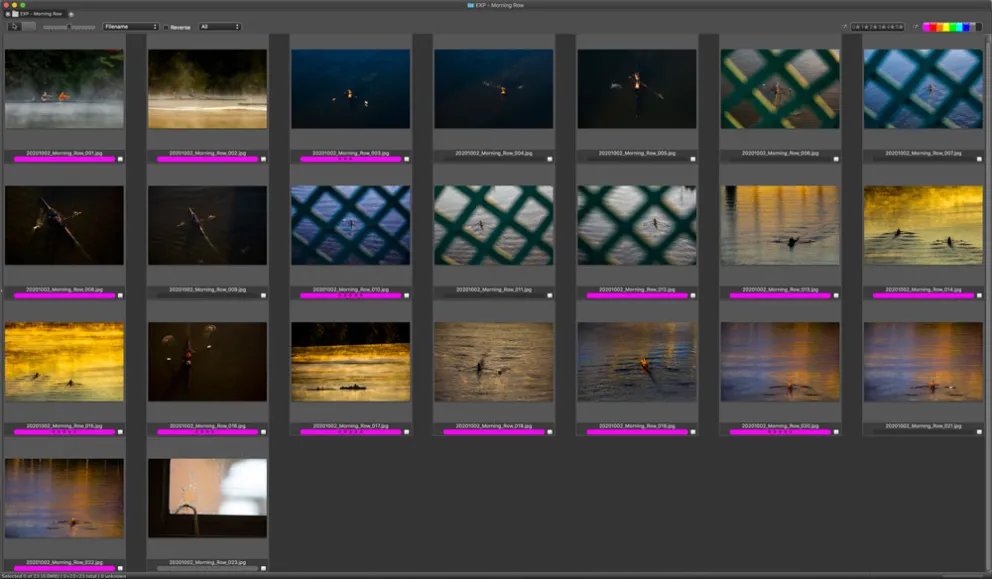 Contact sheet of the shoot shows how Steven worked the light. (what's up with that last image??)
I captured the winning image just before the rowers turned around in the last bit of fog that remained on the river. I continued shooting as they returned home through a rainbow of colors reflecting off the water.  I walked away with much more than ever expected, and it was just the start of the day. I was pleased.
Any unique logistics in making the photo? What sort of post processing (or not)? 
When processing this image, I dropped the blacks and created deep contrast to bring out the water's texture and make the fog pop off the water. Due to the extreme contrast in the image, I brought down the highlights to keep them from blowing out. I typically keep my white balance set around 6K when outside. For this image, I warmed it up to about 7K to accentuate the morning light. All the adjustments I made were inside of Adobe Lightroom.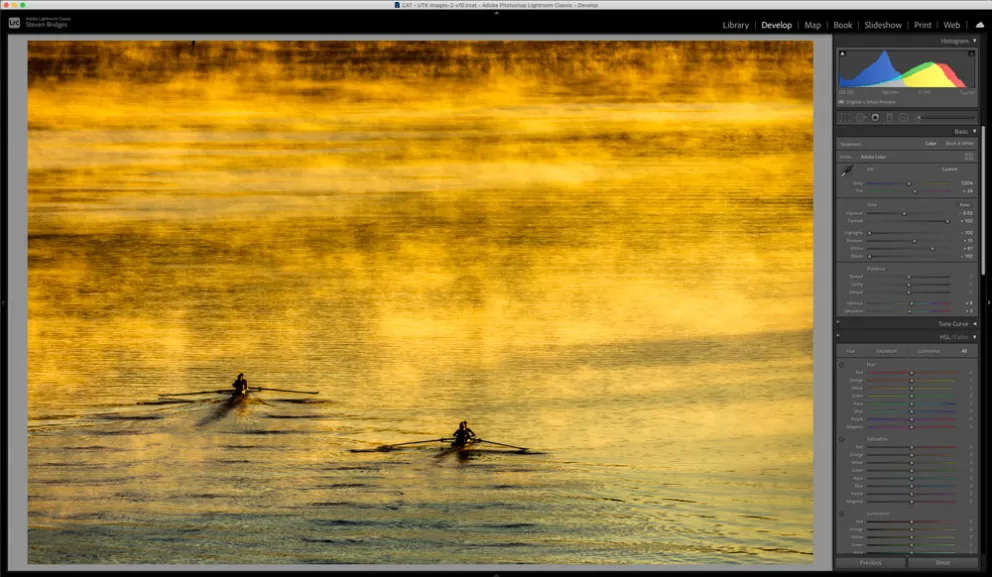 Lightroom develop panel
You chose this image as one of your 5 best of the month, and UPAA chose it as the best of everyone's best of the month…What do you think makes it stand out?
I had three photos from this shoot that I thought were possible MIC entries. I asked the opinions of several co-workers, and this image was their favorite. I figured if it stood out to them, then it would appeal to UPAA members.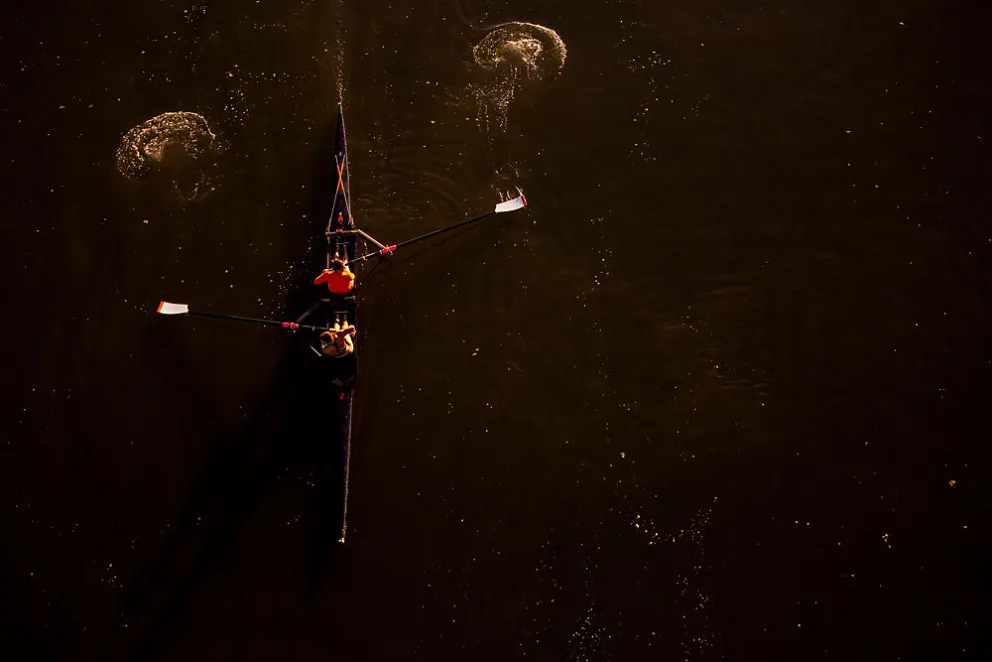 An outtake...Bet everyone in UPAA wishes their outtakes were this good!
What (if anything) would you do differently if you could re-shoot this today?
Since you can't plan when there will be fog on the river, I might contact the team to see when they practice. This would allow me to scope out the best angles. Then again, 90% of what I do is spontaneous, so why change?
___________________________________________________
"Rowing is such a fine sport. Everyone goes backward, and the leader can see his opponents as they struggle in vain." -Brad Alan Lewis, US Olympic Rowing gold medalist. Thanks for reading the UPAA blog. Got suggestions or feedback ? Send 'em to editor Matt Cashore, mcashore@nd.edu. Follow UPAA on Instagram, too!