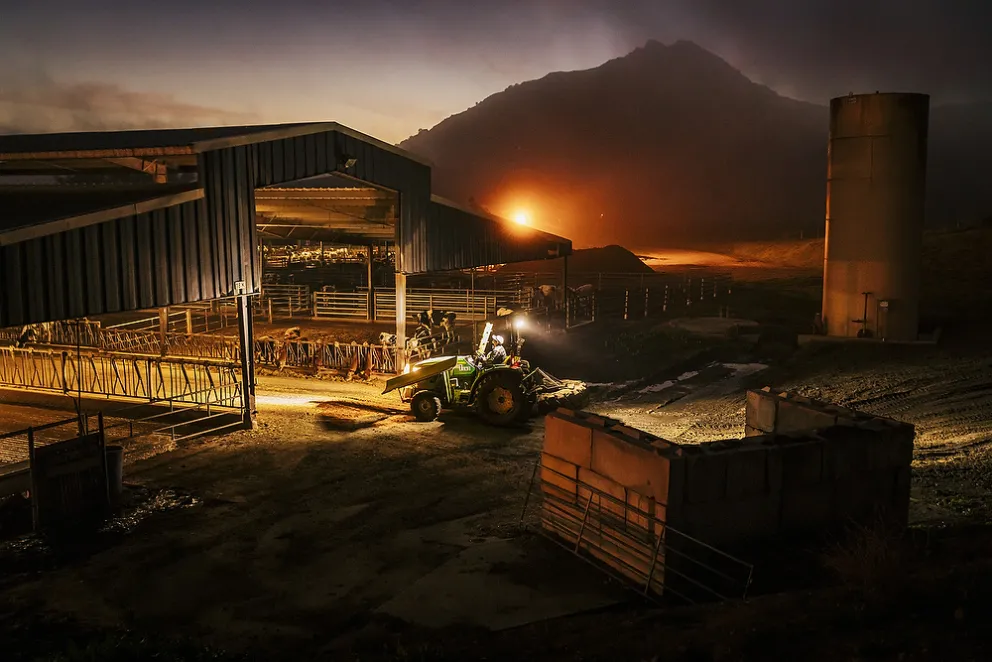 (text and photos by Joe Johnston) Joe Johnston is University Photographer at Cal Poly in San Luis Obispo, California. He's been a professional photographer since 1998 with most of that time spent at The Tribune in San Luis Obispo County, California. In 2019 Joe returned to his alma mater in a newly-created staff job and joined UPAA soon after. His photo "Dairy at Dusk" was voted best in show in the February 2020 Monthly Image Competition.
Quick tech stuff: Camera, focal length, exposure data, lighting used (if any):
•Canon 5D Mark IV, Tamron SP 24-70mm 2.8 Di VC
•1/25 @f2.8, ISO 4000
Assignment or found/self-assigned? Any unique logistics in making the photo? What sort of post-processing (or not)?
This was part of a photo essay I was assigned to do for our Cal Poly Magazine about things happening on campus once the sun goes down. I had photographed a student symphony rehearsal, students studying for finals, student DJs at our college radio station, a flow arts club, and more. We have a big agriculture program here and we wanted to make sure we got some photos that represented ag so I contacted their communications department and they suggested I head out to the dairy where students are milking cows twice a day. I got there a bit early on the day of the shoot, met with the director and got a tour so I could figure out where the photo ops would be as the sun went down. The students work really hard out there and keep everything going from milking the cows, birthing and caring for a continuous stream of calves (which they sell), feeding all the animals and general maintenance.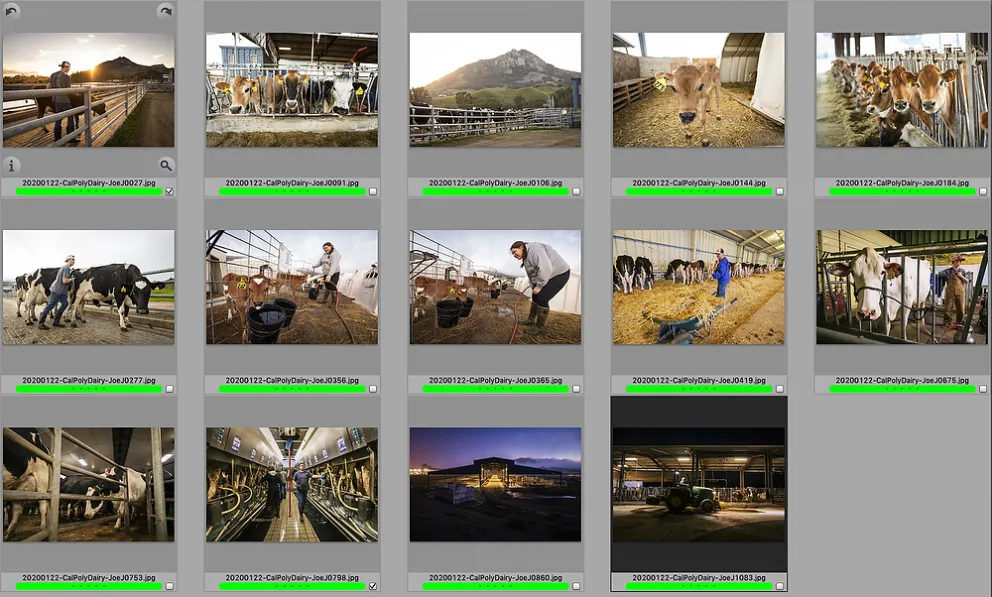 A few of the images I gathered for our photo library
I photographed a little bit of everything, partly to add to our stock library of images, then as the sun went down, to grab some images for the magazine. We have a really beautiful peak near campus called Bishop Peak which is the tallest of a chain of peaks that stretch out from San Luis Obispo out to Morro Bay on the coast and once I saw I could work it into the frame along with one of the housings where the cows are kept I decided to focus on that area for a bit. I picked a spot on a little nearby rise so I could be elevated above the scene and figured out an exposure that would mix the barn lights with the ambient light. Then I waited for a student who was feeding the animals with a tractor to head into the barn. A light triggered by motion had gone off just before he arrived and he took a few moments underneath it to see if he could trigger it and that's the moment in the photo. It would have been cool if the light had come back on, but I was excited just to have a few sharp frames of him at dusk with Bishop Peak in there.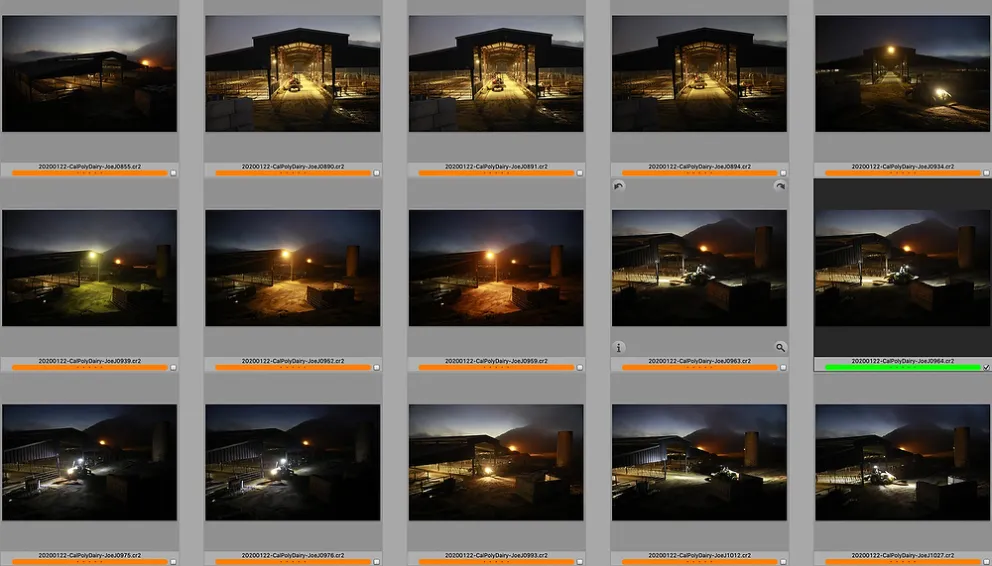 The contact sheet with some outtakes and the final frame.
For post-processing I fiddled with the color temperature to find a warm feel that I liked, then brought up the exposure a tad, did some highlight/shadow adjustments, and added a little texture, clarity and saturation. It was pretty close after that--the interior of the barn and tractor were just a little overexposed at that point, though. In that area I brushed on a single selective adjustment that darkened the exposure and highlights, added a touch of clarity and warmed the barn and tractor lights a little. I also added noise reduction.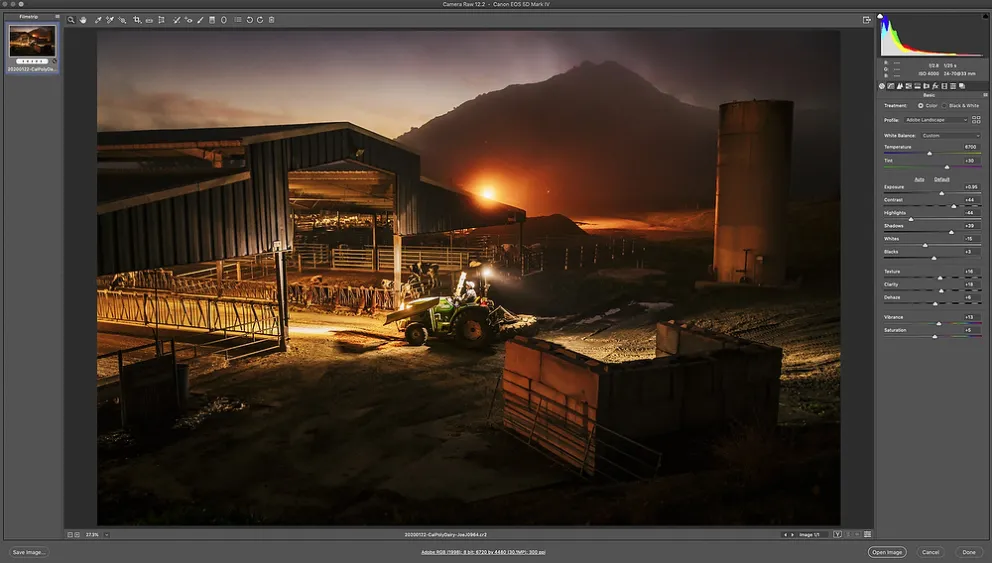 Adobe Camera Raw general settings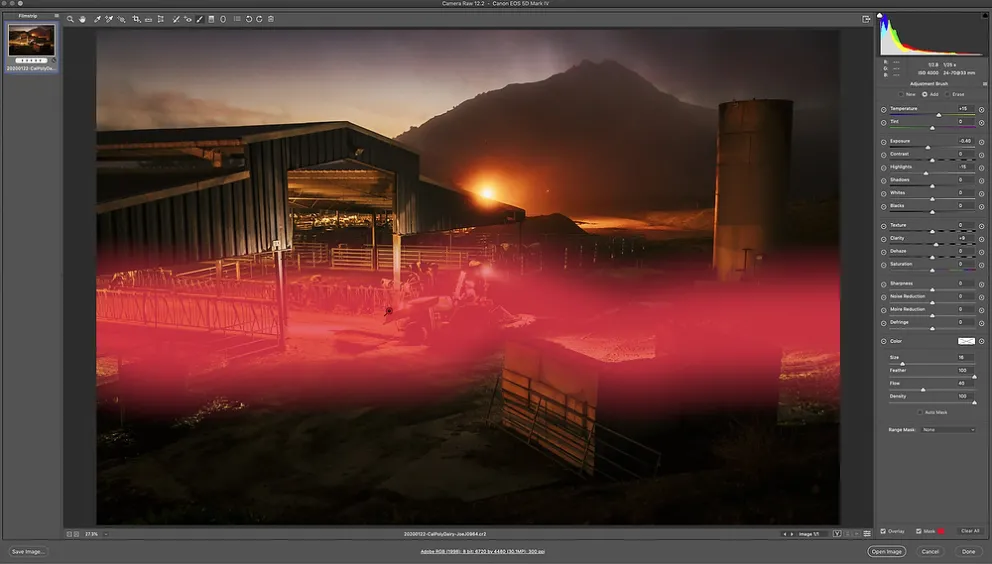 Adobe Camera Raw selective adjustment
What (if anything) would you do differently if you could re-shoot this today?
It came together pretty well considering all the moving parts, but it would have been nice to see how the scene would have looked if that motion-triggered light had come back on.
Where do you look for feedback, inspiration and motivation?
The MIC and the UPAA Facebook group have been great. This has been a big change for me going from journalism to university photography and all the tips and insights from the members have been a huge help. This is a brand new position at the university that I'm mostly building from the ground up, so UPAA has been a resource for learning about photo releases, using Libris, archiving, converting to DNG or no, ideas for hard-to-shoot assignments, basically all the things unique to this position and it has had a big influence on how I've been building this position. So a heartfelt thanks to everyone as I stumble my way through this first year. A few photographers I'm drawn to are Trent Parke, Sebastian Salgado, Brian Smith, Marcus Yam, James Nachtwey, Shomei Tomatsu, Richard Avedon and countless more.
What would your dream job/project be?
I'm a Zen Buddhist and would love to do a long term project where I was able to travel around the country and beyond to make a series of black and white portraits of various Buddhist teachers on a simple white background, along the lines of Richard Avedon's 'In the American West,' but more upbeat. A big part of it would be so I could meet and connect with all those folks, but I think bringing a group of people like that together into a series of images would just be really cool.
_________________________________________
"How do farmers count their cows? They use a cow-culator!" Thanks for reading the blog, stories, ideas and feedback welcome any time, contact Matt Cashore, mcashore@nd.edu. Also follow UPAA on Instagram.