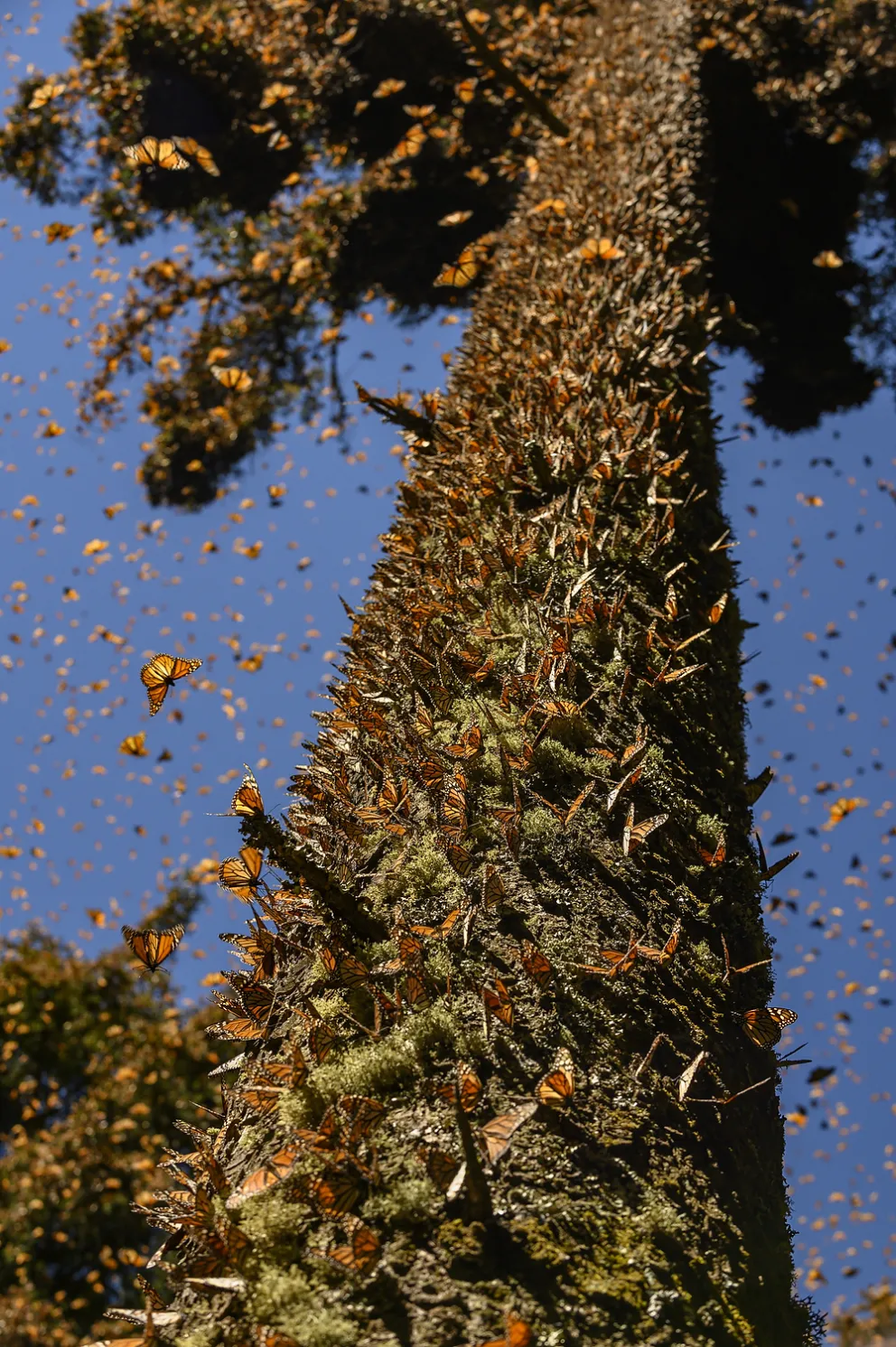 (photo by Kristen Grace) Kristen Grace is Photographer/Digital Asset Manager at the Florida Museum of Natural History. Her photo "Hundreds of thousands of monarch butterflies" was voted 'Best in Show' in the March 2019 Monthly Image Competition. 
Quick tech stuff—camera model, focal length, exposure data, lighting used (if any):
Camera: Nikon Z6
Lens: Nikon NIKKOR Z 24-70mm f/4 S
ISO: 640
Aperture: 9
Shutter: 1/400
Lighting: Sunlight
Briefly go through the process: How did the job land on your calendar? Any unique logistics in making the photo? What sort of post processing (or not)?
This image was captured while visiting el Rosario Monarch Sanctuary in Ocampo, Mexico, in February on an ecotourism trip led by Florida Museum of Natural History Director Doug Jones and museum and University of Florida butterfly expert Jaret Daniels.
I pitched the idea to our team of accompanying this tour to capture photo and video given the research being done on monarch butterflies at the University and the recent news of the monarch populations. From a marketing perspective, I also stressed the importance of documenting two Museum (and UF) leadership individuals guiding the trip.
Migratory monarch butterflies are on the decline, with recent overwintering numbers in Mexico more than 80 percent lower than historic records. We weren't sure what we would see when we arrived at the sanctuary, but as we hiked through the forest, the intensity of fluttering monarchs grew around us. There were so many monarchs their wingbeats were audible. I could see many of them clustered in the treetops, but seeing them coat the trunk of this fir tree stopped me in my tracks.
This tree was just off the trail, so I adjusted for the exposure and composed the image. In post, I did minor fine-tuning with the sliders in Lightroom Classic.
Many of the locals and experts on this trip said that this may have been the best showing of monarchs they have ever seen. Serendipitously, it was a banner year to be there getting quality footage since the future of this phenomenon is uncertain.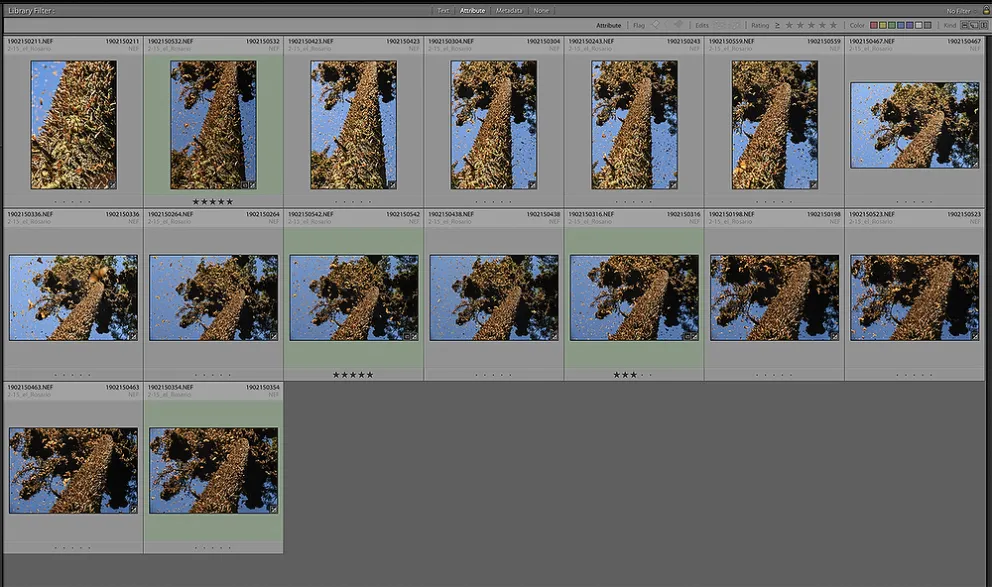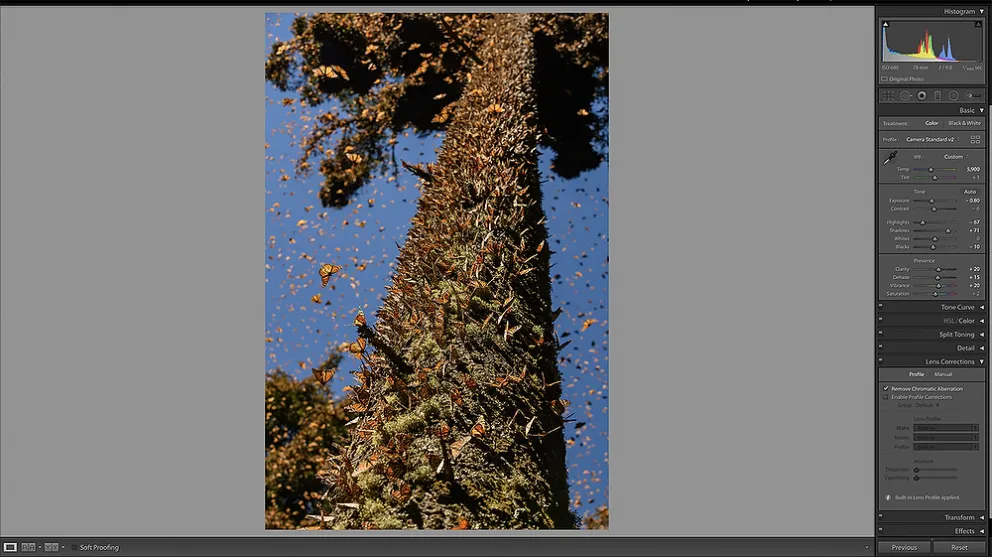 Above: The Lightroom contact sheet and develop module
I would say that the unique logistics in getting the photo began with assignment approval and getting to Mexico, then hiking (some by horseback) to 10,000 feet to the location of the largest of five overwintering monarch colonies in the Sierra Madre mountains.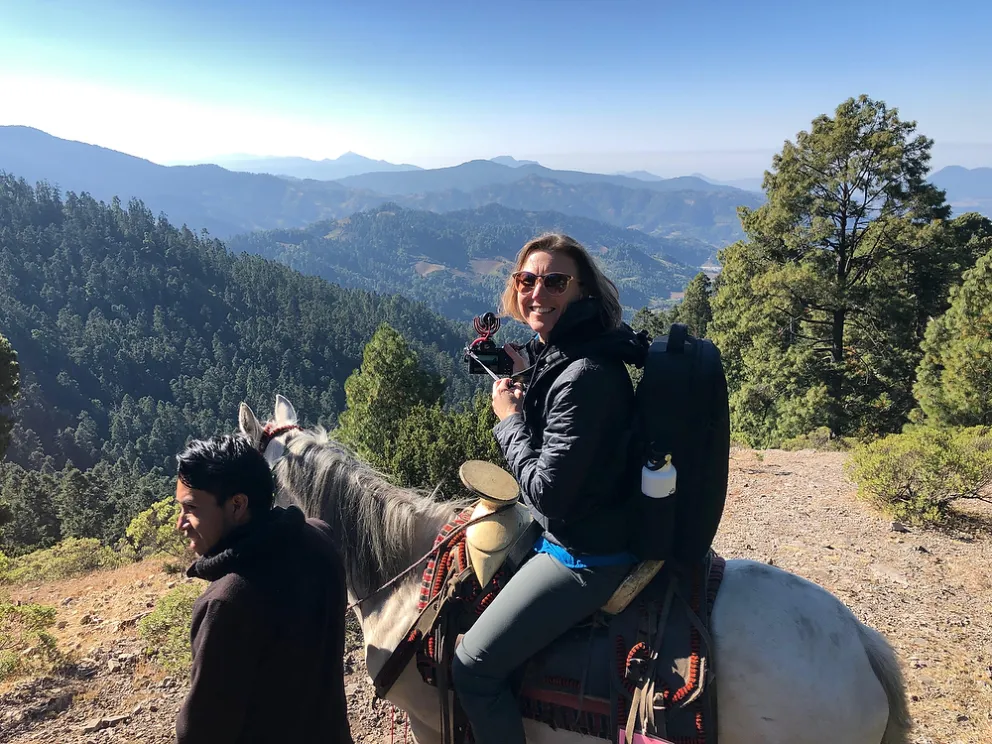 (photo provided) Kristen Grace wields the newest-tech camera while on the oldest-tech transportation.
What (if anything) would you do differently if you could re-shoot this today?
There's not much I would change about this trip except the amount of time we spent in the sanctuary. As a group, we were in the sanctuary for about two-and-a-half hours. If I could go again, I'd like to have my own guide and arrive at the sanctuary as early as possible and stay as late as possible.
Where do you look for inspiration, feedback and motivation?
I have a lot of sources of inspiration. One of my favorite National Geographic photographers is Joel Sartore, and I follow him and his Photo Ark project on social media. I also follow bioGraphic for amazing nature-inspired multimedia stories. We have several researchers at the University (of Florida) that incorporate macro/micro photography into their research and capture some really amazing stuff. They are fun to follow for inspiration as well. One of my favorites is Lawrence Reeves (@biodiversilary on Instagram). My team always provides feedback and support.
What would your dream assignment be?
This is a tough question. There are so many. Getting to document the phenomenon of hundreds of millions of monarch butterflies overwintering in Mexico was pretty close. Migratory phenomena are pretty intriguing to me. I absolutely love Sandhill Cranes and would love to have an assignment to photograph the migratory populations of the central Platte River in Nebraska.
____________________
"If you think of a good fish pun…let minnow!" Blog stories/ideas/comments welcome any time, email editor Matt Cashore at mcashore@nd.edu