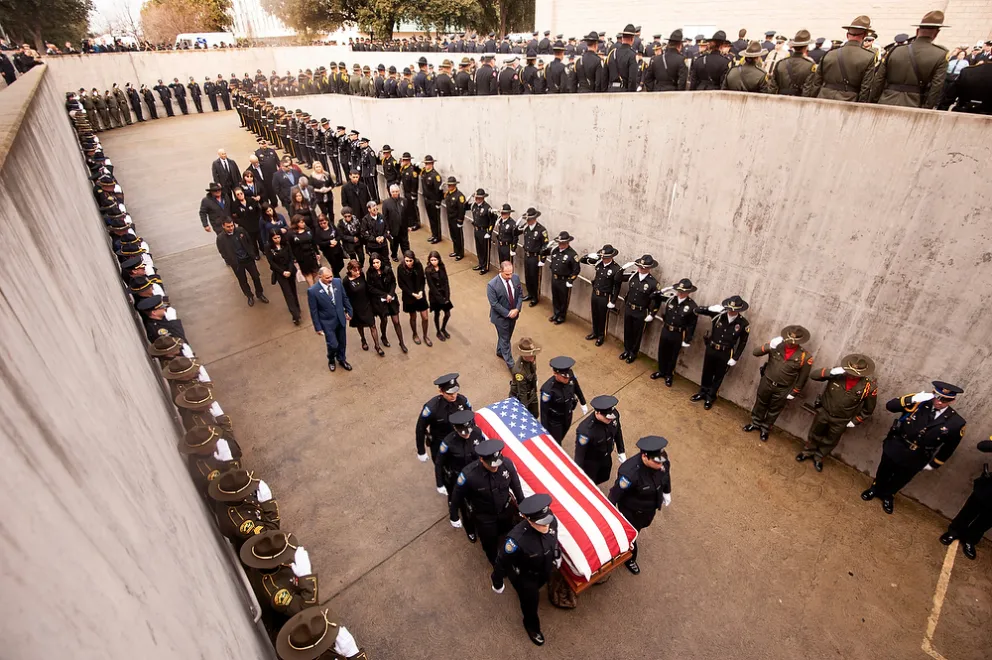 (Photos by Gregory Urquiaga) Gregory Urquiaga is a staff photographer at the University of California, Davis. His photo "Officer Arrives to Memorial" was voted best in show in the February 2019 Monthly Image Competition.
Quick tech stuff—camera model, focal length, exposure data, lighting used (if any):
Nikon D3
16-35mm, 1/320 f6.3 ISO 640
Briefly go through the process: Obviously there were *very* unique logistics in this one, and a great deal of tact and sensitivity required also. How did you handle all of that? 
More than 7,000 law enforcement officers and others filled The Pavilion for slain Davis police officer Natalie Corona's funeral. (Sacramento Bee story) UC Davis hosted the service, making available the building with the most indoor seating anywhere in Yolo County, while the city Police Department organized the service.
Transportation Services (TAPS), Campus Recreation, Fire Prevention Services, Grounds and Landscape Services, communications staff and other campus units gave an assist, as did Intercollegiate Athletics and student-athletes, offering the use of all of their team rooms in The Pavilion. Billy Ray Cyrus used one of them to tune his guitar in preparation for his singing of "Some Gave All."
The UC Davis Police and Fire departments joined other agencies in covering the city of Davis on the day of the funeral. In addition, the campus Fire Department and the West Sacramento Fire Department hoisted the American flag from their ladder trucks, creating an arch over the funeral procession as it traveled to The Pavilion.
The assignment required two photographers: Myself and Karin Higgins. We took different positions so that we were covered for what might happen. I was on the outside and she was on the inside for the beginning and when the ceremony commenced she had the floor of the gym and I had top stands. Due to the nature of the assignment, we were not trying to grab every image because this might anger officers and the general public. So, we picked the positions that we knew would work. As a rule, I generally keep moving for things like this if it is possible. It lowers the chances of angering participants because they barely register what is happening before you move on. When movement was not possible, I stay in place, waiting for a moment.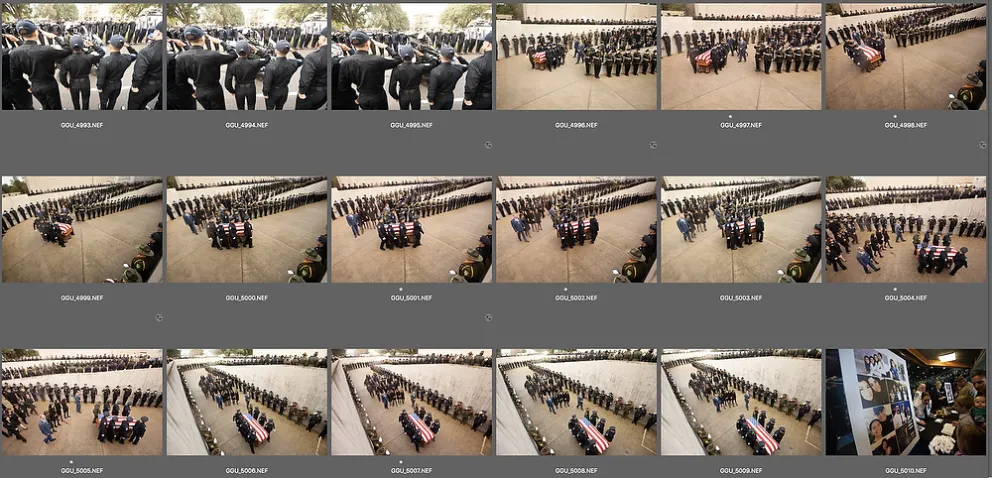 What (if anything) would you do differently if you could re-shoot this today?
It was rainy day so I'd wipe my lens more to get off the moisture.  The raindrops caused more flaring than I could see.
Where do you look for inspiration, feedback and motivation?
Photography has always been about the art of minimalism. What information can be excluded and still tell the story in one image with a capturing visual architecture is always the quest. Good photography relies on a constant accumulation of a visual library that can be referenced for sampling, referencing for techniques, and doing an homage, so one always has to collect different ideas, styles, and viewpoints from sculpture, photography, modern and renaissance paintings, movies, books, graphic design and so on. 
What would your dream assignment be?
Street photography in Paris.  Henri Cartier-Bresson created some of the most iconic images there and because street photography is a treasure hunt to make the ordinary and banal into something extraordinary. 
_____________________________
Comments, stories, suggestions? Email editor Matt Cashore, mcashore@nd.edu