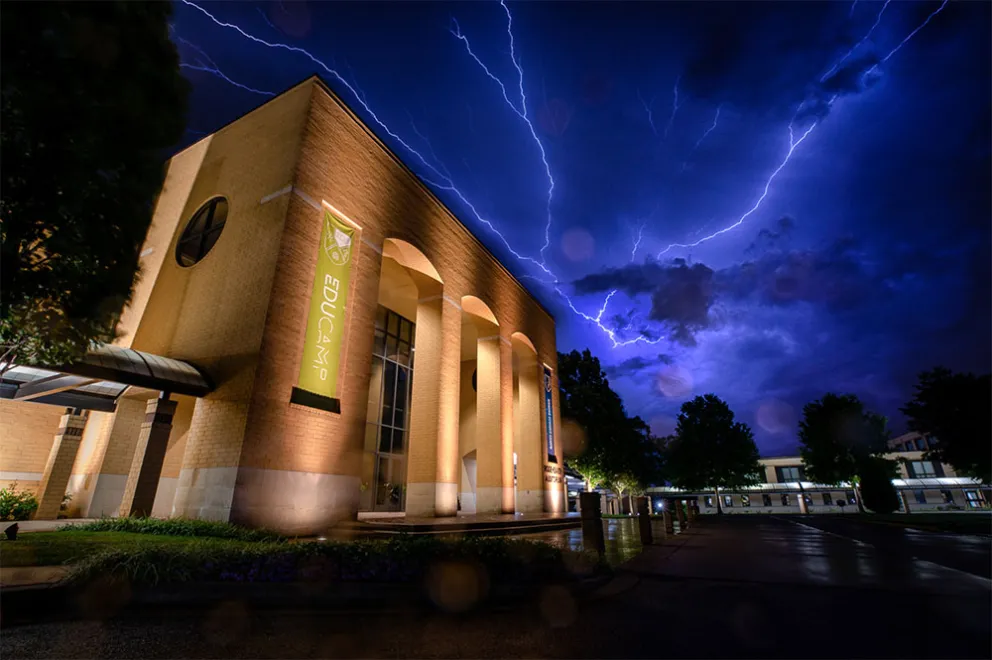 (Photos by Derek Eckenroth) Derek Eckenroth is a staff photographer at Bob Jones University. Derek's photo "Lightning on Front Campus" was voted Best In Show in the September 2018 Monthly Image Competition. 
Quick tech stuff—camera model, focal length, exposure data, lighting used (if any):
•Canon 5D Mark IV
•16mm
•ISO 100
•f/11 25sec (bulb)
Briefly go through the process of how the photo came about: Assignment or found/self-assigned? Any unique logistics in making the photo? What sort of post processing (or not)?
This was a self-assignment. Ever since I was into photography I had always been interested in lightning photography, and I even tried capturing it as a freshman in college trying to use film. I had no idea what I was doing. After seeing Matt Cashore capture amazing lightning photos week after week in the MIC, I wanted to try my hand at it again. At this point, as a professional, I had a much better idea on how to capture lightning. But I wasn't sure how Matt did it, and I wanted to pick his brain. Over the summer I had that chance. While the speakers and workshops were supper helpful and the competitions were great in sparking new inspiration, the most helpful piece of the technical symposium was the interaction with other photographers. I had the opportunity to talk with Matt and learned a lot. My biggest takeaways from the small conversation I had with him were invaluable: #1 stay safe, don't shoot a storm with ground lightning. #2 keep an eye out for storms with little to no actual rain and lots of lightning bursts. #3 If you bulb the photo, the exposure doesn't have to be as long as you think. It really only needs to be in the 15 second range. So, with this knowledge now in my mind, on my way home after an event one evening the "perfect storm" rolled in. I had to stop by campus and photograph it. The storm was almost over by the time I was able to get the camera out, but God blessed and I was able to get one frame. All I can say is I held down the shutter and watched God work. I'm still dumfounded with how well the lightning paralleled the building. Only God has that kind of control, just—wow! There was very little photoshop done to the file. Almost all the photo editing was done in Lightroom. I did have to brighten the sky as I learned the hard way that the longer exposure the brighter the buildings and the darker the lighting will be in comparison.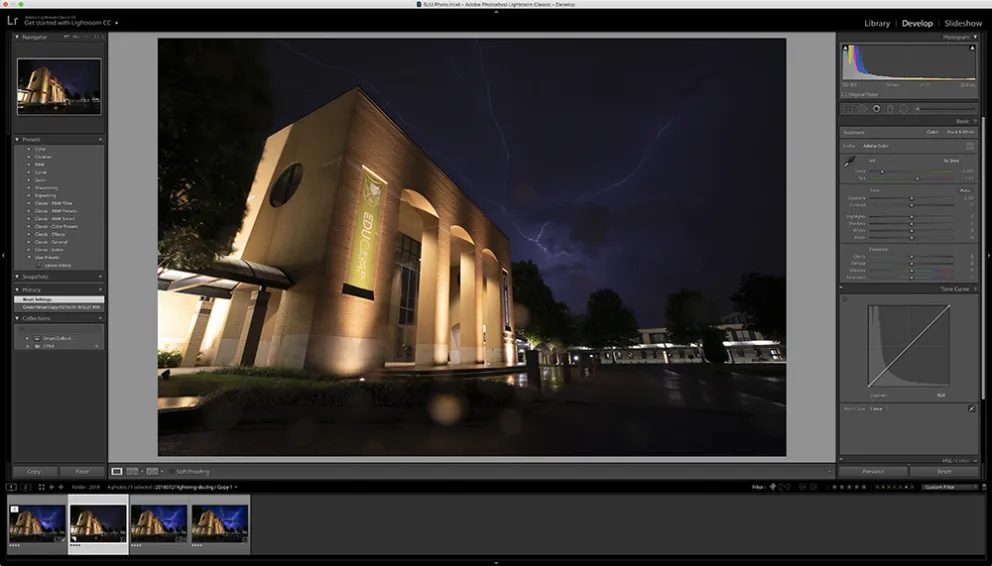 The image straight-from-camera before editing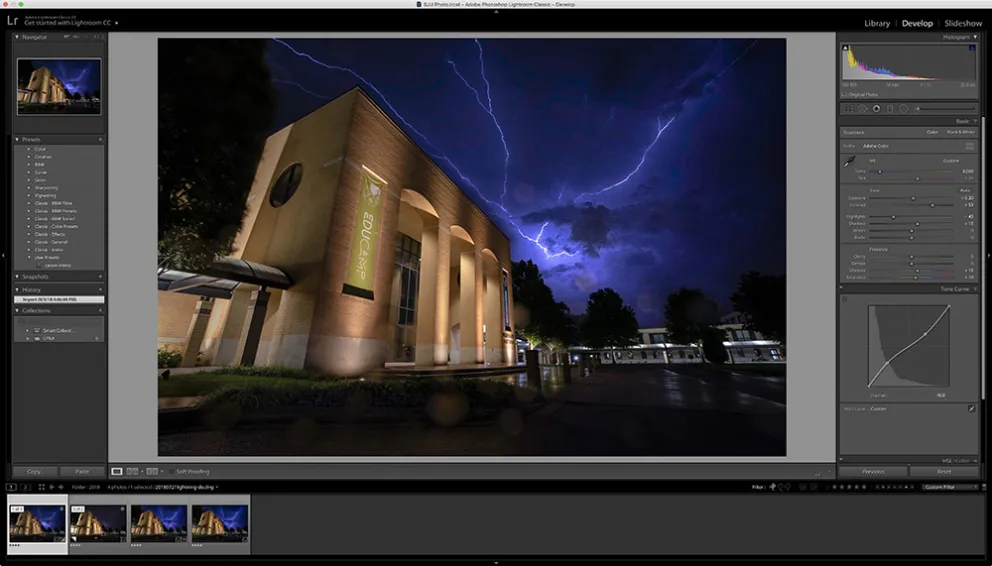 With Lightroom edits
What (if anything) would you do differently if you could re-shoot this today?
I was quite surprised on how dark the lightning actually was in comparison to the building being exposed for 25 seconds. A shorter exposure may have helped darken the building in comparison to the flash of lightning.
Where do you look for inspiration, feedback and motivation?
A lot of my inspiration comes from the UPAA MIC, Print Competitions, and following professional photographers on social media (most of them connected with the UPAA). The UPAA has been invaluable to my education and motivation to do my best in photography. The association is flooded with professionals who what to share their knowledge and help people where they can. Yes, that was a shameless plug to come to the Technical Symposiums they have every year. My feedback comes from my co-worker/boss Hal Cook, other photography friends at or around BJU, and on social media. This generation is flooded with people who love photography and it never hurts to ask for constructive criticism from these passionate lovers of photography. My motivation is a deep love for and a desire to create beautiful images, the reminder that if you aren't learning you are falling behind, and 1 Corinthians 10:31 "So, whether you eat or drink, or whatever you do, do all to the glory of God". I love photography, both capturing the image and making it come to life in post-production. Before/after is my favorite tool for any editing software. I was told once by Hal, if you aren't learning, especially in photography, you are falling behind. That statement has stuck with me. I want to keep learning to keep up with this crazy fast-paced industry. For example, not even 5 years ago I would have never believed that there would be modern professional cameras from Sony, Nikon, and Canon that weren't mirror reflex. And lastly, but most important, I am a Christian. And I want my main motivation to always be for God's glory and His edification. God has given me a talent, ability, and opportunities I never thought I would have. I'm humbled, and I hope to always point all of this back to Him.
What would your dream assignment be? 
I'm grateful for all the opportunities I get to be a photographer for BJU. I truly landed my dream job right out of college. I love the diversity of images I get to shoot for my alma mater, everything from sports action, to theatre, to portraits, event candid shots, and even products. Never a dull moment at my job. My dream assignment is a "never gonna happen."  I've always wanted to photograph an NFL game (and if at all possible the Philadelphia Eagles, who I've been a fan of since I was old enough to know what football is). BJU doesn't have a football team, so to photograph a graduate gone pro-football isn't even an option. I was a bit jealous to see photographs of the Titans/Eagles game pop up in Donald Page's social media. He truly is a talented photographer (if you haven't yet you should look at his stuff: @donaldppage).
__________
"Where does Fonzie like to go for lunch? Chick-Fil-Aaaaaayyyyyy..." Got a piece of gear you want to review? Got a good dad joke? Stories/opinions/ideas welcome any time, email editor Matt Cashore at mcashore@nd.edu