Todd Paris is recently retired from the University of Alaska Fairbanks. Todd was honored with the UPAA Master of the Profession award at the 2017 Symposium. His photo "Colorful Aurora" won Best In Show in the October 2017 Monthly Image Competition. We wanted to find out more about the tech and the thinking that went into his winning image. (All photos by Todd Paris)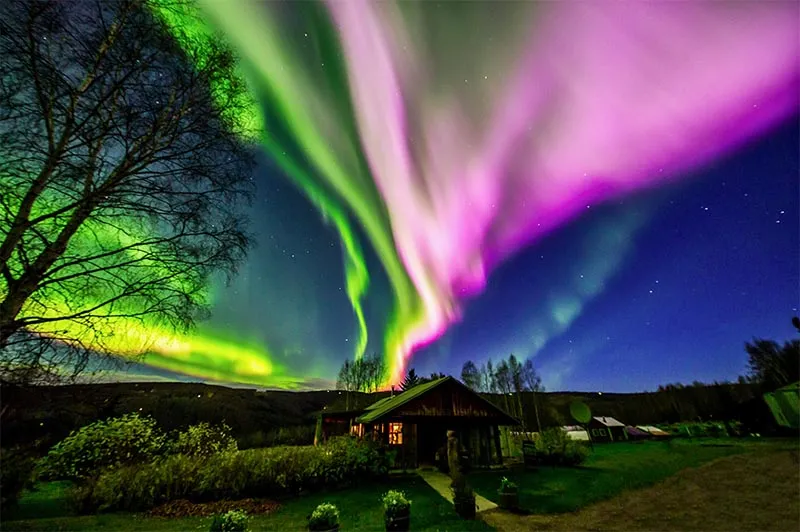 First, congrats on your recent retirement and UPAA "Master of the Profession" award.  Both well-earned!  Being as a) you're retired and b) the photo was from the Personal Vision category, I'm guessing this was entirely your own initiative to shoot this, correct?  What keeps you going out into the cold Alaska nights?  When and where did you make the winning photo?  Was it luck? Planned? Shot at 7pm from your front porch…?
Indeed…needless to say I'm humbled to win Best in Show. I love staying involved with such a dedicated and highly skilled workforce. My involvement with UPAA was a very positive primary factor in my personal development as a campus photographer and I'm honored to provide a contribution to the blogsite (which I didn't know existed!).
I'm now entering my 38th winter in Interior Alaska and during that time I've seen some amazing aurora displays. The night of Sept. 27, 2017 was a Top Three of All Time aurora experience for me. I have not yet shaken the urge to capture the Northern Lights at every opportunity, but usually life or weather gets in the way. UAF's world-renowned Geophysical Institute maintains an accurate Aurora Forecast (
http://www.gi.alaska.edu/AuroraForecast
) which should be of interest to residents of the higher latitudes of the Lower 48. I believe the forecast that night for was a 5 on a scale of 9 — Highly Active, but you never know. With clear skies also forecast the likelihood that something good was going to happen was high. At that time of year we lose almost 7 minutes of daylight each day so I started checking about 9 as soon as it was dark. My wife's job gets her up at 5:00 on work days so we're usually early birds, but I made sure to check the sky before getting ready for bed that night. What I first saw was good enough to make me grab my camera and head outside to see what might develop. The temperature was about 40°, a beautiful crisp fall night. I fired off about a dozen shots of the aurora over my house, which is about 10 miles northeast of Fairbanks. I'm close enough that I often do get a glow of city lights off to the south, but its not always a bad thing. I'm also fortunate to live less than a quarter-mile from a beautiful farm with a 20-acre field which provides a great location for aurora viewing and photographing. Over the next 10 minutes, the display above got stronger and faster and the reds started popping, so I almost ran down the road to the farm with my 5D Mkiii and Sigma 12-24 f4 Art lens and trusty Manfrotto cf tripod with RRS ballhead. I was in such a rush that I didn't grab my cable release, so I set the shutter for a 2-second delay, set focus on manual just short of infinity, made an educated guess for ISO and shutter (in this case 5000 at 6 seconds), zoomed wide open, and started shooting. I've shot at this farm many times over the years and love to frame the big birch trees against the night sky. My neighbors have an interesting home and two picturesque rental cabins on the property. Within minutes the sky exploded in fast motion curtains of color and so much light that I had to quickly drop by ISO in half and speed up the shutter to avoid a total highlight blowout. If this would have been a couple of weeks later with a blanket of white snow on the ground, I probably would have been shooting at ISO 1000. The winning shot was at 12 mm, 4 seconds, f4, ISO 2500 at exactly 10:00 pm. The show lasted another 20 or 30 minutes, with the red starting to fade. I was back at my computer by 11.
Here's one of the first photos of the night, after I stepped outside of my house at 9:17 (note brighter horizon line to the west indicating dusk), and the last back home at 10:48.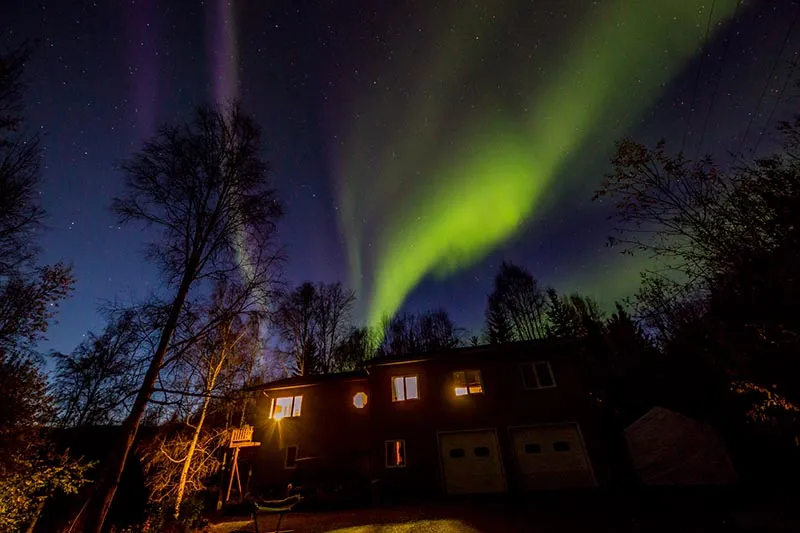 9:21 pm, 6 seconds, f4, ISO 5000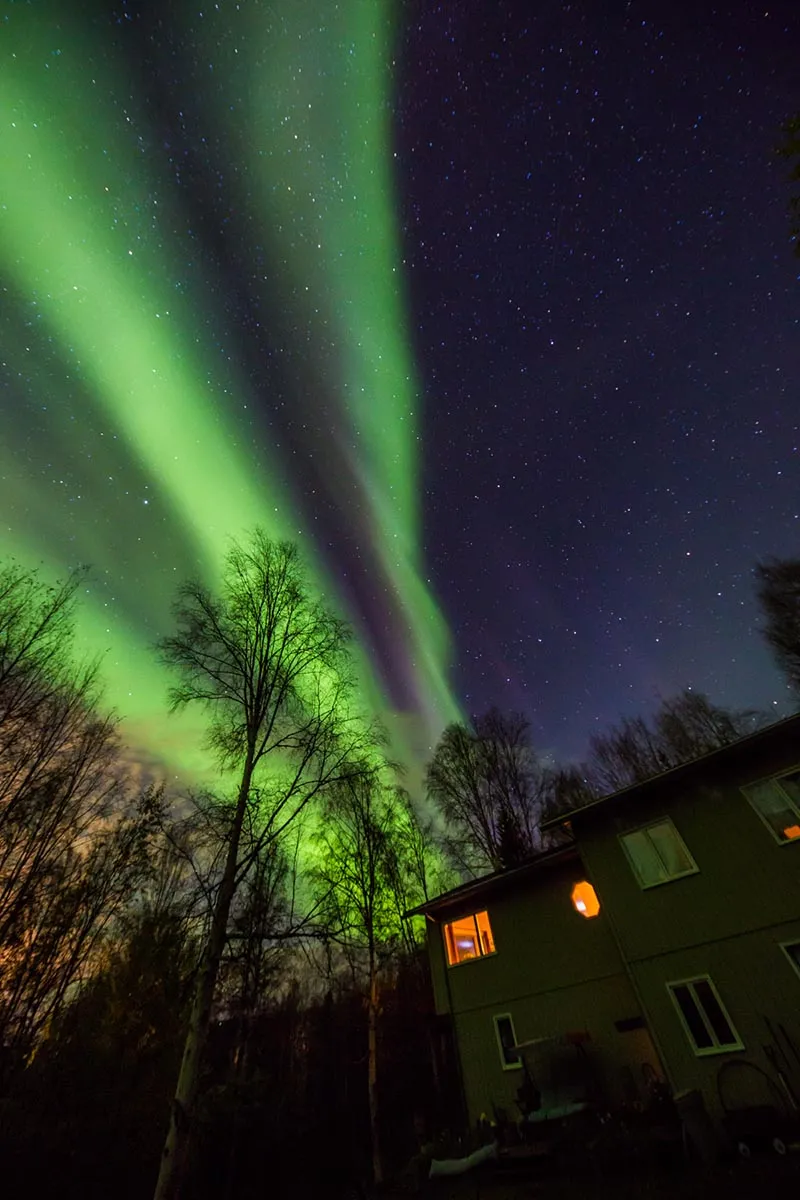 10:48 pm. 13 seconds, f4, ISO 5000  (the orange-pinkish glow at bottom left are lights of Fairbanks reflecting in the clouds)
                                                                                                                                   Can you see the Big Dipper and North Star?
Tell us about the challenges of photographing the Aurora: How cold is it? How do you keep your equipment (and yourself) functioning? Do you have an idea of when the Aurora might be good? How far away from city lights do you need to be?  What kind of exposures are usually required? How much post-processing is required?  Anything else us "Lower 48"-ers might not realize...
It's really pretty easy to get nice exposures of the aurora when it's presenting. Tripod, quality gear, manual settings, ..that's about it. Yes, Interior Alaska is cold in the winter when aurora viewing/photographing is somewhat frequent. But when shooting I'm rarely outside for more than 15-20 minutes at a time. Yes, I do get cold depending upon the outside temperatures, but within that limited timeframe I've never had a battery fail or technical malfunction due to cold. On occasion I'll drive a ways from home seeking a different foreground or nighttime landscape. Then I leave the car and heater running and step in and out accordingly. Of course basic winter clothing is required…boots, hat, gloves, warm coat, but that's all stuff we need to keep handy all winter anyway, so its no big deal. True adventurers travel into the nearby wilderness in search of unique aurora shots, and they definitely need to take extra precaution and preparation. Last October I was asked to accompany a geologist professor friend and his graduate student on their last field trip of the season in the foothills of the eastern Alaska range, but our campsite was only a couple hundred yards from our vehicle. I spent a mostly sleepless night in this tent as the temperature dropped to about 0°. Since I wasn't sleeping I got up about midnight to see this active scene above me, made more unusual because there was a full moon out, lighting up the surrounding countryside.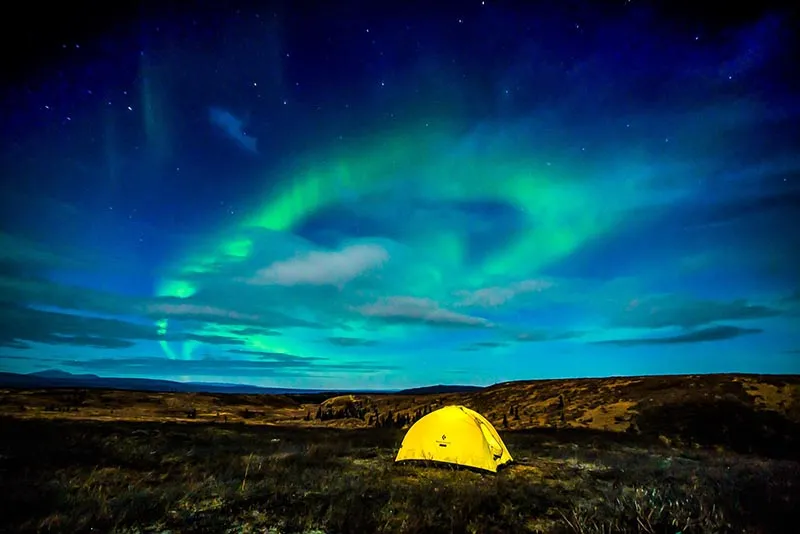 Oct. 16, 2016 about 12:45 a.m. with Sony A7rII and Canon 17-40 f4 lens, ISO 2000, 17 mm, f4, 1.6 seconds
My process in Lightroom included dropping exposure, boosting contrast, dropping Highlights to minimum, boost shadows and whites, clarity at +28 and Vibrance +9. The brilliant red color this night was something I had only seen once or twice in my life before, maybe never!! The farm caretaker's 17-year-old daughter and amateur photographer wife were out in their driveway oohing and aaaahhing along with me. I cloned out a blurry teenager as she danced about off to the lower right of the image, and an unattended shiny tripod in the lower center. Oh, and that pesky power line. That was the extent of the processing.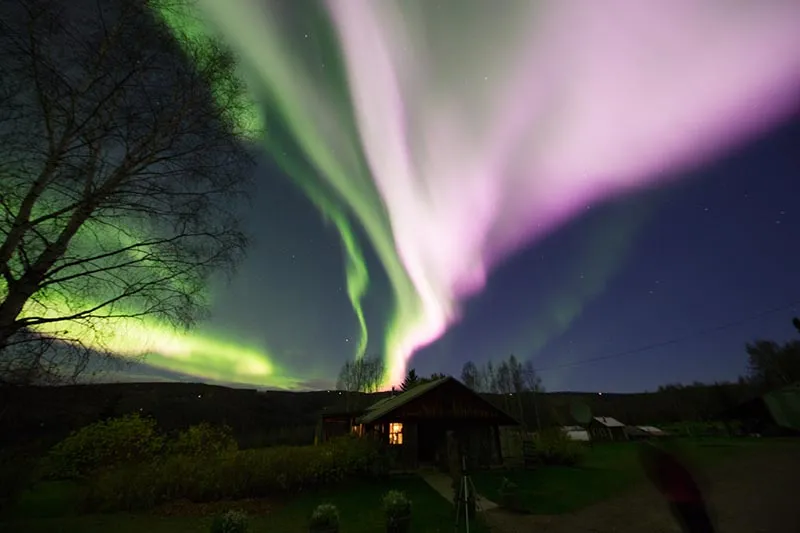 Here's the image as captured right out of camera. I always try to expose for the highlights...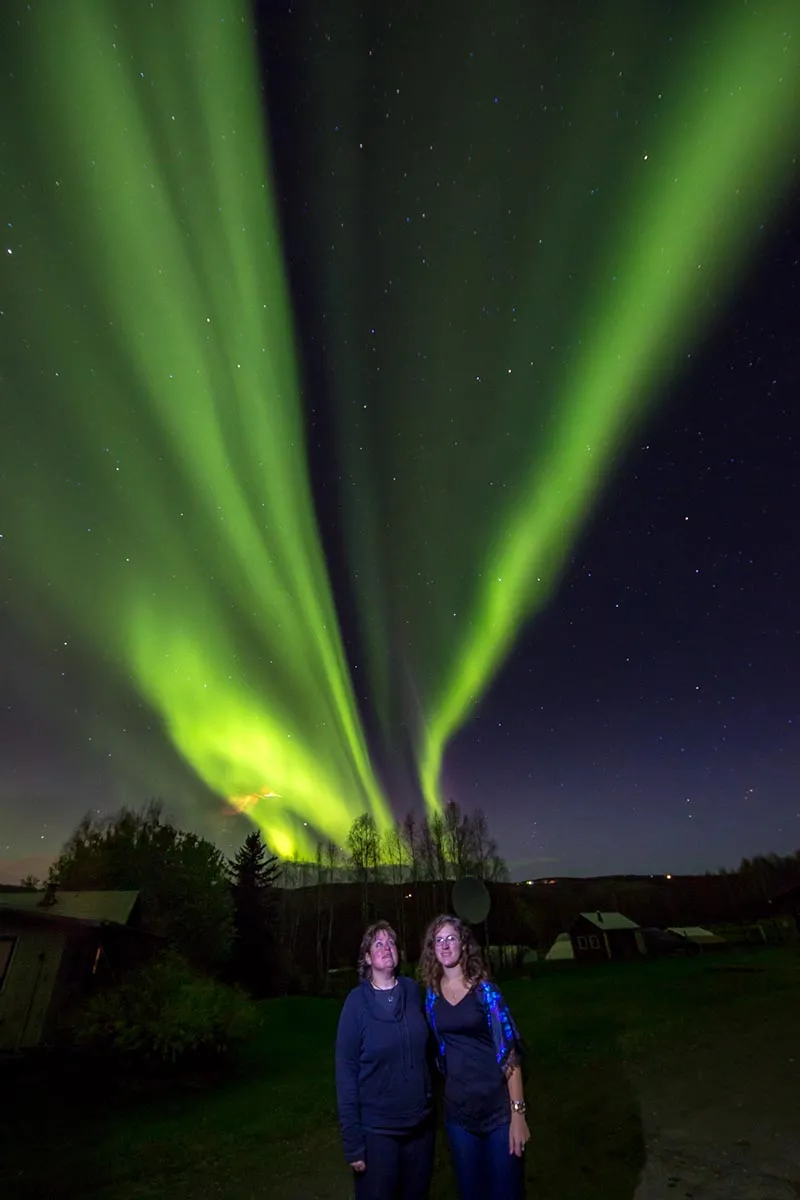 AJ and Kalei Huddleston, 10:26 pm, 10 seconds, f4, ISO 4000 lit by about 2 seconds with a LumeCube.
 I have to mention that as the show was peaking the teenage host rushed to make sure the guests in their B&B cabin knew what was going on above them. She returned saying the guests were fine watching through the cabin window since it was too cold for them to come outside. I felt like banging on their door and screaming at them that viewing from inside IS NOT THE SAME as witnessing a show like this outside under they sky in person. Turns out 40° is too cold for some people. Hard to figure…turns out the guests were from southern California.
The vertical which took 3rd place is on the cover of our local utility's current monthly magazine: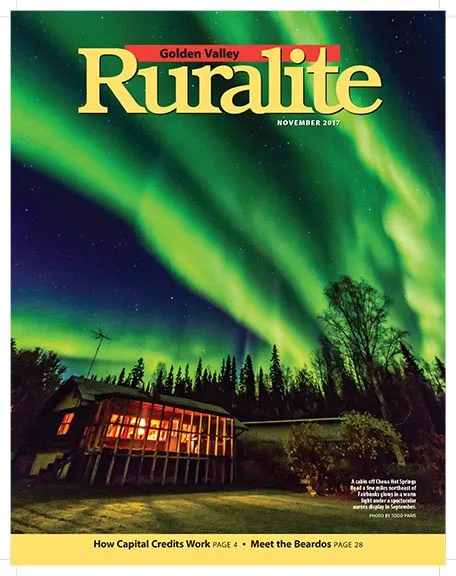 And I had some small metal prints made from several of the shots that night and they look great! I'm looking to market some big metal prints to adorn the waiting room walls of a couple local doctors I know. And the Facebook post I made with five photos later that night earned more then 6,000 likes with 15,000 shares. My Most. Popular. Post. Ever. The odd Likes and Comments are still dribbling in.  
I should wrap this up by saying that I love Alaska nature photography and feel so fortunate to be able to make my living in such a beautiful place. That's what keeps me inspired and motivated and prepared as best I can be with a busy wife and pre-teen daughter who keep me on a pretty tight leash. I already mentioned that my neighbor's farm has two separate cabins they operate as a B&B. If any of you have ever considered travel to Alaska with the idea of shooting Northern Lights, my neighbors farm would make a great base, either to hang around to shoot locally, or to head up the Dalton Highway towards the Brooks Range for a real Alaskan adventure. All it takes is time and money (and a good tripod)…something all University photographers have plenty of, am I right?  I'm not going anywhere for at least the next six years so if anyone's interested in planning an aurora photo trip to Fairbanks, I'd love to provide insight and assistance and camaraderie? It's truly one of the best places on the planet for aurora photography.  
How much—if at all—does the MIC motivate you? 
A few of my previous aurora photo efforts have done well in the MIC so I was hoping one or two of these would also. I could not narrow down a favorite, or even two…hence three entries shot within 20 minutes. I expect everyone knows that you can't plan a shoot like this with any certainty. It's fickle and fleeting but there are a couple local photographers who are making a pretty good living specializing in aurora photography, as guides or shooting portraits under the aurora. They tell clients their chances are pretty good of seeing some memorable aurora sometime during a week's stay. The problem is forecasting weather and auroral activity since there are certainly no guarantees as to time of year or time of night. My favorite aurora shots were taken in swing seasons, Sept.-Oct, or March-April, mostly because the outside conditions are usually much more forgiving. I've taken award-winning aurora shots at 40° above and -40° below and without a doubt I prefer the above-zero temps. And Yes, I am always considering other entries to the MIC as I pursue expanding my photo collection.
If you weren't a photographer, what alternate career would you be newly-retired from?
I enjoyed a great job last spring on a photo contract with our local school district. I shot in 19 local schools over four weeks, from kindergarten to 12-grade, documenting every-day interactions with students and their teachers and aides, including 5 high school graduations over 6 days. That was after shooting a few hundred (thousand?) shots for my daughter's elementary school as their yearbook producer.  I'm a big proponent of our public schools and love spending time in them, so if I wasn't a photographer I think I would have loved being a school teacher.