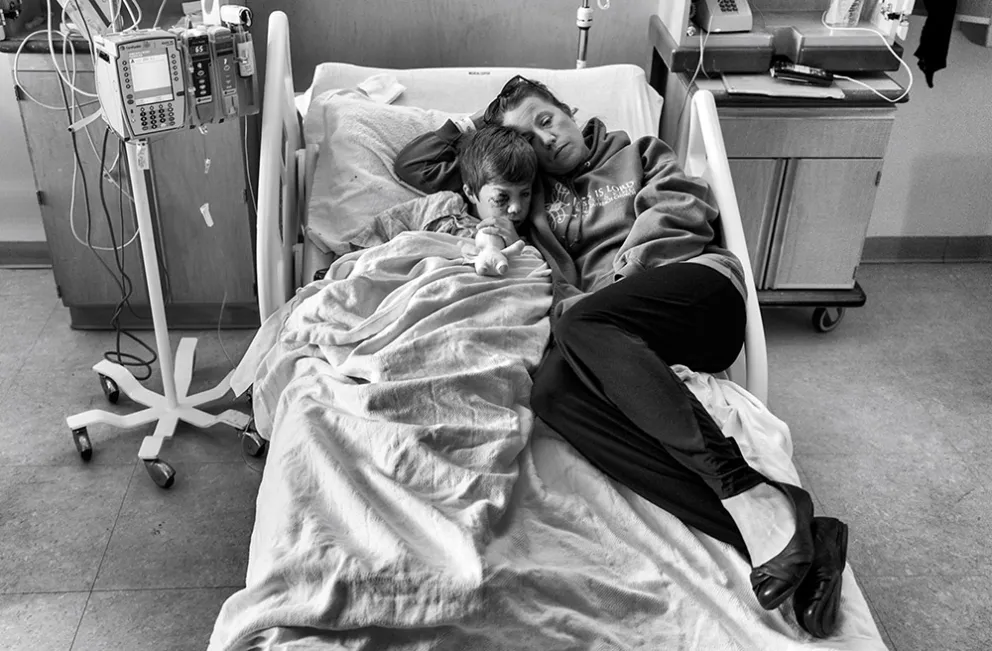 Joseph Howell is Senior Photographer at Vanderbilt. His photo "Comfort" was voted Best in Show in the November Monthly Image Competition. It was the second time this year Howell took Best in Show. He takes us behind the scenes in making this photo...
Hi…again…!  Congratulations on not only a "Best in Show," but also on going 6-for-6 with all your entries finishing in the points. This image is a far different image from your September winner. Give us the backstory on how it came about.
A daylong photo assignment at Children's hospital to promote our world-class facility led to a great day of shooting and meaningful photographs.  I think the obvious question that might be asked about photographing kids who are sick or injured is: How are you able bring yourself to make the images? First and foremost the parents and the young patients have granted permission for the photos to be made. The other aspect that gives me a sense of ease is the fact that these children are in the best possible place and are receiving optimal care.  The hope of total recovery and healing is a motivating factor to tell their story. In addition, I think the families are so inspired by our medical staff that they want to give something back to the hospital and care givers, by allowing us to share their experience. 
What hoops do you have to jump through to photograph not just kids, but kids in a hospital?
The nuts and bolts for the assignment are pretty straightforward. Our medical marketing staff put in an assignment to create stock images for the upcoming year.  The shot list included everything from exterior photos to the gift shop, plus staff photos and patient interaction images.  Basically, they wanted me to capture a wide variety of photos showcasing as many aspects of our award-winning facility as possible.  All the arrangements were made in advance, from administrators down to charge nurses. A medical marketing representative was with me during the entire shoot. Also, all of our photographers have been briefed on HIPPA protections and requirements. Every photo included a release form that was thoroughly explained, and then signed by the guardian or parent. 
Can't be easy to photograph anyone-especially children-in any sort of pain. How do you handle the emotions? (Both your own, and the people you're pointing the camera at)  Does a background in newspaper photojournalism help in these situations?
The best of show image I was awarded by my fellow UPAA photographers is an example of being prepared and a bit of luck. I spend roughly 15 years in newspapers as a photojournalist, so being able to navigate a difficult or sensitive situation is second nature.  I had great training at several papers, and a wonderful education from Western Kentucky University Photojournalism Program.  Early in the day I met Andrew McNeely and his mom in a community play area.  I photographed him and we got a release from his mother at that time. We said we might see them later as we made our rounds on the pediatric floor.
After photographing a different family in a nearby room, I left our marketing person to obtain a release and I dropped in on the McNeely family. Mom was in bed with her son watching TV after a long day. I asked if I could take photographs, and they said yes. They asked me if I wanted them to do anything and I said no. "Just pretend I am not here." They continued to watch their show and I made several images. Afterwards, I thanked them and went to another room.  The fact that the marketing person was comfortable with me moving on without her played a part in shooting this uncontrived situation. The other thing was the fact that I had meet them earlier and photographed them just doing what they were doing. I did not ask them to do anything. I find working in the hospital rewarding on many levels. I love the variety of assignments I get at Vanderbilt and I thrive on shooting different situations. 
You mentioned the motivation you get from the MIC in our previous Q&A so I'll change the question a bit: Three different Vanderbilt photographers had winning images in the last MIC. What are you drinking and can we have some? Ah, but seriously: Do you all help each other edit your entries, and if not, do you have a process you go through to select your entries each month or is it simply gut instinct?
Choosing this image for the competition was a no-brainer - I really liked this image.  However, I did present it to our staff at our monthly meeting where we discuss a variety of things including the UPAA competition.  We have 7 people on our staff. Including our director, an assignments person and 5 photographers. Both our director and assignments editor can shoot well, but their jobs do not allow them to do it very often. Everyone shares his or her images and we do a critique session and make suggestions about which images to enter. We began this collaborative effort this year and it has really paid off.  Sometimes as photographers we are too attached to our images and need to step back with a critical eye and see what images work best. I owe everyone on our staff a debt of gratitude for all of the help they have given me this year in my daily photographic work and for the contest.