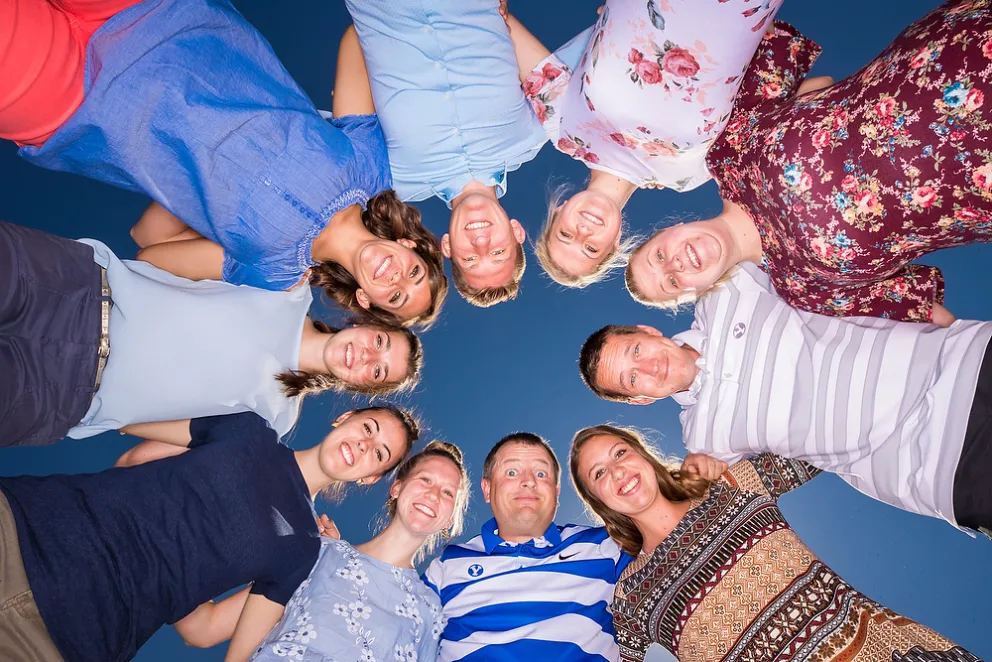 (photo by Jaren Wilkey) BYU staff members Jaren Wilkey (6 O'Clock) and Nate Edwards (3 O'Clock) pose for a 'family' photo with BYU student workers including Savanna Richardson (about 8 O'Clock).
There's a lot to envy about the Brigham Young University photo department: The consistent quality of the work...the awards...the gorgeous scenery they're surrounded by, just to name a few. Less visible but even more important, though, is their tradition of education and mentorship. Other photo departments have student workers, but BYU stands out with their track record of turning student workers into working professionals. Recently Savanna Richardson and Aaron Cornia both transitioned from student photographers at BYU to staff jobs--Savanna at Utah Valley University, and Aaron at Indiana University--making them the third generation of full time UPAA members with roots at BYU. Both have placed multiple images in the Monthly Image Contest this year.
"Mentoring is a lot like gardening," said BYU photo director Jaren Wilkey. "First of all you need to plant the right seed at the right time in the right place. Then you have to be dedicated to watering it and weeding it so that it can grow. It takes work and patience, but over time you will have a beautiful and productive plant where there once was only potential trapped inside a seed."
Jay Drowns at UVU had this to say about hiring BYU student workers: "Working with Savanna was a treat. Like anyone coming out of college she had things she needed to learn but she came with a solid framework understanding what is expected of a university photographer. The preparation she received while a student employee made her transition into our team nearly seamless. In my short time at UVU I have seen three BYU Photo students apply for a position. All three were head and shoulders above the others."
Savanna, Aaron and BYU photo director Jaren Wilkey--who was mentored by former BYU photo director and UPAA legend Mark Philbrick--discuss their experiences as student photographers and the process of developing student talent at BYU:
SAVANNA RICHARDSON:
Savanna Richardson was a staff photographer at Utah Valley University at the time of this writing. A family relocation has since taken her away from UVU.
I went to BYU for 6 years and studied photography - I found out about BYU Photo in my second year and got hired by my third year. I worked under Jaren for 4 years, Mark for 3 years, and Nate for 1 year. I've been at UVU under Jay and August for the last 7 months.
When I was a sophomore in the photography program, Jaren did a demo in one of our lighting classes. He took us outside the art building and did 5 locations in 20-25 minutes, I think he had a Paul C. Buff light and strip box and showed us a few tricks about using the sun as a second light. It was incredible! I had no idea you could photograph so quickly on location and have them look so good! In class we had been taught the fundamentals, but I thought a two-week turnaround for one image was normal. Little did I know! That weekend I bought two Einsteins because I was determined to learn how to shoot like him! I had the gear, but no idea how to use it and no idea how he did it SO FAST.
Fast forward a few years and I was shooting 15 hours a week and skipping classes to assist on shoots that sounded fun. We did environmental portraits, football games, performing arts teams, news articles, and everything in between, all while totally having a blast. My favorite part of the experience was the one-on-one mentoring and the amount of time my bosses invested in us students. Their philosophy was something along the lines of teaching us students as much as possible at first so we could take more shooting responsibilities for them and free up their time for the larger and more creative shoots later on.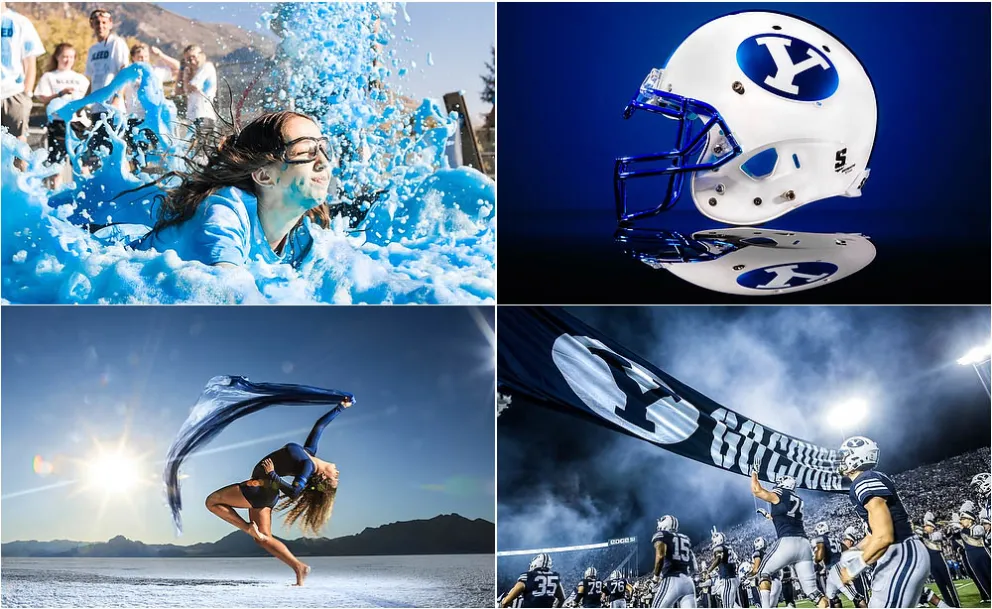 Four images from Savanna Richardson's student work
It was a huge investment for my mentors in the beginning, but teaching us how to do things correctly saved so many errors along the way – though we students definitely made lots of mistakes! Even so, we dove right in and were taught how to cover a huge range of campus needs and how to interact with clients on campus. The best part though, was after every shoot we got the chance to talk with out mentors about what went well, what could have gone better, and how we'd add that extra 10% effort into our next shoot to not only fix our mistakes but take it to the next level. We always walked away knowing there were ways to improve but recognizing the progress we had made.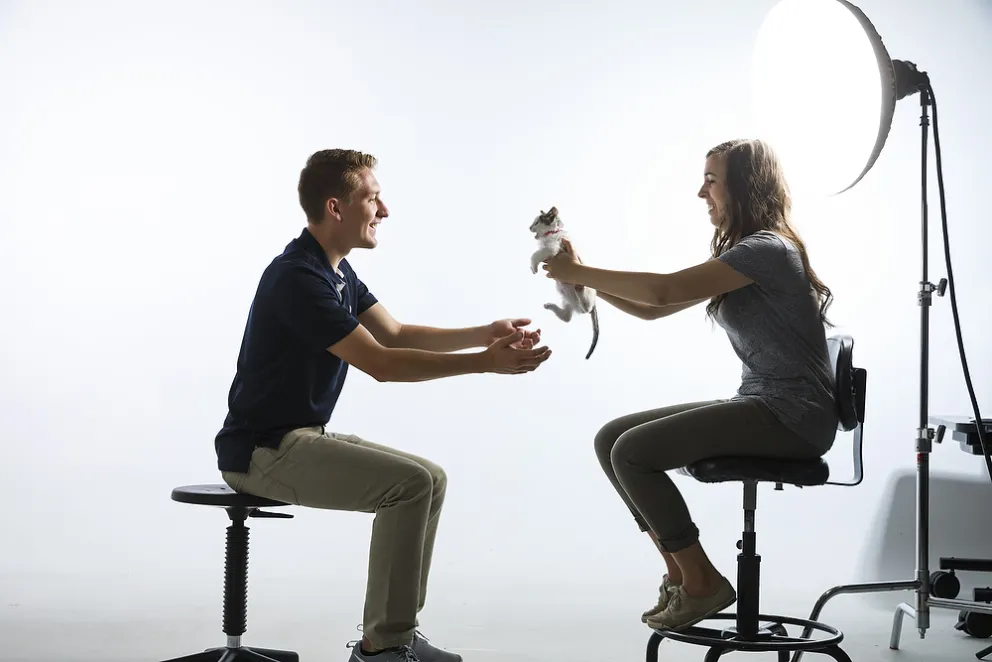 (photo by Nate Edwards) And kittens, too! Savanna Richardson and another BYU photo student worker find themselves on the other side of the lens.
Not only did I have the chance to learn from amazing full-time mentors, but the student coworkers I interacted with made a huge impact in my photography and personal development. Because the bosses had taught other students before me, I was able to ask co-workers for ways to improve if the full-timers were busy. There was an amazing desire to learn and progress, and both students and full-time employees helped each other progress and further the mission of our school. Each week we submitted photography questions – lighting, gel theory, posing, composition, photoshop, etc. – and either the bosses or a more senior student would take an hour to explore options and show the rest of the team how to use new equipment or create a certain look in camera. The bosses weren't the only ones teaching, they let the students mentor each other and try out new ideas. If us students were too intimidated to ask Mark or Jaren for help (who isn't scared of Mark at first?!?), we could try to figure it out with help from our coworkers before asking the bosses.  
While I worked at BYU Photo, there were four student photography majors who had the chance to learn from Mark, Jaren, or Nate. The bosses always joked we should study business because they could teach us photography – and half the time I wish I would have listened! The photography education I received working to promote the university was 100 times more practical and helpful than the fine art theory I was being taught in class. That being said, they also strived to make our education well rounded and take genuine interest in our lives. I slowed down to part-time student status so I could stay at BYU Photo longer and extend my time learning from them while my husband finished his masters. Working with such amazing mentors gave me the confidence to move forward not only as a photographer but as a person.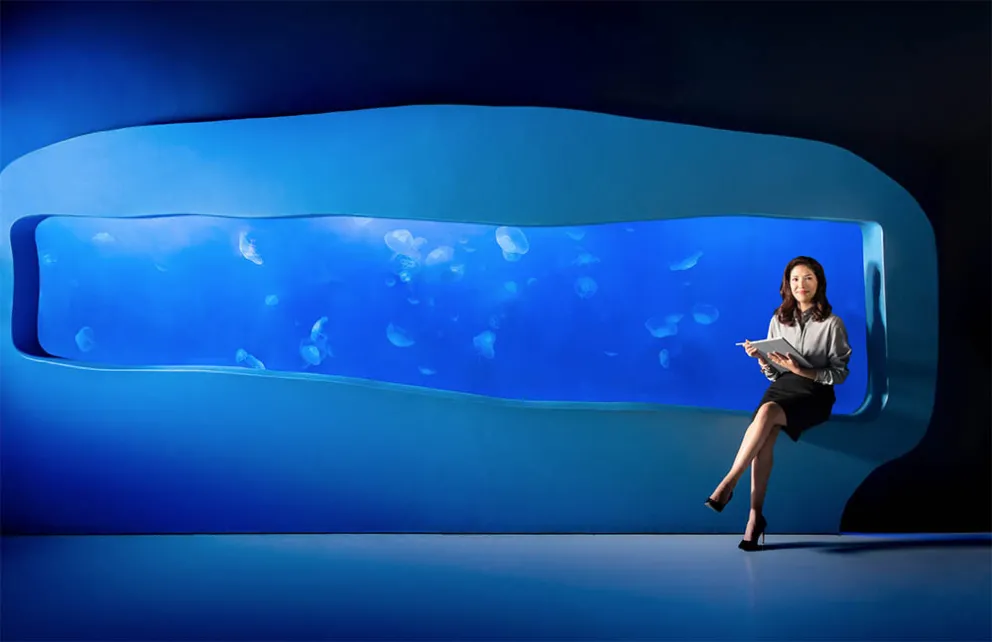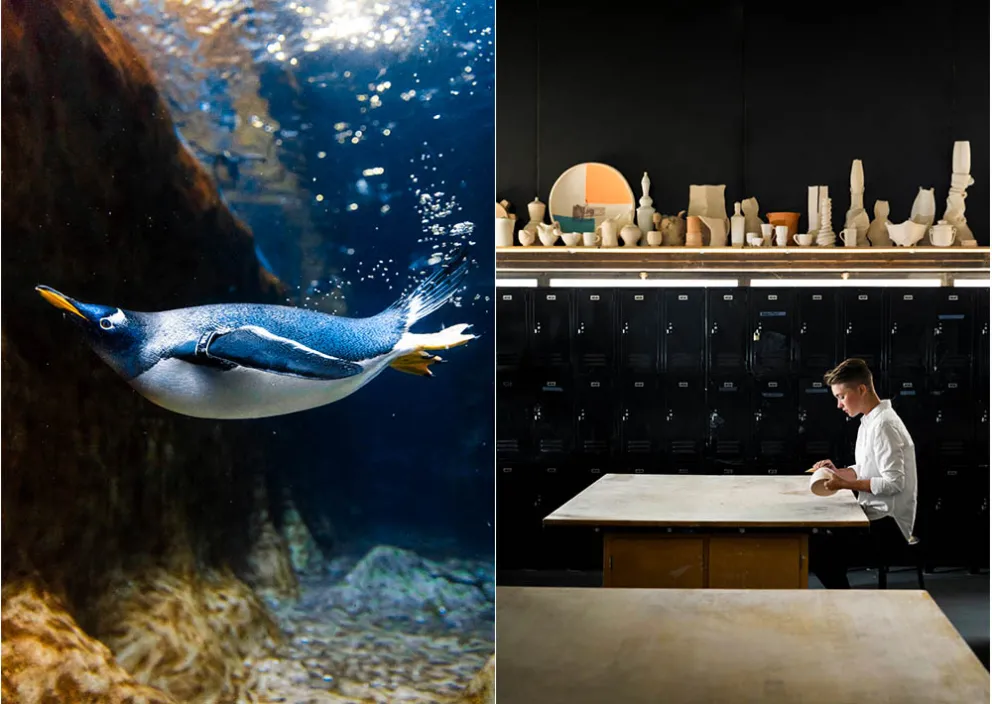 (photos by Savanna Richardson) Three of Savanna's photos from her staff job at UVU which placed in the MIC
After graduation, I switch from Cougar Blue to Wolverine Green and worked for a school 3 miles away. The education I received from working under so many mentors – who had very different personalities but so much to teach – helped me land a university photographer position at Utah Valley University. While I didn't know how long I would work there, I had the chance to expand my experience and interact with two new mentors while learning the ropes of promoting a school with different strengths and goals.  
Having the opportunity to work with such talented, dedicated teachers at the university photography level completely changed my life. Besides my marriage and religion, my photography student job did more to impact who I am and how I treat others than anything else. My mentors took the time to teach me how to progress in photography while helping me recognize the importance of finding balance in life and helping those in my influence. If you have the chance to mentor someone in your university position I highly recommend it, it changed my life.
JAREN WILKEY: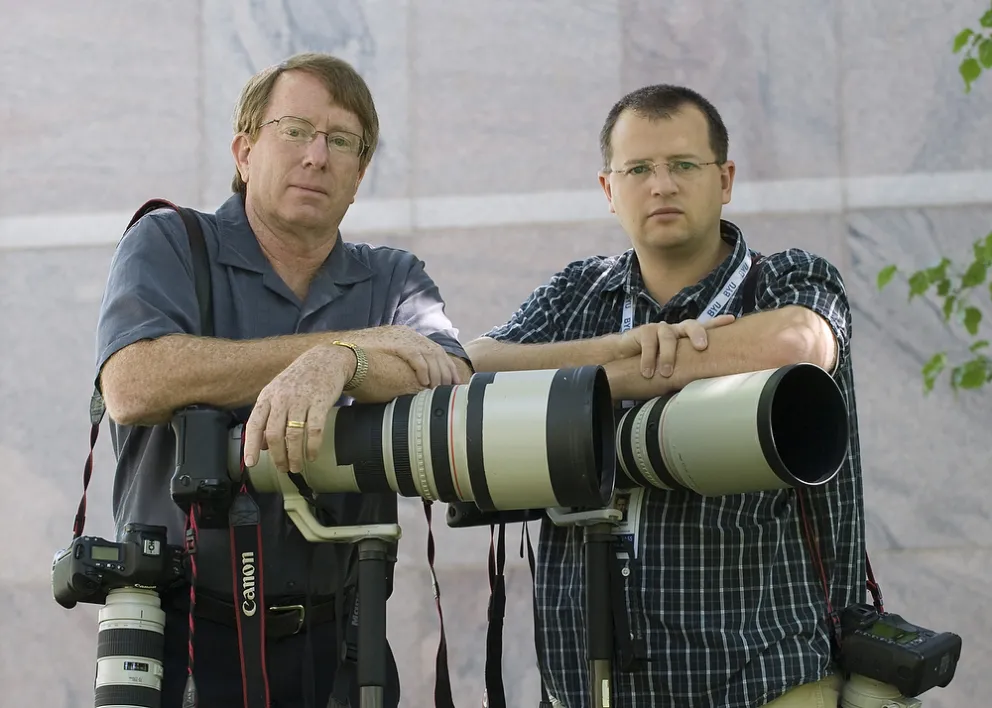 Jaren Wilkey, right, in 2008 with his mentor, former BYU photo director Mark Philbrick. Jaren took over as the director of the BYU photo office after Mark's retirement in 2016. He has earned many honors from both CASE and UPAA, including UPAA Photographer of the Year and the Master of the Profession distinction.
I joined BYU Photo as a very inexperienced student photographer in October of 1998. I had been a contributing photographer at BYU's student newspaper and Mark Philbrick called me out of the blue for an interview. He was not very impressed with my paltry level of experience, but he told me that he could teach me the things that I didn't know. For the first year I worked mostly as a darkroom tech, but I also was given frequent opportunities to assist Mark on larger assignments in which he needed to set up lights. I learned so many important things just by paying close attention to what Mark did on these assignments such as how to interact with your subject, how to pick the best background in a room and how to use light to shape and define a subject.
Eventually I was given the chance to photograph assignments on my own. Mark and I quickly developed a pattern in which he would sit down with me and my slides or proof sheets and critique every assignment. He asked great searching questions like "Why did you frame it this way?" or "What would you do differently if you could do it again?".  It was during these one-on-one sessions that I tried to address my shortcoming and learn as much as I could.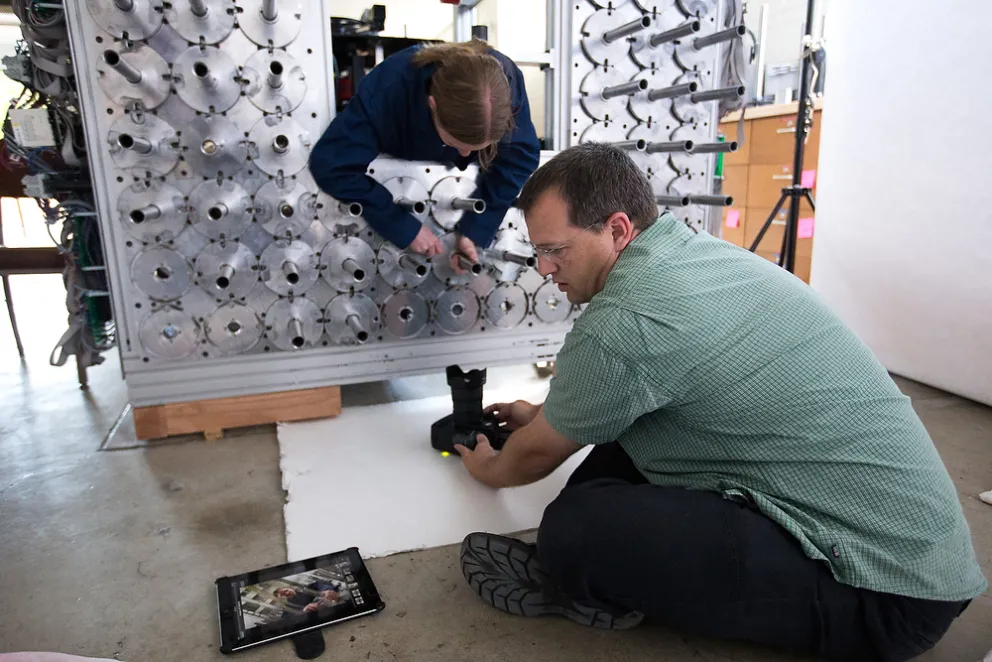 (Photo by Bella Torgerson) Jaren Wilkey works on a project in 2013.
Our University puts a lot of emphasis on providing meaningful student employment opportunities that will help prepare our students be successful when they graduate. At BYU Photo we only have 2 full time staff photographers, so we rely heavily upon our 9 student employees to help take care of our many assignments and responsibilities.
Rather than putting the job on the student employment website, we find and hire most of our students through word-of-mouth recommendations and through those that reach out directly to us after we post the opening on our Instagram page. I love it when students show initiative and reach out to me before there is an opening; it tells me something about their character.  I'm looking for students that recognize their skills and their shortcomings but are still teachable and have a great desire to learn and improve. The most talented candidate often doesn't think that they have anything left to learn. During the interview process we try to find the applicants that have the right attitude and temperament to fit into our little family of photographers.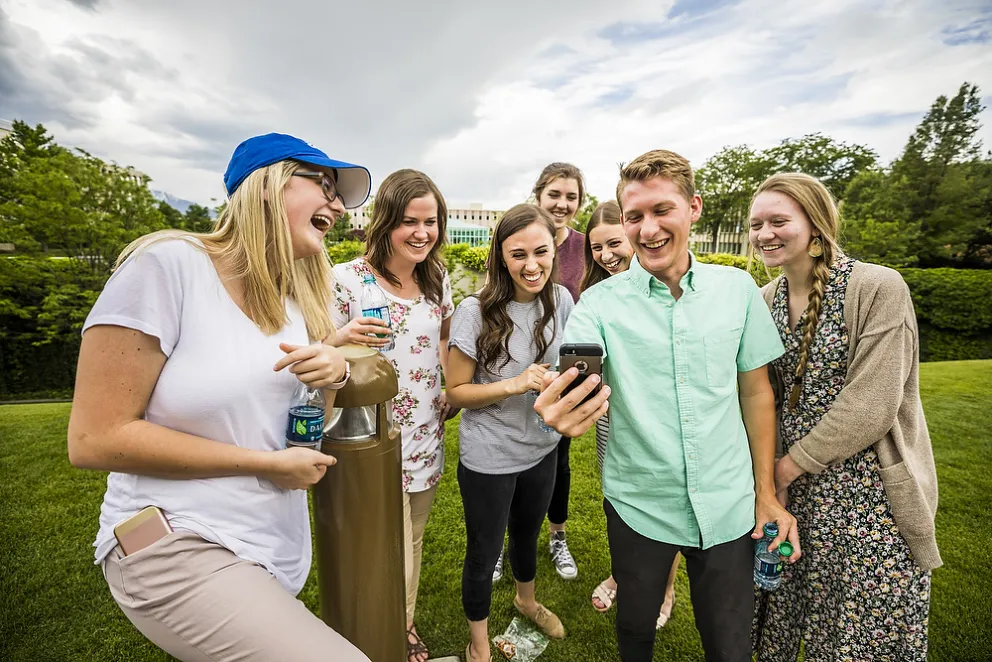 BYU Photography student workers enjoy a lighter moment.
We've tried to create a culture of mentoring here at BYU Photo and we often rely upon our more experienced photographers to teach and train the younger ones. We'll often assign the newbies to accompany the senior photographers on assignments where they take time to teach and train them how to best approach the assignment. Much of the initial training of new employees is actually done by our students. We also have a training manual that was created by our students and we also have them take several courses on lynda.com or Kelbyone.com to help them learn Photoshop and Camera Raw.
Nate and I try to sit down with our students as often as we can to go over their completed assignments. We always ask them to highlight something that they did well on the photo shoot and to share what they would like to improve upon. This is always a great opportunity to answer questions that they might have and to give them advice and suggestions.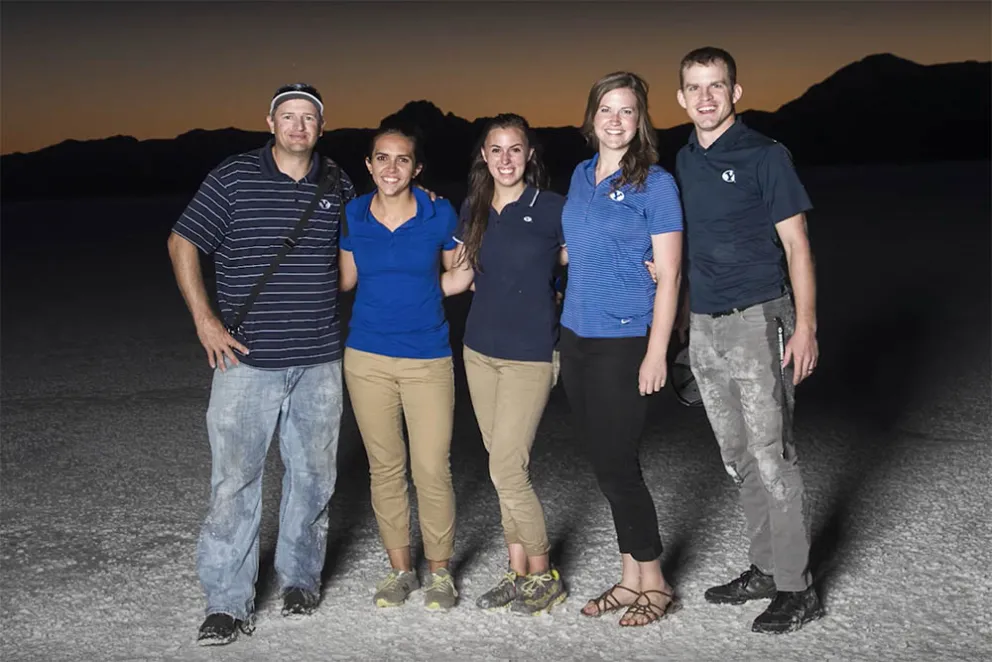 Jaren Wilkey (left) with BYU photo student workers after a long day on the Bonneville Salt Flats. Savanna Richardson is center and Aaron Cornia is on the right.
Every summer we have a weekly training meeting where Nate and I teach our students different photography skills, most of which are chosen by our students. This past summer we focused on topics like location lighting, color correction with flash and ambient light, lifestyle photography, high speed sync, DSLR Video, Camera RAW workflow, and posing basics. It's been great to see my students put these newly acquired skills to work during this past semester.
We also started a weekly contest for the summer based on the MIC in which our students were given a subject to photograph during the week. Every Monday they turned in their edits and voted individually on all of the photos. The weekly winner got a free lunch at the cafeteria with their bosses, which really isn't that great of a prize, but it gave us a chance to talk one on one with the student and provide them encouragement and new challenges.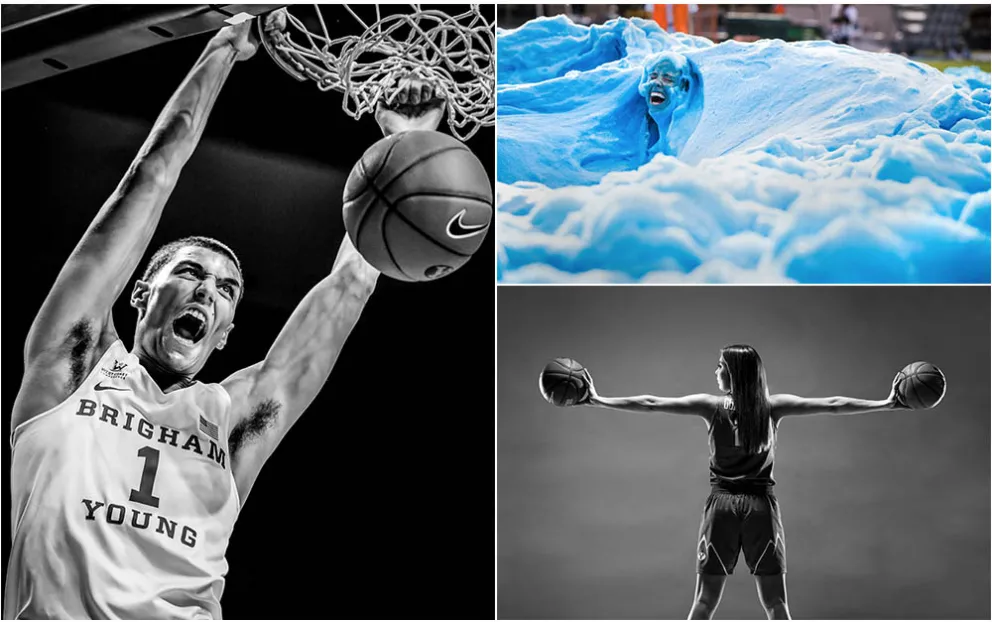 (left photo by Rebekah Baker, top right photo by Aislynn Edwards, bottom right photo by Tyler Jefferson Richardson) Recent BYU student photos which have placed in the MIC personal vision category.
AARON CORNIA: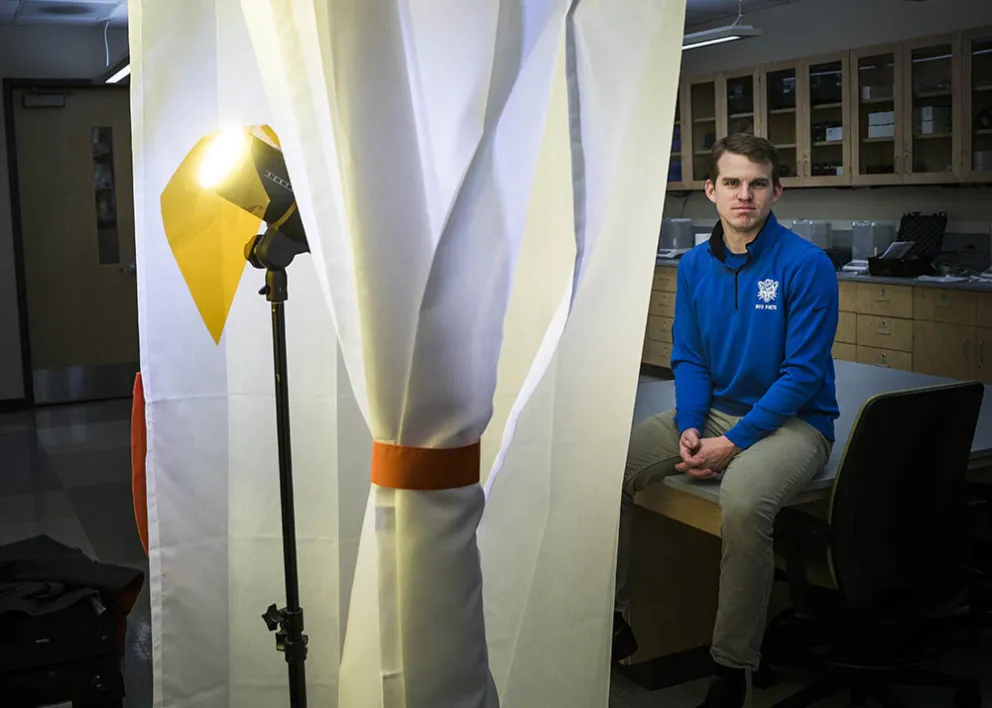 (photo by Nate Edwards) Aaron Cornia is a digital media specialist for Student Affairs Marketing at Indiana University in Bloomington, IN.
Mark Philbrick and Jaren Wilkey were a well of knowledge. I would say that the majority of my education in photography came from my time working as a student at BYU Photo. I mean, I do have the paper that says I have a four-year degree in photography. However, in my eyes the 2.5 years I spent with BYU Photo did more for me. Jaren Wilkey even advised all of his students who were photography majors to go and find a different major, something like business. Jaren could teach us anything we needed to know about photography.
When Mark retired there was a period BYU Photo didn't have a replacement. Losing a full-time photographer left a big hole to be filled. With so much to do, Jaren put more trust in his student employees to work on bigger shoots.
(photo by Nate Edwards) Aaron Cornia, upper left, puts the "grip" in "grip work" on a BYU shoot.
The first big project that Savanna and I got to be a part of was shooting BYU's Cougarettes, BYU's collegiate dance team, out on the Bonneville Salt Flats. I remember Jaren sitting down with us and telling us to come up with some ideas because each of were going to have our own set. I was in disbelief that I was going to get my own set on a shoot like this. That was a Mark and Jaren shoot, but with Mark gone Jaren needed another photographer there. Why not two student photographers? In this video you can see tidbits of Savanna and I shooting.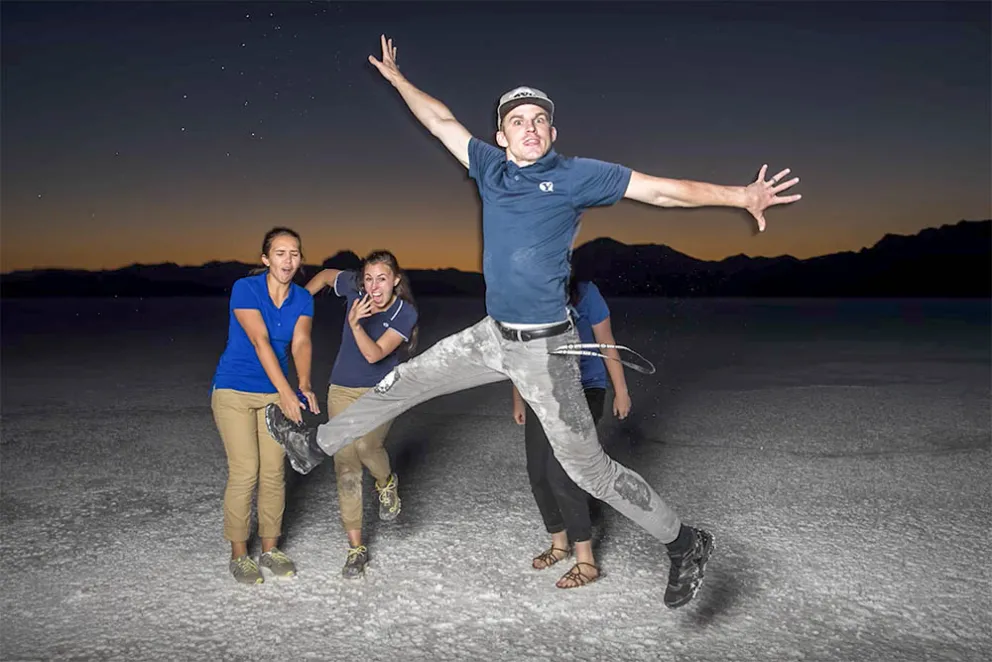 Aaron Cornia enjoys that "just finished a big shoot" feeling!
Later on, Nate Edwards was hired to help fill the vacancy at BYU Photo. We were elated to have Nate but at the same time the window for students taking on shooting roles on larger shoots closed… or so we thought.
Later I was scheduled to assist Nate and Jaren on a Football poster shoot. As I was putting up light stands and back drops on each of Jaren and Nate's sets, Jaren told me to start setting up my set. My set? I was in disbelief. I got my own set. I was only scheduled to be there for the first half of the shoot, but I sent a quick text to my photo professors letting them know that I was going to miss class. They were okay with it, considering I was missing class for a football poster shoot. If I remember right I even asked my wife to skip one of her classes to cover for my parenting duties.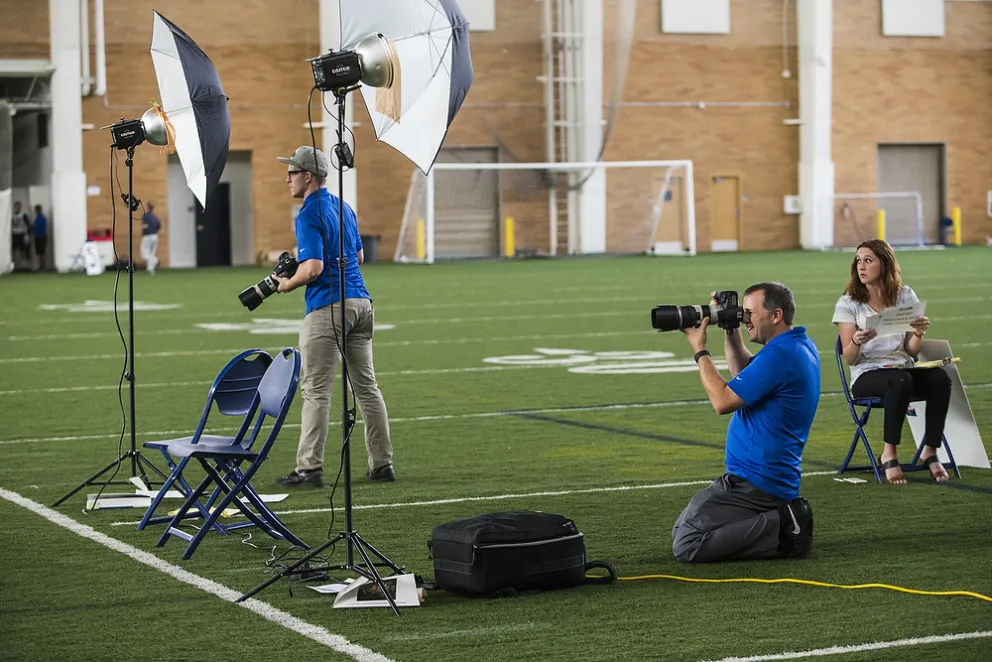 (photo by Savanna Richardson) Aaron Cornia works alongside Jaren Wilkey on the football poster shoot.
Now I'm not saying take your student employees and hand them your most important clients from the start. The only reason that such shoots were afforded to us was because of all the mentoring that was provided us by Mark and Jaren, and eventually Nate.
In the beginning we were given numerous smaller shoots that increasingly needed more skill and creativity. That's the great thing about BYU, there's never a shortage of shoots. So, we got to assist a lot, shoot a lot, and learn a lot. There was always time taken somewhere before and/or after a shoot for Mark or Jaren to teach and mentor.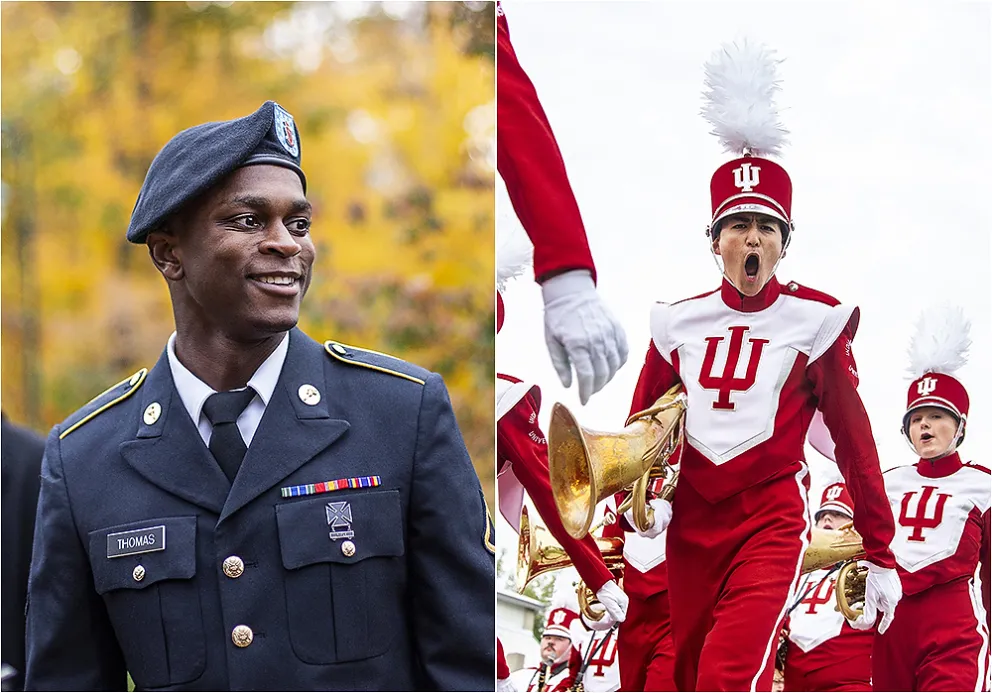 (photos by Aaron Cornia) Recent work by Aaron at Indiana University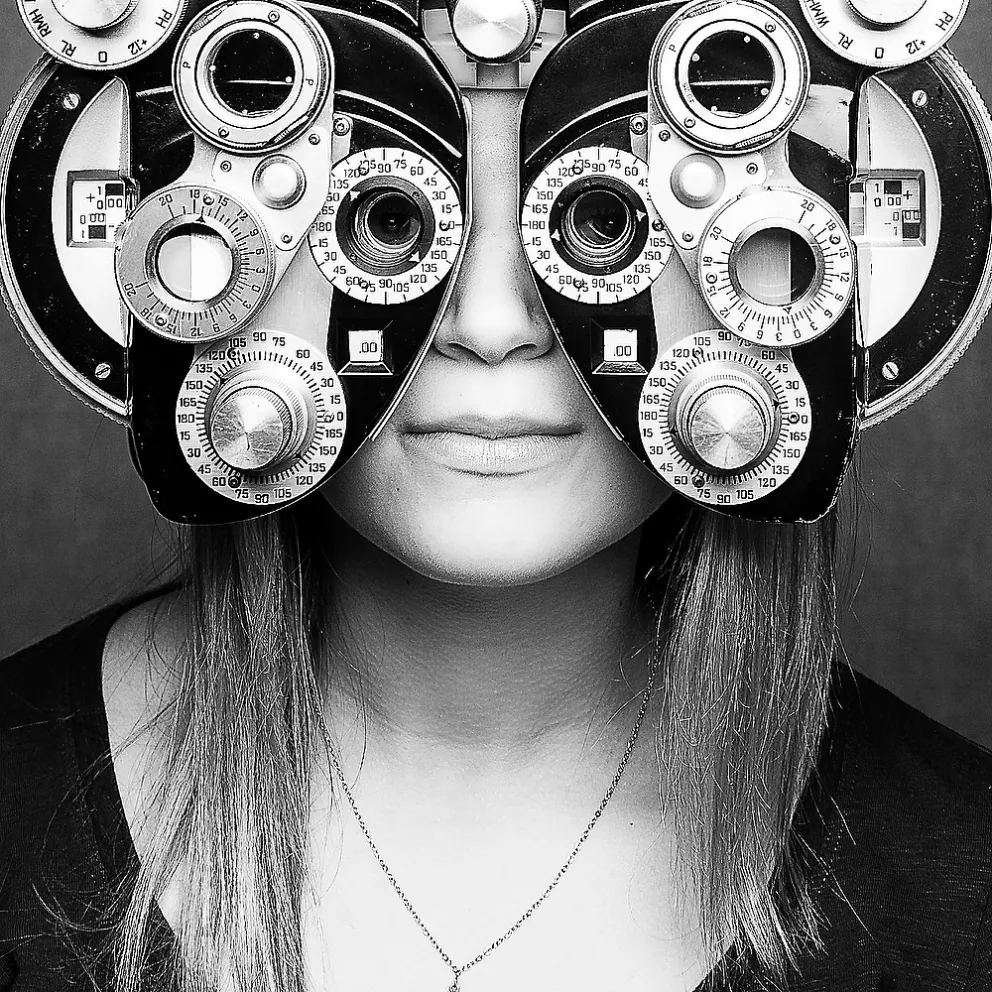 (photo by Aaron Cornia) Aaron's photo "20/20" was a 1st place winner in the December MIC.
And lastly, Jaren Wilkey offers some advice for those who would like to establish or improve a student worker program:
The single most important piece of advice I can give is that you need to hire the right students. We hire students based on attitude, not aptitude. Many times I don't hire the most accomplished photographer because if they think that they are awesome it is really hard for me to convince them otherwise. Prideful photographers don't strive for improvement nor do they reach their full potential. Some of my best student photographers started out as secretaries without any experience in photography, but they were humble, hard working and constantly striving to get better. We can teach photography to anybody, but we can't teach attitude.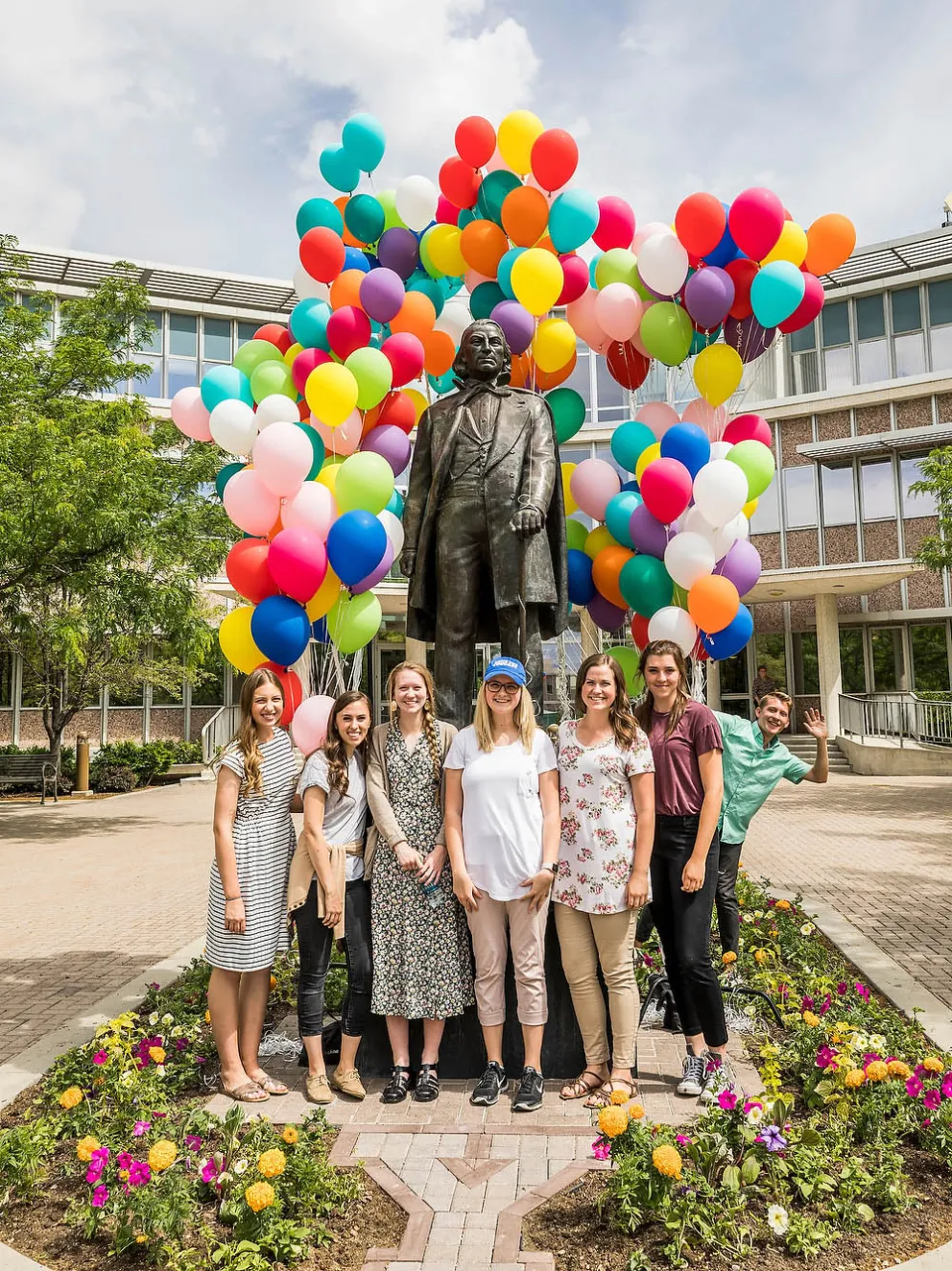 BYU Photo student workers around the Brigham Young statue on campus
Rather than putting the job on the student employment website, we find and hire most of our students through word-of-mouth recommendations and through those that contact us directly after we post an job opening on our Instagram page. I love it when students show initiative and reach out to me before there is an opening; it tells me something about their character.
Every hour that you invest in teaching and training your students will pay you dividends over time. One of the first things we teach our students to do is how to take a portrait in our studio and because of that 2-hour investment I don't have to take any of the thousands of portraits that we are assigned to do every year.
Maybe you are a chargeback operation and clients don't want to pay for students photographers to cover their assignments. You could charge less for student completed assignments, there are departments always looking for a deal. You could also use your students as 2nd shooters that can add value to your coverage on assignment. You can also have them focus on shooting stock assignments.
If you can't hire student employees in your department, look into starting an internship. There are always students that are looking for some real world work experience. Contact the college that houses visual arts and see how to set up an internship.
Accept the fact that your students will screw up and that they will make mistakes, failure is a key part in the learning process. Your job as a mentor is to help your students to fail successfully. Failure is just an opportunity for growth.
Our students come with us whenever we use lights on location. It is always a good idea to arrive 15 minutes early so you can walk through the lighting setup with them and answer their questions. Shoot a test shot for each individual light you are using so they can see how that light is contributing to the photo. They need to understand why you placed a light in a certain spot and the value it is adding to the photo so that they can do it on their own. Nate and I also go on shoots with them as their lighting assistant, which our students really appreciate. That gives us the opportunity to help them work through the logistics of their lighting setup when they know the result they want but don't know how to create it.

"Other duties as assigned" ...some of the adventures of BYU photo student workers, from setting up a submerged perch for a ballet dancer to smashing a piggy bank for a photo illustration on bankruptcy.
I'm the result of mentoring. My personal experience with mentoring is that it has given me the opportunity to have a career in photography at a University that I love. I'm a firm believer in the power of mentoring to change lives.
Mentoring is not selfish. It isn't about you. As a mentor I want to help my students to learn and to grow in their skills and in their confidence so that when they graduate they will be able to go and make a living as a professional photographer.
_______________________________________________________
"What did the photon pack in her suitcase? Nothing, she's traveling light!" Got a story idea? Joke? Your welcome to tell me if I got spelling or grammer Errers, to. Email editor Matt Cashore at mcashore@nd.edu.