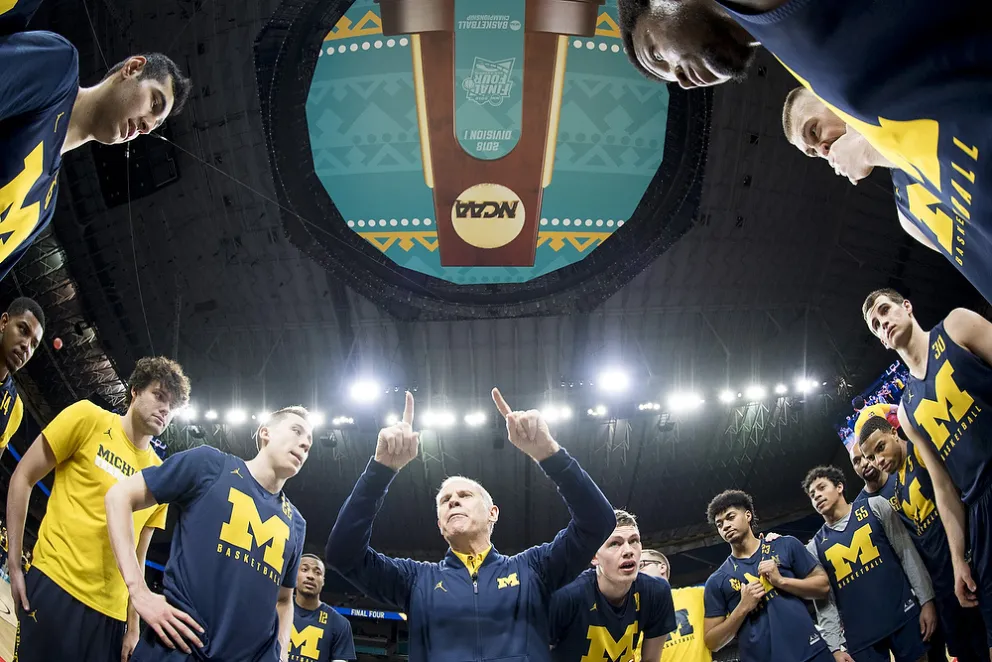 Tourney Time
(Text and photos by Eric Bronson)
Eric Bronson is Senior Photographer at the University of Michigan. He spent the entire month of March (and then some!) on the road with the Michigan Men's Basketball team during their championship run through the Big Ten Tournament as well as the championship game of the NCAA Tournament.
You could say my pre-planning for this year's men's basketball tournament photo coverage started more than a year ago when the charter plane carrying us to the Big 10 tournament in Washington, D.C., never got off the ground and crashed off the runway at Willow Run airport in Ypsilanti, Michigan. My camera kit was stowed safely in the overhead compartment during takeoff, so all I had was an iPhone with 1 percent battery life (when I restarted it after jumping off the wing into the field where the plane stopped) to document the evacuation and aftermath. My photos were few before I decided to call a few people before the my phone was completely dead.

As a photographer documenting the trip, I should of had one of my bodies on me. You never know when something fun or something unimaginable will happen. But you get comfortable with routine, like a plane ride, and just sit back and enjoy the ride. That day taught me a lesson: never take an assignment or day for granted. Since then I've been much better about keeping a camera out and being more aware of what's happening around me.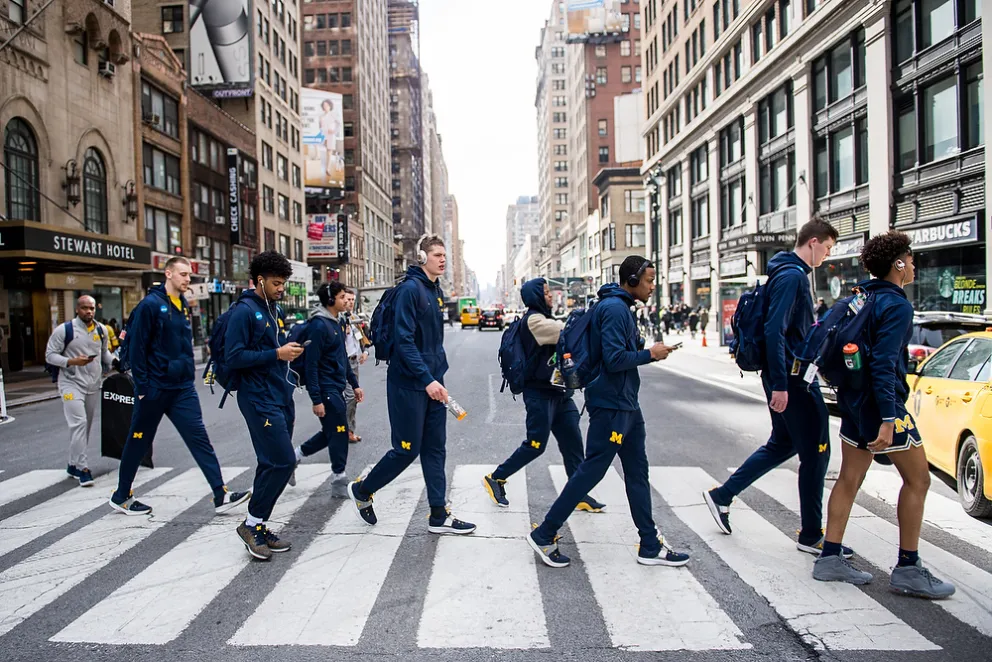 Michigan in Manhattan for the 2018 B1G Tournament
So when it came time to cover the 2018 men's basketball Big Ten tournament and NCAA tournament run, I had a much different mindset on how I was going to approach documenting it. I wanted to tell the story more than the standard action shots and team walking into the stadium. And in order to do that, you need seek the images that bridge the day with the larger activities. That meant a lot of standing around and waiting. But it also meant your presence was felt and you became part of the fabric. I learned to become part of the process instead of a distraction. I worked to make my subjects comfortable with me and magically, their guard dropped and more candid images were the result. Familiarity builds trust. And trust gets you access. And for a documentary photographer, access is everything.

After talking with the basketball sports information director, we decided I had to make all the moves, make all the introductions and build or strengthen all the relationships with the subjects. This included the players and coaches, as well as travel staff. No one was left out. There was never any pushback as I'm lucky to work with an SID who understands the value of unique photography. I'm also very lucky to work with a coaching staff who didn't mind what I did, as long as I didn't get in the way or cause a distraction. This is the opposite of "don't ask for permission, ask for forgiveness." Be polite and don't overstay your welcome.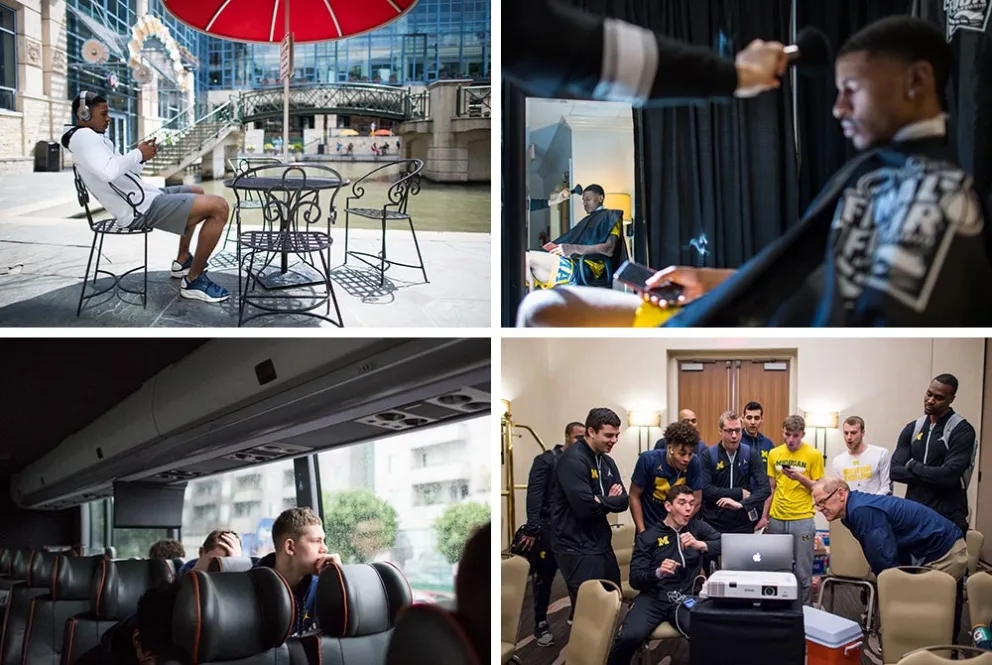 I already had access from all the seasons of shooting in the locker room before and after games. If that was a time where the team didn't mind my presence... why not anywhere else? So I started showing up to meals, film reviews and went on the team bus (where previously I would head to the arena on my own) from the first day at the Big Tens in New York City. Midway through the Big Ten tournament I knew I had hit my grove when I started asking players to come hang out in their room for a bit to get some candid images. That last barrier was broken down and I knew that I had the access I needed to tell the story. If I wasn't on first name basis during the season, by the end of Big Ten tournament I was with almost everyone in the travel squad.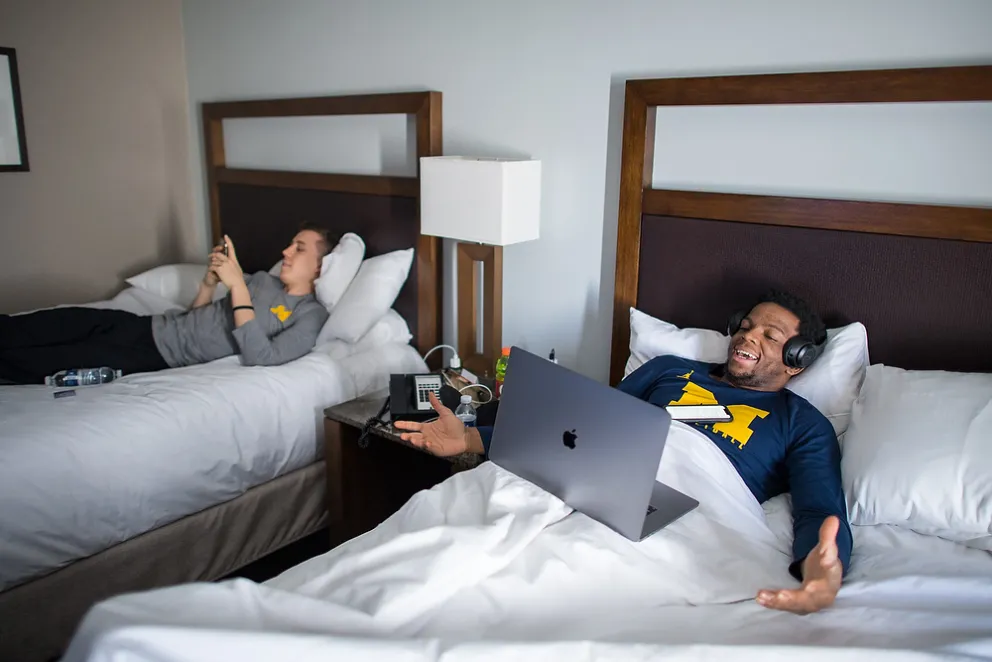 In more sensitive situations, it was important not overstay my welcome. For example, I just started showing up to film sessions at the hotel, but left quickly after I got enough images that I was happy with. Out of 30 minutes of film, I would shoot 10 minutes at most. Get out so not to give the coaches a reason to get annoyed. I'll admit I was nervous going into the first film session, not know if I would get pushback or not, but I just got a few nods from some of the coaches and found a non-distracting place to shoot. Plus "silent-mode" on the D5 helps.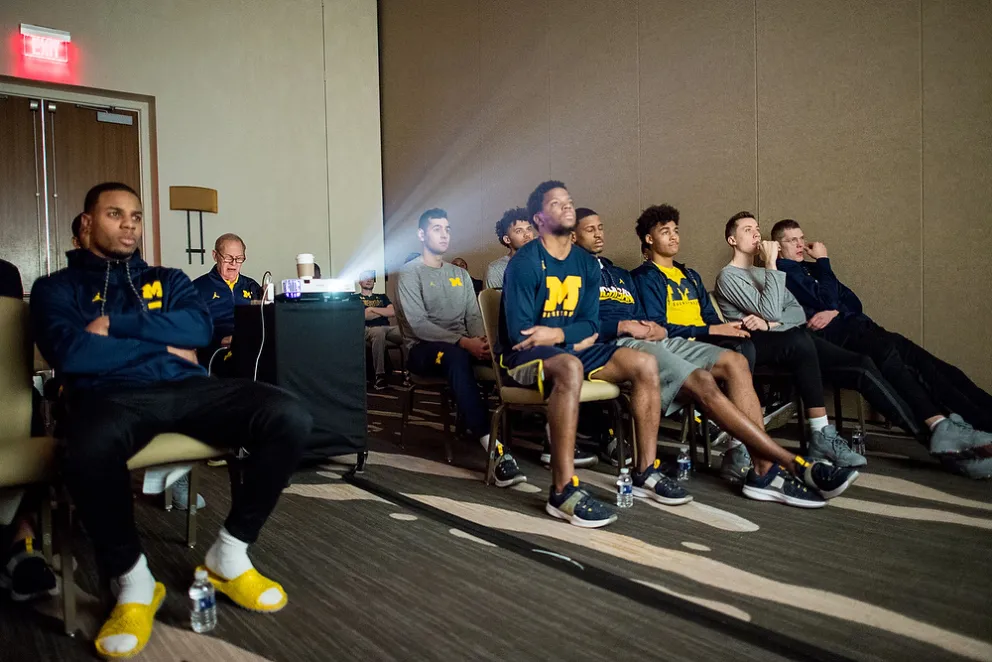 If you're lucky enough to attach yourself to a team that makes a run deep into a tournament, you need to break up the routine. All teams have the same routine. And for better or worse, it forces you to approach a practice day differently. That's when I started playing around with in-camera double exposure and motion blur.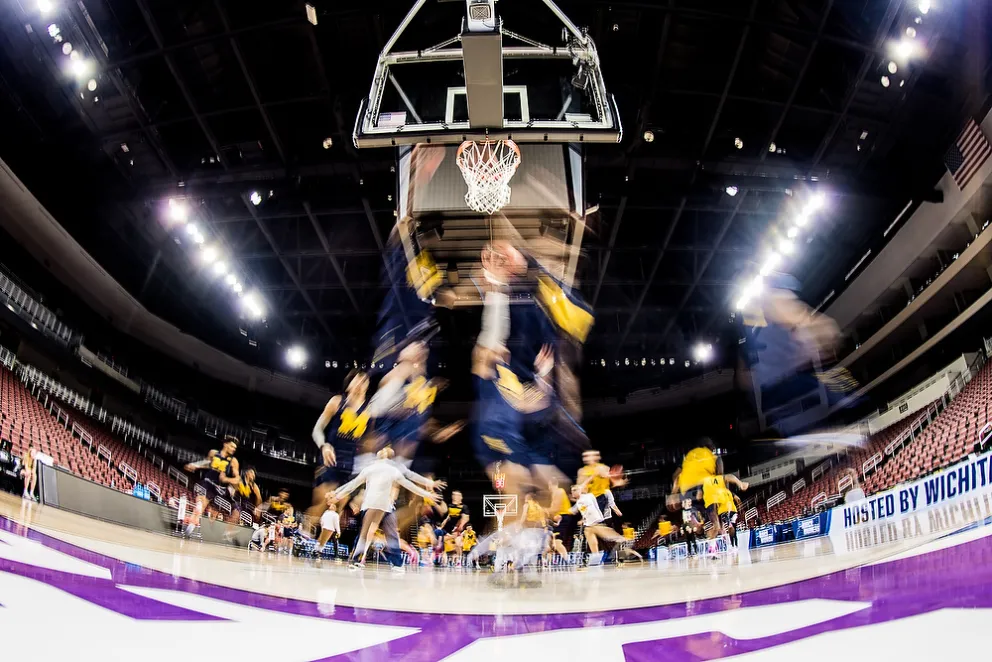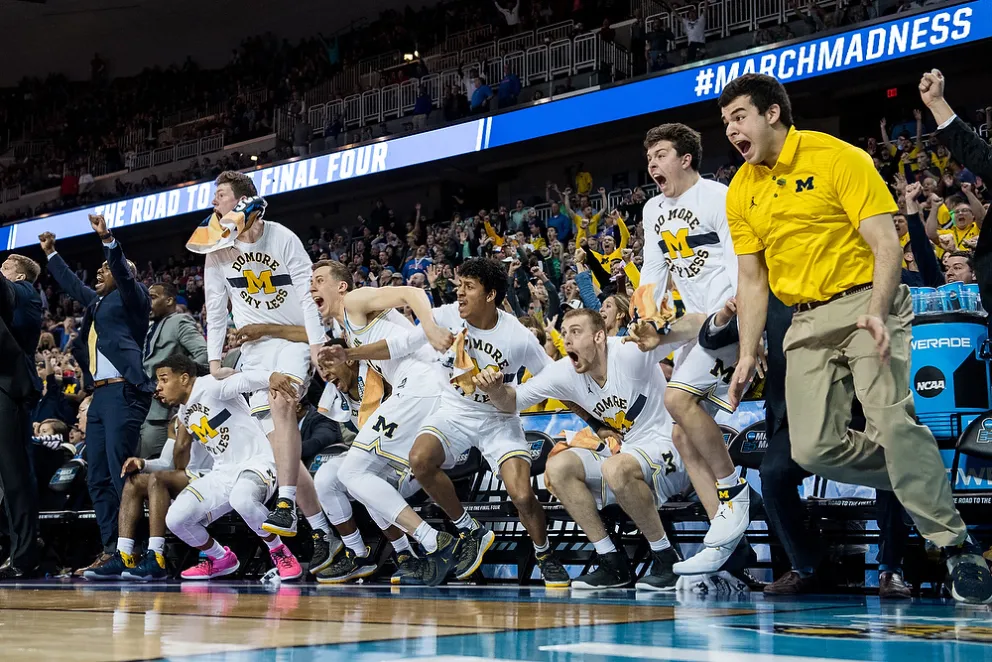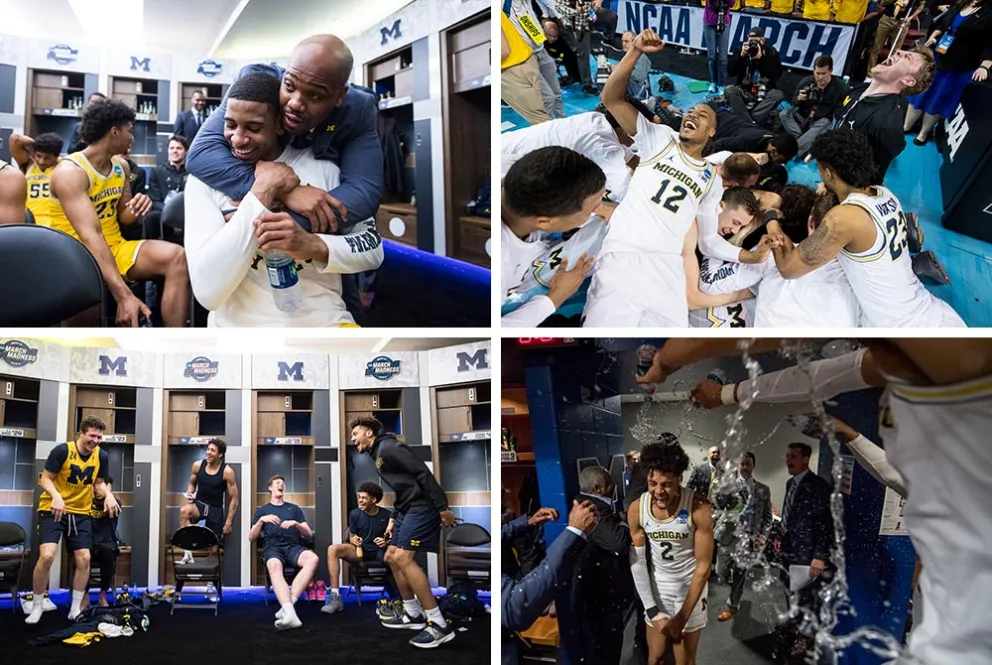 In the championship loss aftermath, nothing changed in my access. I was already part of the fabric, so my presence wasn't an issue or distraction. I didn't shoot as much out of respect and knowing these photos wouldn't be used much, if at all. But I did make my rounds, hung around a few moments and got it covered. At that point, there was was nothing more  to do but to give a few fist-bumps, a few "hell of a year" congratulations and then get going to edit.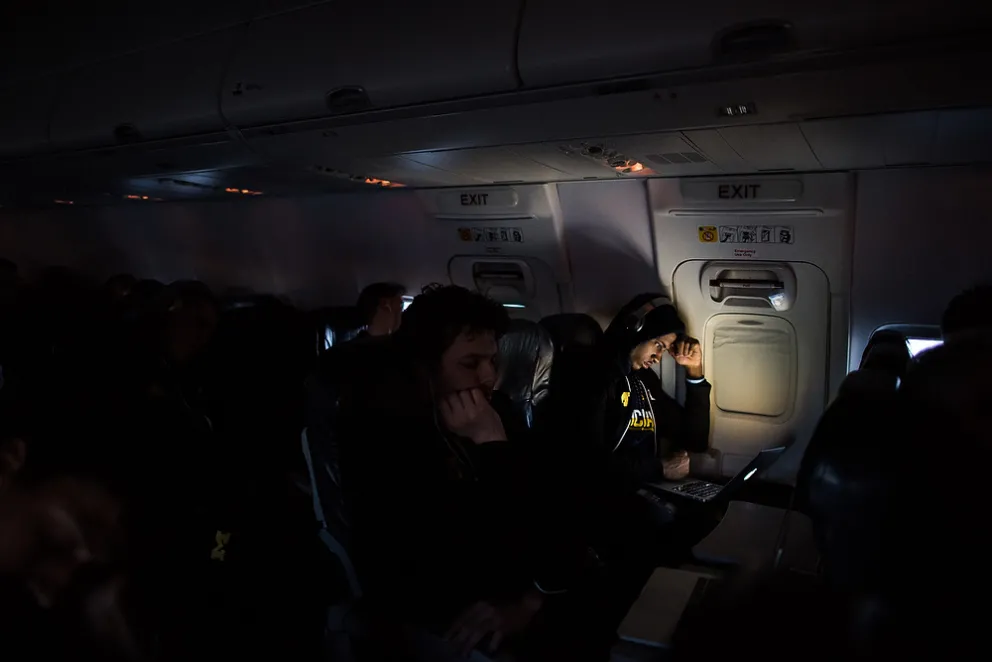 In the end, this was a great learning experience in how to embed yourself into a team or group. For the month of March and into the beginning of April, most days I was shooting 6-12 hours (some of that just waiting for access). 9,000 flight miles and somewhere around 100,000 images shot (keeping in mind I had 1-3 remotes at any given game). The relationships I built will no doubt carry into next season where I look forward to helping tell more stories of our men's basketball team, and hopefully other teams at Michigan.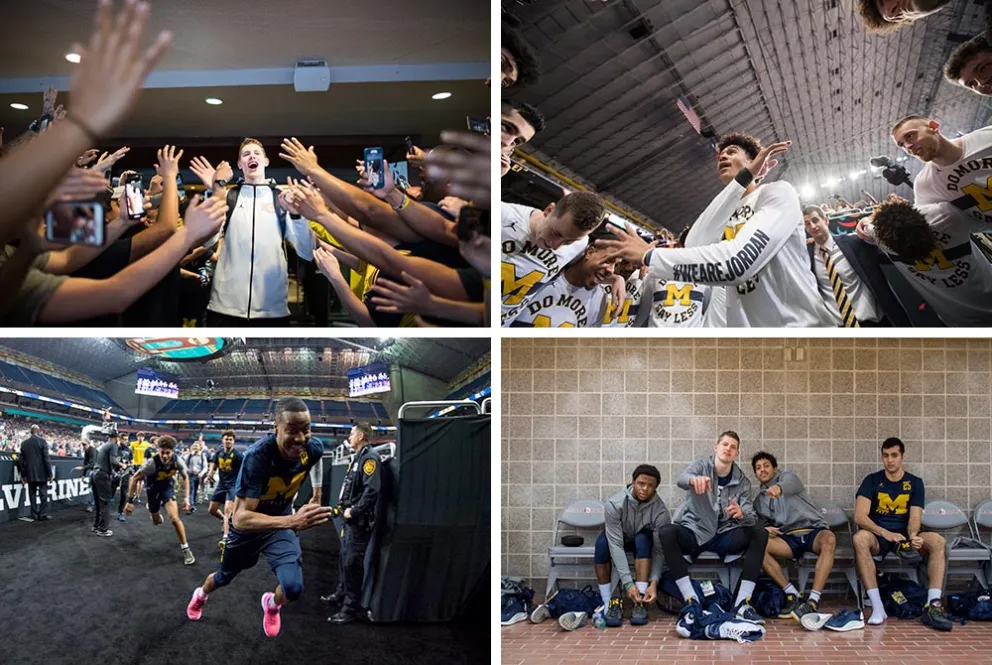 The deepest of thanks to my family who had to endure me being gone so long. Facetime is an amazing technology that connects to kids who don't understand why dada is going away again. And as a large photo office with varying assignments, it was nice to know everything could be handled back in Ann Arbor.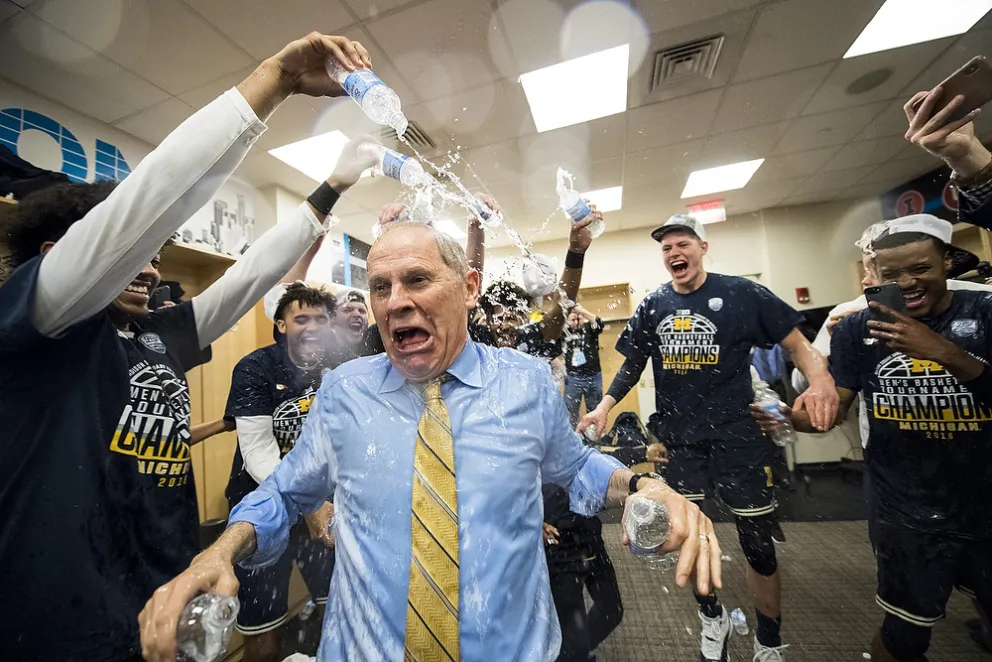 For more of Eric's remarkable road trips with the Michigan Men's Hoops team, check out these links:
Final Four Spark Photo Story: https://spark.adobe.com/page/neDWPyv7eSnr8/
West Regional Spark Photo Story: https://spark.adobe.com/page/7e2cRYVqevY6o/
First & Second Rounds Spark Photo Story: https://spark.adobe.com/page/1mfWOGaf8wjit/
Big Ten Tournament Spark Photo Story: https://spark.adobe.com/page/rutOE3dHAQIAF/
___________________________________________________
"Did you hear about the restaurant on the moon? Good food, but no atmosphere." Blog stories/ideas welcome any time, email editor Matt Cashore at
mcashore@nd.edu