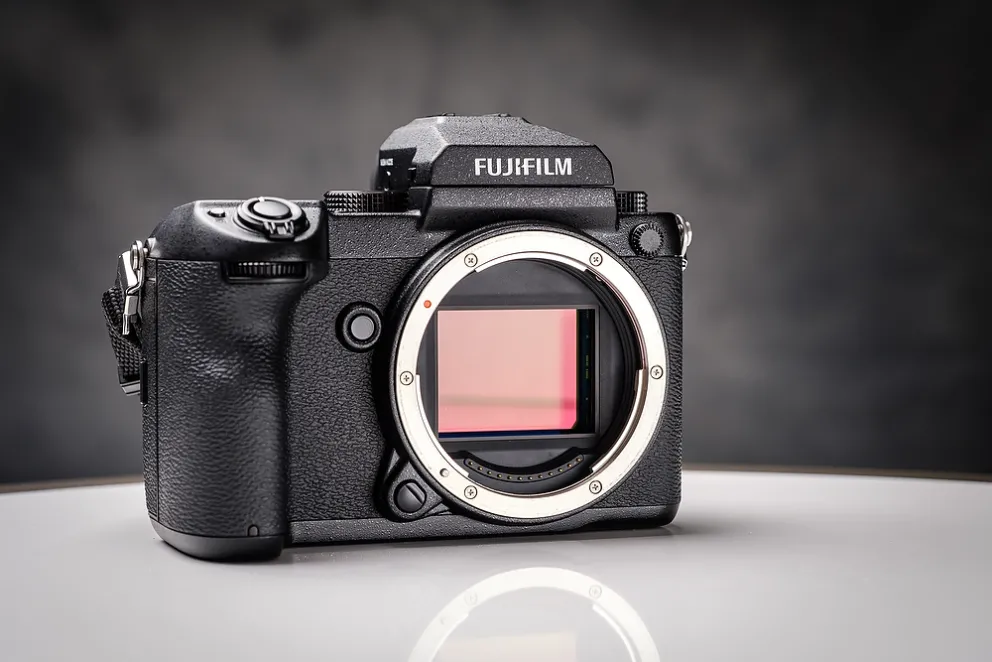 Story and photos by Ken Bennett, Director of Photography, Wake Forest University
While medium format digital solutions have been around since the transition from film, they have historically been both very expensive and difficult to use outside the studio.  That's changed.
Now there are several choices of compact and affordable digital camera systems with a 50+ megapixel, 33x44mm sensor – at 1452 square millimeters, it's 70% larger than a "full frame" sensor. I was intrigued by the idea of adding medium format gear to my shooting arsenal, and started doing research on the different systems. As I was already shooting the Fuji X system, it seemed like a natural choice to purchase the Fuji GF-X medium format system. Wake Forest was kind enough to purchase a complete system including a camera and five lenses through Roberts Camera.
The Fujifim GF-X 50S is a mirrorless medium format camera with the aforementioned 33x44mm sensor with a standard Bayer color filter array, rather than the odd X-Trans sensor of the smaller format system. There is no anti-aliasing filter, which allows for very detailed images. I purchased the Vertical Battery Grip accessory, which houses a second battery and a complete set of vertical controls; this will live on the camera permanently.
Size and Weight
With the grip attached, this is a substantial camera, similar in size and weight to a Canon 1Dx or a Nikon 5D. Next to an X-T2 with the battery grip, the new camera is a little larger, but next to an X Pro 2 it sort of looks like a sick joke. It's not something I will casually hang around my neck while shooting all day – in fact, I removed the neck strap after the first day in favor of the Spider hand strap recommended by Roberts. Compared to my smaller Fujis, it's a beast, though in actual shooting it handles better than I expected. There is a large, comfortable grip, and the camera balances well with most of the lenses.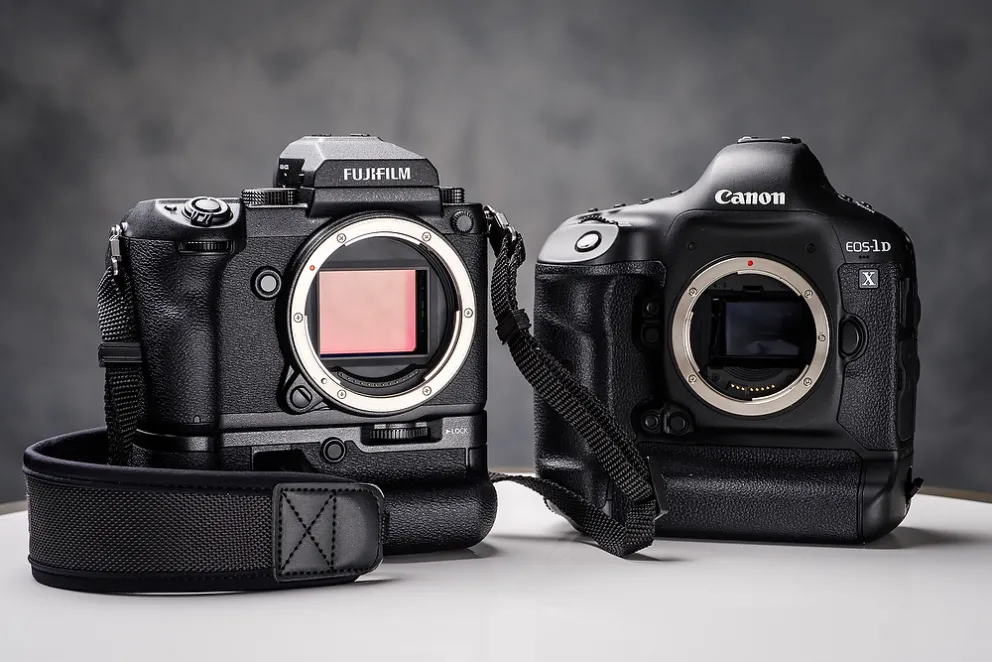 The GFX 50s medium format next to a Canon 1Dx DSLR.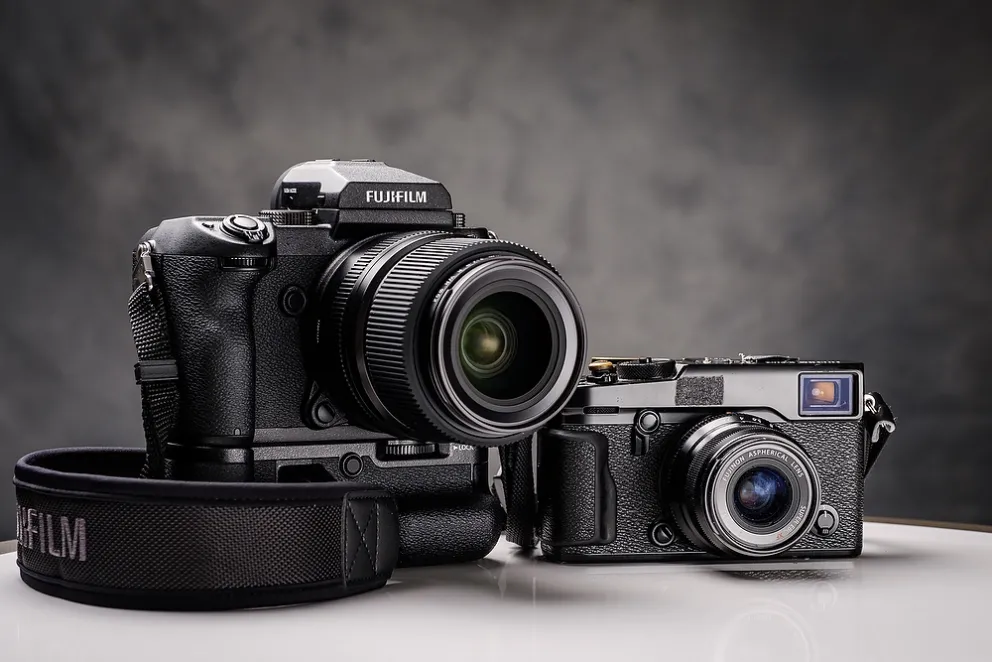 'Mini-Me?' -"Next to an X Pro 2 it sort of looks like a sick joke."
Next to shooting with the Canon, the Fuji actually feels good and is easier to hold, though it is heavier. With the 32-64mm lens, the Fuji weighs 2510g (5.5 pounds), while the 1Dx with the 24-105/4 weights 2065g (4.5 pounds), and an X Pro 2 with the terrific little 23mm f/2 lens is 700g (1.5 pounds). The Canon still has a superior user interface, with all the focusing and control buttons falling right where I expect them to be. Fuji has made improvements with every camera, but they still have a lot of room for improvement, especially in thumb-button focus.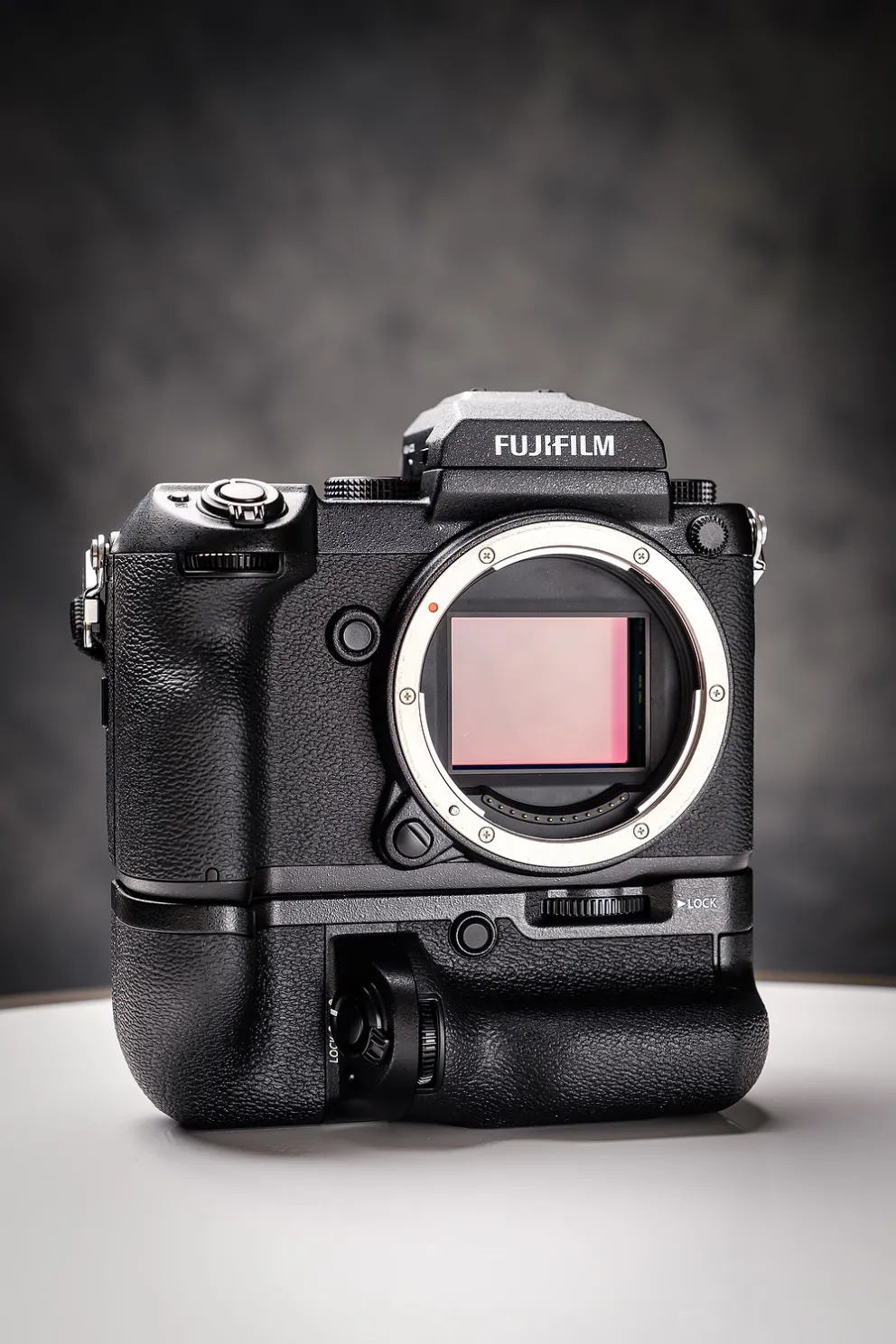 The GFX 50s with accessory battery grip.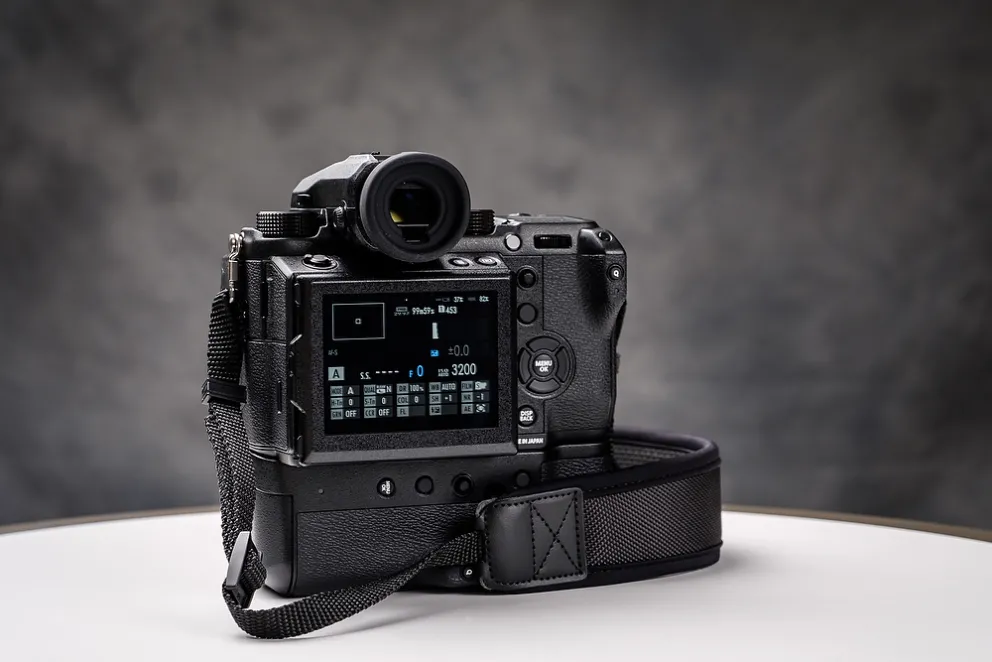 Rear of the camera & grip. The camera has an 'AF-On' button but it's not implemented as well as the Canon.
The system fits well in a Think Tank Airport Security rolling case. I tried it in my favorite backpack, the Think Tank Airport Essentials – which is perfect for my little Fujis – and there is no way to cram it inside. So I ordered the largest carry-on size Think Tank backpack, the Airport Accelerator. Even in that huge backpack, it's a tough fit for the entire system – the lenses are significantly larger than full frame Canon or Nikon lenses.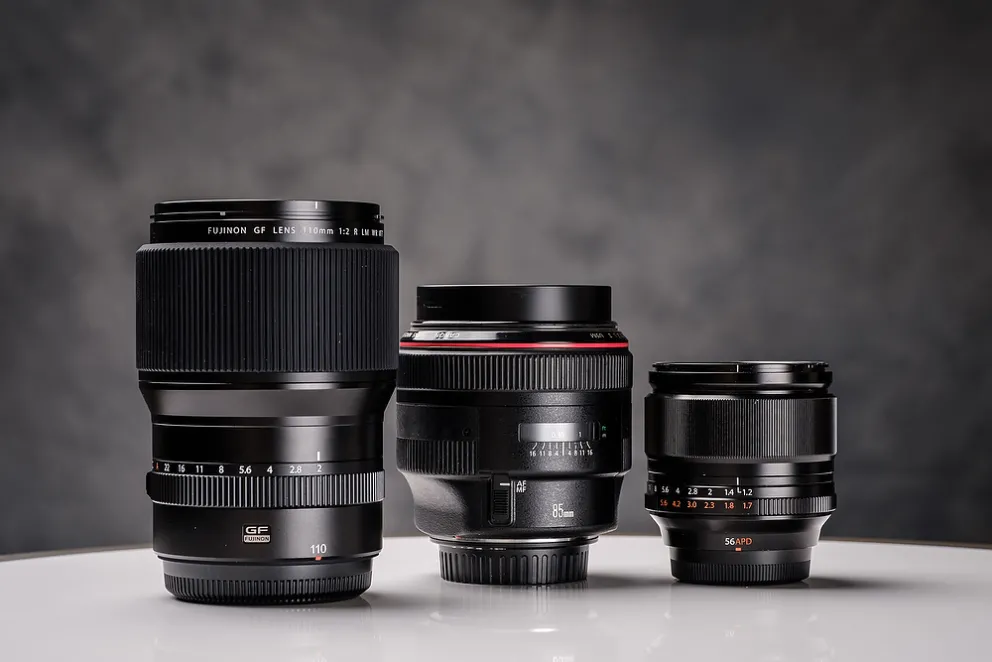 "The lenses are significantly larger than full frame Canon or Nikon lenses." -GFX 110mm f2 next to a Canon 85mm f1.2 and an XF 56mm f1.2 from the Fuji crop frame mirrorless system.
In Use
Coming from the smaller Fuji system, the GF-X 50S was easy to set up and use. The menu system is fairly intuitive, and I was able to create a My Menu of the most useful items. The user interface has a lot of features that can be customized, so if you haven't shot with a Fuji before, it's worth sitting down with the manual or a Fuji user.
The viewfinder is an EVF, which has advantages and disadvantages. This one is excellent, very large and bright, with a fast refresh rate. The EVF is removable, and there is an accessory that allows it to move up and down and sideways for low angle photography. There is a hot shoe that takes remote triggers and Fuji TTL flash units, and also a standard PC sync socket. The EVF shows the exposure when shooting in automatic exposure modes, and this can be turned off when shooting in manual with flash in the studio, so you can see through the EVF. I've found I do a lot less chimping when shooting with an EVF, as I can see my exposures before making them. The EVF has a great option to turn on a 1-pixel wide white outline of the image, so I can see where the edges are in a dark shooting environment. I wish the smaller Fujis did this.
Autofocus is decent, using contrast detect AF on the sensor itself. It's nowhere near as fast as a modern DSLR, but it's adequate under good lighting conditions. It's also generally more accurate, since the data is being read directly from the sensor. I do find myself using manual focus for more control sometimes, and the focus peaking in the EVF is easy to use and accurate. I did have several times when the camera would not autofocus, all of them in fairly low light situations.
The camera can be easily hand held, though I need to keep the shutter speeds up, as the high resolution will show the smallest amount of camera movement. I'm learning to rely on a robust tripod for landscape work. Image stabilization is available in two lenses, the 250mm telephoto and the 120mm macro. 
Images
Well, this is the important part, and the GF-X 50S doesn't disappoint. Processed in Lightroom, the 117MB raw image files show tons of detail right out of the camera using standard sharpening methods – no need for the unusual techniques required for the X Series files. The files also have a lot of headroom for adjusting exposure. I underexposed one image by three stops, and pushed it in Lightroom with excellent results. Highlight and shadow sliders can be used to tweak the file almost with impunity, with any slight noise increase easily handled with the noise reduction tools.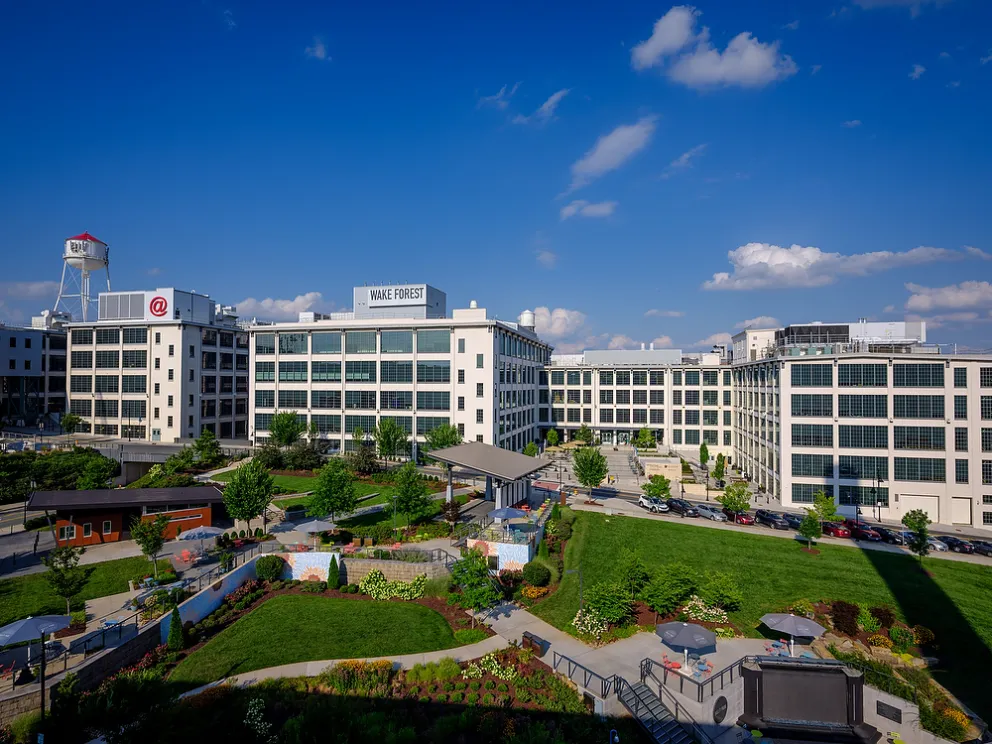 Wake Downtown.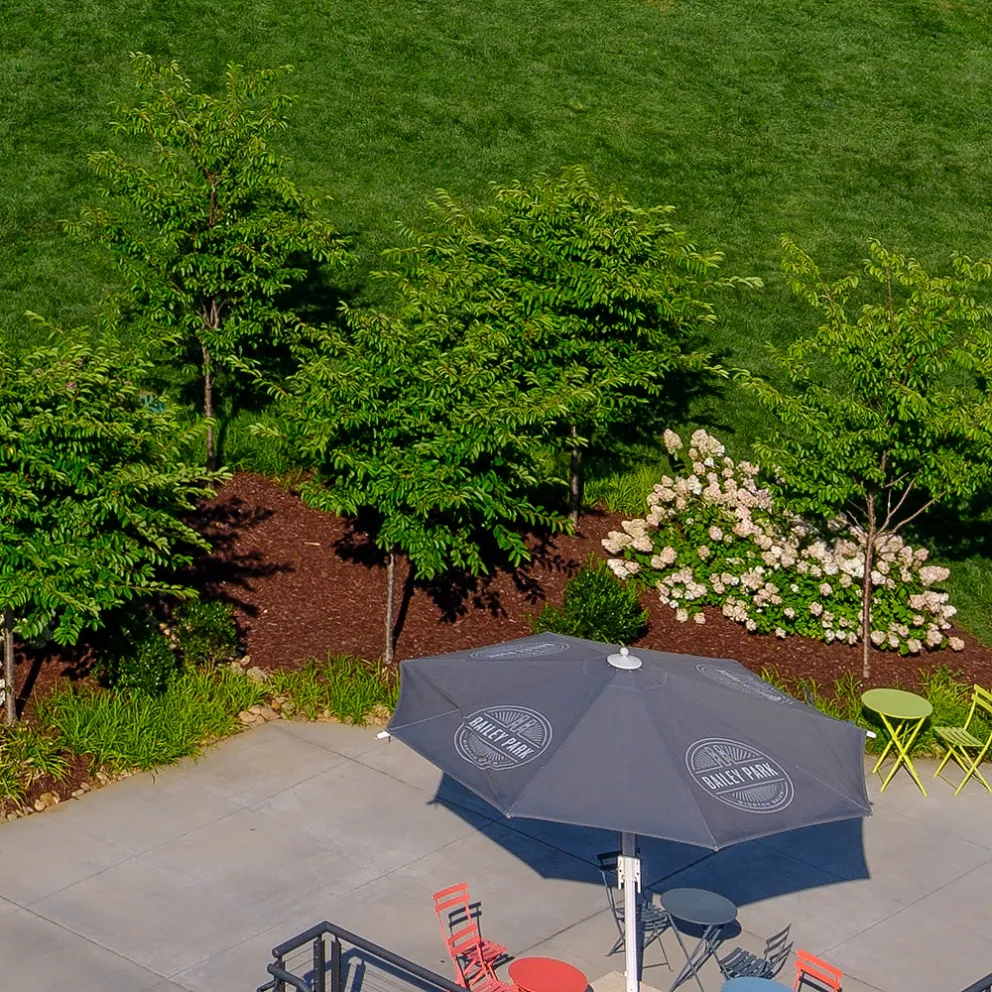 A 100% crop from the lower right of the above image.

Residence halls at Wake Forest University, Magnolia Hall on the right.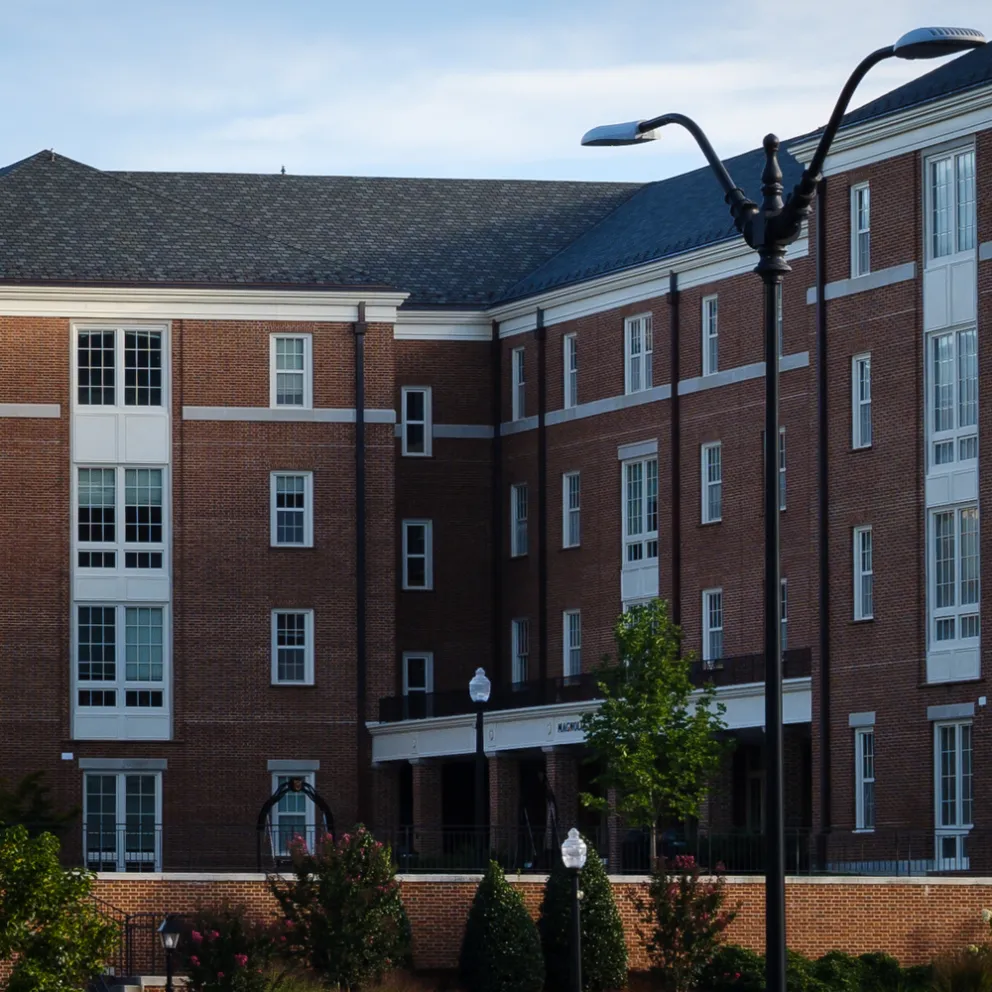 Detail of Magnolia Hall as shot.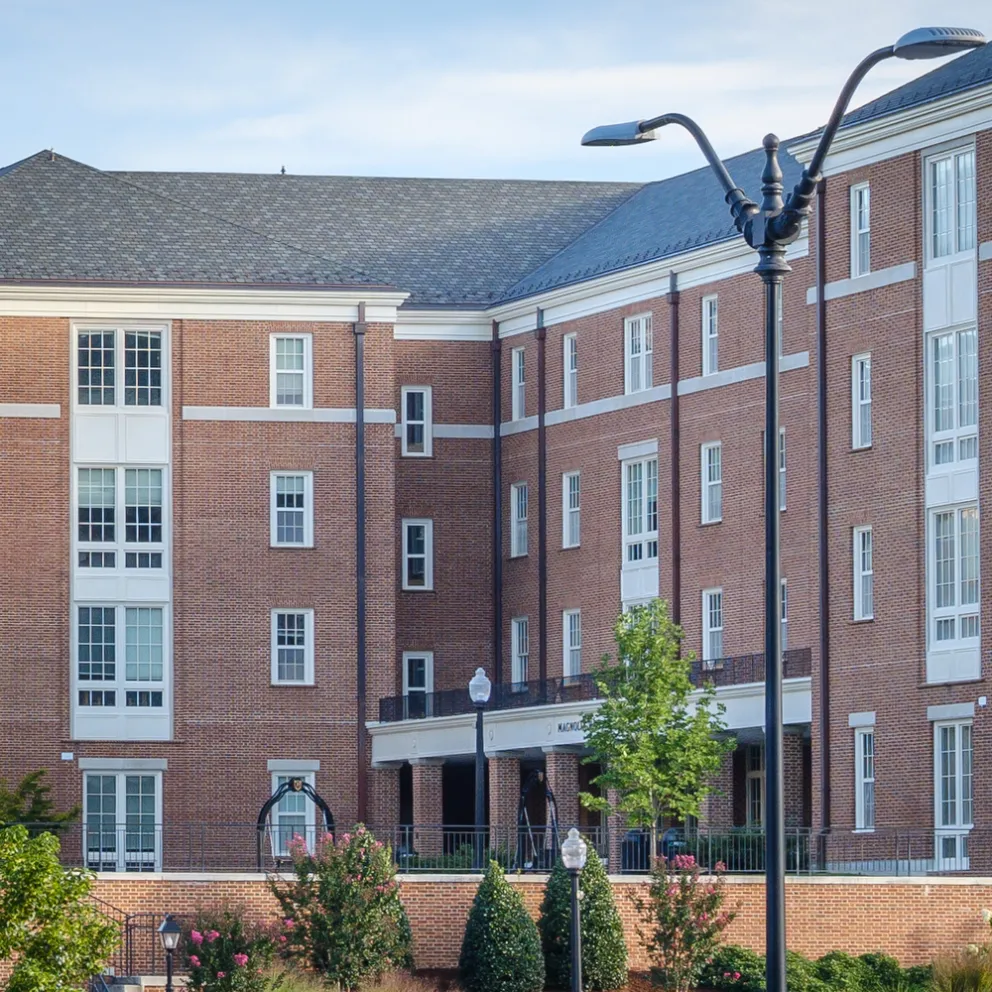 Same area with shadows boosted +100. Note the extra detail and lack of noise!
The lack of an anti-aliasing filter on the sensor can lead to moire issues, especially in areas with repeating patterns. I was expecting our brick buildings to cause problems, but those photos have been fine. The worst offender is our Wake Downtown campus, with its tiles, glass blocks, metal siding, and rooftop fencing. Moving the camera position or slightly changing the zoom setting usually eliminates any problem, but I have needed the moire removal tool in Lightroom a few times.

Wake Downtown pano.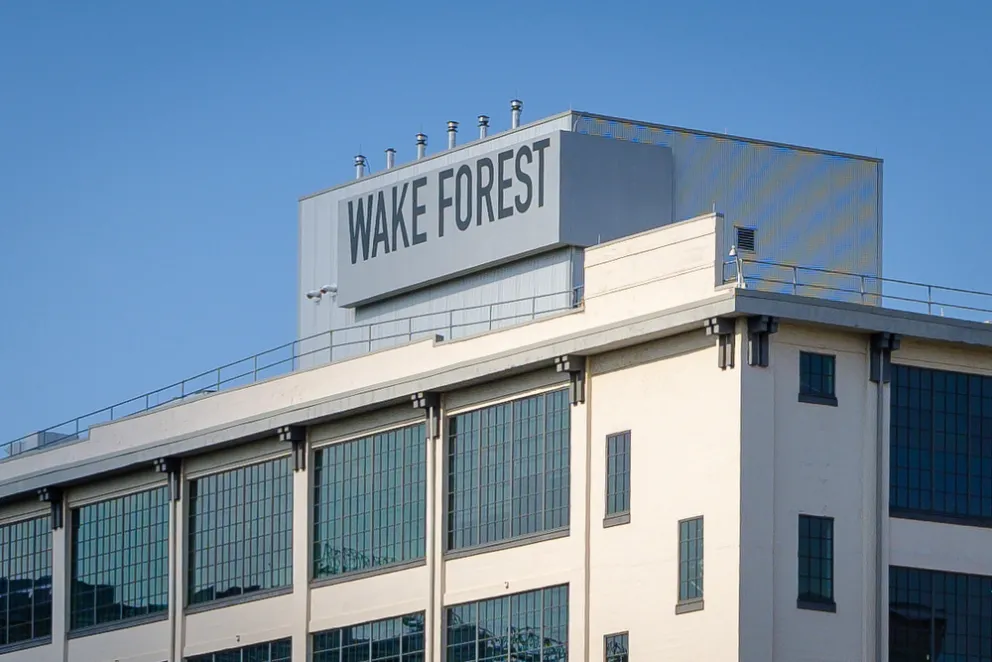 Moire visible in a 100% crop detail of above image.
In the studio, portraits are almost perfect right out of the camera. Color profiles are controlled using Fuji's "film simulations" which mimic various Fuji film stock, e.g., Velvia, Provia, Astia, Acros, etc. These simulations are also built into Lightroom as color profiles which affect the raw data as it's being rendered, providing several choices for color and contrast as starting points.
I've never thought about "medium format" and "high ISO" in the same sentence. The ISO dial goes to ISO 12,800, so of course I had to try it. The JPEGs out of the camera are superb, showing almost no noise while retaining good detail. Raw files show the expected high ISO noise but it's easily tamed with the noise reduction sliders.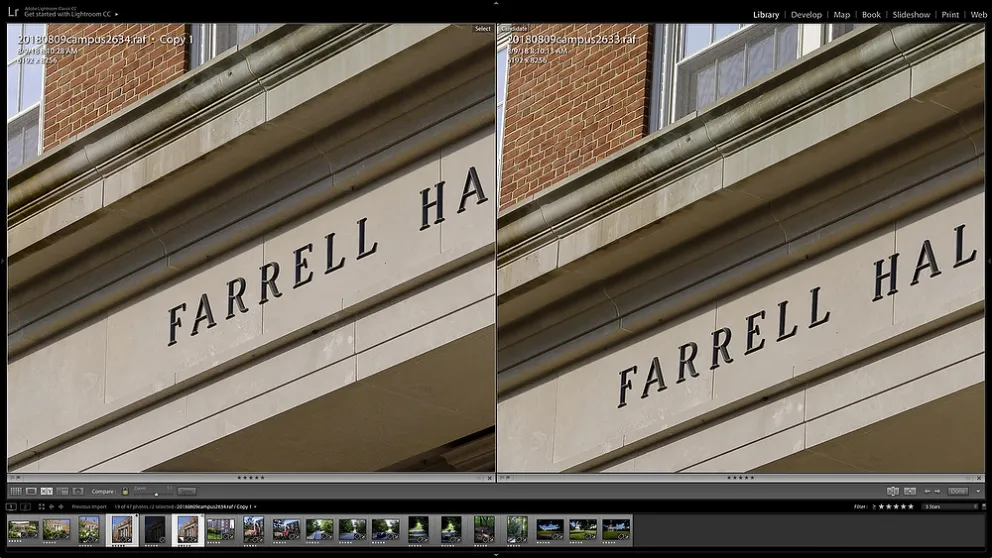 One image exposed correctly, another image recovered from 3 stops underexposure--can you tell which is which?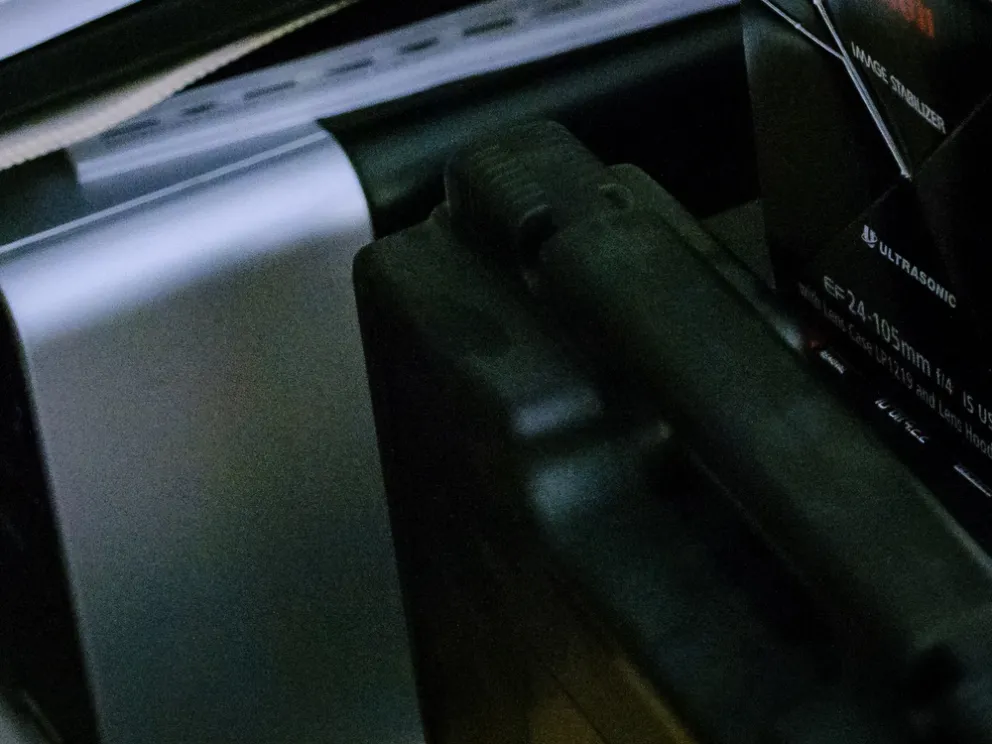 100% crop of an ISO 12,800 image after noise Lightroom noise reduction.
Lenses
Fuji has a reputation for making excellent lenses, and the GF lenses are right up there with the best. There are currently seven lenses and a 1.4x teleconverter: a 32-64 f/4 zoom, 23/4, 45/2.8, 63/2.8, 110/2, 120 f/4 Macro OIS, and 250/4 OIS. (If you must, multiply the focal length by 0.77 to get the "equivalent" focal length in 35mm terms. In this case you get a 24-50 zoom, and 18, 35, 50, 85, 90, and 200mm equivalent primes.) The teleconverter fits only the 250mm telephoto.
So far all the lenses have been exactly what I expected: exceedingly sharp across the frame, well corrected, and with pleasant out of focus areas. The 110m f/2 portrait lens is particularly good, both wide open and stopped down. I do wish Fuji would make a telephoto zoom, which I prefer for landscape and architecture photography for precise framing. I'd pay whatever they wanted for a 100-300mm f/5.6 lens, though nothing like that is on the lens road map.
Overall
I've only had the camera for a few weeks, so these are necessarily my initial impressions. Overall, the system is exactly what I wanted – an alternative to my smaller Fuji X system when I want the ultimate image quality and the subject isn't moving very fast. I'll use it on a tripod for landscape work, hand held for portraits, and on a stand in the studio. I'll even take it with me to our home football games for the ultimate detailed photo of the entire stadium from the roof. I'm looking forward to getting to know the system better.
Update
Now that I've been shooting with it a little longer, I have some additional info:
You might be tempted, as I was, to use the Electronic Shutter to reduce vibration when shooting handheld. Note that the effective shutter speed is much longer than the nominal speed due to how slowly the camera can read off the sensor -- this leads to some serious rolling shutter issues.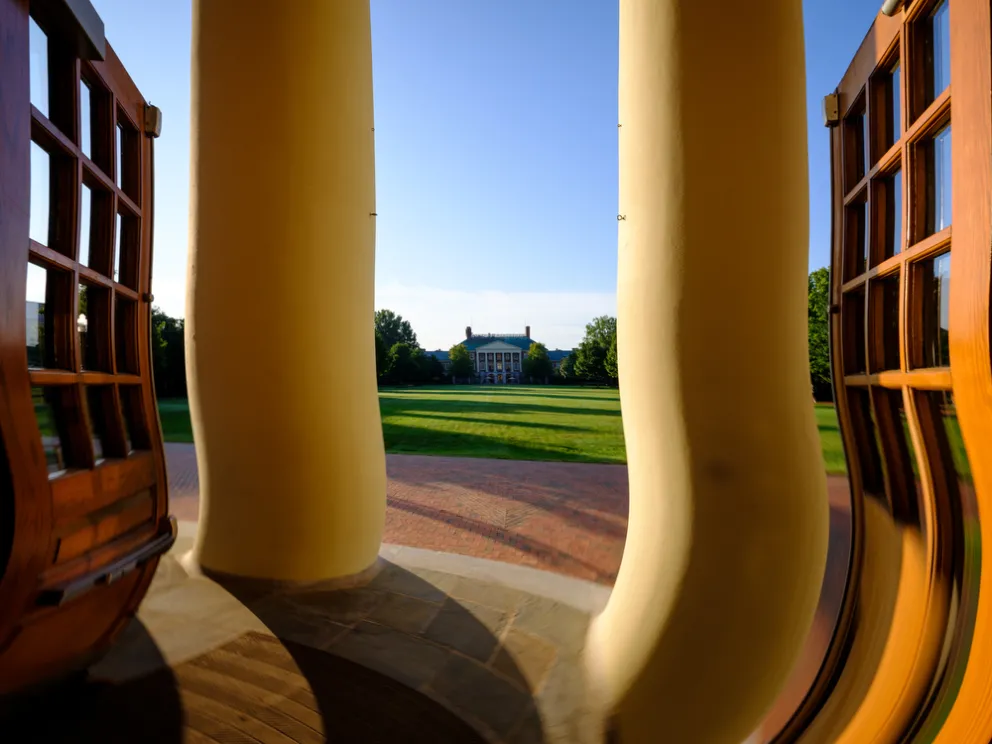 Screen shots from Lightroom show shadow recovery when holding for highlights in an early morning backlit shot. There is some noise in the shadows in this one, but there is also incredible detail. Also this one is handheld. (see photos)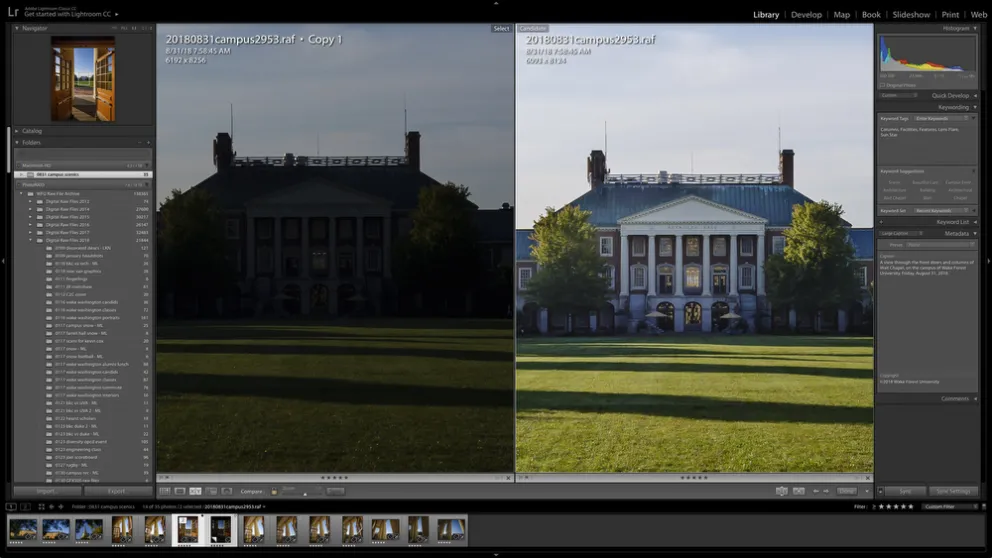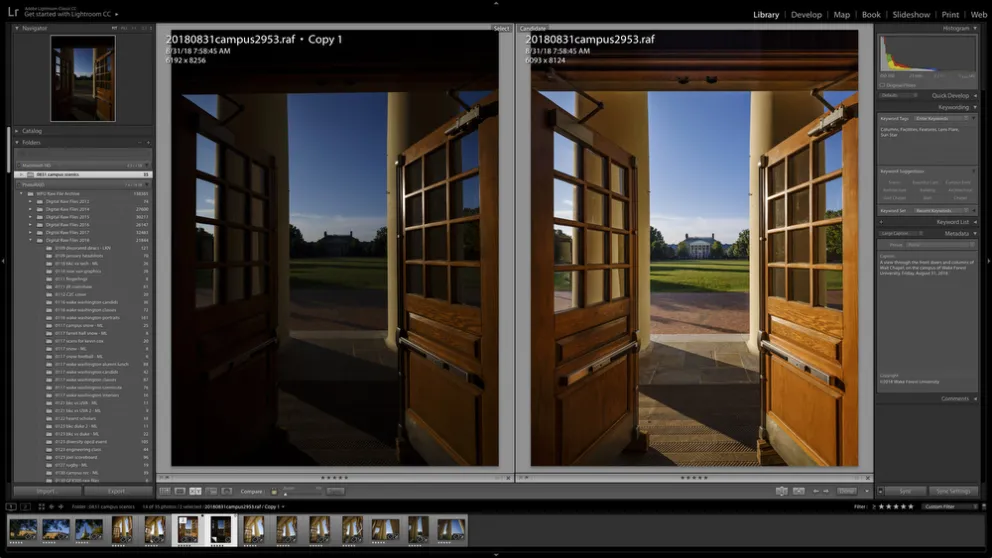 ___________________________________________________
"Why couldn't the butterfly go to the dance? Because it was a moth ball!" Blog stories/ideas welcome any time, email editor Matt Cashore at mcashore@nd.edu