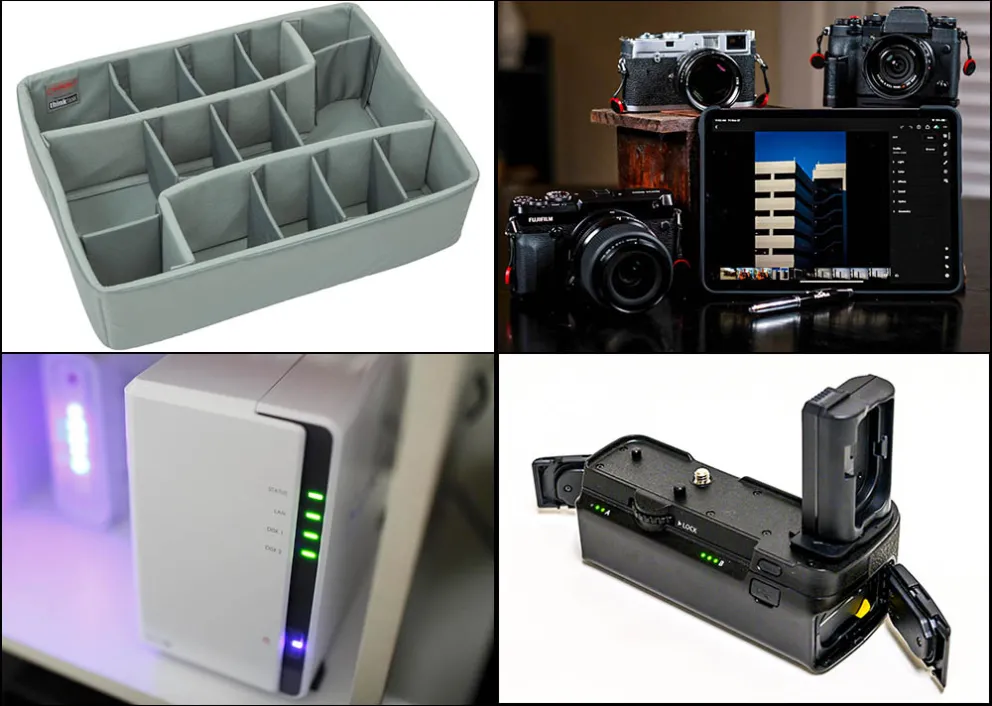 This is the third installment of year-end mini reviews of gadgets, services or other products that members have used in the preceding year. (See 2018 Four Faves and 2017 Four Faves.) This year four different members each reviewed an item of their choosing.
1: Think Tank Divider Set, by Jeff Miller, University of Wisconsin-Madison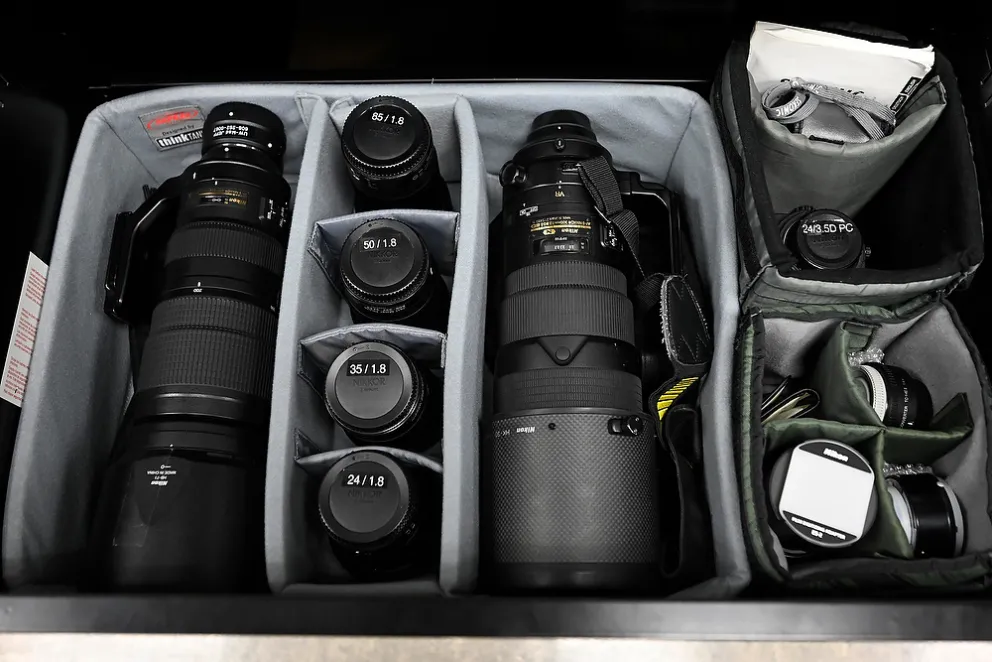 (photo by Jeff Miller) Does an organized drawer mean an organized mind??
What is it? SKB iSeries 2015-7 Think Tank Designed Divider Set
How Much? $70
Quick Take? "One of the most out-of-sight yet handy pieces of added gear."
The year 2019 was marked by a massive transition from Nikon DSLR and F-mount lenses to an invested system of Nikon Z6/Z7 mirrorless cameras and S lenses for my office's photo team of two fulltime photographers.
Despite the excitement of the Nikon Z transition, one of the most out-of-sight yet handy pieces of added gear is the addition of an SKB iSeries Think Tank divider insert to one of our common filing cabinets. I'm honestly not quite sure what took me so long to buy the ~$70 accessory!
This padded, hook and loop divider set now keeps much of our photo team's shared Nikon primes and specialty lenses –– a 200-500mm/5.6 F-mount zoom, a 300mm/2.8G F-mount telephoto and 24, 35, 50 and 85mm/1.8 Z-mount primes –– in one organized place. Two old, padded Domke inserts are tucked along the one side of the drawer to wrangle smaller primes lenses, converters and such.
The 20.5 x 15.5 x 5.5" dimensions of the SKB iSeries 2015-7 best met our team's needs but there are several other SBK-configurations that may work swell for others. My only recent grievance with the SKB iSeries 2015-7 shape is that the insert fits our telephoto lenses about 3/4" shy of perfection now that we leave a dedicated Nikon FTZ converter paired with each lens.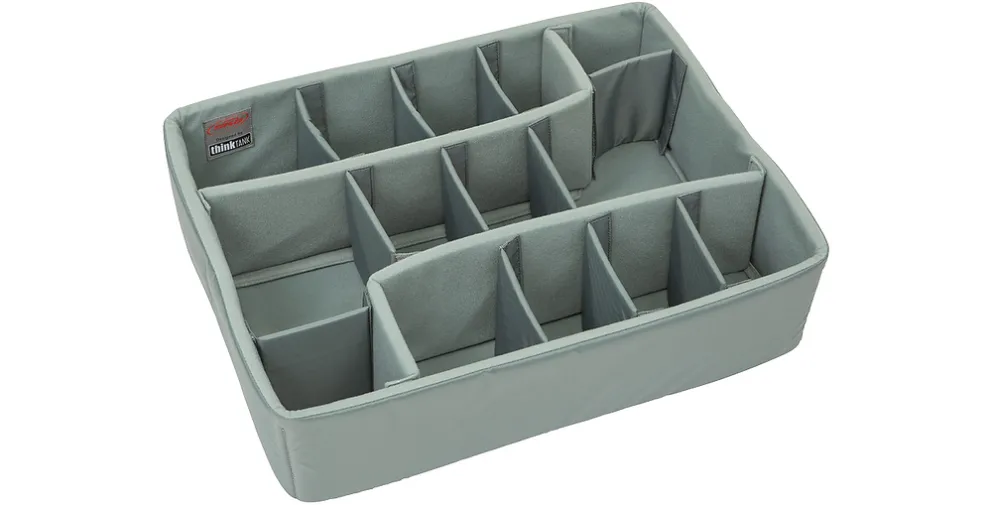 (provided product photo) The dividers are familiar to anyone who owns any Think Tank gear...you probably have a few dozen extra!
The new photo team rule is that all shared gear goes in and out of this drawer clean and ready to go as needed!  Meanwhile, my and my colleague Bryce Richter's duplicate sets of base gear – a pair of Z6 bodies and flashes plus 14-30/4 24-70/2.8, 70-200/2.8 and 105/2.8 macros lenses – get to live in our respective mess of bags with custom configurations set to our hearts' content.
---------------------------------------------------------------------------------------------
2: iPad Pro as a laptop replacement? by Jesse Jones, UF Health Communications, University of Florida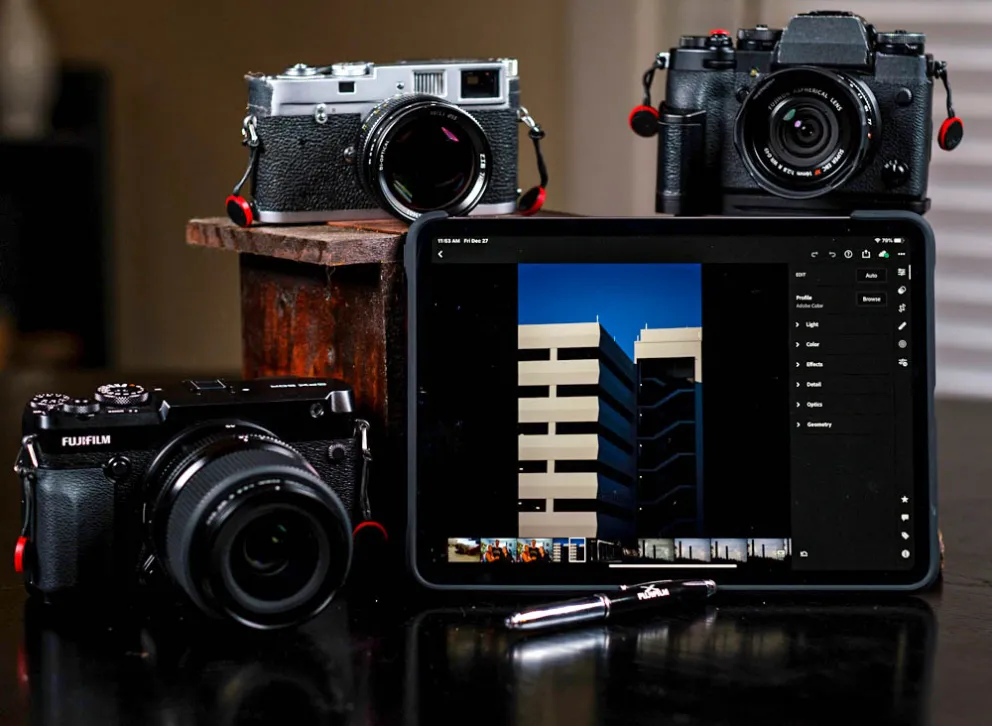 (photo by Jesse Jones) Lighter cameras and a lighter option for editing, too!
What is it? iPad Pro, 11" 512GB
How Much? $1149
Quick Take? "I was impressed."
Since the introduction of tablet computing I was hopeful that one day we would have one that could effectively replace a laptop. I have eagerly watched Microsoft Surface products, Samsung tablets, Google Pixel Slates and with a bit of skepticism Apple iPads- especially with their introduction of the iPad Pro variants.
As an early Android OS adopter (anyone else own the T-Mobile G1 back in '08?) I have always found iOS a bit too constrained for my liking, so in large part I have avoided iOS devices except for a work issued second generation iPad which only reinforced my dislike of the iOS platform.
With all the of refinements and the separation of iOS for iPads into a separate branch of the operating system in version 13.1 I decided to give an iPad Pro a closer look as I was still in the market for a mobile editing solution. After researching the options and scouring the internet for reviews then checking one out in our campus bookstore, I decided to purchase an iPad Pro 11" 512GB model. The hardware is good: great screen that is nearly bezel-less, slim and light and overall very fast and responsive. The A12x Bionic chip is surely packing some raw power that enables the iPad Pro to run so well.
After a quick iPadOS update and installation of Lightroom CC I plugged in an SD card reader, imported some photos from a Sony A7RIV and a Fuji X-T3 and tried my hand at editing on an iPad. Rendering previews, zooming in to a pixel level with any of the files was fast and smooth, making adjustments and applying presets were just as easy and seamless.
I was impressed.
There was still an issue with iPadOS: Lack of direct access to the file structure required importing RAW files into Photos, then from there into Lightroom. Initially, I figured that was a small price to pay to be able to carry a one-pound tablet versus a three-pound laptop. The direct file structure access has been addressed in the latest version of iPadOS 13.3. This iteration of iPadOS is the most Android version of iOS I have ever used.
Lightroom CC is not as optimized as Lightroom Classic CC for batch editing of files but they have begun making some improvements on that as well. For personal use this is not an issue as I am generally not editing hundreds of photos to share on social media, but I can see how this workflow could flex very well into our working environment especially for images needed for social media.
Currently I have not picked up an Apple Pencil 2 as I have just been using a couple of styluses that I had lying around but with Adobe Photoshop for iPad improving I can see a need for utilizing the touch sensitivity of the Apple Pencil.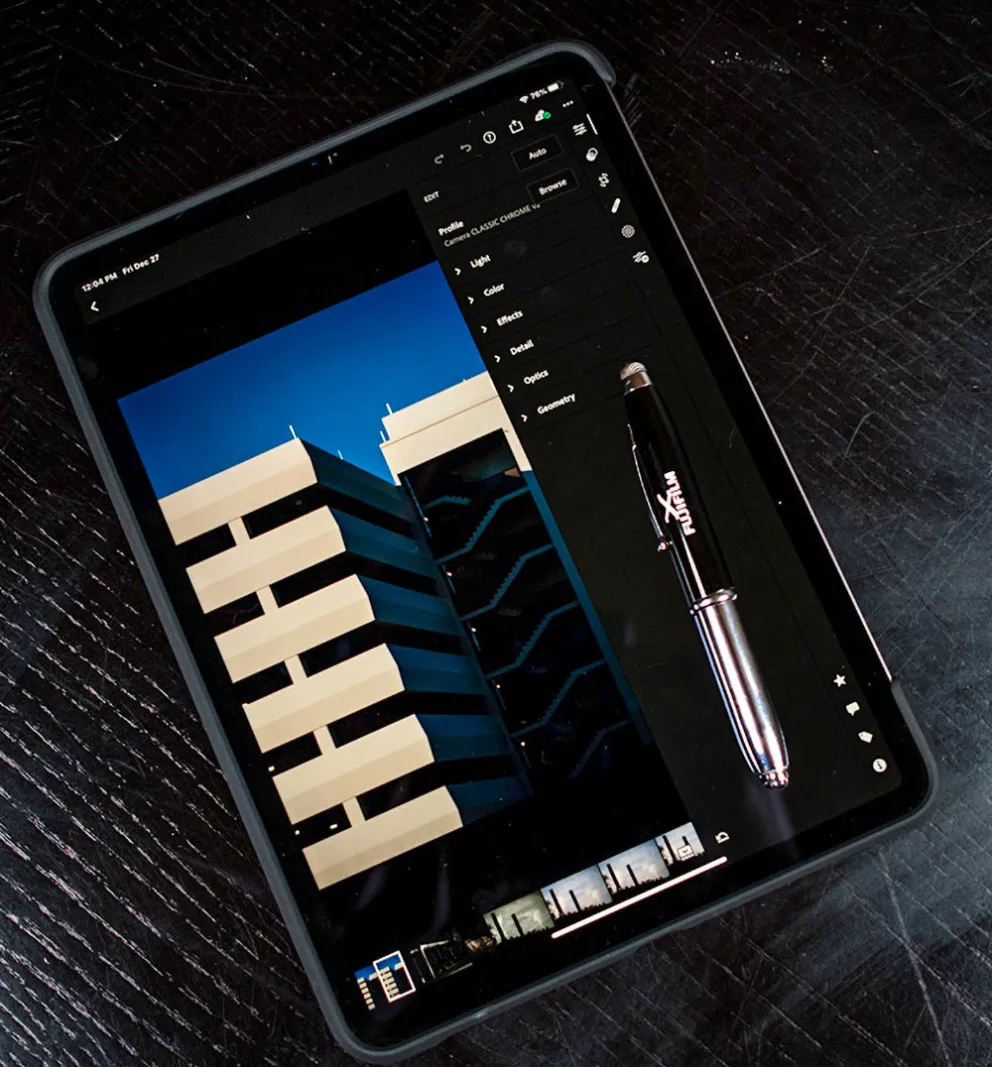 (photo by Jesse Jones) A stylin' stylus.
At this point the iPad Pro has become my personal laptop replacement. It allows me to be connected, productive and creative.
I am still not going to switch to an iPhone though…
----------------------------------------------------------------------------------------
3: Synology DiskStation NAS, by James Brosher, Indiana University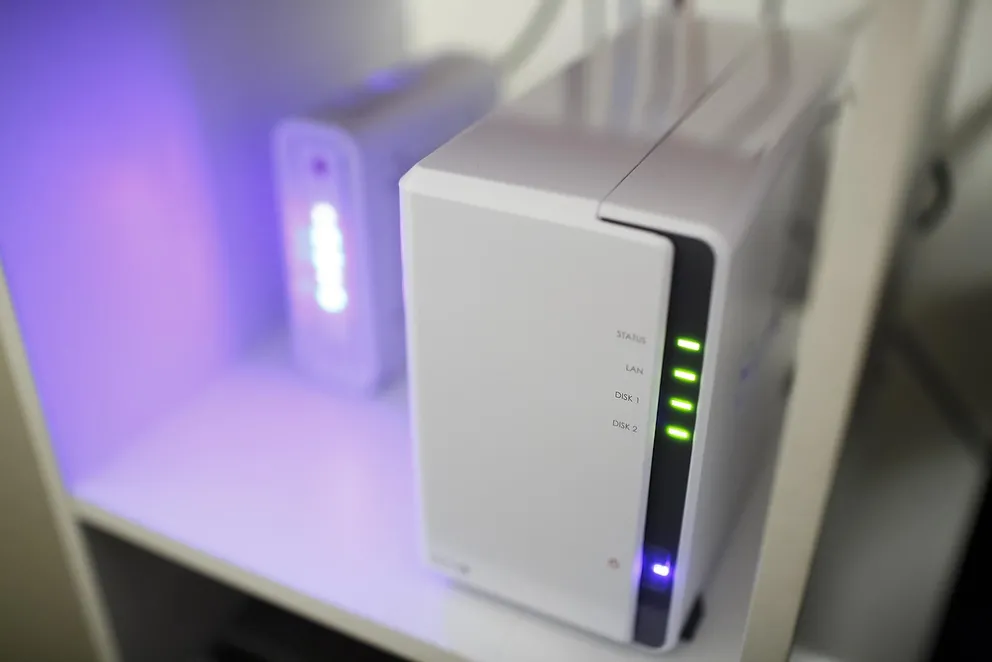 (photo by James Brosher) But will it open the pod bay doors??
What is it? Synology DiskStation DS218j
How Much? $169.99 enclosure-only
Quick Take? "Hold on to your NAS!"
At the 2019 UPAA Symposium, every person I met eventually asked me a version of this question: what are you doing with all your digital data? As our cameras increasingly shoot larger and larger images, I've found myself constantly searching for places to squirrel away my JPG, RAW, TIFF and MOV files. Google Drive, Box, Dropbox all offer a cloud solutions to this issue – assuming your internet is fast enough to access all that data and your school has one of the sweet unlimited storage deals. If one or both of those aren't true, pulling RAW files from the cloud can be a huge pain. At IU we have both, but I prefer to keep local versions of work handy for at least a calendar year.
Let me introduce you to the Synology DiskStation DS218j. I bought a DS218j this fall to use it to store my photo archives. I have not been disappointed. The DS218j is a 2-drive network-attached storage (NAS) enclosure that ships without hard drives. I coupled this NAS with 2 Seagate IronWolf 12TB 7200 RPM ($313/piece) drives giving me a 12TB redundant server for photos and videos for under $1,000.
PROS:
– Cost-effective NAS enclosure
– Synology server software is incredible and easy to use with more advanced options available for power users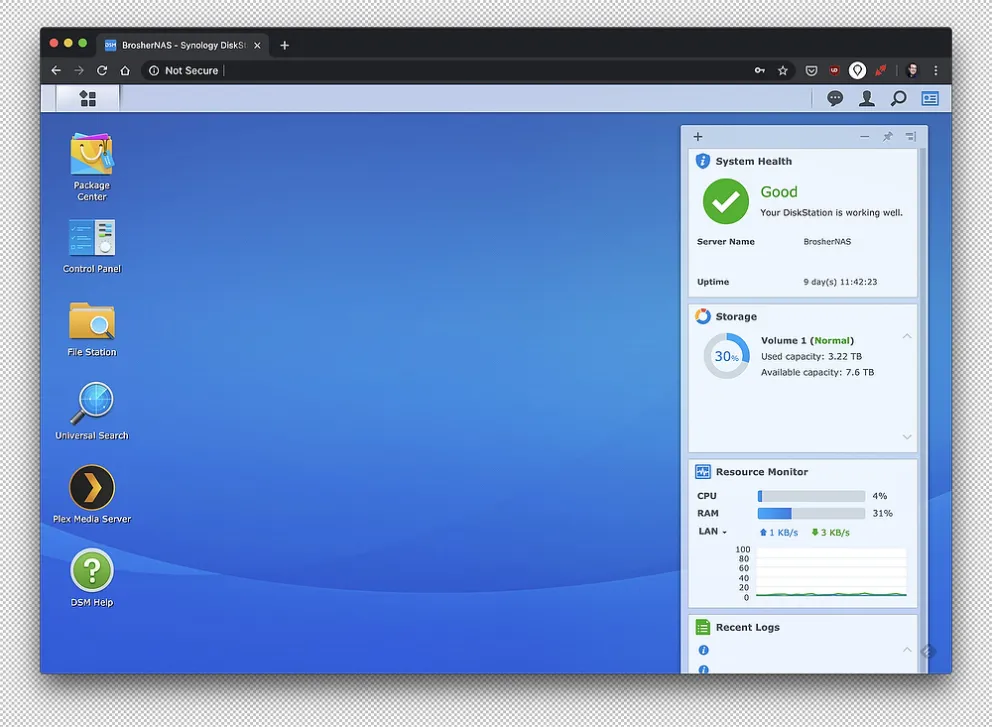 – 2-drive redundancy protects against data loss if one drive fails
– Flexibility of harddrive storage capacity configuration
– Great solution for individuals or smaller photo staffs
– Ships with Plex media server software, a great way to organize videos for playback
– Offers AFP and FTP access
– Smaller than an average home toaster
– Compatible with UPS (Uninterruptible Power Supply) devices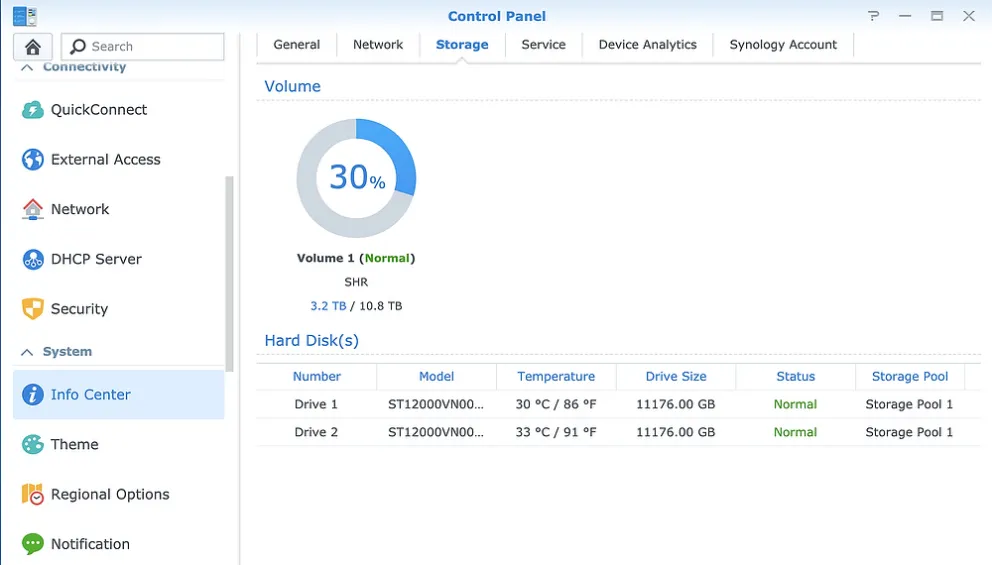 CONS:
– RAM limitations could make editing photos/video directly from server challenging
----------------------------------------------------------------------------------------
4: Z6/7 Battery Grip, by Jeff Gage, Florida Museum of Natural History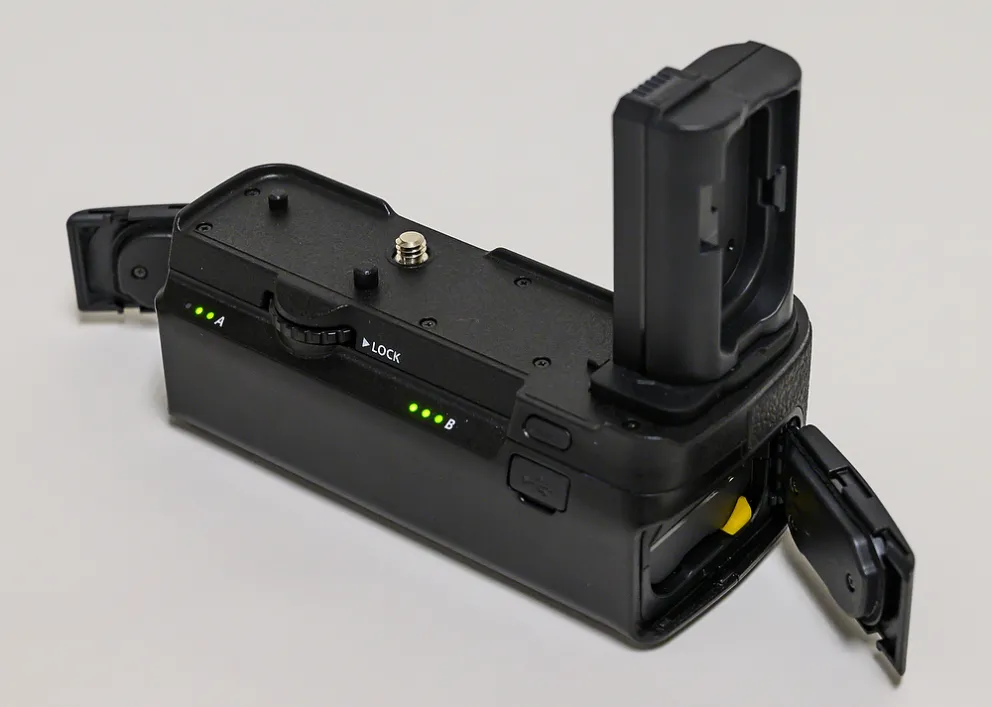 (photo by Jeff Gage) MB-N10 has two battery doors on either end of the grip, with LED lights indicating battery capacity and a port for charging compatible batteries via USB-C.
What is it? Nikon MB-N10 Multi-Battery Power Pack
How Much? $199.95
Quick Take? "A grip that is only a battery holder."
I have come to grips with my love for camera grips or battery packs. Starting with the second camera I owned, (first camera was a Minolta SRT-102, no grip option) I have purchased the additional grip/battery pack for cameras from the Nikon FM/FE/F3, to the Nikon D500 and D850. If it was available, I got a grip.
The Nikon Z6 camera is currently my daily camera. Since I do a majority of my shooting with medium telephotos and longer lenses, the camera itself always felt a little small in my hands, like something was missing.  Now Nikon dangles the MB-N10 battery pack in front of me and in an autopilot-style response I purchased without thoroughly researching the specs or listening to the comments. What did I do?? Do I need to get a grip on my impulse purchases?
LIKES:
•It is a grip and for me it completes the feel of the camera. Now the Z6 feels just like every other camera body I've used on a daily basis. I'm not worried about the added weight as it is still lighter than the D500 or D850 body and grip.
•It gives me a place to store my extra EN-EL 15 battery - not that battery life on the Z6 was an issue. Now I'm golden as I have my spare right there in my grip, plus they are hot swappable, so I can change a battery and still continue shooting.
•The grip allows you to get visual display of your battery charge from the grip without powering on the camera and looking at the screen on the top. Also, the batteries (EN-EL15b style only) can be charged while still in the grip with the additional EH-7P charger and cable. (However the charger and cable is an addition $60 so maybe this should be in the 'gripe' column.)
•Finally, (channeling a photography instructor who told us to always say something positive when making critiques): "Of all the grips I've ever owned, this is definitely one of them!"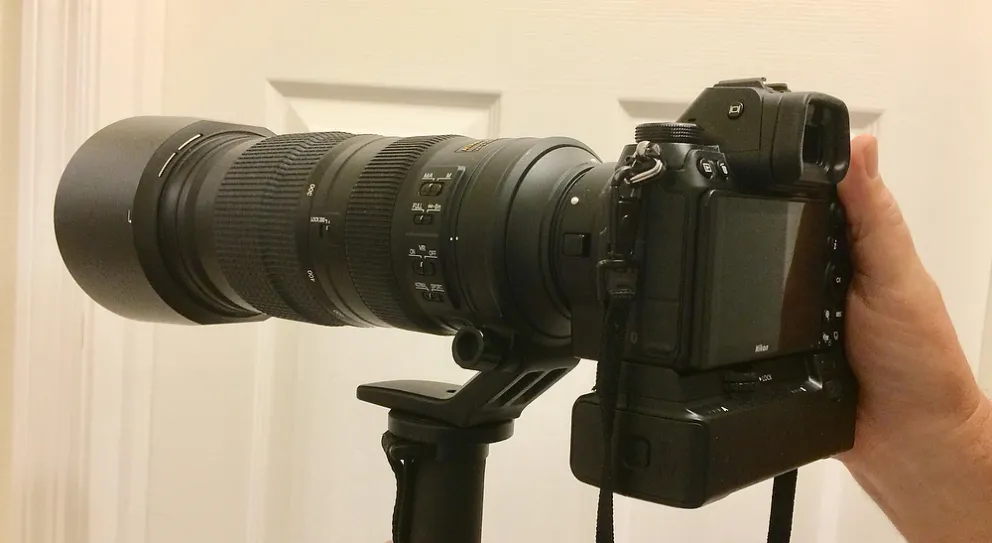 (photo by Jeff Gage) The form factor of the Z6 with grip, mounted (via FTZ adapter) to a 200-500mm zoom. "It is much harder to photograph your own hand than I thought," says Jeff.
GRIPES:
•Where are all the usual grip items?  Vertical shutter release? AE/AF lock button? Multi selector, main- and sub-command dials?? No voice memo!!
•Attachment wheel is in two different locations on the grip, which makes it slightly more difficult to screw the grip into the camera.
•The cost, considering the lack of features.
•Finally, I've owned the battery grip over a month and it is still not on the NPS equipment list of qualifying mirrorless accessories…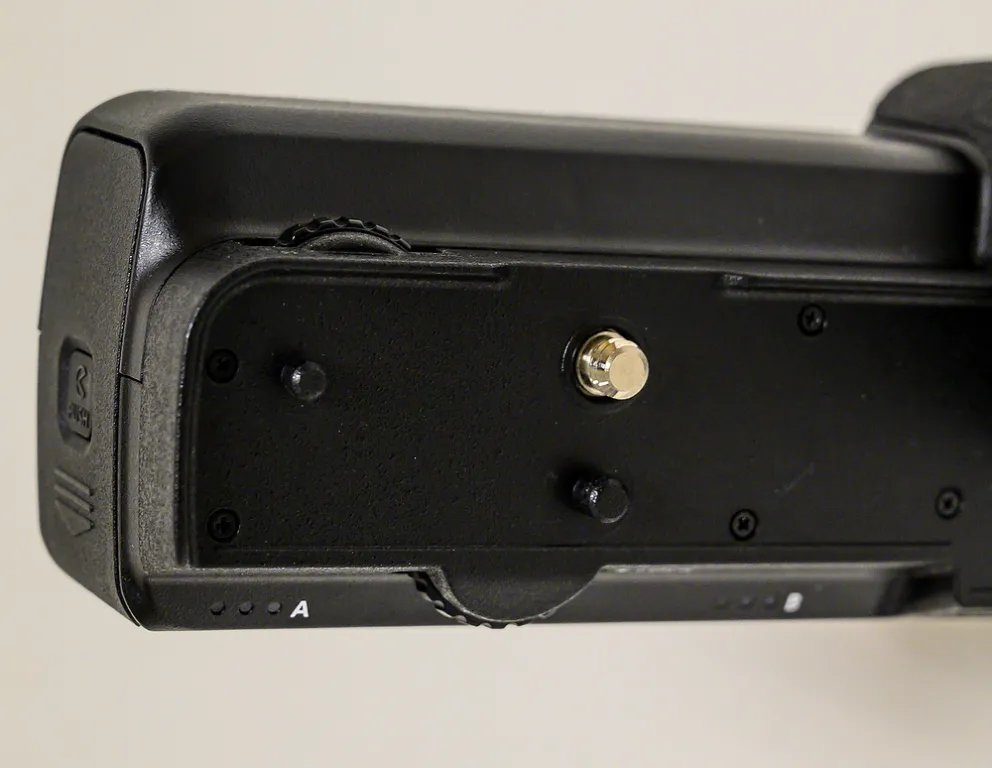 (photo by Jeff Gage) The attachment wheels do not line up on the front/back of the grip.
BOTTOM LINE:
I have come to grips with my purchase decision and overall I am happy with it, strictly because of the way the grip makes the camera feel in my hand.  However, I feel bad that my office had to pay $200 for a grip that is ONLY a battery holder.
____________________________________________________________
"I bought one of those memory foam cushions but I can't remember where I put it..." Thanks for reading the blog, send stories, suggestions...and jokes...to editor Matt Cashore, mcashore@nd.edu. Follow UPAA on Instagram, too!