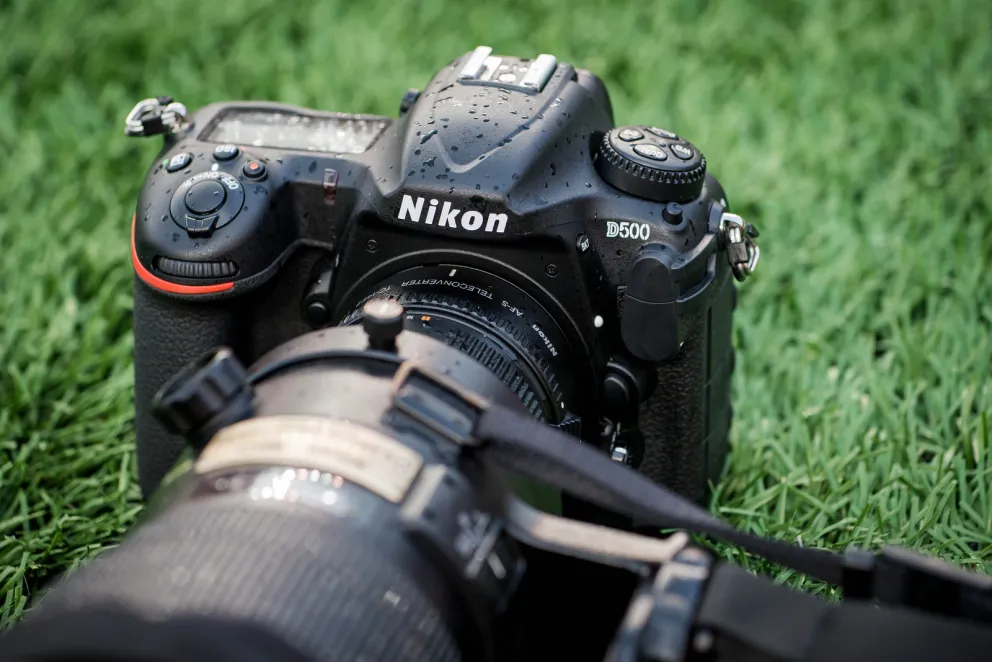 Photo by Matt Cashore, University of Notre Dame
There are certain things which trouble me more than they probably should.  Among these: Mayonnaise…the intentional grounding rule…pop-up flashes on DSLRs. I prefer full-frame, so the announcement of a new DX-format DSLR from Nikon would normally fly under my radar.  But when I saw the D500 was pop-up flash-less, it had my attention.
This past spring and summer I did quite a bit of traveling which involved shooting video.  I was feeling the need for a compact, lightweight video-capable DSLR.  The advantages of a tilting LCD screen were obvious.  So why not the D750?  Full-frame and good reviews, but a slower flash sync speed (1/200) and that (grrrr!) pop-up flash always gave me pause.
The D500 beckoned with it's nice solid prism, professional round eyepiece, and 1/250 sync.  Specs on AF and low-light performance looked good.  Could I live with DX format? Maybe...  Nikon's $500 rebate for the D500 with the well-reviewed 16-80 zoom pushed me off the ledge.  I impulse-bought one.
Initial impressions were positive:
Camera felt great.  More solid and professional than any other small-body Nikon DSLR I had ever used.  The 16-80mm lens seemed like a solid performer and covered pretty much everything I needed to do with video in a single lens.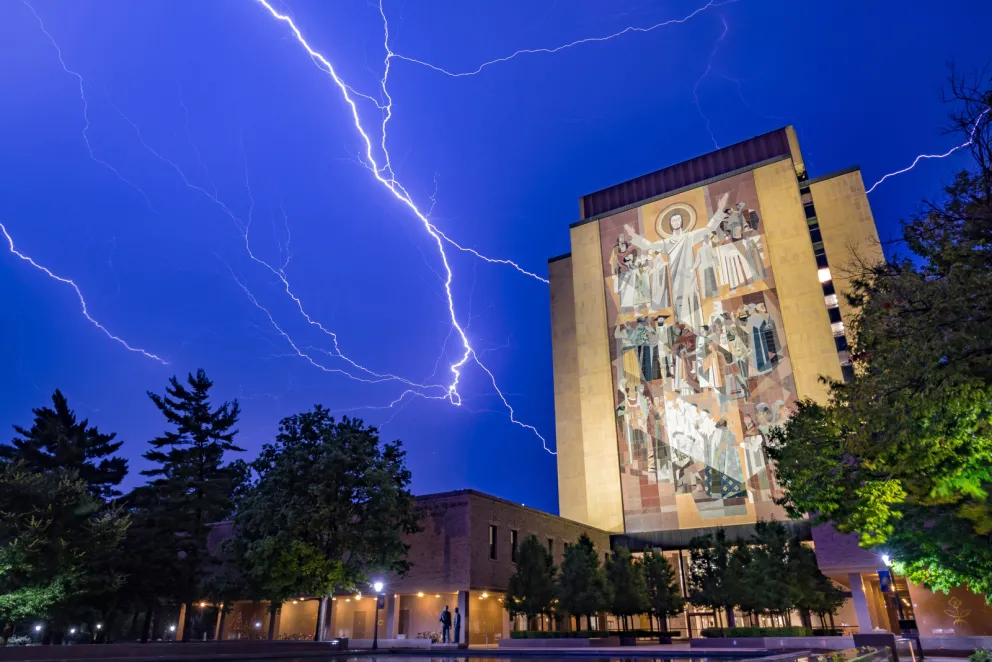 The first real test of the kit came one night about a week later when storms were approaching the South Bend area.  I saw the potential for some lightning photos, and the easiest option I had handy was the D500 with the kit lens.  My expectations were met and then some.  I didn't notice any drop in image quality vs a full frame sensor and prints from that shot look very nice.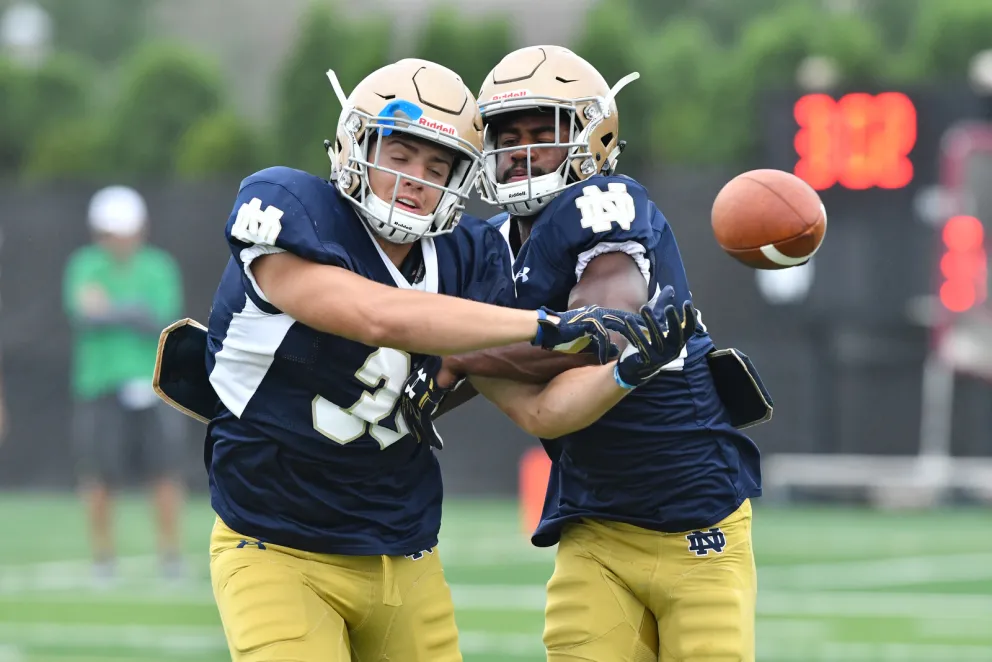 Next up, pre-season football practice would test the D500's AF capabilities.  The DX format meant I could use my lighter 300mm lens and get the same "reach" with the 1.5x crop that I typically got with my 400.  I was more than satisfied with the results but admittedly practice is a low-stakes situation.  The real test would come at Notre Dame's season opener at Texas.  
When I have to airline to a football game I am very conscious of the size and weight of my gear.  The D500 and the 300 (instead of a D4s and a 400) meant my carry-on was lightweight and free from gate agent scrutiny.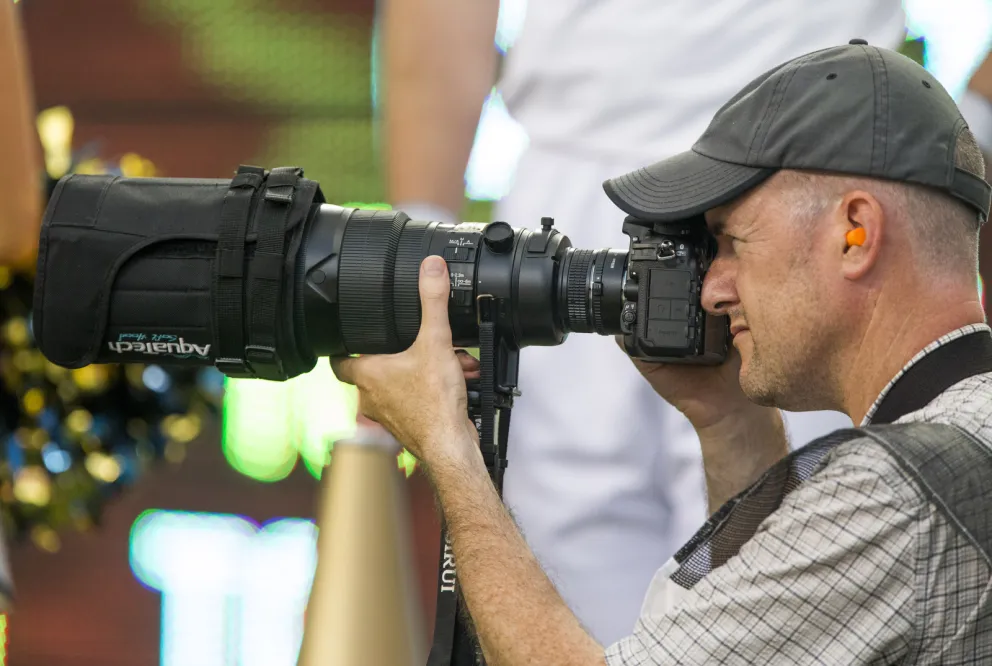 Photo by Rob Franklin/South Bend Tribune, used with permission
The game was a 6:30pm start, which meant ISO 200 for warmups and 6400 by the 2nd half.  No more issues with noise than I was used to with a full frame camera, the 10FPS frame rate is for real, and I honestly could not tell the difference in AF performance– with and without a 1.4TC– between the D500 and the D4s I typically use. Expectations exceeded!  My take from the game was not extraordinary but that was my own fault.  I definitely did not feel compromised in any way by my choice to use the D500.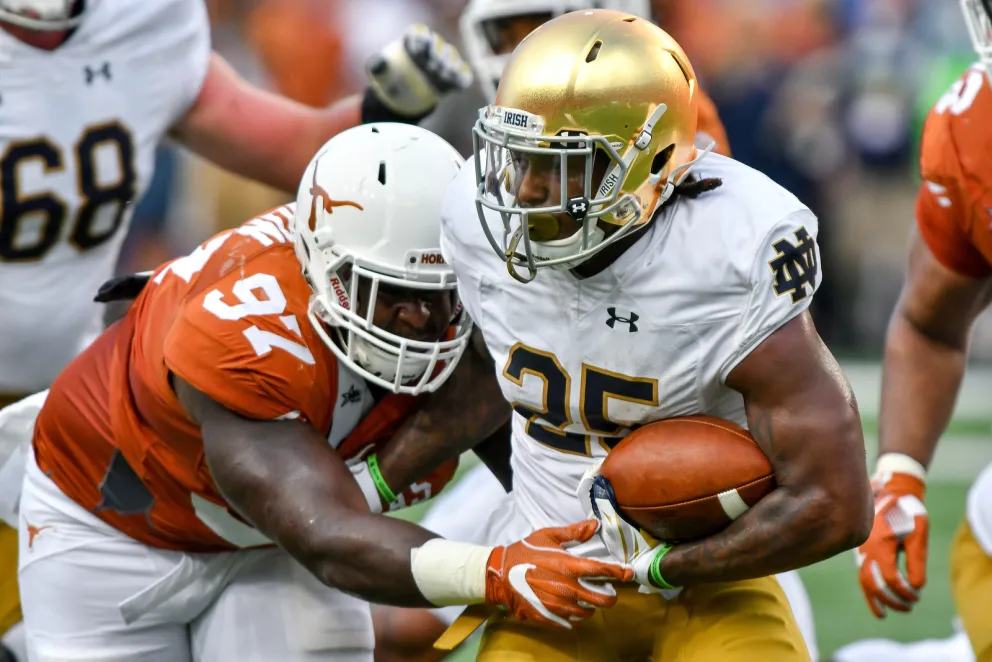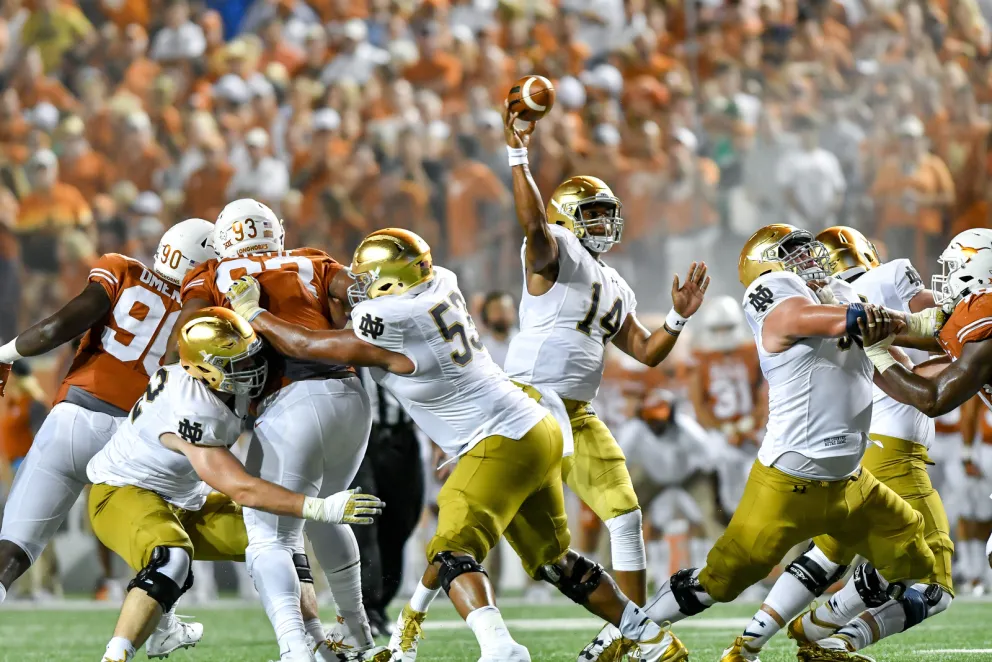 Summing up, I'm very happy with this camera.  
Like:
Good value.  No better bang-for-the-buck in a $2000 DSLR in my opinion.
Pro build quality
Love the tilting LCD
Kit lens is very good
AF performance on par with flagship DSLRs
Good low-light, not the ISO 50,000 beast that marketing would want is to believe, but at least equal to D4s
Don't like:
I'm still anti-XQD. The SD card performance has never let me down.  I would prefer two SD slots vs the dual format
The LCD touchscreen is a big ol' shrug for me.  I find it equally as quick to just use the buttons for playback scrolling & zooming like I always have
Wish like crazy there was a voice memo option.  I would gladly have paid a few hundred dollars more for this
Wi-Fi is needlessly complicated. As I write this, Snapbridge for iOS has just been released and I haven't used it yet. Why can't it be as simple as the D750's wi-fi?
Nice work here, Nikon.  Give me a full-frame version of the D500 with a voice memo option and I'll buy a dozen!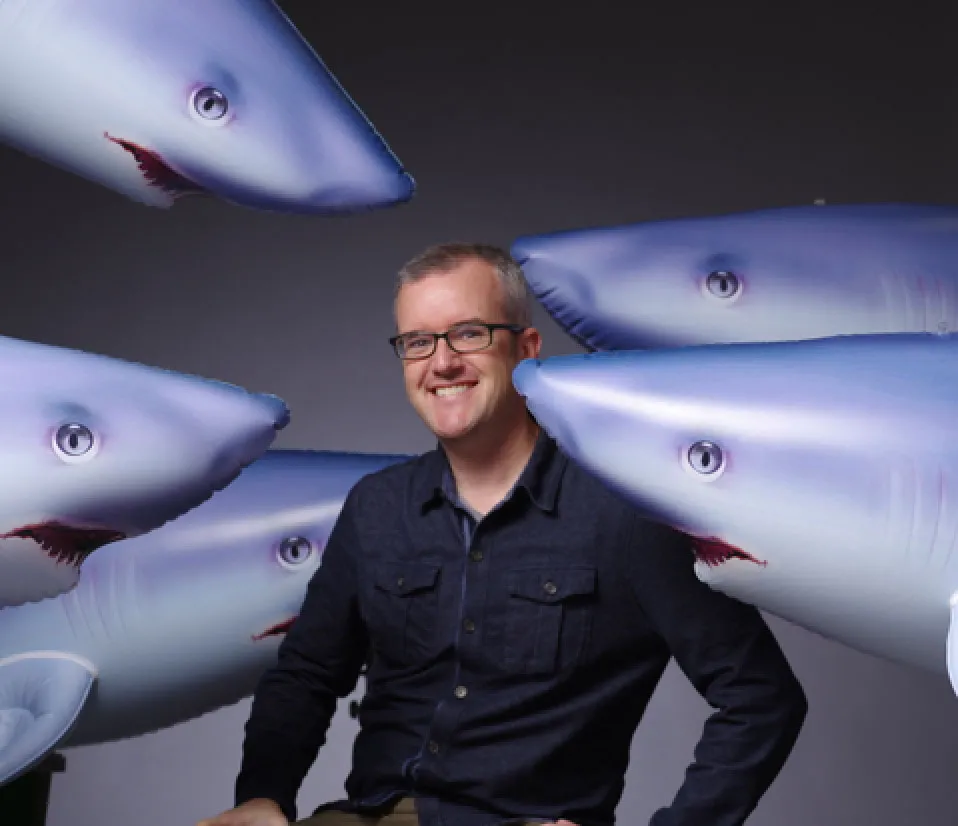 Matt Cashore is the Senior University Photographer at the University of Notre Dame. In 2016 Matt won the Mark A. Philbrick Photographer of the Year award.
mcashore@nd.edu
@mattcashore