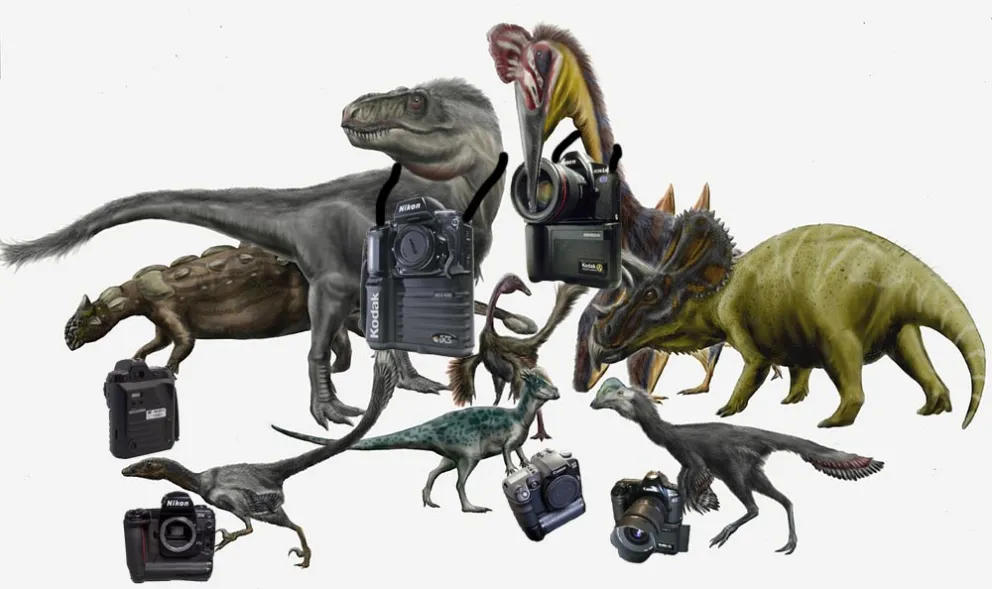 (Photo composite from author photos and Wikipedia)
In 1927 Charles Lindbergh took over 33 hours to fly from New York to Paris. Only 20 years later Chuck Yeager went supersonic. Digital cameras, our daily tools of the trade, have had a similar technological advance. We don't think twice about pulling 4 stops of extra dynamic range out of an ISO 6400 image, but 20 years ago the ISO didn't even go that high! As a reminder of just how far we've come in less than the lifespan of an F3, five UPAA members/archaeologists excavated their earliest digital camera bodies and share some memories: 
Permian fossil, Nikon DCS 420
Glenn Carpenter, Moraine Valley Community College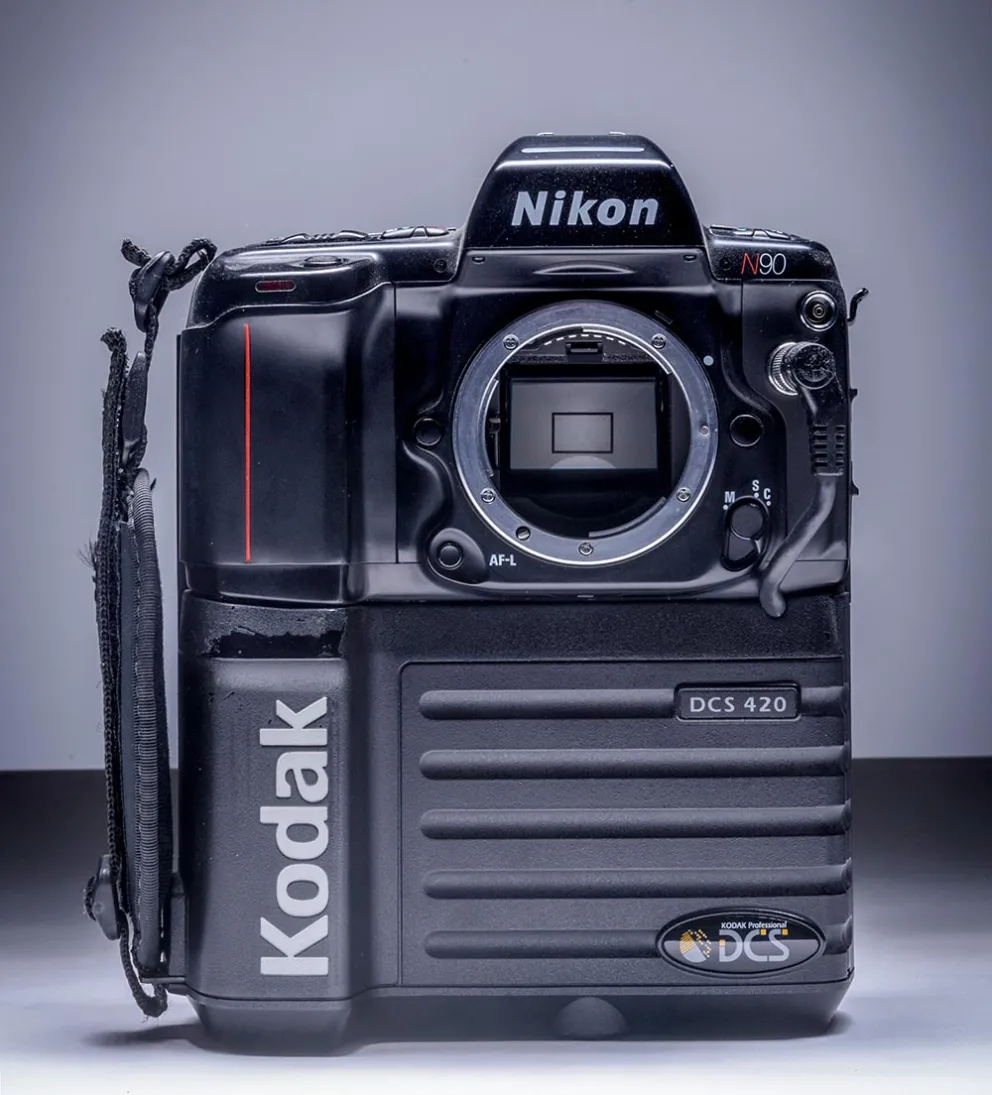 "Yeah, that little box on the focusing screen was the live pixel area, 2.7x magnification!"
Moraine Valley bought our first digital camera while we were under the leadership of the college's CIO. Kathy Wilders was always on the bleeding edge--We paid just shy of $10,000. However expensive it was a brilliant move as it set the stage for for us always having leading edge photography equipment. 
Early on we used the camera mostly for weekly newsletter photos and the occasional larger publication when time was of the essence. Compared to a camera of today it was terrible: The 2.7 crop factor made wide angle photos impossible. Dynamic range was pathetic but you could have photos instantly! Battery life was awful and you could not change the battery. If it went dead, you were done shooting. But looking back at this humble beginning, the first steps are so worth it.
Triassic fossil, Canon DCS-1c
Les Schofer, Liberty University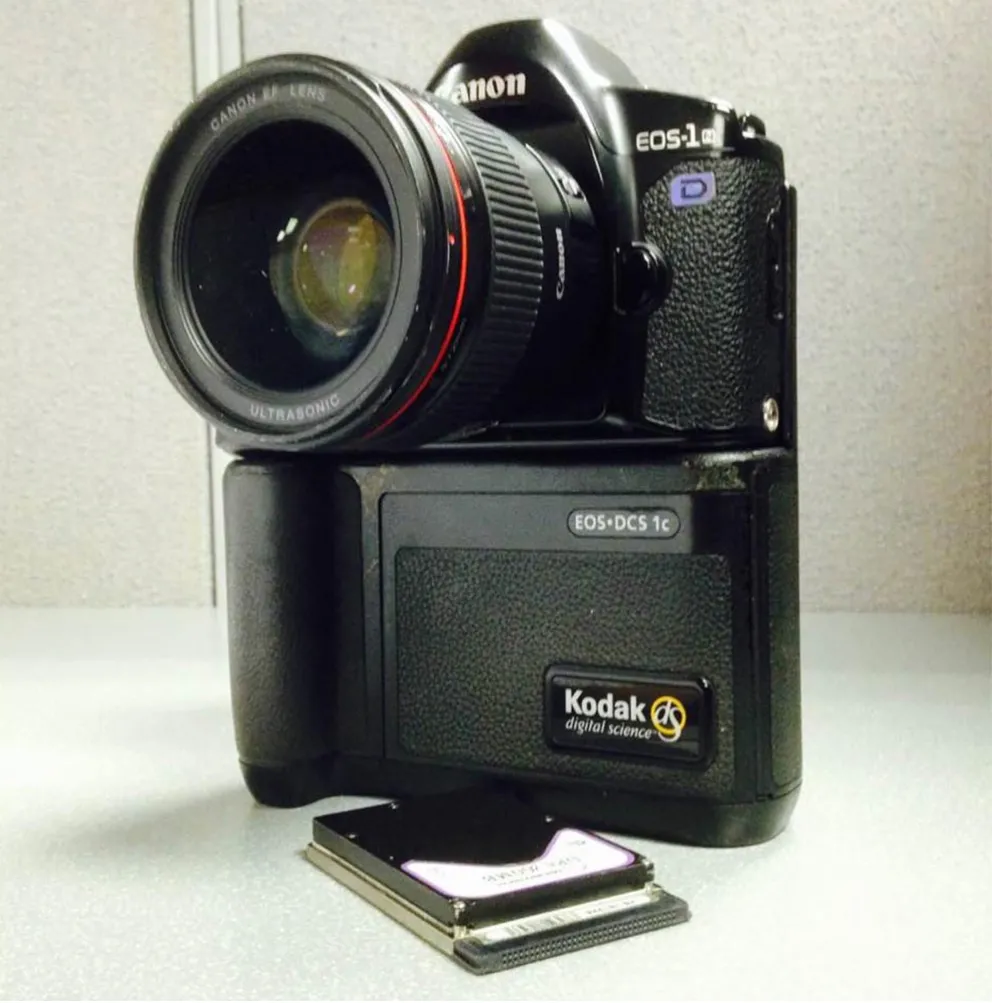 "There were only three ISO settings, 64, 80, & 100."
Canon DCS-1, 6MP camera I purchased in December of 1996 for $29,995. (It was a lot easier to type that figure than it was to pay it  off.) It was 6 megapixels, and could write 40 RAW images to the 260mb PCMCIA card. Each exposure took 8 seconds to write, but the buffer was large enough that 1.5 seconds after the first exposure was made a second one could be captured. At that point I could not take another photo for 10 seconds. This was a Kodak product in which an EOS 1n film camera was permanently mated to the Kodak digital unit. This was the highest resolution single exposure camera on the market--the only other options were the digital  scanning backs and the 3-exposure backs. The same digital unit was available on a Nikon body as the Kodak 460. Because it was a single exposure camera, I used it for industrials, still life, architecture, sports,  as well as university subjects. 
Jurassic fossil, Nikon NC2000e
Bill Bitzinger, Ferris State University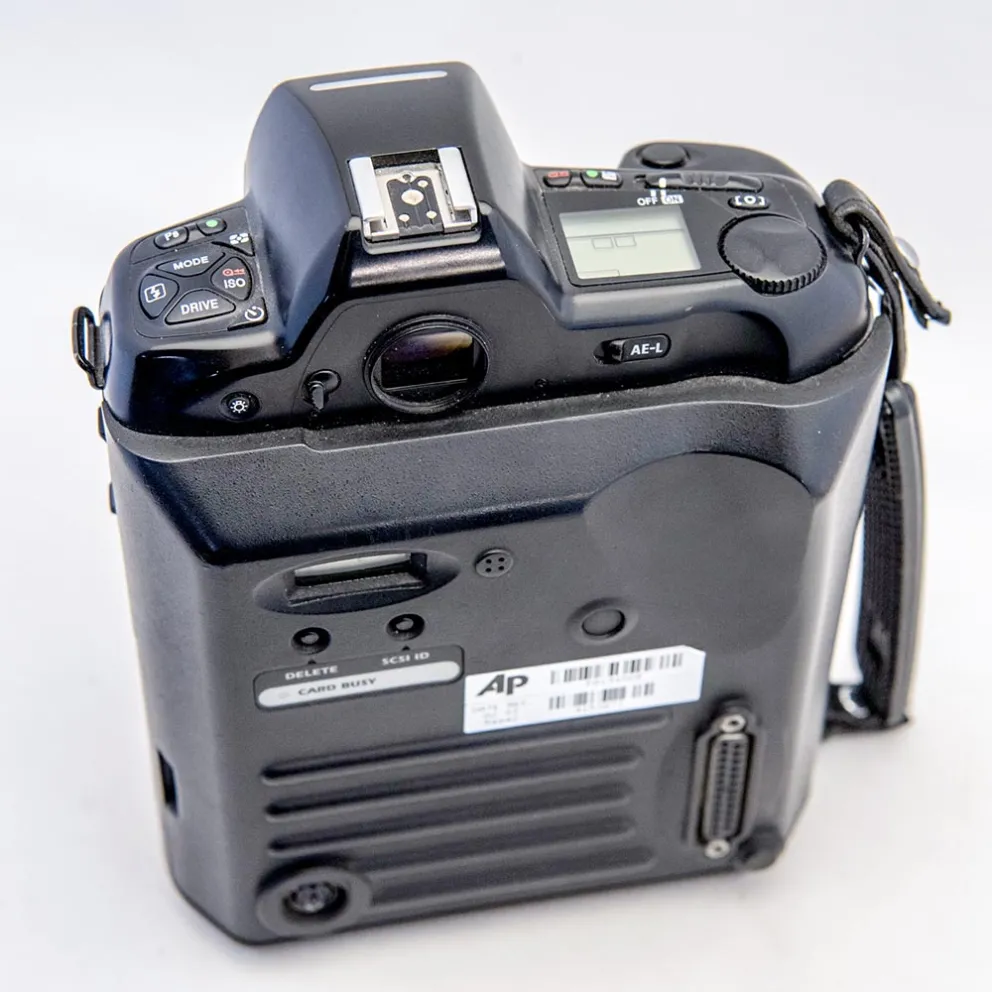 "My supervisor was aghast that I would take a $15,000 camera out of the building, afraid that I'd break it."
I remember the AP guys talking about it when this camera was just being produced. Photojournalists knew that digital was going to be the new thing but wanted a camera that was familiar & not a consumer toy. AP & Kodak developed this as a quick way into digital. There was an earthquake in Kobe, Japan and a photographer was sent over with this brand new camera & one Japanese phrase, "What's your name?". He would photograph survivors, ask his one question using the voice memo feature and could later identify people in the picture.
When Haiti was going through unrest in the late 80s, a lot of photographers were down there covering the news. Protesters were at the barricades & fences, threatening to push through. The film shooters had to leave enough time to race back to the hotel, process their film & scan wet negs for the wire services. The new DSLR users were able to stay on the scene, get the shot of the fences coming down & scoop the others with better news images.
A Detroit Free Press photographer told me he was covering a buzzer-beater basketball game where the coach's daughter made the winning basket. The two of them jump into each other's arms in celebration, guy gets the shot and sends the file to the sports desk. He's drinking a beer while the others are still waiting for their film to finish.
Early Cretaceous fossil, Canon D30
Ken Bennett, Wake Forest University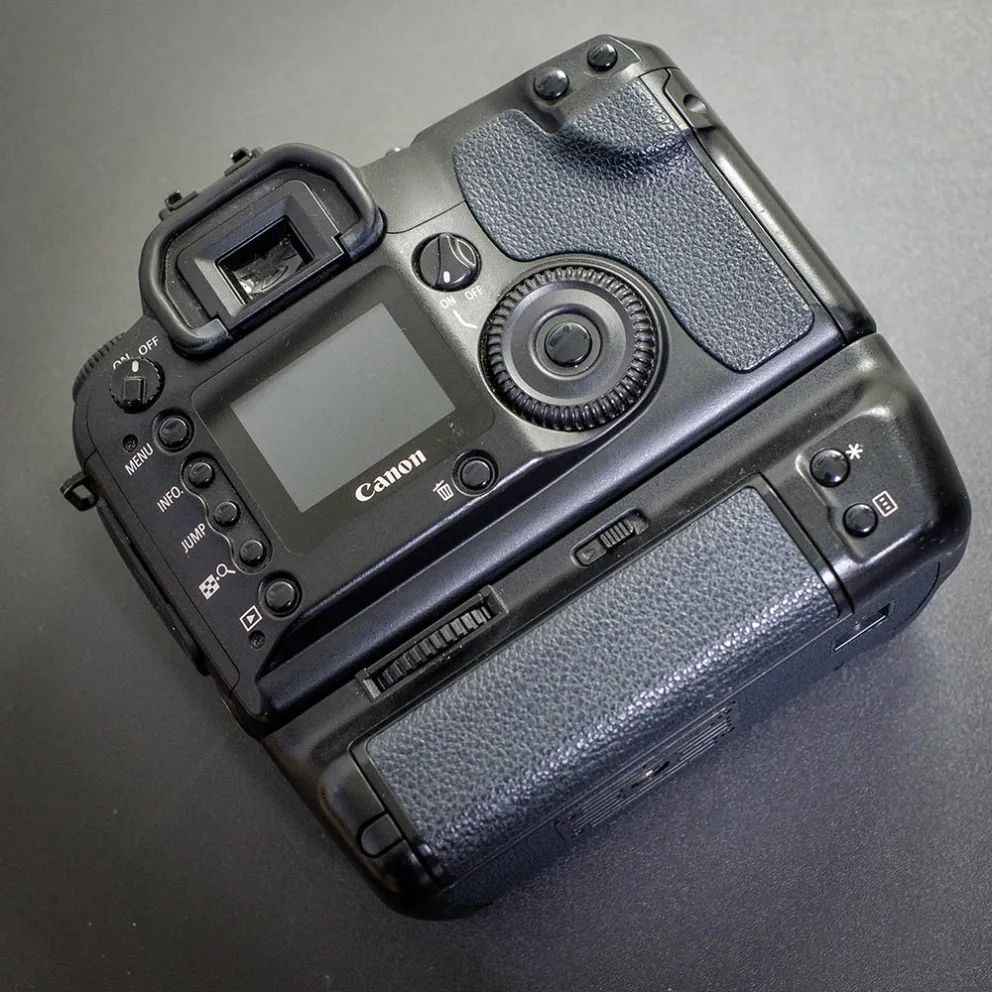 "Truly horrible autofocus performance."
We borrowed a pre-release D30 for the 2000 Presidential Debate. I thought I would shoot Fujicolor 800 for all the "real" photos and take a handful of images with the D30 for our web site. But I was blown away by the image quality of the D30 files - they were far better than the color neg photos, and didn't require scanning :)
We bought the D30 as soon as it was released, then a second one a few months later. In late 2001 the Canon 1-D came out and we quickly bought two of those, then in 2005 we got a pair of the 1D Mark II, probably my single favorite Canon digital camera. 
Late Cretaceous fossil, Nikon D1H
David Campbell, Alabama State University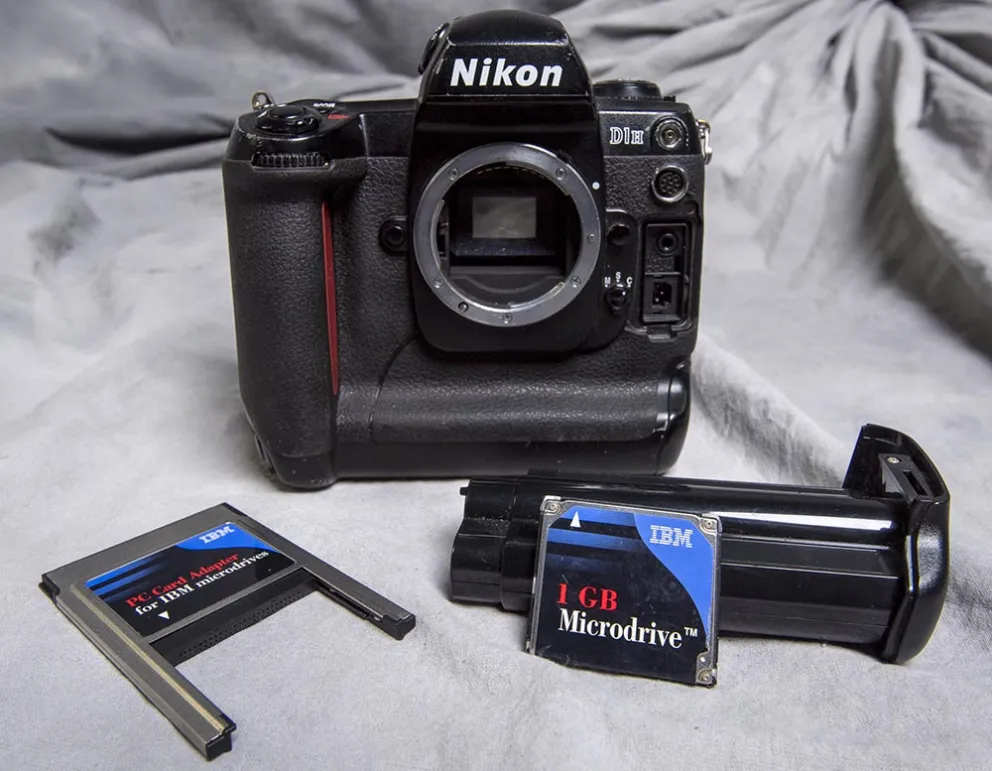 "Took 3 batteries to get through a ball game some nights."
When I started working at ASU I was shooting film, having it processed at a local lab and scanning negatives. The rest of the world was going digital, and when Nikon went from the D1 to the D1h I figured it was time we did also. Our fiscal year ends in October, and at that time we had to spend remaining funds in the budget or it wouldn't be funded as much the next year. So I wrote a proposal to purchase the new camera explaining in detail how it would pay for itself with the reduced cost of film and processing in a few months. I received a phone call from our department chair explaining that $4300 was way too much for a camera and we couldn't make that purchase. Then on the morning of the very last day before budgets were closed I was called and told to order it before noon, which I did.
Almost a year to the date, I received a rather frantic phone call from the same supervisor wanting to know why we had budgeted $16k for photography expenses and according to records I had spent less than $100. I brought up my digital camera proposal and she got quiet for a minute and said, "Man, you were serious about that weren't you?" I think she thought I was just trying to get a new toy.
I also remember well the day it arrived. Mail guy dropped it off in the AM and around 11:00 I had a phone call from the same supervisor. She said, "I heard that digital camera is here. Does this mean it's actually possible to take someone's photo this morning and have it emailed to a designer before lunch?" I said, "Yeah if the battery charges by then." The green light came on while we were speaking. Before even testing it out I was out on a shoot with it and got it done. My deadlines changed forever at that moment.
Thanks to the five authors for their contributions. Have a story or suggestion for the blog? Email editor Matt Cashore at mcashore@nd.edu