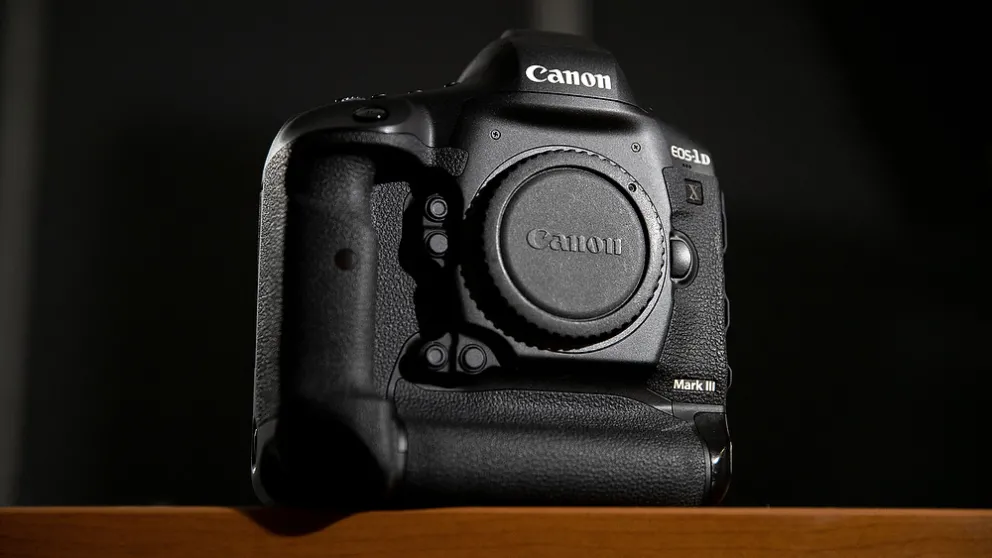 (photos and text by Jaren Wilkey except where noted) Jaren Wilkey needs no introduction but here's one anyway: Jaren is a husband, father of four, LDS bishop, Brigham Young University alum, manager of BYU Photo, a UPAA "Master of the Profession," past (and future) Symposium host, and 2011 UPAA Photographer of the Year. Since this is a camera review in 2020, an unboxing video is practically mandatory and you can watch Jaren's unboxing and initial impressions here.
The Canon's 1D series of cameras have always been professional level workhorses aimed primarily at sports, news and event photographers. But these are difficult times for camera manufacturers; the landscape has completely changed since the 1DX Mark II was announced in 2016. Many (including myself) have questioned the wisdom of releasing another 1DX now that the promise of mirrorless dominates our future. What does Canon have to do in order to entice buyers to invest in what is likely to be the final mirrored camera in their professional lineup?
To be completely honest, I fully expected for Canon to give us an incremental upgrade. All I expected them to do was improve a few key features such as autofocus and frame rate and call it a day. Now that I've spent 2 weeks using the camera and firing off over 20,000 frames all I can say is: Boy, was I wrong. Instead, the Canon 1DX Mark III is a bold attempt to combine the best of both the mirrored and mirrorless worlds into a cutting edge hybrid camera.
CFExpress Cards
A disappointment of the 1DX Mark II was that it had two different card slots, one for CFast 2.0 cards and one for Compact Flash cards. The whole point of dual card slots is to allow you to write to both cards simultaneously or to automatically jump from one card to the other when the first card is filled. That just doesn't make any sense when you are writing to two different card formats with different writing speeds, plus, if you want to use both slots you are forced to carry around two different types of cards.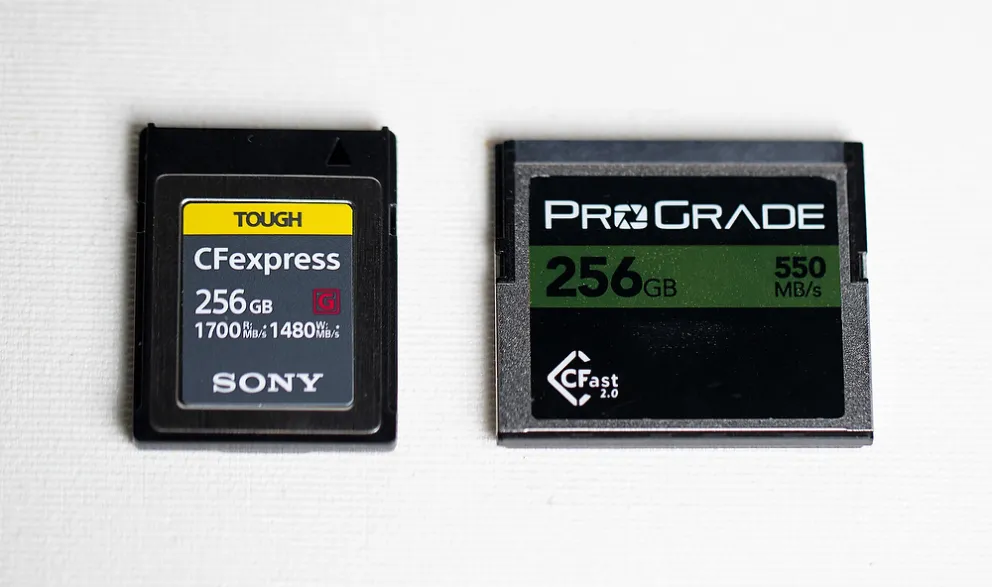 Left, Sony 256GB Tough CF Express, $429.99; Right, Prograde 256GB CFast $349.99
Canon solved this problem In the 1DX Mark III by giving us dual CFexpress card slots. While some may be upset about having to spend extra money on this new and somewhat pricey card format, you're going to have to trust me that it is completely worth it. I'm using several Sony CFexpress Type B Tough cards which have a maximum write speed of 1480 MB/s and a maximum read speed of 1700 MB/s which is 3 to 4 times faster than the CFast cards that  I was using with the IDX Mark IIs. 
These new CFexpress cards are amazing, I don't think I'll ever run into the buffer issues that I had with the Mark II. Canon promises that you will be able to fire 1000 Raw + Jpg photos without filling up the buffer--a huge improvement over the 190 images that it took to fill up the buffer on the Mark II. (190 photos seems like a lot until you have a punt return come back for a touchdown and your camera stops firing during the celebration because the buffer is full.)
In testing the Mark III I shot a continuous sequence of 138 images at a basketball game and as soon as the play was over I checked to see how many frames were left in the buffer and I was shocked to find that the whole sequence was already written to the card.
Of course this just intrigued me all the more. So, in the name of science, I did a torture test and fired off a continuous burst of frames to find the true limits of the buffer. After 2 minutes and 3 seconds of shooting I was afraid of melting my shutter and I bailed on the test. The camera ended up shooting 1,973 Raw + jpg photos and better yet, it didn't seem like it had to write any of them from the buffer when I stopped firing. The frame rate did seem to slow just a tiny bit once I passed the 1500 frame mark. When you run the math the camera averaged 16.04 frames per second for the entire test.

1DX MkIII, 100mm, 1/1000 @f2.8 ISO 6400. Buffer? Great. Dynamic range? Also great. Unfortunately the 1DX Mk III can't see through referees...yet.
Autofocus
Canon promised a completely redesigned autofocus system and I'm happy to say they delivered. They applied machine learning and taught the camera how to recognize and prioritize human faces and human bodies over non human subjects. It really does feel like a completely new autofocus system. Single point focus is quicker to acquire an initial focus and it does a much better job of tracking moving subjects.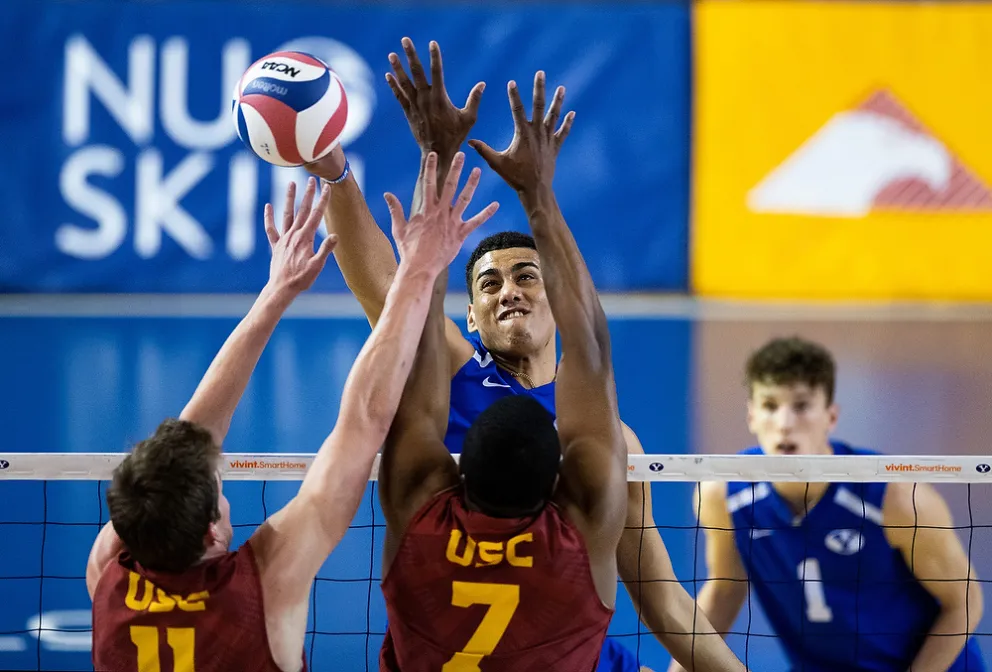 1DX MkIII, 400mm, 1/2000 @f2.8 ISO 6400. The Mark III's single point autofocus tracking shines during this volleyball match.
The new Zone AF with head tracking works better than I thought it would, but it probably still isn't fast enough for full speed sports tracking. It excels when shooting individual subjects and does a fairly decent job of tracking their head, especially when there are no obstructions passing through the frame. In situations when there were lots of subjects to choose from and multiple obstructions, it became common for the focus to jump to another subject. At our volleyball match, I noticed that when I was shooting blockers and hitters over the net that it had a tendency to jump off of the face of the player onto the tape on the top edge of the net. That being said, I think that it shows great potential and I need to spend some more time adjusting all of the variables in the menu to get the best results out of the camera. I also hope that this AF system will be updated and refined with future firmware updates.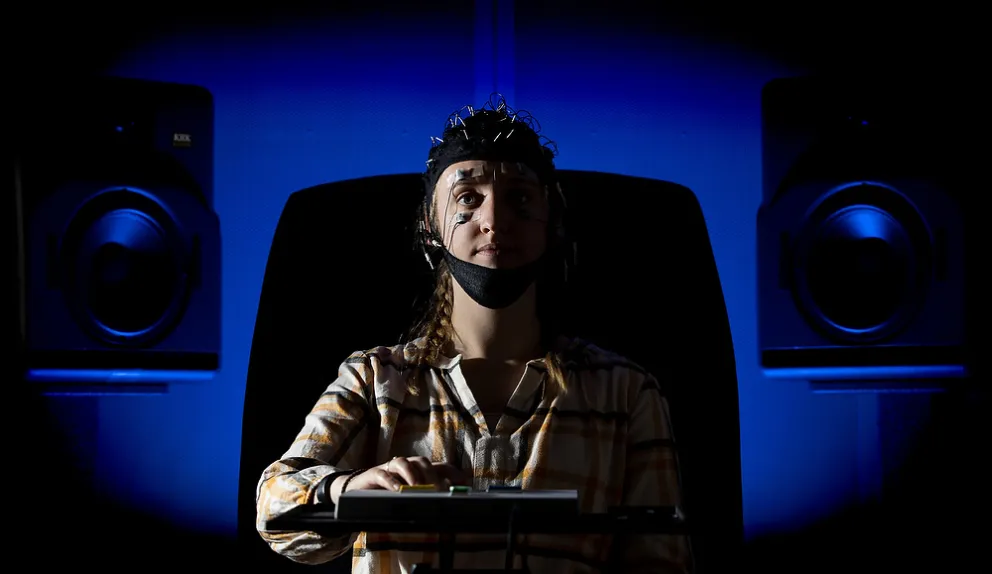 1DX MkIII, 90mm, 1/250 @f5 ISO 100. I used Zone AF to focus on her face while inside this darkened sound booth.
Another great feature of the new autofocus system is the new AF-ON Smart Controller. It is a larger AF-ON button than we had in the Mark II, but it also has a touch sensitive controller that makes it far more useful. Think of it as a mouse for your thumb. When you drag your finger over it you can change the position of the autofocus points. Out of the box you have to hit the AF point selection button to make it active, but you can set it up in Custom Controls so that the smart controller lets you move focus points around full-time.  You can also adjust the sensitivity of the smart controller, which does take a bit of time to get used to. For the first week I kept accidentally hitting it and changing my focus points, but now it is something I'm using all of the time.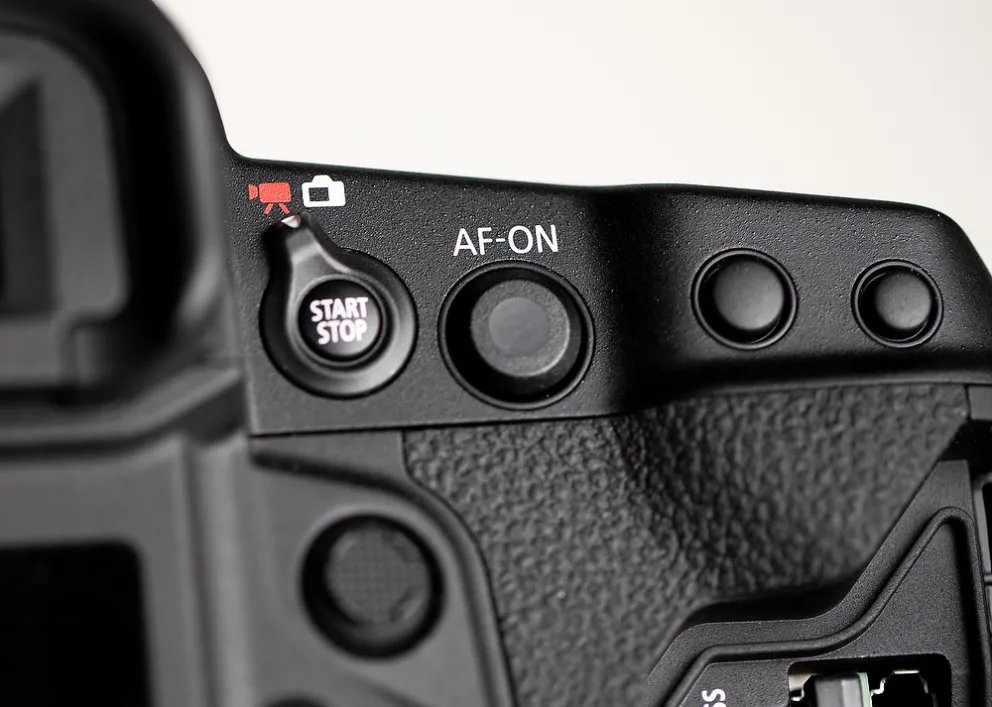 Not just a larger AF-ON button, it's a smart controller as well.
Autofocus is a difficult area to review, especially in just a few short weeks. People want to setup their camera to best compliment their shooting style and the conditions that they commonly work in. All I can say is that the 1DX Mark III autofocus modes have something for everyone and you won't be disappointed with its capabilities.
Live View
When you flip the mirror up and go into Live View mode it will look very similar to Live View on the Mark II. The biggest improvement comes from the having Dual Pixel AF over most of the frame. Head tracking seems to be quicker and more accurate, and for the first time in a 1DX camera you can utilize eye-detection autofocus. There is also a completely different menu to setup your autofocus for use specifically in Live View. The mechanical shutter fires at a blistering rate of 20 frames a second, or you can turn the shutter off and use the completely silent electronic shutter. When using the electronic shutter, you still see some rolling shutter, but it seems to be far less than the 1DX Mark II or the 5D Mark IV. You will also have to deal with some banding under artificial lighting, especially at higher shutter speeds.
The real question is can you shoot action in Live View? Without an electronic viewfinder it just doesn't make much sense to shoot sports in this way, except for certain key situations. I tried photographing part of a volleyball match in Live View and I quickly got frustrated by trying to follow the action and my arms got tired pretty quickly.
In Live View you can also use the camera as a remote with either the electronic or the mechanical shutter, at 20 frames per second. It would be great if we could disable the LCD screen when used as a remote to preserve battery life.
Wireless
Being able to FTP photos with a wireless transmitter is a huge part of our sports coverage and one of the main reasons we use the 1DX. The Mark III is the first 1D series camera to have a built-in wireless transmitter and we spent our first week with the camera testing it out. The internal transmitter only can only connect to 2.4 GHz networks, which does severely limit it. Our football stadium and basketball arena have public networks that only are available at 5 GHz. It seems that the built-in wireless is intended to help you to connect your camera with your phone or tablet, but you are also able to connect it to local wireless networks.
It was surprisingly more robust than I anticipated, but still limited in how you can use it in the field. During testing in our office I was able to FTP photos using my iPhone's hotspot from about 10-12 feet away. I sent photos from our wireless router while I was standing about 60 feet away. We then tried it out at several sporting events on campus. At a basketball and a volleyball game I was able to FTP photos via a hotspot, but it struggled--many of the images were truncated on our FTP server. It is clear that the built-in wireless transmitter can't handle the interference caused by a lot of other devices and networks, which I'm sure is due in part to the fact that there is no built-in antenna. We have a private wireless network set up at our volleyball arena and during a match with 4000 fans in the arena the camera couldn't send any photos on the network, even though I was standing 6 feet away from the router. If you need to FTP photos from Mark III during a crowded event with lots of interference, you can't depend on the built-in transmitter.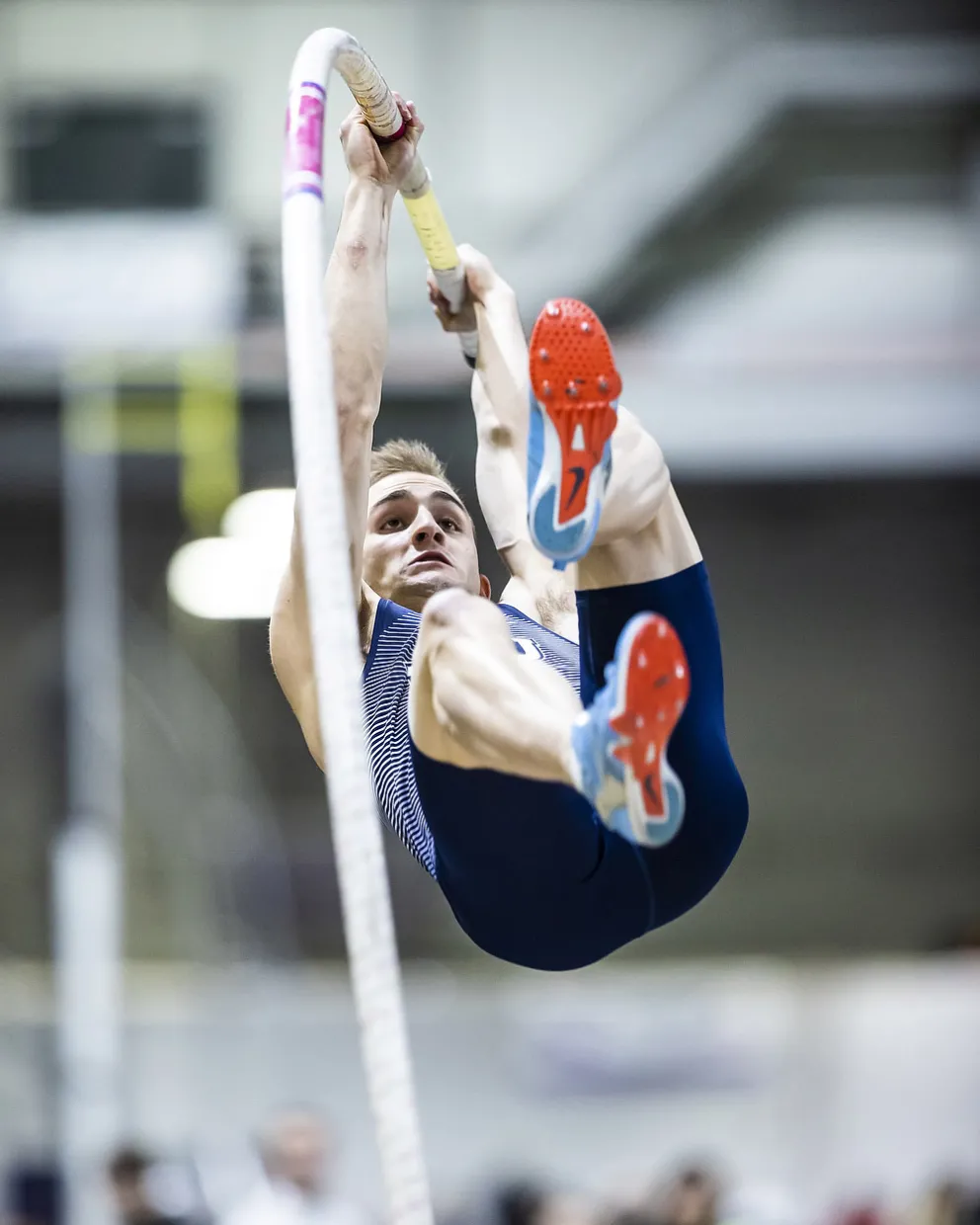 (photo by Nate Edwards) 1DX MkIII, 300mm, 1/1000 @f2.8 ISO 6400. Another example of the Mark III's single point autofocus coming through in a challenging situation.
A week after we got the cameras the WFT-E9A transmitters arrived at our office and we've been using them ever since. They work in the same exact way as the WFT-E8A did on the Mark II cameras, and have proven to be reliable. There are a few bugs though. I noticed that it takes several seconds to initialize a transfer on a hotspot vs a traditional wireless network. The WFT is a bit slower overall sending when photos via the hotspot vs the Mark II. I can't help but wonder if there are some firmware updates coming to deal with these issues.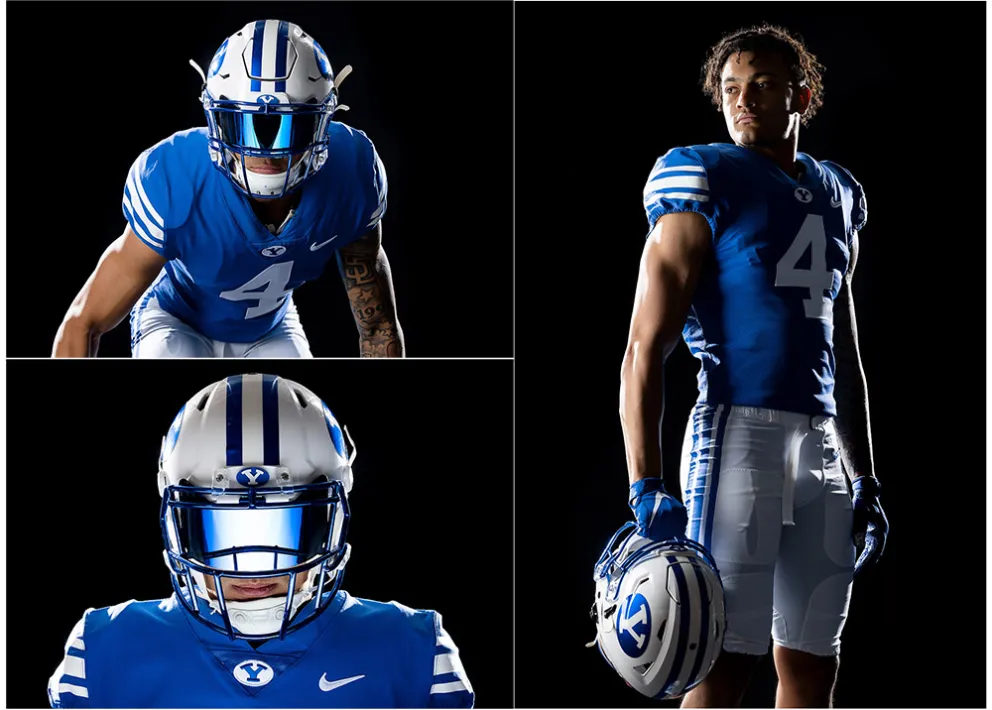 Of course the Mark III is an effective tool for the day-to-day demands of university photography.
One of the coolest new features for the wireless system is that you can now send 4k video clips via FTP. This is a game changer for those who are shooting video clips with the Mark III and need to get them posted quickly to social media. I was able to transfer a 10 second 4K clip (150mb) in about 20 seconds while working in our basketball arena. You can also trim longer clips in the camera and save them as new files, which will help with transmission times.
My biggest disappointment with the camera is that despite promises to make setting up wireless easier, they've actually made the process even more complicated. You now setup your wireless network connections (called Comm Settings) and destinations (called Function Settings) in different menus, each with 25 slots allotted for your presets. To actually use the system you need to pair the connection and the destination together in a new Connection Settings menu, which lets you save 20 preset configurations. I recommend that you first setup your network settings and destinations manually, then you pair them up together in the Connection Settings menu with the "Change from list" feature. That will let you choose your settings off of lists vs having to run the setup wizard for each configuration.
Now, once you have your connections and destinations saved, it is much easier to add additional networks because you only need to enter the new network information and not the destination. We're working on a video and a PDF walkthrough to help you navigate the setup process. Another nice feature is that you now have the option to enter connection information offline, so you can setup your camera before arriving at a location, provided you have the pertinent network and password settings. It is also much quicker to enter network information and custom settings names via the LCD touchscreen.
Video:
We shot a video with the Mark III last week, just a simple talking head for an upcoming piece on wireless workflow. The Dual Pixel autofocus seemed to be quicker at tracking my head when I moved around in the frame and it was more accurate than the 1DX Mark II. Eye tracking is also available when shooting videos, and it performed admirably. When my student editor looked at the footage in Premiere he was shocked at how much sharper the footage was straight out of camera vs the 1DX Mark II and the 5D Mark IV. Some will get this camera just for the video features, but I would suggest people wait for the Canon R5 if video is your priority.
Conclusion
There are a few other notable upgrades worth mentioning. The rear LCD screen has been upgraded from 1.62 million dots to 2.1 million dots, but the real upgrade is the the full-time touchscreen. I prefer pinching to zoom into photos rather than dealing with a button and dial combination. The touchscreen also makes menu navigation and input a breeze.
The new processor makes it possible to get increased life out of the LP-E19 batteries that we already have. And finally, the addition of backlit buttons was something that I didn't think I needed, until shooting inside a pitch black sound booth and I knew exactly where my buttons were.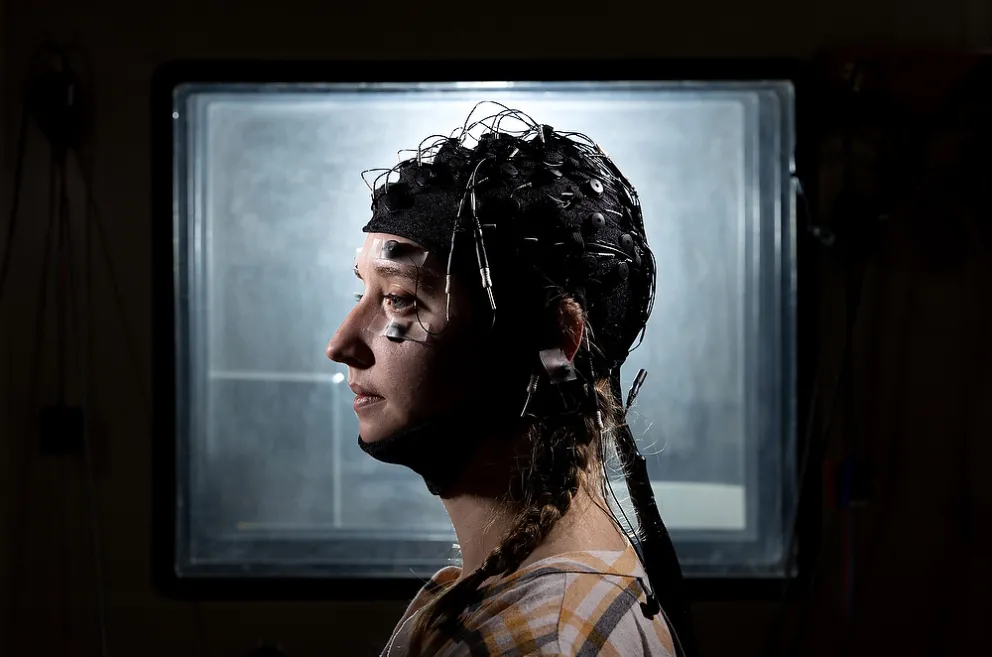 1DX MkIII, 50mm, 1/250 @f5.6 ISO 100. The backlit buttons make it far easier to work in the limited available light.
The Canon 1DX Mark III is more than a worthy successor to the 1D badge. If you are a sports photographer you will love this camera. I'm really impressed with how Canon completely rethought their approach to autofocus and how they were willing to import so many features from their mirrorless lines into this camera. In fact, you could look at this camera as a bridge between Canon's mirrored past and their mirrorless future.
____________________________________________
"What do you call an unpredictable camera? A loose Canon!" Thanks for reading the blog. Got an article? Idea? Feedback of any sort? Send your darts and laurels to Matt Cashore, mcashore@nd.edu. Follow UPAA on Instagram, too!