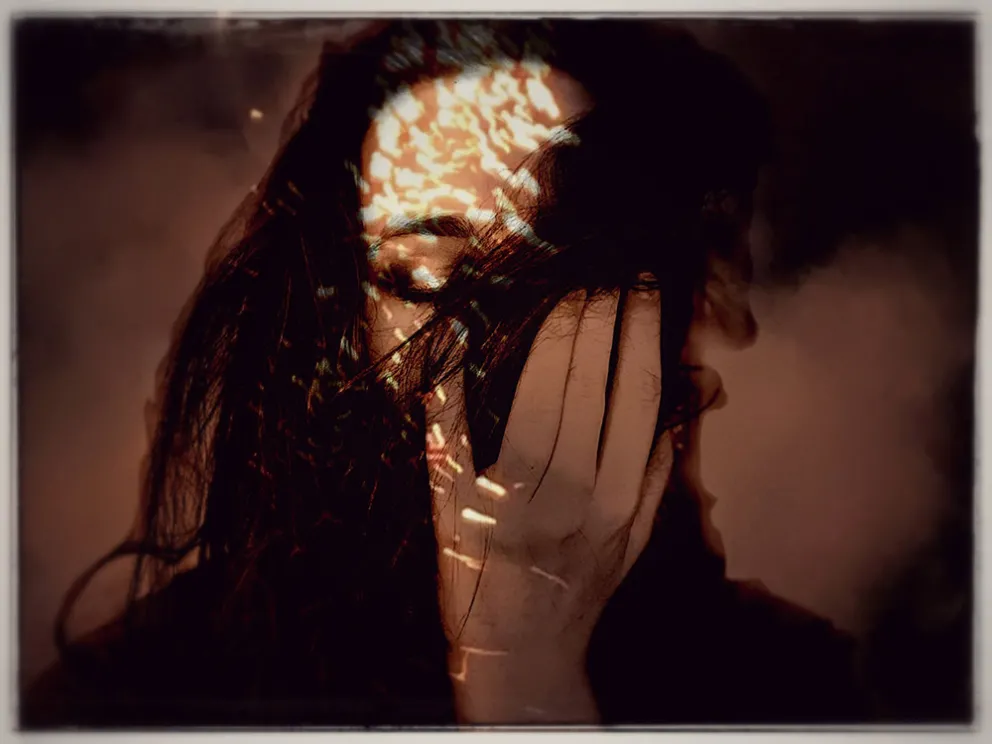 (photo by Brittany Gryder) The title of this article is a quote from Phyllis Graber Jensen's project at Bates College. "I realized that sitting in my kitchen eight hours a day shouldn't end my life as a photographer of students," said Phyllis. As university photographers found themselves looking at empty campuses, or were prohibited from being on campus at all, many of us did the most natural thing we know: Continued to make pictures. For some that meant campus, others turned to family or personal projects. Brittany Gryder of Texas A&M University-Commerce began doing multiple exposure self-portraits, as seen above. Here is a look at how a dozen UPAA members dealt with the new reality during the Coronavirus pandemic.
Karin Higgins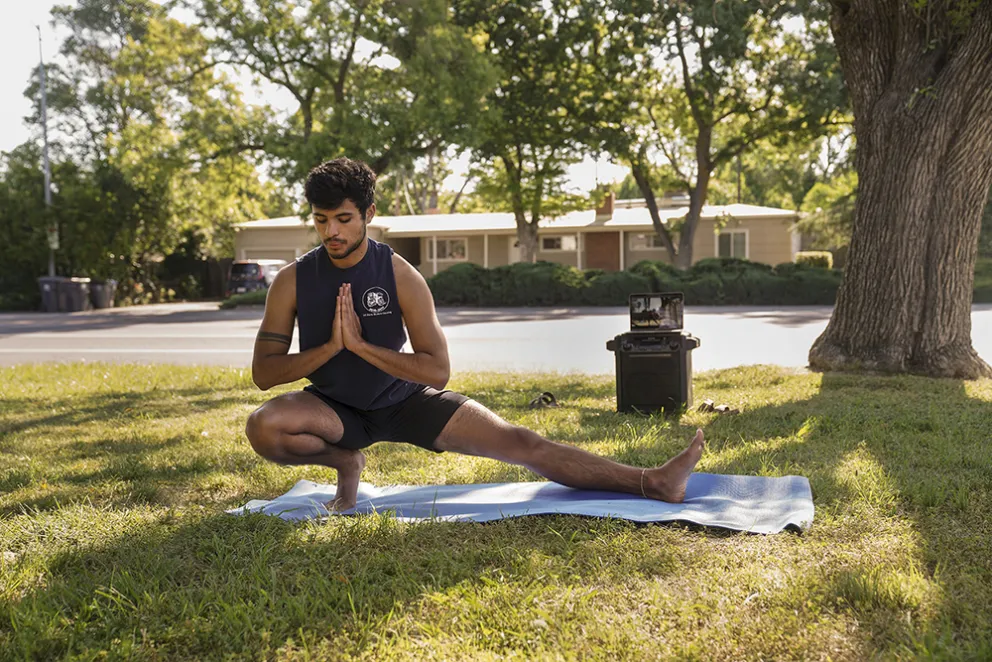 Since the shelter-in-home order in our state, I have been working from home with minimal photo assignments. Most of my work has consisted of helping others find photos, editing, etc. with an occasional assignment. Most of the work I saw coming out of our campus was informational and I wanted to work on something that addressed the emotional aspect. With the popularity of porch portraits all over social media, I thought we could do our own spin – photographing our campus community (staff, faculty, alumni and staff) engaged in an activity that is helping them pass the time and/or cope during the pandemic. Each photo will be published with a quote from the person/people photographed. This project will be published on a website soon and possibly our alumni magazine.
On a non-work note, I am making sure to document family life during the pandemic to put in a photo book as a sort of visual journal.
-Karin Higgins, principal photographer, UC Davis Strategic Communications
Jay Drowns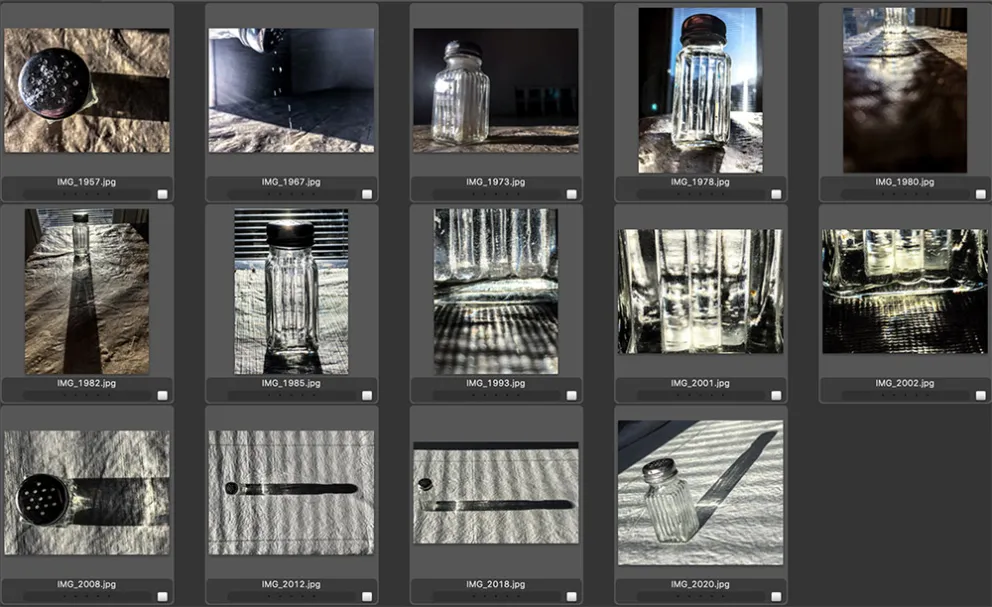 As a department, we chose to do daily or almost daily training. Starting with the Master Class by Jimmy Chin we watched the course together via MS Teams. After discussing thought and questions prompted by the tutorials we chose challenges/assignments listed in the workbook. We didn't do one every day. It was closer to twice a week. Although simple in nature the assignments were a great creative outlet. 
In the past weeks we have not only been able to share professional development but we also have come to know each other better. Each person picks an object for someone else to photograph. You have twenty minutes to make 20 unique photos. August Miller gave me a salt shaker as my object to photograph. I spent too much time trying to capture the salt as I shook it and only made 14 unique compositions. By unique I mean I shot several iterations of each of the 14 compositions.
-Jay Drowns, manager – photography, UVU Marketing & Communications
Sam O'Keefe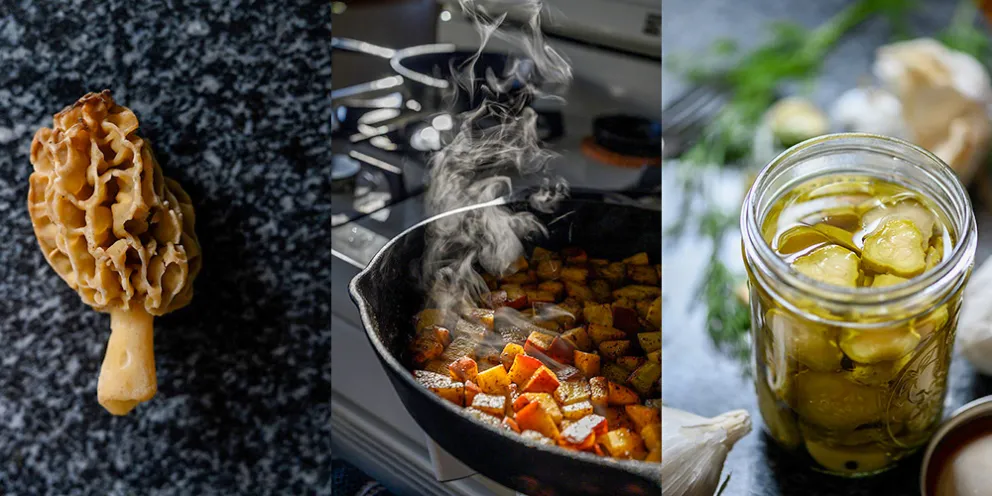 Eating is my favorite hobby. I learned to cook watching my mom when I was younger and I taught myself how to cook when living on my own in college. These days in our home, we are passionate about knowing where are food comes from and the quality of ingredients we eat. We have a vegetable garden and buy food that aligns with our principles.
So naturally, food photography has become my personal project over the last year. On campus, I make the photos for our campus dining service which I enjoy because I get to make highly-processed "food-like substances" appear delicious and edible. The practice staging and lighting food makes it more rewarding the days at home when I am motivated to photograph the food we believe in. Homemade pickled cucumbers straight from our garden, wild foraged morel mushrooms, wild-caught salmon or local grass-fed roast beef.
-Samuel O'Keefe, photographer, Division of Student Affairs, University of Missouri
Meredith Forrest Kulwicki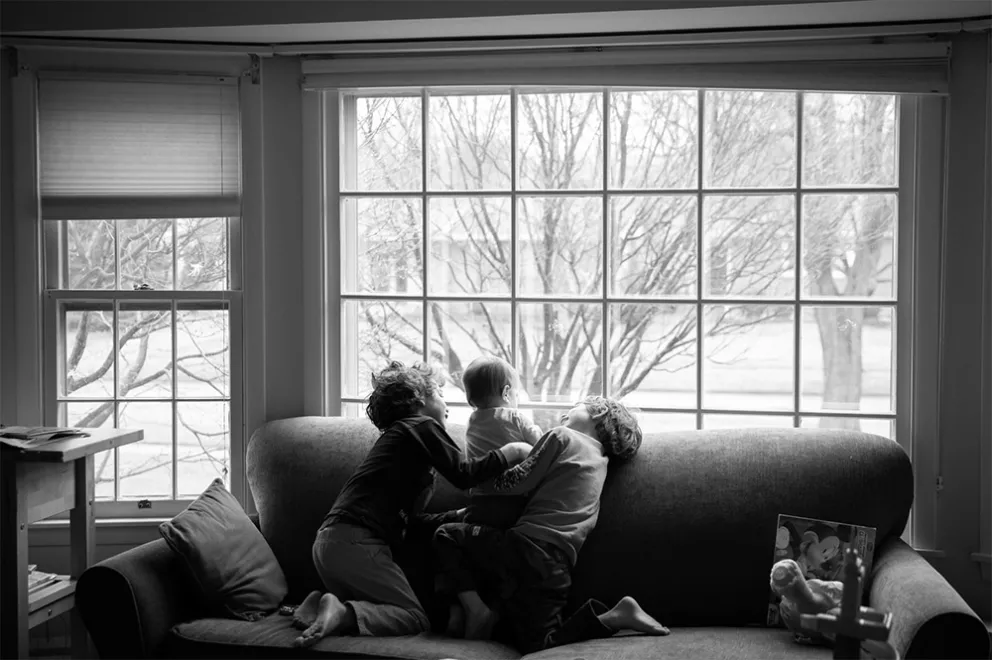 I'm a mom to three young children, ages 19 months, 5 and 7. I started my own daily photo/blog series and have been publishing it 
on my personal website
. 
It went well for the first 6 weeks, but now I'm finding it a little harder to keep up. I'm currently behind about three days. That said, I have made a few photos I'm really pleased with.
-Meredith Forrest Kulwicki, photographer, University at Buffalo
Brian Blalock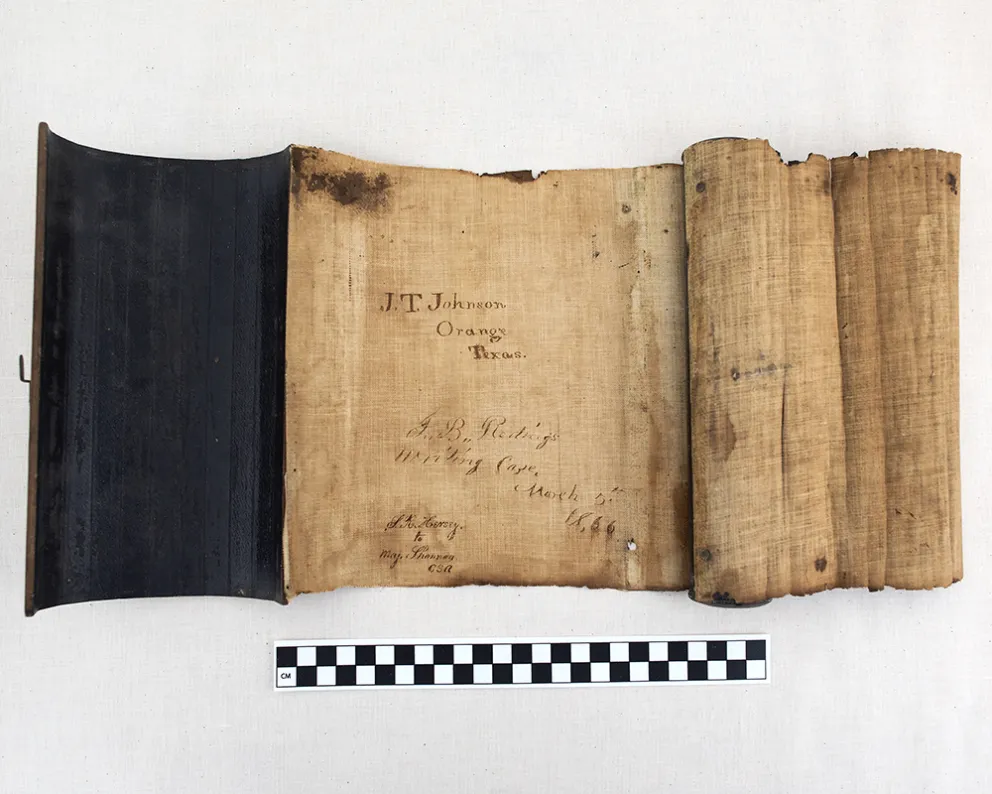 Around a year ago I was approached by the curator at the Sam Houston Memorial Museum about helping with photography of the items in museum's collection. Most of the items are not on public display, but are part of the overall collection. A number of the items were from descendants of Sam Houston and were donated to the museum.
For us at Sam Houston State University things started getting cancelled during our Spring Break in early March. As my schedule for the rest of the spring semester went from full to empty, I realized I needed something to do.  I called the museum curator about our previous conversation and he agreed now was the time to get the project rolling.
We set up a small photo area in a back room near the collection's vault. With the help of the assistant curator we started to work. Through the remainder of March, I shot around 900 different images of the collection. There was lots of china, glassware, jewelry, silverware and other items such as old pipes and medical equipment. Eventually the stay-at-home orders forced us to temporary shutdown. We are planning re-start the project after Memorial Day.
I was grateful to have this project during quarantine time because it gave me lots of photos to edit at home. One of the coolest things I photographed so far was a portable writing kit from the 1860s. 
-Brian Blalock, photographer, Sam Houston State University
Andrea Mabry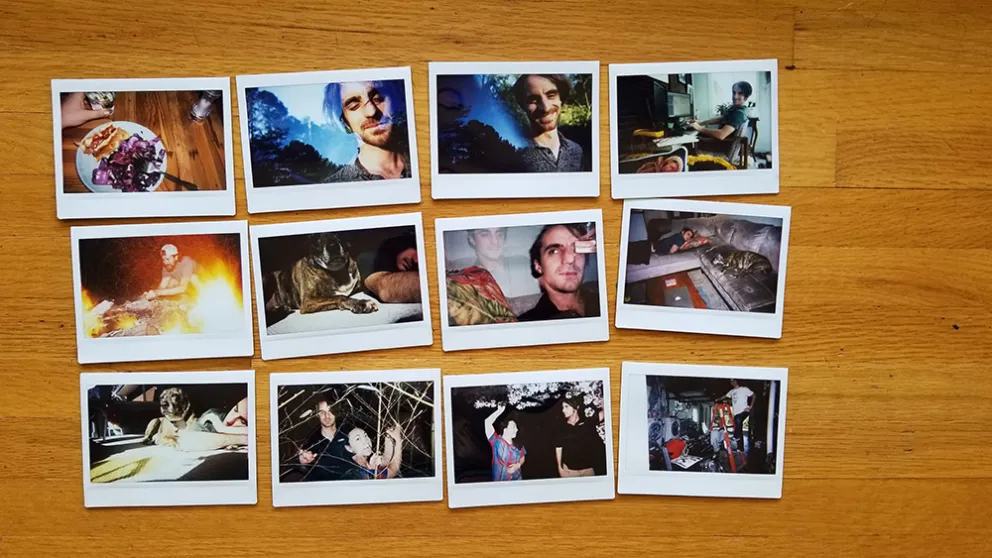 My boyfriend bought me a Lomo'Instant Wide for my birthday in December, and we (mostly I) have been making a quarantine journal of sorts with the instant photos. We were supposed to have a housewarming party on March 14, so I had bought a ton of film for it. Initially I was sad thinking about the film that was supposed to have so many of our friends' faces on it, but then I realized how convenient it was having all that film lying around. 
It's been a great source of delight because there's not much pressure to perform, and also no work to be done after you press the shutter. I've been very aware that although life is full of the mundane right now, it'll be something we'll look back on in several years and want to remember. It's also kind of nice to revel in how mundane it all is! And I think this is a fun way to document the time. Most of the photos are of my boyfriend, my dog, and the food we've been eating.
-Andrea Mabry, digital media specialist, University of Alabama at Birmingham
Brittany Gryder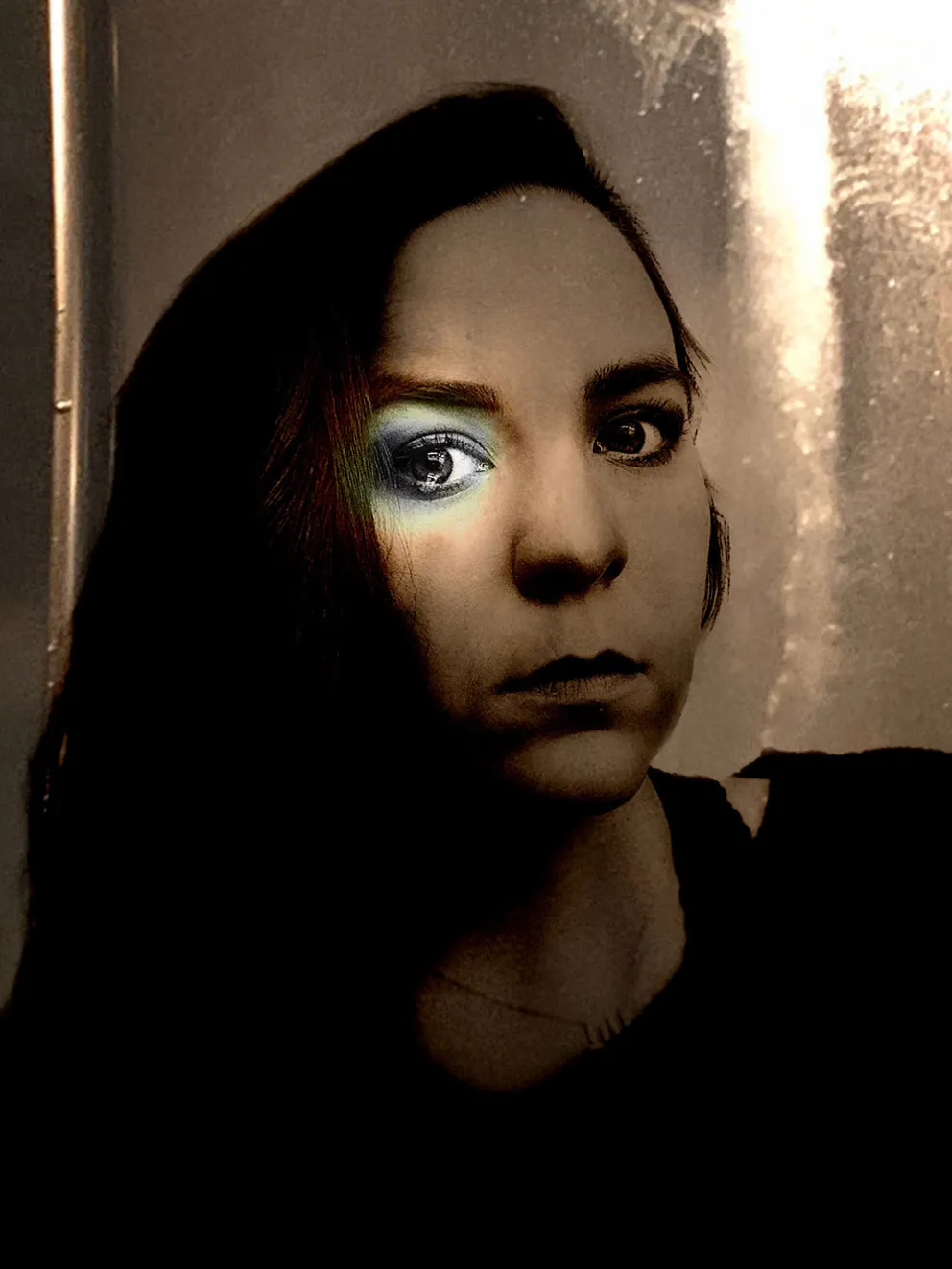 The past year, I've been on a journey of getting to know myself more, figuring out who I was outside of what I thought everyone wanted me to be. When the pandemic came, that was amplified… so was my anxiety that I went through years of ignoring. By the recommendation of my doctor, I started Lexapro. Gosh! That helped an incredible amount, but I still had pent up energy inside of me that needed to come out. When all of that collided, I decided to start taking self-portraits and experimenting with multiple exposures. It's helped me to feel more freedom in who I am, experimenting with my image, and it's helped to release all of that pent-up energy; I can breathe now.
-Brittany Gryder, lead photographer, Marketing And Communications, Texas A&M University-Commerce
Laura Lyon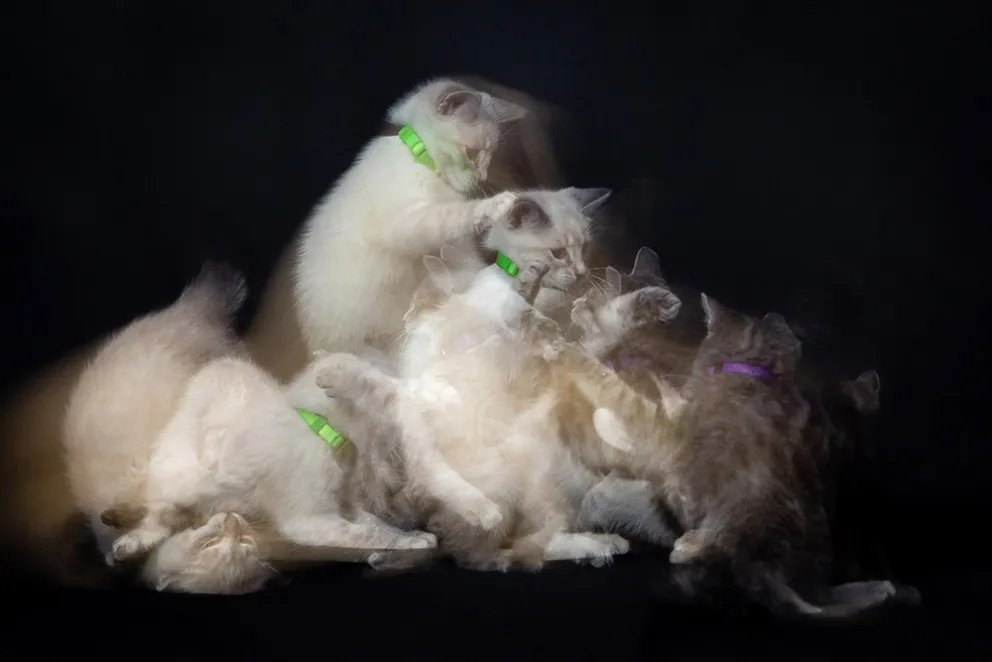 We started fostering kittens last November and are constantly amazed at their energy levels. For them, everything is a toy and every piece of furniture is part of an obstacle course. How do you showcase the psychotic momentum unique to kittens in still photography? One perk of my Godox Ad600 pro kit is its ability to fire multiple times in one shot, so I decided to put them to work creating multiple layers of psychotic kitten energy all in one image. This is a work in progress that I hope will become a polished, completed series. It also serves as a unique way to document all the balls of fluff that come through our door.
-Laura Lyon, staff photographer, Innovative Education, University of South Florida
Ken Bennett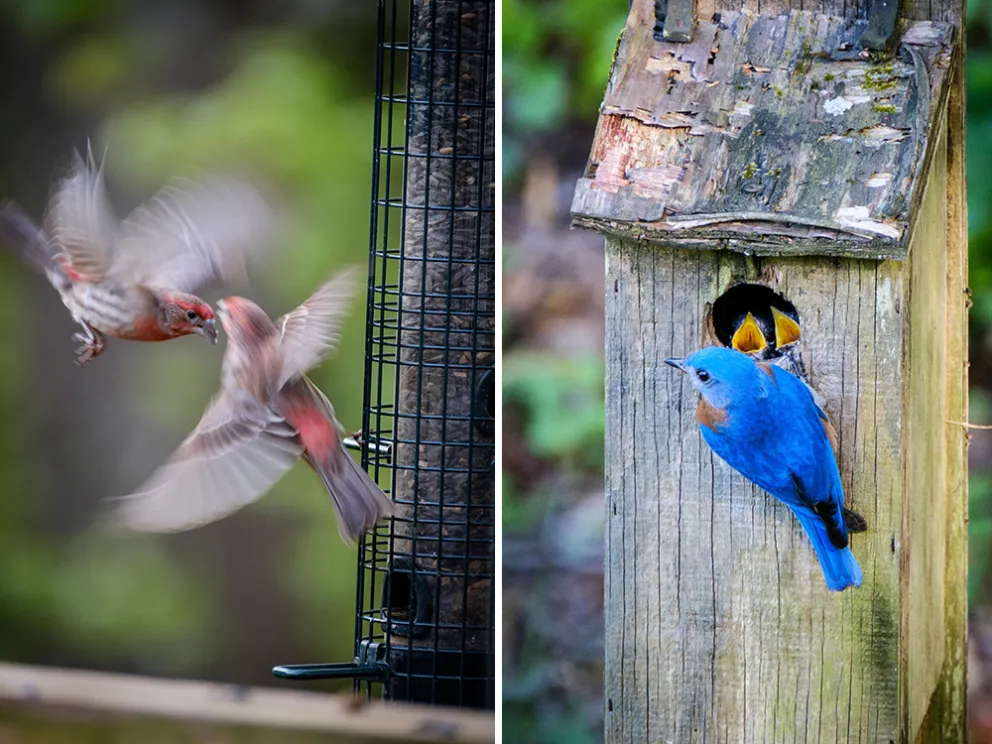 My wife and I were sent home a day apart, mid-March. We're both birders and we've always had feeders, but of course not much time to watch them. I realized after a couple of weeks that (1) there were a lot of birds out there, and (2) I had my 100-400 at home. So I started photographing birds at the feeder, which became birds in the yard, then "bluebirds in the box," etc. It's been very challenging as it's not my normal kind of work and those little buggers move fast. But it's been fun and it lets me keep making photos. 
-Ken Bennett, director of photography, Wake Forest University
Phyllis Graber Jensen

Sheltering at home, I discovered how photographers in a variety of places responded to their newly ordained isolation: a fellow UPAA member had begun creating Zoom portraits; a UK wedding photographer had started booking FaceTime portraits; and Jeremy Cowart had designed a virtual studio portrait series.
I realized that sitting in my kitchen eight hours a day shouldn't end my life as a photographer of students. I then watched quite a few instructional videos and read first-person accounts online of other photographers who had embarked on similar journeys. Finally, using my iPhone's Facetime app, I tried out a few test runs with out-of-town relatives and colleagues. Our social media director suggested "COVID-19 leads to a loss of control for photographers" as a fun hook for a story that explores how someone who likes to direct has to yield control in the virtual portrait process.
To add a note of poignancy, I decided to focus exclusively on graduating seniors, offering them an opportunity not only to choose their environment but also to reflect on the meaning of these last weeks in their unanticipated displacement. Their insights provided a wonderful complement to the pictures. Those who participated seemed to enjoy the experience. So did I as the photographer.
The project
gave me a final chance to connect on a deeper level with these 10 students, whom, sadly, I won't see again anytime soon.
-Phyllis Graber Jensen, director, photography and video, Bates Communications Office, Bates College
Matt Cashore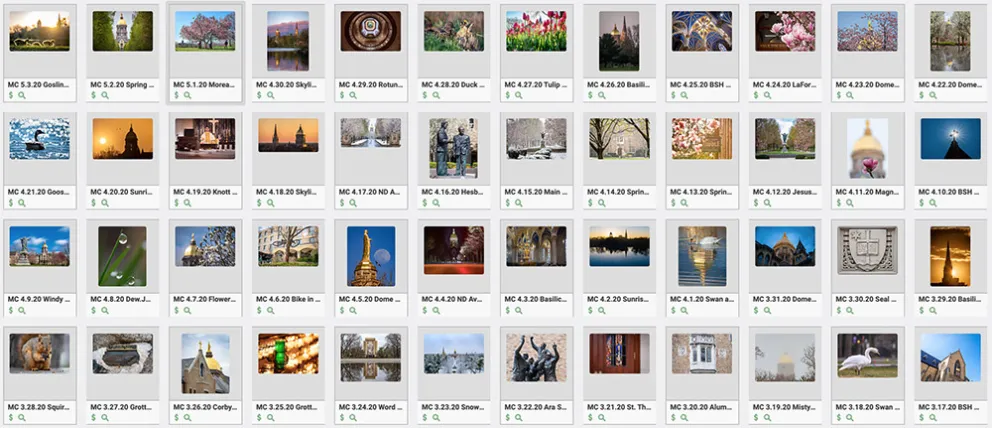 It was St. Patrick's Day when reality hit like the proverbial ton of bricks: The campus closure was at first officially only through mid-April, but in that moment I knew viscerally the school year was over. The cruel irony was that it was an unseasonably pleasant day when the campus would usually be bursting with students in full St. Patrick's Day revelry. I decided on the spot to begin a daily social media photo feature to both keep myself engaged and to maintain a connection to those who couldn't be on campus for the daily changes in weather and scenery as northern Indiana slowly shakes off winter. I've used the hashtag #APhotoADay on
my Twitter account
and the response has been both calming and motivating in this most unusual time.
-Matt Cashore, senior university photographer, University of Notre Dame
Steven Bridges
I am taking a break. I push hard enough when school is in. Right now, I am using this as a recoup period.
-Steven Bridges, photographer, The University of Tennessee, Knoxville
__________________________________________
Email editor Matt Cashore, mcashore@nd.edu with suggestions, stories or feedback. Thanks for reading the UPAA blog.