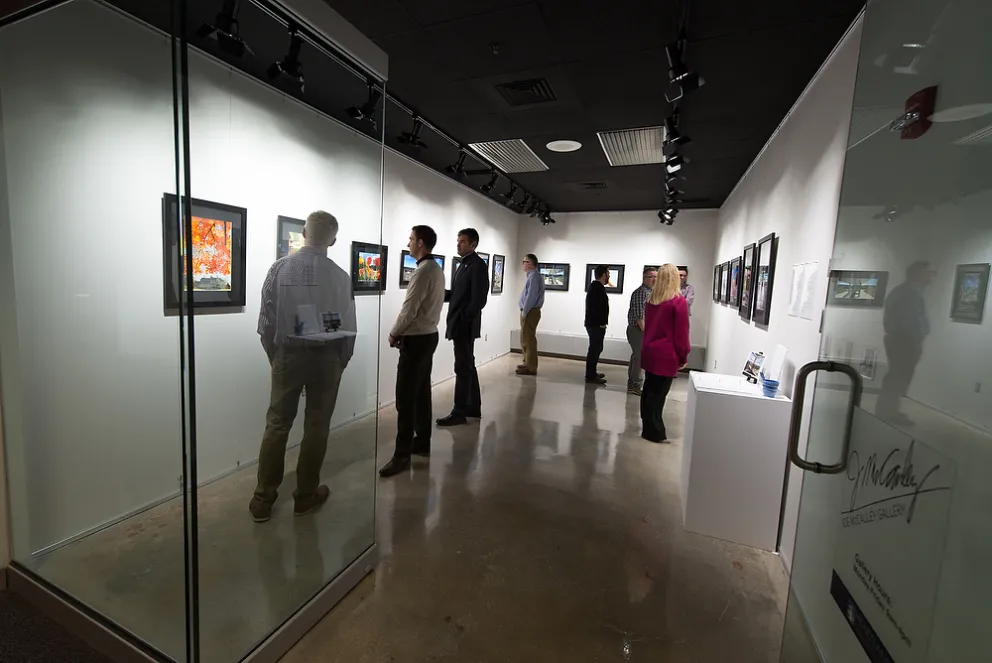 "While widely published in digital and print formats, View Finder presents my work, for the first time, solely as individual, stand-alone photographs."
Lyndsie Schlink is Senior Photographer at Illinois State University. She recently organized a gallery show of her work. She describes the process of editing 15 years' worth of images into a 15 print exhibition. (Photos and Text by Lyndsie Schlink)
The Exhibition Process
I can often be seen harnessed to the roof of a residence hall, flying in a plane with no door, or on the sidelines of a football game looking through my viewfinder to capture that next great shot to promote Illinois State University (ISU). I am the View Finder for ISU and the namesake for the gallery exhibition at the Joe McCauley Gallery at Heartland Community College.
In the fall of 2017 I was approached by Danell Dvorak, the coordinator of the Joe McCauley Gallery at Heartland Community College, about doing a photography exhibition at the college. Danell has seen me grow from a grade-schooler attending summer community art classes to the fine artist and photojournalist I am today with over 15 years in the field. As an alumna of the college and a former student of Joe McCauley I feel blessed to have this opportunity to showcase my work in the gallery.

Left: Lyndsie Schlink and Danell Dvorak, right: the show in the Joe McCauley Gallery
When it came to curating my work, I was thankful to have Danell leading the way as she had a vision for the exhibition. "I was looking primarily at a photograph as a photograph," Danell says. "Lyndsie's been so closely tied to the people she works with and the assignments. All of her work is outstanding, but certain photographs to me have that same element that you would have in a painting; principles of design, formal elements that are just striking. So, when you see that it [the photograph] has this resonance that says image and not just object for advertising or promotion, I feel that's important to celebrate."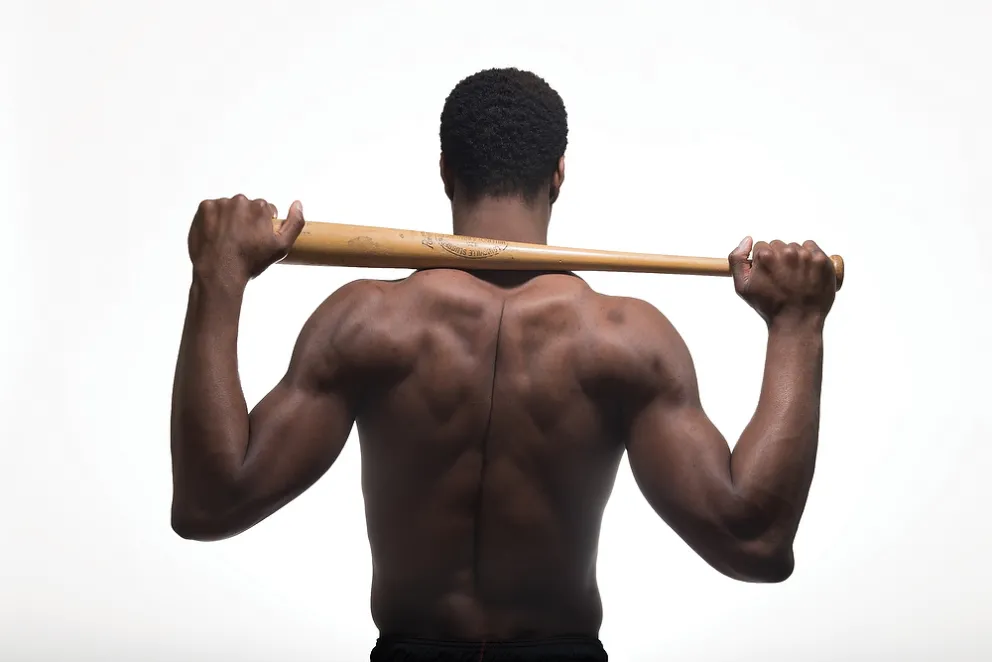 The photo selection process started with about 500 images I selected from admissions shoots, calendar photos, and publication shoots. From there it was a back and forth process working with Dannell as she worked to make comparisons based on subject matter, color, and other elements between imagery to create the proper flow through the space. We exchanged images via email for several months until we decided on 17 images for the space.
The photos were printed on copy paper and arranged and rearranged on the gallery floor until we had a good flow.
Next, one of our graphic designers made the images print-ready, and once I had the prints in hand, my mom and I put everything together with black frames, custom cut glass, and pre-cut black mattes with a white bevel cut for final framed sizes of 16x20, 18x24, and a full bleed for the 12x36 panoramic print.
When it came to move-in day of the framed images the photos ended up getting arranged again and reduced from 17 prints to the 15 prints you see today. Two of the images that didn't end up in the gallery are shown in a 6-foot glass display case in the college's library along with sample publications illustrating how the gallery images were used in print publications.
On February 21, we had an artist reception with a record number of 107 attendees and so far, two images have been purchased.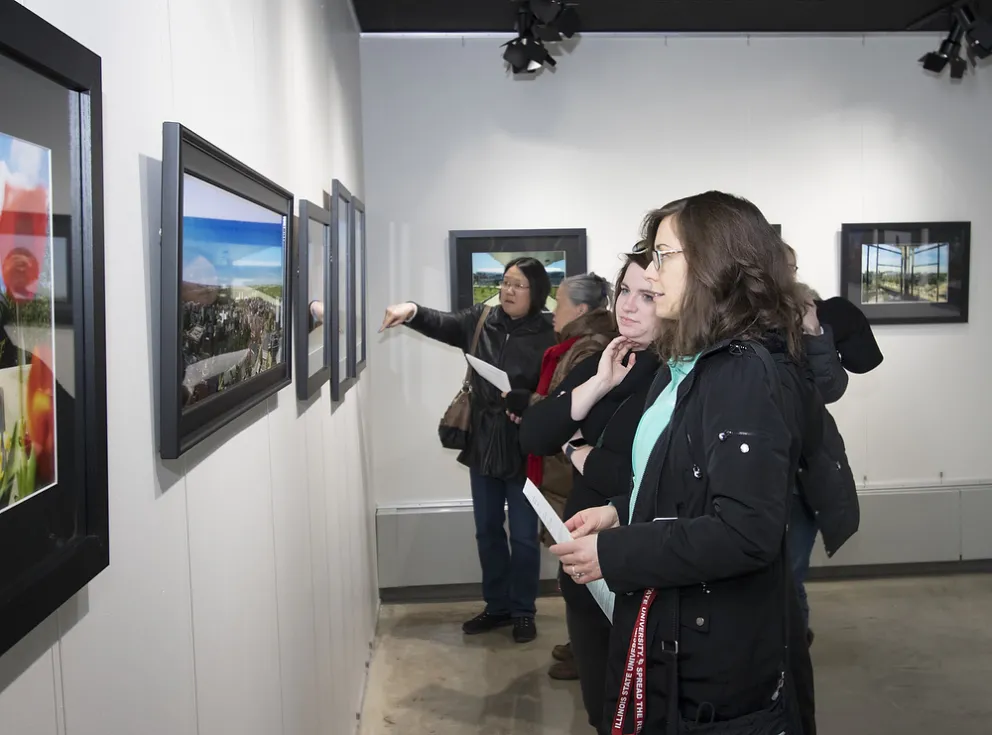 "The process of selecting and editing photos made me realize that I need to spend much more time doing publication work and self-assignments, and a lot less time photographing events. It also made me rethink other opportunities I might be missing that could lend themselves to creative exploration."
Upon completion of the exhibition at the McCauley Gallery on May 4 the photos will travel to ISU's Milner Library to be displayed on the main floor June 5-August 30. The exhibition will be curated again to include more admissions-focused photos with more students as it will be up for Preview and Passages and the first few weeks of the fall semester when prospective and current students are on campus.
The Images
This selection of my photographs highlights my background in both fine arts photography and photojournalism. Shot during my career as the senior photographer at ISU, the photos in View Finder convey my compositional and framing skills, capability of story-telling through images, and practice of using minimal post-production image editing. While widely published in digital and print formats, View Finder presents my work, for the first time, solely as individual, stand-alone photographs.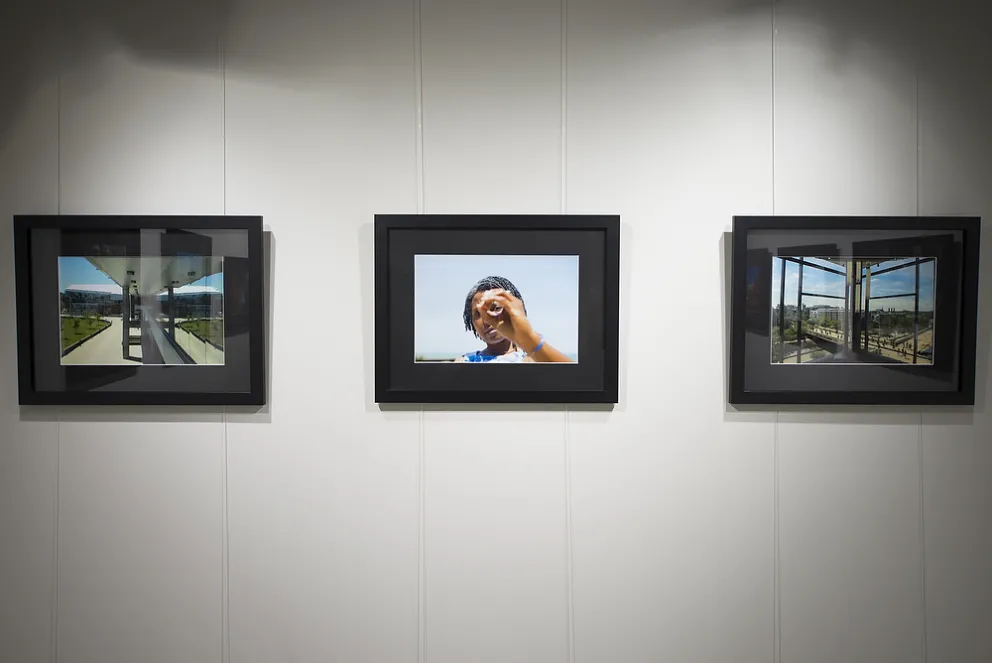 The back wall of the show
 "The back wall has a visual rhythm of in and out push-pull feel with a similar concept to looking through the viewfinder focusing in or out on your subject through your viewfinder," says Dvorak.
The three images are, at left, a photo of the Student Fitness Center seen from a second-floor perspective reflected in the glass window walkway; center, a photo of an African American female poet on a beach who's looking with one eye through her hand that she's formed into her own viewfinder to alter her perspective; and at right, the show card image, of students walking to the first day of classes across the ISU walkway over College Avenue looking out through the geometric pattern of the diagonal window frames coming together on the library's second floor.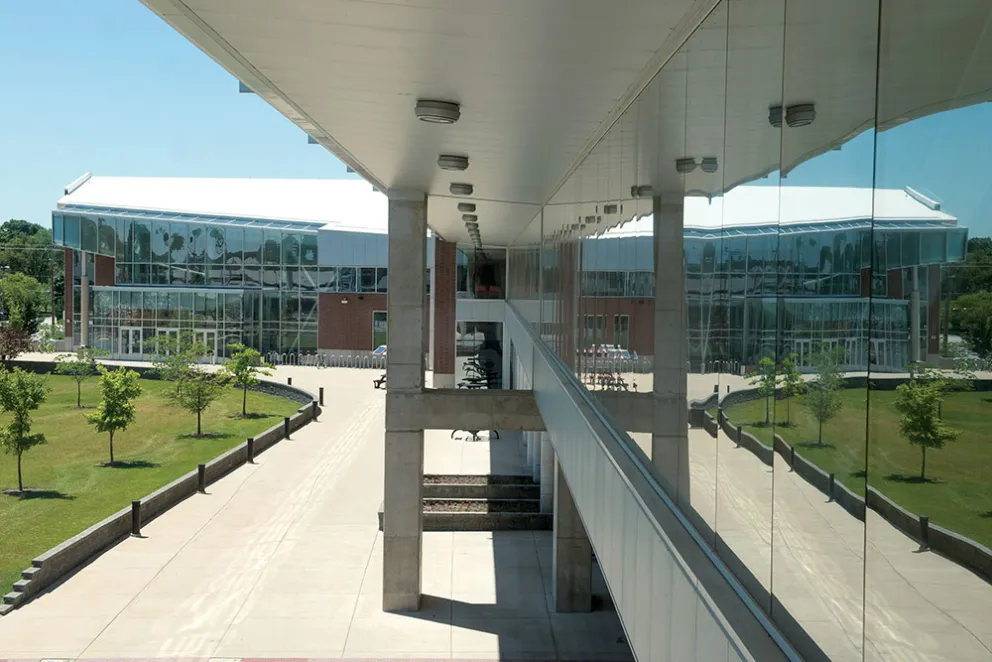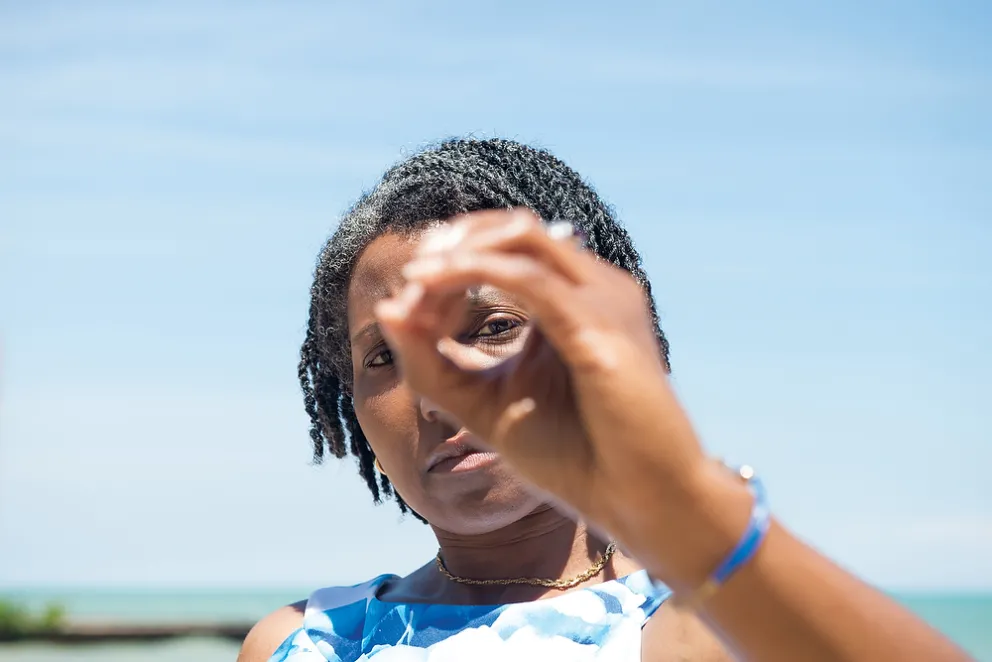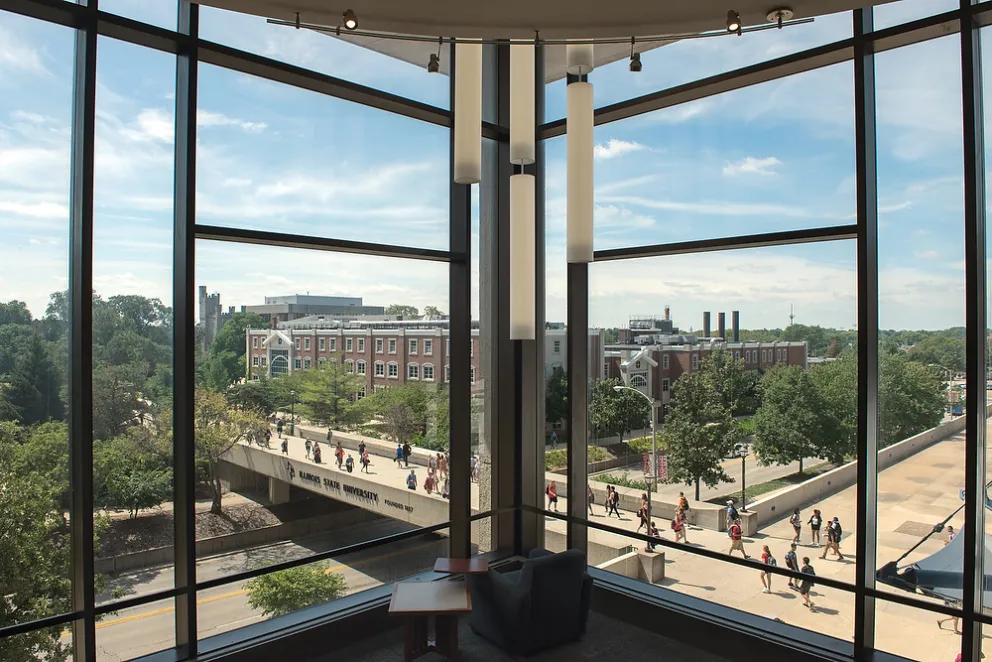 Other images in the gallery include seasonal calendar shots of campus, portraits of students and alums from magazine covers, and candid shots of students on campus.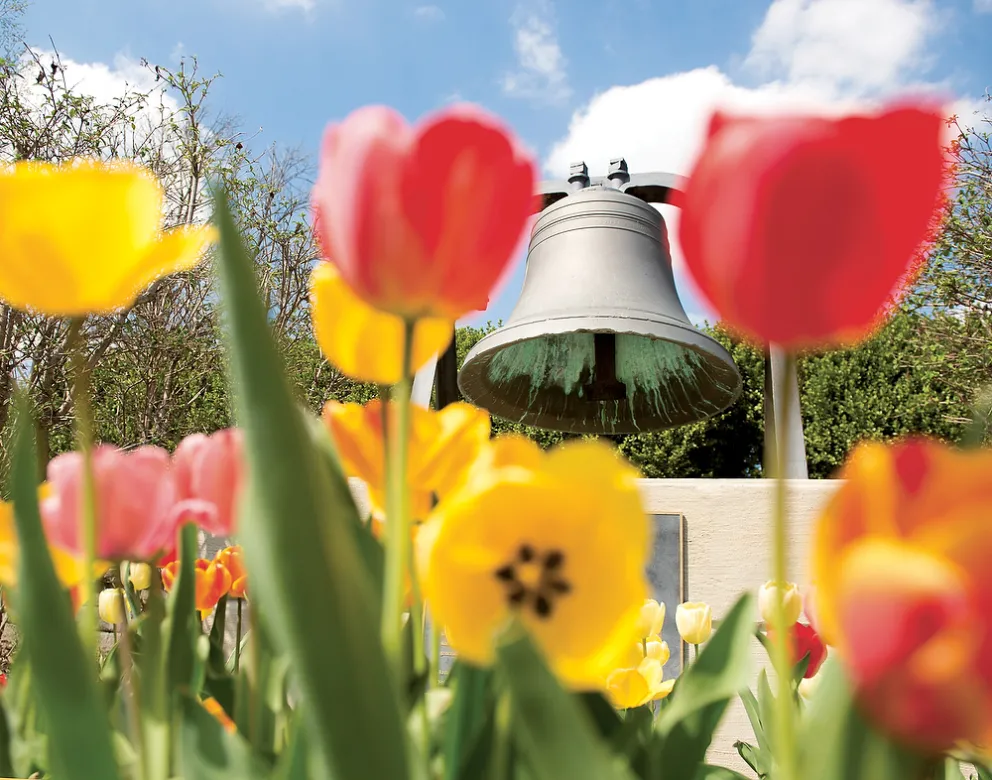 About me
My passion for art began in my youth, then continued through college courses and photojournalism for the student newspaper, The Vidette at Illinois State University. Following work for the Herald & Review (2005 – 2007), and The Pantagraph (2004 – 2005), I became ISU's senior photographer in 2007. Additionally, I am a Concert Photographer for Cumulus Media, 2015 to present.
My photography has received numerous awards from the University Photographers' Association of America and the Council for Advancement and Support of Education.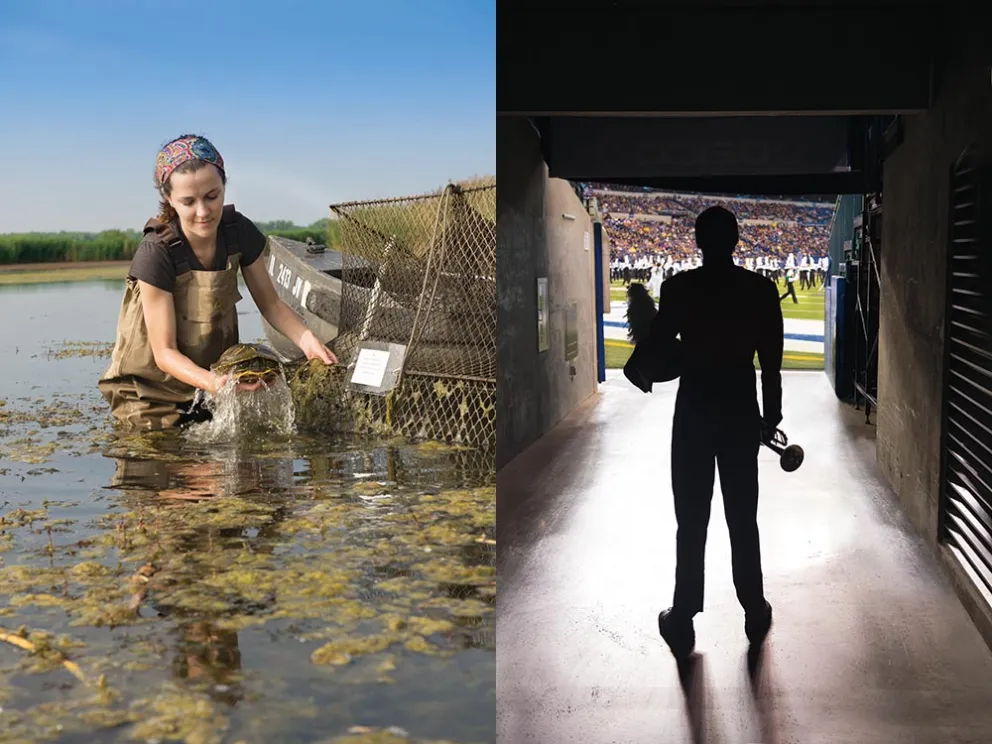 "Two guys walk into a bar, the third one ducks." Blog stories/ideas welcome any time, email editor Matt Cashore at mcashore@nd.edu