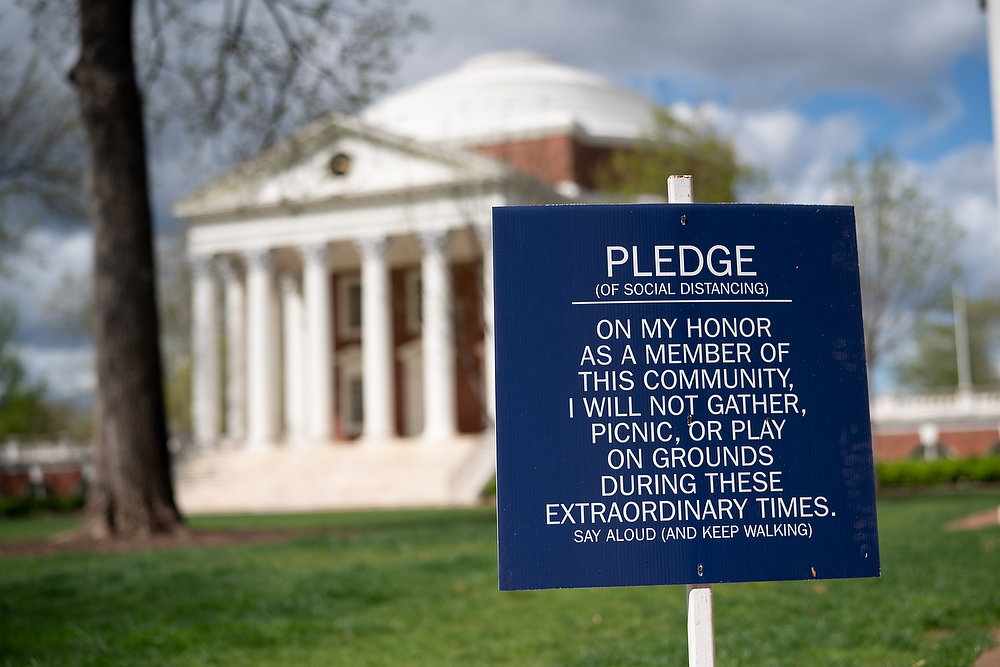 UPAA blog 2020-21 #21 4/5/21 (photo by Sanjay Suchak, University of Virginia, April 13, 2020)
What a year.
A year that at times felt like a decade, and at times feels like it passed in a flash. A year of stress, loss, resilience and adaptation.
The pandemic impacted all of higher education--public or private--regardless of geography or enrollment. Here is a small sample of several UPAA members' work in this historic time. "We are the visual historians of the college/university," said UPAA President Glenn Carpenter. "Capture this once-in-a-lifetime occurrence and do it well, those who follow will be appreciative of the hard work." 
MARCH 2020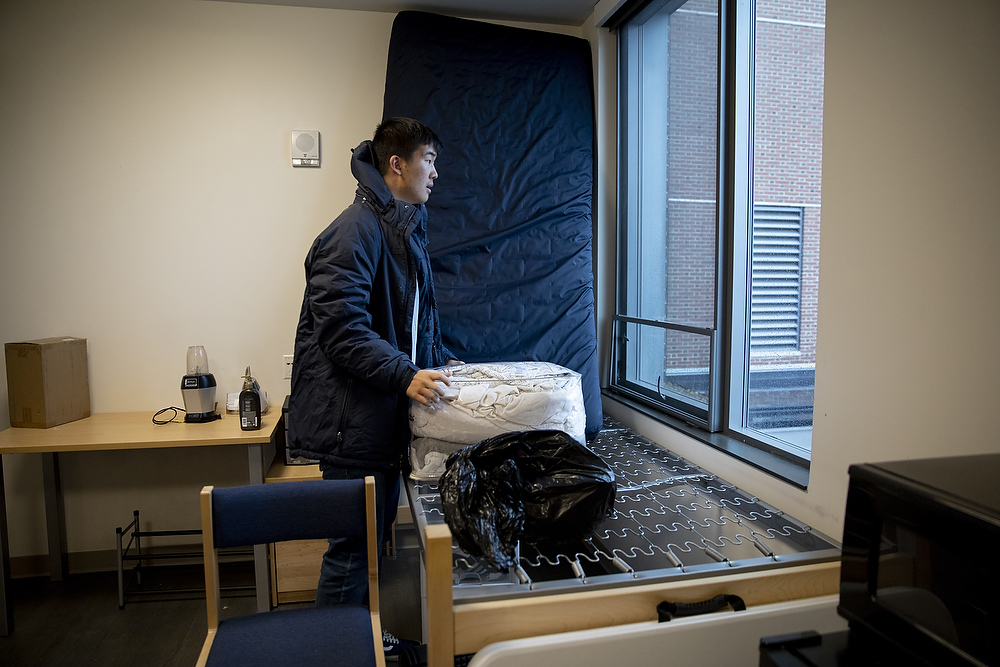 (photo by Phyllis Graber Jensen, Bates College, March 13, 2020) David Chen '23 of Rockaway, N.J., is a photographer for The Bates Student and had just started shooting for the Bates Communications Office. A rower, he was also looking ahead to the spring season. All that felt good: He was "just starting to find my place at Bates." Chen packed up his room, said goodbye to friends and his College Street view, and headed to the lobby to await the arrival of his father, who was driving up from New Jersey.

March was a blur of PPE, deep-cleaning, and impromptu graduation photos as commencements were cancelled and campuses emptied. (left to right: photo by Jay Ferchaud, University of Mississippi Medical Center; Susan McSpadden, Johnson County Community College; David Kadlubowski, Grand Canyon University)
APRIL 2020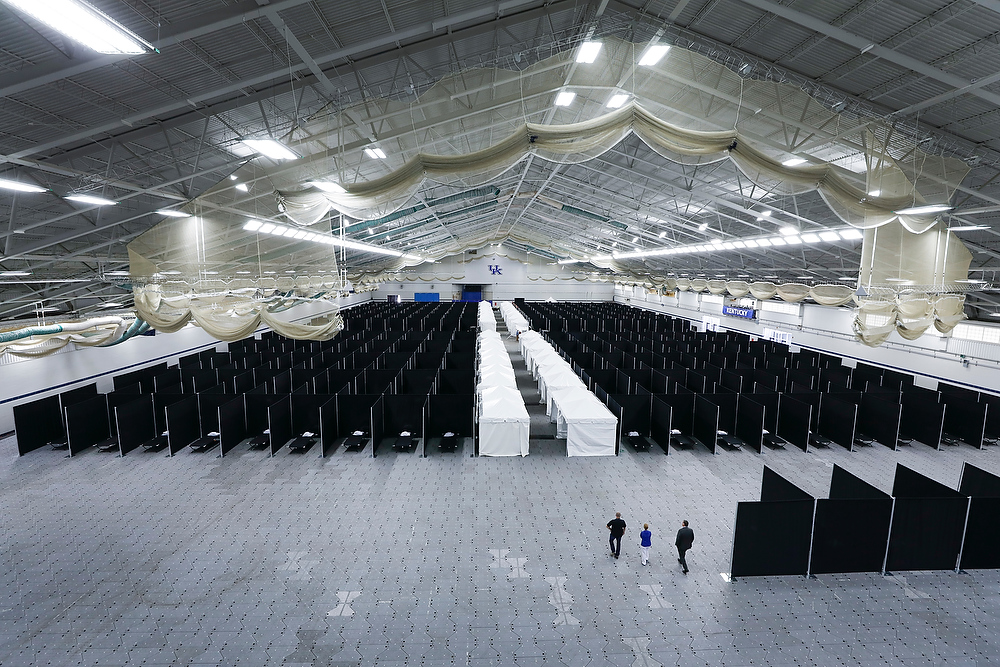 (photo by Mark Cornelison, University of Kentucky, April 9, 2020) Nutter field house being transformed into 400 bed hospital.
MAY 2020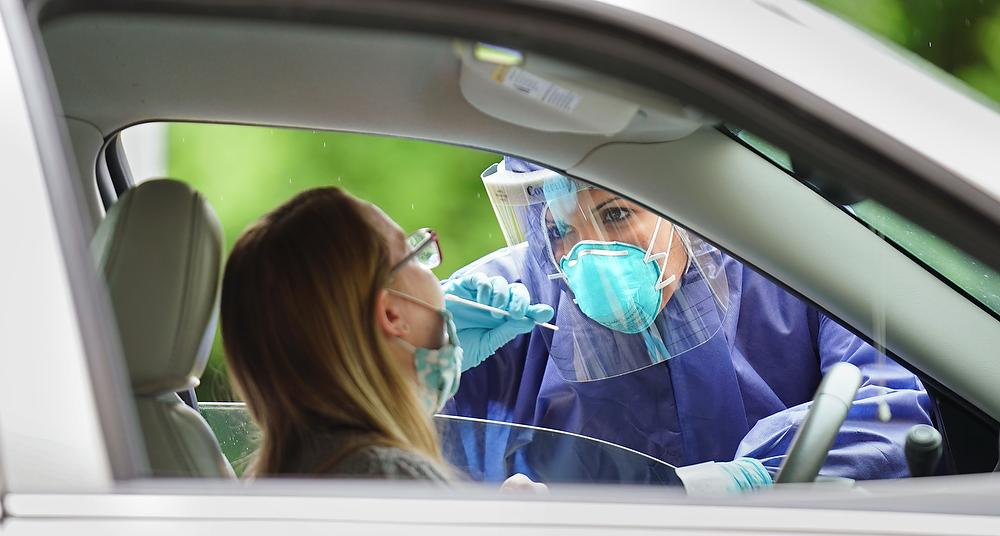 (photo by Mark Bugnaski, Western Michigan University, May 28, 2020) Dr. Carla Essling from WMU's Sindecuse Health Center administers a nasal swab to collect a sample for COVID-19 antigen testing. Western Michigan University's Sindecuse Health Center has become one of the few sites in Kalamazoo County to offer rapid-result antigen testing that detects active COVID-19 cases. This latest testing option will help safeguard the University and greater Kalamazoo community, and assist the institution with campus return plans.  

(left, photo by Mark Bugnaski, Western Michigan University; right, photo by Jason Halley, California State University, Chico)
JUNE 2020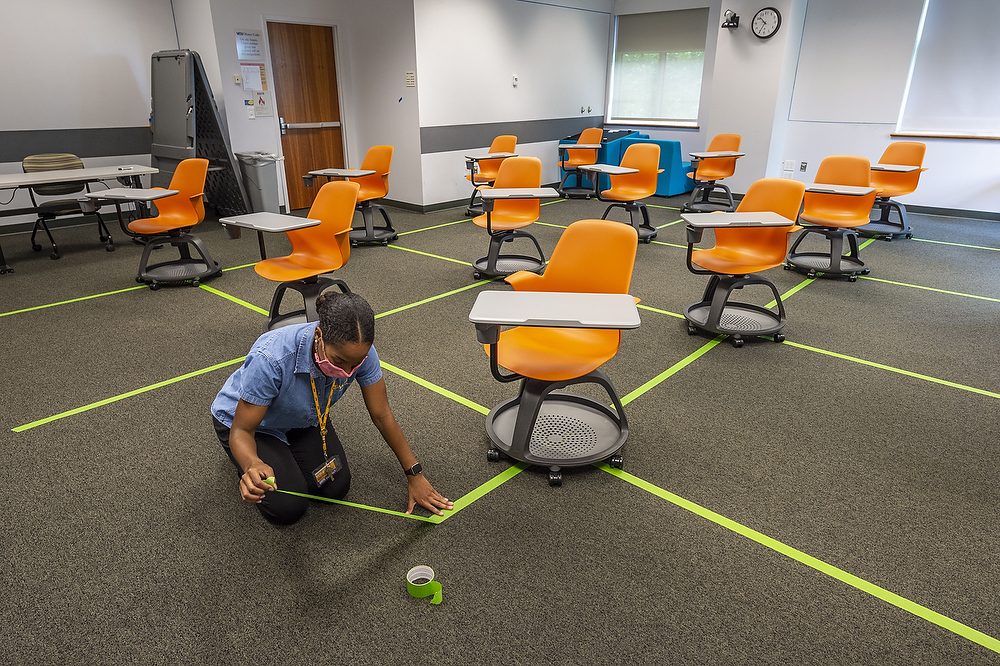 (photo by Kevin Morley, Virginia Commonwealth University, June 18, 2020) Classrooms and common spaces were measured and furniture moved along with various other changes to ensure physical distancing as colleges and universities made the uncertain decision to bring students back to campus for the fall term.
JULY 2020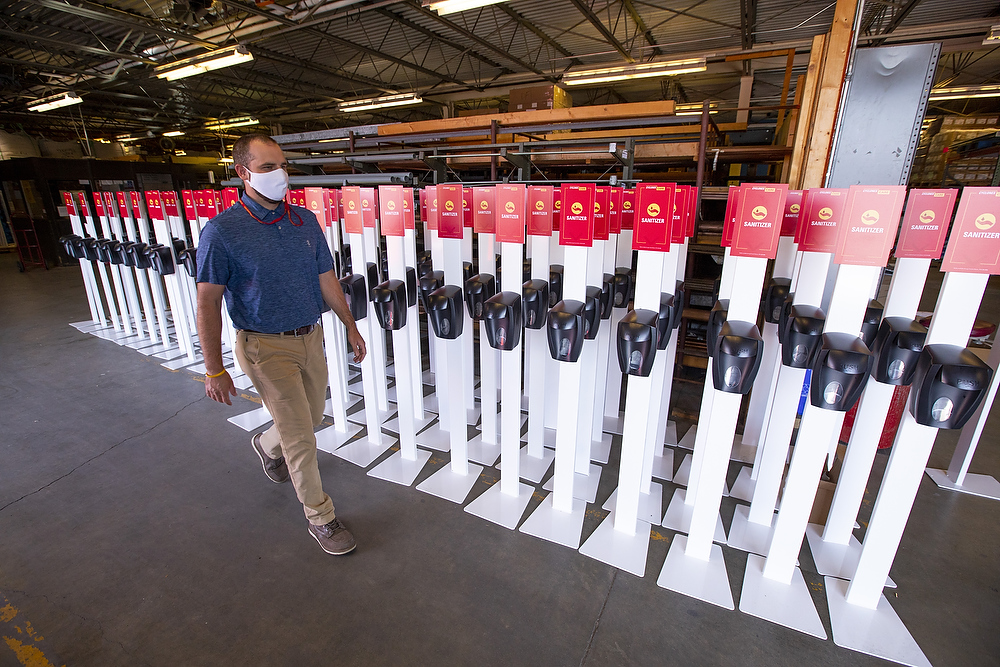 (photo by Christopher Gannon, Iowa State University, July 13, 2020) Jared Hohanshelt, Director of Logistics and Support Services, walks past nearly 100 hand sanitizer stands that are ready to be put into place on campus.  
AUGUST 2020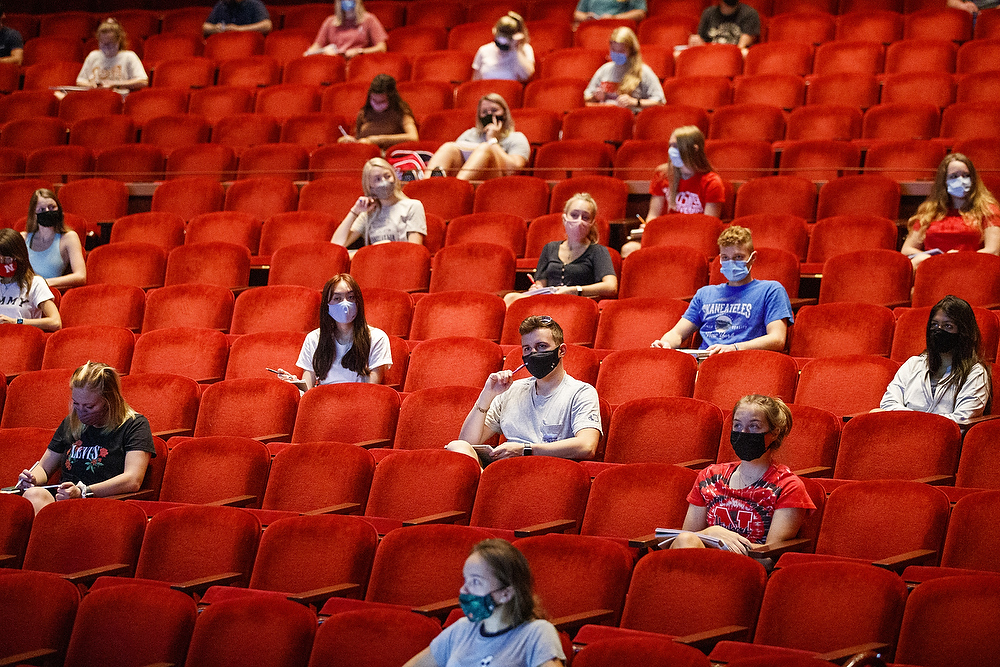 (photo by Craig Chandler, University of Nebraska, August 24, 2020) Physically distanced students listen to lecturer Trisha Vickrey during her Organic Chemistry lecture in the Lied Center on the first day for in-person learning for the fall semester. 

Masks provided a new canvas for university branding. (left to right: photos by Tom Altany, University of Pittsburgh, Barbara Johnston, University of Notre Dame, Christopher Gannon, Iowa State University) 
SEPTEMBER 2020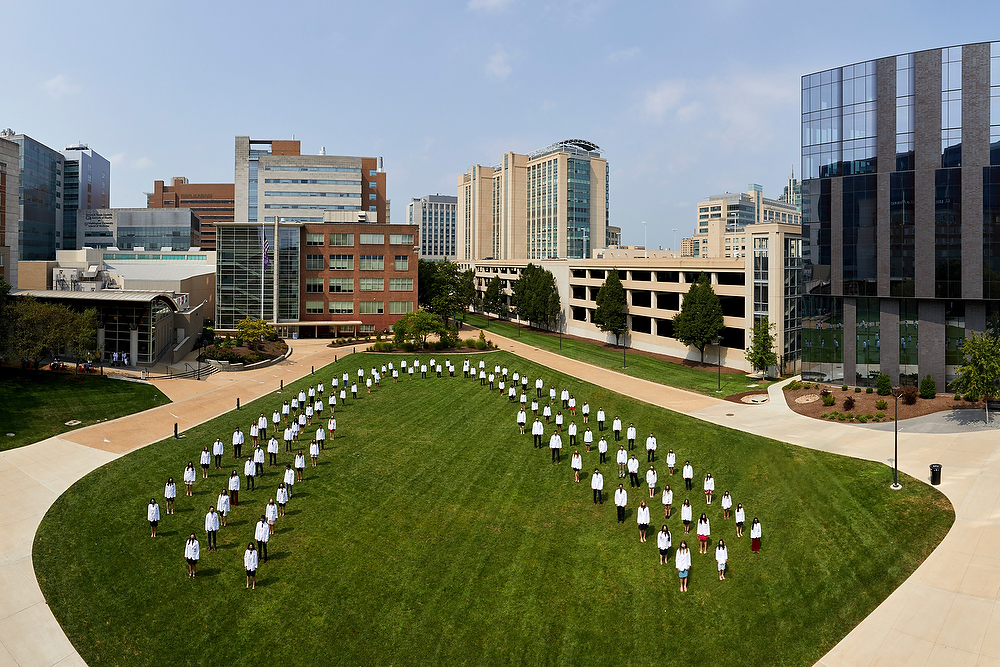 (photo by Matt Miller, Washington University School of Medicine, September 11, 2020) As campus life and activities resumed a new normal, routine requests like group photos had a new challenge.The UPAA Facebook group began to be peppered with questions of "how do you do group photos with physical distancing?" Like this! First-year medical students pose for a distanced class portrait because of COVID-19 after they took part in a "White Coat Reflection." They received their white coats and started their medical journey with a small group of students, their coach, and family and friends watching remotely. 
OCTOBER 2020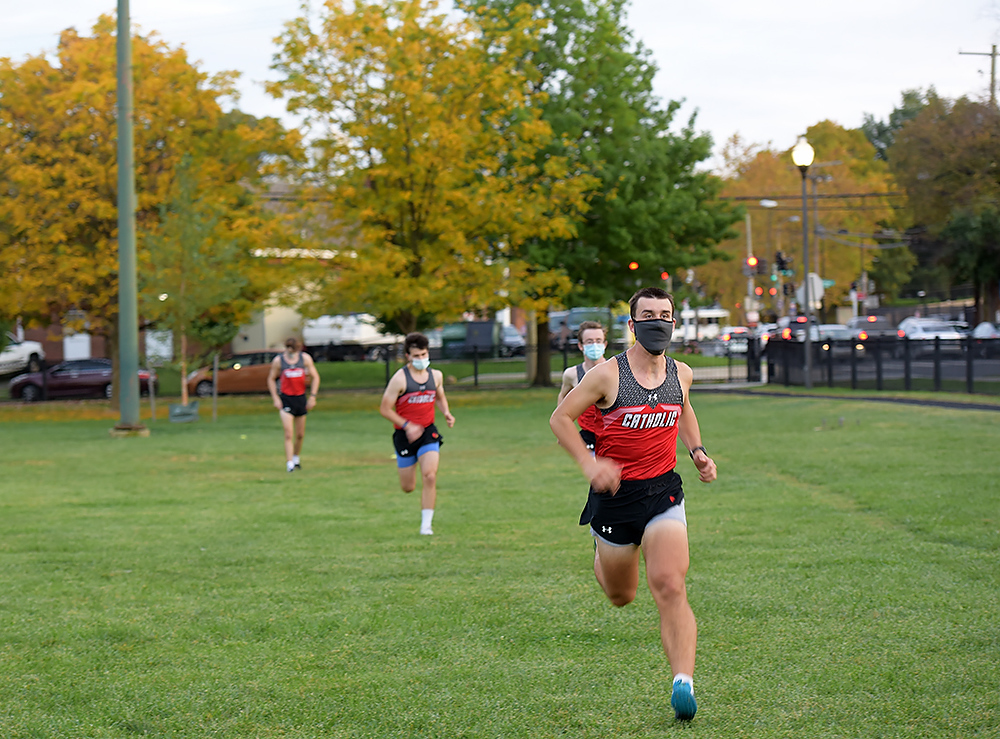 (photo by  Patrick G. Ryan, Catholic University of America, October 23, 2020) CUA's cross country men's and women's teams participate in "virtual meets" with other schools. 
NOVEMBER 2020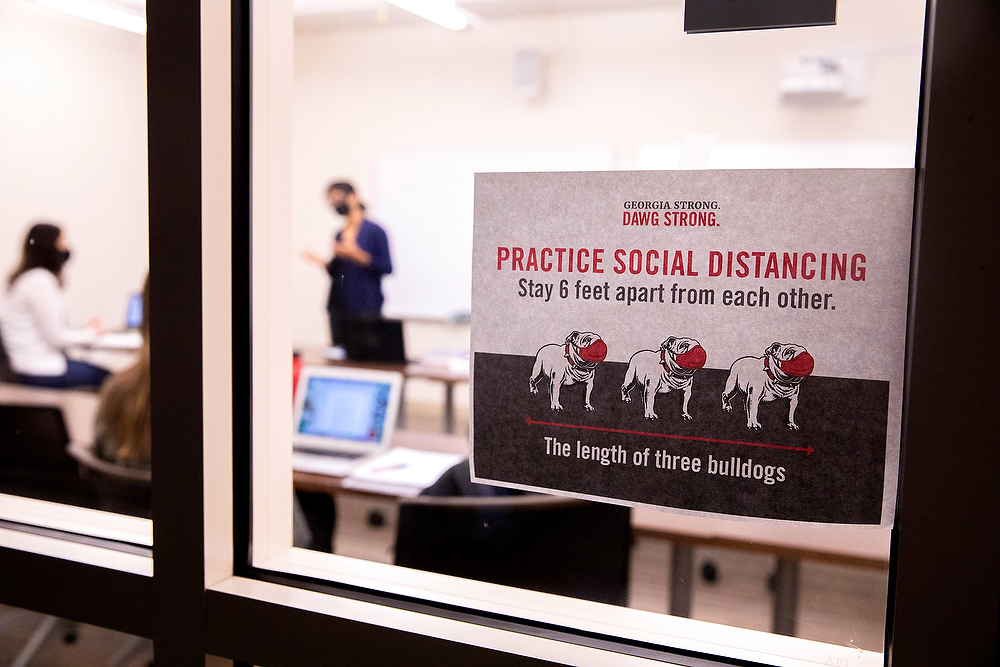 (photo by Dorothy Kozlowski, University of Georgia, November 13, 2020) One sign of the ongoing pandemic was...signs.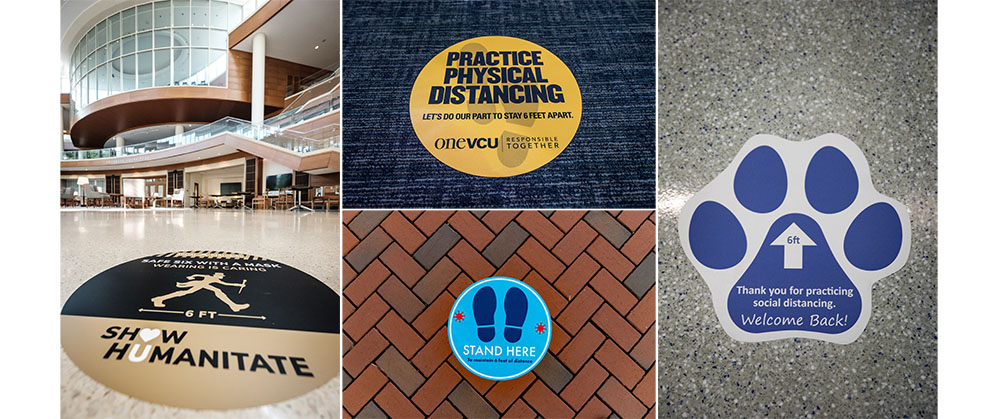 (left, photo by Ken Bennett, Wake Forest University; middle top, photo by Kevin Morley, Virginia Commonwealth University; middle bottom, photo by Phil Humnicky, Georgetown University; right, photo by Mark Cornelison, University of Kentucky)
DECEMBER 2020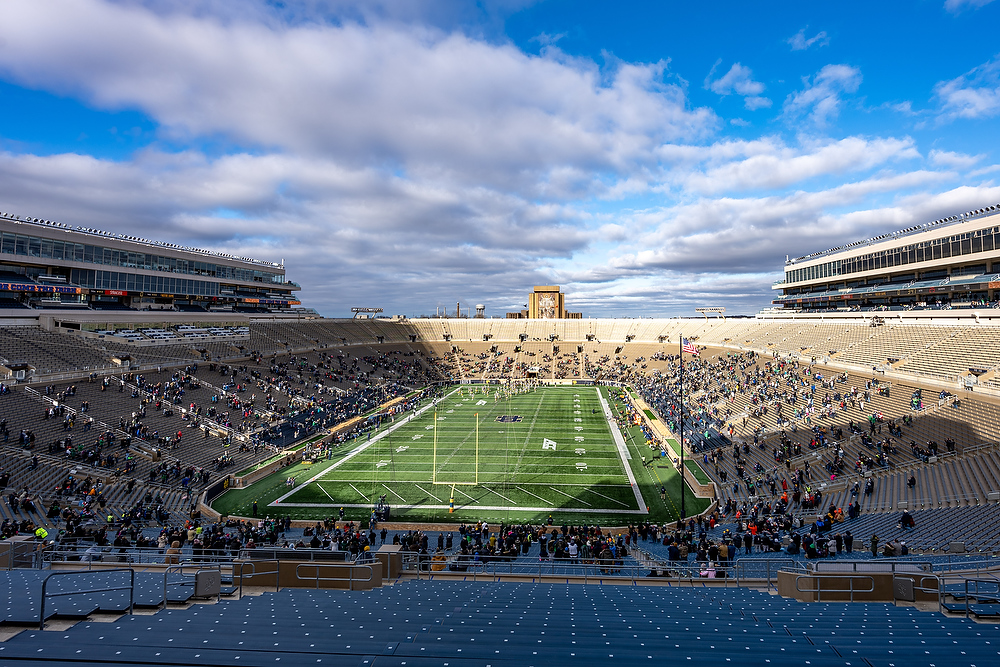 (photo by Matt Cashore, University of Notre Dame, December 5, 2020) The Notre Dame Football team takes the field for the final home game of the 2020 season in front of the smallest recorded attendance of the modern era. COVID-19 schedule accommodations led to the first home game in December in 67 years, and a COVID-influenced change in the semester scheduling meant it also took place after the students had left campus for the semester break. Faculty and staff were given complimentary tickets. Total attendance was 6,831, or 8 percent of stadium capacity. 
JANUARY 2021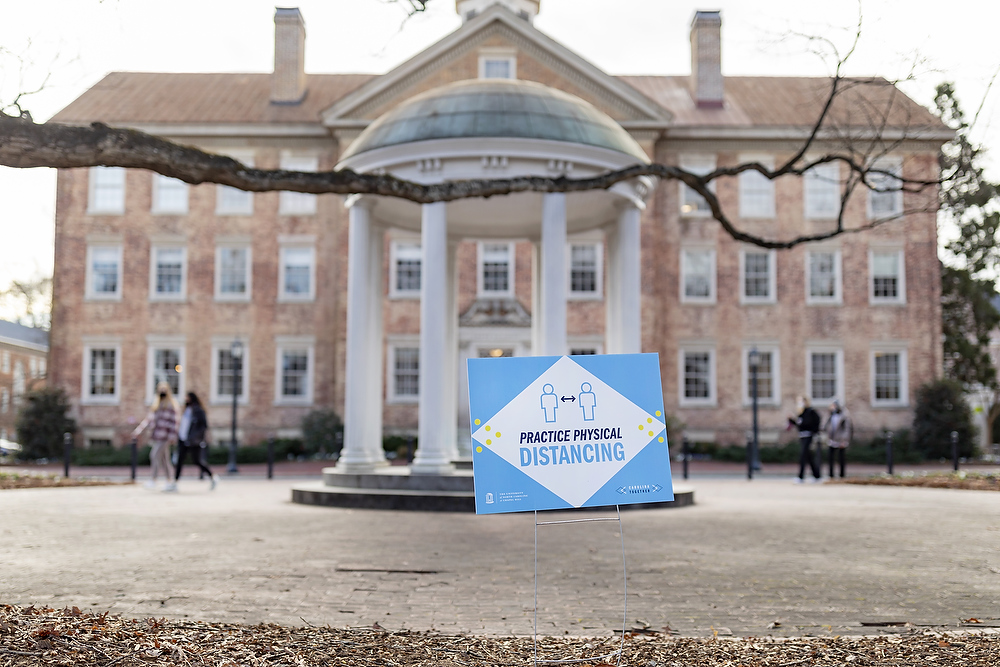 (photo by Johnny Andrews, University of North Carolina-Chapel Hill, January 19, 2021) Students walk past the Old Well on the first day of class for the spring semester on the campus of the UNC-Chapel Hill.
FEBRUARY 2021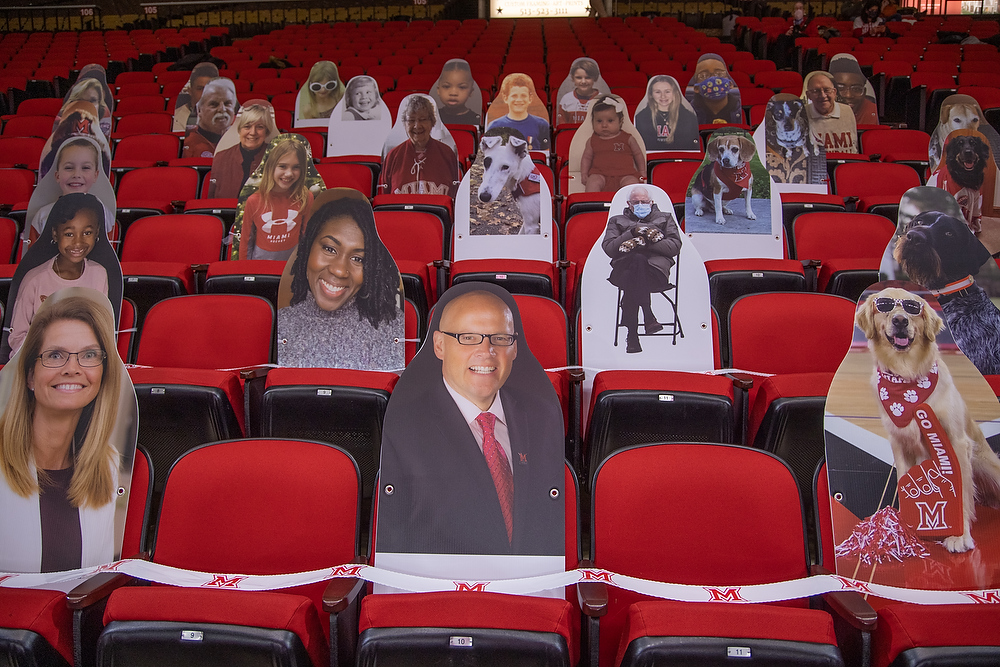 (photo by Scott Kissell, Miami University, February 12, 2021) Cardboard cutouts in Millet Hall, Miami University's volleyball and basketball arena, include Miami University President Greg Crawford, center, and his wife Renata, left. 
MARCH 2021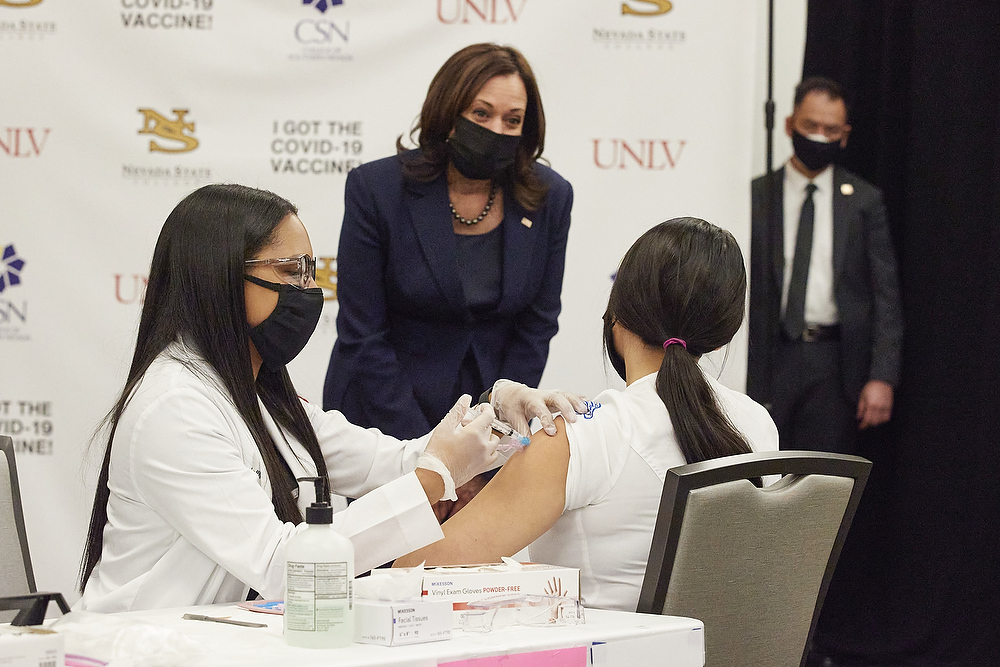 (photo by Josh Hawkins, University of Nevada Las Vegas, March 15, 2021) Vice President Kamala Harris talks to, at table sitting on left, Lauren Hollifield, UNLV Fourth Year medical student, and on right sitting at table, Mailani Thompson, a first year nursing student at the College of Southern Nevada receiving a dose of the Moderna vaccine.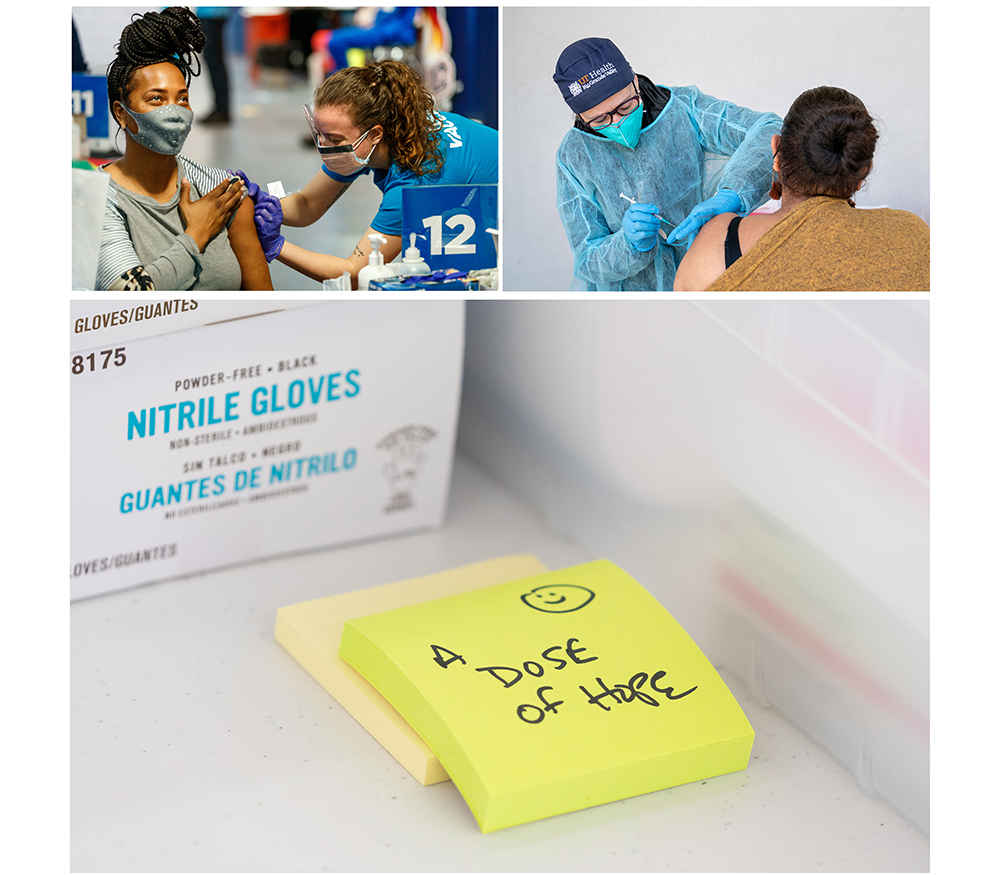 Vaccinations in Chicago, Penitas, Texas, and Charlottesville, Virginia. (top left, photo by Adam Biba, University of Illinois Chicago; top right, photo by Paul Chouy, The University of Texas Rio Grande Valley; bottom, photo by Sanjay Suchak, University of Virginia)
_________________________________________________
"Time flies over us, but leaves its shadow behind." -Nathaniel Hawthorne | Thanks for reading the UPAA blog. Send suggestions and submissions to editor Matt Cashore, mcashore@nd.edu. Follow UPAA on Instagram!