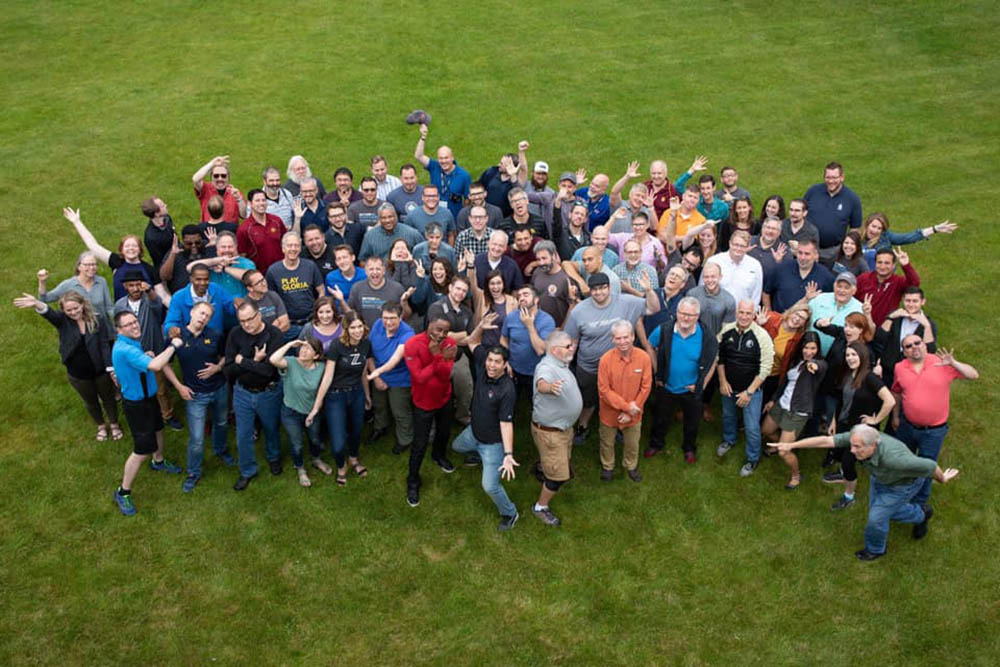 Text by Shannah Montgomery, University of Georgia. 
I'll never look at a rusty oil barrel the same after this week.
All week had been super inspiring, but it was now Thursday afternoon, witching hour where the eyes are drooping from too many late nights in hospitality, and Dave Black takes the stage. This clearly kind, unassuming guy with a little bit of a Mr. Rogers vibe (and I mean that in the best way) started to bring it all together for me. He didn't jump the first time opportunity knocked for him. He stood on the oil barrel, took a mind-blowing shot that professionals would have died to catch- but he didn't think it was good enough to jump off that barrel and try to be a photographer. Eventually, he did- thankfully- but it took him recognizing a missed opportunity and realizing that he had put in the 10,000 hours he needed to gain expertise. It's not all about the lucky break, it's about doing the work, putting in the time and then jumping.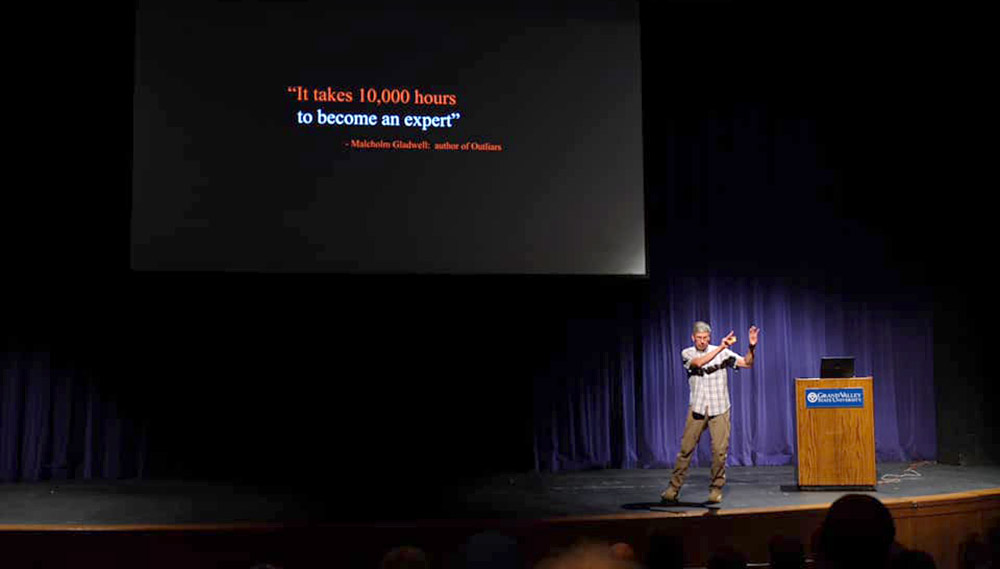 (photo by Cydney Scott) Dave Black reminds us of the famous Malcolm Gladwell '10,000 hours' quote.
After being blown away by his speech, we had the pleasure of sharing the most perfect sunset on the lake, which my brain refused to believe was not the ocean. Dave did a demo on the beach, jumping back and forth between dealing with the technical, creating rapport with our very cold subjects, and teaching us, all at the same time. It was amazing to witness.
(Photo by Phyllis Graber Jensen) Bug spray included in the Symposium fee!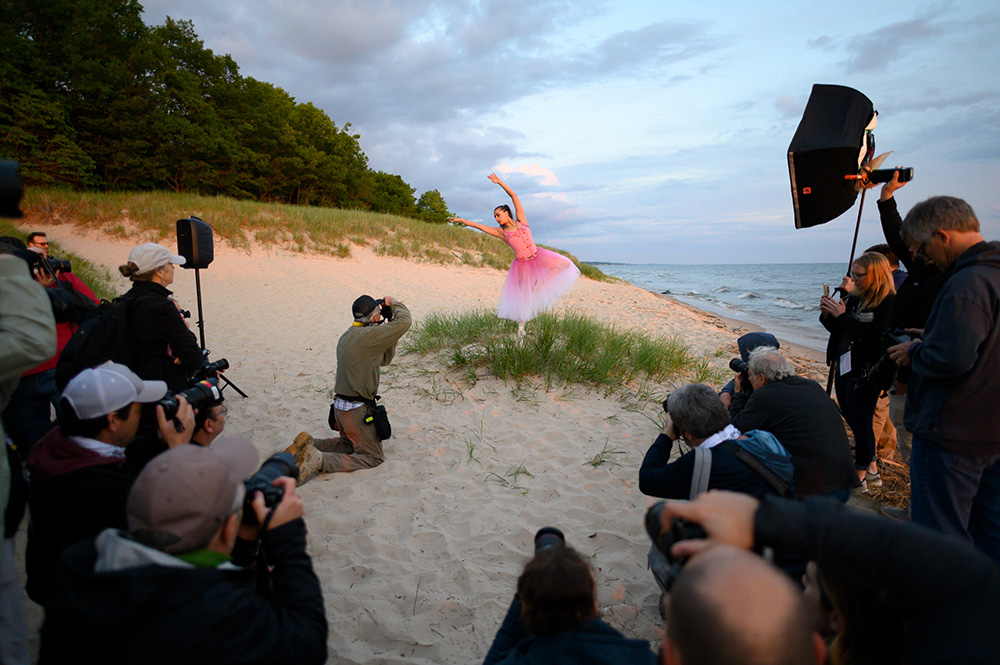 (photo by Glenn Carpenter) Dave Black teaches his lighting workshop on the beach at Lake Michigan.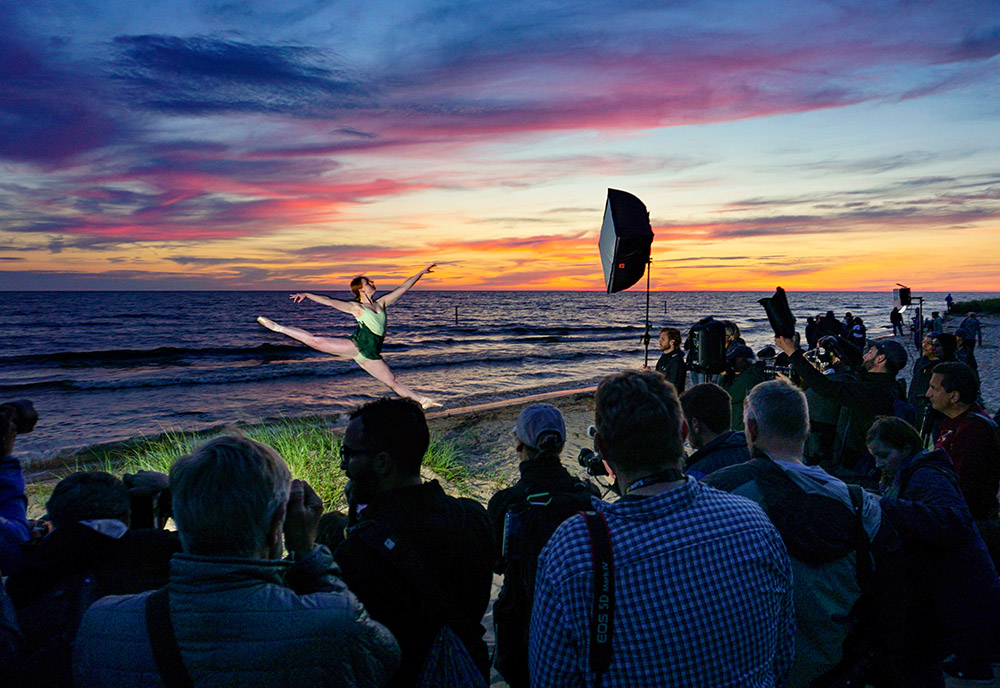 (photo by Chris Gannon) Model and dancer O'Malley Ferguson leapt and arabesque-d as the sun set during Dave Black's lighting workshop.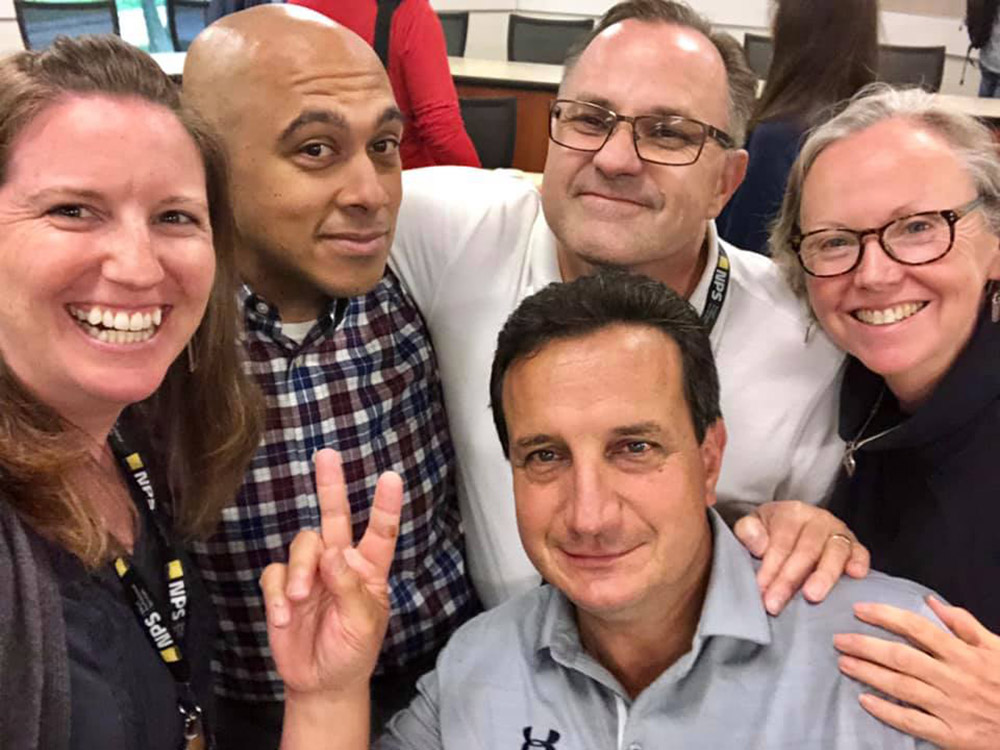 (clockwise from left) Cydney Scott, Trevor Jones, Glenn Carpenter, Nancy Evelyn and Joe Labolito hosted a member panel.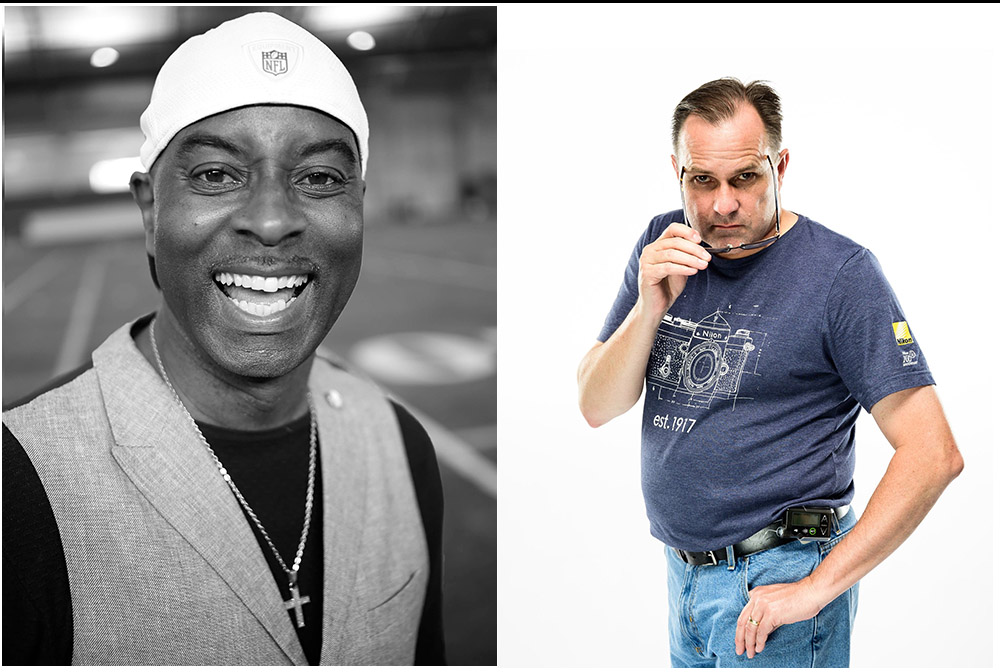 (left, photo by Eric Rudd) Canon Explorer of Light Tyrell Lloyd. (right, photo by Austin Thomason) UPAA President Glenn Carpenter strikes a pose in the University of Michigan lighting demo.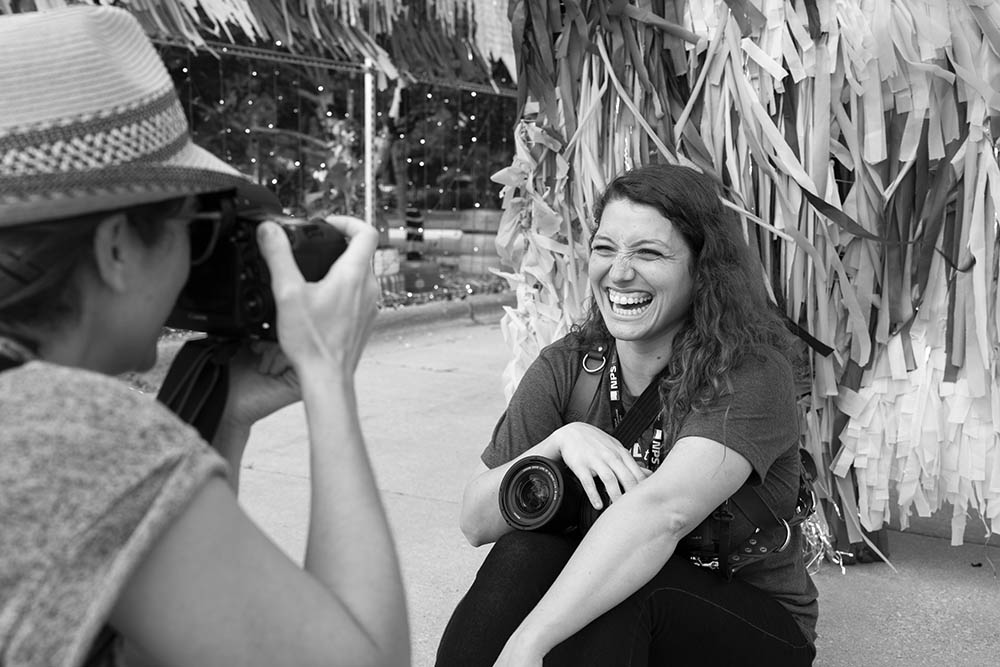 (photo by Darren Van Dyke) Having a good time on the Nikon Shootout.
The week ended with the awards banquet, a delicious dinner (the food all week was out of this world!) and honoring those who've made huge impacts on our group. The recognition of Jay and his tremendous legacy brought me to tears. Awards were exciting and the amount of talent is always overwhelming. Oh, and that one table that won all the raffle items, we're on to you. You're not sitting together next time.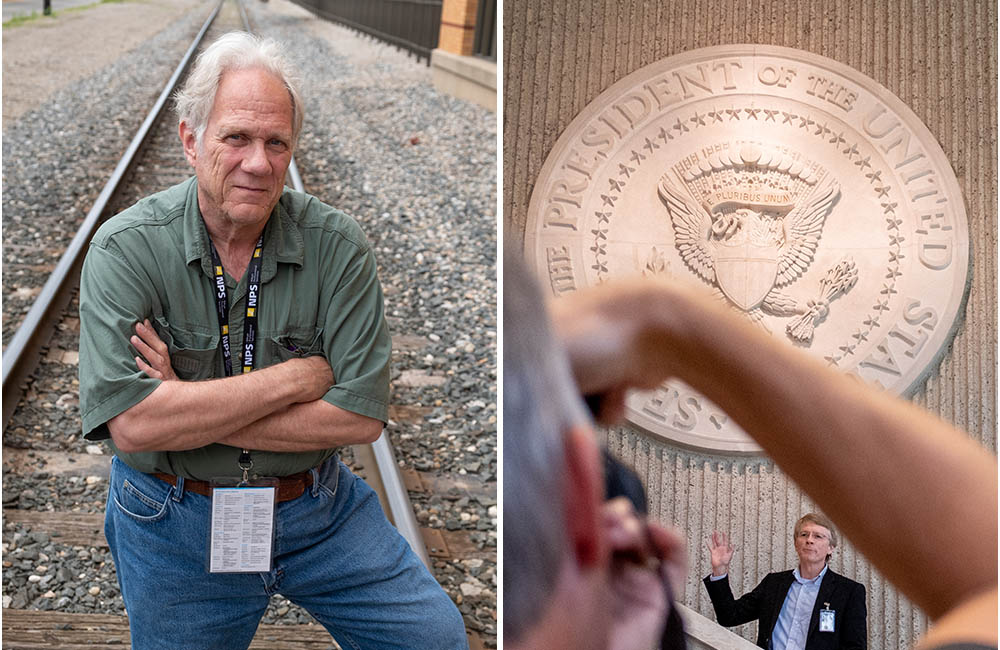 (left, photo by Nick "Da Nickster" Romanenko) Jay Ferchaud stepped down from the UPAA board and was honored with the "Fellow of the UPAA" (FUPAA) designation. (right, photo by Matt Cashore) The Gerald R. Ford Presidential Museum in downtown Grand Rapids.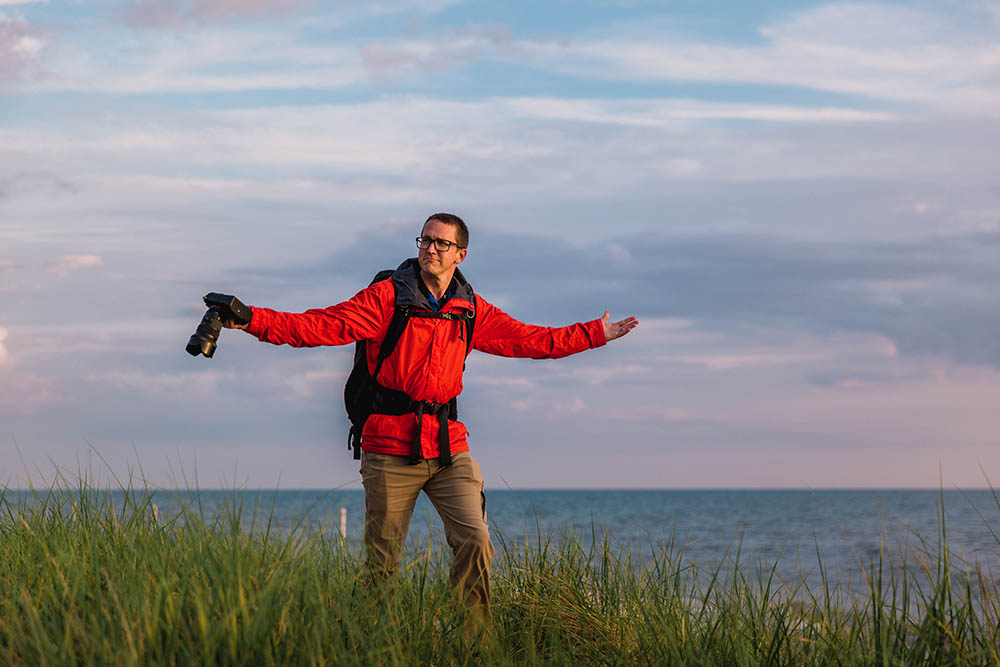 (photo by Cassie Foster) Nate Edwards from BYU earned a third consecutive Photographer of the Year award.
I am in awe of the Grand Valley State team, everything ran so smoothly, living the dorm life for a week was a blast, and I'm already missing the food. And that hilarious scavenger hunt was an awesome way to kick off the week. The hours and hours you all put into this was so obvious and so appreciated!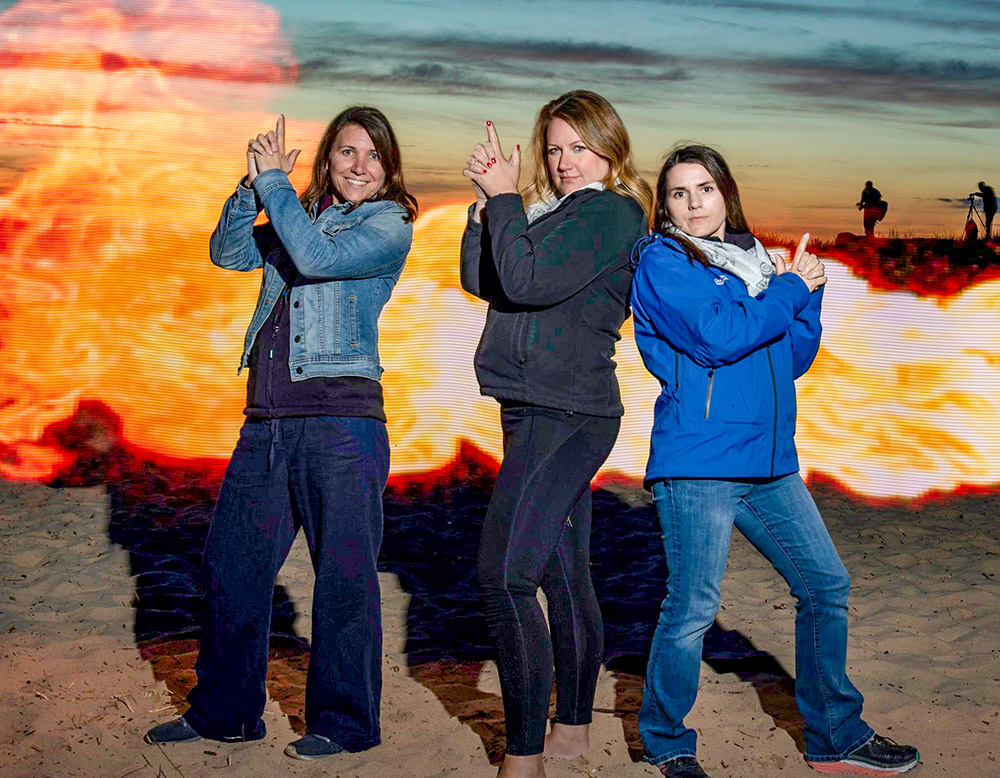 (photo by Mark Carriveau) The hostesses with the most-ess-es: l-r Bernadine Carey-Tucker, Elizabeth Leinau and Amanda Pitts
This is only my third symposium, but every year I leave feeling very lucky to have found this group. You are all great photographers, talented in so many ways. But more than that, you are great people– generous, kind, always willing to share and help. It's an honor to be in your ranks and I can't wait till next year. Utah- here we come! UP-AA! (you're right, California, we did need a cheer)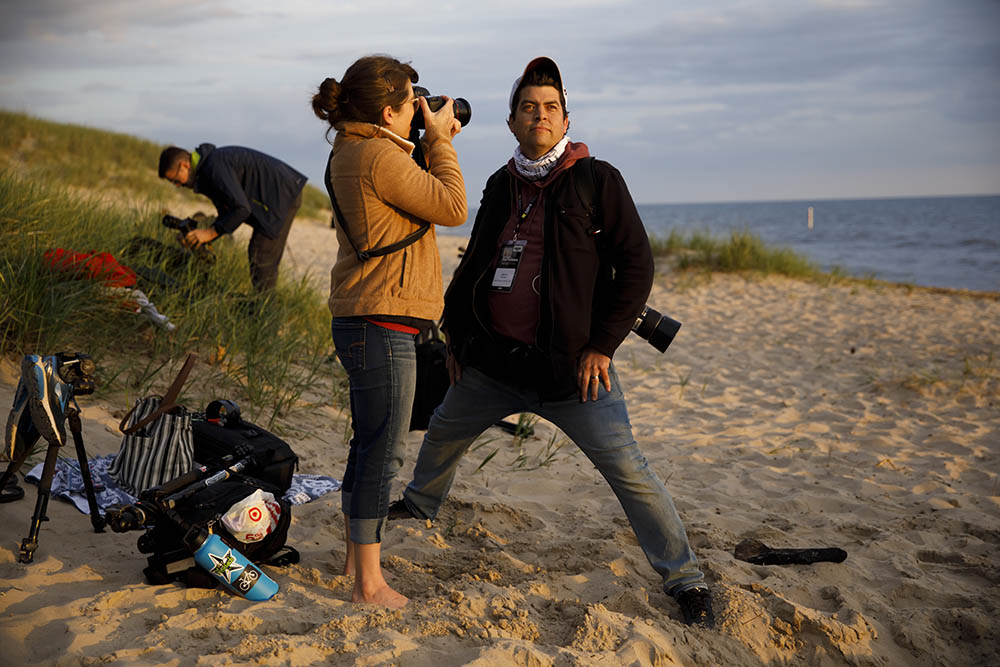 (photo by James Brosher) "U-P...!! A-A...!!"
____________________________________________
"Why are mountains the funniest place to travel? They're 'hill areas'!!" Send your comments & suggestions to editor Matt Cashore, mcashore@nd.edu.