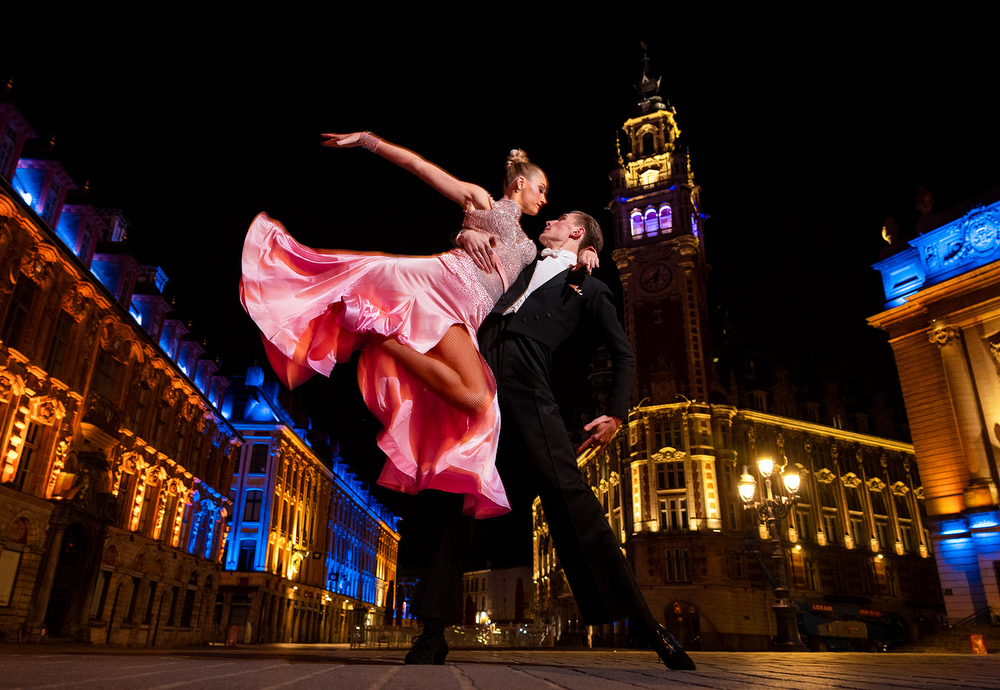 UPAA Blog 2022-23 #7 - 11/23/22 (text and photos by Jaren Wilkey) Above: Dancers pose in the main city square in Nice, France
Simply put, if you're even the slightest bit familiar with UPAA, you've admired the work of BYU photo.
If you're more than a little familiar with UPAA, you know BYU Photo has a decades-long reputation for excellence...and you've probably also noticed their international work. Last spring, BYU Photo Director Jaren Wilkey accompanied student performers on a European tour. 3 photos from this trip won high honors in the May 2022 Monthly Image Competition (MIC). In this article Jaren details that trip and offers some insights and advice on showing the value of having staff photographers help tell these sorts of stories.-Ed.
************
Brigham Young University is sponsored by The Church of Jesus Christ of Latter-Day Saints which is why the university primarily serves the 17 million members of the church that live all across the globe. Most people don't know that there are actually more members of our church outside of the United States than within. Due to the fact that the majority of our students choose to serve 18 or 24 month service missions all across the world, 65% of our student body speak a second language fluently. It should come as no surprise that one of our university moto is: "The World Is Our Campus".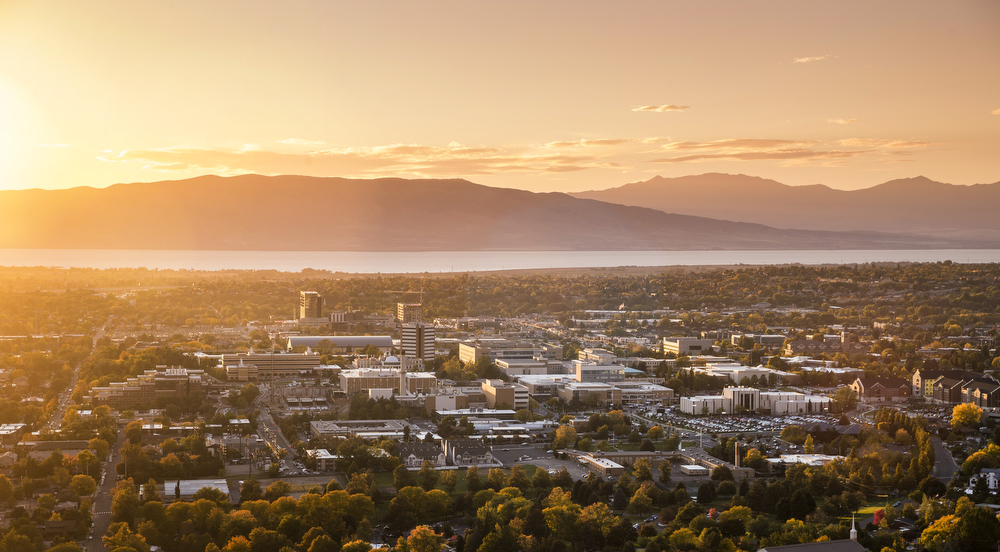 The main BYU campus in Provo, UT
My job as a university photographer is to tell the story of our worldwide reach through photography, which means that international travel is a key part of my job. Mark Philbrick started traveling with BYU performing groups to document their tours in the late 70's. In the 80's he started travelling with professors and their students to do features on their research. This is a tradition that continues today. Do you remember the old saying "F/8 and be there"? If we are not on these trips, we can't tell these stories.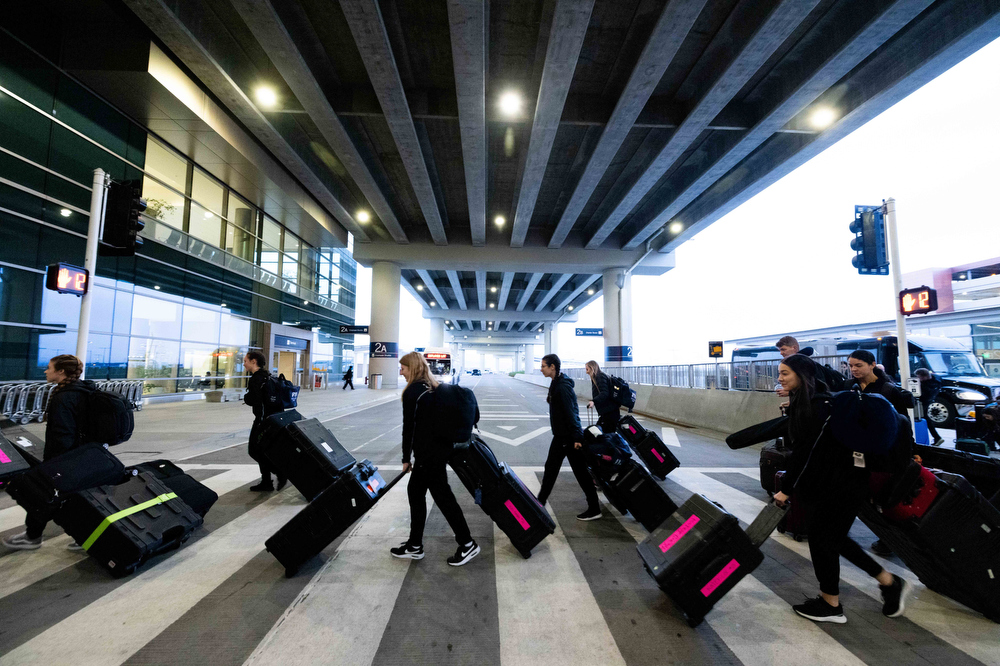 The BYU Ballroom team enters the Salt Lake Airport to leave on their European Tour.
Every Spring I join up with a performing arts tour group for a portion of their 3 week tours all across the world. The goal is to show BYU students performing for and interacting with the people from each country that they visit. In addition to performances, they do service projects, hold workshops at local schools, tour historical sites and try to find gelato in every place that they stop. My images from these trips are used for social media posts, newsletters, campus features and stock photography.
This past Spring we had 3 different groups travel through different parts of Europe at the same time, so we saw it as an opportunity to tell 3 different stories in one long trip. The plan was to spend 5 days with each group during a portion of their tour and then travel to the next group. When all was said and done I spent 18 days traveling through the Netherlands, Belgium, France, The Czech Republic, Austria, Latvia and Estonia. That whirlwind trip required 7 flights, 3 train rides and countless hours on a tour bus. 

Left: The BYU Ballroom dancers check out the waffle options in Brussels, Belgium. Right: Dancers apply makeup before their performance at Wolubilis Theatre in Brussels, Belgium.
I do my best to embed myself with the students as quickly as possible. I make sure that they know what I'm trying to capture and I tell them that they will have access to the images after the trip. It usually takes a day or so before they get comfortable with me and let me be a fly on the wall. Using the silent shutter on the Canon R5 and R3 have really helped me blend into the background so that I could capture authentic images from the trip.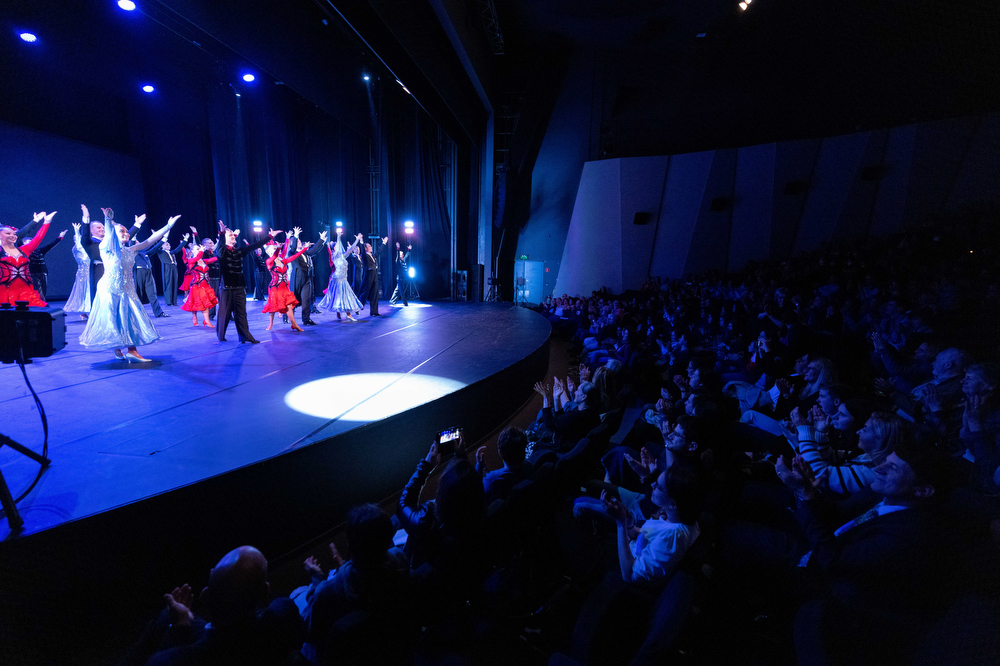 BYU Ballroom European Tour performance at Wolubilis Theatre, Brussels, Belgium
During these trips I usually just create images that documents things as they happen, but this year I tried something new. We've been working on a book project for the dance department where we've photographed dancers all over campus in a variety of seasons. When I found out that I would be traveling with the Ballroom Dance Company through Belgium and France, I packed a Profoto A1 light just in case we found some locations that would work well for the book project. When we got to Brussels we found out that our hotel was only a block away from La Grand-Place, a gorgeous public square built in the 12th and 13th century. After scouting it out that night we decided to bring dancers back the next night after our concert to capture some images of them dancing against the historical facade.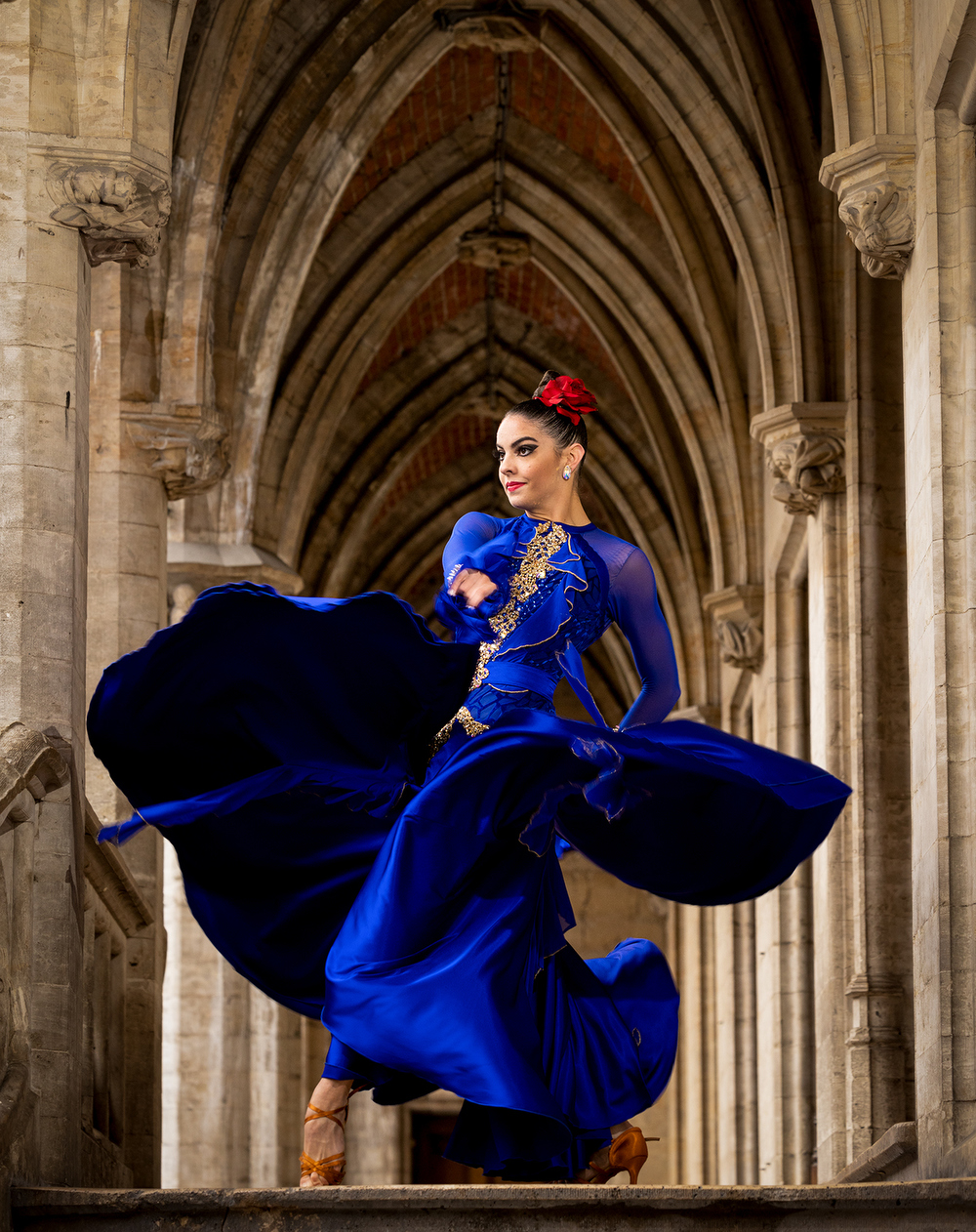 Dancing in La-Grand Place in Brussels Belgium
We didn't get to the square until almost midnight, but I was shocked by how many people were still milling around, although most could no longer walk in a straight line. After doing a few test shots I saw a puddle on the ground and made a beeline for it, knowing that it would make the perfect reflection for a low angle shot of the dancers posing. The dancers thought I was crazy to have them dance behind the dirty puddle of water, that is until they saw the photos. We immediately drew a crowd of onlookers, who kept looking at the images on my iPad and shouting out encouragement and advice. After 30 minutes we had a really good set of images for the book, so we decided to bring more dancers back early the next morning and get some images in front of City Hall. This time the square was completely empty, with the exception of a bunch of delivery vehicles, which reminded me of being back home on campus. This session gave us even more amazing images of these incredible dancers.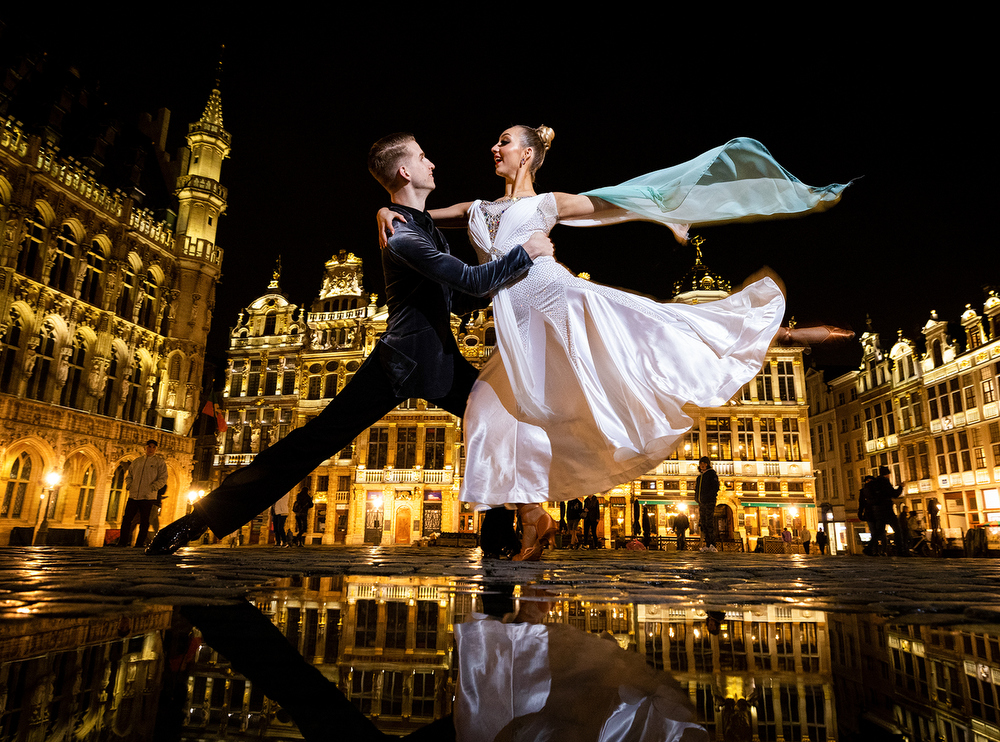 Most people can only see a puddle. A professional photographer sees opportunity!
We did the same thing in Nice, France. I scouted out several locations and we spent one late night after the concert photographing the dancers in the deserted  streets and alleys. We had even more fans join us as they were walking home from the bars that were closing for the night, several of our fans even tried to join in with the dancers. We ended up taking a lot of pictures in the public square, which was lit up in yellow and blue showing their solidarity with Ukraine during their war with Russia. I loved the way that it made the buildings stand out. Things went great until the clock struck 1 am and all of the lights turned off via a timer. That was the end of our shoot.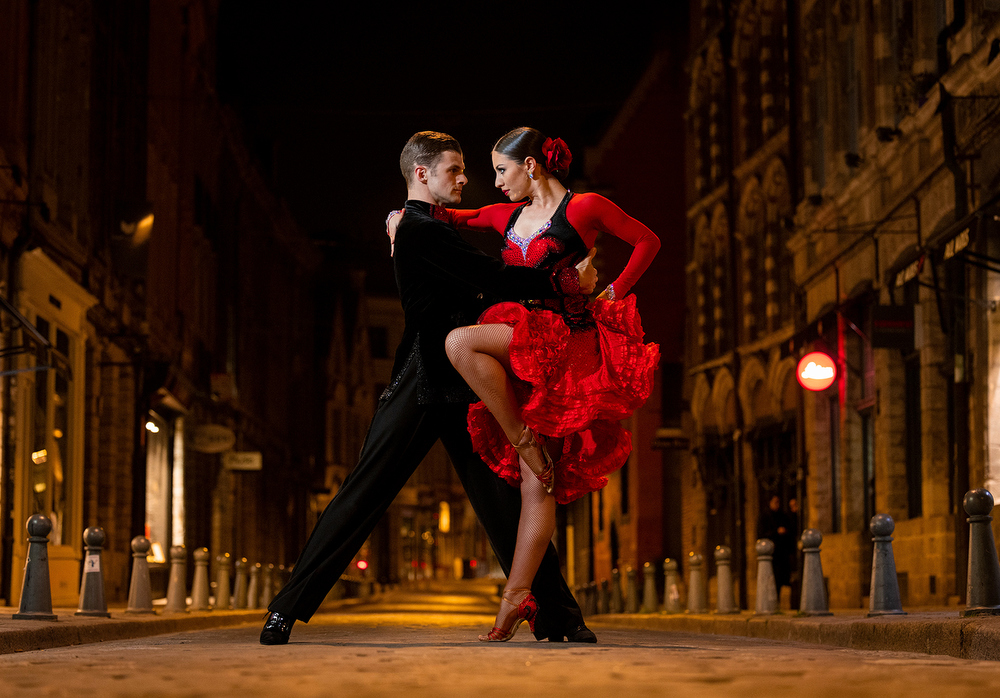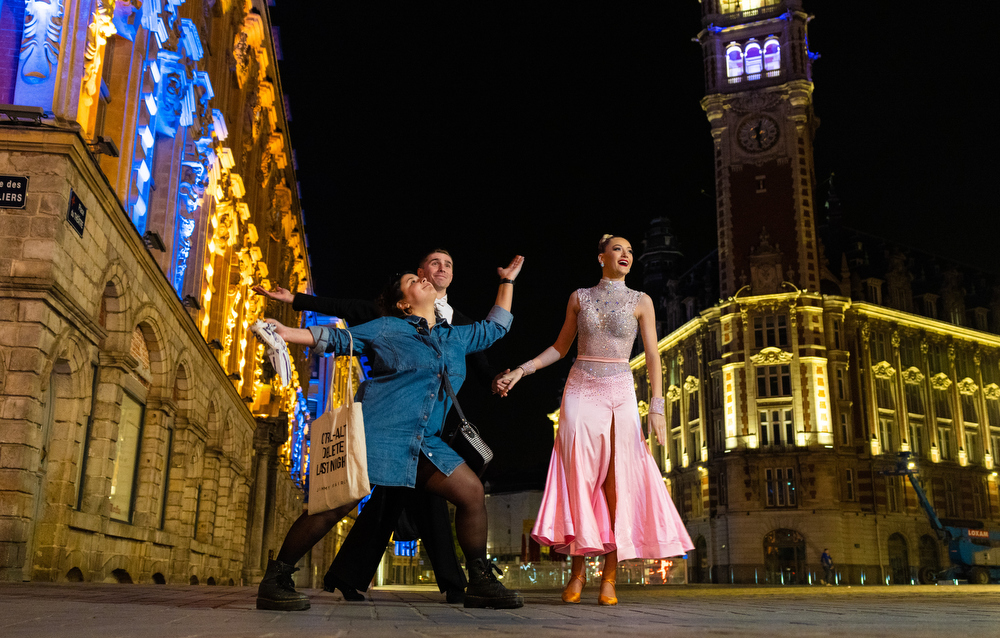 Nice...it's nice!
From France I took a train and a plane to join the BYU Chamber Orchestra for a performance in Prague's Smetana Hall. From there we travelled to Vienna which is when we got a surprising phone call from the US embassy. They asked us if we would be interested in putting on a concert for Ukrainian refugees who were staying in Austria. Of course we jumped at the chance, even though it was only a couple of days away. When we arrived at the church there were stacks of diapers, formula, baby strollers and other necessities stacked up against the walls, all the items were donated by the local residents for the refugees. It was an incredible experience to perform for and meet these refugees. Coincidentally, our orchestra had been playing a piece by a Ukrainian composer as part of their concert, and it was a special moment when they performed this piece. Thankfully I was there, able to catch photos and video clips from the concert and especially the moments in which the students met with, hugged, listened to, comforted and shared their love with the refugees. We shared this touching yet unplanned experience with our university and our church via these images, none of which we would have been able to do unless I was there.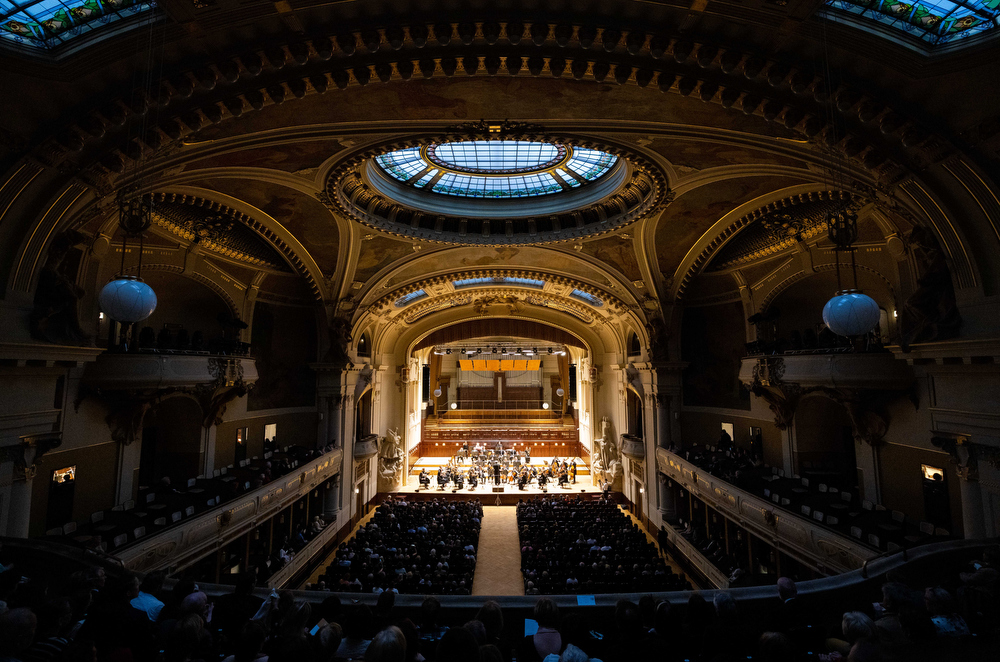 Chamber Orchestra European Tour concert at Smetana Hall, Prague, Czech Republic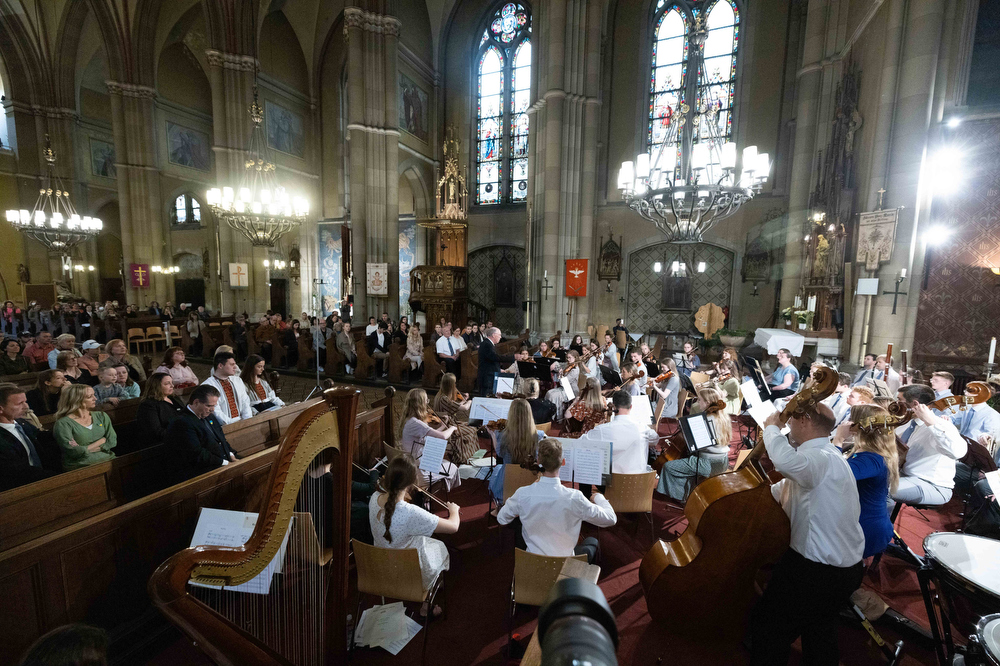 Humanitarian Concert for Ukranian war refugees at Katholische Kirche Neuottakring, Vienna, Austria
Other photographers often ask me what can they do to get permission or a budget to start traveling with some of their students on study abroad trips or research trips. The most common pushback photographers get is that it costs too much to send a photographer and the university can just use photos taken by the students on the trip or hire a local photographer. 
While the participants on the trip can take photos for you, they generally don't. They are there for the experience, not to document it for you. Participants often do group photos and selfies, not documentary style photos that tell the story. They'll also take mostly group photos and selfies, not documentary, storytelling, publishable photos. I love this quote from Matt Cashore: He said "A collection of high-quality images is often the key that unlocks the door to more prominent placement and visibility in University comms, websites, etc. A feature with a string of striking visuals is more likely to be the main feature story on the top of the University home page vs student-provided iPhone pics."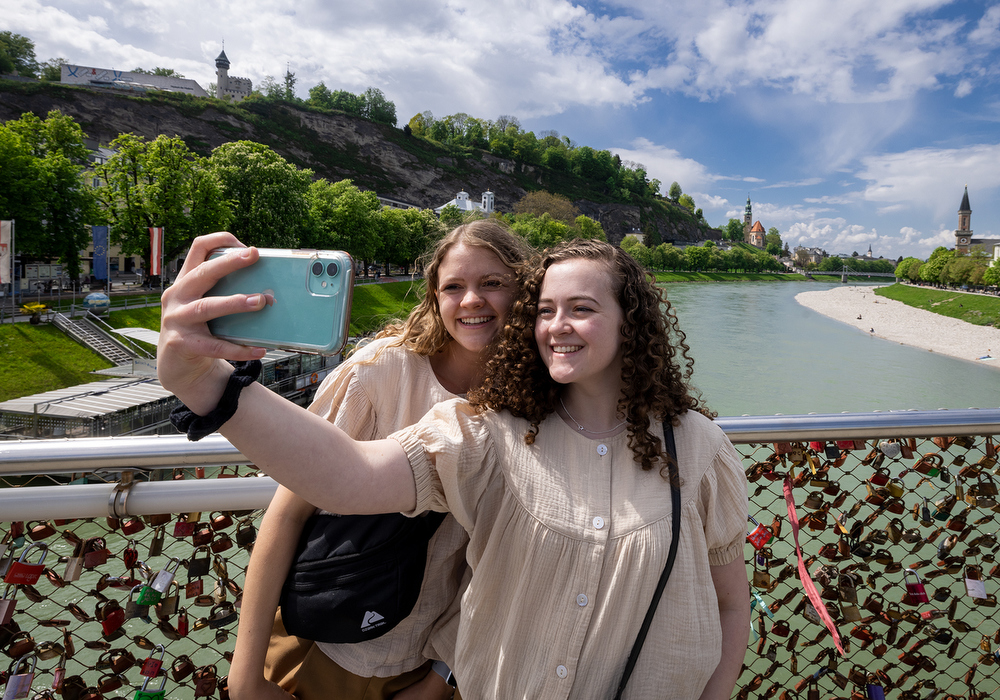 Students are there for the experience, as they should be. The communications and marketing should be done by a professional.
When it comes to hiring freelancers, it may save some money on the front end, but you get what you pay for. Freelancers are there for one thing, a paycheck. They don't have the background or understanding of your university's culture, they don't understand the nuances of the stories you are trying to tell, they don't have the eye for important photos that can be used for other projects or for stock. They also don't have the background to understand when they shouldn't take photos, whether it be for political, religious or other sensitive reasons. They usually employ a shotgun strategy of taking 10,000 photos hoping that they might come back with the right ones. They won't go the extra mile to capture the local culture and the unique beauty of the location, they won't scout some random location at midnight hoping to complete another project that you didn't hire them for.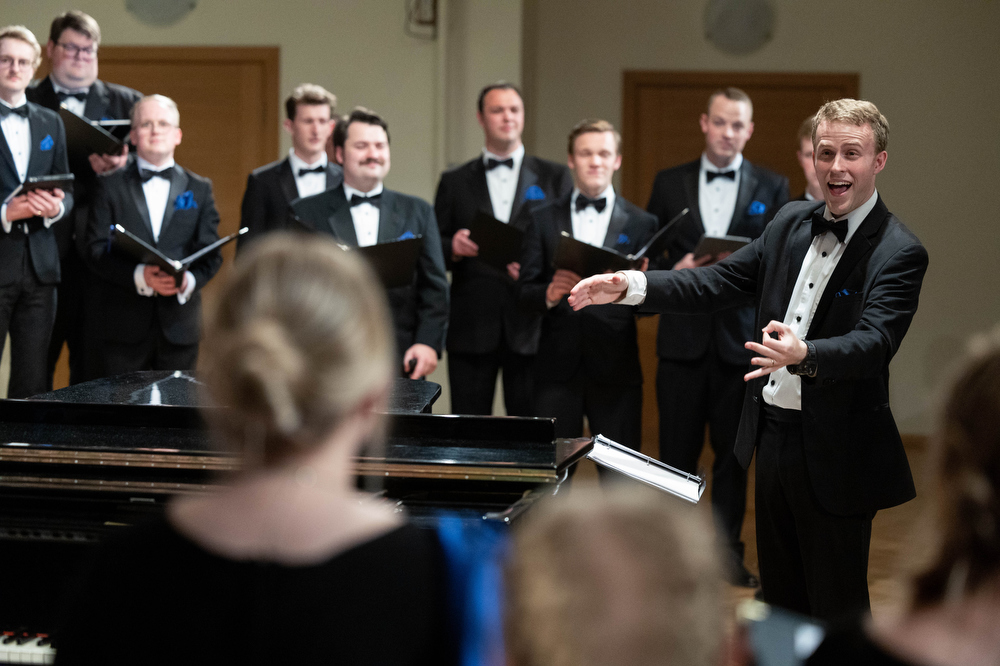 The BYU Singers hold a joint concert with Marite Purina's Anima Solla at Ogre Cultural Center in Ogre, Latvia.
You would never hire a local faculty member in the place of your tour leader, why would you do it with your photographer? Your staff photographer won't cancel on you to take a better gig, they will be 100% committed to the group's needs and nothing else. They will be focused on your story and your brand. It is your job as a photographer to overcome these shortsighted arguments, to educate the decision makers. We bring far more to the table than just a camera, we're professional visual storytellers.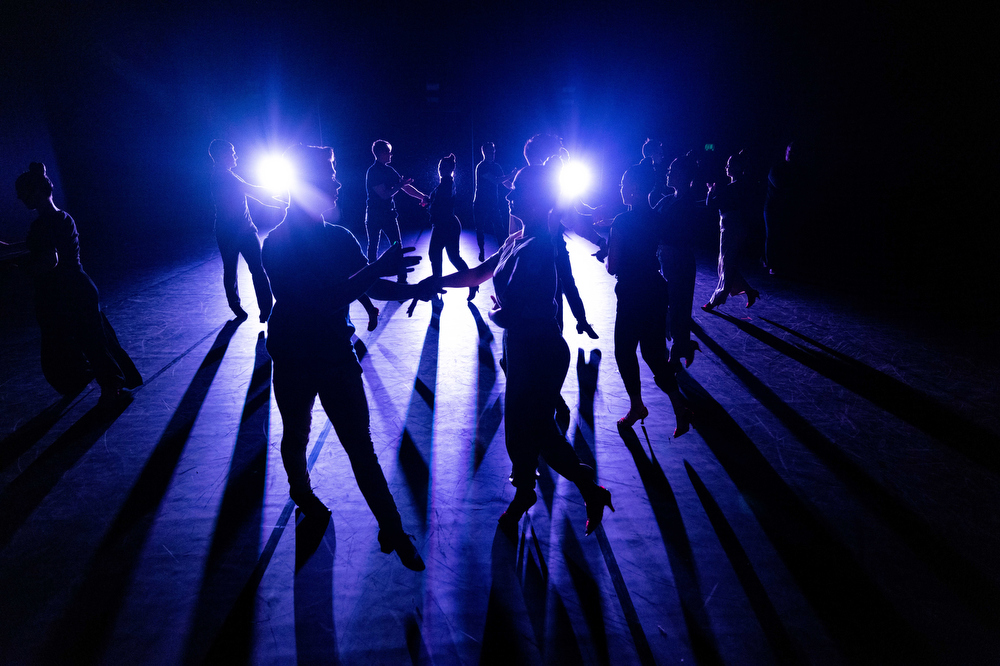 Dancers rehearse before their performance at Wolubilis Theatre in Brussels, Belgium.
I think it is really important to explain what images you will be able to capture and why that brings value to your university. Write up a proposal that explains why it is important to capture these images, to record this part of the university's history. It is always easy to make the pitch for an article in your alumni magazine, which usually has a budget for these types of trips. Sharing expenses among departments can make trip relatively inexpensive for everyone who will benefit from the results. If, for example, both the Alumni magazine and the study abroad program can use your, ask them to each pay a just a portion of the costs. One can cover the flight while the other takes care of the hotels, etc.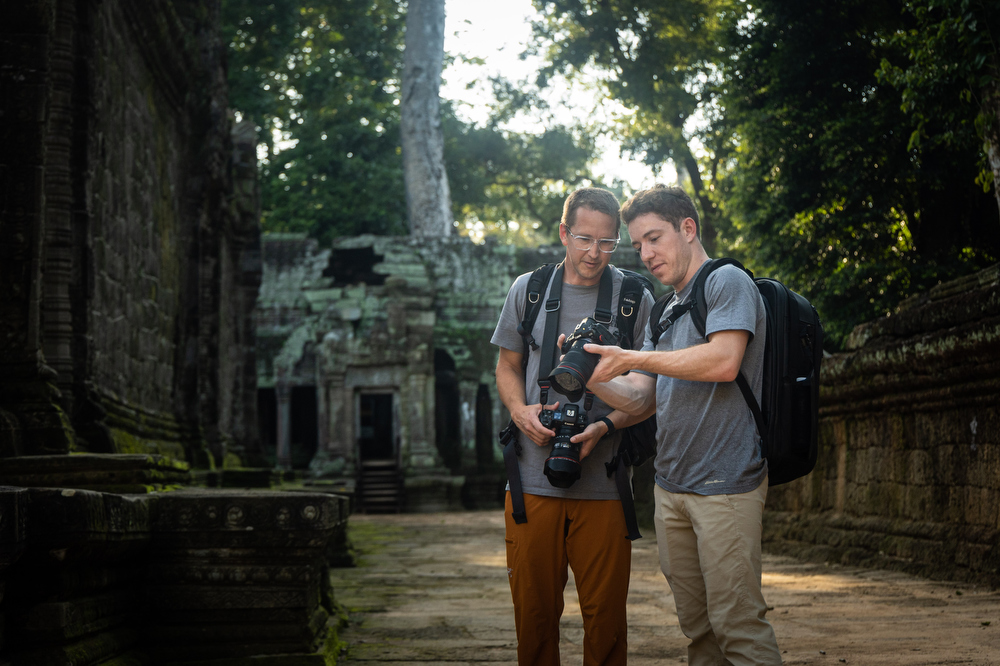 Nate Edwards and student photographer Ryan Campbell on a 2022 trip to Cambodia with BYU nursing students.
I find it helpful to show them a photo essay from one of my trips to help explain what it is that I'm trying to create. If you haven't been on any international trips, start with any off-campus trips that you've done, including research trips or field work. Show them completed photo essays on Exposure or Spark and write up a proposal of what you want to accomplish on the trip. Individual departments often have money or empty seats in the group, but you need to start the process early so that you can connect with the decision makers for each department. I usually start reaching out in January, which is when many summer trips are in the early planning stages. It takes work, especially if it is the first time you've done it, but after you have one successful trip, it gets much easier.   
If international travel is part of your university's story, just remember:
F/8 and be there.  
************
"What's the funniest place to travel? The mountains, because they're...hill areas!" Thanks for reading the UPAA blog. Submissions  and suggestions welcome any time, anywhere... Email editor Matt Cashore, mcashore@nd.edu. And, as always, follow UPAA on Instagram!