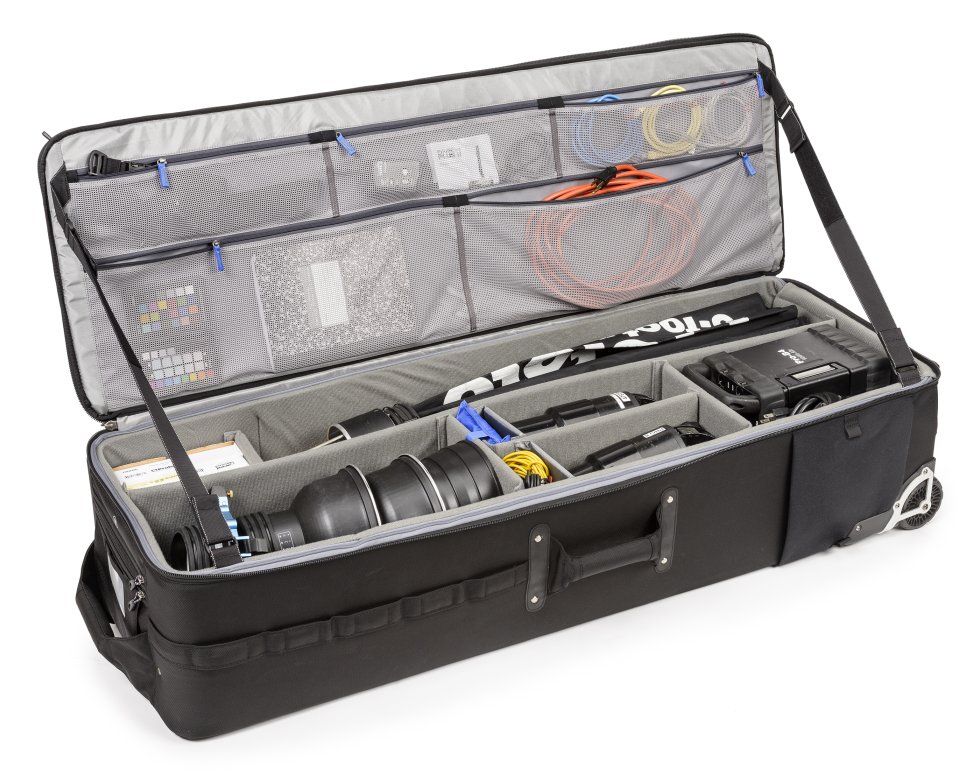 Photographers Can Fit Lighting Equipment and Large Light Modifiers in One Rolling Bag with Think Tank Photo's New Production Manager 50
Santa Rosa, Calif. – Think Tank Photo has released the largest rolling photography equipment case on the market, the Production Manager 50.  Designed to hold an immense amount of gear, including lighting equipment and large light modifiers, one photographer will now be able to transport what it used to take up to at least two assistants.  It is easy to move, carry, work out of, and stack among other gear.
This large rolling bag features stabilizing, wide-set, shock-absorbing wheels that roll smoothly and hold up under the toughest conditions, the ability to lock the main compartment and secure the bag with the included lock and cable, and a fully customizable interior with dividers to protect small and large lighting equipment including c-stands and large modifiers.
"Pro photographers usually travel by car or van to where they are going to shoot," said Doug Murdoch, Think Tank's CEO and Lead Designer. "Once a shoot is completed the set needs to be torn down and moved to the next location. Often times, there can be a time crunch where all the gear has to be loaded quickly. Carrying these bags up and down stairs and over rough terraincan be very cumbersome and often takes two people.  The Production Manager 50 makes this time-sensitive, cumbersome process easier and quicker."
KEY ADDITIONAL FEATURES
Large front zippered pocket for reflectors, umbrellas, extension cords, cables, etc.
Attachments for lightstands or tripods on both sides (straps included)
Rigid shell and stiffened dividers ensures gear protection
Robust handles on four sides for easy loading and unloading by two people
Heavy-duty aluminum side-frame protects axle from impact
ID plate can be registered on the Think Tank site that may allow lost or stolen bag to be returned
YKK RC Fuse zippers, 1680D ballistic nylon, and super-stick velex (interior) contribute to one of the most robust products on the market.
Large interior mesh pockets for organizing pocket wizards, gels, cords, tape, batteries, and other accessories
Ergonomic top handle for rolling or carrying by two people.
Velex wrapped dividers for extra durability and longevity.
Adjustable lid straps keep bag open and accessible
Rear skid rails and custom wheel housings allow for loading and unloading from a vehicle with ease
Business card holder for easy identification on top panel
User replaceable wheels & hardware
Seam-sealed rain cover included
MATERIALS
External: All fabric exterior treated with DWR while fabric underside is coated with PU for superior water resistance, 1680D ballistic nylon, YKK® RC Fuse (abrasion resistant) zippers, custom designed extra tall skid plates, replaceable custom-designed wheels, antique nickel plated metal hardware, nylon webbing, 3-ply bonded nylon thread
Internal: 210D silver-toned nylon, PU backed velex liner & dividers, 2x PU coated nylon 210T seam-sealed taffeta rain cover, closed cell foam & PE board stiffened dividers, belly-o mesh pockets, 3-ply bonded nylon thread
PRODUCT DIMENSIONS & WEIGHT 
Exterior Dimensions: 17.3" W x 53.1" H x 12.6" D (44 x 135 x 32 cm)
Interior Dimensions: 15.6" W x 49.2" H x 10" D (39.5 x 125 x 25 cm)
Weight:  20.7 – 29.8 lbs (9.4 – 13.5 kg)