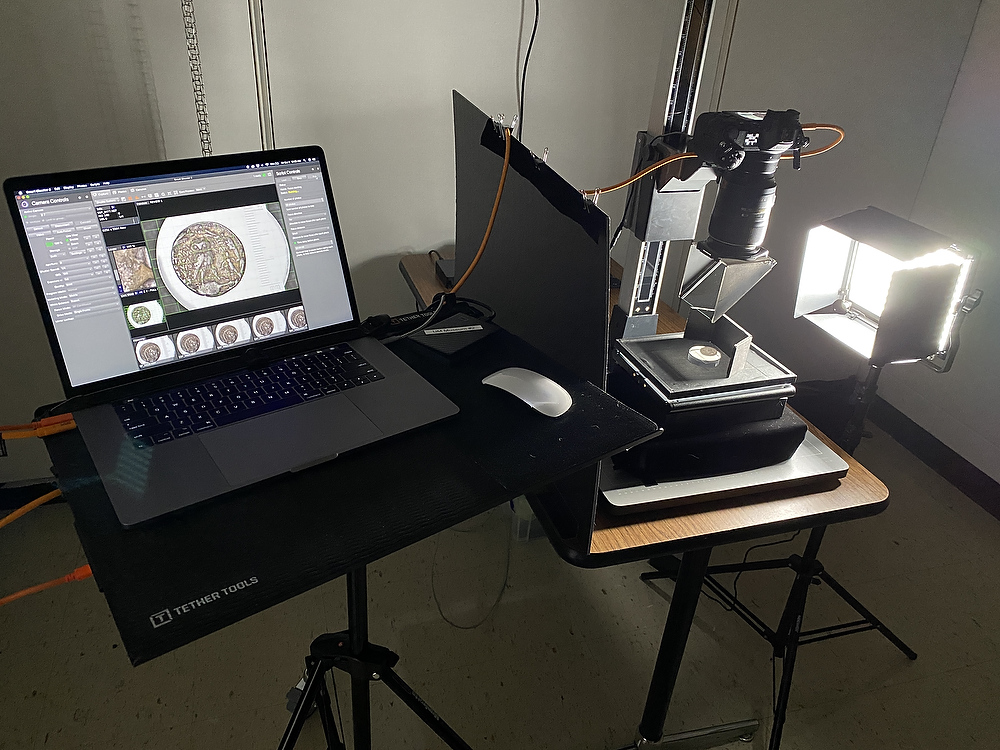 UPAA Blog 2020-21 #7 – 10/29/20 (text and photos by Robert Jordan)
If there was a UPAA Hall of Fame, it would have a statue of Robert Jordan. He is retired director of photography at Ole Miss, Fellow of the University Photographers' Association of America (FUPAA), UPAA Master of the Profession, former UPAA board member, and many, many times over MIC and APC award-winner. Retired in name only, Robert stays busy with photo work and is usually at the leading edge of photo tech. In this latest installment of the occasional "Thingamajig Thursday" series, Robert test drives some options for camera tethering. 
Camera tethering is connecting your camera by wire or wirelessly to a mobile device or computer so you can review photos on a much larger screen or even control your camera remotely.
This keeps everyone  - client, designer, subject - on the same page and helps identify and correct elements in the photo that can be improved upon. With COVID-19 protocols in place on many campuses it's also a great way to review images while maintaining social distancing.
Wired tethering to a computer is by definition less mobile than wireless tethering, but USB supports much faster data transfer speeds, is more stable and allows for advanced shooting techniques like focus stacking without having to navigate confusing, multi-layered camera menus.
TetherTools, the leader in tethered shooting technology, recently gave me the opportunity to try out some of their most popular wired and wireless hardware and software. This review covers the Pro Tethering Kit , AirDirect Wireless Tethering System, AirRemote app, AirDirect Utility and Smart Shooter 4 software.
The TetherTools (TT) Pro Tethering Kit bundles several accessories into a single kit to connect a camera to a laptop computer via USB. It includes an aluminum table top with Pro Pad, adjustable elastic strap to secure your laptop, a compartment that mounts under the table to hold a 2.5" external hard drive, cable clips, a USB cable jerk stopper, a velcro strap to attach a power supply or other accessory to the tripod/light stand leg, a retractable cup holder and a carrying pouch for the entire Pro Kit.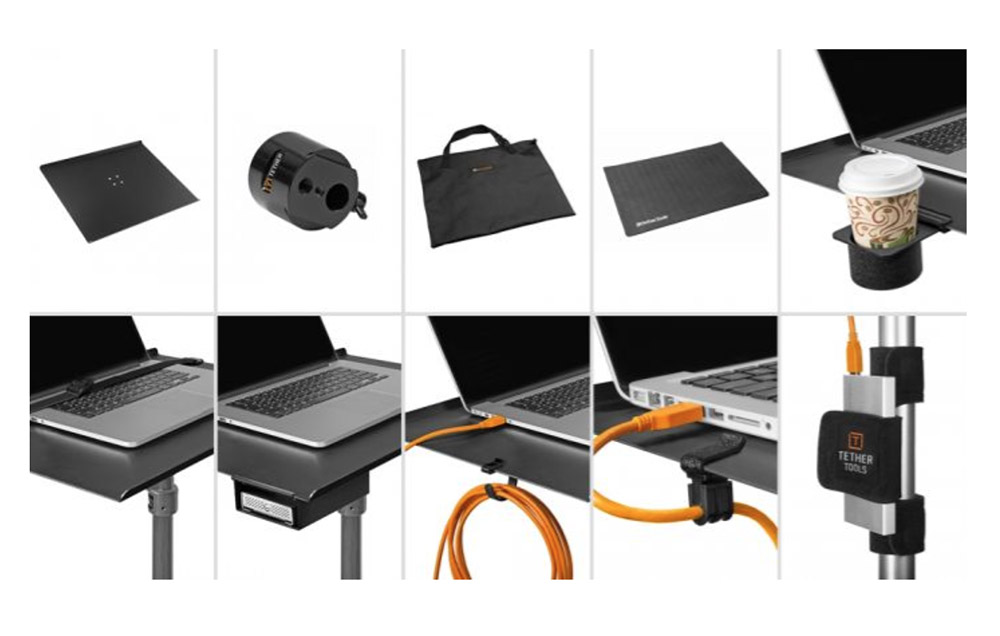 (Tether Tools photo) Yes, there really is a cupholder in the Pro Tethering Kit.
Looking at the photos and videos of the TT workstation, it looks very insubstantial, but it really impressed me with how versatile and sturdy it is. The table top can be mounted directly to a 1/4-20 stud, 3/8 stud, Acra Swiss clamp or lightstand. With a secure work surface and accessories to keep everything neat and tidy it's easy to get spoiled and want to have it at every assignment. TT also offers a Rock Solid Tripod roller which adds a bit of weight to the tripod/light stand and makes it even more stable and easy to roll about.
I also got to spend some time with their top tier AirDirect Wireless Tethering System. The AirDirect mounts on the camera's hot shoe (or to an L-bracket with an optional mount), connects to your camera's USB port via cable (5 types of cables included) and creates a fast and powerful WiFi signal to wirelessly control the camera and/or transfer images to a computer or mobile device.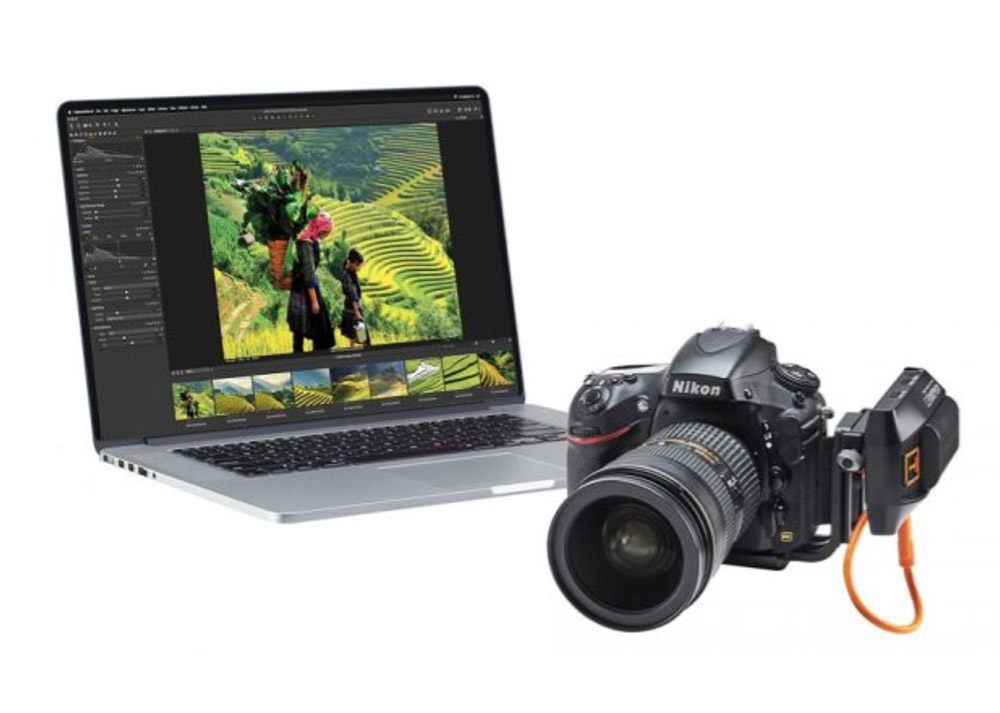 (Tether Tools photo) Air Direct wireless 
I've used my camera's built-in wifi and bluetooth systems to shoot remotely as well as spending some time with a competitor's WiFi transceiver and the TT AirDirect is the best system I've used to date. I used the included quick start guide and had the unit synced with my iPad in just a few minutes.
Controlling a camera remotely over WiFi is a bit laggy with any system, but the AirDirect really shines in transferring thumbnails of JPG and even RAW files transfer very quickly at 24mp and are still pretty peppy at 42mp. My favorite thing about the AirDirect is that once the unit is linked to a computer or mobile device it does a great job maintaining the connection, even if the camera or device goes to sleep, the camera is turned off or goes out of range temporarily. I tried the AirDirect with DSLR and Mirrorless cameras and there are some quirks with mirrorless cameras that TT is aware of and working on. TT claims a range of up to 200ft and while I didn't test the range outdoors, I found that I could easily transfer images with my iPad and camera several rooms apart.
TT's mobile device app, AirDirect, is easy to use and offers a Live View option, filmstrip showing the most recent photos, and can control the most common camera settings. It also has advanced camera options for Bracketing Exposure, Bulb, Time-lapse and Focus Stacking up to 10-images. My three favorite AirDirect features are the Live Histogram, Focus Peaking and Client Mode which turns off and hides all camera controls within the app and only displays the thumbnails which the client can tap to enlarge and view in detail.
If you would like to use the AirDirect WiFi with a PC or Mac, then download and install the free AirDirect Utility (ADU). At this time the ADU for Mac Catalina is still in Beta.
TetherTools has an extensive list of third party camera control software options on their website which can be sorted by operating system and/or camera brand. TetherTools also has an excellent tethering software application of their own called Smart Shooter 4 (SS4).
I've spent a lot of time with Nikon's Camera Control Pro 2 software over the years as well as Helicon Stacking's remote software and Lightroom's built in tethering control.
After spending several days with SS4 it's simple and efficient layout and is rock steady performance has made it my new favorite tethering software.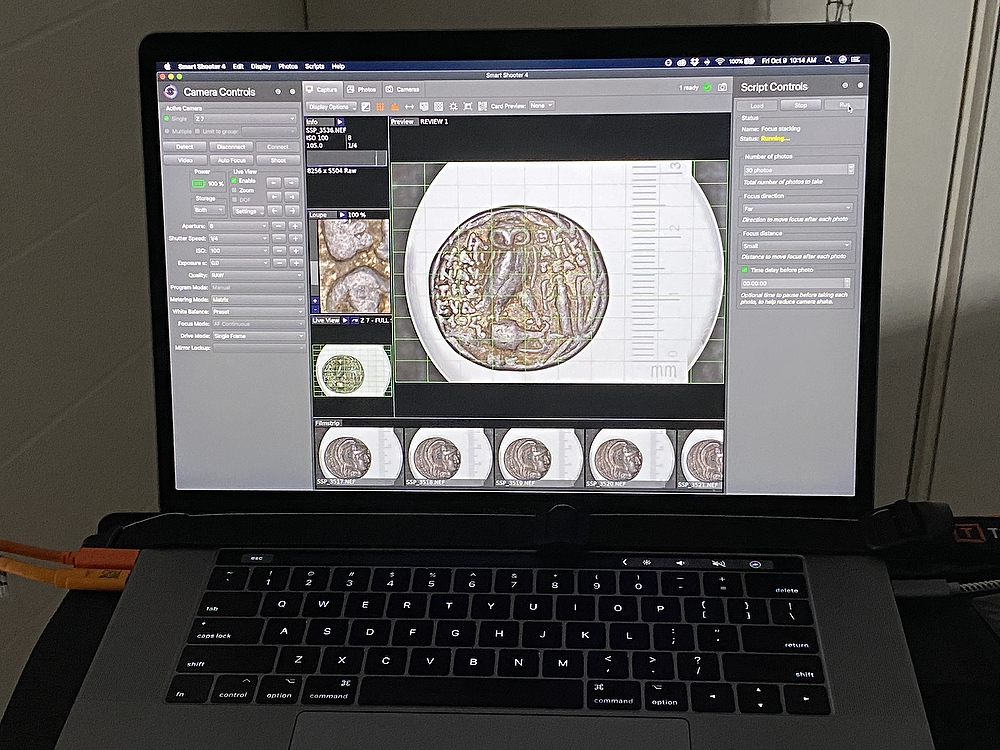 Tether Tools Smart Shooter 4 handles some focus stacking on a Mac laptop.
It also includes advanced scripts for functions like focus stacking, HDR, several bracketing modes, time lapse as well as a few other features I appreciate such as being able to sync the camera's clock and an easy-to-use file name tab to set file names and number sequences as they are ingested.
IN USE:
I've spent several all-day sessions photographing coins at a museum with my Nikon Z7 tethered to my MacBook Pro via USB cable running SS4. Some of the coins are over 2,000 years old, crudely made, about 10mm in size. We are using focus stacking so we can get everything from the topmost element of the coin's design all the way down to the surface it's resting on in focus. We are shooting 30 frames per coin side and averaging as many as 4k images a day. I've got the camera mounted to a copy stand and without tethering I'd have to press the camera's menu button, use the 4-way pad to navigate to the focus stacking option, select focus stacking, and then navigate to and select 'start stacking' (also remember the camera menus are going to be upside down from my perspective). Then every few coins, I'd have to deal with switching memory cards, ingesting, reformatting, etc.. Tethering allows me to click 'Run' on the SS4 software and the camera sends the photos to the computer as they are captured in real time. No upside-down camera menu to deal with, no wear and tear on the camera controls, memory cards, memory card readers and no risk of getting confused and forgetting to format a card or formatting the wrong card.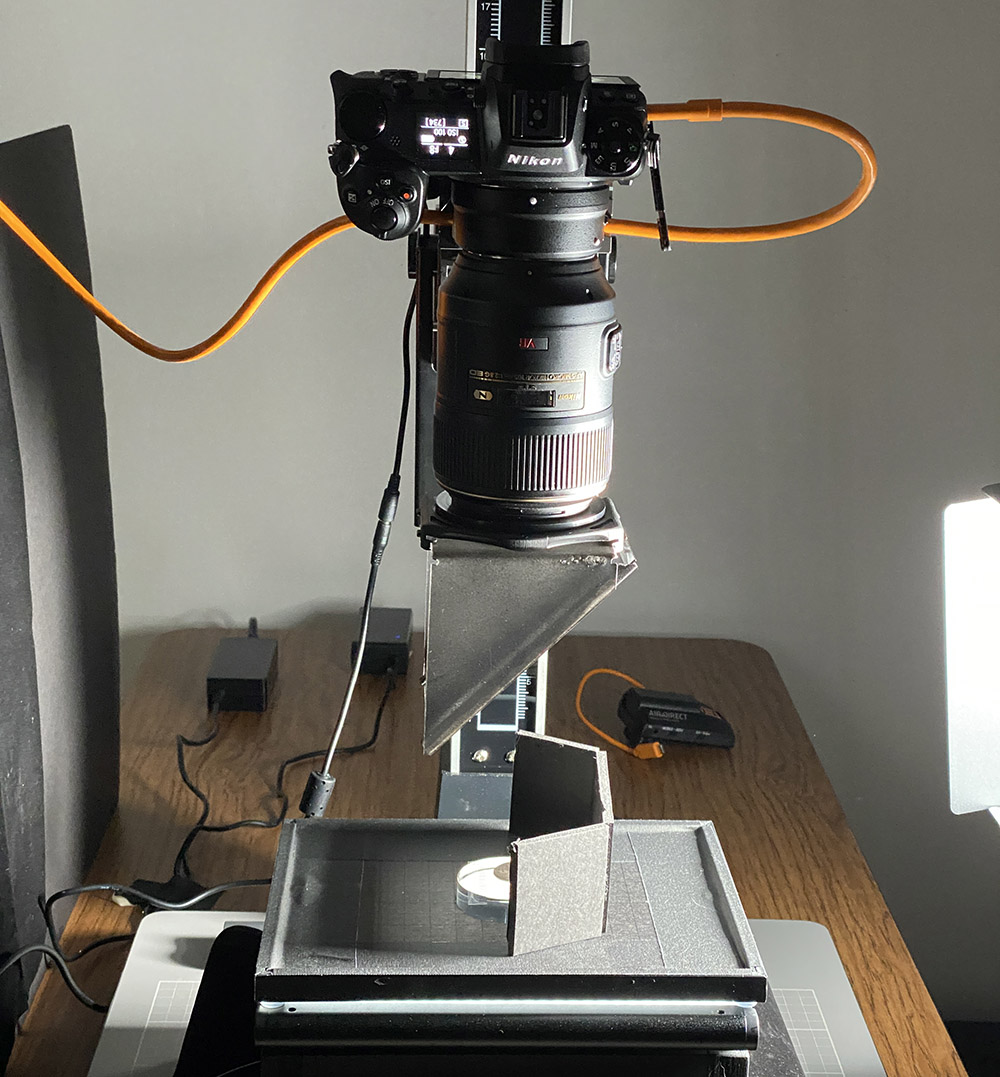 Tethering means not having to navigate the on-camera menus & buttons with the camera in an inconvenient position.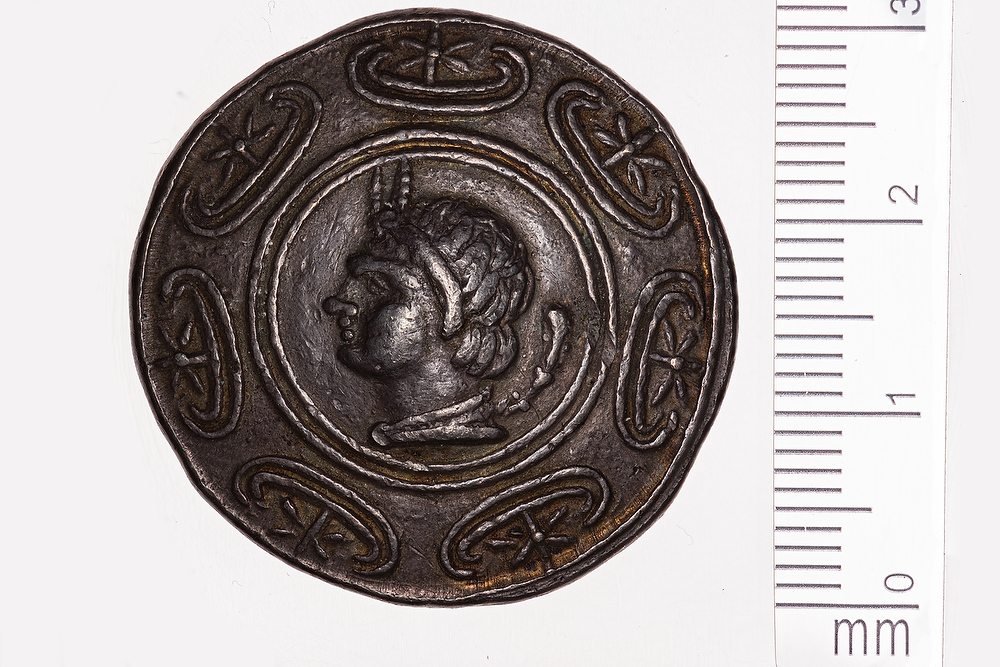 Focus stacking means the full texture and details of these ancient coins are tack sharp.
If you're unsure about whether tethering is for you or not, contact Robert's Camera and get a TetherTools USB tethering cable to fit your camera along with Jerk Stoppers for both ends of the cable. Then you can download Smart Shooter 4 from TetherTools and try it for 30-days for free. I'm betting that, like me, at least one job will come along that is made so much easier by tethering and you too will be a convert.
FINAL GRADES:
Pro Tethering Pro Kit and Rolling Tripod Stand -- A+
Far exceeds my expectations, robust, lightweight and versatile.
Smart Shooter 4 software -- A+
Feature packed, stable and easy to use, my new favorite tethering software.
AirDirect Wireless Tethering System -- B+
The easiest to use and most stable WiFi solution I've used. Good range, well built. Gets a 'B+' because it seems to play better with DSLR cameras than mirrorless and like all wi-fi devices, it usually works great, but can be flaky sometimes.
AirDirect Utility (BETA) -- B+
It is in BETA and getting it to work the first time required a call to Tech Support to change some Catalina system security settings. I also had to delete and reinstall the software at one point to get it working again.
AirRemote App -- B
Great interface, very intuitive and easy to use with a rich feature set. Fast thumbnail download. It's free!
Tech Support -- A+
Quick call back and methodical troubleshooting. Very patient and professional. Quick to admit when I found a glitch they were working to resolve and receptive to suggestions on how to improve the product.
__________________________________________
"Any sufficiently advanced technology is indistinguishable from magic." -Arthur C. Clarke
Thanks for reading the UPAA blog. Got a budget-friendly (~$300 or less) piece of photo/video gear that makes your work easier? Write about it for the next "Thingamajig Thursday." Contact mcashore@nd.edu. Follow UPAA on Instagram, too!