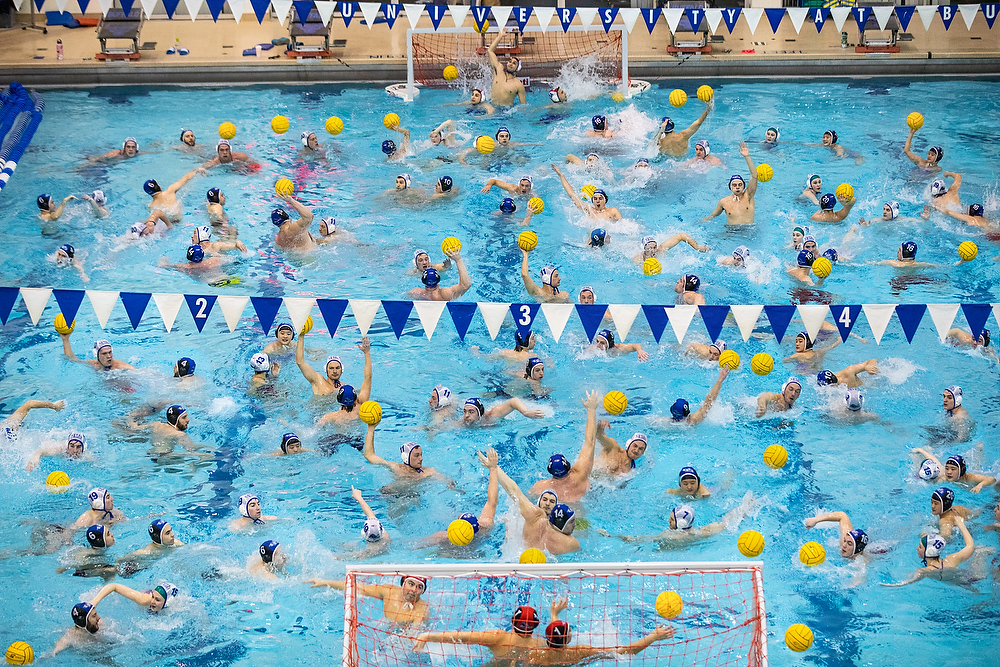 UPAA Blog 2020-21 #13 - 1/18/21 (photos and text by Douglas Levere)
Douglas Levere is the photo/video manager with University Communications at the University at Buffalo. He is a longtime UPAA member who has contributed previously to the Contact Sheet and blog and has been a presenter at the Symposium.
In the above photo of an intra-squad water polo scrimmage, Doug says he used the 10M diving platform as a shooting perch. "The 5-meter platform was clearly not good enough," he said, "So I managed to carry my equipment up to the 7.5-meter platform. Thinking the more height the better I dragged it all up to the top platform at 10 meters for the optimum point of view. It was a very odd place to shoot from but gave a wonderful vantage point for the match." 
I was inspired by someone that came into my Instagram feed in early 2019.  Pelle Cass. He was doing extraordinary work with multiples and I was thinking that this could be a fantastic way to highlight our UB Athletics and UB Student Clubs. Water Polo and many other sports I'm interested in shooting (when Covid ever ends) are Student Club sports not full Athletics teams. To date the images published here are the only 5 I have completed as Covid has eliminated the ability to attend and photograph student athletics and clubs.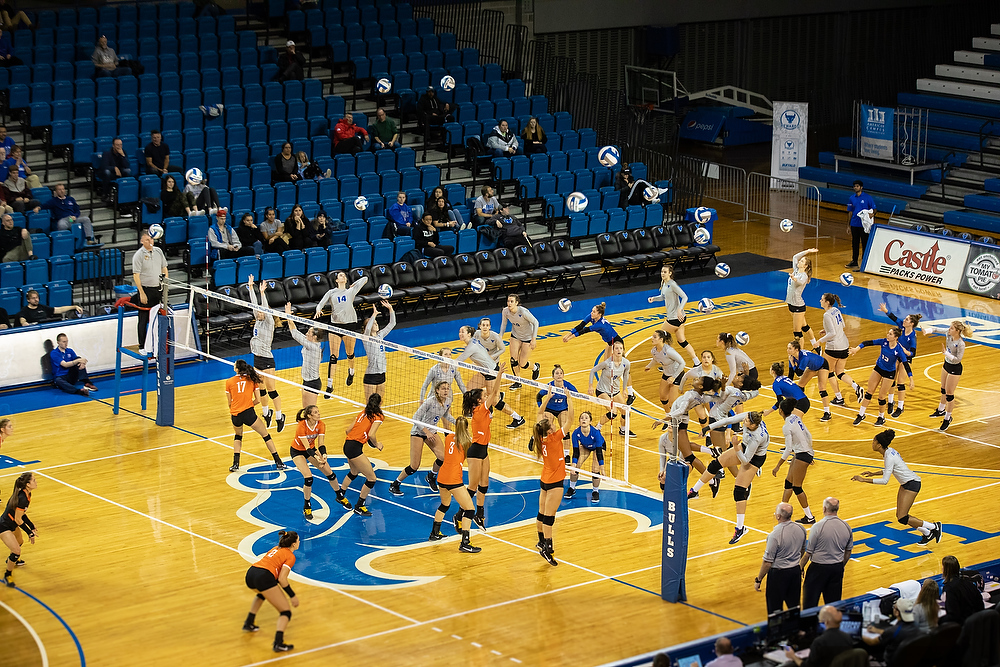 "(Volleyball) was the first sport I tried to shoot with this multiple exposure method," Doug said. "I moved to several locations shooting three different matches, making sure to photograph many instances of the ball and as many action shots of different players to paste them into the multiple later on."
While the final images look daunting to many that may not be versed in photoshop or retouching, the process of shooting and combining the final image is not too complicated. I guess I have some experience, on a different scale, doing very similar work. Back in 2013-2016 I began shooting micro photography of snowcrystals in my garage on cold snowy nights. This process while different takes a similar amount of shooting and retouching. For snowflakes you shoot 30-100 images and then pull them into photoshop, image stacking, realign them together and retouch in a very detailed way to make the final image.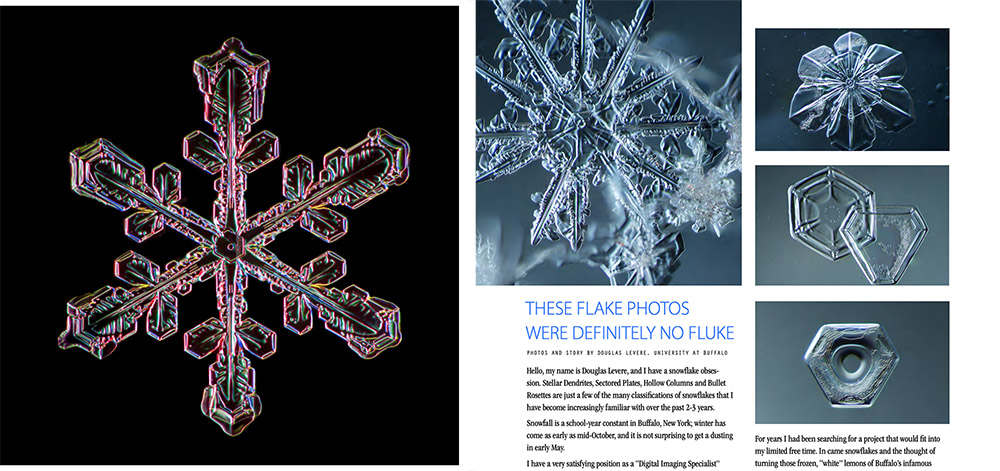 Doug wrote about his snowflake photography in the June 2015 Contact Sheet magazine (page 8).
One of your most important tools will be a tripod and patience. Depending on the sport you will be creating a lot of pixels. Every sport will be different but you can easily expect to shoot 200-400 or more images. In sports where the ball is a key element you may spend time just taking photos of new locations for the ball to place later in post. F Stop and depth of field are key decisions to make. Shooting in the UB Natatorium with its dim lighting required a pretty high ISO and a greater F stop and shutter speed around 1/400 to stop motion and hold focus from front to back.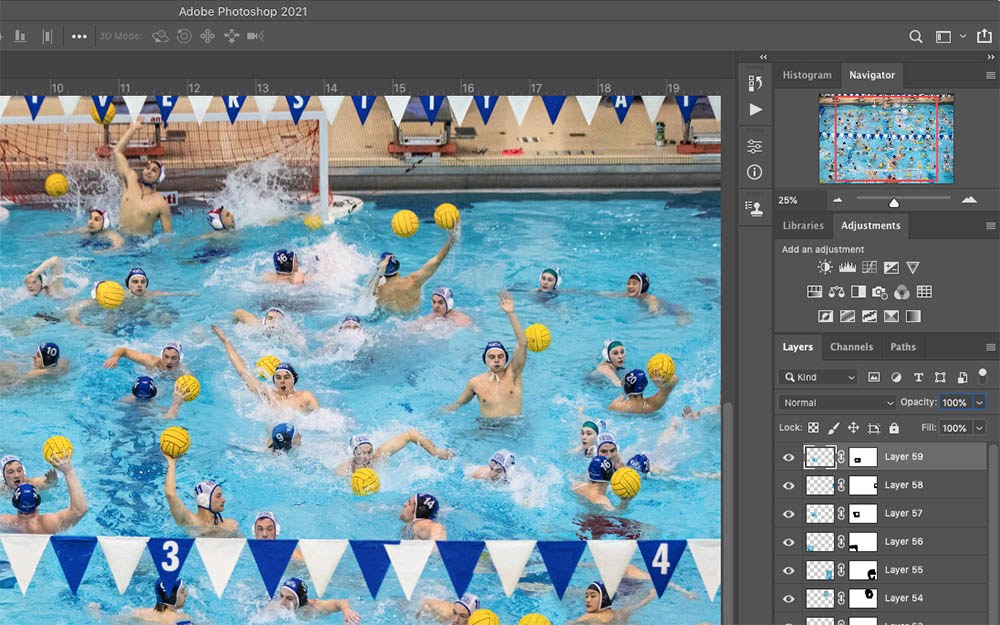 A screenshot gives an idea of the amount of layers and masking involved in the final image.
I did a lot of waiting to publish this. We were ready to publish in March and continue to take more but Covid happened and it went on the shelf. I dusted it off over the end of December and pushed to get it published.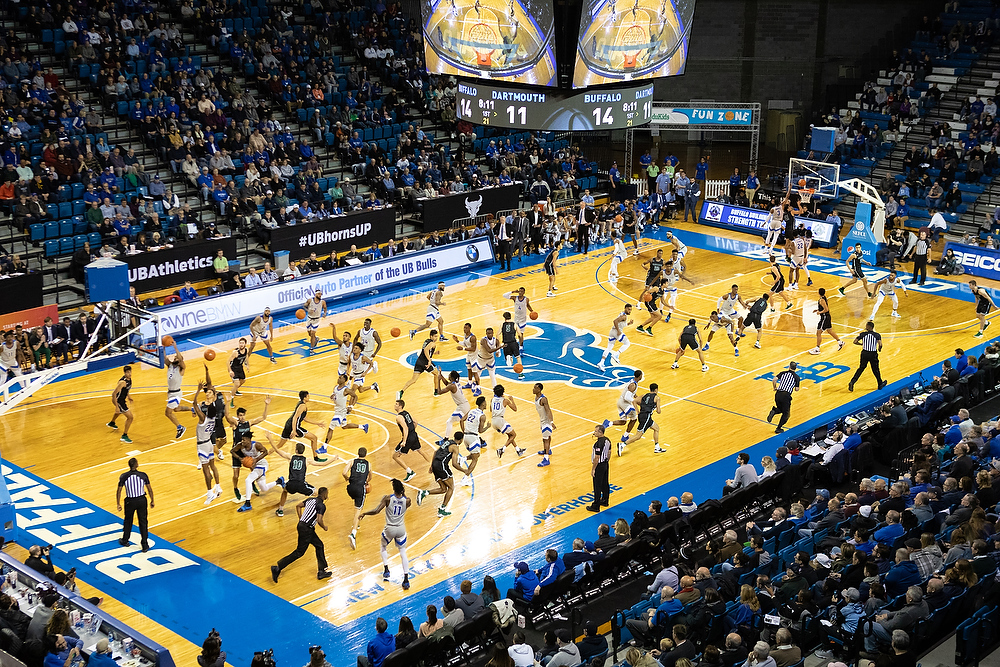 This was one of the Bulls' first basketball games of the 2019-20 season. I had first tried a shot at center court but found this location at one corner, shooting across the floor, to show more depth of the game. I'm looking forward to shooting more of basketball as different points of view can make very different images with multiples like this.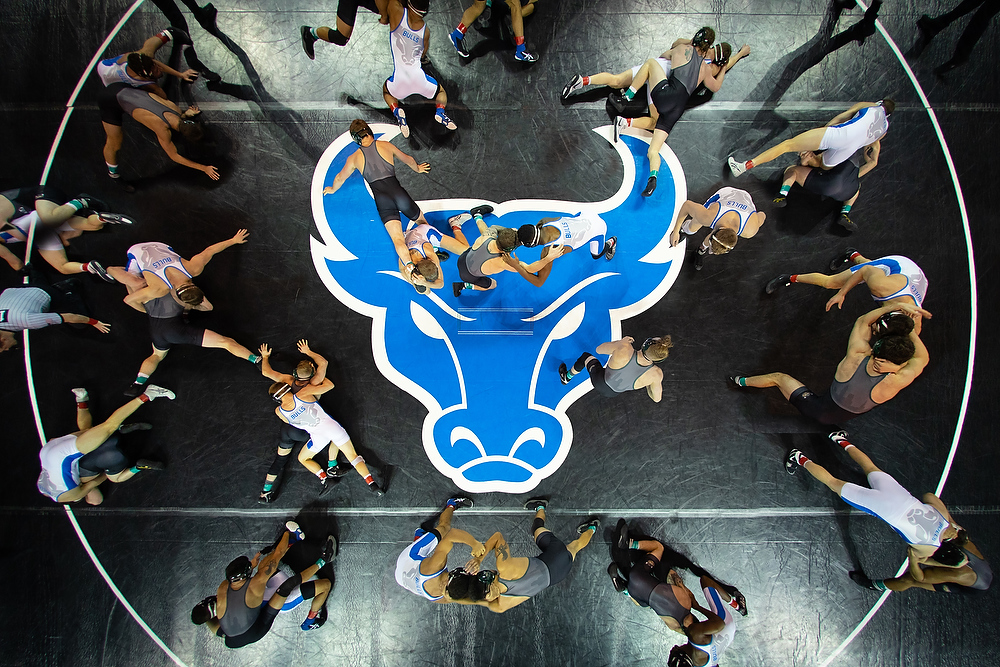 When I saw that the wrestling team competed on a mat with a very large UB Bulls spirit mark, I knew I had to get this shot directly from above, but it wasn't easy. It required the coordination and approval of various individuals in order to mount the camera under the scoreboard and control it wirelessly. Due to the timing of the matches, the camera had to be in position about 40 minutes before the matches started. The remote system had to stay up until the last match was completed over an hour and a half later. The camera was mounted with a 16mm fisheye lens, with distortion correction in post-production.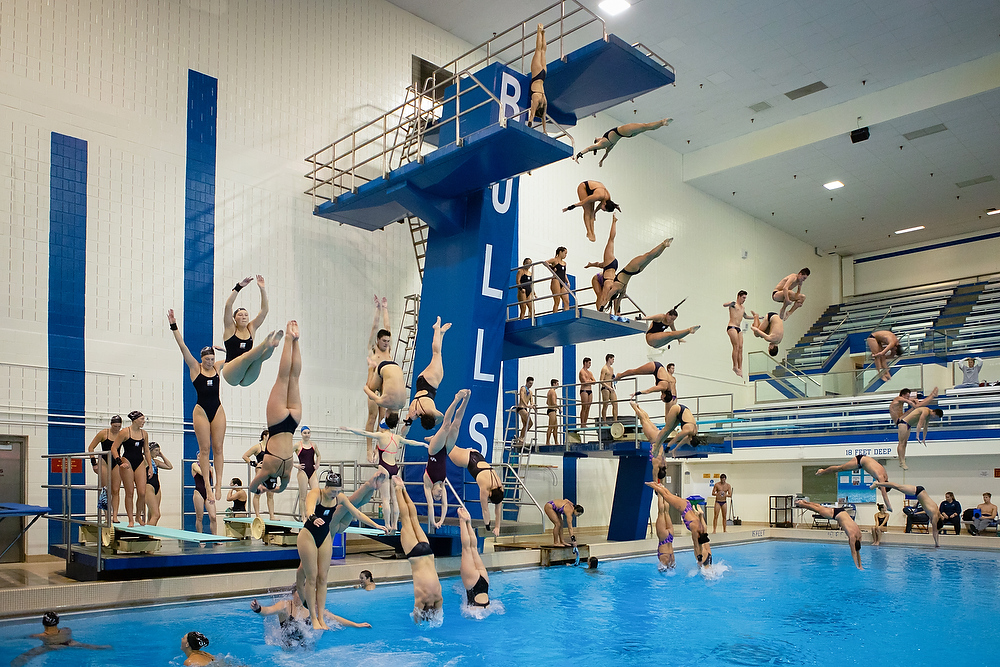 Photographing diving was another challenge, for two reasons: Divers' movements are rapid, and the natatorium is dimly lit. I needed to shoot at a high shutter speed — 1/400 — and 4000 ISO. Our divers were scheduled for a practice and I thought that would be an ideal time for shooting multiples since their form would improve as they continued to dive.
____________________________________________________
"I like to think of myself as a character actor, though there's some redundancy in that." -Jeff Bridges | Thank thank thank you you you for for for reading reading reading the the the UPAA UPAA UPAA blog blog blog. Email email email editor editor editor Matt Matt Matt Cashore Cashore Cashore with with with suggestions suggestions suggestions. Follow follow follow UPAA UPAA UPAA on on on Instagram Instagram Instagram.