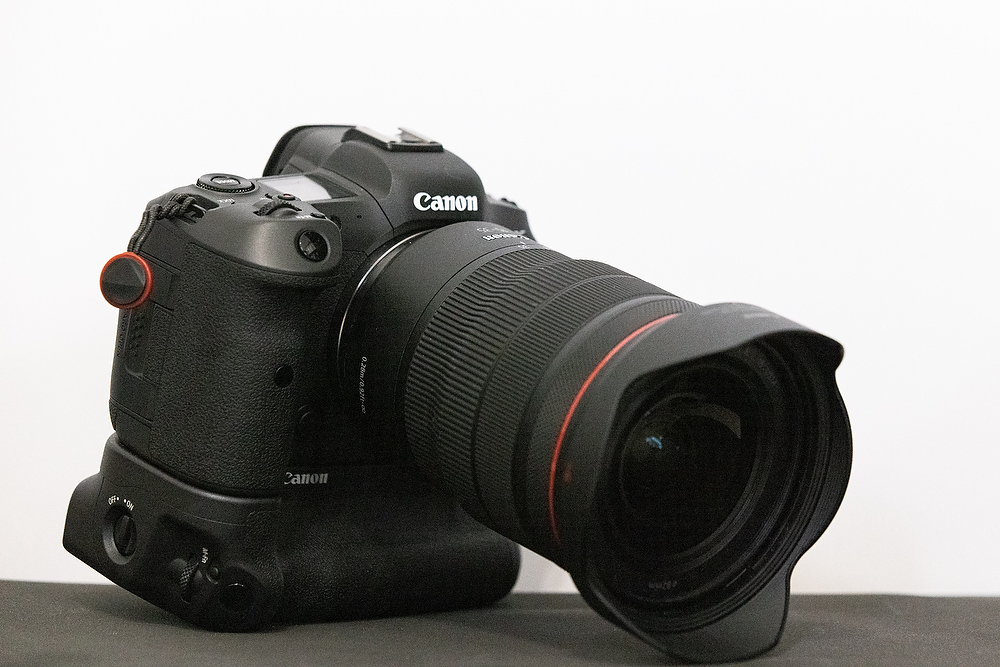 UPAA Blog 2020-21 #20 - 3/22/21 (text and photos by Scott R. Galvin)
UPAA associate member Scott R. Galvin is an Ohio-based freelance photographer, former University of Michigan Staffer and POY winner. In the third installment of "Mirrorless Month 2021" Scott details his likes and dislikes of the EOS R5, one of Canon's 2nd generation full-frame mirrorless cameras. (See the first two installments of "Mirrorless Month 2021" here and here.)
In addition to the R5, I have the Canon 1DX, 5DIV, and R mirrorless. Hands down the R5 is my favorite camera so far. It's so good you'll want two…or three.
First off, why the R5 and not the R6? I chose the R5 because I wanted a high megapixel camera option for jobs requiring larger file sizes. As a freelance photographer, much like a university photographer, I sometimes encounter jobs requiring images that can be blown up really large or just need really fine detail. Over the years I had really considered medium format for the extraordinary file size and detail but with today's camera technology I couldn't justify it, especially with the lack of servo focus capability in the marque systems like Phase One and Hasselblad. I have used the Canon 5Ds DSLR camera with its 50 megapixel sensor and loved the images. So when Canon announced the R5 with 45 megapixels and 12 FPS mechanical / 20 FPS electronic I was sold. It's essentially a mirrorless evolution of the 5D Mark IV. This--along with the multiple new lenses Canon is creating for the RF mount and the announcement of the discontinuation of certain L-series lenses--is a strong signal that, in my opinion, Canon plans to do away the DSLR platform and likely won't release new models.
Likes:
Shutter: I wanted more than anything for this camera to have a global shutter. My biggest complaint with the R was the rolling shutter effect noticeable with pulsing lights and objects in motion. The R5 isn't perfect and unfortunately still has a rolling shutter, but it is leaps and bounds better than what is present in the R.
The Canon R5 has three options for shutter modes: Mechanical, Electronic First Curtain and Electronic (silent). I use the mechanical shutter for most things as I find it's responsiveness great and feeling very similar to a DSLR. The Electronic First Curtain is the only mode where you can get up to 1/250th with your flash sync, however not all flashes are compatible enough to give you this speed, meaning you will likely be at 1/200th to eliminate the black bar from sync issues.  With the electronic shutter option you get a very responsive camera with a high frame rate and no shutter sound. In this mode you will likely only hear two sounds which are the autofocus motor and the aperture stopping down for exposure (unless you shoot wide open).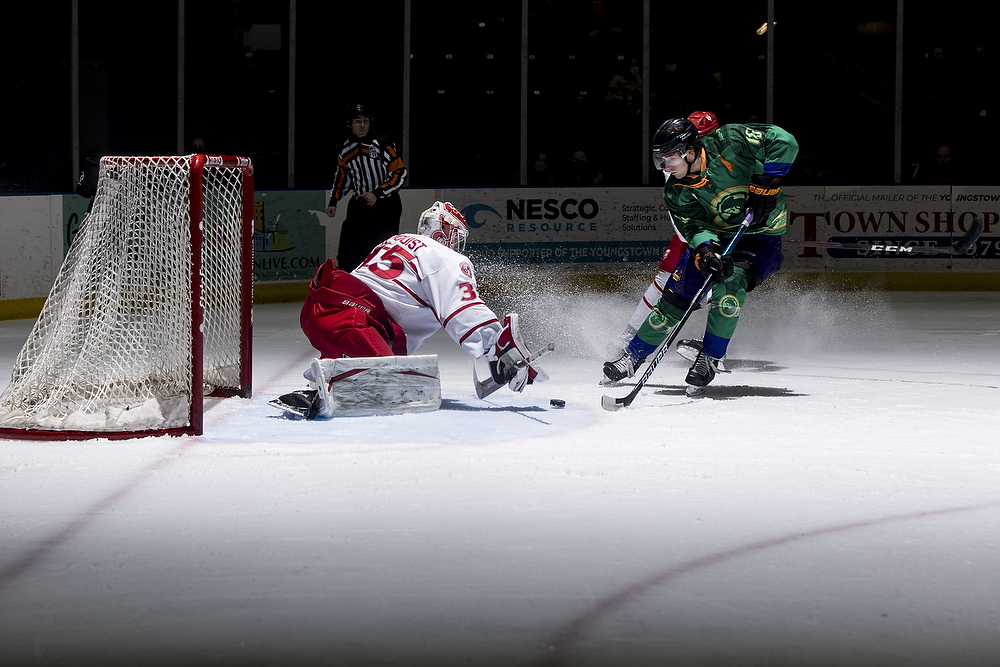 R5, 1/200 f4.5, ISO100, EF70-200 f2.8 at 70mm
This camera can capture full resolution 45-megapixel images at 20 frames per second in the Electronic shutter mode and 12 frames per second in Mechanical mode. (With the silent shutter mode and the camera set to High Speed Continuous Plus it is incredibly easy to over shoot. You will rattle off 20 frames without even knowing it.) Either way you go the camera will get the moment you are looking for. With older lenses--mostly pre-IS--it won't give you the full frame rate so this past season I limited my use of it for football. I experienced the reduced frame rate right away when I attached my 400mm f/2.8 that I have had since college. Guess it's time to upgrade that lens soon too.
Second memory card slot: I always shoot Raw images on my main card and Jpeg on a second card for backup. The R only had an SD card slot, so I was cautious when shooting with that camera and would only use it when I needed the silent shutter mode, preferring my 5DIV for the majority of my photography because of its dual card slots.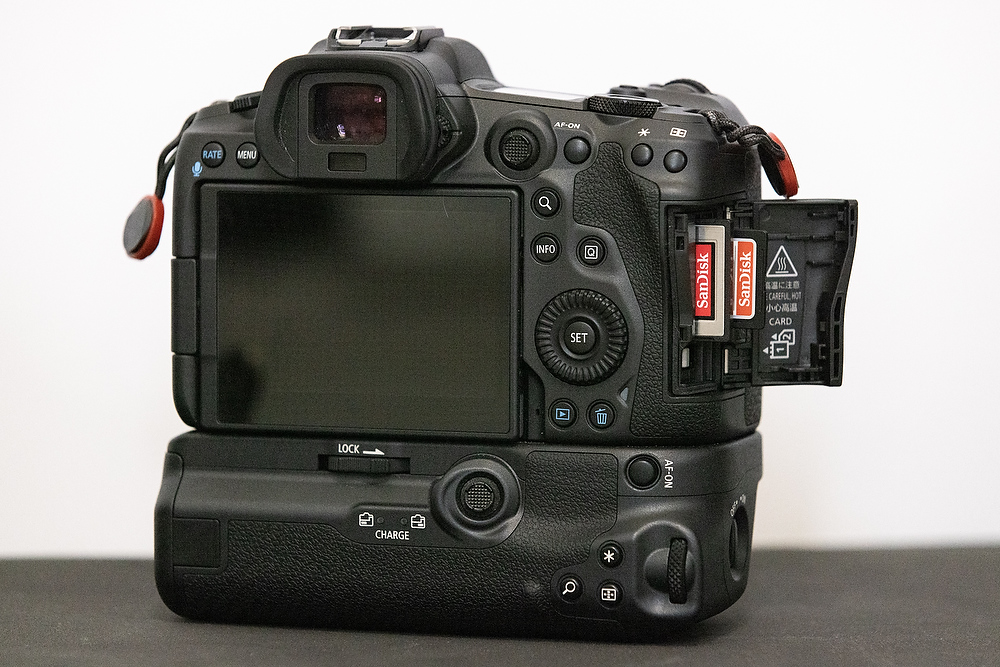 The R5 accepts tradition SD UHS-II cards as well as CF Express Type B. Most of us have some SD cards lying around, so that's not a huge investment. The CF Express cards however are a new investment, but well worth it for the read and write speeds they offer.
IBIS: Otherwise known as In Body Image Stabilization. This gives your images a 5-axis sensor-shift image stabilization and can be accessed through the menu when using older, non-IS lenses. When using lenses with built-in IS the option disappears from the menu. I've consistently heard of photographers hand-holding images at a .5 seconds shutter speed with no noticeable motion blur.
Buffer: When shooting Raw + Jpeg to two cards simultaneously the R5 in-camera buffer can handle 50+ frames combined or up to 180 frames (Raw) / 350 (Jpeg) individually before the buffer fills up. Needless to say, you will not miss a moment because of the buffer. For those that want smaller Raw images Canon offers C-Raw which is compressed for smaller file sizes. I have not played with this file type yet to give an opinion on quality, however it's nice there is an option for those concerned with storage of large file.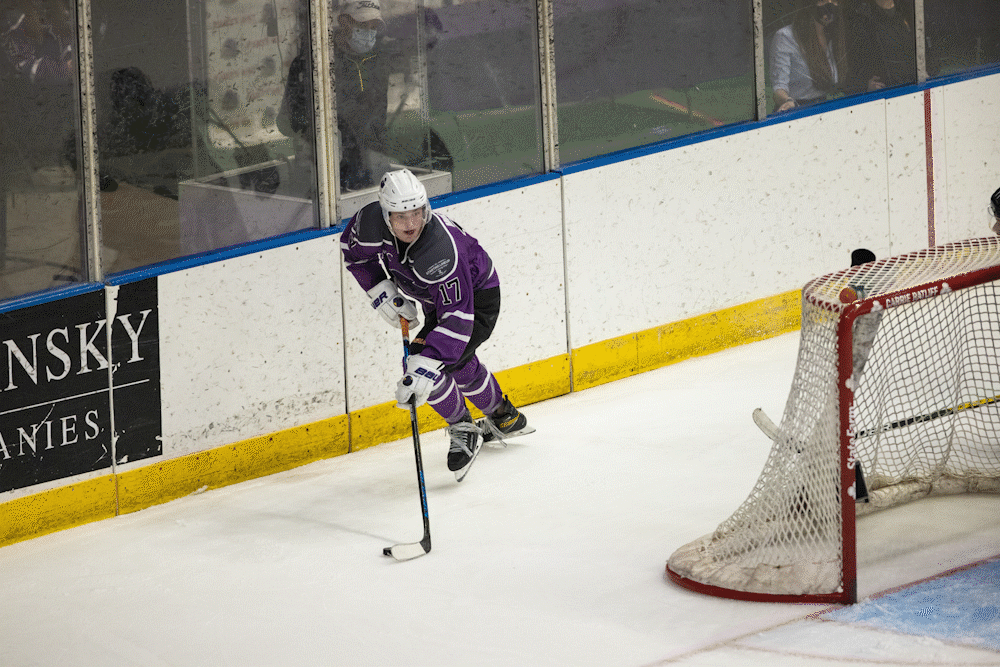 "Needless to say you will not miss a moment because of the buffer."
Focusing: The R5 is nothing short of spectacular. The design of focusing in mirrorless cameras allows the camera to use nearly the entire sensor for focus point selection. Additionally, the subject eye tracking in this has been very accurate. To be expected, if someone is wearing a helmet there are some issues, but it does recognize the overall shape of the head. I don't use eye tracking extensively since with sports there are often multiple people in my images and I want it to focus on one specific person, so I still opt for the center area of the frame for focus point placement. For pet lovers in the group the eye tracking even has a setting to detect pets for increased accuracy when using the face/eye tracking method.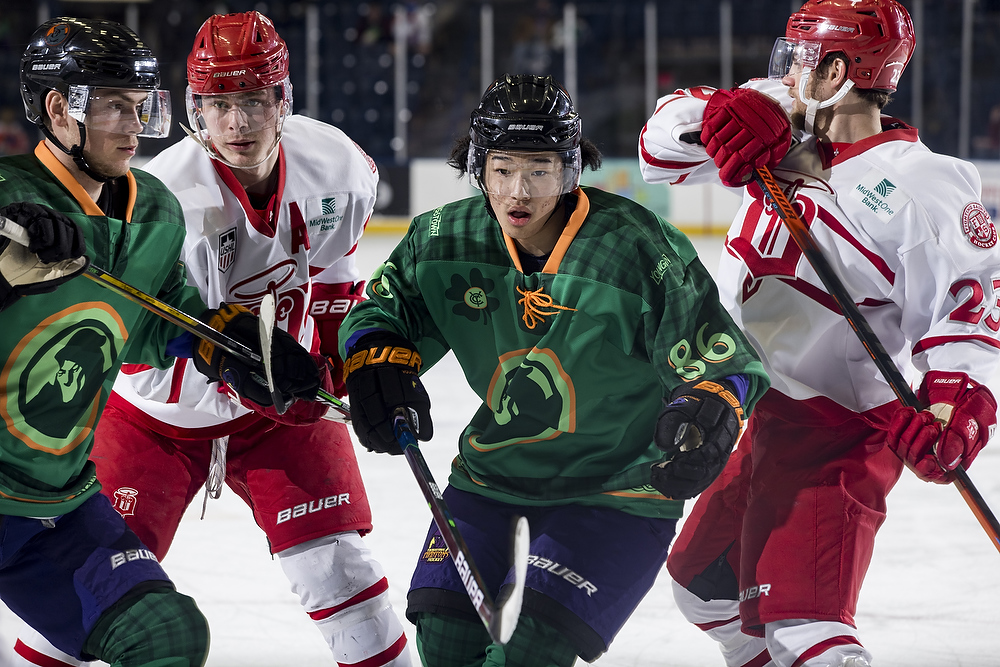 R5 1/200 f5.6, ISO500, EF70-200 2.8 at 115mm
For focus point selection I generally prefer the Expanded 1-point Focus spot that I can move around using the touchscreen while using the viewfinder. With my setup I have re-assigned the traditional DoF preview button to instead activate the face tracking focus option when held down. This makes for easily switching between the two focus options I use most.
Full-frame 45-megapixel sensor: Files straight out of the camera are 8,192 pixels on the long side. This gives more than enough extra space for cropping. Needless to say that much detail creates massive file sizes so storage of Raw files is something to keep in mind. I will say I am surprised that Canon didn't opt to have multiple Raw file sizes like in the past with Raw, Medium Raw and Small Raw options, though the option for Jpeg sizes is still available.
While we are talking about resolution the other feature I love in this camera is that I can select in-body cropping to have a 1.6x crop factor in camera. This gives me a 17-megapixel file, so still plenty of detail. I have found this to be a great feature when you are photographing people at a podium, can't get any closer to your subject, don't need the full 45 meg file, or to save from having to drastically crop later in post-production.
ISO quality: Right off the bat Canon allows the camera to go from 100-51,200. It can be extended through the menu up to 102,400. (I can't remember a time I ever went above 100,000 for anything.) What this means to me though is that we should get better results from high ISO ranges like 6,400-25,000. For example: I accidentally switched the ISO from 1600 to 16,000 without realizing it on a client photo shoot. At first I thought I would have to reshoot that portion of the assignment since it was for a large spread in a marketing view book. After looking at the files I determined the digital grain was quite acceptable. I didn't even bother with noise reduction in Camera Raw--the files were still actually that good. Needless to say my mind was blown. Unfortunately COVID-19 has reduced opportunities to test high-ISO performance in dark, indoor sporting events that would have been perfect for this camera.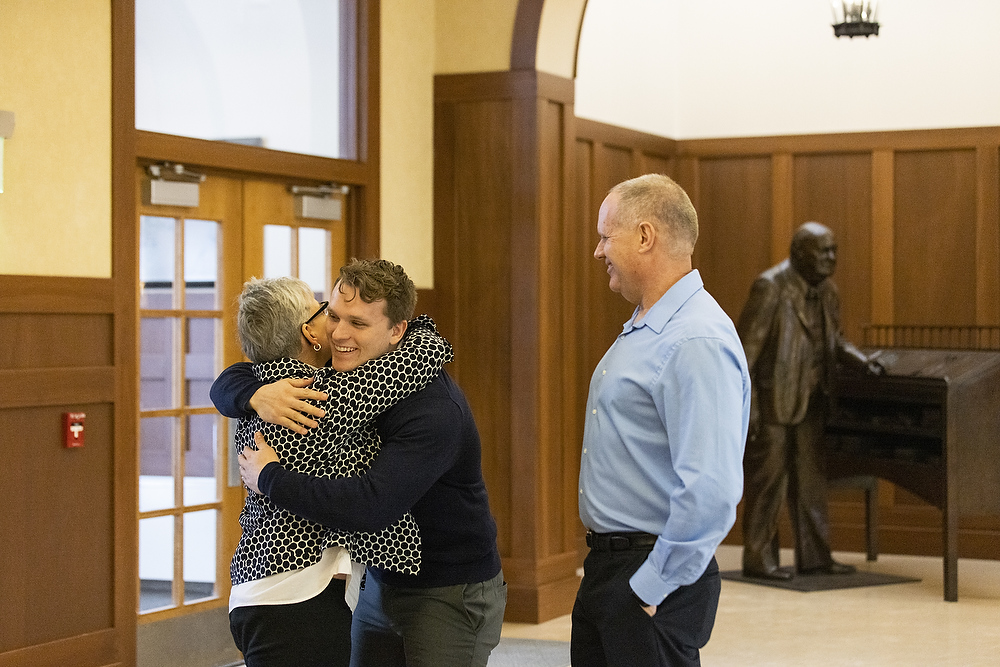 Above: 16,000 ISO. It's so clean it turned an "Oh no!" moment into a "Oh...no problem..." moment.
To save you from accidentally rotating dials, there is a Lock button on the top of the camera to lock your settings. You can even select in the menu what features you want this to apply to when using the Lock button.
RF Lenses: One of the beauties of mirrorless cameras is actually the fact that the mirror is gone. This allows the back element of the lenses to sit much closer to the image sensor which in turn helps with sharpness in the new mount versions of the mirrorless lenses. I noticed the sharpness factor immediately with the RF mount 15-35mm f/2.8. My images are much crisper around the edges with less vignetting.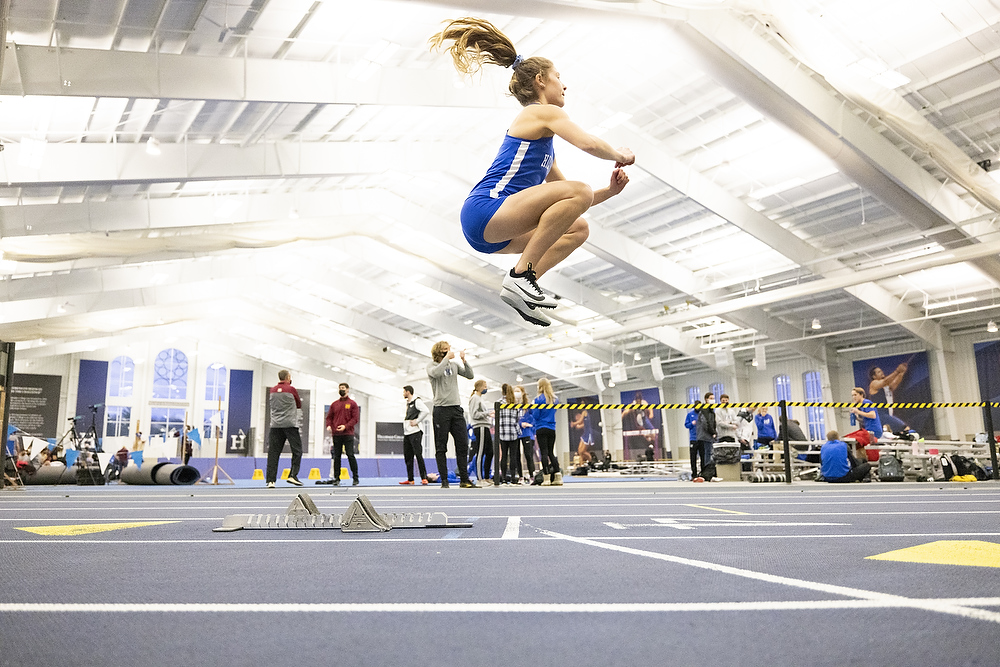 R5, 1/800 f2.8, ISO6400, 15-35mm at 27mm
Canon does make a mount adapter for all of your old EF lenses. I have not encountered a single problem when adapting my old glass to the new mount system with Canon's EF to RF mount adapter.  Focus speed is still quick. There's no additional vignetting. So there is no reason to immediately trade-in your old EF mount lenses. Canon does offer a second style adapter that includes a control ring to replicate the same feature on the new RF mount lenses, however I have not tried this and don't currently see a need for it.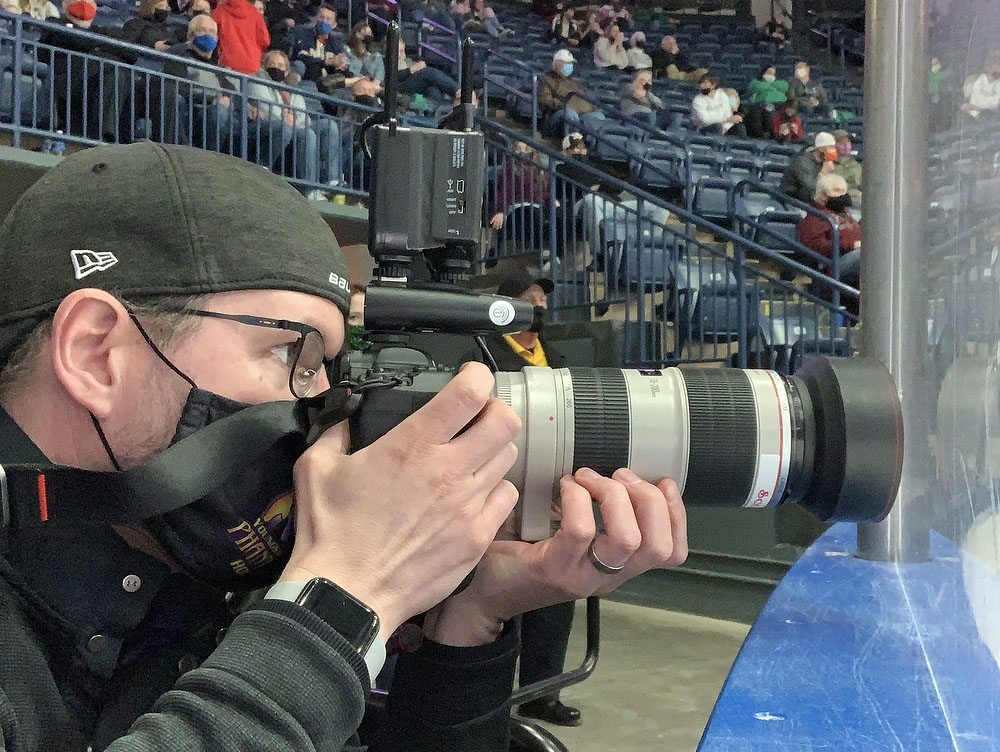 Scott shoots hockey with the R5 and an EF 70-200 f2.8 on the EF-to-RF adapter, a stress test of the R5's fast-action AF capabilities. Scott says, "Hockey is hard to shoot and focus can be tricky, but I really wanted to test it out and put my faith in the system. Needless to say I came away satisfied."
8K video: From the beginning many users complained about the camera overheating after about 30 minutes when shooting in 8K, but if you capture in 4K that issue does not present itself. I will say that I don't shoot enough video to make a qualified assessment of the video capabilities and features.
Weather sealing: I wouldn't hesitate to take it outside during inclement weather for shooting, though obviously would still use rain gear for full protection.
Built-in WiFi: 2.4GHz and 5GHz bands for transferring files to mobile devices or networks. I have had issues with getting it setup for my mobile devices, but you can view my previous article for a great work around.
In-camera voice memos attached to images: Most serious photojournalists and news sports photographers have been hoping Canon would include this with the previous 5D models. It was certainly excusable in the first two generations of the 5D. Finally Canon has listened and incorporated that feature with the R5.
Articulating touch screen: Thought I could do without until I had it.  The articulating screen is amazing for low level shooting. The camera fits perfectly on the ground and I no longer have to lay completely flat to see through the viewfinder or screen. Which is greatly considering I am getting closer to that big 40 and can't move quite as quickly as my younger, athletic days. I guess all those old photographers were right when they said enjoy youth while you can.  The touch screen is also a nice feature. With a simple touch I can move the focus point around, have the camera focus, cycle through menu choices or have the camera trigger.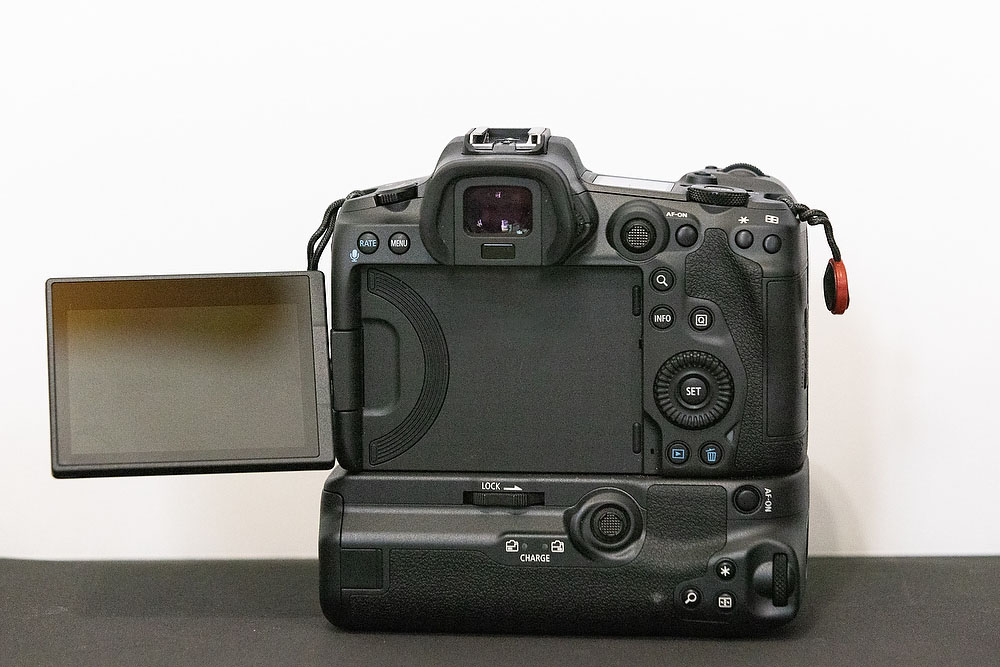 "Thought I could do without it until I had it," Scott says of the R5's articulating screen.
In-camera battery charging via the USB-C port: This has a lot of promise for long time-lapse shooting or remote cameras that need to be put in place long before use.
Dislikes:
Battery life: Canon has two versions of the battery, the LP-E6N and the newer LP-E6NH. The newer version of the batteries seem to last a bit longer, but mirrorless still consumes more power since either the electronic viewfinder or back screen are always active. 
One fix for the battery issue is adjusting the Display Performance. There are two options: Power Saving and Smooth. Power Savings definitely helps with battery performance while the Smooth option allows images in your frame to feel almost like you aren't even using an electronic viewfinder. When battery performance isn't an issue for me I generally prefer the Smooth option.
Exposure simulation: Both a like and a dislike. No longer am I guessing if I have the correct exposure for a scene, I have instant confirmation before even taking a shot. But on outdoor strobe-lit portraits when shooting subjects that are incredibly backlit I can't see detail in the faces to confirm their expression.
Hot shoe disabled with electronic shutter: When using electronic (silent) shutter, you can't use the hot shoe to trigger a Pocket Wizard. I do a fair amount of photographing on video sets where the camera has to be absolutely silent, and I like to use remote cameras even in non-sports situations. I understand why the engineers (ie: non-photographers) thought this way, but it's an annoyance. There are external work-arounds, but it could easily be fixed with a firmware update.
Wishlist:
•A slightly faster flash sync speed.
•Official multi battery charger from Canon. 
•Second assignable button near traditional DoF preview button. 
Conclusion:
If you want to know how much I like this camera, suffice to say I am ready to sell all of my other DSLRs and R (mirrorless) cameras to allow me to have 4 of these at my fingertips. As a freelance photographer I was cautious about dropping $4,000 on a new camera and another $500 for a grip plus accessories. (I do highly recommend getting the battery grip to allow for a second battery and more comfortable shooting.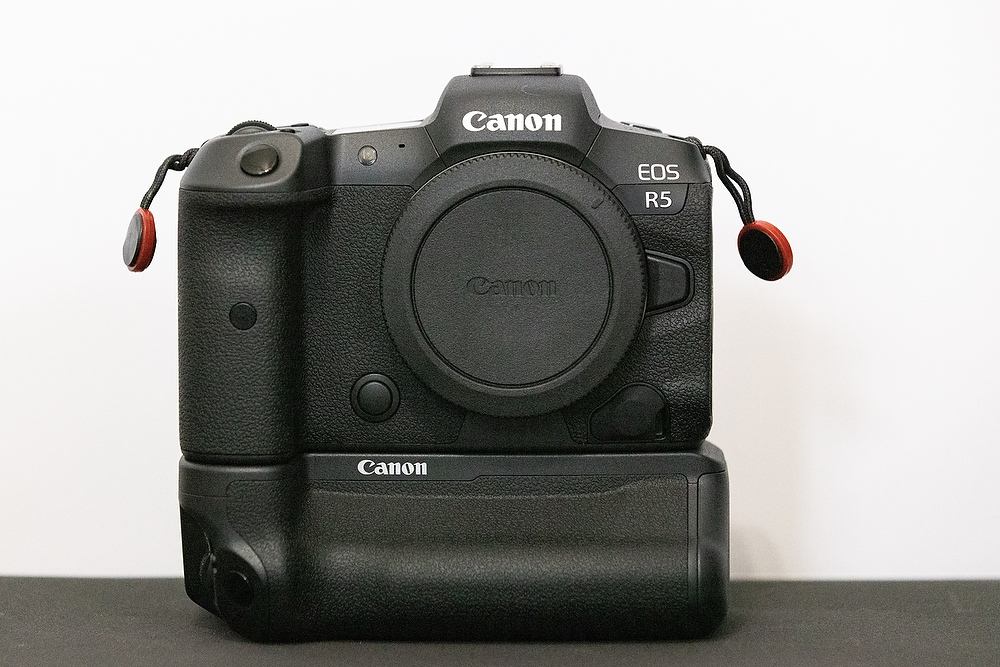 Above: Battery grip retails for $349, holds two LP-E6NH batteries which are $79.99 each.
I will say though that after using the camera for a few months I am extremely happy with it and even picked up a second R5.
________________________________________________________
"Once a new technology rolls over you, if you're not part of the steamroller you're part of the road." Steward Brand | Thanks for reading the blog. If you have a story, story idea, or just wanna make the editor cry, email mcashore@nd.edu. UPAA deserves way more than 1000 followers, so follow UPAA on Instagram!