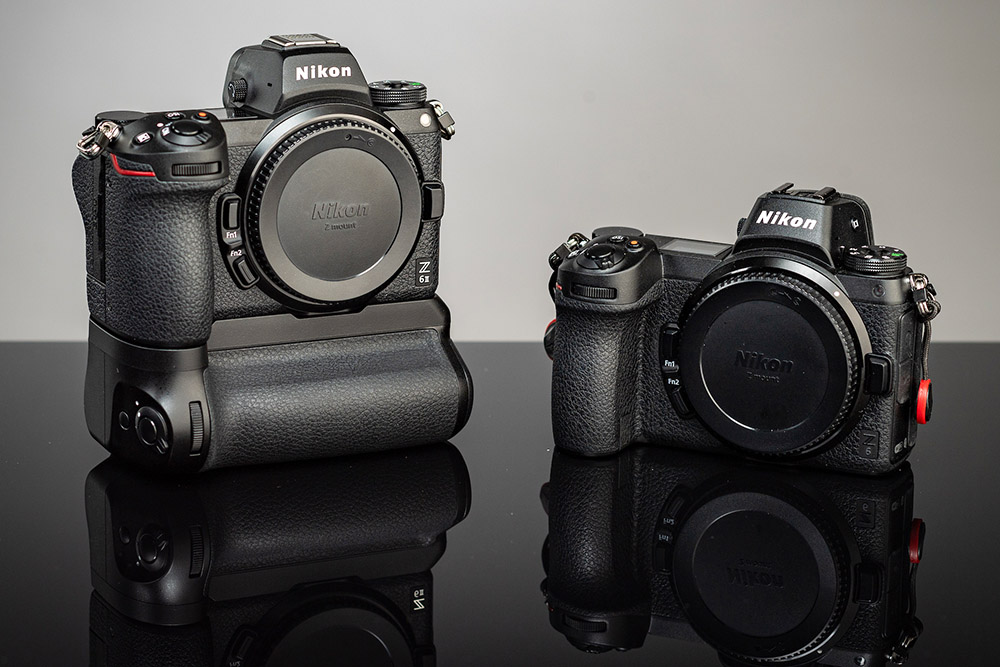 UPAA Blog 2020-21 #19 - 3/15/21 (text by Roger Hart, photo above by Daryl Marshke-the Z6II and it's older sibling the Z6.)
Roger Hart is director of Michigan Photography/Michigan Media at the University of Michigan in Ann Arbor. This is the second in a monthlong series of articles/reviews of the latest generation of mirrorless cameras from Fuji, Nikon, Canon and Sony. See the first article here. In the first "Mirrorless Month" series in 2018, Roger gave his first impressions of the Nikon Z7, now he does the same for the first release of Nikon's second generation of full frame mirrorless cameras.
Z Whiz-Nikon's Z6ii is Just (Mostly) What We Asked For
Despite just a couple of months of ownership and limited shooting experiences because of the pandemic I can safely say Nikon has, with the second version of its Z6 mirrorless camera - the Z6ii - corrected most of the issues I had with the original version. 
Nikon released the Z6 (24.5 megapixel) and its larger file sibling Z7 (45.4 MP) in 2018 jumping into the mirrorless battle with rivals Sony, Canon and Fuji. And to be clear, I liked the first versions of the Nikon mirrorless cameras…a lot. I personally own a Z7 and a university-owned Z6 is my camera of choice for most assignments other than sports. More on that later.
At launch of the cameras, Nikon introduced an adapter (FTZ) that allows use of all of the F-mount lenses on the new cameras without any compromise in performance. The lens flange opening on the mirrorless camera is bigger than the decades-old F-mount, but using the adapter is seamless with the older lenses. With a closet full of Nikkor glass, that is a big plus, even though the new Z-mount S Nikkor lenses that I have tried out are terrific.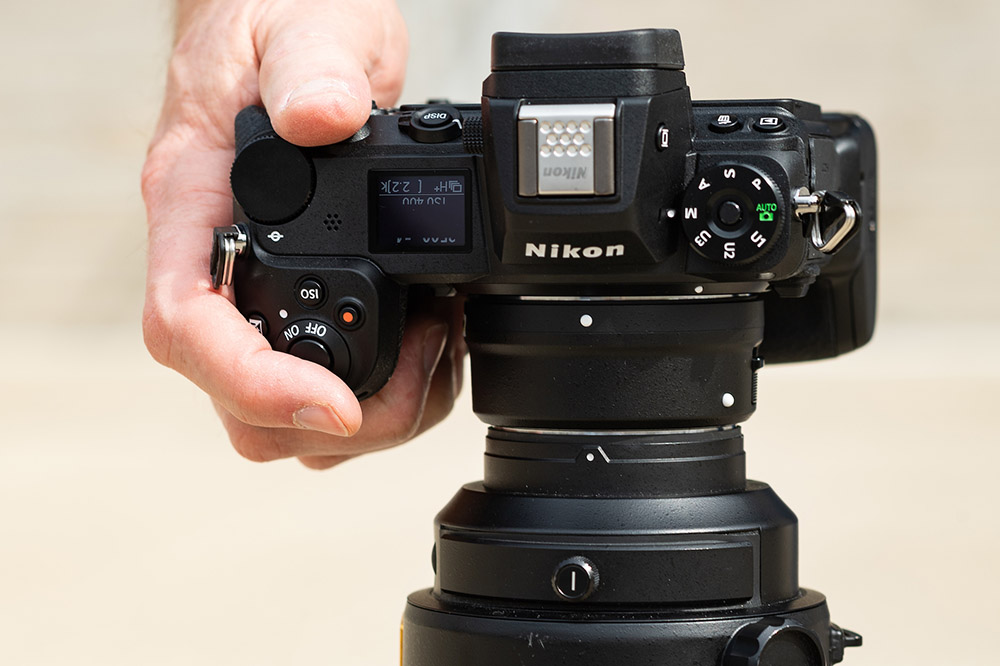 (photo by Daryl Marshke) The FTZ adapter
But before we can talk about the improvements engineered into the Z6ii, we need to look at the original model, so I asked a couple of regular users to join me in discussing their thoughts on the Z6.
Two Michigan Photography staffers – Eric Bronson and Austin Thomason - who shoot a lot more photos than I do on a daily basis - are using a Z6 for a majority of their work.
"I really do love this camera – it's small and light, it's quiet, and it's so quick," said Austin. "I guess if I had to pick one thing (that I like best), it would be the autofocus. Face detection is a revolution from the old days of focus and recompose. And it's so accurate, even down to f/1.4." 
From Eric: "The pros are the compact design, it's mobile and I like the ergonomics. In a fast-moving environment, I really like the ability to shoot with one hand, 'shoot from the hip' versatility of LCD screen movement (even though I wish it would tilt down more).
"The Z6 has typical Nikon ruggedness: I have shot in a variety of conditions and it's worked well. That being said, if I know I'm going into a very rugged situation, I'll still use a D5," he said. 
Overall, this is high praise from two people who shoot a wide range of assignments and use the camera on an almost daily basis.  
Considering the price point ($2,000), we've found the white balance and the files produced by the camera to be outstanding to work with along with the autofocus which generally exceeds expectations in most static situations. For fast-moving sports action the autofocus can leave you frustrated with the number of missed shots. Firmware upgrades after the camera's launch have improved the AF, but as Eric said, "It's no D5." 
Another big plus with the original Z6 is the ability to use the LCD screen to choose focus points. 
Ok…so the original Z6 was well received, but…there's room for improvement. Namely:
-Better dynamic range 
-Better AF-C
-Enhancement of the low-light focus 
-A second card slot
-Reduction of image banding (noted mostly when shooting in silent mode).  
-Larger buffer
-Voice Memo 
That's quite a laundry list of wishes for the new camera.
How'd Nikon do?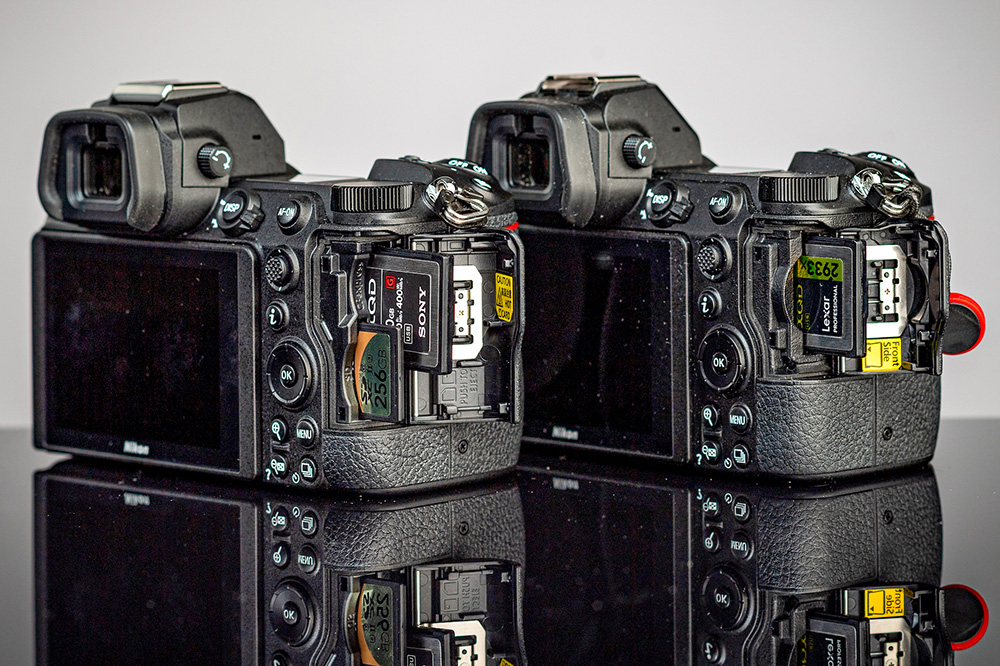 (photo by Daryl Marshke) Sooooooo, Nikon....you're saying we could have had two card slots all along??
The Z6ii has one full stop more dynamic range giving a bit more detail in the shadow areas, making what was already a good file to work with even better. AF-C has been significantly improved; when the camera is searching for focus, it doesn't rack to the extremes of the lens…it grabs focus quicker by staying closer to the focus point than the previous model. And it tracks moving subjects much better.

(photos by Roger Hart) "14 fps is a wonder when the AF is spot-on," says Roger.
This is one of the biggest – and most welcomed - improvements that I've seen. The above-mentioned Eye AF now works in Wide Area Autofocus for both stills and video, which allows for using the entire viewfinder for focus. This camera still would not be my first choice for all sports…but you could certainly get by with it. I used the Z6ii at a women's basketball game and came away impressed with the number of in-focus frames. Frame rate improves from 12 fps to 14 and the buffer is significantly improved, from 35 to 124. The new battery grip (which I bought with the camera) features two battery slots (one battery is hot-swappable) plus a vertical shutter release and gives the camera a more stable feel when using telephoto lenses.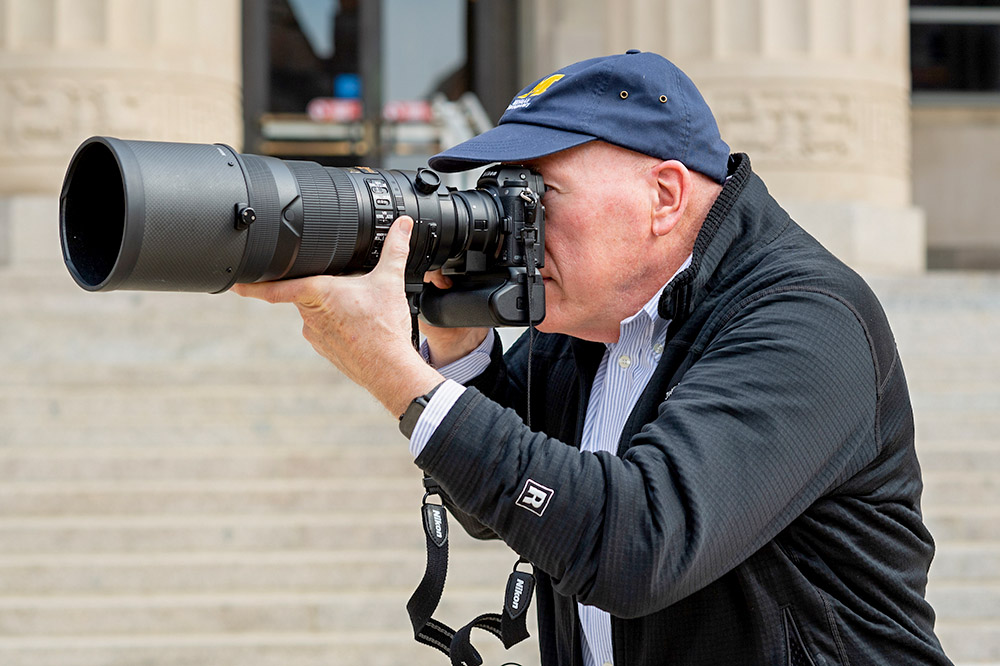 (Top: photo by Daryl Marshke) The grip provides a better anchor for long lenses. (Bottom: photos by Roger Hart) It's sharp! (the saw and the camera!) 2021 Tecumseh Ice Sculpture fest in downtown Tecumseh, MI on Jan. 16, 2021.
Oh, and there are two card slots…one XQD/CF Express and an SD slot. 
I've not seen banding issues in the Z6ii, but as I said earlier, my experience with the camera so far has been limited.
I purchased the Z6ii for personal use. We would have ordered a couple for the office by now had the pandemic not frozen our budget for new cameras. 
So the consensus is that for most sports, I will still rely on a D5 over a Z6ii but I would keep one on hand for features. And for some sports – gymnastics, tennis, maybe even baseball or softball, I think the Z6ii would work just fine. I give Nikon credit for listening to its customers and making the numerous improvements in this latest model. I keep reminding myself this is a $2,000 camera…not a $6,000 camera (like a D5 or a D6). And no, much to Matt's irritation, there's no voice memo on the Z6ii…
The recently announced Z9 – a flagship mirrorless camera Nikon revealed is in development for release later this year - looks to be Nikon's first mirrorless camera that will replace the D5/D6 bodies professionals now use. If the initial specs of the Z9 prove to be true, we may have purchased our last DSLR camera bodies. Time will tell.
___________________________________________
"The cider tasted like Michigan too and I always remembered the cider mill." -Ernest Hemingway | Thanks for reading the blog. Submissions and suggestions always welcome. Email editor Matt Cashore, mcashore@nd.edu. Follow UPAA on Instagram!