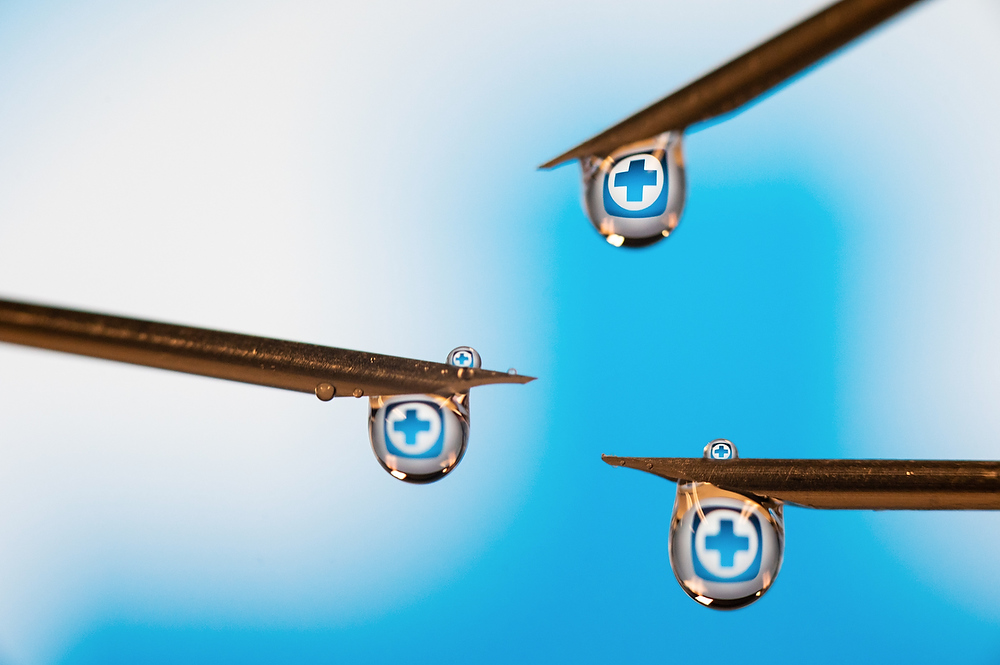 UPAA Blog 2020-21 #16 - 2/17/21 (text and photos by Amanda Pitts)
Amanda Pitts is senior photographer at (and graduate of) Grand Valley State University, a UPAA board member and Symposium host. Her General Features & Illustrations category photo "Vaccines" was voted Best in Show in the January Monthly Image Contest.
Tech stuff? What camera, lens, exposure, lighting, gadgets, gizmos, etc.?
•Sony A9 
•Sigma adapter
•Canon 100mm macro lens with extension tubes 
•No lighting was used. The warm light you can see in the droplets is from the overhead florescent lighting. A laptop was set on top of an old posing stand and that is where the + is displayed that shows in the droplets and doubles as a background.
The needles are the largest we could find. I had some leftover needles and glycerin from a previous droplet shoot, but those needles were so small that you could barely see anything in the droplets created by them. I called our health center on campus to see if they had some larger ones we could use. They did, so we grabbed those, and they worked perfectly.
How did you have an opportunity to make this photo? Planned? Self-Assigned? Something else?
Self-Assigned. We were tired of using the same photos over and over to signify COVID and vaccines and wanted to come up with something new. My colleague Kendra found a photo of a single needle with the words "COVID-19" showing through a droplet and suggested we do something like that. I wanted to make it different and a little more timeless so that its usefulness might live beyond the pandemic, hence the + sign. Most of the + I found online were green or red, but our colors are blue and white and black. So I found the blue and white + with gradient and decided to use that. We did a shot with one needle and it was just ok, then we decided to try with three needles, one person holding one, another holding two. It is very simple in concept, and very difficult in execution. With such a shallow depth of field, three moving hands holding needles, and one set of shaky hands holding a camera, it is a miracle that we were able to make this image! While I was shooting, I recall repeating over and over out loud "this is hard, this is so hard". But a few tries later, and we did it!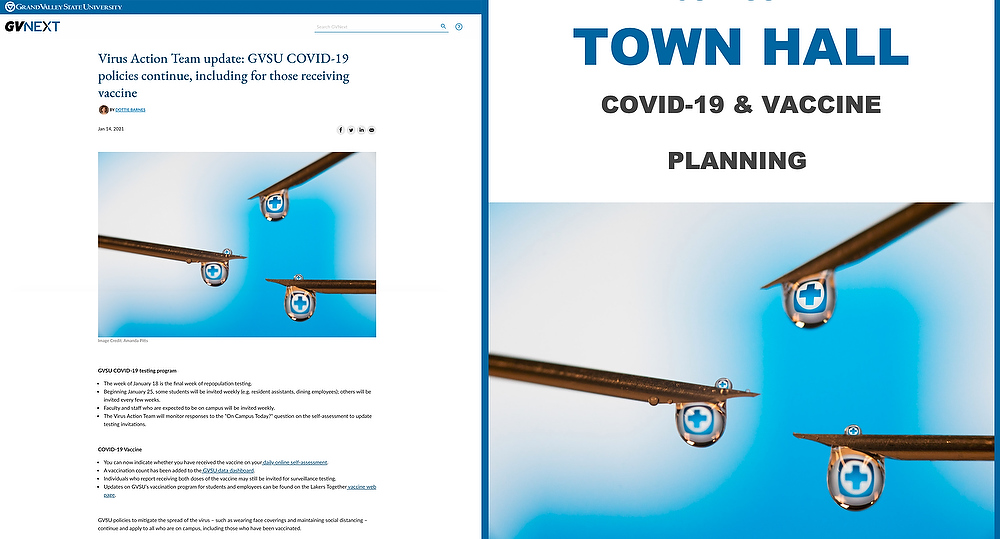 The photo in use on GVSU websites and announcements. 
Any unique logistics in making the photo? What sort of post processing (or not)? 
We didn't have a ton of time to make this happen. I knew I needed at least three people to do this, including myself. All three of us had other places to go and things to do that day, so we used what little time we had to get the job done. I did not do much post processing. I sharpened the + within the needles, a bit of overall sharpening and other small tweaks.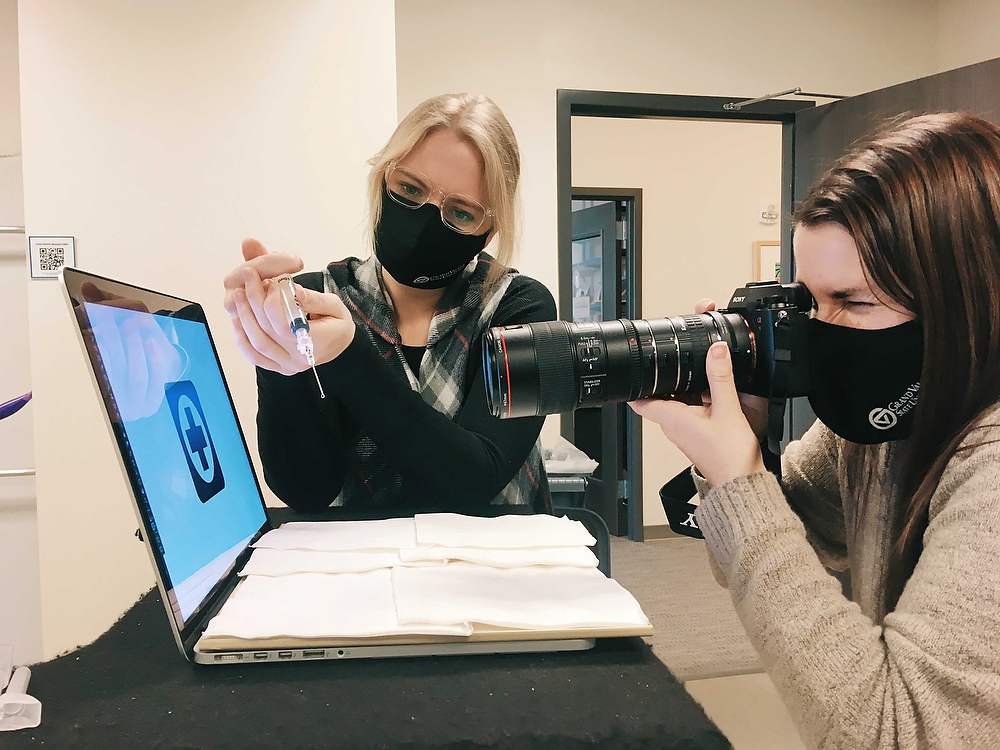 Amanda shows the adapters and extension tubes used for the photo.
You chose this image as one of your 5 best of the month, and UPAA chose it as the best of everyone's best of the month…What do you think makes it stand out?
The color, the subject matter and it's current relevancy, the depth, not really sure! You all tell me what makes this stand out!
What (if anything) would you do differently if you could re-shoot this today?
I would set up a larger computer screen to get less screen edge in the droplets. I would also consider setting up lighting to get a different look on the needles.
___________________________________________
"Most people would stop looking when they find the proverbial needle in the haystack. I would continue to see if there were other needles." -Albert Einstein | Feedback, suggestions, and stories always welcome, send 'em to mcashore@nd.edu. Also follow UPAA on Instagram!