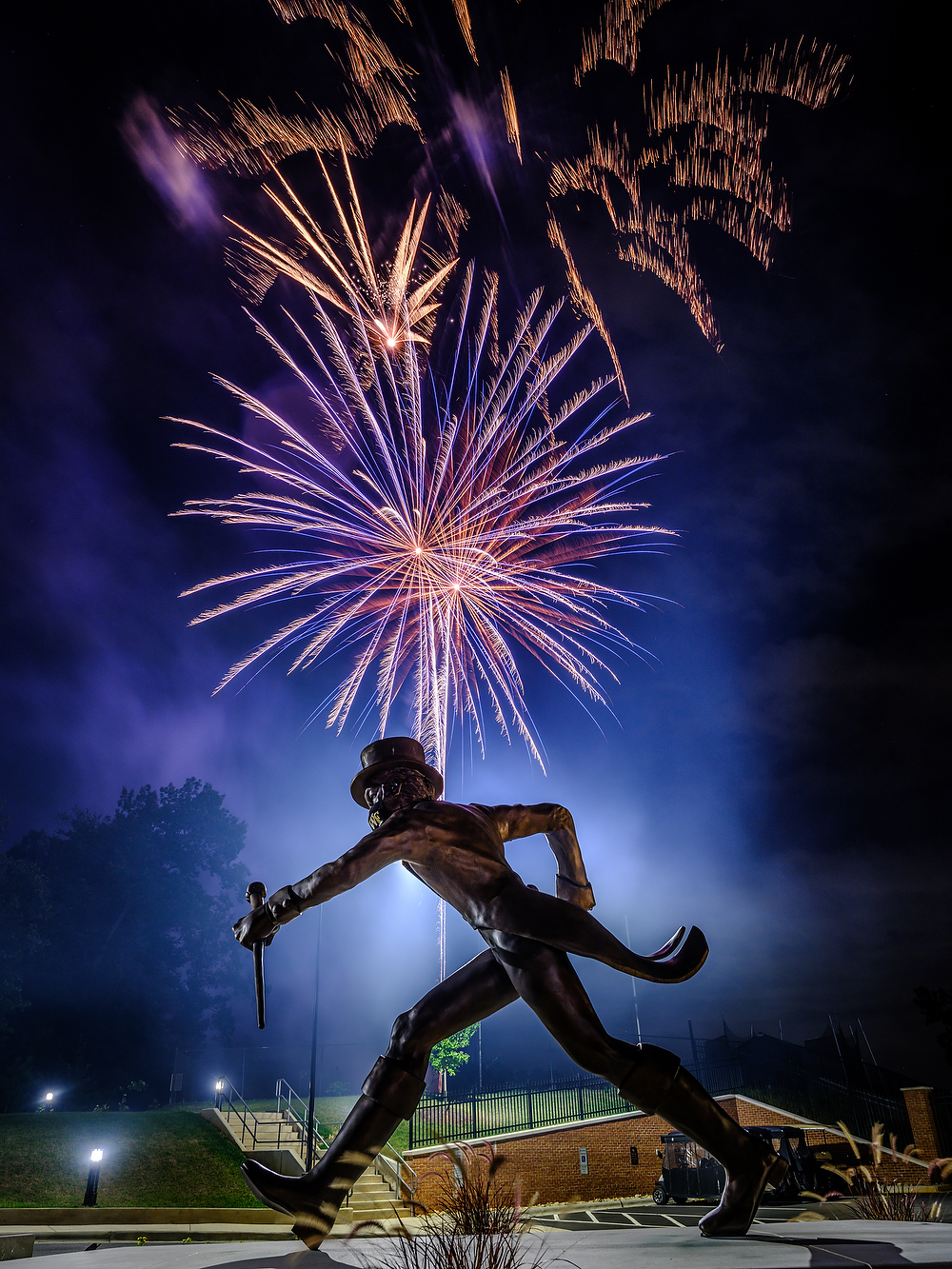 UPAA Blog 2020-21 #9 - 11/12/20 (text and photos by Ken Bennett) 
Ken Bennett is Director of Photography at Wake Forest University. His Campus Environment category photo "Deacon Blue" was voted Best in Show in the October 2020 Monthly Image Competition.
Tech stuff? What camera, lens, exposure, lighting, gadgets, gizmos, etc.?
•Fujifilm GFX100
•32-64mm f/4 zoom at 32mm (approximately a 24mm equivalent field of view.)
•2.5 seconds, f9, ISO400
Camera was in vertical orientation, using a Really Right Stuff L-bracket, on an RRS carbon tripod with the BH-55 ball head.
How did you have an opportunity to make this photo? Planned? Self-Assigned? Something else?
Lots of planning, and got lucky. We were hosting ESPN Gameday for the first time ever, which would normally be a huge deal with thousands of fans, etc., but with COVID we couldn't do any of that. So Athletics planned a "virtual pep rally" with live fireworks afterward. I asked our project management team if they had a map of where the fireworks would be launched, and I got back a very detailed Google aerial view with the launch site circled. Then it was just a matter of figuring out where on campus I would have a good view of the fireworks and get something in the foreground that would give it a sense of place. The easiest spot would have been in the chapel bell tower, with a good view of the fireworks, but the foreground would have been rooflines at best, nothing recognizable in the dark.
The statue had just been put up this summer, in front of our new athletics buildings. Looking at the map, I figure it would either be amazing, or I would totally strike out and get nothing. I scouted the location and checked the orientation with the launch area, and it looked like it might work – everything would come down to how high the fireworks went. Nothing I could do about that. Sometimes you eat the bear, sometimes the bear eats you.
Exposure was set manually, 2.5 seconds at f/9 at ISO 400. Fireworks are like flash, the exposure is controlled by ISO and aperture. I guesstimated the basic exposure for the fireworks, then chose the shutter speed to balance the giant street light that was right in the middle of the frame.
The fireworks show lasted five minutes and fifteen seconds, and I made 29 exposures in that time. There are six or seven that I really like.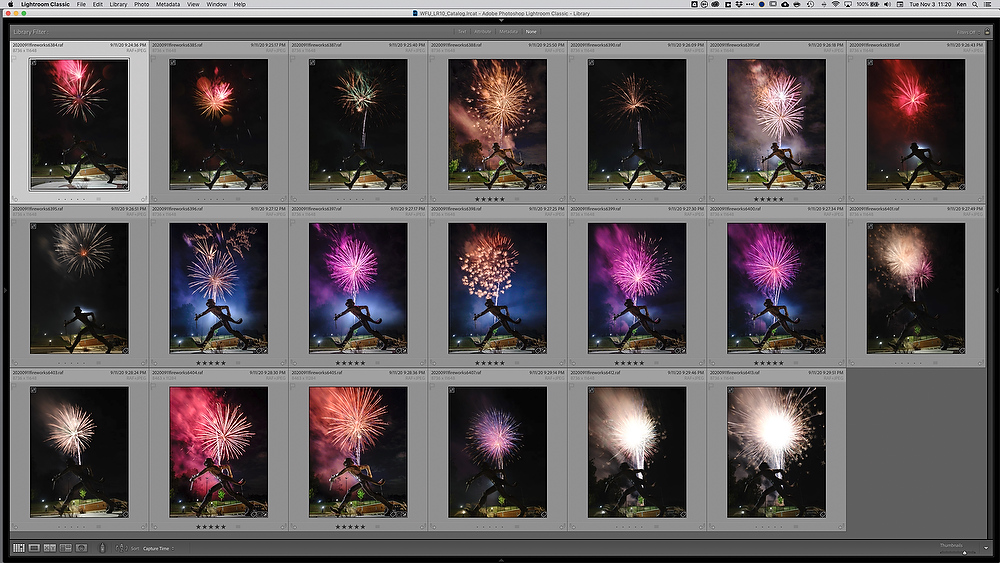 Any unique logistics in making the photo? What sort of post processing (or not)?
There is a big street light right in the middle of the photo – which of course I noticed for the first time when I got there that night to shoot it. (I scouted in daylight.) That put a big constraint on camera position – it had to be blocked by the statue or the light overwhelmed everything. As it turned out, the street light did a nice job of backlighting the statue and lighting the mid-ground. Serendipity, again.
Nothing unusual in post. The original was too green and too warm from the street light, so I changed the white balance to give me a nice blueish sky, then pushed the shadows and pulled the highlights for more detail. The GFX system has a lot of dynamic range and allows big exposure adjustments that I wouldn't even try with my little Fuji X series or my old Canons. I did punch up Clarity to get some edges on the statue and the fireworks, but it looks fine without that.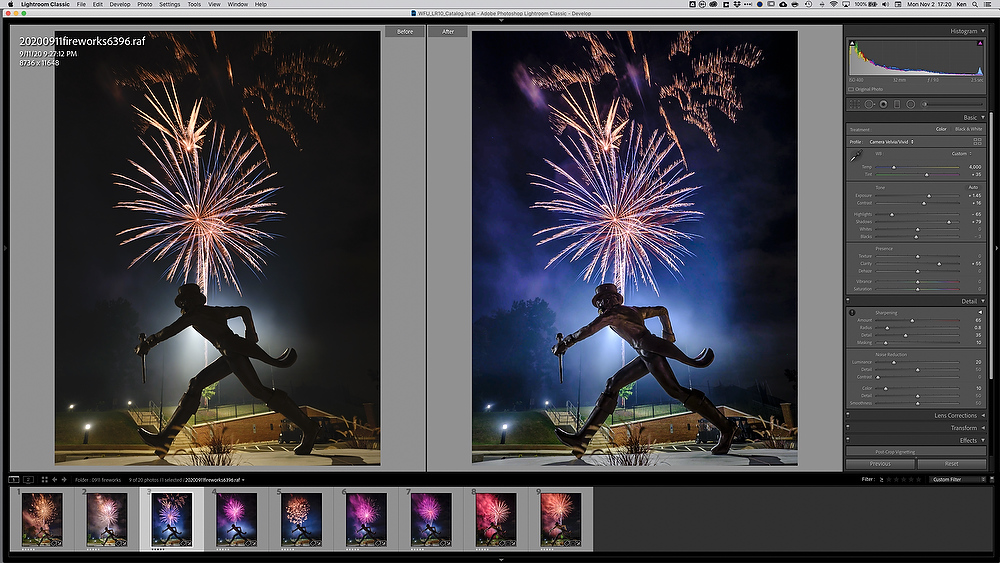 Why does this image stand out to you?
I thought this was a nice photo, but I wasn't prepared for the reaction on social media – both mine and the university's. It had 50% more reactions on my @wakeforestphoto account than anything else I've posted. I thought that might make it a good MIC entry. It's very punchy and graphic – strong shadows and silhouette, instantly recognizable.
What (if anything) would you do differently if you could re-shoot this today?
Given the very tight constraints on camera position for this photo, I'm honestly not sure I could do anything different. I might shoot with the 23mm lens and shoot horizontally, then crop for this view. One of my colleagues asked if I had any horizontals...
______________________________________
"[Photography] ties back into this feeling of wanting to watch things fall and the moment before they break. Fireworks are that way for me - this lovely thing that blows up and is gone. It all goes back to this desire to record things before they disappear - the original reason we take pictures, right?" -Laurel Nakadate
​Thanks for reading the blog. Got any stories, suggestions, critiques or comments? Send 'em to mcashore@nd.edu. Follow UPAA on Instagram!