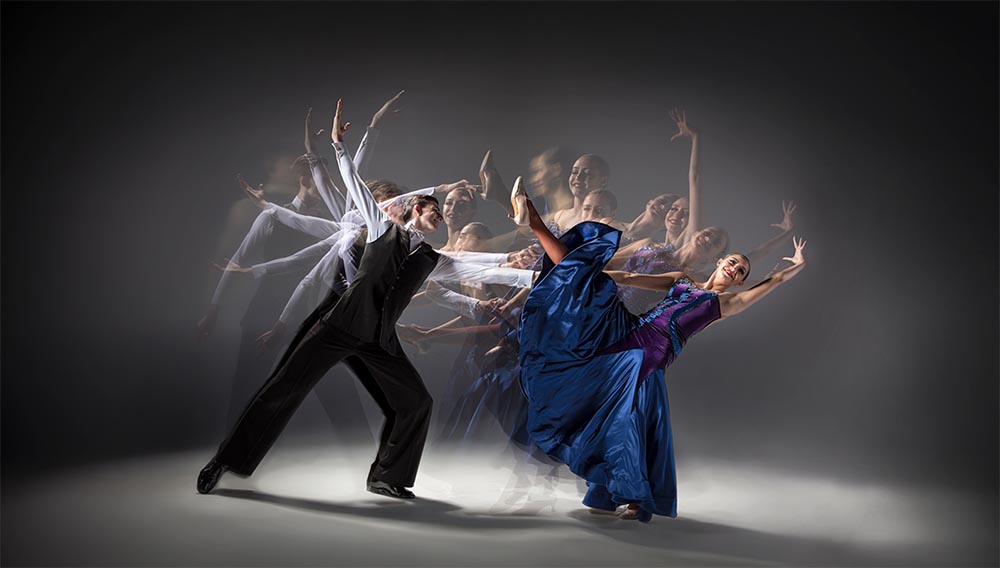 Jay Drowns is Photography Manager at Utah Valley University. Jay's photo "The Motion of Dance" was voted Best In Show in the February 2018 Monthly Image Competition. 
Congratulations on a 'Best In Show'! Please go into the thought process behind the image:  Client request or your own idea?  Did you have a vision for a multiple exposure type image from the beginning or did the idea evolve?  Did you have to persuade anyone to try this technique?
The ballroom dance shoot was a self-assigned project I've been thinking about for some time. I just needed to find time in my schedule and willing subjects. In our studio we light our cyc wall with a Broncolor Move 1200 L pack with two heads, one with a Para 133 on a long boom and another with a Para 222. The pack is capable of multiple pops and I wanted to experiment with motion. I used the modeling lights from another set of strobes as the hot light to provide the motion blur.  
As a department we are trying to build a stronger working relationship with our School of the Arts. Over the holiday break I asked the head of our ballroom team if he had any competitors in town over break who would be willing to experiment in the studio.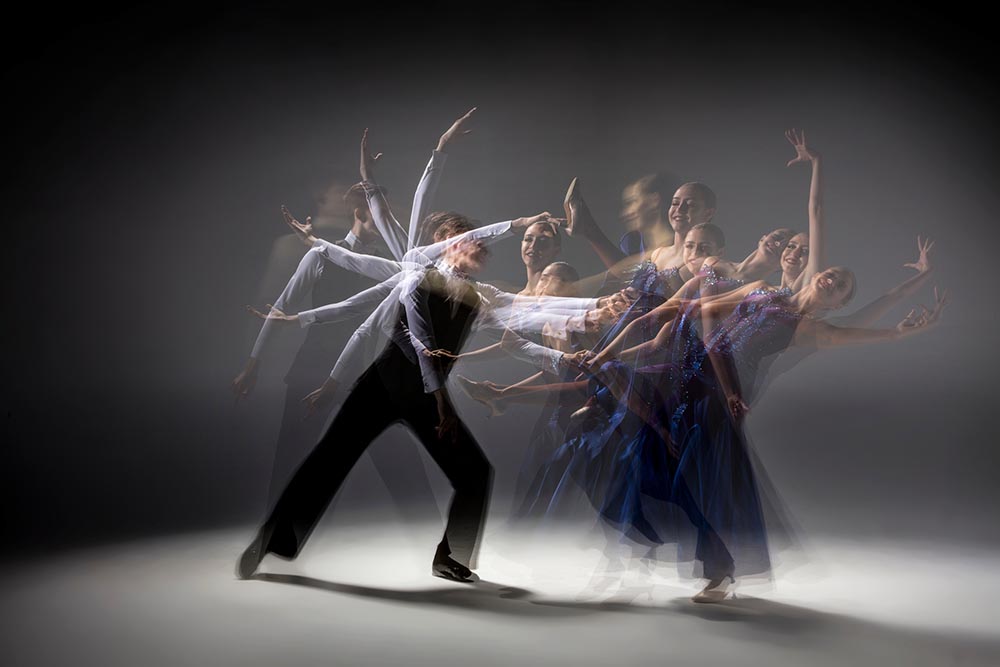 (Photo by Jay Drowns, Utah Valley University)
This was an experiment so the desired outcome was flexible. I had a general idea of motion and the results are from two hours of testing in the studio.
I was not getting the clarity I wanted out of the final image. I asked the dancers to give me a static pose of the end move. The final image is a composite of the two. Although I love the photo my intent was to create the image in camera.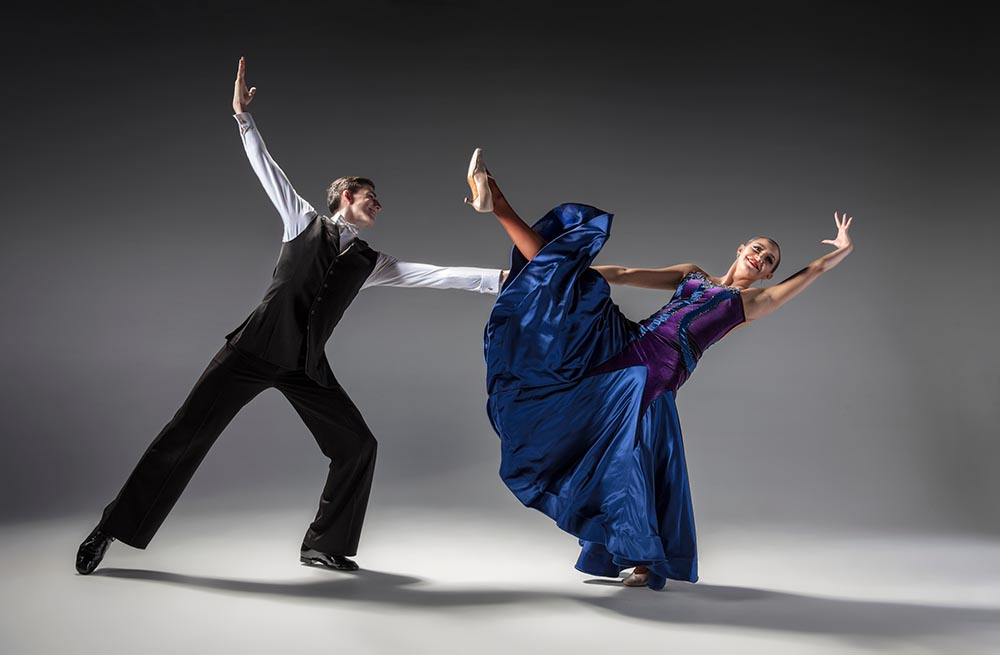 (Photo by Jay Drowns, Utah Valley University)
You've got quite the diverse portfolio based on what we've seen you place in the MIC: Underwater, rodeo, etc....  Are these types of jobs typical for you?  (And, uh, where can we submit an application to UVU?)  Do you have the photographer dream gig or are you also cranking out the headshots and dinners that we aren't seeing?
The gig at UVU is at times typical and at other times a Dream Job. We shoot a lot of headshots and banquets. We also get some unique opportunities. A lot of time and effort was put in before I arrived at UVU and since to build a culture that respects photography. Ten years ago photography was an afterthought; Now it is key to the strategic planning.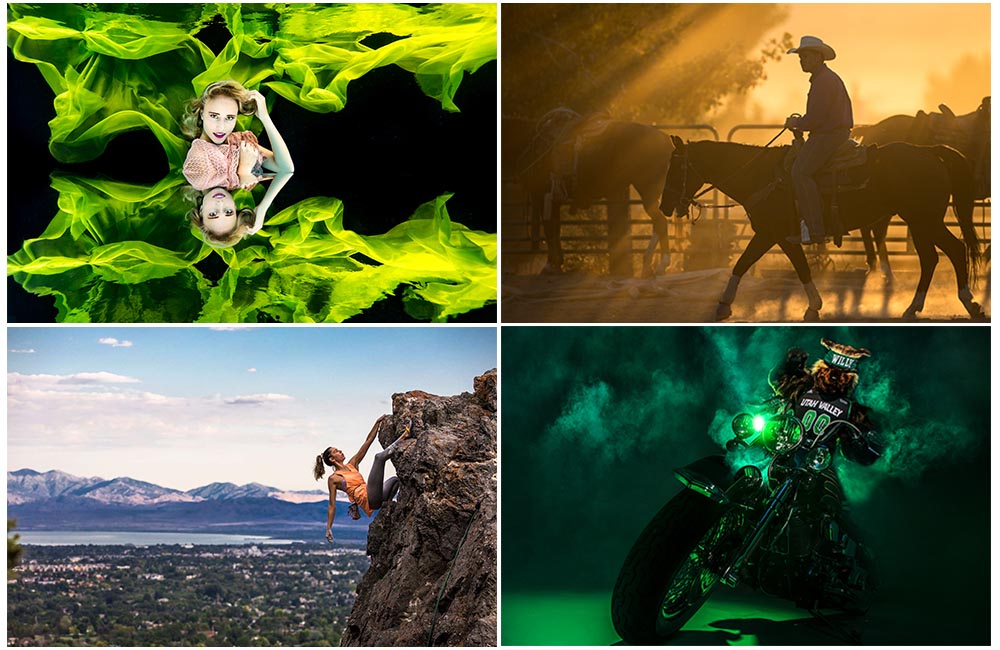 (Photos by Jay Drowns, Utah Valley University) Four of Jay's past MIC-winners.
Is the MIC something that motivates you in your day-to-day-work?
Motivation in my day-to-day work is more of a compulsion to chase after a better photograph. I enjoy the challenge of competing in MIC. And I love to see the work of fellow university photographers.
And lastly, if you weren't a photographer, what would your alternate career be?
I've wanted to work with a camera since my early teens. I'm not sure that I would have or could have done anything else. 
Thanks for reading! If you actually read this part, tell me and I'll give you $5. (Sorry, kidding. Maybe I'll start doing 'dad jokes' here…) Blog stories/ideas welcome any time, email editor Matt Cashore at mcashore@nd.edu