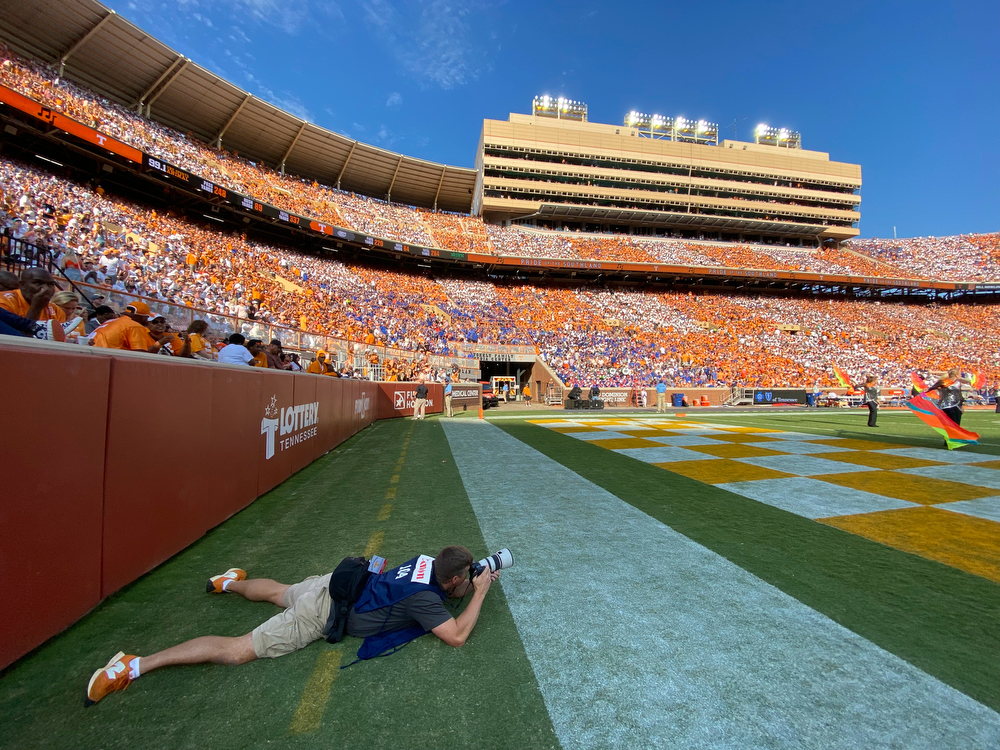 UPAA Blog 2022-23 #3 - 9/29/22 (photos and text by Steven Bridges)
Steven Bridges is no stranger to the UPAA blog!
But, if you're new here, (Hi! Thanks for reading!) he's the staff photographer in The University of Tennessee Office of Communications and Marketing and a three-time UPAA Photographer of the Year. In August 2021, the UPAA blog spent a typical day on the job with Steven.
On Sept. 24, 2022 the Tennessee football team hosted the University of Florida for a top-20 matchup that brought ESPN Gameday to Knoxville. How does the top university photographer cover a game that isn't just a game, but a Capital-E "Event?" Follow along on the day through Steven's lens and get his thoughts on where and why he chose his photo opportunities. Pictured above, Steven gets in a familiar position for a low-angle photo. As he says, "An assignment is not complete if I don't lie down.​" -Ed.
************
My office trusts my instincts to find good lifestyle images of students. With ESPN College GameDay being on campus for a rivalry game against Florida, where fans were checkerboarding Neyland Stadium, it is a NO BRAINER. The athletics department has its own photographers, and obviously, game days are their gig. Here is where you must know your role and see where you can supplement the team. I was less concerned about covering game action and more focused on creating unique images that captured the spirit of the event and student excitement.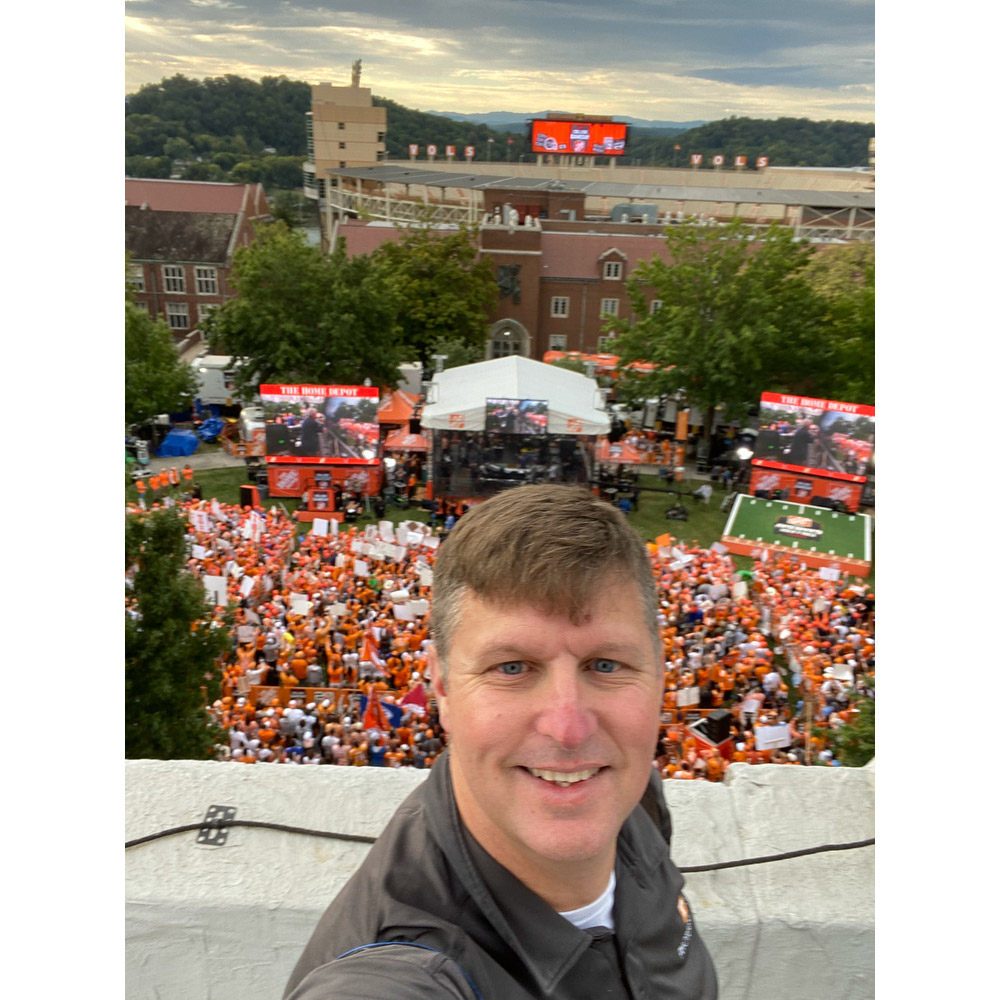 Our sports information director granted me a photo pass to shoot the game. The hiccup was being credentialed for the College GameDay show, which were controlled by ESPN. Our athletics team already had someone inside the perimeter. I was told, College GameDay had limited access and is only credentialing media outlets. That meant I had to walk around outside the set like everyone else. (I guess no one told them I am the three-time UPAA POTY?!?)
If didn't get a press pass for the event, then Semper Gumby, right? I knew the surrounding buildings would be under the control of the university, and I could probably gain rooftop access. This was the next best thing to photographing Lee Corso donning his mascot helmet on set. From that vantage point, I could create a scene-setter showing the whole production with campus packed with fans. If I could come away with this, it would be my hero shot of the event.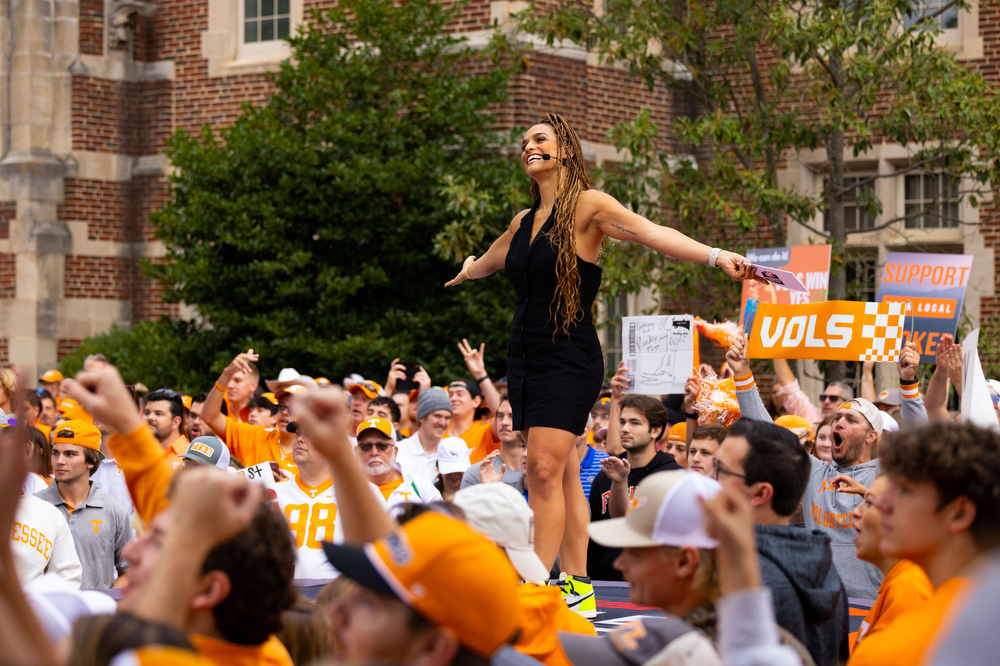 While walking around the perimeter I ran into a UT employee helping work the event. They asked if I would like to get on the roof of Ayres Hall. YEAH! While up there, I noticed Jess Sims, GameDay's newest on-air personality, heading to one of the satellite stages at the edge of my building. I had safe shots of the crowd, so I rushed down to get my one chance of covering talent on camera.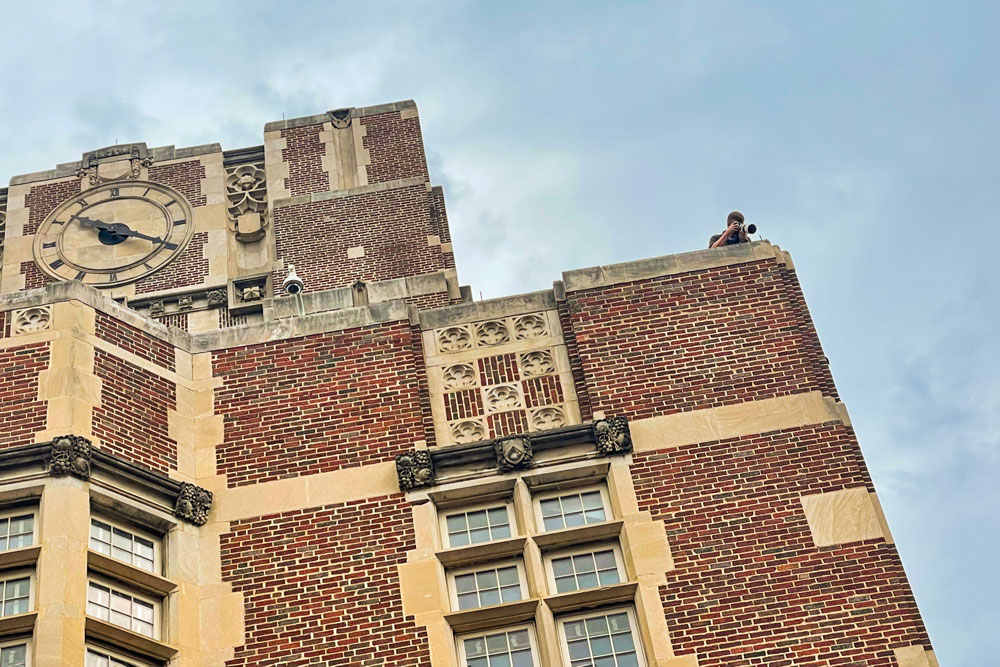 After more roaming around the perimeters, I noticed more people were arriving and the crowd was getting thicker. So, I returned to the roof of Ayres Hall. This decision allowed me to come away with two important images: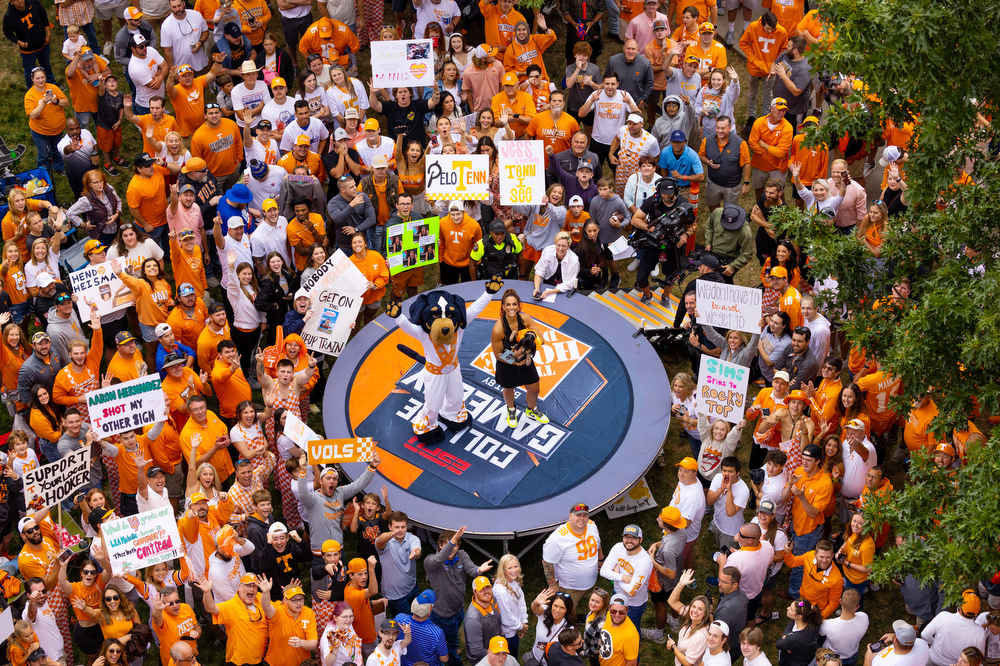 First, Jess returned to the satellite stage where she picked up a baby Smokey look alike, as the mascot Smokey walked on stage. I was lucky to get the attention of an officer on her protection crew. He directed everyone to wave at me before the TV segment started. ESPN talent and branding, mixed with our mascot, fans, and GameDay signs were all the ingredients of what I needed.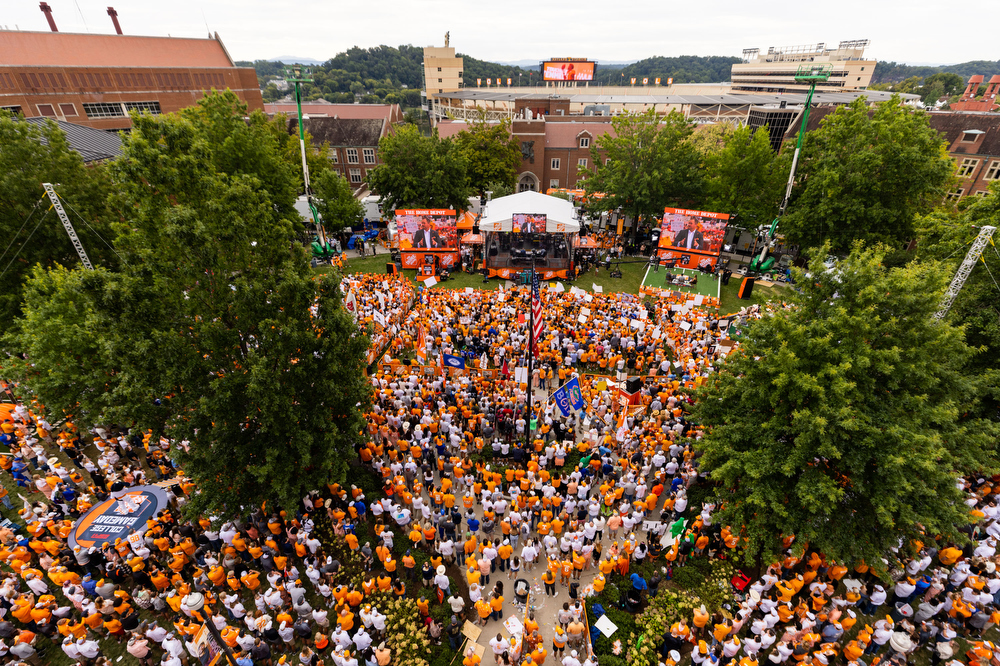 Second, our head football coach Josh Heupel was being interviewed on the stage. This was layered with nuggets. The crowd was packed, his face was on the big screen and the stadium Jumbotron featured a player in the background. Is this going to win any awards? No. Is it perfect for what my university needs? Yes!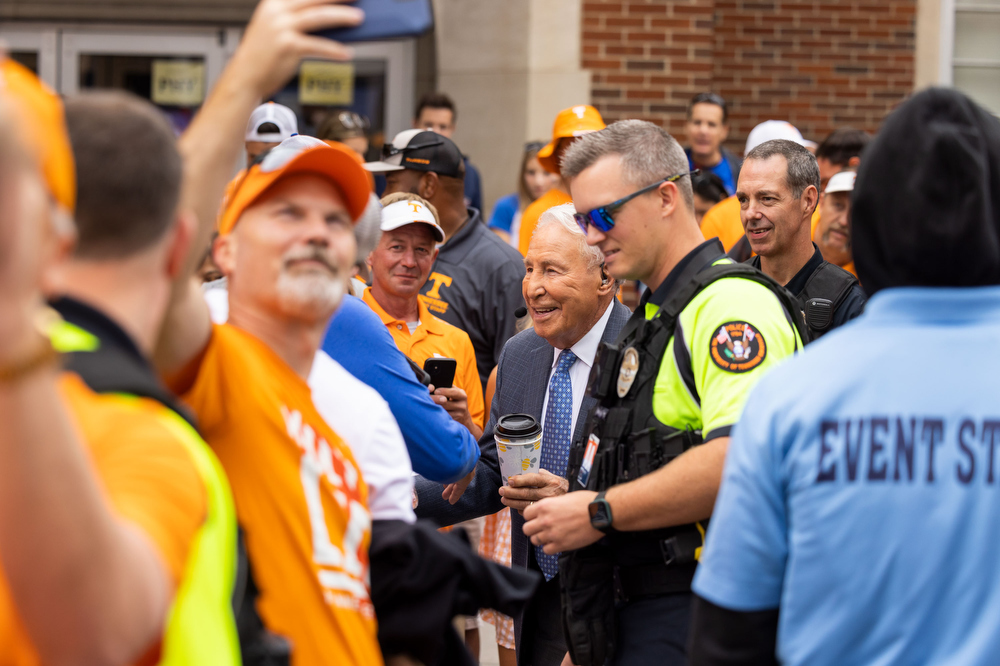 While I didn't photograph Lee Corso on stage, I did photograph him, and other talent being escorted to the stage by our very own UTPD officers. Again, this shows how the overall event affects our university. I also knew the UTPD department would love to have images of their officers working behind the scenes.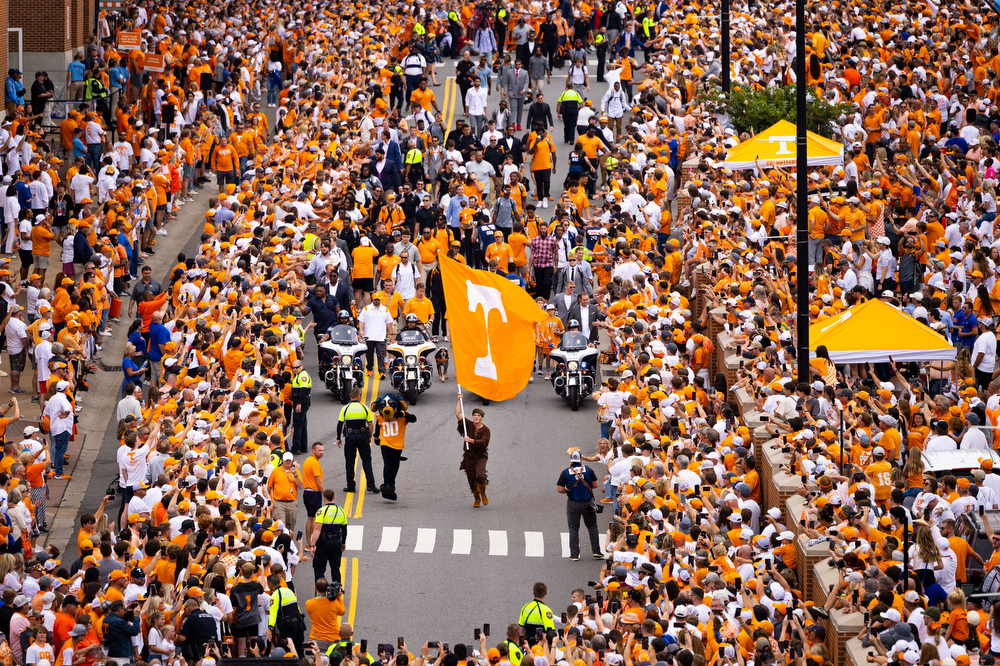 After the show was over, my next photo op was the Vol Walk. This is a game day tradition where the players and coaching staff walk from Volunteer Boulevard to the Neyland Stadium as fans crowd around to greet them. I had three options for shooting positions:
One was from the stadium looking down and out with a wide angle showing the large crowd. Unfortunately, our nursing building is right in the middle of that shot and they just started tearing it down a few weeks ago. So that was a no-go.
Second, I could have walked in front of the team as they gave high fives to the crowd around them, but that is more about the players than the overall crowd and wouldn't show the volume of people.
Third, and ultimately my choice, was a vantage point where I could use a longer lens to compress the view of the team and fans together to illustrate the volume of people there.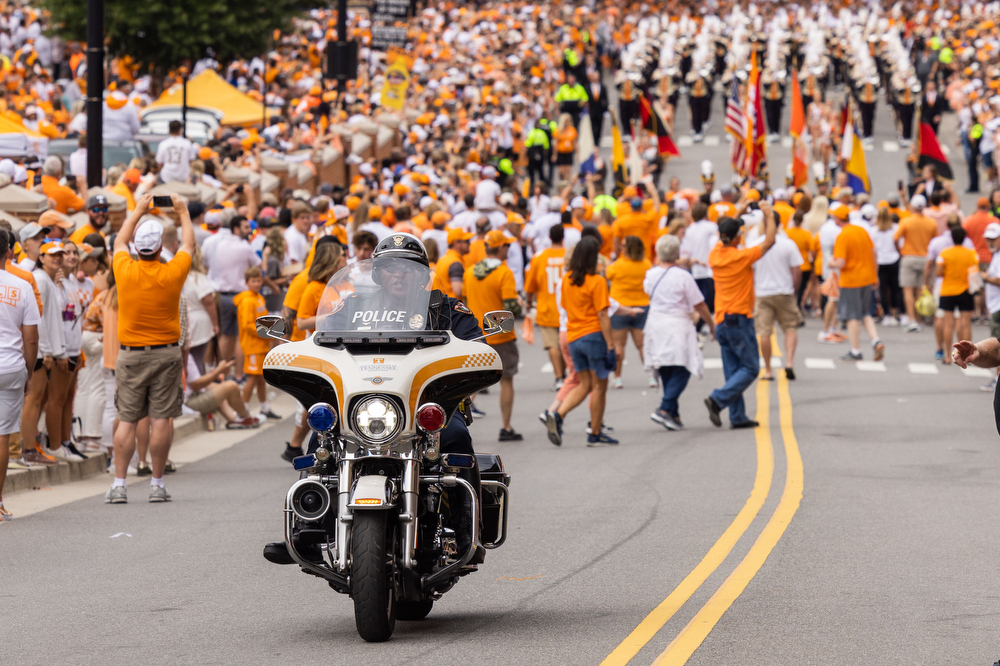 More UTPD officers, not only for them but also for my department. One of our graphic designers created the graphics for the motorcycles. It is always great to have the work my office creates shown in the wild.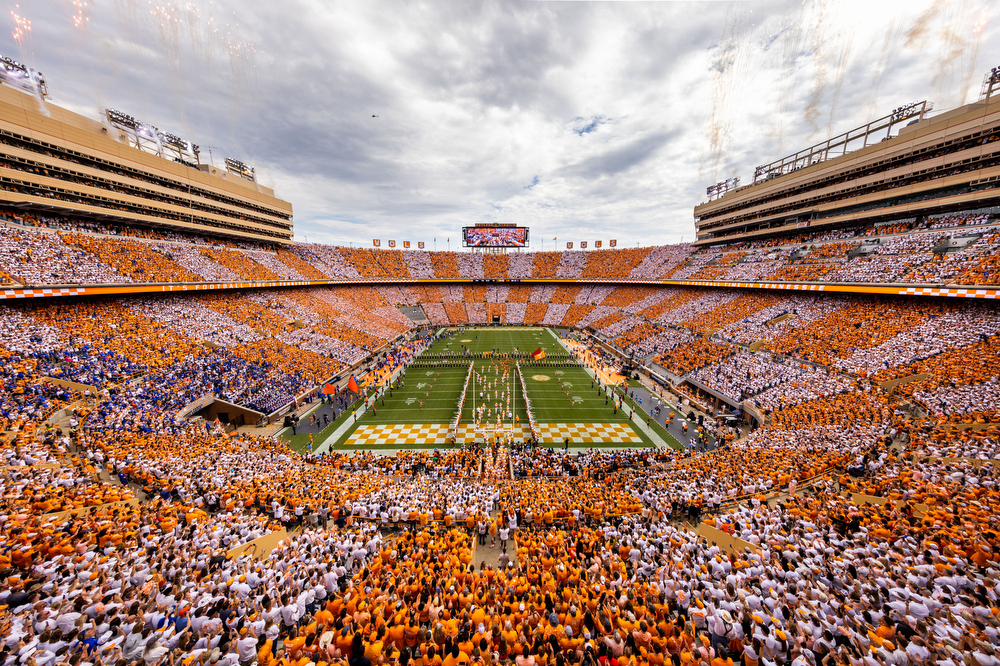 Running through the T is another HUGE tradition to capture. Even though I got to my position about 30 minutes early, I had to squeeze between a ticket holder and another photographer. At first, I didn't think they would let me in, but it all worked out.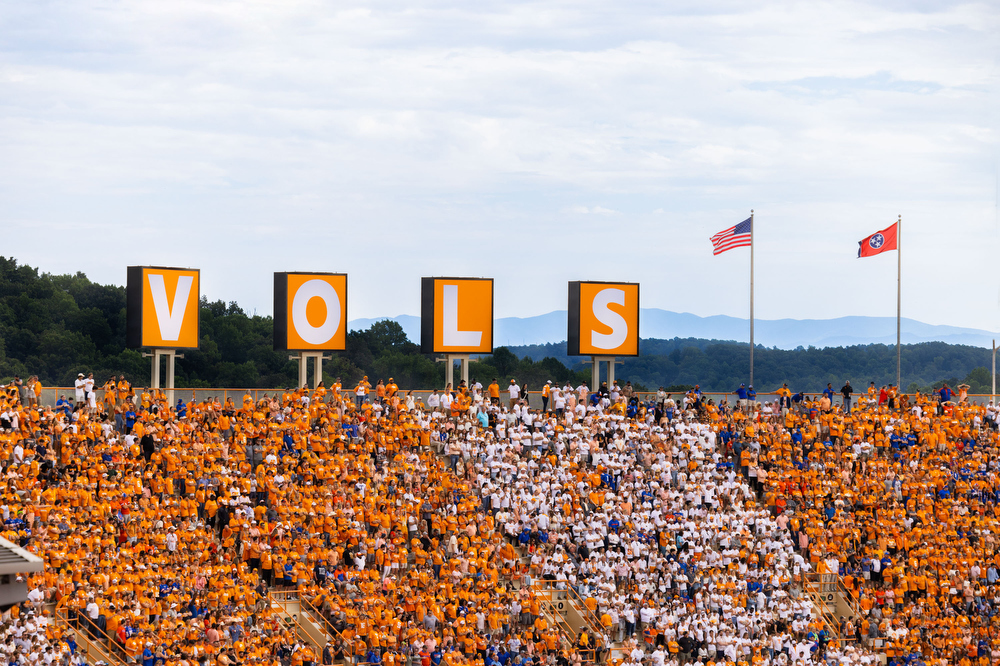 New stadium renovations in the off season included the return of VOLS signs (aka Vollipops) at the top of the South end zone. During the first quarter, I was walking the upper deck of the stadium looking for wide environmental features. That is when I noticed all the layers of the Vollipops with the American and Tennessee flags flying, orange and white fans, and the Smoky Mountains in the background. Bam! Done!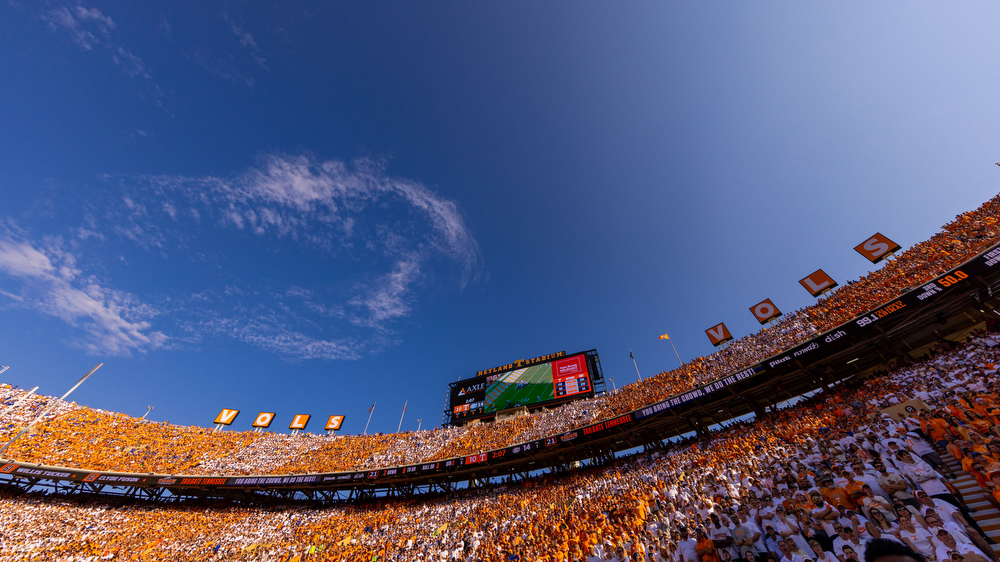 More of the Vollipops but from the field view. My thoughts were to give the graphic designers room to play with the sky. It could be cropped to a panoramic on a website or drop text on the sky.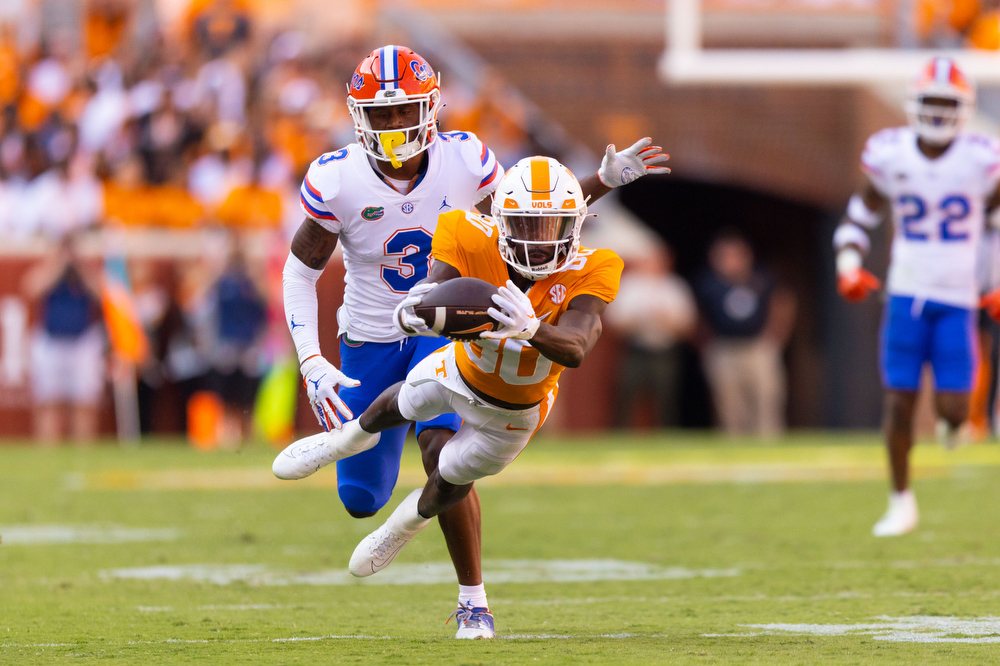 For the first time in my life, I shot more features than game photos. Like Matt Cashore talked about in a UPAA live, feature photos have a lot more shelf life for my department than the actual players. Needless to say, I still shot some game action and happened to capture one of the biggest plays of the game.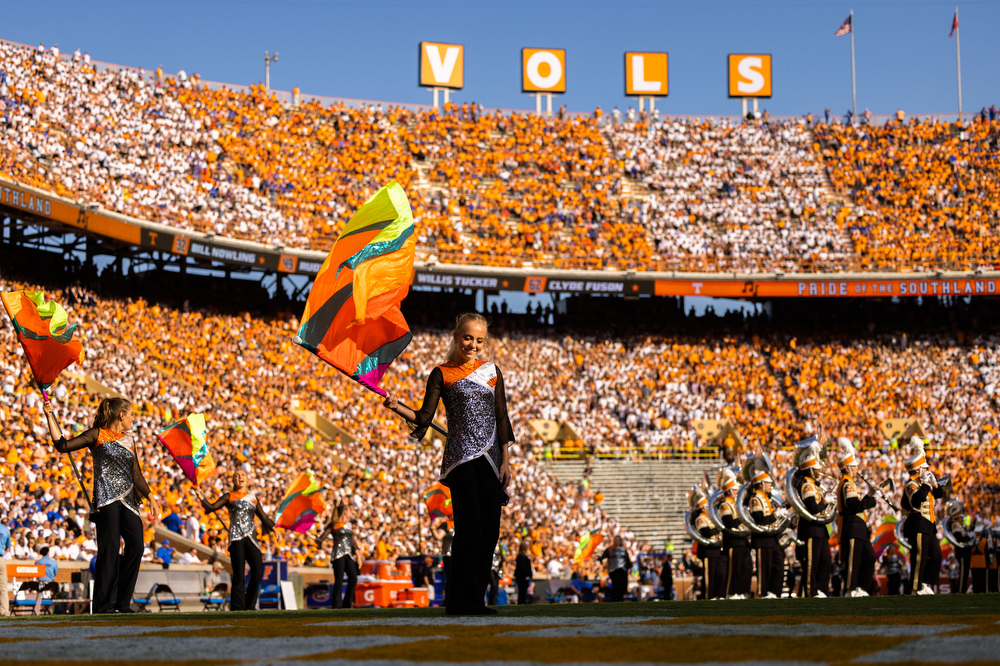 For me, an assignment is not complete if I don't lie down. I loved the way the light was hitting the band here. With a low angle, I was able to also include the Vollipops. I wish this was a little wider, but it was all I had on me at the time.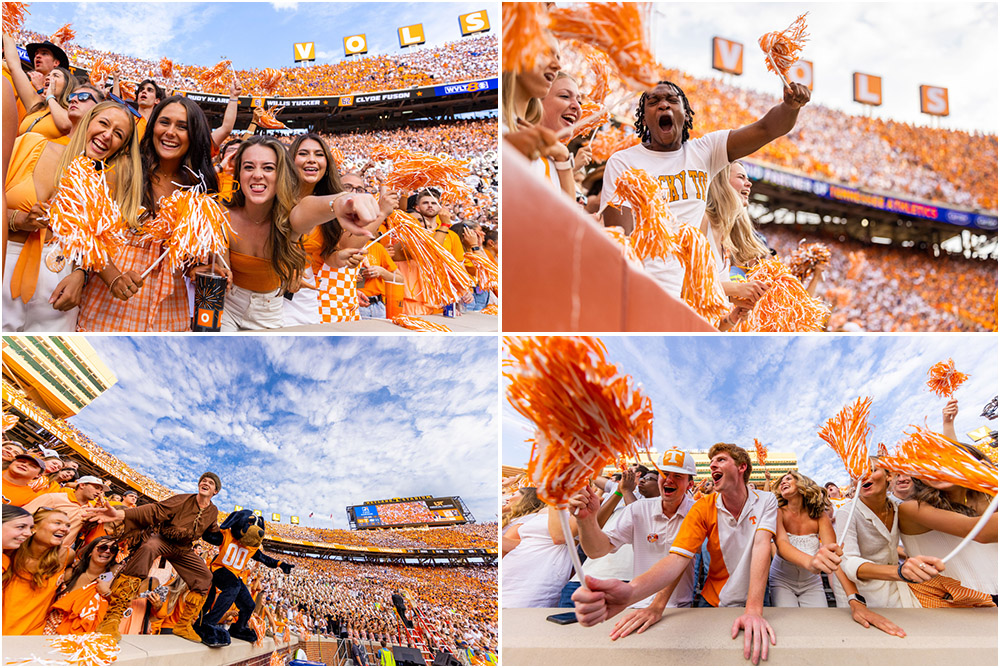 Exciting game students' reaction. Not much more to say. I used a variation of wide and tight lenses to change the perspective of my looks.
When our team scores Davy Crockett waves the Power T flag. We have one shot of this that has been used over and over for several years now and my graphic designer has wanted a new version. Thanks to our new offensive-minded head coach, I had plenty of opportunities to take this shot from different angles.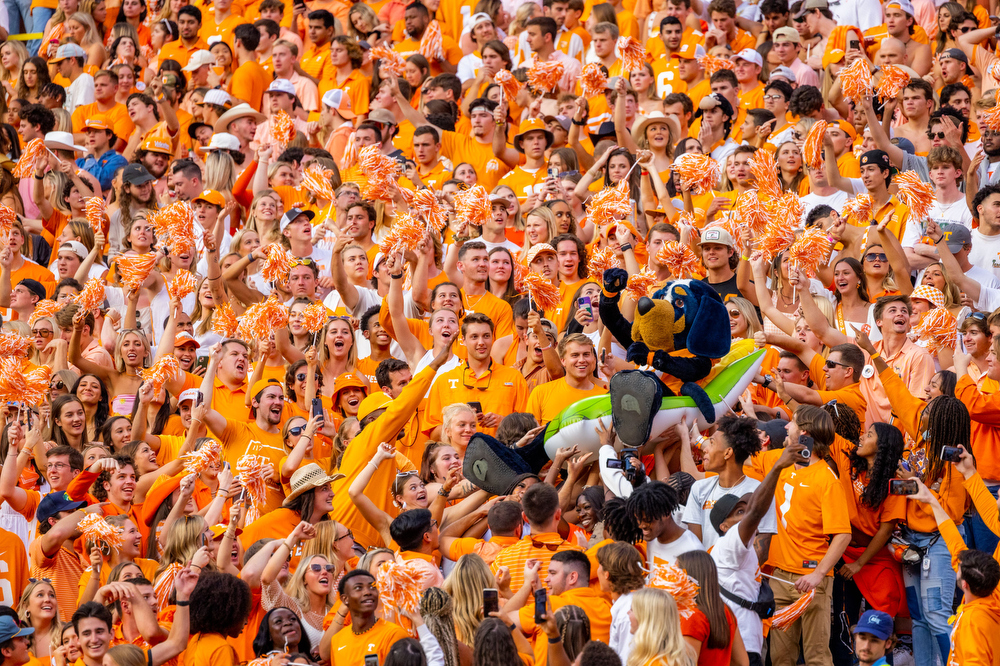 While shooting game action, I kept my eye on the crowd. Late in the game, I noticed Smokey crowd surfing a gator through the student section. Awesome, right? Well, it was once the camera jib lifted out of my view. It stayed there forever! I was worried it would move and Smokey would get down. Luckily, it began to pan around him and gave me an opening to shoot.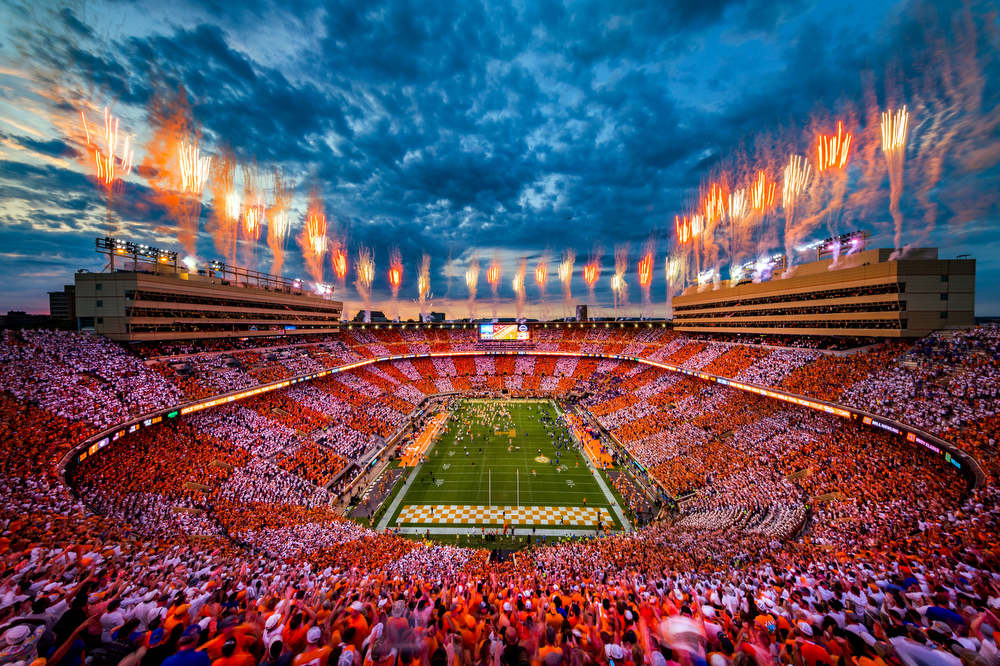 As the game began to wind down, I was looking for my image opportunities. If the fans rushed the field, I really didn't want to be in the middle of that. I thought of Michigan's wide-angle image from the top of the empty stands and the field covered with people. So, to the top of the stands I went. Knowing we fire fireworks after a win, I could also grab that shot.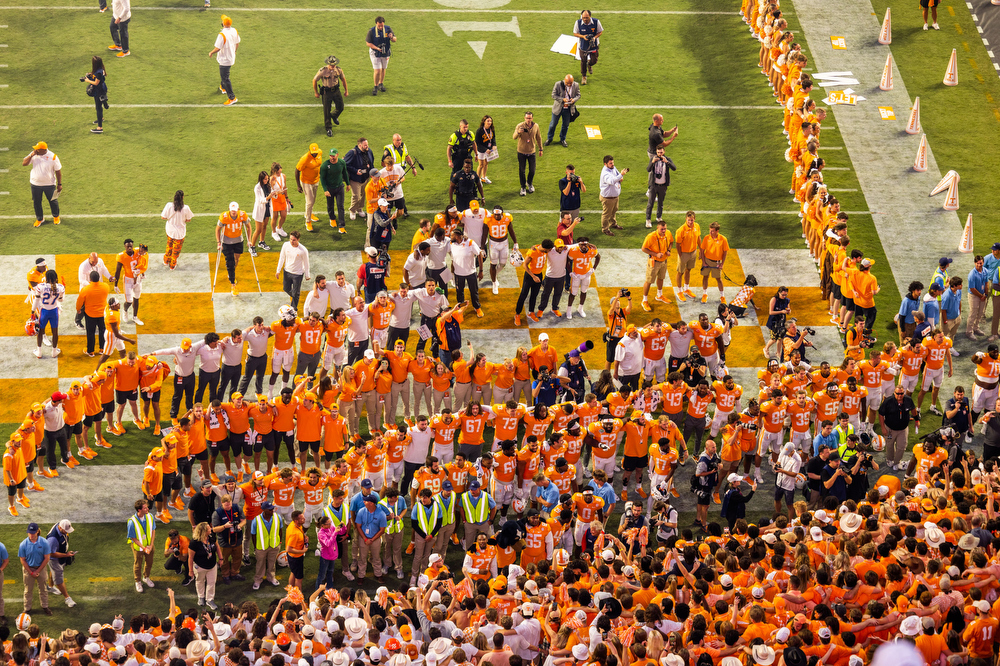 While being up top of the stadium and waiting for the crowd to disperse, I was able to cover the team coming over to sing and celebrate with the student section in a different way than the typical "squeeze between all the other photographers" with a wide-angle lens.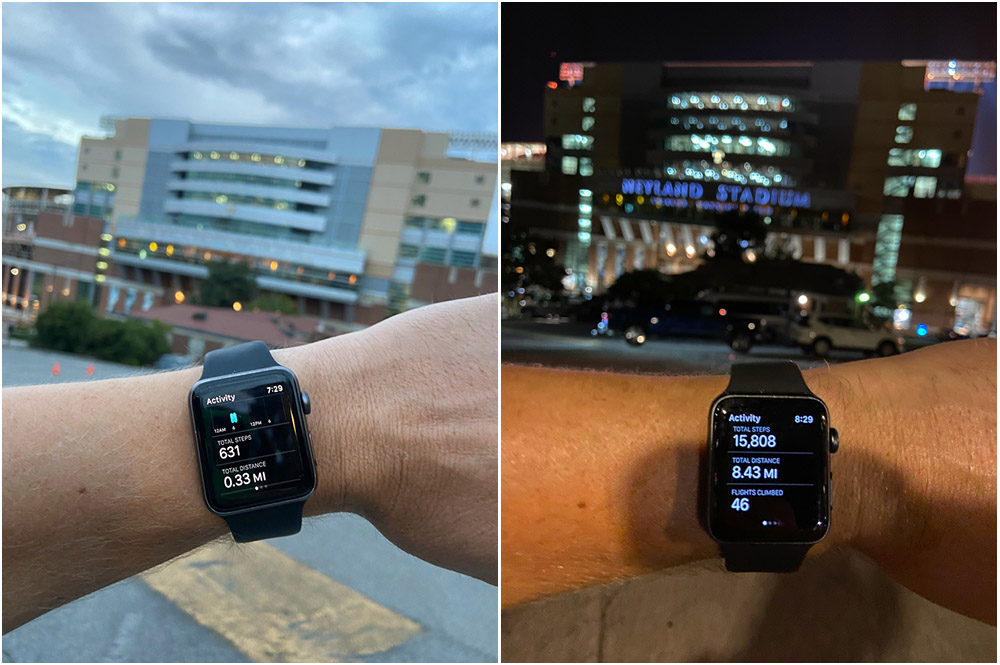 Finally, I went back to my office and edited while waiting for traffic to die down. I had arrived on campus at 7:15 a.m. and left at 10 p.m. When I got home, my step count was at 16,526 and I had climbed 47 flights of stairs.
Gear used for the day:
•Canon R5
•EF 16-35 f/2.8 L III USM with Control right mount adapter EF-EOS R
•RF 24-70 f/2.8 L IS USM
•RF 70-200 f/2.8 L IS USM
•EF 400mm f/2.8l IS II USM with Control right mount adapter EF-EOS R
************
"Why are college football stadiums always cool? Because they're full of fans!" Thanks for reading the blog. Article submissions or suggestions are always welcome. Email editor Matt Cashore, mcashore@nd.edu. And, as always, if you don't already, follow UPAA on Instagram!