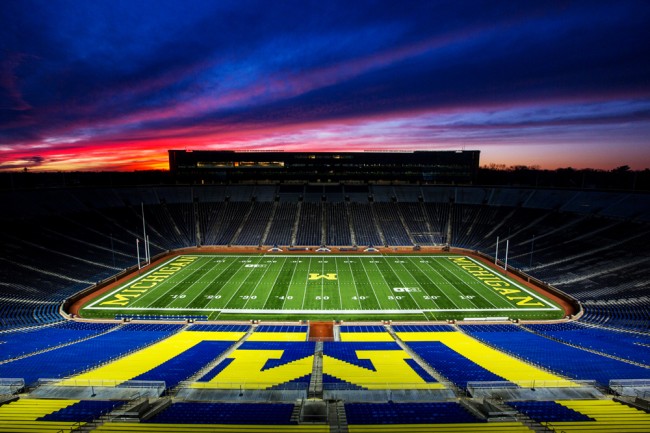 By Nick Romanenko, Rutgers University
Photos by Eric Bronson, University of Michigan
Photo by Eric Bronson, University of Michigan
When you're famous Sports Illustrated photographer Peter Reed Miller, you'd expect everyone at a UPAA symposium to know who you are. How heady is it that Peter Reed Miller would have heard about you? That was one scene following Miller's Canon Explorer's of Light presentation when this year's Photographer of the Year winner Eric Bronson found himself amidst a crowd of other UPAA members asking Miller questions. When Eric introduced himself, Miller acknowledged he knew who Eric was and had seen his work, and that led to a rather lengthy conversation about the future and opportunities in sports photography ensuing on the spot.
Now if you ask Eric a question, be prepared for an answer to come back at you in a pretty quick speaking style. More importantly, sometimes one's work speaks for you in a fast and furious manner. Even last year, after only being in UPAA and on staff at the University of Michigan for a little over a year, Bronson's work was making an impression on people as they saw his images placing on a regular basis in the MIC.
At his first UPAA symposium in 2012 at the University of Miami Ohio, Bronson found no problem meeting other university photographers as everyone, it seems, sought him out first to chat, pick his brain, maybe size him up. Here was a serious contender right out of the block, "Right off the bat we all saw something in those images and you just knew he would be POY someday," remarks UPAA President Glenn Carpenter. "It was bound to happen."
Photo by Eric Bronson, University of Michigan
In this year's Annual Print Competition, Bronson placed four images in the winner's circle, including 1st in Sports Features, 2nd in News and 3rd in Science & Research. A diverse collection indeed, but still he's made his mark as a sports shooter. Reed no doubt was referring to an image Eric had in the 2009 Sports Illustrated Pictures of the Year Collection, showing a Michigan football defender leaping over a pack of players to block a kick. Or perhaps several images that made it into ESPN The Magazine.
Bronson admits, "Sports shots are what I'm known for since joining the organization. My action photography is one of my strongest skill sets, though I am trying to distance myself from that, focusing more on lighting." Bronson keeps expanding his repertoire because, as he says, "You need to know lighting to be a photographer these days. I respect the hell out of photojournalists, but these days you gotta know lighting to keep yourself a working professional in photography. Turns out I love lighting and the problems it solves."
Photo by Eric Bronson, University of Michigan
Geographically, Bronson has come pretty much full circle. He grew up in Northville, Mich. His first cameras were a set of Pentax K1000s, one given to him by his mom and the other by his grandmother, who was an art teacher for the Detroit Public Schools and taught workshops at the Detroit Institute of Arts.
"She was a very artistic lady and encouraged that in us," he says. He used those cameras all through high school where, Bronson says, "I really got a kick out of photography classes." With some encouragement to enter his work in contests from a couple of teachers, Eric even won a Scholastic Gold Key award for a cross country sports photo. "That's when it hit me that I might actually be good at this."
Bronson ended up attending Eastern Michigan University ("right down the street from the University of Michigan" in Eric's words), originally pursuing a degree in computer information systems, but soon switched to a communications technology major ("Somewhat related to the media field, and I could pursue photography") and honed his photography chops on the well-respected student daily newspaper, the Eastern Echo. There he worked his way up from staff photographer to photo editor, ending up as Managing Editor of the entire paper for his last two years. Those last two years also coincided with the paper garnering two prestigious Pacemaker Awards, considered the Pulitzer Prize of college journalism.
Photo by Eric Bronson, University of Michigan
After graduating from Eastern Michigan in 2003, Bronson went to work for a small studio that was on contract with the University of Michigan athletic department. That proved to be a great learning experience for Bronson, but he switched gears after three years and with a little prodding from one of his best buddies, ended up moving to Alaska. "One of my best friends had been working on boats up there for years and we kept talking about it, and I had been to Alaska before," he said. "I figured if I was going to try this, now would be the time in my life to do it. So I went and wound up working as a deck hand on a boat and shooting wildlife and landscape photography."
Eric met his wife Katie, a senior deck hand on a wildlife and sightseeing boat, that first summer in Alaska and for the next three years they lived and worked in Alaska during the warm season, then shuttled off to Maui, Hawaii, the rest of the year. In Maui Eric worked for a studio that did event and location portraiture photography. "I fell in love with nature and wildlife photography," he says. "If money wasn't a concern, I'd be out doing the crazy wildlife stuff, being out on the water amidst beautiful landscapes. That's where my first passion in photography lies."
"That was a fun experience. I miss both places. But I came back to Ann Arbor knowing I had a lot of connections here and I could jump right in and do freelance at a lot of things," Eric says. "I did some wire service work, local magazines and Michigan Athletics. I ended up freelancing for University of Michigan Photo Services for two years. Got some more experience under my belt. A full-time position opened up, and the rest is history. That first year (full time) at Michigan was a real learning curve. Then I started hitting my stride."
Photo by Eric Bronson, University of Michigan
Anyone who meets and talks to Eric picks up the passion and intensity for his work very early on in a conversation. I picked his brain a little in how he approaches a typical photo shoot: "I'm one of those guys who goes into a portrait shoot with anything I can stuff in my bag," Eric says. "It's been said the inexperienced photographer will travel with everything he has while the experienced one will only take what he needs. I don't know about that. We're constantly going into situations without scouting first. Generally, I'm always on the lookout for symmetrical or contrasty backgrounds. I like to diffuse my key light as much as I can, then I try to light the edges. I love edgy lighting; I love contrast and shots with a hard edge, not smooth. I'm always trying to find that perfectly lit edge shot."
The conversation drifts to sports in short order. I ask him to give us some insight into what he's thinking while covering a sports event. We focus on football as a good example. "I want to be constantly moving and to be as close as to the action as I can. My Canon 400mm f2.8 is my bread-and-butter lens for field sports.
"I think you need to know the sport (you're covering), even a little really helps. A lot of (positioning) is guessing. I'm going to take a crap shoot and isolate on a player. That works sometimes. A lot of times it's just being very quick. I try to remain as focused as I can during a game. I want to be that guy that comes back with the best action shots.
Photo by Eric Bronson, University of Michigan
"I also try to be where no one else is," he says. In describing how he captured the Honorable Mention APC Sports Action photo of a Michigan player just about to catch a pass, Eric explains "So this is a backlit shot, everyone else is on the other side of the field. Here I'm about 20 or 30 yards out. It was a short pass and the quarterback was eying the receiver so it was easy to see the play develop. I followed Jeremy Gallon (the receiver) and it happened. He was running a slant pattern right at me. Getting close to the action yields these kind of shots more often, I feel."
As to the quickness factor, especially focusing on moving action, Eric describes his setup as pretty basic. "One thing I do is take the focus off the shutter button and put it on the back AF button where you use your thumb. In my mind this is a better approach and has less (focus) lag. So I'm constantly thinking "focus, shoot, focus, shoot" when working. Over the years you develop this muscle memory and that helps separate the process for me."
Capturing a tight composition in a decisive moment also worked for Eric in his APC News 2nd place photo of a student rising up from a mud puddle. I mentioned to him how much I like the print quality of the image. "It was available light with the 400mm at 2.8. The quality is good because there's not much cropping going on, and I boosted the clarity up to about 30."
"I like blurring out the background. I think that's incredibly important for sports. I'll be trying to shoot the lowest ISO I can at 2.8, then adjust my shutter from there." Checking the setting for the mud shot shows an aperture of 2.8 @ ISO 1600 with a shutter speed up to 1/1250.
Carpenter mentions that in speaking with Bronson after the last symposium Eric discussed that he was tinkering with how he shot sports. "Eric's always evaluating how he does something. How can I be better in the ways I shoot so that I can shoot better? That's pretty amazing to be thinking about in the off-season. It's as if Neil Peart changed his drumming style right before recording a new Rush album."
Bronson discussed capturing another memorable image, his dramatically lit wrestlers in the midst of a body flip. "I wanted to do something for their (wrestling program) promotional stuff. This was for a poster. I was playing around with some Paul Buff lights we had just gotten in. The set up is three lights. On the right I had an 80" parabolic umbrella and on the other side a smaller parabolic. Then behind the wrestlers I had a small strobe with a honeycomb grid in it facing the camera. We did a bunch of flips, and I only liked about two or three out of all the ones I shot. I wanted to get something they do in a meet with bodies flailing. It was a lot of fun to shoot. Wrestling is one of those sports where if you get a good shot, you're gonna get a really phenomenal shot."
Bronson admits he's using more and more lighting setups and creating shots rather than just finding them. Though sometimes, like a dramatic twilight shot of Michigan Stadium, he ends up in "one of those right place, right time shots. I was in one of the clubs at the stadium and looked out to see this scene with a great sunset. Usually they have all the lights on in this stadium but this time it was only on my side. This shot is my camera up against the club window since there was nowhere else on that level to get outside. I went back again and this shot was gone."
One of the most memorable photos from the 2012 MIC and APC was the black and white basketball players shot Bronson got from a catwalk. He explains, "I was roaming and looking for stuff. The lineup happens before every game so I'm trying to find another way to approach it. I love going up high in the rafters and getting different angles. You'll probably only yield a few good shots but hopefully those few will be great."
Photo by Eric Bronson, University of Michigan