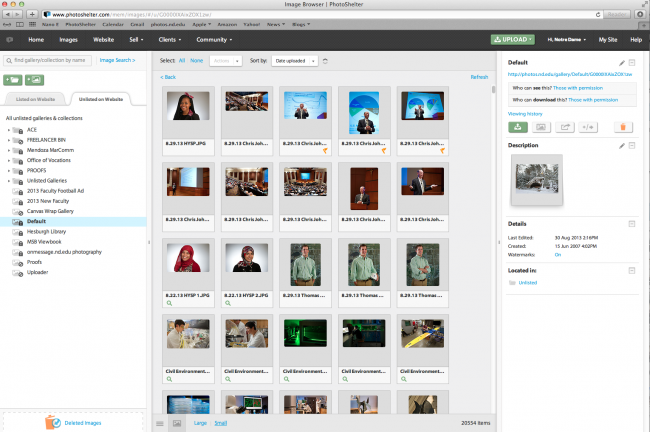 Digital Asset Management is a phrase that always seems to evoke the emotion of its acronym. Whether at a large university or a small community college, we are all challenged with the daunting task of organizing our large photo collections and sharing them with those who need access to them. Mike Ekern, of the University of St. Thomas, came up with the idea for a series of articles on the different DAM systems used by our membership. Hopefully this proves to be a useful resource to the UPAA membership who are struggling to create their own management system. Here is Matt Cashore's review of Photoshelter.com:
Although I've worked for Notre Dame in some capacity going back to my student days 20 years ago, I wasn't hired as an official employee until June 2007.  One of the very first things I did was open a Photoshelter account.  I still rank that as my single best decision of the last six years.
At that time my department had no Digital Asset Management solution to speak of.  Some photos were on Flickr, some were on a home-brew server, and there were a couple of external hard drives of images, but most floated amongst the designers and art directors on physical media.  I needed a low-maintenance searchable archive and distribution network & I needed it right away.  (Oh and if we could sell stuff, that would be great, too.)
Right out of the gate Photoshelter solved nearly all my issues
: Secure, redundant online storage of images, distribution through password-protected galleries or client-supplied lightboxes, the option for flash-based slideshows and e-commerce.  All for $500/year.  No more losing CDs, email attachment issues, or emails asking for a photo of such-and-such.  Email a link and password and the rest is on the client.
On the technical side, Photoshelter plays well with Google Analytics, integrates seamlessly with Photo Mechanic, and the public face can be customized in nearly infinite ways with Photoshelter-supplied templates (more on that later) or if you know your way around web code you can do your own customization.  Here's ours currently:
Currently we rely heavily on Photoshelter's "trusted client download" feature.  Approved users can download anything they can find through browsing or searching the public site.  Don't want anyone to download?  Don't make it public.  You do that just by clicking a box in Photo Mechanic.
On the admin side, Photoshelter monitors downloads.  Big Brother is watching!
And now for the best part: Print sales!
Photoshelter comes loaded out-of-the-box with about half a dozen options for automated fulfillment vendors--among them nationally-known labs such as AdoramaPix and EZ Prints. You can also set up a fulfillment channel through a lab local to you or even print your own.  Payment can be accepted through a merchant account or a PayPal account.  (Full disclosure: It took quite a bit of negotiation to get our lawyers and IT people on board with the idea of using PayPal.)  Set your own retail prices and then…do nothing!  Photoshelter takes care of the payment, the fulfillment vendor handles printing and shipping, and you collect the money.  You're billed for the actual print costs and Photoshelter charges an 8% commission.  In plain English that puts the profit margin on a $20 8x10 print at around 75%.  Our marketing has been almost entirely word-of-mouth and we've grown the print business significantly since we started.
In short, there is no universal DAM solution, but Photoshelter gives the user a lot of potential for very little admin effort and even less money.  Our account has paid for itself hundreds of times over.
"So Matt," you say, "There's got to be something you don't like, right?"
Indeed!
Photoshelter has a few weak spots.
--It was born too soon.  Photoshelter was built before the iPhone and iPad.  While the rest of the web has moved toward a mobile experience, Photoshelter is lagging behind and as time goes on that's becoming more and more painful.  Subscribers have been promised improvements in that area but those changes have been just over the horizon for quite some time.  Sites like Photodeck offer a gorgeous mobile experience but lack certain items like automated print fulfillment that we simply couldn't live without.
The Achilles Heel of print sales is the cropping option.  As we all know, few people understand aspect ratios and print sizes.  When an image size and a print size don't match up exactly, Photoshelter does have several options the customer can choose on checkout.  The problem is…well…see for yourself:
Is your eye going to the teeny-tiny red box or the big blue button?  Yeah…button.
Again, Photoshelter gives you options (thanks guys...):  We have chosen to review every order before it goes to the printer.  Most of the time we can adjust a bad auto-crop without too much trouble, but more frequently than we'd like we have to email the customer and go through the laborious process of explaining why their selected image doesn't play well with their selected print size.  We always ask if the customer saw the crop box and the answer is always "uh, no, I didn't see that."
So nit-picking aside, our department would come to a screeching halt without Photoshelter.  There are other web-based DAM options but none that I've found which do everything Photoshelter does as easily and as inexpensively.
Matt Cashore is the Senior University Photographer at Notre Dame and his Photoshelter page can be seen at photos.nd.edu/.
Check out previous DAM reviews of Asset Bank and WebDAM.