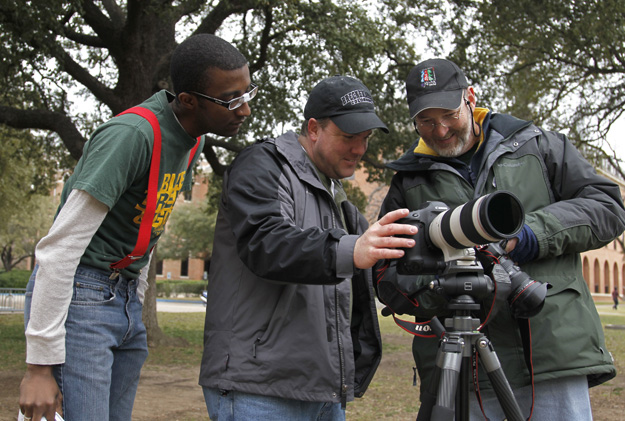 By Matthew Minard and Robert Rogers / Baylor University
This project took seven days from the first day we began shooting until the last day of editing. Quite an undertaking considering this is the busiest time of the Spring semester for everyone, especially as SING, itself, opens this week. All-University SING is one of the largest productions outside of Broadway. About 10% of the student body is involved with putting it on every year. You can learn a little more about it here:
http://www.baylor.edu/studentproductions/index.php?id=54617.
This being the 60th year - we wanted to produce something a little unique.
We immediately knew we wanted to do a love story and thought of incorporating a dream sequence to kick off the actual music video portion of it. The whole running late sequence came about b/c we just plain thought it would be funny to have a student running around campus in a SING costume. Emily Pool blew away our expectations for the lead character. She is a student whom we met one day at lunch and immediately fell in love with her personality and smile! When we asked her to do it, she e-mailed and called us persistently wondering when we would begin filming.
The biggest challenge for the project was selecting the song. Because of time, we scrambled to figure out what music we could use without worrying about copyright. Coincidentally, the SING Anthem was arranged by the same orchestra director who directs SING every year. The song is used as part of the opening performance to kick off the show every night.
Unfortunately, the only recording that existed was a live version on DVD. To acquire a studio version, we had to record the vocals ourselves and lay them over the music. We used a Zoom H2 in our studio and edited using Garageband. It was a lot of trial and error, but was pleased with the final results. Two students - Darrell Morris was recommended for the lead voice and Clare Berlinsky for her strong vocals, with Emily doing a great job lip-synching over her voice.
Another challenge was we had only one evening to record the actual music video segment. We only had about three hours for access to a stage and the use of a light tech. We also scrambled to wrangle a large casting call for dancers and singers AND to find costumes. Initially, we wanted at least 50 or more background dancers, but we ended up with about 20. Though, looking at it now...I think it is more fitting with a smaller number. We had a total of four photogs shooting video that night, which made it easier to not have to do so many takes, plus this afforded us more angles.
For the entire week, we used a combination of Canon 1D MKIVs, 5D MKIIs, and GoPro cameras with various lenses ranging from 14mm to 70-200mm. We already had a rail for the lateral movement shots and borrowed a JIB from Baylor's Film and Digital Media department for the dramatic sweeps. We shot the whole project at 24fps and recorded most audio in the camera since we knew we wouldn't be using a majority of it in post. Matthew edited as we went along using Final Cut Pro X.
You can see more of Robbie and Matthew's work on the Baylor Facebook Page, The Baylor Proud Blog, Current Students Site, Baylor Photo on Tumblr and of course at Baylor Photography.