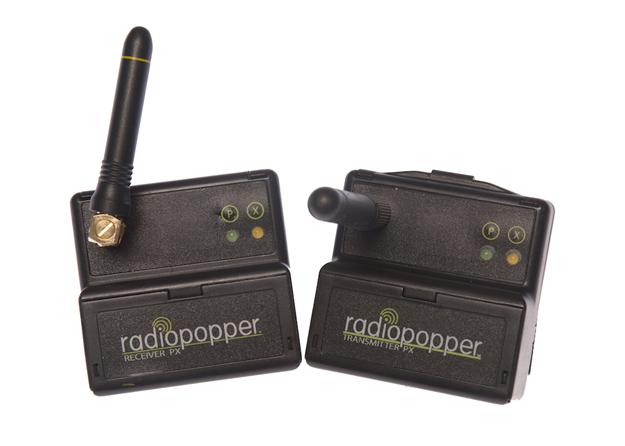 By Mark Carriveau, Elgin Community College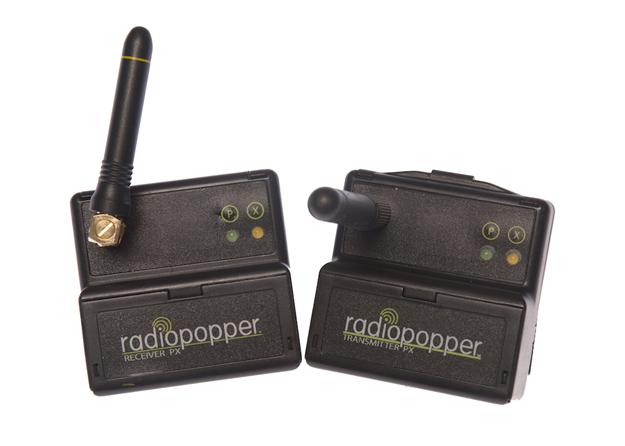 Radiopopper Transmitter and Receiver - Photo by Mark Carriveau/Elgin Community College
Now that using small strobes for most photo shoots is becoming more mainstream, it also brings a new set of problems. The biggest problem I had was getting the strobes the fire consistently. I always had to make sure I had tape, foil, and white paper in my bag so I could modify the strobes in order to catch the infrared signal. I tend to shoot a lot in the classroom when class is in session. This is not the last place I want to start messing with the strobes to try to get them to fire. At the advice of David Tejada I purchased a set of Radio poppers and that has helped tremendously to alleviate these problems.
Here is how radio poppers work. You will need a radio popper transmitter to attach to your Nikon flash commander or Canon transmitter. You then need to attach a radio popper receiver to each one of you strobes. Your commander / transceiver sends out an infrared signal which the radio poppers catches and converts it a radio signal. The radio popper receiver will catch that signal and convert back to an infrared signal and send to the strobe to fire. The radio poppers will also work with your integrated creative lighting system and will give you TTL capabilities. I have used the poppers in the studio and all around campus and still have not had a problem with misfires. I tried shooting one of our newly remodeled offices on campus. The poppers once performed flawlessly going through glass walls. I tested these for distance in a hallway that extends about 140 yards and the flash fired every time. Once I got past about 125 yards I started to get some misfires. I can't think of too many assignments that I will need to get that much distance between the camera and strobe but it is nice to that I can.. I really wanted to take them outside and see how they work in a wide-open environment with sunlight but the Chicago winter weather kept me inside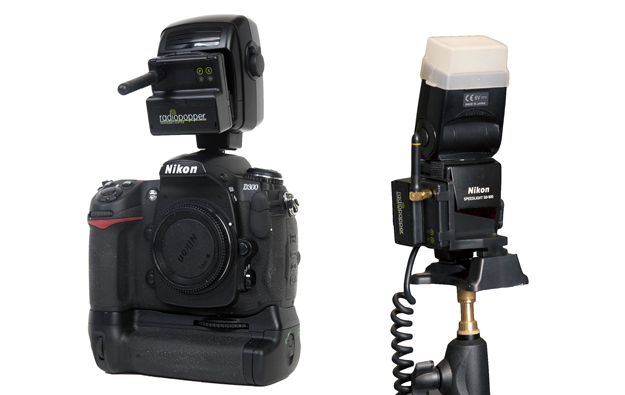 Nikon Flash Commander and Nikon S-800 on a Radiopopper Base - Photo by Mark Carriveau/Elgin Community College
The units have a nice lightweight de-
sign that does not weigh down your
strobes. Each receiver comes with a base
that will hold the transmitter and a hot shoe
type bracket that your strobe slides into. This
base can be set on a flat surface or screwed on top of a light stand. If you do use the base on a light stand you loose the ability to use and umbrella so I usually just mount it on an umbrella bracket and Velcro the receiver on the strobe. The pivot able antenna are also a nice design too. Since they are not stationary they will not break when they are bumped are rolling around in your camera bag. The radio poppers will work with your integrated creative lighting system and will give you TTL capabilities. Another benefit is that they will work the same way with alien bees and white lighting strobes. You will also be able to change your output from your camera without touching the strobes.
The only negative I have found with the poppers was the menu system. Everything on the menu system is in code and you need to read and memorize the manual to figure out everything on the menus. Not that much of a big deal but I would rather have a menu system that I could figure out on my own. I pretty much use them on manual most of the time so that is where the setting stays. It is really cool that I can just take them out of my bag and turn them on without having to set them each time I use them.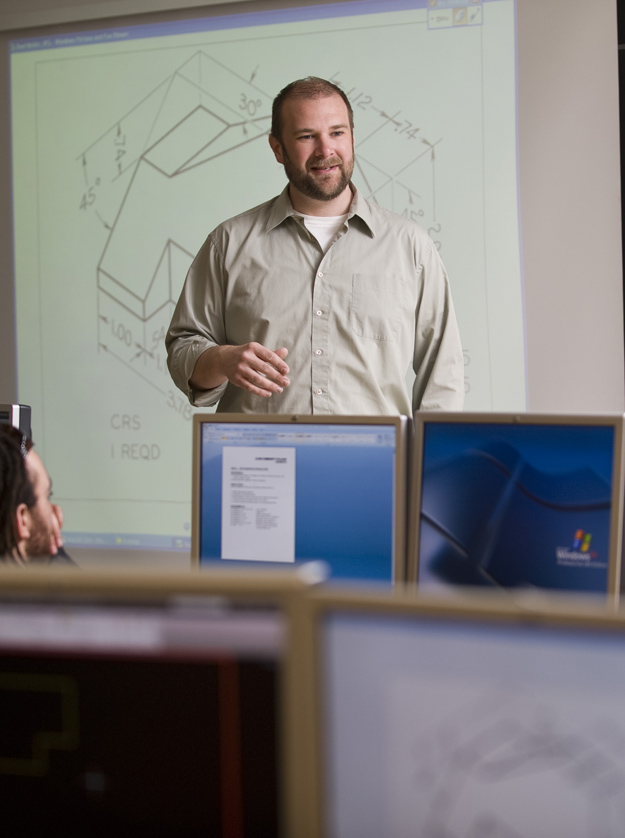 Radiopoppers in action - Photo by Mark Carriveau/Elgin Community College
I have been using these bad boys for about a year now and I can't ever imagine not using them. They have been a great addition to my bag of tools. You can order them straight from the manufacturer at http://shop.radiopopper.com.
Mark Carriveau has been the University Photographer at Elgin Community College, his work can be seen at www.elgin.edu.